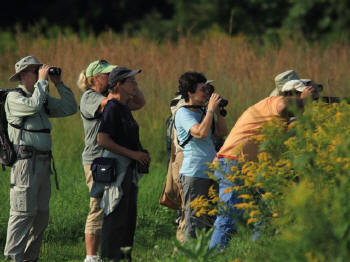 KCA birders at Nelson Lake/Dick Young Forest Preserve. Photo courtesy Ken Schneider
Next Outing: Saturday & Sunday, January 27th & 28th, IAS Bald Eagle Watch Weekend, Starved Rock State Park.
This is Illinois Audubon's free, yearly Bald Eagle celebration along the Illinois River. A live raptor show will be featured both days. Our own Kathy and Bob Andrini will host a presentation on Sunday afternoon. Additional information is available on the IAS website. If you have further questions about this event, please call Bob at 630.584.8386. (Map)
Next Meeting: Wednesday, February 14th, 7:00 PM, Membership Meeting @ Hickory Knolls Discovery Center, St. Charles.
Trish Beckjord, KCA member and St. Charles Park District board member, will present guest speaker Joel Sheesley, Artist-In-Residence for the Art of the Fox, a program of the Conservation Foundation.
In addition, we'll have the latest bird sightings, convivial conversation, refreshments, and the ever-popular raffle. Everyone is welcome to share the evening with us at Hickory Knolls.
Hickory Knolls Discovery Center is located in James O. Breen Community Park, at the intersection of Campton Hills and Peck roads in St. Charles, with entrances off both roads. The building is at the far west end of the parking lot. (Map)
For questions about this event, please call Bob Andrini at 630.584.8386.
---

DAY/
DATE/
TIME
ACTIVITY/
LOCATION/
CONTACT

MAP

---

Wednesday

February 14

7 PM

Membership Meeting w/ Trish Beckjord and artist Joel Sheesley

Hickory Knolls Discovery Center, St. Charles

Bob Andrini 630.584.8386

---

May 23 - 31
Kane County Audubon Mid-Atlantic Birding Trip

Paul Mayer 630.209.6019

---