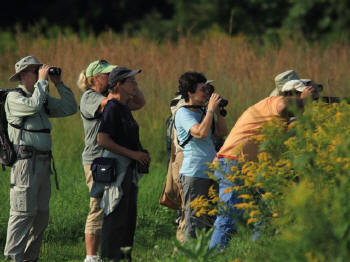 KCA birders at Nelson Lake/Dick Young Forest Preserve. Photo courtesy Ken Schneider
Next Outing: Saturday, June 24th, 8 AM, Bird Walk @ Hampshire Forest Preserve, Hampshire.
Brendon Lake leads our walk at Hampshire. The preserve offers a nice mix of grassland and Hickory-Oak woodland, with more than 5 miles of trails on its 260 acres.
The entrance to Hampshire Forest Preserve is located on Allen Road about 1/2 mile west of Route 20. (Map)
If you have questions about this event, please call Brendon at 224.896.7087.
Next Meeting: Wednesday, September 13th, 6:00 PM, Pot Luck Dinner and Membership Meeting @ Hickory Knolls Discovery Center, St. Charles.
Attendees are asked to bring a dish to pass. Festivities following the feast include members' nature photos.
In addition, we'll have the latest bird sightings, convivial conversation, refreshments, and the ever-popular raffle. Everyone is welcome to share the evening with us at Hickory Knolls.
Hickory Knolls Discovery Center is located in James O. Breen Community Park, at the intersection of Campton Hills and Peck roads in St. Charles, with entrances off both roads. The building is at the far west end of the parking lot.
For questions about this event, please call Bob Andrini at 630.624.8387. (Map)
---

DAY/
DATE/
TIME
ACTIVITY/
LOCATION/
CONTACT

MAP

---

---

Saturday

June 24

8 AM

Bird Walk

Hampshire Forest Preserve, Hampshire

Brendon Lake 224.230.2256

Saturday

July 1

7 AM

Bird Walk

Nelson Lake/Dick Young Forest Preserve, Batavia

Theresa LeCompte 630.896.7087