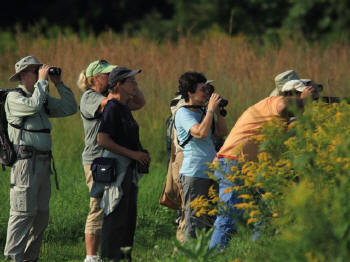 KCA birders at Nelson Lake/Dick Young Forest Preserve. Photo courtesy Ken Schneider
Next Outings: Saturday, December 16th and Sunday, December 17th, Christmas Bird Counts. Saturday is the Fermilab Circle, Sunday the Big Rock Circle.
If you would like to join these events, or have questions about them, please call John Duerr at 630.584.5891 for the Fermi count or Tim Balassie at 630.513.7345 for the Big Rock count.
Next Meeting: Wednesday, January 10th, 7:00 PM, Membership Meeting @ Hickory Knolls Discovery Center, St. Charles.
Ornithologist John Bates of The Field Museum will be our guest speaker.
In addition, we'll have the latest bird sightings, convivial conversation, refreshments, and the ever-popular raffle. Everyone is welcome to share the evening with us at Hickory Knolls.
Hickory Knolls Discovery Center is located in James O. Breen Community Park, at the intersection of Campton Hills and Peck roads in St. Charles, with entrances off both roads. The building is at the far west end of the parking lot. (Map)
For questions about this event, please call Bob Andrini at 630.584.8386.
---

DAY/
DATE/
TIME
ACTIVITY/
LOCATION/
CONTACT

MAP

---

---

---

Saturday

December 16

Christmas Bird Count

Fermi Circle

Jon Duerr 630.584.5891

---

Sunday

December 17

Christmas Bird Count

Big Rock Circle

Tim Balassie 630.513.7345

---

Saturday

December 30

8 AM

Bird Walk

Fabyan Forest Preserve, Geneva

Ann Haverstock 630.232.9398

---

Saturday

December 30

Christmas Bird Count

Rutland Circle

Eric Secker 630.808.1947

---

Monday

January 1

9 AM

Bird Walk

Hickory Knolls Discovery Center, St. Charles

Nancy Schnaitman 630.365.9595

---

Wednesday

January 10

7 PM

Membership Meeting w/ speaker John Bates of The Field Museum

Hickory Knolls Discovery Center, St. Charles

Bob Andrini 630.584.8386

---

May 23 - 31
Kane County Audubon Mid-Atlantic Birding Trip

Paul Mayer 630.209.6019

---