Sue Wagoner on 4/30 reported via e-mail: Saturday I was treated to a serenade by the first Brown Thrasher I have seen or heard in my west-side Aurora neighborhood-- he didn't stay long but long enough to get my binocs on him. Wonderful songs!! I'll trade some of my white-throated sparrows (a constant by my feeders during spring and fall migration, with "sweet Canada" songs included in the spring) for some of Karen Land's white-crowned sparrows, which I have never seen in my yard.
Pete Moxon on 4/30 reported via IBET: A first year Golden Eagle flying east from Kane County into Tri-County State Park (now named James "Pate" Philip State Park) then turning north and entering Cook County.
Jon Duerr on 4/26 reported via e-mail: A male and 2 female R-br. Mergansers were within 20 feet of shore Fabyan -west parking lot. Easy to study from car. The detail of the male plumage remarkable!! Swainson Thrush singing.(but not its full song) 7:00 PM Thursday.
Day Waterman on 4/25 reported via IBET: The martins have returned to the Fox River in South Elgin, along with all the related insect chasers, chimney swift, barn, bank, tree, rough wing, and cliff swallows. They were low and identifiable in the morning drizzle. Those who have sighted martins (scouts) or already have them at their houses are asked to report them to the web site http://www.purplemartins.com where they keep a record of sightings. Nine adult martins are currently in my house, more males than females, so my experience does not support the reported loss to the cold weather experienced further south. We shall see how the season develops.
Karen Land on 4/24 reported via IBET: Finally noting an absence of juncos, I have 3 sparrows presently hopping under my feeder (Ed: in Batavia) and in and out of two pine trees that flank the feeder. I could see they were crowned sparrows but after looking at them with the binocs, I see a very distinct bit of yellow at the eyes and white at the throat which would mean they are white throated sparrows! I have had many white crowned sparrows over time but this is the first I have seen the white throated.
Bob Andrini on 4/23 reported via e-mail: A new arrival in our yard this year on Monday at about 5 PM was this migrating Lincoln Sparrow. Let the wave (of migrants) begin.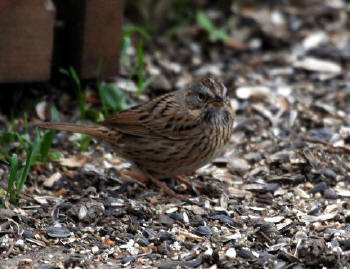 Lincoln Sparrow photo courtesy of Bob Andrini
Steve Smith on 4/23 reported via IBET: Otter Creek Bend wetlands is in St. Charles west of Randall at the corner of Silver Glen and Crane. This afternoon I had Palm and Yellow rumps foraging with a small flock of white throats. Best birds were a keking Virginia Rail and a curious Sedge Wren who popped up several times to take a look at me.
Jack Pomatto on 4/23 reported via e-mail: A lone Broad-winged Hawk was seen today ( 4-23-07 ) at Tekakwitha Woods F.P. at 8:00 A.M. The bird lifted off and appeared to land farther away in the area. Good numbers of Blue-gray Gnatcatchers were along the river in the area.
Kevin Rehberg on 4/23 reported via e-mail: Just wanted to share a bird sighting on 4/21 behind my house in Binnie Woods F.P. A sandhill crane emerged from a marsh and walked around a field, digging and feeding right at dusk. Here are a few pictures. (Ed.: one is displayed below) Is it possible that this bird is nesting in the marsh? I've been hearing sporadic sandhill crane calls at all hours coming from the marsh for the past couple of weeks.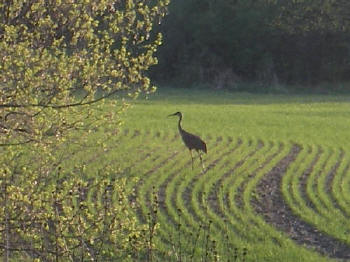 Sandhill Crane photo courtesy of Kevin Rehberg
Jon Duerr on 4/22 reported via e-mail: A singing Yellow Warbler along the south trail at Nelson Lake. Palm Warbler in the cattails in the same area. Spotted Sandpiper along pond south of the lake (south of pine plantation).
Sue Wagoner on 4/21 reported via e-mail: There are still around 23 American White Pelicans at Nelson Lake; I also saw about 20 American Coots, Brown Creeper, several Sandhill Cranes (I'm hoping the zero count on Crane-Counting day April 14 was due to the cold or simply bad luck)-- also one bluebird, several Flickers, 2 Eastern Meadowlarks, Eastern Pewee (heard only), several Blue-Winged Teals and Robins. Am I hearing more Robins this year? Or is it my failing memory?
Jon Duerr on 4/19 reported via e-mail: Joy and I found 3-4 Pine Warblers along the bike trail north of Arends FP Thursday morning. Of these, 2 were singing. Also, many (30+) Brown Creepers all along the trail. No Am Pelicans at Carson Slough Thursday afternoon.
Christopher Cudworth on 4/19 reported via IBET: Yesterday on my way into work a Sandhill crane was seen flying over the quarry wetland west of Route 25 and north of Stearns Road in South Elgin/Kane County. This implies the bird might be occupying adjacent Tri-county Park? ...The bird was headed northwest. Certainly they've been at Pratt Wayne as well, considering the "Don't Bug the Cranes" signs on the property.
Scott Cohrs on 4/18 reported via IBET: Jon Duerr and I spent a good portion of Tuesday hitting different spots in Kane County. The best bird we came upon was a Louisiana Waterthrush in Fabyan Forest Preserve. It was located in the ravine near the creek on the far north side of the preserve, east of Route 25. This is only my second record of Louisiana for the county. Ironically, the one I had in 2004 was at the same site about 100 yards away. A few of the other highlights and location listed below.
Lesser and Greater Yellowlegs - flooded field west of Deerpath Rd.
Pectroal Sandpiper - flooded field west of Deerpath
Barn Swallows - several different sites
American White Pelicans - 50+ are located at Carson Slough in addition to Nelson Lake
Snow Goose - Nelson Lake
Am. Wigeon - Nelson Lake
Am. Black Duck - flooded field west of Deerpath Rd
Sora - Mill Creek Greenway
Christopher Cudworth on 4/18 reported via IBET: In Batavia last night there were PURPLE MARTINS that had set up shop at their well-maintained houses on the Riverwalk south of Riverain. Also, the COMMON SNIPE display at Nelson Lake/Dick Young Forest Preserve/Kane County continues. There are three or four birds displaying with their "winnowing" flights back and forth above the slope just northwest of the bend in the trail north from the parking lot. This view also gives you a good look at the flock of 40 WHITE PELICANS still staging at the marsh. The pelicans have situated themselves completely different this year. Most previous years they contented themselves just below the viewing platform on the east side of the lake. Whether for reasons of higher water, cattail density or human presence, the birds moved their general operations slightly north this year. They prefer a marshy inlet at the north end of the lake from whence they stage feeding forays, swimming like tall ships out into the lake and back. Their favorite spot looks like a harbor.
Jon Duerr on 4/17 reported via e-mail: Tuesday morning Scott Couhrs and I found a singing Louisiana Waterthrush at the north end of Fabyan FP This was east of Rt 25 along the creek on the north boundary.
Deborah DeBoer on 4/17 reported via e-mail: White pelicans are at Carson Slough as I type….. were putting on a really good show earlier…. Just amazing to watch!
Karen Lund on 4/17 reported via IBET: This afternoon Nancy Kowalski and I found 2 pine warblers at Raceway Woods on Huntley Rd. in West Dundee. They were in some oak trees (not conifers) in an area just northwest of the parking lot, and one was singing.
Karen Lund on 4/16 reported via IBET: Several bonapartes were still present early this afternoon on Galligan Rd. (See my 4/15 posting for directions). They were in fluddles north & south of Binnie Rd. on the east side of Galligan.
Susan Jensen on 4/16 reported via e-mail: To those of you with a lingering interest, the baby (Great Horned Owl) is still in the tree (at the Geneva courthouse). I went up this am and saw that he had a large hunk of rabbit w/ him, so he is still feeding. He promptly dropped the food, however, when he shifted his weight, so I guess he'll have to wait til dark for the next feeding. I may take the scope up this afternoon for a while. I also heard of wood ducks under the train tracks near the Govt. Center. I'm off to see if they are still there.
Steve Smith on 4/15 reported via IBET: (At Nelson Lake) ...highlights were a Brown Thrasher on the west side of the lake just north of the viewing platform and an American Bittern flew over the roosting pelicans on the north end of the lake before diving into the cattails.
Karen Lund on 4/15 reported via IBET: This morning there were 9 bonaparte's gulls on Galligan Rd. north of the town of Gilberts. This evening on the way home, 5 were still there. The morning group had the full gamut of plumages from just the ear patch to the full black hood and everything in between. This evening's group all had the full black hood. Galligan Rd. runs between Rte. 72 on the south to Huntley Rd. on the north approximately 3-4 miles west of Randall Rd. This flooded field was between Freeman Rd. & Binnie Rd. at a construction site on the east side of Galligan Rd. across from Yellow Daisy Landscaping.
Jeff Sanders on 4/14 reported via IBET: Al Stokie and I went out today looking for rain, but we couldn't find any. We started at Nelson Lake and had 60-80 white pelicans. next, to Carson Slough where we couldn't find the red-necked grebe, but we had several duck species incl. ruddies and a male canvasback.
Jack Pomatto on 4/14 reported via e-mail: The 80 White Pelicans were keeping company with an Osprey and a Common Loon at Nelson Lake. Other birds seen were numerous Buffleheads, a Snipe, Swamp Sparrows, Field Sparrows and Fox Sparrows. Resident Sandhill Cranes were active in the air and a large flock of N. Shovellers were in the vicinity.
John Heneghan on 4/13 reported via IBET: Stopped by Nelson Lake on the way home from work. There were about 80 pelicans there. Thanks to Chris Cudworth, I saw a few Wilson's Snipe and through his scope, a better look at the pelicans. Also saw 3 sandhills. At the retention pond at the Orchard Road exit off I-88 there were about 10 Northern Shovelers in the water adjacent to the Auto Mall.
Jon Duerr on 4/13 reported via IBET: A beautiful red-plumaged Red-neck Grebe was seen at 11:00 AM Friday at Carson Slough, Sugar Grove, Kane Co. Seen with divers at south end of water. Carson Slough is a private hunting preserve next to a neighborhood in Sugar Grove. Good viewing of the open water can be gotten along a bike trail behind the homes. If you are not familiar with this site, find Bliss Rd out of Sugar Grove on your map. Travel north 1 1/2 miles to Denny Rd then east 1 mile and you will see the Slough. Turn south on Norris Rd and drive to the park 1/4 mile. Park by the gazebo and walk the trail south, scanning the open water.
Susan Jensen on 4/12 reported via e-mail: Matt and I plus a passing family witnessed the first (GHO Owlet) flight tonight . We cheered as the first baby flew from one tree to the top of the other larch, catch his breath and then fly to the courthouse roof! The second child is still in the tree (as of 9pm). We also saw an adult fly from the tree to the courthouse roof - where #1 child was/is. Too bad no one had a camera...
John Heneghan on 4/10 reported via IBET: Stopped by Nelson Lake this evening. Counted about 60 pelicans. Observed one pelican chasing a GBH, for a few minutes.
Bob Andrini on 4/9 reported by phone: 124 American White Pelicans flew in single file past the observation platform, then settled on the lake waters at dusk this evening at Nelson Lake.
Karen Land on 4/9 reported via IBET: Saturday and Sunday we observed about 20 male and female Northern shovelers dabbling in a pond near the new soccer fields at the northwest corner of Peck and Kaneville Roads and across from Peck Farms entrance. We also observed at least 6 Buffleheads but they were on the far side and diving so much we could not keep up with them. Most noticeable were several males and the amount of white we could spot. Several more shovelers were also spotted across the street in the ponds on the Junior High property.
Dave Peck on 4/8 reported via e-mail: Today, Sunday April 8, around 11:30 a.m. I saw two Belted Kingfishers at the riverwalk in Batavia, a single Coot and a Red Bellied Woodpecker on the west side of the river just north of downtown Batavia on the bike path. Around 3:30 p.m. I saw three female Golden-Crowned Kinglets and a couple male Golden-Crowned Kinglets or Ruby-Crowned Kinglets at the Les Arends Forest Preserve on the bike path just south of the park entrance.
Participants on the 4/7 Nelson Lake birdwalk saw the following birds of note: about 67 Pelicans, 15 - 20 Ruddy Ducks, 2 Gadwall, about 5 Yellow-bellied Sapsuckers, 10 - 12 Northern Flickers, many Ruby- and one Golden-crowned Kinglets, 5(?) Yellow-rumped Warblers, a few Eastern Bluebirds in brilliant plumage, around 20 Wilson's Snipe, 5 - 6 Hermit Thrush, and one each Brown Thrasher, Northern Harrier, and Broad-winged Hawk.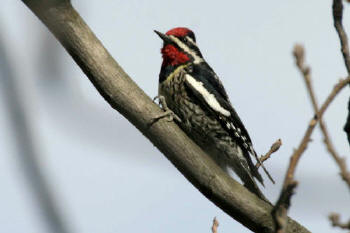 Yellow-bellied Sapsucker photo courtesy Dennis Walz
Frank Angileri on 4/7 reported via IBET: I visited Nelson Lake this morning to find approximately 70 American White Pelicans, approximately five Sandhill Cranes, a few GBH and American Coots and plenty of Canadian Geese and Mallards. The Pelicans were hunkered down for the most part, but they did take flight as we were leaving. We then traveled to the Kane County Courthouse to view the Great Horned Owls, that was a truly inspiring sight.
Frank Angileri on 4/6 reported via IBET: I traveled to Lake Nelson in Kane County (Batavia) in search of the migrating White Pelicans and to my delight, I found approximately 70-80. They were very active when I arrived at 10am, but hunkered down toward 12pm. I also saw 4 or 5
Sandhills, a few GBH, several vocal Canadian Geese, a few Mallards and 2 bluebirds.
Christopher Cudworth on 4/6 reported via IBET: An Osprey was hunting the quarry pond on Route 25 just west of the Pate Phillips State Park in South Elgin this morning at 8:30. An osprey has hung out at this park each spring.

Jon And Joy Duerr on 4/5 reported via e-mail: We stayed out of the wind Thursday morning by walking the bike path from Arends FP. Over half the Kinglets were Ruby-crowned, 4 Winter Wrens, 3 Yellow-bellied Sapsuckers, 2 Hermit Thrush and a Hairy Woodpecker. A pair of Common Mergansers remain on the river with a number of Wood Ducks. Song, Swamp and Wh-throated Sparrows seen.
Jon Duerr on 4/5 reported via IBET: Nelson Lake Forest Preserve: The Am. Pelicans (approx 40) are back on the lake. We observed them approx. 11:00 AM today. Otherwise, there is little diversity on the lake. Tanner Rd Detention. 3 Gt. Yellowlegs working the east edge of detention pond. Nelson Lake (Dick Young ) For. Pres. 1 1/2 miles west of Batavia. Take Main St. Road to Nelson Lake Rd.- then south 1 mile to parking. Tanner Detention. No. Aurora. From Nelson Lake go south on Nelson L Rd ( it becomes Deer Path just south of preserve) 1 1/2 miles to Tanner Rd. west on Tanner 1/3 mile to detention at entrance of subdivision.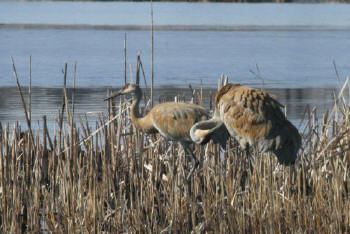 Sandhill Cranes photo courtesy of Sue Wagoner
Roger Hotham on 4/4 reported via IBET: Margaret Mechtenberg reports today that of the thousands of (tree) swallows concentrating along the Fox River, many that were huddled tightly on bare limbs over the water had others perched on their backs creating an unusual double row.
Sue Wagoner on 4/3 reported via e-mail: This is only my backyard, but if they're there, they'll be in the forest preserves too! 1st white-throated sparrow of the season; 1st ruby-crowned kinglet of the season; Field sparrow; Chipping sparrow; Cooper's hawk (returning to the neighborhood area).
Jon Duerr on 4/3 reported via IBET: An 11:00 AM stop at Nelson Lake yielded an Osprey, increased number of Buffleheads and the same number of Ruddy Ducks but no Am Pelicans. For the past three years the Pelicans remained at Nelson L for most of April.
Christopher Cudworth on 4/3 reported via IBET: A third year or nearly mature bald eagle (note: transitional plumage included remnants of the "white belly" appearance but a nearly white head flecked with brown) was sighted on the south end of Nelson Lake/Dick Young Forest Preserve this past Saturday. The bird perched in the dead trees toward the lake adjacent to the south trail. This is one of very few bald eagles I've seen in this preserve in 30 years of birding the area. The bird was cruising the south shore fishing. Usually there are ospreys fishing the lake this time of year as well. For some reason I've seen three ospreys clutching "golden" carp over the years. Perhaps those fish languish near the surface more?
45 white pelicans were fishing the north ponds by the hiking trail but did not like human disturbance and flew back to the main pond as I approached. You'd have to be pretty stealthy to catch them up there and observe without spooking them.
The county has performed some interesting restoration work in the preserve. It feels more and more like a prairie marsh these days.
Richard Wilson on 4/1 reported via e-mail: whooping cranes 4-1-07 6am to 730am A pair walking the waterline of the wetland behind my property Rutland township Kane County (near Huntley Mall). My first wild observation and I am still shaking .They flew off to the east with a small flock of sandhills.