Melinda Johnson on 4/29 reported via e-mail: At Riverwoods Christian Center/St. Charles: This morning I spotted a Yellow Throat Warbler in a tree next to my house. I also saw the Wood Duck pair that have been hanging around by the river this morning. I hadn't seen them in a week or so, and thought they had relocated. They seem to be still in residence, however. This evening brought four Turkey Vultures into my side yard (they found some food there).
Jack Pomatto on 4/29 reported via e-mail: Several birders, as well as myself, saw a nice mix of migrants at J. J Duerr F. P. today. The most noteworthy were:
Red-headed Woodpecker
Nashville Warbler
Great-crested Flycatcher
Gray Catbird
Tennessee Warbler
Yellow Warbler
Baltimore Oriole
Bank Swallow
Tom Aston on 4/27 reported via IBET: I had a lovely afternoon at Burnidge FP today. I mostly hit areas around the pond along the entrance road. Tons of swallows were swooping and perching around the pond, these included Tree, Northern Rough-Winged, and Barn Swallows as well as at least four Purple Martins and some Chimney Swifts. In the woods near the water the Yellow-Rumped and Palm Warblers were abundant to say the least. On or near the water were two Solitary Sandpipers, several Blue-Winged Teal, and Pied-Billed Grebes.

Other highlights (mostly seen walking along the entrance road):
Field Sparrow
Baltimore Oriole
Eastern Bluebird
Swamp Sparrow
Swainson's Thrush
Bobolink (4 males)
Yellow Warbler
White-Crowned Sparrow
Common Yellowthroat
Eastern Kingbird (several hunting in the recent burn area with tons of Am. Robins and a Killdeer)
Eastern Phoebe
Chipping Sparrow
Song Sparrow

I really wasn't expecting to see so much, so this afternoon was a pleasant surprise!
Aaron Nolan on 4/26 reported via IBET: I birded the Fox River Trail between Elgin and Dundee this morning and here are the notable species I found...

Golden-winged Warbler
Blue-winged Warbler
Tennessee Warbler
Black-and-white Warbler
House Wren
Osprey
Blue-gray Knatcatcher

I also birded the east side of Max McGraw Wildlife Foundation and saw my first SPOTTED SANDPIPER of the year, along with BARN SWALLOWS, TREE SWALLOWS, and BANK SWALLOWS. Many many PALM WARBLERS, YELLOW-RUMPED WARBLERS and a few YELLOW WARBLERS.
Ann Haverstock on 4/26 reported on the KCA birdwalk she led at Lippold Park, Batavia: Although the day began with cold high winds, and the first hour we felt as if we should have stayed in bed, we finally did have good looks at some of those spring birds. The winds kept the swallows low on the river, so our tenacious birders saw all five species: barn, bank, tree, Northern rough-winged and cliff swallows. In a quiet corner of the pond we had one of the best ever views of a sora rail. Best of all, for those who made it to Glenwood Park, a first spring male summer tanager. He gave us such great views that had I realized I had my camera sooner, I could have had a photo. By the end of the morning we had seen only three species of warbler: yellow-rumped, yellow, and black and white. It is spring and there will be more warblers to come. Get out and good birding.
Chris Madsen on 4/26 reported: Freeman Kame Forest Preserve offered up four warblers this afternoon: Yellow-rumped, Back-and-white, Palm, and, best of all, a Northern Waterthrush. Swamp Sparrows were the only other sighting of note. On the trip home, a stop at Burnidge Forest Preserve presented, with only a touch of hyperbole, billions and billions of Yellow-rumps and a like number of Tree Swallows. On the lake at Burnidge, Blue-winged Teals and a great close-up view of one of three Pied-billed Grebes.
Ken and Mary Lou Schneider on 4/26 reported via e-mail: At Nelson Lake on 4/22 we saw 13 White Pelicans, 2 Sandhill Cranes, 2 Blue-headed Vireos and several BG Gnatcatchers. Photos of habitat and Swamp Sparrows are on this Blog post http://blog.rosyfinch.com/.
John Heneghan on 4/26 reported via IBET: I received an e-mail from a friend last night that he had a Rose Breasted Grosbeak at his feeder (in Elburn).
Paul Massey on 4/25 reported via IBET: (B)reeding plumage cattle egret in pond south side of rt 56 before it joins east bound Interstate 88 at 2.15 pm today (in) sugar grove .
Bob Andrini on 4/25 reported via e-mail: A Lincoln's Sparrow just seen in our yard today.
Chris Madsen on 4/25 reported: Spotted this morning at Jon Duerr FP, in addition to the Blue-headed Vireo already reported by Jack Pomatto, first-of year Rose-breasted Grosbeak and Baltimore Oriole.
Jack Pomatto on 4/24 reported via e-mail: A Blue-headed Vireo was singing vigorously from the treetops at J.J.Duerr F.P. on Wednesday, 4/23/08. Ten Chimney Swifts were cruising over the river.
Bob Andrini on 4/23 reported via e-mail: We saw a Pine Warbler as well as many Yellow-rumps along the creek at Big Rock FP. We took the road that runs south off Jericho Road immediately after you cross the bridge - heading west (to the east of the main parking lot for Big Rock).
Roger Hotham on 4/22 reported via IBET: It appears that incubation started Monday on the same (Osprey) nest that failed last year. The nest is on a light fixture in a very active Bartlett sports complex. The location is off State Rt. 25 just south of West Bartlett Rd. This is 5 miles due west of the Metra Station in downtown Bartlett.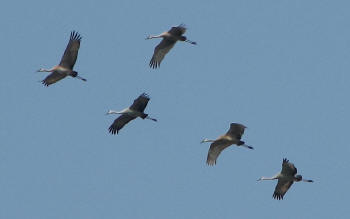 Sandhill Crane photo courtesy Ron Dickenson
Chris Madsen on 4/21 reported: It seemed like a summer day today with no warblers seen at Lippold Park, Red Oak Nature Center, and Nelson Lake. Nelson did have 7 American White Pelicans still on the water. Sandhill Cranes were very vocal and active in the air as proved by Ron Dickenson's photo. Heard 5 Sora and one Virginia Rail along the north end of the lake.
Jon Duerr on 4/21 reported via e-mail: Sunday we found a Louisiana Waterthrush along bike path Lippold Park, No. Aurora. Walking south along bike trail into the woods, we heard than saw the bird along the creek flowing toward the river. This is the first bridge you come to. Many House Wrens throughout the park.
Scott Cohrs on 4/21 reported via IBET: Jon Duerr just called, and he and Joy were able to relocate the Smith's Longspurs this morning at Sauer Family Prairie. They actually had around 12 birds, which is double the number I saw. He also reported Lapland Longspurs, which I did not see yesterday.

Sauer is at the corner of Harter and Lasher Rd. south of Kaneville. The birds this morning were on the west side of the preserve, and flew into the farmer's field just to the west of the field. There are two gravel pullouts on Lasher Rd. This would be the easiest place to park to access that side of the preserve. Unfortunately, there is only room for 1 or 2 cars in these pullouts. Otherwise, you would have to park at the main parking at the corner of Harter and Lasher. It's a bit of a longer walk from there.
Scott Cohrs on 4/20 reported via IBET: I flushed a small group of 6 Smith's Longspurs this morning at Sauer Family Prairie near Kaneville. Specifically, the longspurs were found on the strip of land that is between the two ponds on the far south end of the preserve. They flew off east into the sun and I lost them, but I don't think they vacated the area. I did hear a few rattles later in the morning but never did relocate the birds.

Sauer is a fairly new prairie/wetland restoration, and it is neat to see the birds it has been attracting. I have been walking these fields occasionally over the last 2 months expecting something 'good' to show up. I have had laplands here several times, but today is the first time I have seen Smith's locally. Western Meadowlarks are abundant in the fields, with a rough estimate of 15+. There are just as many Vesper Sparrows as well as a few Savannah, and a couple Grasshopper Sparrows this morning as new arrivals. The field is comprised of relatively short grass with a little bit of foxtail, and that may be why the Smith's were there.

The ponds have attracted a nice variety of waterfowl and shorebirds as well. Today there were still 8 species of duck and 6 species of shorebird, including my first Solitary Sandpiper of the year.

John Heneghan on 4/19 reported via IBET and e-mail: Yesterday, there were Northern Shovelers in a flooded field on Wenmoth Rd South of Fabyan just South of Peck Farm Friday afternoon. This morning there were 6 turkey vultures in a roost tree on the corner of Main St and Green on the NE corner. South of Main on Green is a rookery with many Great Blue Herons on nests.
Julie Long on 4/18 reported via IBET: I flushed an American bittern this morning at Ferson Creek Fen, St Charles. It was next to the ice house path (southern side, east-west trail) near the area where the two boardwalks come together. It flew a short distance to the south into the cattails. I did not relocate it when I went back a half hour later.
Jon Duerr on 4/18 reported via e-mail: Blue-gray Gnatcatchers at Les Arends Forest Preserve on Thursday afternoon and at Johnson's Mound Forest Preserve on Friday afternoon. Twenty-three American White Pelicans at Nelson Lake/Dick Young Forest Preserve on Friday afternoon.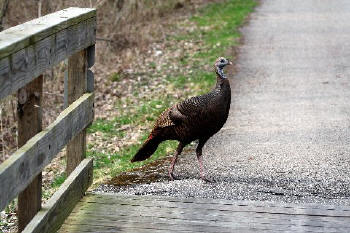 Wild(?) Turkey photo courtesy Bob Andrini
The (R)Andrini Ramblers© on 4/17: Walking from Quarry Park in Batavia south to Les Arends Forest Preserve counted 39 species of birds including this Wild(?) Turkey who strutted his stuff right on the bike path. Other birds of note included Yellow-throated Vireo, Pine Warbler, Nashville Warbler, Ruby- and Golden-crowned Kinglets, Yellow-bellied Sapsucker, Northern Rough-winged Swallow, Great Egret, White-throated Sparrow, Hermit Thrush, and a few Buffleheads still enjoying the river.
Jack Pomatto on 4/17 reported via e-mail: On Wednesday, 4/16/08 an adult Broad-winged Hawk was seen soaring in the heavy winds over the Fox River at Jon J. Duerr Forest Preserve.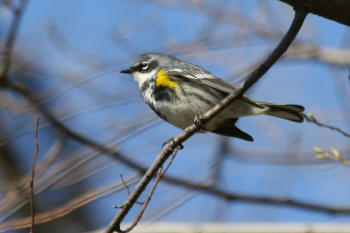 Yellow-rumped Warbler photo courtesy Sue Wagoner
Sue Wagoner on 4/16 reported via e-mail: On a walk around Nelson Lake Tuesday 4-15 I saw 5 yellow-rumped warblers (see attached), 3 brown creepers, 3 Eastern Phoebes, Flickers calling and courting, Field Sparrow, about 9-10 White Pelicans, 2 blue teals, 3 Eastern Meadowlarks, (east side, west side, south side), several Blue Jays, 1 Bluebird in Burton Woods, 1 Kestrel, many Robins- I watched a female Robin making a nest along the north trail-- she would add straws and then nestle down into it to shape it-- plus the other usual residents.
Melinda Johnson on 4/15 reported via e-mail: This morning (4/15) I have spotted a Pied-billed Grebe off the bank of the Fox River, in front of my house at Riverwoods Christian Center! On 4/14 I saw a Red-bellied Woodpecker at Nelson Lake, along with numerous American Coots, 3 of the White Pelicans (including the one with the injured wing), and 2 Canvas Backs (towards the far west side of the lake). I also appear to have a mated pair of Wood Ducks in my flooded yard, at Riverwoods CC. They are appearing every morning and evening, without fail, these days.
Darrell Shambaugh on 4/15 reported via IBET: Monday about 1:00 PM I stopped at the Kaneville Cemetery, hoping for golden plovers, sandhill cranes, or ducks in the sod fields. None of those were there, but my 10-minute stop turned up some good birds. As soon as I turned off the truck I heard a RED-BREASTED NUTHATCH. As soon as I got out of the truck I heard a RED-TAILED HAWK. As soon as I got my binoculars on the Red-tailed, I saw a very high in the sky SHARP-SHINNED HAWK approaching from the southeast. While watching the Sharp-shinned Hawk I heard a VESPER SPARROW. While looking for the Vesper Sparrow I came across CHIPPING SPARROWS and SONG SPARROWS. I finally zeroed in on the tree the Red-breasted Nuthatch was calling form. Before I found it, a BROWN CREEPER flew from there to another tree. A few RUBY-CROWNED KINGLETS were in this tree too.
Not bad for a 10-minute stop on the way to work.
Chris Madsen on 4/14 reported: Only nine American White Pelicans at Nelson lake this morning at 11 AM. One of the birds appeared to have an injured wing. Ron Dickenson said that a woman who was leaving as he arrived told him that there were 75 pelicans when she got to the lake, but they took flight heading north.
Steve Smith on 4/14 reported via IBET: Last week I had a Wilson's Snipe circling overhead giving its eerie woo woo woo woo call. This was about 4:30 in the afternoon and I could see how he splays his tail feathers when displaying. The bird was at Otter Creek Wetlands Park in St. Charles.
Karen Lund on 4/13 reported via IBET: Late this morning there were 5 pectoral sandpipers in a fluddle on the west side of Galligan Rd. north of the town of Gilberts. This field is north of Freeman Rd. and south of Huntley Rd. Galligan is approx. 2 miles west of Randall Rd. and 3 miles east of Rte. 47. Then there were 2 bonaparte's gulls on Huntley Rd. just west of Randall Rd. There were many more gulls in a field on the west side Randall Rd. just north of Huntley Rd. (by Platt-Hill Nursery); looked like there were some bonapartes mixed in that group as well, but I was running late and didn't have time to get the scope out. There's a Dominicks right across the street where you can park since there's no safe way to pull off on Randall Rd.
Karen Land on 4/13 reported via IBET: This morning while eating breakfast in Harner's in North Aurora we could see a group of Double-crested Cormorants above the dam about 7:30 am. At one point we had a cormorant fly over of about 30 birds. This is a great place to watch birds as they have large windows all along the restaurant facing the River and dam.
John Heneghan on 4/12 reported via IBET: I drove by Nelson Lake today and some of the White Pelicans were still present. On the way home this evening, a Great Horned Owl was sitting in a tree on the North Side of Main Street just west of the Bliss Road intersection.
Art Schlicht on 4/12 reported via e-mail: There has been a Great Blue Heron on our pond (infrequently) the last few days, and is again here this morning (4/12), on the south pond in Lakes of Bliss Woods, Sugar Grove.
Jack Pomatto on 4/9 reported via eBird: First-of-year sightings of Yellow-bellied Sapsucker, Yellow-rumped Warbler, and Barn and Northern Rough-winged Swallows at Jon Duerr Forest Preserve.
Liza Gray on 4/9 reported via IBET: There was a MERLIN moving fast and definately with a purpose (Killdeer are good eatin') this morning behind the Harley Davidson joint in St. Charles, IL, Randall Rd/North Ave.
Chris Madsen on 4/9 reported: Nelson Lake was hosting about 110 American White Pelicans this morning at 11:00. Ducks along the far shore were difficult to ID with a stiff, cold wind causing considerable tearing. At the north end of the lake, where most of the pelicans were hunkered down, and distances to the western shore are shorter, waterfowl included Ring-necked Ducks, Northern Shovelers, American Coots, and 3 Double-crested Cormorants sharing a spit of land with the pelicans. Also spotted, a first-of-year Brown Thrasher near the observation platform.
Melinda Johnson on 4/9 reported via e-mail: I'm seeing somewhere between 10-30 Tree Swallows enjoying "breakfast" over the Fox River, at Riverwoods Christian Center (St. Charles) this morning (4/9)! They sure are fast, busy, little birds! I also went out to Nelson Lake on Sunday, and was wowed by the 70 or so White Pelicans I saw there. I also spotted an American Coot in the little section of the lake, just to the east of the White Pelicans. I'm looking forward to getting friends and family out to see the pelicans this weekend - no one should miss seeing them!
Darrell Shambaugh on 4/9 reported via IBET: I stopped at Sauer Farm Prairie Tuesday about noon. The back ponds had a nice assortment of ducks: BLUE-WINGED TEAL, GREEN-WINGED TEAL, NORTHERN SHOVELER, GADWALL, BUFFLEHEAD, RING-NECKED DUCK, and a pair of NORTHERN PINTAIL. Two NORTHERN HARRIERS, a male and a female flew past. The male flushed most of the ducks. The Harriers were not together. They flew past a few minutes apart. A COOPER'S HAWK also made an appearance. It went to the farm to the east of Sauer Farm Prairie.

There were also several hundred Red-winged Blackbirds there. A flock of about 125 BROWN-HEADED COWBIRDS and a few COMMON GRACKLES were near Lasher Road. A SAVANAH SPARROW landed on the rail fence along Harter Road. Sauer Farm Prairie has been an excellent place to hear meadowlarks sing. Eastern and Western Meadowlarks have been really active this spring. Today, even with a little drizzle and a strong wind, both could be heard singing.

Sauer Farm Prairie is in Kane County at the intersection of Harter and Lasher Roads about 3 miles southeast of Kaneville.
Jerry Goldner on 4/7 reported via IBET: 3-5 @ Nelson Lake 40+ White Pelicans, Song Sparrows, 1 Cormorant, 2 Blue Jays, 12 Cowbirds, Usual ducks.
Jim Turner on 4/7 reported via eBird: 3 Rusty Blackbirds and 1 Ruby-crowned Kinglet near Sun City in Huntley.
Tim Kolzow on 4/7 reported via e-mail: This morning at between 8 -9 AM while enjoying my morning coffee on the front porch, I spotted a lone turkey vulture in the area of Rt. 31 & Jericho in SW Aurora. A couple of weeks ago I saw a pair of turkey vultures soaring in the wind just east of my home. My home is about 3/4 mile from the Fox River. Since your checklist lists turkey vultures as "uncommon" so I just thought I'd let you know.
Marcia Nye on 4/6 reported via eBird: Sora and Swamp Sparrow along with the pelicans at Nelson Lake.
Melinda Johnson on 4/5 reported via e-mail: I spotted a Wood Duck swimming in the flooded area of the yard this morning. This evening I have a sweet little Bufflehead bouncing around in the Fox River, enjoying the ride!
Nancy Bent and Roger Reason on 4/4 reported via IBET: We observed 10 White Pelicans as they flew over Nelson Lake (Dick Young Forest Preserve) and landed in the lake in the early afternoon today. Also present on the lake were Lesser Scaup, Canvasback, Ruddy Duck, Redhead, Ring-necked Duck and American Coot. A pair of Sandhill Cranes was seen foraging in the recently burned marshy area to the east of the lake.
Debby Anderson on 4/4 reported via IBET: This morning while walking the dogs along west side of Fox River trail south of Harold Hall Quarry Beach Park in Batavia I spotted a group of Tree Swallows swooping over the river & a pair of Wood Ducks perched in the trees watching the show. The Buffleheads are still congregating at the south end of the island that is directly west of the VFW on Route 25. In swift current just south of that island the Common Goldeneyes are diving.
Darrell Shambaugh on 4/3 reported via IBET: Monday and Wednesday there were 4 swans in a flooded field on Davis Road north of Big Rock (Kane County). I think they were Tundra Swans. Monday they were close to the road, but I didn't have my scope and had to look with only binoculars. Wednesday I had my scope, but the swans were way back from the road behind a wooden fence. This location is on Davis Road about a mile and a half north of Route 30. Davis Road goes north from Route 30 at the gas station.

Sauer Family Farm Prairie, at Lasher and Harter Roads southeast of Kaneville, has a bunch of Western Meadowlarks. I stopped Monday and Wednesday and there were singing Western Meadowlarks along Lasher Road both days.

Wednesday at Almon Underwood Forest Preserve, on Lorang Road south of Main Street about a mile east of Kaneville, American Tree, Chipping, Song, and Vesper Sparrows were in the road and the field immediately south of the forest preserve.
Dick Yamasaki on 4/2 reported via IBET: Visited Nelson Lake Marsh Preserve this morning in Kane County to see the American White Pelicans. There were approximately 50-75 Pelicans, mostly on the North end of the lake. They were not actively feeding but did take to the air a few times. Others birds:
DB Cormorants 2
Turkey Vulture 2
American Coots 6
Scaup 4
GB Heron 2
Fox Sparrow 1
Song Sparrow 8
Common Grackle (many)
Red-winged Blackbird

Photos of Pelicans at:
http://dyamabo.smugmug.com/gallery/4642876_7wqDu#274100270