Darrell Shambaugh on 4/30 reported via IBET: Thursday I went to Fabyan Forest Preserve in Batavia to bicycle the Fox River Trail. As I was getting out of my truck a YELLOW-THROATED WARBLER started singing. I found it in an Oak Tree near the south end of the parking lot by the Japanese Garden, my first in Kane County. Other interesting birds were a pair of COMMON MERGANSERS on the sand bar at the south end of the open lawn area south of the water treatment plant that's under the railroad bridge.

Friday I bicycled in the Fabyan Forest Preserve area again. The Yellow-throated Warbler was still there. I also saw my first of the year BALTIMORE ORIOLES and heard a WARBLING VIREO in Batavia by the sewer plant along the Fox River. There were BLUE-GRAY GNATCATCHERS and YELLOW-RUMPED WARBLERS all along the trail. TREE SWALLOWS, NORTHERN ROUGH-WINGED SWALLOWS, and CHIMNEY SWIFTS flying over the river.
---
Pete Moxon on 4/30 reported by phone: Pete went to Sauer FP to chase Ann Haverstock's sighting of the Smith's Longspurs. He had no luck until a Peregrine Falcon flushed a number of birds during a flyby. After chasing them around a bit, Pete suggests that there are 8 - 10 Smith's Longspurs at Sauer. In addition he reports the following:

American Pipits, 2 - 3
Semipalmated Plover
Killdeer, many
Least Sandpiper, 2
Dunlin, 7 - 8
Solitary Sandpiper, 2
Lesser Yellowlegs, 8 - 9
Greater Yellowlegs, 2
Pectoral Sandpiper, 6
Spotted Sandpiper, 2
Bobolink
Lastly, Pete cautions that birders be careful when walking the grassy areas of the preserve: there are nesting Song, Vesper, and Savannah sparrows underfoot. WATCH YOUR STEP!

---
John Heneghan on 4/30 reported via IBET: We had a Red Headed Woodpecker at our suet feeder [in Big Rock] today, the first RHW ever at out feeder.
FONH (First of New House) Rose breasted Grosbeak. We moved at the end of summer last year. The move was somewhat bittersweet as we had over the years "developed" a following among Spring Migrants.
When we moved in, I was happy to see feeders in the neighbors yards. They said we will get Grosbeaks, Orioles, Hummingbirds ect. We were planting the vegaetable garden this AM and I heard the familiar call of a Rose Breasted Grosbeak in the small tree above me. He stayed for about 15 minutes before moving into the field behind the house.
The first Robins of the year have hatched three chicks in the yard. Suprisingly, there are 2 nests in in 2 different trees about 25 yards apart.
---
Ken Schneider on 4/30 reported via e-mail: At Lippold Park this morning, had two Yellow Warblers near the south parking area, one Yellow-rump, but when we got near the east (bicycle path) bridge over the creek we heard a Louisiana Waterthrush. It was evasive, but I did confirm its identity with a photo. We heard, but did not see, a second one on the walk back to the parking area, along the bike path.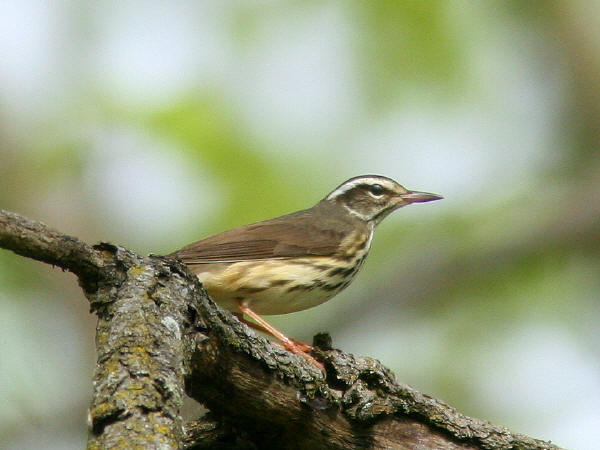 Louisiana Waterthrush photo courtesy Ken Schneider
---
Ann Haverstock on 4/30 reported via e-mail: Saw a pair of Smith's Longspur at Sauer FP in Kane Co. (Harter Rd.) Second Electrical tower west of outhouse. In field South of second tower.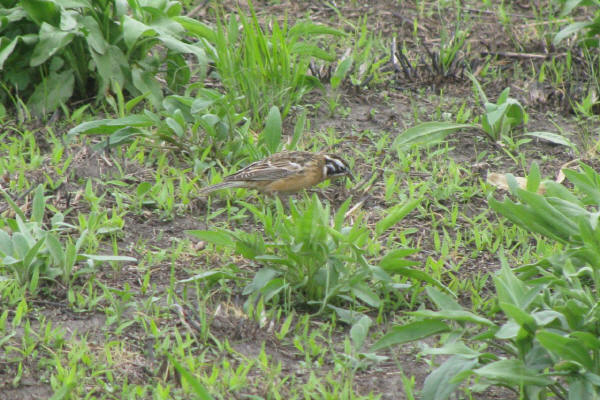 Smith's Longspur photo courtesy Ann Haverstock
---
Jack Pomatto on 4/29 reported via e-mail: A short walk at Jon J. Duerr F. P. this morning ( 4/29/10 ) had one additional spring migrant that I haven't heard about so far in our area, a singing Rose- breasted Grosbeak. The southerly winds overnight may have produced other migrants, but I didn't have time to search any longer.
---
Ann Haverstock on 4/28 reported via e-mail: 4/28 about 2:30 PM. Saw two Virginia Rails at Ferson Creek Fen (St. Charles Rt31, North of Rt 64) The river side of the boardwalk near the "woodland or wetland" sign.
---
Mark Bowman on 4/28 reported via e-mail: At Nelson, a female turkey came down to the marsh on the north end, the bittern is not there now.

At Sauer, NO cinnamon teal, there was a dunlin, yellow legs, pectorals and a green winged teal as noteworthy birds

At Fabyan, the yellow throated warbler was seen singing away high in the trees by the japanese gardens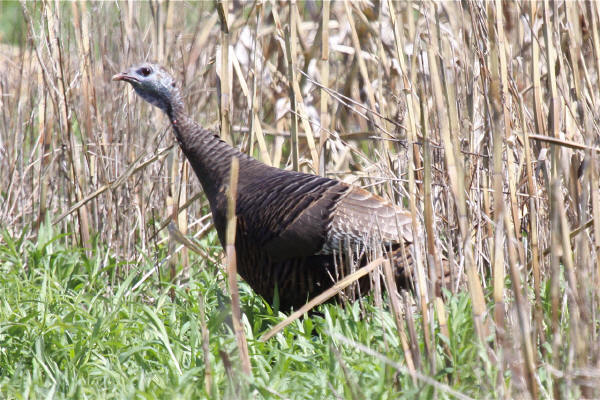 Wild Turkey photo courtesy Mark Bowman
---
Christopher Cudworth on 4/28 reported via IBET: Birding was slow but a few noteworthy species present at Elburn Forest Preserve Tuesday Morning. EFP is on Route 38 1 mile west of Route 47.

PINE WARBLER (singing and feeding in oak trees next to main shelter/parking lot)
YELLOW RUMPED WARBLER (also in oaks next to shelter)
EASTERN PHOEBE
EASTERN BLUEBIRD (pair in oaks by shelter)
RED BELLIED WOODPECKER
DOWNY WOODPECKER
WOOD DUCK
BLACK CAPPED CHICKADEE
BROWN THRASHER
RUFOUS SIDED TOWHEE
RED TAILED HAWK
CARDINAL
ROBIN
RED-WINGED BLACKBIRD
COMMON GRACKLE
HOUSE FINCH
CHIPPING SPARROW
HOUSE SPARROW
SONG SPARROW
GOLDFINCH
TREE SWALLOW

Across the road from Elburn Forest Preserve
BLUE WINGED TEAL
PECTORAL SANDPIPER
LESSER YELLOWLEGS
CANADA GOOSE
UNIDENTIFIED PEEP (SMALL, TOO DISTANT)
MALLARD


At Headwaters / Campton Township
SAVANNAH SPARROW
VESPER SPARROW
SONG SPARROW
WOOD DUCK
COMMON SNIPE (40+)
BLUE WINGED TEAL
POSSSIBLE UPLAND SANDPIPER (heard two snippets of calls, searched to
confirm with no luck)
BROWN THRASHER
RED WINGED BLACKBIRD

Really windy, cold conditions. 44 degrees and 20+mph winds.
---
John Heneghan on 4/28 reported via IBET: Went to Sauer FP this AM. There were 6 of us there. No Cinnamon Teal seen. Did have a marsh hawk flyover, yellowlegs, dunlin, blue winged teal, one green winged teal. Last night, there were quite a few wood ducks. Pete Moxon heard a bobolink this AM and a western meadowlark was heard last night. A little dissapointing to miss the cinnamon teal, but nice to see other birders this AM.
---
Ari Shavit on 4/27 reported via IBET: He relocated the Yellow-throated Warbler at Fabyan Forest Preserve. Here's a link to his photos.
---
Julie Long on 4/27 reported via e-mail: Monday morning, April 26, there was an osprey flying east above and along Ferson Creek. which runs at the edge of my neighborhood, Wild Rose, near St Charles. It seemed to be heading toward the Fox River, which would be less than a mile away.
---
Bob Fisher on 4/27 reported via IBET: Approx. 2:30 PM I observed a beautiful drake Cinnamon Teal on the large southernmost lake/marsh at Sauer. It flew off as I backed out, but hopefully just circled around and returned after I left. Be cautious - the ducks present were very aware of my presence and spooky. There were also Blue-winged Teal present, some in the smaller marsh with bulrushes, so the Cinnamon Teal might return to that marsh also.

Only one shorebird was present other than Killdeer - a Gr Yellowlegs. 2 Am. Pipits were also foraging along the water's edge. The water level in this fluddle was quite high, with no mudflat expanses to attract shorebirds.

Karen, Vicky S and I also checked out Kane and DeKalb Counties for Swainson's Hawks, and found one in far northwest Kane. Looking for shorebirds, we found that all the traditional fluddles along Melms Rd were completely dry, as reported previously by Karen Lund. The marsh across from Elburn FP on the north side was water and looks promising, but all we found were the expected early arriving shorebirds.
---
Ken Schneider again on 4/27 reported via e-mail: It was a windy and chilly morning at Nelson Lake. We saw three FOS Palm Warblers-- so nice to see the the eastern yellow subspecies in contrast to the western form that is so common all winter in Florida. Several Yellow-rumped Warblers were in song, and a Common Yellowthroat skulked in a thicket. Many singing White-throated Sparrows, and one FOS Swainson's Thrush. The pair of Sandhill Cranes is still at nest at edge of the lake in front of east viewing platform. Turkey Vulture flew overhead.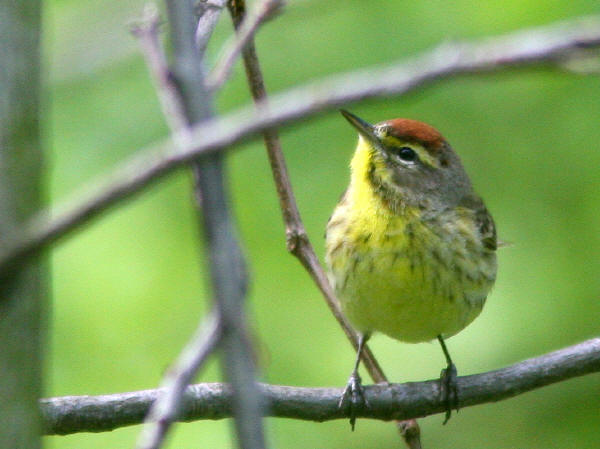 Palm Warbler photo courtesy Ken Schneider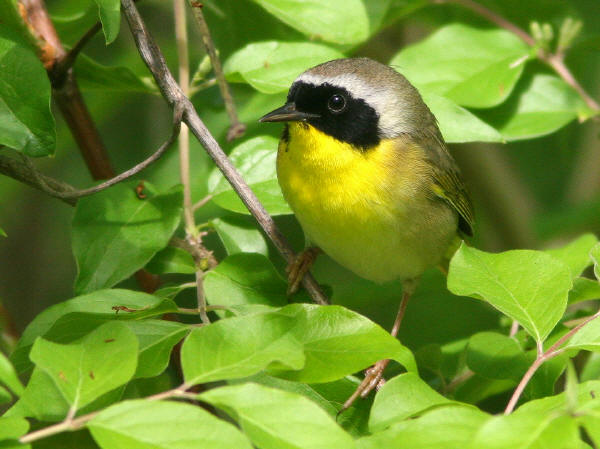 Common Yellowthroat photo courtesy Ken Schneider
---
Ken Schneider on 4/27 reported via e-mail: The Red-tailed Hawk at the SW corner of the Mooseheart grounds appears to be tending young in the nest. Had a singing White-throated Sparrow at Lippold Park yesterday (4/26), but saw no warblers. An Eastern Meadowlark was singing near my front door in North Aurora.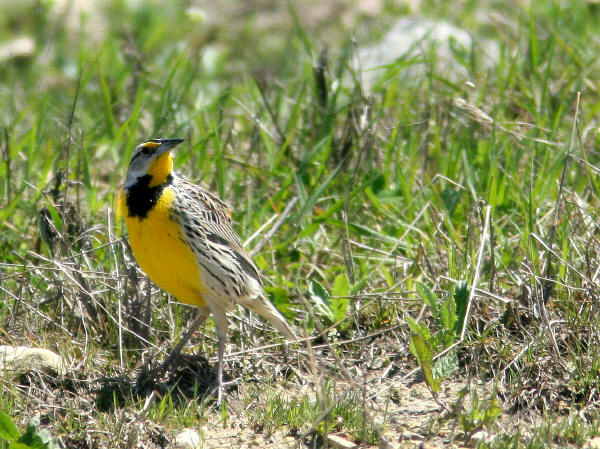 Eastern Meadowlark photo courtesy Ken Schneider
---
Mark Bowman on 4/26 reported via e-mail: At Nelson lake there were marsh wrens, turkey vultures, red tailed hawks, sandhill cranes and an american bittern.
At Prairie Green, there were lots of coots and vesper sparrows but there was a returning spotted sandpiper from last year. 3 good birds there was an american pipit, lark sparrow and a pair of green winged teal. I would have got closer to the lark sparrow but somebody was walking a dog down the path there and the dog scared it !! There was a nesting killdeer there and he was 3 feet from us telling to get lost or else.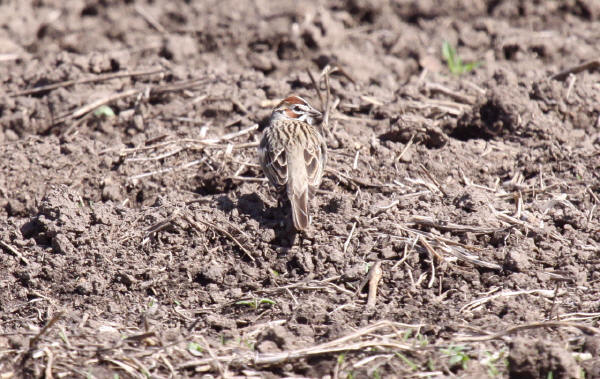 Lark Sparrow photo courtesy Mark Bowman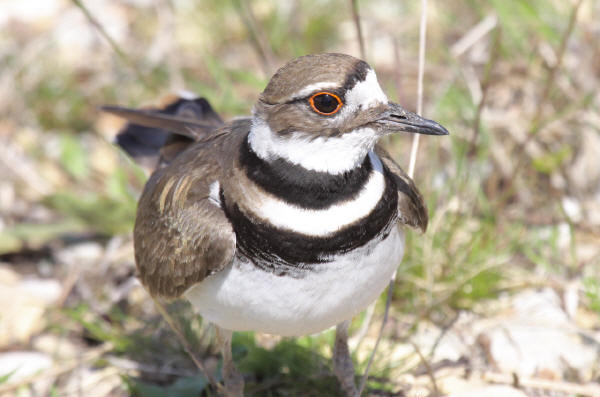 Killdeer photo courtesy Mark Bowman
---
Jackie Bowman on 4/26 reported via e-mail: What a way to end a long day at work. At 1:30pm just when I was walking out the door, my husband, Chris, and his brother, Mark, called to tell me they were waiting for me at Nelson Lake Marsh. They spotted an American Bittern, and held him in the sights until I could get there to photograph the moment.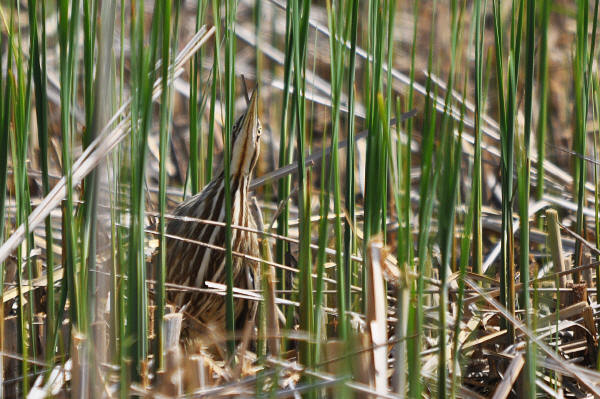 American Bittern photo courtesy Jackie Bowman
---
Scott Cohrs on 4/26 reported via IBET: Despite a pretty good morning on Sunday, I was still a little bummed about missing the 'big one'. The Black Scoter was obviously gone yesterday. That is a great county bird; one of very few records that I am aware of, and none are recent.

Regardless, I had some nice consolation prizes. Started the morning at Big Rock where I got most of the specialties such as Turkey, Tufted Titmouse, etc. Only the Barred Owls were silent. Couldn't coax them out of hiding at all while I was there. Best birds were two separate Lark Sparrows. One was present in the same field as the one a couple years ago. The other was singing from the middle of the field between Raymond Rd. and the woods. I had 5 species of warbler at Big Rock. Ovenbird, Orange-crowned and Common Yellowthroat were all new on the year for me.

At the Japanese Garden area in Fabyan FP, a Yellow-throated Warbler was present. I'd like to thank Al Stokie for the heads up on that bird. I had stopped there a few times in the last couple weeks hoping for Yellow-throated, but had struck out until yesterday. Further north on Route 31, I had a Louisiana Waterthrush in the ravine by the Kane County Gov Center.

A Forster's Tern was actively fishing at the small pond by the Persinger Rec Center at the corner of Peck and Kaneville Rd.
A few other new migrants from the weekend include Chimney Swift, Purple Martin, Marsh Wren and Nashville Warbler. Finally, on Saturday, a brief visit to the Japanese Garden area produced a fly-over Peregrine Falcon.
---
Joni Griffin on 4/26 reported via e-mail: I am lucky enough to live in the Edgewater community off of Bowes road in Elgin. Our house backs up to a small wetland behind the Cape Cod Circle street. We have only lived here a year but it is so exciting! The water is about 25 ft behind our deck. At the end of last summer I was sitting on the deck when a bald eagle landed not four feet in front of me on the deck railing. My mouth dropped. He turned to stare at me for about 30 sec before he flew off. The wing span was spectacular!!! A once in a lifetime experience!
There was a flock of about 30 white egrets that had landed on the water the day before...I think it was following them.
We see hundreds of ducks, geese and herons; all kinds of birds. Blue birds flock our bird feeder everyday now. This morning I took a picture of two [Sandhill Cranes]. Oh my gosh I love it here!! We don't know much about birds or water fowl. We have never seen anything like them...Their sound is loud and distinctive when they fly off. I have heard the sound all week but this is the first time we saw them.

Sandhill Cranes photo courtesy Joni Griffin
---
Christopher Cudworth on 4/26 reported via IBET: I had not seen any posts on these two species returning. I'm sure many of you have noticed them in the area.

The PURPLE MARTIN colony at Batavia is already vociferous and from running by on the trail I would estimate at least 20 birds present.

Also saw 5 highly active CHIMNEY SWIFTS pursuing each other over downtown St. Charles Sunday afternoon.

During my bike rides out west of the Tri-Cities there have been numrerous VESPER SPARROWS, HORNED LARKS and SAVANNAH SPARROWS.
Also spotted an EASTERN BLUEBIRD during my run on the west side river trail
in Batavia.
---
Jackie Bowman on 4/24 reported via e-mail: Following a tip on the Black Scoter posted on IBET, Chris and I went to the pond at Gerald Nissan in North Aurora. Not only did we get pics of the immature Black Scoter but we also spotted and got pics of a Forster's Tern. While viewing the birds the tern did fly off to the south at about 5:00 pm.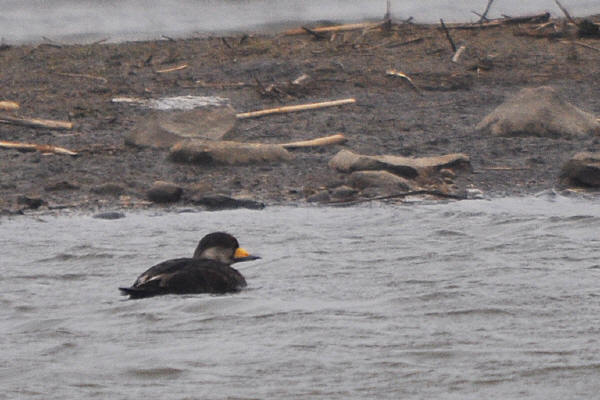 Black Scoter photo courtesy Jackie Bowman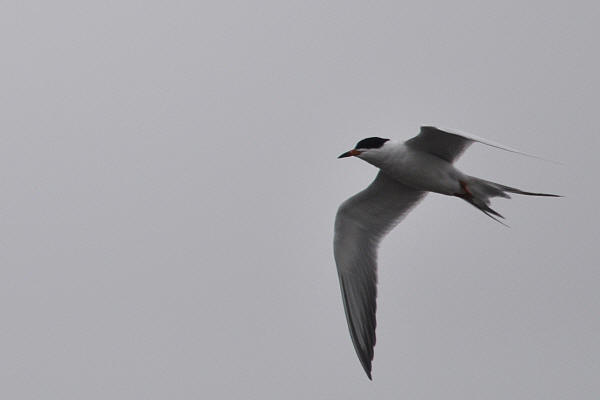 Forster's Tern photo courtesy Jackie Bowman
---
Doug Stotz on 4/24 reported via IBET: This morning when I was headed out to Kendall Co. to bird, when I got off I-88 at Orchard Rd., there was a BLACK SCOTER in the borrow pit on the north side of the exit ramp (from westbound I-88). A young male I think with yellow-orange knob on its bill, but basically female plumage. Otherwise there were pretty standard things there. Along Orchard Rd, going south there were 20 PECTORAL and a SPOTTED SANDPIPER at Aucutt Rd. (the same place that had the stilt last spring).
---
Pete Moxon on 4/23 reported via text message: Now for a-- SAUER-- note. A few of both YELLOWLEGS (Lesser and Greater) and PECTORAL, LEAST, and SPOTTED SANDPIPERS, a SOLITARY SANDPIPER, 13 WOOD DUCKS, other ducks, 4 WESTERN MEADOWLARKS, 3 Male VESPER SPARROWS, 1 SORA, and other expected species.
---
Darrell Shambaugh on 4/21 reported via IBET: There were 7 GREATER YELLOWLEGS and 4 PECTORAL SANDPIPERS on a sand bar island in the Fox River near Quarry Park in Batavia (Kane County) this afternoon. Other birds seen between Route 56 and Batavia included HERRING GULL, RING-BILLED GULL, WOOD DUCK, TREE SWALLOW, and BLUE-GRAY GNATCATCHERS.
---
Ron Dickenson on 4/21 reported via e-mail: The pair of eagles have been busy bringing fish to feed the newly hatched eaglets.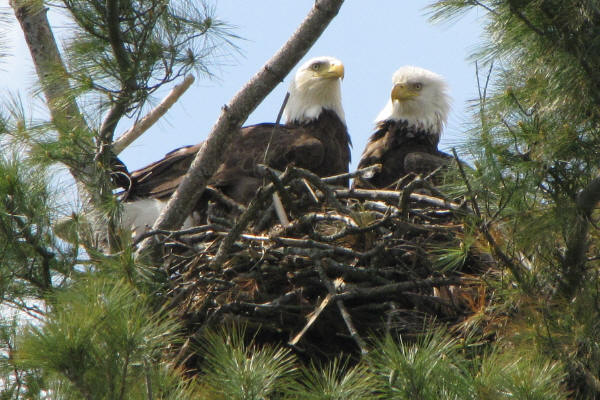 Mooseheart Bald Eagles tending to newly hatched, but not yet visible, eaglets.
Photo courtesy Ron Dickenson.
---
Ken Schneider on 4/20 reported via e-mail: We heard or saw about 6 Swamp Sparrows at Nelson Lake/Dick Young FP this morning. Had one Hermit Thrush in the woods south of the observation platform. Also saw an adult Bald Eagle flying to the south from the lake. No warblers except for one Yellow-rump. A pair of Sandhill Cranes has a nest near the lake shore directly in front of the east observation platform.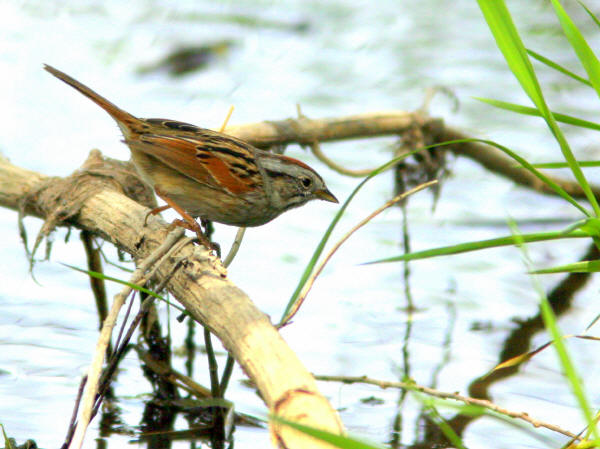 Swamp Sparrow photo courtesy Ken Schneider
---
Mark Bowman on 4/20 reported via e-mail: At Sauer Farms today, the LAPLAND LONGSPURS were abundant and beautiful. Get out and see them, they are in the fields by the main parking lot. I saw them west of the parking lot today, you have to go out to flush them to see where they are because they are not easy to see. There were BW TEALS, SHOVELERS, PECTORAL SANDPIPERS, LESSER YELLOWLEGS and AMERICAN GOLDEN PLOVERS on the pond.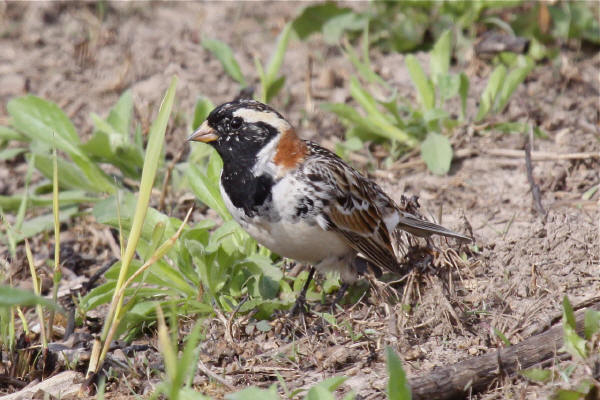 Lapland Longspur photo courtesy Mark Bowman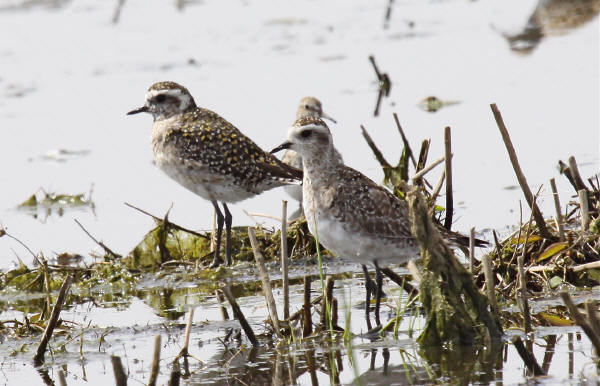 American Golden-Plover photo courtesy Mark Bowman
---
Ken Schneider on 4/19 reported via e-mail: Mary Lou and I walked in Lippold Park this morning. Seeking warbler and non-robin thrushes, but none were evident. We did see a White-throated Sparrow in nice plumage. Then we went on to Jones Meadow Park in Batavia/North Aurora, where we had two Eastern Bluebirds, our first since getting back to Illinois two weeks ago. We heard an Eastern Wood-Pewee calling, and, in the wetlands just off the NW end of the paved trail, heard a Sora. We have more photos on our blog and Flickr pages.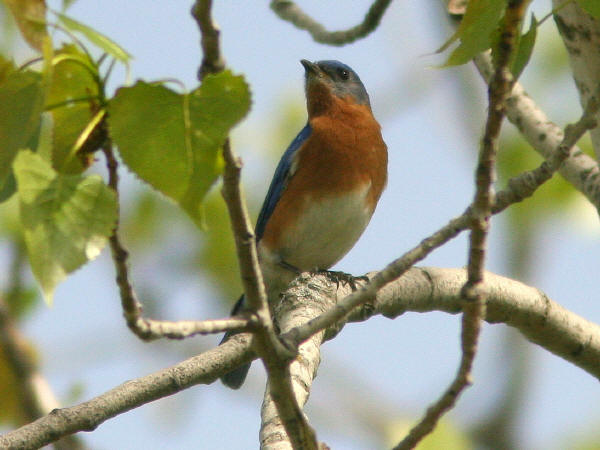 Eastern Bluebird photo courtesy Ken Schneider
---
Roland Muts on 4/19 reported via e-mail: My wife and I spent about 5 hrs walking around Nelson Lake Park yesterday. Took my camera with my 500mm Sigma lens + 1.4x telezoom; wasn't expecting any crisp shots of birds, so it was more for ID purposes :-)

Spotted the following:
Cranes (2, heard them more than spotting them)
Tree swallows (displaying some nice airshow-worthy moves)
Cardinals (both male and female)
Kestrel (male)
Bald Eagle (soaring high over the lake, was not expecting it!)
Yellow-rumped warblers
Lots of Robins (male/female)
Lots of Red winged Blackbirds (males easy to spot, females seem to be hiding in the trees)
Blue-winged Teals (male / female pairs)
Brown Thrasher
Yellow Flicker
Couple of possible gold finches (male), but not as yellow as they would be during the summer, so probably getting its summer coat?
Eastern Meadowlark (hiding between the dandelions... Really difficult to spot from far away :-)
Very large seagull, soaring high over the lake; have some photos, but not able to ID it yet. First time I see a gull do this over land. I always associate seagulls as being close to the fast food restaurants in this area...
---
Ken Schneider on 4/19 reported via e-mail: At Lippold Park, I saw two Ruby-crowned Kinglets interacting. One was displaying his crown to an extent that I had not seen before.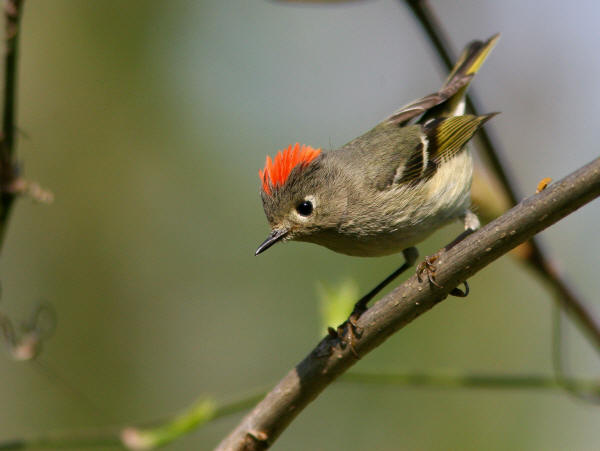 Ruby-crowned Kinglet photo courtesy Ken Schneider
---
| | |
| --- | --- |
| Sue Wagoner on 4/18 reported via e-mail: This female Yellow-Bellied Sapsucker was working my neighbor's tree. As she made each hole she would peck straight, then cock her head one way then the other pecking the nice even holes we see in the photo. I have read they return to favorite trees year after year. | |
| | Yellow-bellied Sapsucker photo courtesy Sue Wagoner |
---
Pete Moxon on 4/18 reported via phone: Reports from Saturday from around Kane County:
A pair of Swainson's Hawks near Burlington along Chapman Road.
Seen at Elburn Slough (the large fluddle across from the entrance to Elburn Forest Preserve):
82 Northern Shovelers
21 Green-winged Teal
47 Mallards
16 Blue-winged Teal
8 Killdeer
9 Greater Yellowlegs
8 Lesser Yellowlegs
6 Pectoral Sandpipers
2 Solitary Sandpipers
4 Wilson's Snipe
At Elburn Forest Preserve, along with the usual passerines, a pair of Brown Thrashers. Not seen, but heard, a possible Northern Mockingbird.
At a fluddle on Dauberman Road where it passes over I-88 Pectoral Sandpipers and Wilson's Snipe.
A Sora at the Kaneland High School fluddle.
Two Bonaparte's Gulls at a fluddle along Meredith Road.
At Sauer Forest Preserve:
5 Greater Yellowlegs
10 Lesser Yellowlegs
47 Pectoral Sandpipers
6 Least Sandpipers
42 Wilson's Snipe
21 Killdeer
3 Solitary Sandpipers
1 Spotted Sandpiper
3 Western Meadowlarks
2 Vesper Sparrows
9 Eastern Meadowlarks
22 Swamp Sparrows
28 Savannah Sparrows
13 Northern Shovelers
19 Green-winged Teal
14 Blue-winged Teal
3 Gadwall
6 Wood Ducks
59 Mallards
10 Lapland Longspurs
2 American Pipits
1 Horned Lark
1 Great Egret
1 Great Blue Heron
1 Peregrine Falcon flyby
150+ American Robins
---
Ari Shavit on 4/17 reported via IBET: Went out to [Sauer] prairie kane county and found a flock of lapland longspurs there. There were around 50 or so but getting photos of them was not easy. They blend in with the prairie really good.
---
Joy Duerr on 4/16 reported via e-mail: Here is the checklist for the Les Arends Ramble on April 15.
Canada Goose
Wood Duck
Mallard
Double-crested Cormorant
Great Blue Heron
Turkey Vulture
Cooper's Hawk
Killdeer
Herring Gull
Mourning Dove
Red-bellied Woodpecker
Yellow-bellied Sapsucker
Downy Woodpecker
Northern Flicker
Eastern Phoebe
Warbling Vireo
Blue Jay
American Crow
Black-capped Chickadee
White-breasted Nuthatch
Ruby-crowned Kinglet
Blue-grey Gnatcatcher
Hermit Thrush
American Robin
Brown Thrasher
European Starling
Yellow-rumped Warbler
Palm Warbler
Field Sparrow
Song Sparrow
White-throated Sparrow
Dark-eyed Junco
Northern Cardinal
Red-winged Blackbird
Brown-headed Cowbird
American Goldfinch
---
Ken Schneider on 4/15 reported via e-mail: This afternoon I visited Hawk's Bluff Park in Batavia. Interesting finds were a Hairy Woodpecker and Cooper's Hawk, now incubating, and a Song Sparrow singing its heart out. Earlier, Mary Lou and I took a mid-morning walk at Dick Young/Nelson Lake FP along the trail that leads north from the platform. We heard two, and possibly three Eastern Screech Owls calling along the path and the northern perimeter of the lake..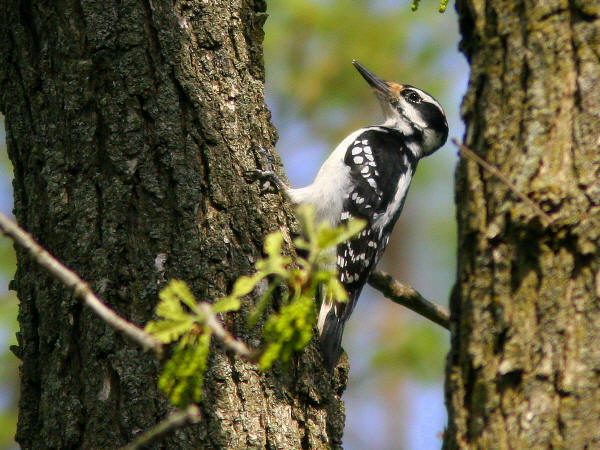 Hairy Woodpecker photo courtesy Ken Schneider
---
Bryan Hix on 4/14 reported via e-mail: Started out at Binnie FP in West Dundee early this morning (6:45am). Saw 42 Cedar Waxwings in one tree! They were everywhere cleaning up left over berries. The highlight of the day was seeing a black and white warbler on a large white oak tree in the Highland Woods Subdivision (West Elgin) around 1pm. The list of birds seen at Binnie FP was:
Cedar Waxwings
Northern Cardinals
3 Ruby Crowned Kinglets
2 Hermit Thrushes
Chickadees
2 Brown Thrashers
2 Song Sparrows
2 Blue-winged teal
1 Great Egret
5 Coots
4 Meadowlarks
1 Coopers Hawk
2 Sandhill Cranes
3 Shovelers
---
Mark Bowman on 4/14 reported via e-mail: There is a pair of pied billed grebes in St charles in the pond off of fox chase blvd. I believe they nested there last year and they are there again this year.
Went to Corron Farms but there were no snipes there that I saw.
I got a couple pics of the grebe in breeding plumage. I'll try to get closer some time since it is right in my neighborhood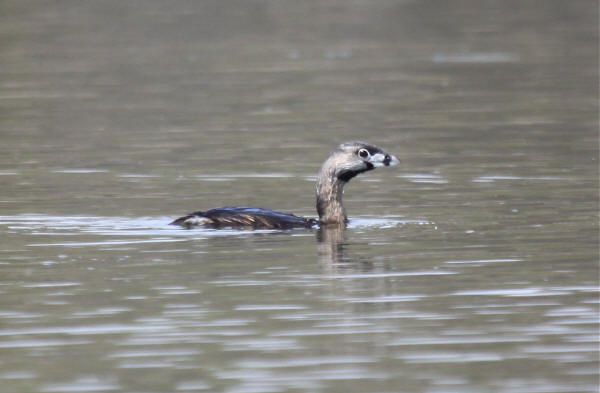 Pied-billed Grebe photo courtesy Mark Bowman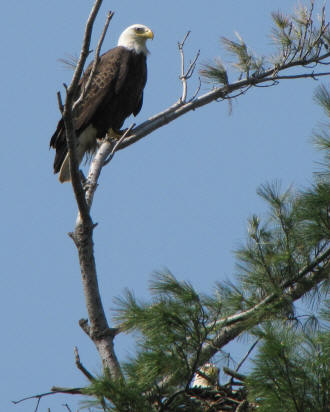 Mooseheart's Bald Eagles are still tending their nest. Photo courtesy Ron Dickenson
---
Ari Shavit on 4/13 reported via IBET: There was a palm warbler at fabyan f.p this morning.I also saw an osprey and a cormorant flying along the river.
---
Darrell Shambaugh on 4/13 reported via IBET: The highlight of an hour at Johnson's Mound this afternoon was a flock of RUSTY BLACKBIRDS. They were along the road that goes to the big tower by the grasslands. While walking to wth grasslands I heard a BARRED OWL calling from the west side of the park.. I also heard an EASTERN PHOEBE calling. At the big tower at the grasslands a couple FIELD SPARROWS were in the grass. The Rusty Blackbirds were in the flooded areas along the road to the grassland. A DARK-EYED JUNCO was in one of these "ponds" too.

After seeing Yellow-bellied Sapsuckers daily for about a week, I haven't seen any since Sunday.
---
Bill Koch on 4/13 reported via e-mail: After reading Scott Cohrs recent report I headed out to Corron Farm in Campton Township Monday to look for Snipe I found about 40 Wilsons Snipe in the marsh area towards the back. Some were out in the open and provided great views. Many regular species were there with a total of 29 for the location. The tree line by the prairie area produced 8 singing Vesper Sparrows. Savannah Sparrows were everywhere. This location should be a great spot for Grasshopper and Field Sparrows in the coming months. Have been told that Bobolinks have been viewed there in the past.

Today I visited Johnsons Mound in search of Hermit Thrush and Kinglets. I struck out on the Thrush and Kinglets but I did find a Barred Owl way back in the Woods. Yellow Rumped Warblers were found in numerous locations. The best part of the walk was listening to the singing Winter Wrens and Chipping Sparrows. The Winter Wrens were flitting about the brush just off the road where the Grassland trail begins.
---
Debbie Wisser on 4/13 reported via e-mail: While driving north on Route 31 I noticed a flash of multiple white spots in the sky that then disappeared then reappeared moments later. I had binoculars in the car so I pulled into the Pace garage parking lot, and confirmed that what I saw was a flock of 35-40 American White Pelicans soaring above the Elgin Mental Health Center property. What a surprise! If they had been a couple of mile further north I would have been able to add them to my yard list!
---
Bryan Hix on 4/13 reported via e-mail: I was out early at Nelson Lake this morning for 2 hours. It was very uneventful. I think the burning has effected some of the ducks and other water birds. There were only a couple pairs of mallards, several geese, a pair of sandhills, lots of RRW Blackbirds, and one pied-billed grebe. There was one yellow-rumped warbler flying around the trees by the deck and that's about it. Next I drove down to Carson Slough. Same story, nothing there but some puddle ducks including a pair of shovelers, and nesting geese. There was one small group of coots. No sign of pelicans. When I pulled in my subdivision in Gilberts, I saw my first great egret of the year. Hopefully the warm front this week will bring some new birds.
---
Darrell Shambaugh on 4/12 reported via IBET: After work this morning I biked the Virgil Gilman Trail in Aurora from Galena Ave. to the south end of Randall Road. The best birding is east of Edgelawn, with Aurora Country Club north of the trail and the BNSF railroad on the south side. Today in this area there were 3 HERMIT THRUSHES, 2 RUBY-CROWNED KINGLETS, 1 GOLDEN-CROWNED KINGLET, a CHIPPING SPARROW, a SONG SPARROW, a DARK-EYED JUNCO, a HAIRY WOODPECKER, and several YELLOW-RUMPED WARBLERS. Aurora Country Club has some great big Sycamore trees, and a few are on the trail property. This looks like it may be an excellent warbler spot in a few weeks.

Other birds seen on the Virgil Gilman Trail included WHITE-THROATED SPARROW, BROWN THRASHER, BLACK-CAPPED CHICKADEE, TURKEY VULTURE, and HOUSE FINCH.

I've only biked the Virgil Gilman Trail a few times and I've always found interesting bird. The trail goes from the Bliss Woods area, north of Sugar Grove to someplace in Aurora. It is worth checking out if you like to bicycle and bird.

I drove south down Jeter Road, which goes through some of the Big Rock Forest Preserve property. The only bird I saw in the forest preserve property was a GREAT BLUE HERON.
---
Ginny Widrick on 4/12 reported via e-mail: On Friday and Sunday (April 9 -11th) at LeRoy Oaks F.P. in St. Charles I spotted a dozen yellow rump warblers and two palm warblers. The blue birds are very active, I saw two brown thrashers singing plus a hermit's thrush.
---
Scott Cohrs on 4/11 reported via IBET: Though they breed annually (for now) in Kane County, I have never seen a Swainson's Hawk away from the known breeding locations near Huntley or Burlington. Therefore I was quite surprised to see a perched Swainson's in the lone tree at Headwaters CA near Elburn this morning. I passed it off as a Red-tailed and took a quick glance thru the binocs for the heck of it. Glad I looked, as I got to enjoy this bird just sitting there for several minutes. I even got a few digi-binned photos with my phone, which was a funny process. The bird eventually took off and soared high and to the west towards Elburn. I am hoping it is a returning breeder as Burlington is not too terribly far from this spot as the hawk flies.

The other birds at Headwaters were more expected. For anyone wanting to see and hear Wilson's Snipe, including displaying birds, this is the spot. There were easily 100+ birds present as I trudged around. Savannah and Swamp Sparrows were back in good numbers, and a Brown Thrasher was singing along the east hedgerow. As I was leaving, a large dark raptor with wings in a slight dihedral was soaring slowly off to the west. It was not a Turkey Vulture, and I suspect it was a Golden Eagle, but it was simply too far away to say for sure. I eventually lost it due to distance.

Earlier in the day I walked thru the east side of Fabyan FP. I did not find my hoped-for Louisiana Waterthrush, but most other early spring migrants were around. Best bird was a Pine Warbler, along with a Purple Finch, Winter Wren and 3 separate singing Hermit Thrushes. I don't ever recall hearing a Hermit Thrush sing, so that was a real treat.
---
Sue Wagoner on 4/11 reported via e-mail: I had one Ruby-crowned kinglet and one Hermit thrush in my backyard today, as well as about 16 Cedar waxwings working my neighbor's tree. The Chipping sparrows have returned to the neighborhood.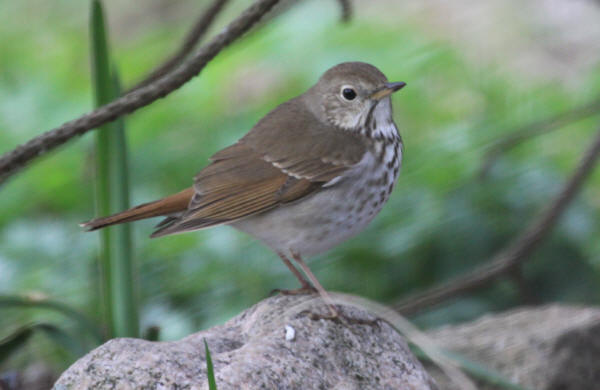 Hermit Thrush photo courtesy Sue Wagoner
---
John Heneghan on 4/10 reported via IBET: After spending most of the day doing yard work, we grabbed our binnoculars and walked to Big Rock FP. Among the birds seen were an Eastern Towhee, Thrasher, Song Sparrow, White Throated Sparrows, Chipping Sparrows, Yellow Bellied Sapsucker, Flickers (quite a few), Downy Woodpecker, Red Headed Woodpecker, Red Bellied Woodpecker, White Breasted Nuthatch, Tufted Titmouse, Wood Ducks (heard), Great Horned Owl (heard), Pheasant (heard), and a Kildeer. Noticeably abscent were waterfowl on the lake.
Red Trillium were coming up as well as Mayapple and Rue Anemone (I think).
---
Paul Mayer on 4/10 reported via e-mail: Today was the official spring opener at Prairie Green. The weather was beautiful and the crowd of 13 was excited. It was obvious as we entered the grassland across from Heartland Drive that there would not be the amount of water as last year so we didn't know what to expect with regards to waterfowl and shorebirds. Sparrows were among the first to reveal themselves with Song, Savannah, Vesper and Tree Sparrows. Horned Larks flitted about in the plowed fields and a variety of ducks showed up on the "pond". Among them were Mallards, Green-winged and Blue-winged Teal, Shoveler, and a lone Wood Duck. Only one shore bird was present, a lonely Pectoral Sandpiper. But, and I say that with a capital "B", Kathy Kershner spotted a Short-eared Owl as it rose up from the taller grass and settled about 75 yards to the east. All were able to get good looks at the bird through scopes. The owl took off again, continuing to hunt to the north of us when it was mobbed by six crows which drove it high and off to the east, not to be seen again. Whether it came back or not is anybody's guess. Ann Haverstock managed to get a digiscoped picture which is attached to this article. The last really good bird of the day was a pair of Brewer's Blackbirds that gave some great looks at about 25 yards. The day totaled 35 species listed below. If you get a chance, visit Prairie Green as the birds start to move through. Send your checklists to Paul Mayer at mayersbirds@comcast.net as he keeps a running tally of all sightings throughout the year. Good birding to all.

Species seen 4/10/10

Canada Goose
Wood Duck
Mallard
Blue-winged Teal
Northern Shoveler
Green-winged Teal
Ring-necked Pheasant
Great Egret
Turkey Vulture
Cooper's Hawk
American Kestrel
American Coot
Sandhill Crane
Killdeer
Pectoral Sandpiper
Ring-billed Gull
Rock Pigeon
Morning Dove
SHORT-EARED OWL
American Crow
Horned Lark
Tree Swallow
Hermit Thrush
American Robin
Brown Thrasher
American Tree Sparrow
Vesper Sparrow
Savannah Sparrow
Song Sparrow
Northern Cardinal
Red-winged Blackbird
Eastern Meadowlark
BREWER'S BLACKBIRD
Brown-headed Cowbird
House Finch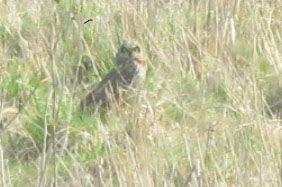 Digiscoped (shot with a digital camera through a spotting scope)
photo of Short-eared Owl courtesy Ann Haverstock.
---
Ken Schneider on 4/10 reported via e-mail: A Vesper Sparrow was singing on the roof of our North Aurora condo this morning. I drove down near where I saw it fly and took this photo, using the car as a blind. This bird sang softly on the ground a couple of times.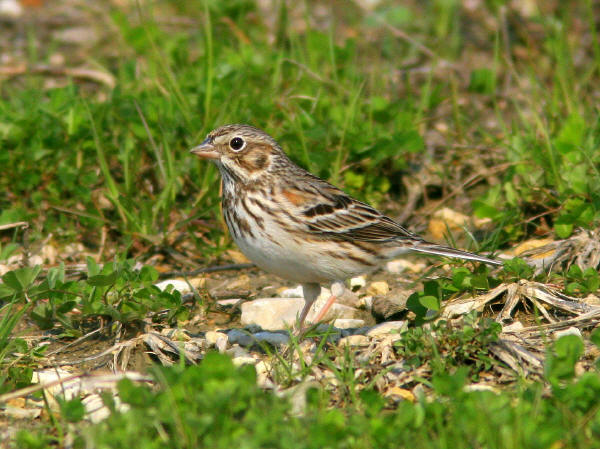 Vesper Sparrow photo courtesy Ken Schneider.
---
Ron Dickenson on 4/9 reported via e-mail: The owlets have left their nest in Batavia today. They are about two weeks a head of the ones from last year.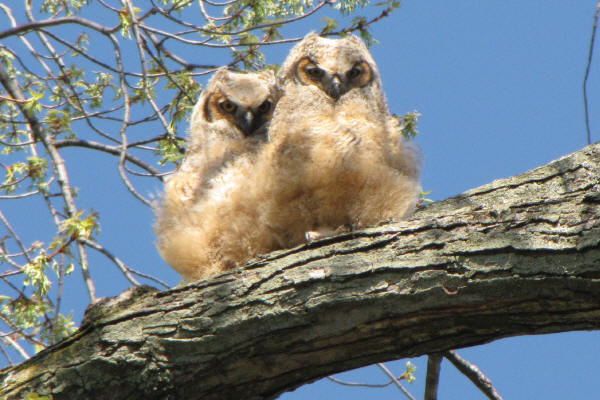 Great Horned Owlets photo courtesy Ron Dickenson
---
Jon Duerr on 4/9 reported via IBET: As of 8:45 AM Friday no Pelicans were found at Nelson L nor at Carson Slough, Sugar Grove. However, there was over 330 Ruddy Ducks, 25 Ring-neck Ducks, 20 L. Scaup, 20 Mallards, 10 N.Shovelers and 50 A. Coots. There appears to be 3 pairs of Sandhill Cranes which continue to be very fearless and easy to see.
---
Jon Duerr on 4/8 reported via e-mail: Thursday morning at Dick Young/Nelson Lake: F.O.Y. Brown Thrasher and singing Fox Sparrow at observation deck. 200 ! Ruddy Ducks on lake.

Les Arends FP 3-4 Eastern Towhees. many Yellow-rumps, 5-6 Yellow-bellied Sapsuckers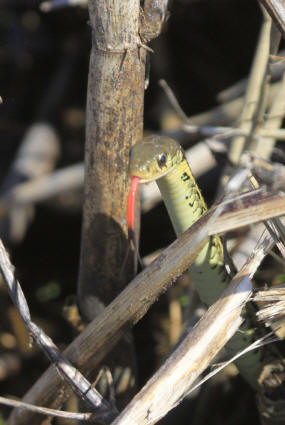 Garter Snake photo courtesy Sue Wagoner
---
Sue Wagoner on 4/7 reported via e-mail: While Pelican-watching at Carson Slough April 5 I suddenly looked down about 10 feet in front of me and caught a full view of a Mink! (An "Oh My God!" moment on both ends!) I quickly tried to focus on him but was too slow to get a good shot and he scrambled back into the reeds. I did get his eye, nose, and whickers poking out of the reeds. Also seen were several Garter Snakes.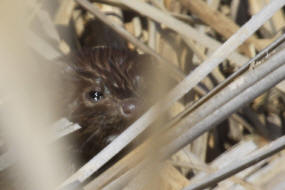 Shy Mink photo courtesy Sue Wagoner
A note to Ron Dickerson- On April 2, I could not reproduce your results of Pink Flamingos at Nelson Lake, as they were most likely attracted by the large burn they did there recently and no doubt left when no more burns were scheduled. Perhaps next year.
---
Ron Dickenson on 4/7 reported via e-mail: These wood ducks were in a tree in our yard in Batavia Sunday morning. I think they have a nest near by.

Wood Duck male and female photos courtesy Ron Dickenson
---
Christopher Cudworth on 4/6 reported via IBET: Birds seen this evening [at Elburn Forest Preserve] (along with more than 10 species of early-blooming
spring wildflowers):

Yellow bellied sapsucker
Hairy woodpecker
Red-bellied woodpecker
Downy woodpecker
Eastern Phoebe
Veery (a mobile flock of six birds)
White breasted nuthatch
Dark eyed junco
Starling
Robin
Grackle
Red winged blackbird
Barred Owl (vocalizing at 6 pm.. NW corner of main woods, visible from road
by car)
Eastern bluebird
That was it. Just a nice loop walk on the main road.

Go now. The wildflowers won't last past next weekend, methinks.
---
Sue Wagoner on 4/5 reported via e-mail: Lots and lots of American White Pelicans at Carson Slough this morning, with a beautiful blue sky. The big guys provided me and several other photographers with some good photo shoots (who knew they have blue eyes?) so I will add my photo contributions to the others...
Unfortunately they include a farther view of most of them moving on, but what a beautiful day for a long trip northward!
Also present were several Northern Shovelers, with one male-female pair doing some serious head-bobbing, a Blue-wing teal pair, some Buffleheads and quite a few Coots.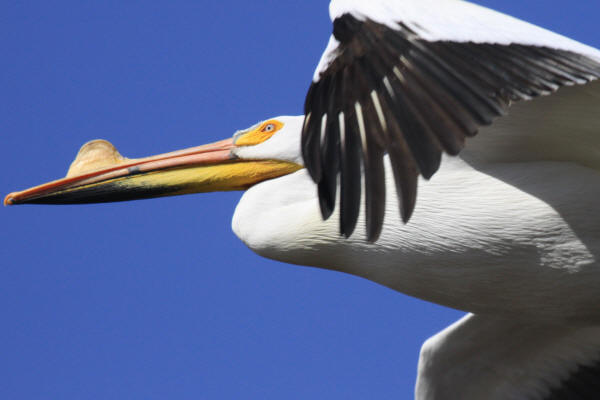 American White Pelican in flight closeup courtesy Sue Wagoner
---
Yeanette Johnson on 4/5 reported via IBET: Other than a few YELLOW-RUMPED WARBLERS, LesArends FP was rather slow today. I spent one hour at lunch time birding between Les Arends FP & Quarry Park and was able to spot only the regulars. Still a nice variety of birds present & a most beautiful day to be out & about! I did have one BLACK-CROWNED NIGHT-HERON on Sullivan just West of Rt 31 on my way down to the river!
---
Bob Andrini on 4/5 reported via phone: One hundred pelicans on Nelson lake at 10:30 AM. By 11:00 only 20 remained.
---
Karen Land on 4/5 reported via IBET: Had to go to Peoria from Batavia for Easter so we stopped by the Carlson Sough in Sugar Grove about 10am to see the American White Pelicans. It was very windy but still clear out and several hundred where hunkered down and spread out throughout the Slough. Today, returning home, we stopped again and there were just as many in the Slough but several flocks of 20 or so each were in the air and circling around. Driving further east on Main Street we saw several flocks in the air in the area of Nelson Lake.
---
Robin Moseley on 4/4 reported via e-mail: There was a small group of American White Pelicans at Nelson Lake about 8:30 am. There was a much larger group of Pelicans at Carson Slough. We counted over 100 spread out across the lake and many circling in the air during the morning. There was a small number of Canada Geese, Coots, Mallards, and one flying Sand Hill Crane on the lake as well. Excellent views of the Pelicans could be seen from all along the SE shore. The attached photo is a frame from video I was taking.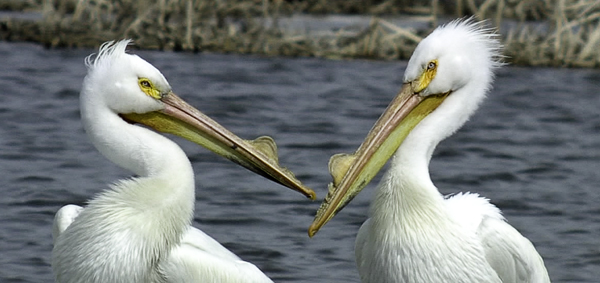 American White Pelicans at Carson Slough courtesy Robin Moseley
---
Angela A. on 4/2 reported via e-mail: I just wanted to let you know that I spotted a strange goose hybrid along the Fox River Trail yesterday afternoon. It was about a half mile north of the Funway on the east side of the river. Also, just south of Quarry Park, there were 4 male and 3 female wood ducks.

Hybrid goose and Wood Duck photos courtesy Angela A.
---
Don Lopat on 4/2 reported via IBET: The Pelican trek, Off to Nelson Lake was a big zero for the AWP's but a feeding Sandhill Crane in the newly burned field to the left of the viewing platform kept everybody happy.

Then on to Carson Slough Park in Sugar Grove (Thanks to Claire D's. posting last night), several hundred American White Pelicans, Coots, nesting Canada Geese, Great Blue Heron, Turkey Vulture, Red-winged Blackbird, Red-tailed Hawk, Cardinals, and Tree Swallows, Mallards and Northern Shovelers, etc.
---
Eric Secker on 4/1 reported via IBET: I took a walk late this morning through a large portion of the oak woods at Burnidge F.P. and had a nice mix of birds inluding: 1 RUSTY BALCKBIRD, 1 BROWN THRASHER, 1 EASTERN TOWHEE (later in the evening), 1 FIELD SPARROW, 2 SANDHILL CRANES, 2 YELLOW-BELLIED SAPSUCKERS, 2 RED-BREASTED NUTHATCHES, 16 NORTHERN FLICKERS, FOX SPARROWS scattered in many areas but hard to see, 24+ GOLDEN-CROWNED KINGLETS, a couple EASTERN BLUEBIRDS, TREE SWALLOWS, BROWN CREEPERS, EASTERN PHOEBES, and other regulars.
---
Claire Dassy on 4/1 reported via IBET: [...] I went out to Sugar Grove today to find well over 100 pelicans on this beautiful marsh [Carson Slough]. Well worth the trip from Algonquin. A photo showing a dozen or so of these bumps on a log is [on my flickr account]. I passed Nelson Lake on the way home and didn't see any pelicans there.

---
Ron Dickenson on 4/1 (note the date) reported via e-mail: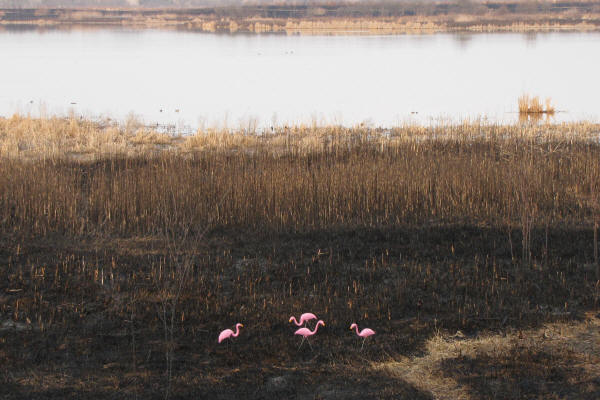 Pink Flamingos foraging at Nelson Lake photo courtesy Ron Dickenson