---
Scott Cohrs on 4/30 reported via IBET: Must be moving day for Willets! I found 4 Willets at Kenyon Farms this evening on the way home from work. This is in South Elgin, just east of the high school...
---
Lisa Corrigan on 4/30 reported via e-mail: Yesterday my husband and I saw an eagle off Randall Road, on the Mooseheart property. It was sitting high in a tree but was visible as you were driving by. Went back about Ĺ hour later and it was still sitting in the same spot.
---
John Janunas on 4/30 reported via e-mail: Great horned owlets at Fabyan Forest Preserve this morning.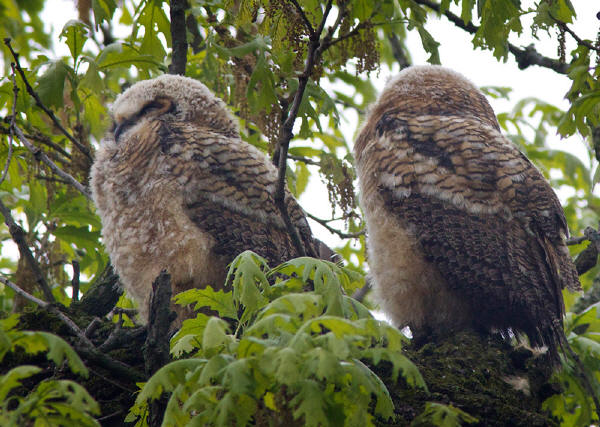 Great Horned Owlets photo courtesy John Janunas
---
Vernon LaVia on 4/29 reported via IBET: In my backyard of Aurora, right as the rain started around 6:30 pm, I observed from my porch (at eye level) for more than 15 seconds...Worm-eating Warbler.

Also had a Palm Warbler singing away a few feet from the Worm-eating. And a Rose br Grosbeak high up in one of our black walnut trees.

My neighbor's little girl, God bless her, ran over in a bright pink coat and asked me---in a Dennis-the-Menace-like sing-song---"What'cha doing?" In doing so, the Worm-eating darted swiftly across the back alley to a large tree in the backyard of someone living on Lincoln Ave., and I could not relocate it.

First Worm-eating in the 12 years we've lived here.
---
Cathy Blecker on 4/29 reported via e-mail: Have a Red Headed Woodpecker in the yard today resting on a black cherry tree. It has been there for 3/4 of an hour. Resting and looking side to side. We live on a forested track and back on a large farm field...in Campton hills. We saw a juvenile Red Headed Woodpecker for 9 days last fall eating off our side yard bird feeder. It loved the peanuts.
---
John Heneghan on 4/28 reported via e-mail: Went to Fabyan Woods and Les Arends. FOY Oriole at the Japanese Garden. A few Yellowrumped Warblers. FOY Rose Breasted Grosbeak at Les Arends. Lots of Blue-Gray Gnatcatchers, Yellow Rumped Warblers, an Oriole and many swallows (tree and barn) enjoying the evening hatch once the sun came out.
---
Rosemary Felbinger on 4/28 reported via e-mail: I was really interested in Pam Otto's article about the Red-Headed Woodpeckers. We had never seen one before; however, in the last ten days or so, one is visiting our feeders... Only one ever visits. I took a couple of pictures from inside the house...We live across the street from an empty, wooded lot with several old decaying trees. We are located in St. Charles Township [west of town].
---
Julie Long on 4/27 reported via e-mail: There are two fledgling great horned owls and a parent very visible at Fabyan forest preserve. They are in the oak trees just north of the main parking lot and west of the bike trail. They were in one of the trees closest to the parking lot. According to the photographer there, the exact directions are posted on ILBIRDS and some photographer's "hotline". Jon Duerr and I observed them after noticing the attention being given them.
---
John Heneghan on 4/27 reported via e-mail: The sandhills were again present this AM at the wetland area along RT 56 before the junction with I-88. Also saw turkeys in the corn stubble at the junction with I-88 on the East side.
---
John Heneghan on 4/26 reported via e-mail: Saw the Sandhills at Aurora West this AM at the same spot I have seen them 2x previously off RT56 before it merges into I-88. Perhaps they are setting up housekeeping.
---
Chris Madsen on 4/26 reported: Made a quick stop at Fabyan FP this morning to spot my very own Baltimore Oriole. No such luck. But a flitting Blue-gray Gnatcatcher directed my eye to a Red-headed Woodpecker about 100 feet south of the Japanese Gardens.
---
Claire Dassey on 4/26 reported via IBET: Had a couple of welcome visitors today. I awakened to the chirp of the oriole at 6am (and promptly put the oranges out). As I pulled in the driveway this afternoon, I got a glimpse of the Redhead on a tree in the yard...Both of these birds have been nesting in my yard over the years, so hopefully this year is no exception.
Now just waiting for the Grosbeak to drop in. :)
---
Karen Land on 4/26 reported via IBET: I just had my FOY [Rose] Breasted Grosbeak at my feeder. Looking in my records it is between now and May 6 when I get my first sighting each year. Typically it's the only time of the year I see them in my yard.
---
Rose Johnson on 4/25 reported via e-mail: A redheaded woodpecker came to our peanut feeder twice this past Monday (April 23). We were out of town on Tuesday and on Wednesday Morning, but I saw him again Wednesday afternoon about 4 o'clock. He flew into a Basswood tree, sat for a minute and flew on out of my yard. We live on Lundstrom lane in Dundee Township and our property borders the Dixie Fromm Open Space parcel. The woodpecker flew into the wooded area north of our house.

20-30 years ago Redheaded Woodpeckers were regular visitors at our feeders, but except for one sighting approximately one year ago, this is the first we've seen of them in years. I hope this one is here to stay!
---
Ron Dickenson on 4/25 reported via e-mail: Looks like the south west side of the nest is missing now! I have not seen the Eagles around the nest since Friday 04/13/2012. The last known time someone from Mooseheart has seen them was Wed. 04/18/2012. I was out there on Thursday 04/19/2012 and that's when I took the picture of their damaged nest.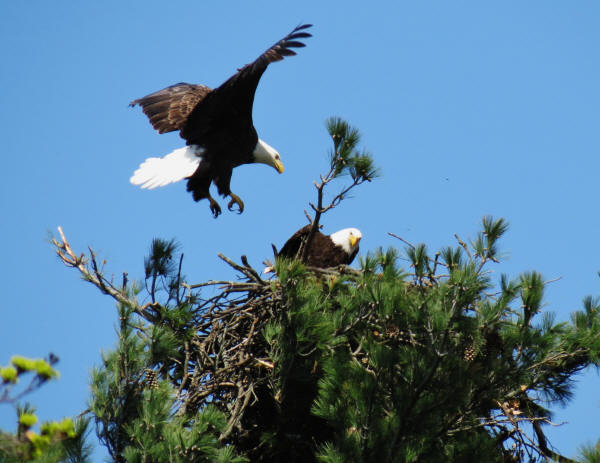 Before and after pictures of the Mooseheart eagle nest courtesy Ron Dickenson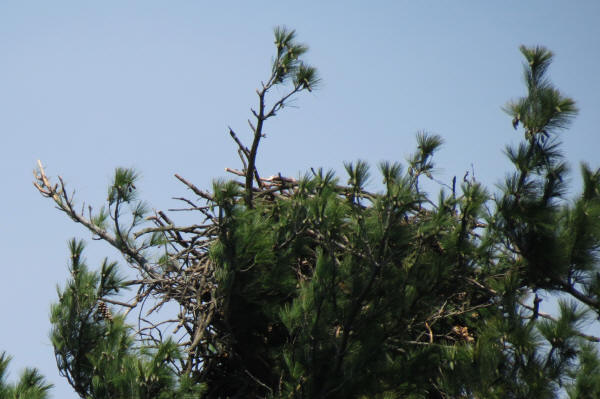 ---
John Heneghan on 4/25 reported via e-mail: First White Crowned Sparrow at the feeders and Yellow Rumped Warblers in the Oak next to the house [in Sugar Grove] this AM.
---
Eric Secker on 4/25 reported via IBET: I had a number of new birds at Judson University that arrived just this morning including a BALTIMORE ORIOLE, GREEN HERON, NORTHERN SHOVELER, NASHVILLE WARBLER, AMERICAN REDSTART, and BLUE-GRAY GNATCATCHER. Other birds still present include PINE WARBLER, NORTHERN WATERTHRUSH, PINE SISKIN, HOUSE WREN, BLUE-WINGED TEAL, CHIMNEY SWIFT, and other regulars.
---
Debbie Wisser on 4/24 reported via e-mail: I arrived a Jon Duerr FP this morning and found I had left my binoculars at home, so back home I drove to get them. Imagine my surprise when, near the Elgin Mental Health Center in Elgin, a Pileated Woodpecker flew right past my car heading Northwest! I finished the trip home in disbelief, and returned to the FP. I ran into Margaret a short while later and we were amazed that both of us had seen the same thing! The rest of my morning did not turn up anything quite as surprising. At Jon Duerr there were still many Yellow Rumps and Palms. I heard a Northern Parula in Tekakwitha Woods, but could not locate it. Also near Tekakwitha, I had my FOY House Wren. Along the bike path were many White- throated Sparrows, some Ruby-crowned Kinglets, a Hairy Woodpecker and other more common birds. In the afternoon, I took a quick stop at Fitchie Creek Forest Preserve. It was fairly quiet there. Spotted were Savannah Sparrows, Vesper Sparrow, Eastern Meadowlark, and a lone Sandhill Crane. In a pond in the Montague Forest sub-division off Russell Road was a pair of Hooded Mergansers.
---
Jon Duerr on 4/24 reported via e-mail: Roger Melhouse found a Wilson Phalarope at Sauer F P Tuesday. We went and found it at the north end of the big pond with Dunlins and Pectorals. Ann H. was there watching Soras and Virginia Rails.
---
Margaret Mechtenberg on 4/24 reported via phone: Seeing a Pileated Woodpecker flying over the SEBA Park-to-Jon Duerr FP bike path this morning.
---
Eric Secker on 4/23 reported via IBET: I had my first CHIMNEY SWIFT of the season along the Fox River in West Dundee this evening. On the Fox River at Judson University this past Saturday we also had three YELLOW-BELLIED SAPSUCKERS all hanging close together and an OSPREY. Today, a PINE WARBLER was present on campus among the many YELLOW-RUMPED WARBLERS as well as my second HOUSE WREN for the season. Down by the river there were two BLUE-WINGED TEAL and three HOODED MERGANSERS as well as a few common species of shorebirds. I also had an OSPREY along Rt. 31 in McHenry Co. on Sunday.
---
Ann Haverstock on 4/23 reported via e-mail: In my quest for a Yellow Rail, I have been sitting quietly alone at Sauer Kame wetlands. No audio recordings were used, but the Virginia Rail and Sora both came very close to me. I have the correct habitat, but not the rail of my desire. I will try again tomorrow.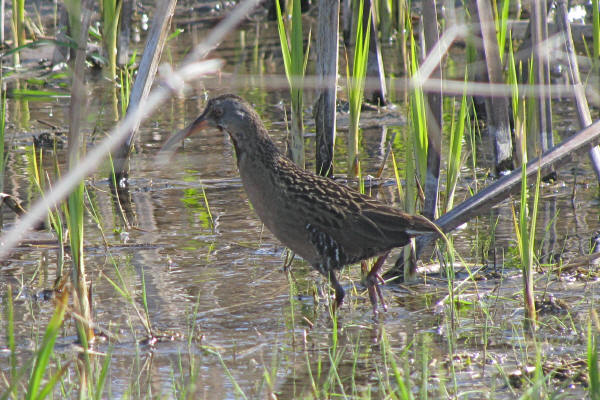 Virginia Rail photo courtesy Ann Haverstock
---
Chris Mussachio on 4/23 reported via e-mail: Eastern Blue Bird at Freeman-Kame Forest Preserve in Gilberts on 4/22/12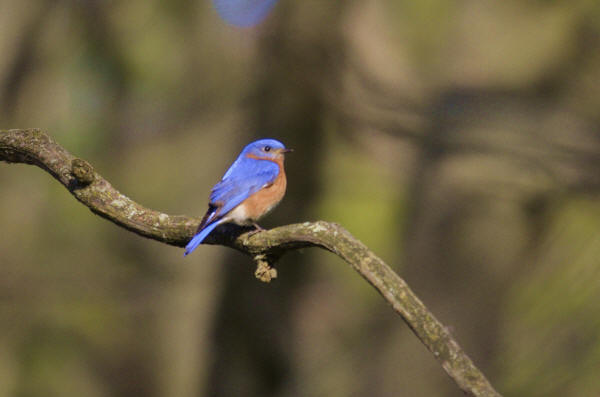 Eastern Bluebird photo courtesy Chris Mussachio
---
Diane Hansen on 4/23 reported via e-mail: I saw a pair of Belted Kingfishers on April 20th up on a wire along Binnie Road just west of Randall Road. Sadly my pictures were all blurred.
---
Andrew Aldrich on 4/23 reported via e-mail: The Whooping Cranes were present [at Sauer FP] for at least an hour. They may have spent the evening there, but they departed to the northwest around 7:45am. According to the US Fish & Wildlife Service, they are both females that were released at Horicon NWR in Wisconsin in 2011. Shorebird numbers were dismal, possibly due to the constantly hunting Peregrine Falcon. Other species of note: a pair of Long-billed Dowitchers, a calling Sora, 11 Wilson's Snipe, 1 Greater Yellowlegs, 1 singing Marsh Wren, 4 Vesper Sparrows, 30+ Savannah Sparrows, a pair of Henslow's Sparrows, 20+ Swamp Sparrows, my FOY Lincoln's Sparrow, and a singing Western Meadowlark.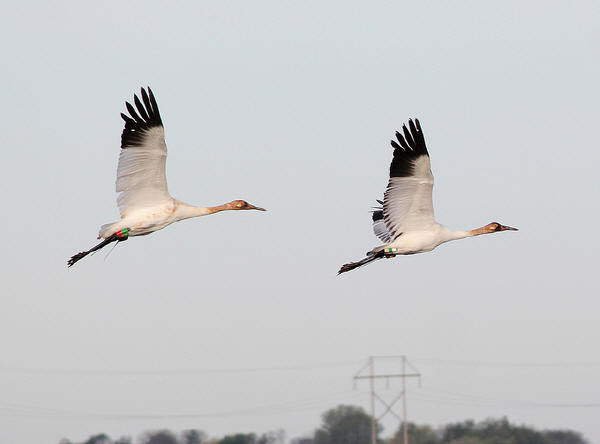 Whooping Cranes photo courtesy Andrew Aldrich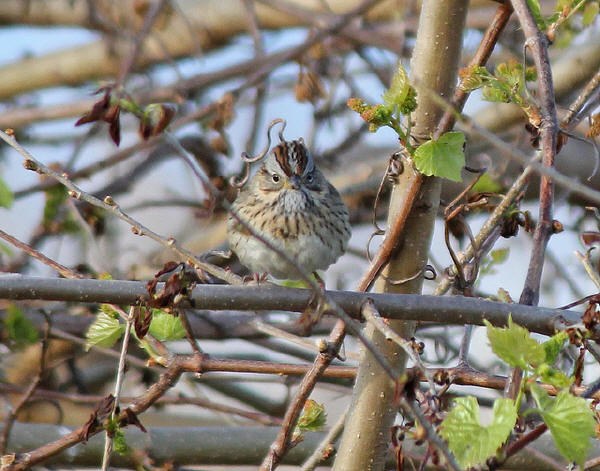 Lincoln's Sparrow photo courtesy Andrew Aldrich
---
Andrew Aldrich on 4/21 reported via eBird: Seeing 2 Whooping Cranes at Sauer Prairie Kame Forest Preserve.
---
Tim Balassie on 4/21 reported via e-mail: Walked the perimeter of LeRoy today (4/21) and encountered Yellow-rumped, Palm, and Orange-crowned Warblers, as well as FOY Broad-winged Hawk and Blue-gray Gnatcatcher.
---
On 4/17 a class of NIU students led by instructor Nick Barber spotted 4 Glossy Ibises below the east observation deck at Nelson Lake. Thanks to Tegan Carr we have photos.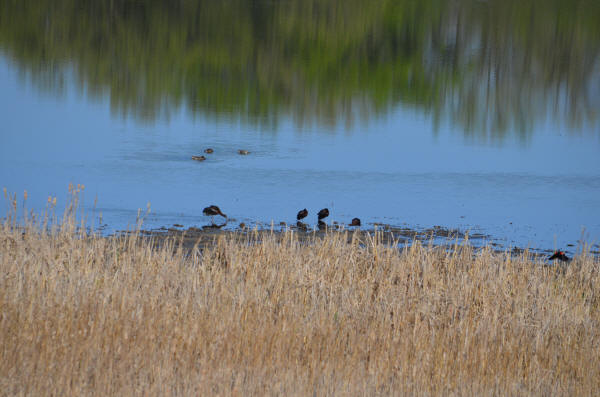 Glossy Ibises photo courtesy Tegan Carr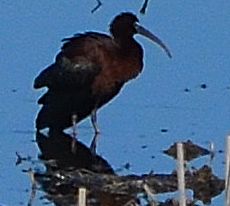 Glossy Ibis photo courtesy Tegan Carr
---
Julie Long on 4/20 reported via IBET: I arrived home from Fla yesterday to find five pine siskens in my yard, one of whom was feeding another. I am assuming this was a young one by its behavior. Would they already have nested in this area, or south of here? I hear it has been an amazing spring ,which I have missed, but isn't this quite early?
---
Eric Secker on 4/20 reported via IBET: There are dozens of swallows working the Fox River in West Dundee today due to the cold weather and probably large numbers elsewhere along the Fox.

All five species are present including TREE, BARN, BANK, N. ROUGH-WINGED, and CLIFF.
---
Angela A. on 4/19 reported via e-mail: I saw a blue-winged teal near the cave in North Aurora (i.e., on the south side of Red Oak Nature Center).
---
Kurt Frieders on 4/18 reported via e-mail: We had an hour to bird Oakhurst FP (Aurora) just before dusk last night. We came up with some good birds including: Rusty Blackbird, Blue Jay, Cardinal, Great Blue Heron. Hermit Thrush, Yellow Rumped Warbler, Song Sparrow, Swamp Sparrow, Canada Goose, Coot, Mallard, BW Teal, Wood Duck, Northern Flicker, Red-Bellied Woodpecker, Downy Woodpecker, White-Breasted Nuthatch, Crow, Robin, Red-Tailed Hawk, Mourning Dove, White-Throated Sparrow, and Eastern Towhee. There also were more Red Admiral butterflies than I have ever seen in my life. This morning I was treated to the first Wood Thrush I have ever seen in my yard (in Aurora township). He was even kind enough to pose for a picture.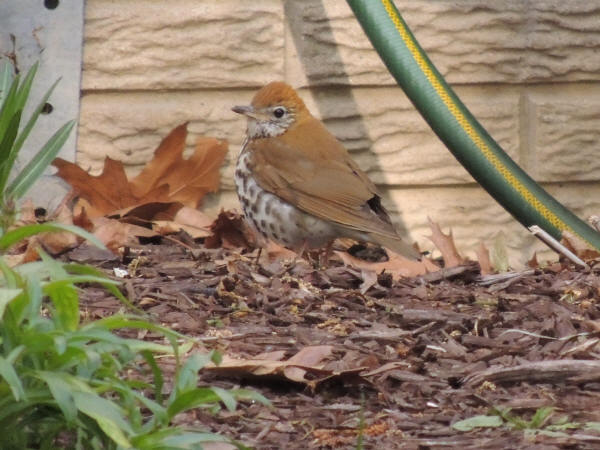 Wood Thrush photo courtesy Kurt Frieders
---
Marion Miller on 4/17 reported via e-mail: Theresa LeCompte and I went to Gunner Anderson and Norris Woods. Gunner Anderson was beautiful by the ravine but we were unable to locate our target bird, the Louisiana Waterthrush. At Norris Woods we were more successful. Highlights were 2 Hermit Thrushes (FOY), 3 Ruby-crowned Kinglets and close views of a very vocal Osprey (FOY). We were at 16 species ( full list here ) when we "hurried" out because of a call received about 4 Glossy Ibis at Nelson Lake. We were among the many birders who could not relocate the Ibis. Highlights there were 6 Great Blue Herons, Sandhill Crane, and a calling Sora.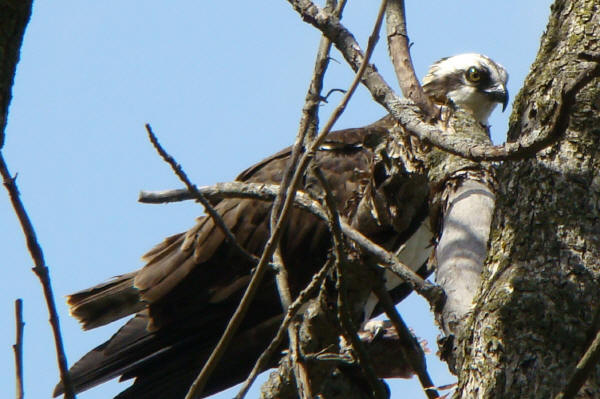 Osprey photo courtesy Marion Miller
---
Eric Secker on 4/17 reported via IBET: A number of birders have been unable to relocate the four Glossy Ibis at Nelson Lake. A number of other nearby marshes including Carson Slough and roadside fuddles were also checked.
---
Ann Haverstock on 4/17 reported via e-mail: Yellow-throated warbler, Parula, palm warbler, orange crowned warbler and yellow-rumped warblers present [at west side of Fabyan FP] in A.M.
---
Chris Mussachio on 4/17 reported via e-mail: 4 Northern Flickers spotted at Tyler Creek Forest Preserve in Elgin on 4/17/12.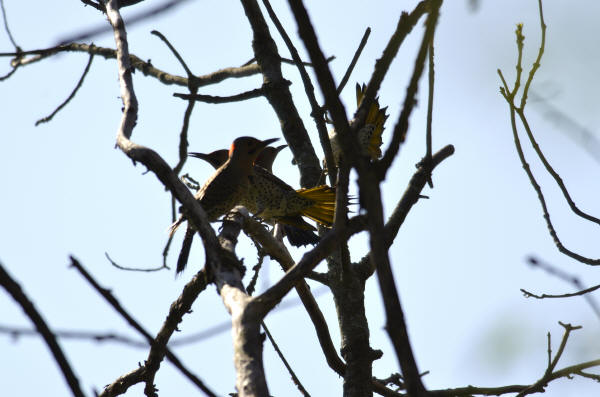 Northern Flickers photo courtesy Chris Mussachio
---
Nick Barber on 4/17 reported via IBET: I took my birds & mammals class to Nelson Lake this morning. Highlight was 4 adult GLOSSY IBIS that landed right in front of the observation platform near the east parking lot.

Other highlights: 1 Osprey, 1 Bald Eagle, 1 Sora, 3 Wilson's Snipe, 1 Great Horned Owl, 4 Purple Martin, and lots of Swamp Sparrows.
---
Al Stokie on 4/16 reported via IBET: In the past the Louisiana Waterthrushes found by Scott C along small streams near the Fox River have proved, for me anyway, to be elusive "one day wonders" & never there when I try for them the day after they are seen. But, ever optimistic, Andy Sigler & I tried for the 2 seen by Scott, Mike M & Jeff Smith on Sunday. But, once again, both were elusive & we found neither. What a surprise! [The other places we visited] were very exciting, not so much for the birds seen, but for the problem of trying to walk in open areas with the 30 to 40 mph winds. When the wind is strong enough to actually force you to a stop for a bit then you know this is a serious wind. This also makes it difficult to find & see birds as they don't care to sit up for you to see them in such conditions. Somehow we managed to see some birds & the lists are as follows:

Fabyan Woods F.P. (Kane Co)

Blue Jay (heard), Chickadee (heard), W.B. Nuthatch (heard), Carolina Wren (1 singing loudly), Hermit Thrush (1), Robins (few), Myrtle Warblers (4), Cardinal (heard) & Grackles (few). In the Fox River near the cross-over foot bridge were Mallards & 4 Ruddy Ducks.

Sauer Family F.P. (Kane Co)

American Bittern (1 flew up from the pond reeds & was a new Kane Co species for both of us), Canada Geese (2 flying), Mallards, Green Winged Teal (1), Shovelers, Blue Winged Teal, Hooded Merg (1-F), Sora (1), Killdeer (4), Greater Yellowlegs (4), Solitary Sandpiper (1 FOY for me), Snipe (10-12), Vesper Sparrow (1-F), Savannah Sparrow (c.12), Song Sparrow (few), Swamp Sparrow (few), Red Wings, Eastern Meadowlarks (2 singing), Grackles & Cowbirds. Most looks were quick & not very good due to the high winds.
---
Darrell Shambaugh on 4/16 reported via IBET: This afternoon [at Grunwald Farm FP] there were 2 female LESSER SCAUP, 2 pair of RING-NECKED DUCKS, and a PIED-BILLED GREBE on the pond. TREE, BARN, and NORTHERN ROUGH-WINGED SWALLOWS were flying around over the water.
---
Sue Wagoner on 4/15 reported via e-mail: I shot this photo of the male Cooper's Hawk by my house after he had killed a bird and was calling to his mate. I have never seen one fluff his undertail coverts like this, apparently in preparation for the female's arrival. When she didn't show up, the feathers went down and he ate his own bird!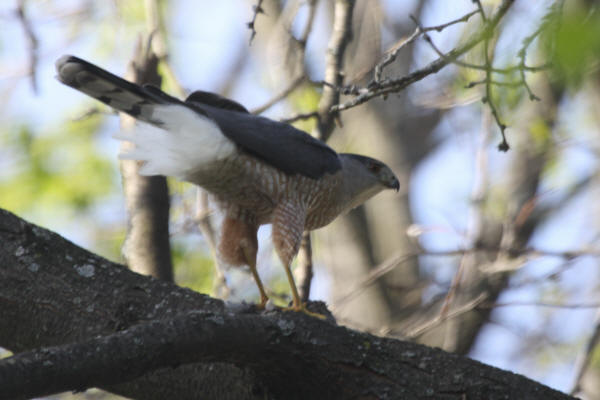 Cooper's Hawk photo courtesy Sue Wagoner
---
Scott Cohrs on 4/15 reported via IBET: This morning I found a Louisiana Waterthrush in the ravine behind the Kane County Government Center in Geneva. I think this area is officially called Gunnar Anderson, but I could be wrong. For those familiar, it was near the creek next to the little prayer chapel. Also present was a large group of Rusty Blackbirds, Carolina Wren, 4 Greater Yellowlegs and a Solitary Sandpiper.

Earlier in the morning, I spent a half hour trying to locate a bird giving a single chip note creek-side in Fabyan FP (east side). I was convinced it was also a La. Waterthrsuh, but could never get it to show itself. Thankfully, Mike Madsen and others tracked that bird down later in the day. So, that's likely 2 separate birds in relative close proximity. I'm lucky to get just one a year locally. There was also a Carolina Wren on that side of the river, an Ovenbird, Black-throated Green Warbler, Hermit Thrush and Yellow-bellied Sapsucker. Not sure if the guys had anything in addition to that. Only other birds of note on the morning were a Palm Warbler and Blue-grey Gnatcatcher at the Japanese Garden area.

Seems as though the warm winter was good to the Carolina Wrens. The birds from this morning were the 3rd and 4th that I have had in a week. I struggled for that species last year.
---
Chris Weishaar on 4/15 reported via IBET: Spent a little more than two hours at the Japanese Gardens/Fabyan Forest Preserve along the west side of the Fox River. It was a fairly productive morning, with a few FOYs for me.

Canada Goose
Wood Duck (two pairs/FOY)
Mallard
Blue-winged Teal
Red-tailed hawk, who put on a great show while taking a bath in the river
Mourning Dove
Belted Kingfisher, lone male FOY
Red-bellied Woodpecker
Yellow-bellied Sapsucker FOY
Eastern Phoebe
Blue Jay
Black-capped Chickadee
Blue-great Gnatcatcher FOY
Eastern Bluebird
American Robin
European Starling
Yellow-rumped Warbler
Chipping Sparrow
Song Sparrow
White-throated Sparrow
Northern Cardinal
Red-winged Blackbird
Common Grackle
Brown-headed Cowbird
American Goldfinch
House Sparrow

There were also a couple of accipiters flying through too quickly for me to identify. One other warbler that I was unable to keep the binoculars on long enough to identify, but between the brief glimpse and song, perhaps a Northern Parula.
---
Marion Miller on 4/14 reported via e-mail: Rich and I birded mainly along the Fox River including Tekakwitha Woods and River Bluff. It was a slow birding day and we worked for the 34 species we saw. Highlights were: Solitary Sandpiper, Eastern Bluebirds, Ruby-crowned and Golden-crowned Kinglets, Swamp Sparrow and a House Wren chattering loudly in a bush along the Fox River.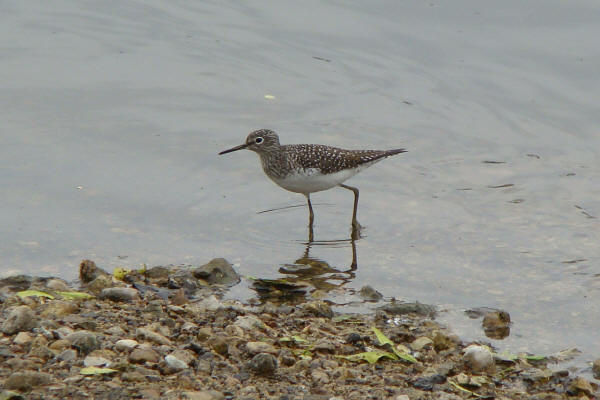 Solitary Sandpiper photo courtesy Marion Miller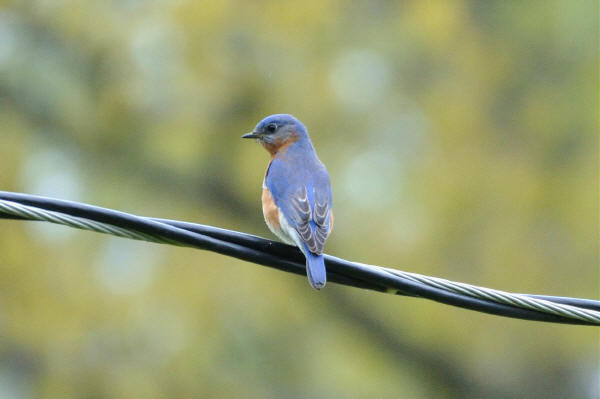 Eastern Bluebird photo courtesy Rich Miller
---
Sue Wagoner on 4/11 reported via e-mail: We had good views of this Greater Yellowlegs on June Kebler's ramble at Jelke Creek Monday April 9.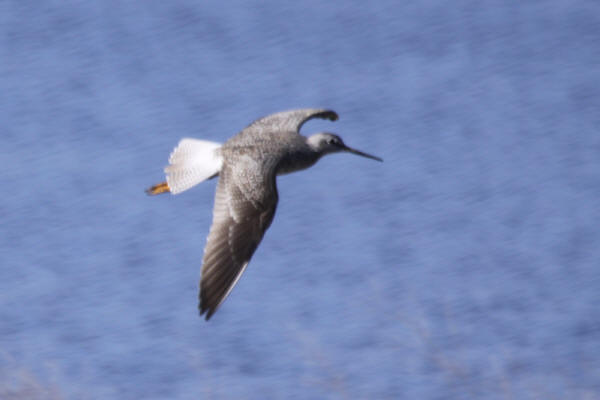 Greater Yellowlegs photo courtesy Sue Wagoner
---
Al Stokie on 4/11 reported via IBET: Hello Bird People,

Today Andy Sigler & I went to the west to visit...Sauer Family F.P. (7:30 to 9 a.m.)

Not sure how to explain this but the far western pond sections are completely dry & the ponds just east of there are very high. Strange combination!

Bird species seen were Mallards (4-6), Shovelers (10-12), Blue Winged Teal (4), Harrier (1 hunting), Kestrel (1 on phone wire), Killdeer (4), Pectoral Sandpiper (6), Snipe (5-6), Crows (2), Robins (few), Song (8), Savannah (5) & Swamp (4) Sparrows, Red Wings, Cowbirds (2-3) & Eastern Meadowlarks (c.6 singing). We could find no Western Meadowlarks or Vesper Sparrows.
---
Rich Miller on 4/10 reported via e-mail: Marion and I went out to Carson Slough from 6pm to approx. 7:15pm. At the north end mud flats we saw Greater Yellowlegs; Lesser Yellowlegs; Pectoral sandpipers; Wilson's Sniper. in the deeper water of the south end we saw Green-winged Teal; Blue-winged Teal; Wood ducks; Northern Shovelers. The surprise find of the evening was an American Bittern standing motionless in a field guide pose. (A "lifer" for both of us) We watched him pounce on a frog and consume it. Planning to revisit this spot on Wednesday in hopes of getting a photo.
---
Ron Dickenson on 4/10 reported via e-mail: A pair of flickers in my front yard this morning.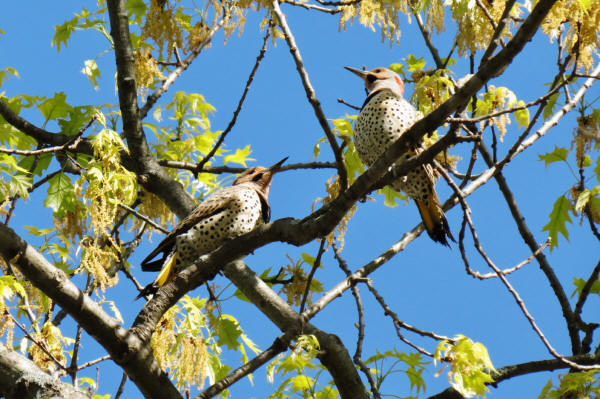 Northern Flickers photo courtesy Ron Dickenson
---
Theresa LeCompte on 4/10 reported via e-mail: Sue S. and I birded Hannaford Woods yesterday and saw our FOY Red-headed Woodpecker. Other highlights were an Eastern Phoebe, Eastern Bluebird, Chipping Sparrow, Field Sparrow, Northern Flicker and Hairy Woodpecker.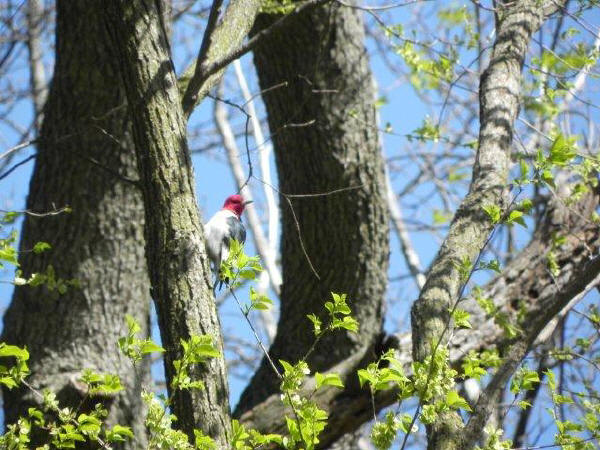 Red-headed Woodpecker photo courtesy Theresa LeCompte
---
Marion Miller on 4/9 reported via e-mail: Carson Slough has some mudflats that migrating shorebirds are enjoying. This morning saw 40+ Pectoral Sandpipers, 3 Yellowlegs, 1 Forster's Tern, and 12 Wilson Snipes on the mud. In addition saw 1 Sora, some Green-winged Teal, Wood Duck and 6 Great Blue Herons on or near the water. My guess is there may be more shorebirds, but I only had a short time to check out a portion of the slough. Also went to Johnson Mound and had a nice outing with Gloria D. Highlights were: Barred Owl, Brown Thrasher, 3 Eastern Bluebirds, 3 Chipping Sparrow, Yellow-bellied Sapsucker and 2 Eastern Phoebes.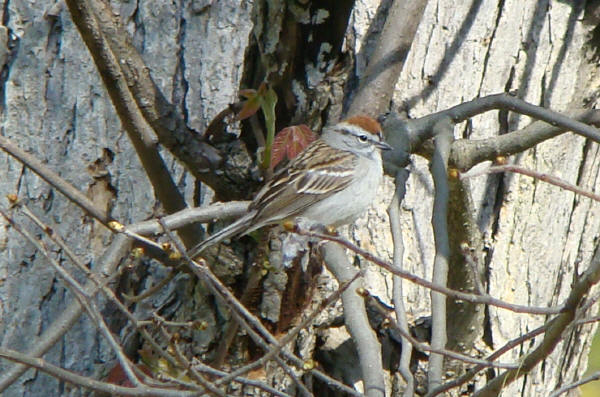 Chipping Sparrow photo courtesy Marion Miller
---
Ann Haverstock on 4/8 reported via e-mail: I heard and saw a couple of Western Meadowlarks on Main St. just West of the I-88 overpass and East of Kaneville. They were working the edge of the Elmhurst/Chicago Stone Co.
---
Ann Haverstock on 4/8 reported via e-mail: I am pretty sure this is an Easter Sunday Harlan's Hawk. Saw on at N. Lorang Rd and Bateman Rd. Kane Co.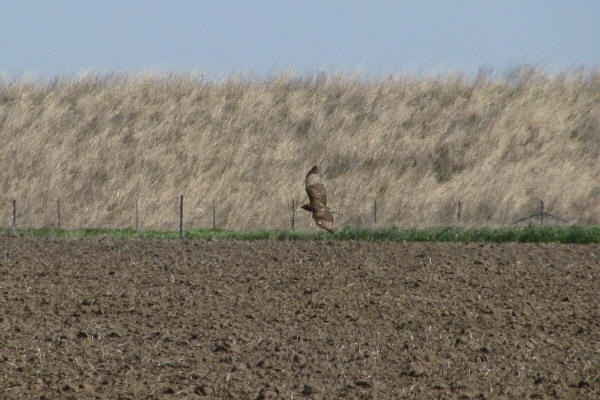 Possible Harlan's Hawk photos (above and below) courtesy Ann Haverstock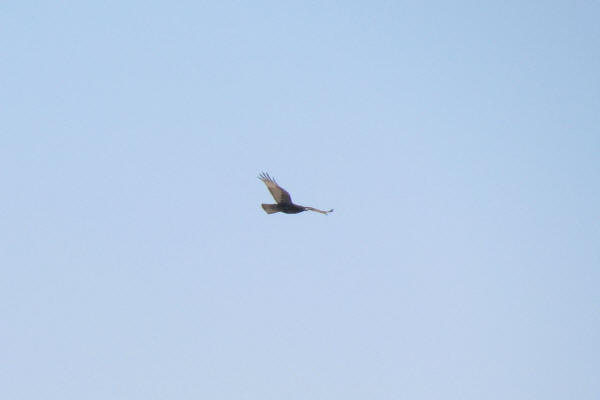 ---
Eric Secker on 4/8 reported via IBET: Yesterday my wife and I had a BONAPARTE'S GULL along the Fox River at Judson University. Not always an easy bird for Kane Co.

We are also watching a pair of BELTED KINGFISHERS out our livingroom window that look like they may nest in the ravine along Tyler Creek.

Other birds around include CAROLINA WREN, lingering PINE SISKINS, and a few N. ROUGH-WINGED SWALLOWS starting to show up now along with the TREE SWALLOWS.

At Burnidge F.P. yesterday we had a couple PINE SISKINS, both KINGLETS, EASTERN TOWHEES, a WINTER WREN, and NORTHERN FLICKERS.
---
Marion Miller on 4/7 reported via e-mail: Rich and I visited Carson Slough and Big Rock FP today. We had some nice finds in both areas. At Carson the highlights were 34 Pectoral Sandpipers, 4 Great Egrets, Lesser Yellowlegs and our FOY Sora. Big Rock was beautiful with many Virginia Bluebells blooming. The highlights of the 30 species we saw there were: Yellow-bellied Sapsucker, Tufted Titmouse, Eastern Towhee, Ruby-crowned Kinglet, Yellow-rumped Warblers and Brown Creepers.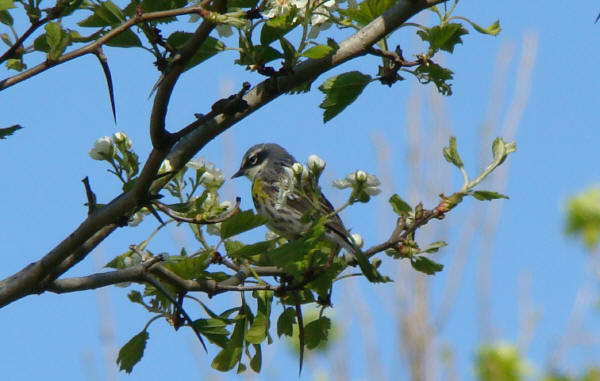 Yellow-rumped Warbler photo courtesy Marion Miller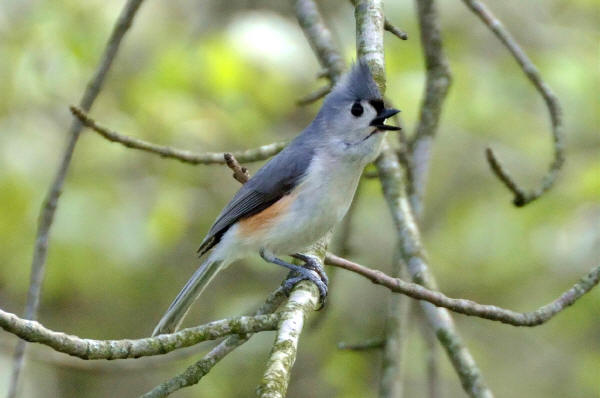 Tufted Titmouse photo courtesy Rich Miller
---
Stosh Walsh on 4/7 reported via IBET: Returned to the Mooseheart [Bald Eagle] site, and this time I crossed Randall Road in order to have a better vantage point. Female remains in the nest; the male was on a very nice perch a few yards away, and was kind enough to remain there for all the photos our group desired.
---
Debbie Wisser on 4/6 reported via e-mail: I took a short, late afternoon walk on the Fox River Trail in South Elgin. The few Yellow-rumped Warblers seen gave me a hint of how difficult it will be to see other Warblers when they start to arrive. It looks like summer already. I also spotted two male Blue-winged Teal very close to the shore, so I got good looks before they saw me and took off across the river. I saw a Carolina Wren near Woodcliff, and an Osprey with a fish was flying near the Stearns road bridge. The Osprey was the first Iíve seen this year.
---
Jackie Bowman on 4/4 reported via e-mail: Thanks to Barb Rask for allowing us to view the female White-Winged Crossbill at her home in St. Charles Township. This was an Illinois lifer for me and resulted in one of my best photo ops on this species.
---
Barb Rask on 4/3 reported via e-mail: Hi...just wanted to report a sighting at my home in St. Charles Township. We have one female White Wing Crossbill traveling with a group of Pine Siskins. They have been eating from a thistle sack feeder hanging off the soffit of our house. Feel free to come to our home for a visit. I will be happy to post my address if anyone wants a look. She is not shy or skittish and doesn't seem to mind being viewed. You can contact me at brask60@sbcglobal.net. (This is a life bird for me)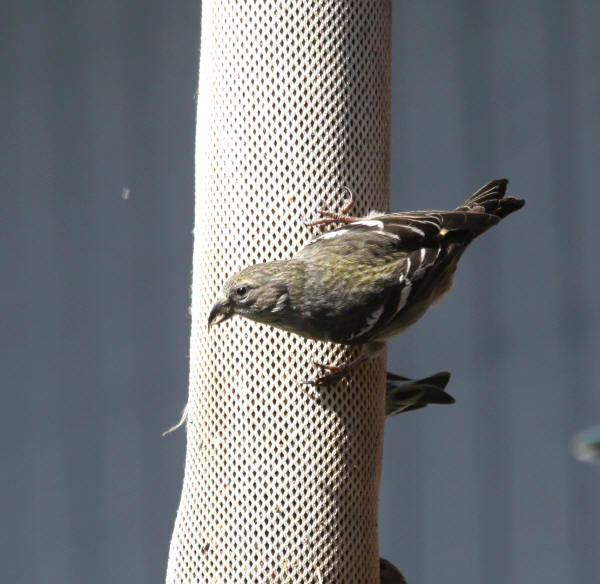 White-winged Crossbill photo courtesy Bob Andrini
---
Marion Miller on 4/3 reported via e-mail: Rich and I did an early morning check at the marsh on the Main St. entrance to Nelson Lake/Dick Young Forest Preserve. The marsh was active with 2 Northern Shovelers, 3 Mallards, 11 American Coots, 1 Ruddy Duck, 1 Pied-billed Grebe and 17 Canada Geese. Around the marsh were 100's of Red-winged Blackbirds, 2 Brown-headed Cowbirds, 4 Eastern Meadowlarks, 3 Song Sparrows, 2 Robins, 1 Northern Cardinal and 1 fly over Great Blue Heron. Also heard were 2 Ring-necked Pheasants.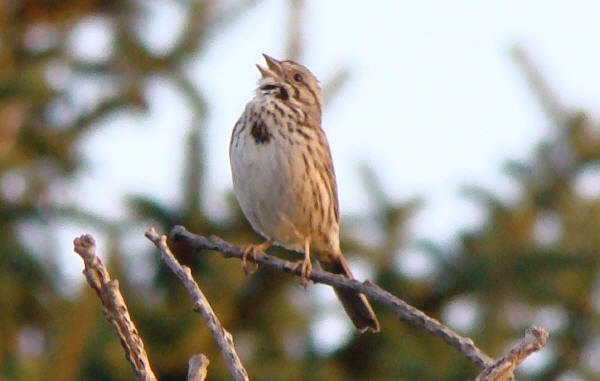 Song Sparrow photo courtesy Marion Miller
---
Michael Hogg on 4/2 reported via IBET: Jerry Rosenband and I birded parts of Kane and McHenry yesterday.

The highlights were:

- a flock of 10 Pectoral Sandpipers and a fly over Sandhill Crane at a fluddle on the west side of R47 south of Big Timber Rd. in Kane County

- a mixed flock of 3 species of blackbird containing at least 60 Rusty Blackbirds in the wood lot at the corner of N County Line and E County Line in Kane County
---
Marion Miller on 4/2 reported via e-mail: Took a short walk on the bike path at Fabyan-East in hopes of finding the "elusive" (at least for me) Winter Wren. I "dipped" on the wren but enjoyed a FOY Yellow-bellied Sapsucker, Yellow-rumped Warbler, Double-crested Cormorant and many Wood Ducks.
---