---
Brendon Lake on 4/30 reported via IBET: Hey everyone, I was able to take an afternoon jaunt out at the nearby Hampshire Forest Preserve on Allen Road in NW Kane County. There was a decent amount of variety and activity, with the best birds being several Warbling and Blue-Headed Vireos mixed in a foraging flock with Yellow-Rumped Warblers and Blue-Gray Gnatcatchers on the wooded trail near the end of the forest preserve. Additional species included many singing Eastern Towhees, an Eastern Phoebe, White-Throated, Swamp and Song Sparrows, Eastern Bluebirds, Northern Cardinals, Blue Jays, American Crows, Mourning Dove, Downy Woodpecker, and many vocalizing Eastern Meadowlark.
---
Marion Miller on 4/30 reported via e-mail: After reading Chris' morning warbler finds, Rich and I decided to check out Fabyan West and Les Arends this evening. Our only warbler additions were 1 beautiful Chestnut-sided Warbler and a Blackpoll Warbler at Les Arends. Having only seen fall Blackpoll Warblers, the spring male Blackpoll was quite an interesting sight!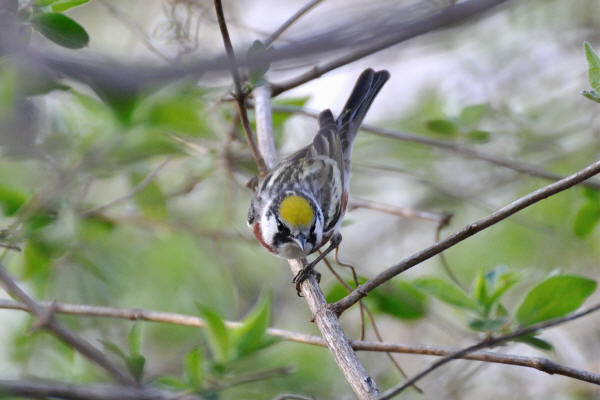 Chestnut-sided Warbler photo courtesy Rich Miller
---
Ken Schneider on 4/30 reported via e-mail: This morning Mary Lou and I made two stops at the east side of Nelson Lake. Found 37 species. Nearly all our sightings were at the spot where the creek crosses the path. Around 9:00 AM I saw the first Ovenbird I have ever found there but could not get a photo through the underbrush. Had two Black-throated Green and three Nashville Warblers and a Common Yellowthroat in addition to the numerous Myrtles. Just before noon we saw a Northern Waterthrush. Also had a Lincoln's Sparrow and a White-throated Sparrow in the leaves along the creek, and a Swamp Sparrow in the wetlands next to the path to the west. There was a Savannah Sparrow in the prairie near the entrance. More photos on my FLICKR pages.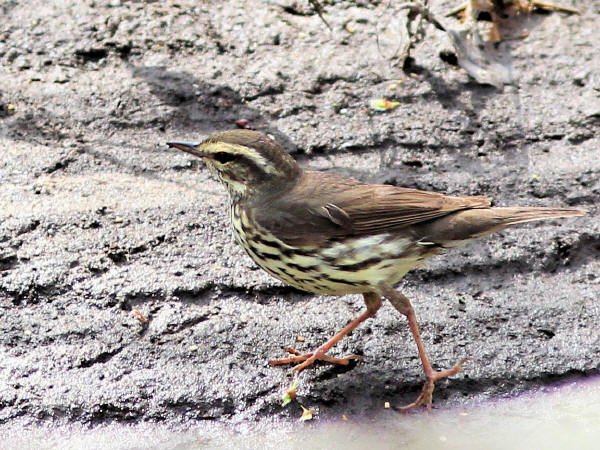 Northern Waterthrush photo courtesy Ken Schneider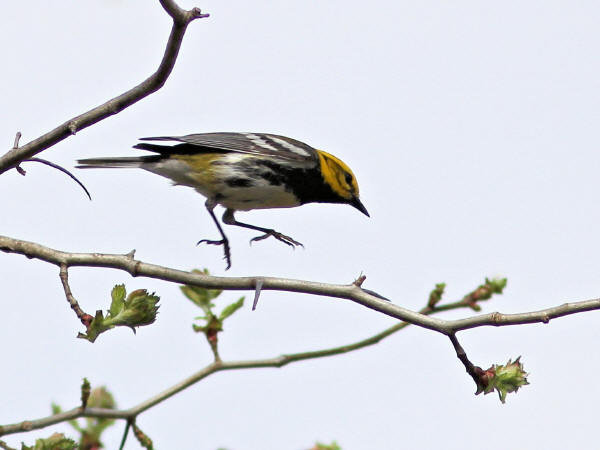 Black-throated Green Warbler photo courtesy Ken Schneider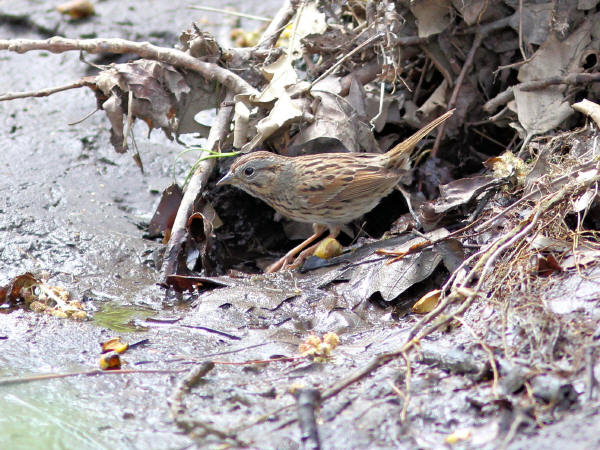 Lincoln's Sparrow photo courtesy Ken Schneider
---
Bob Meierhans on 4/30 reported via e-mail: OK, I can attest that "Sandy," the male crane who has been here [south of Elburn] for six years now, continues to visit just outside our office windows, frequenting our patio. One photo shows Joy at her desk, using her iPhone to photograph the crane. The second photo I took after opening the office door a crack to allow reflection-free imaging.

As the year progresses, I hope we'll see Sandy's mate and chicks as we have in years past. It's a real treat for us.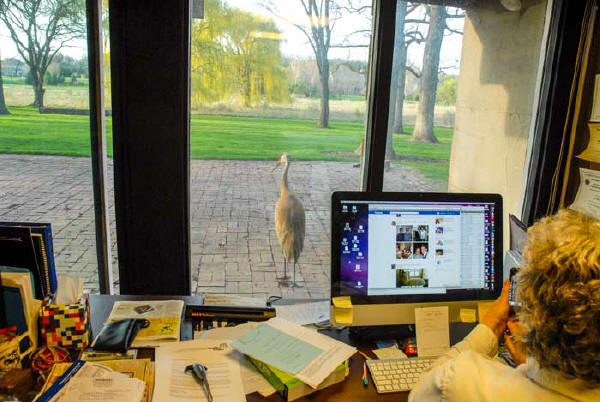 Sandhill Crane photo courtesy Bob Meierhans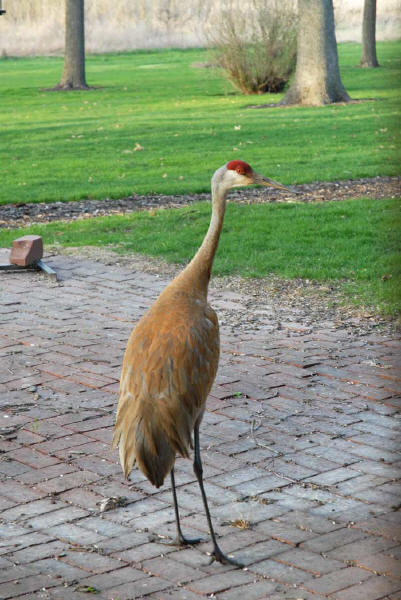 ---
Ed Vedral on 4/30 reported via e-mail: A male Rose-Breasted Grosbeak visited our feeder today [west of St. Charles]. We also had White-Throated Sparrows.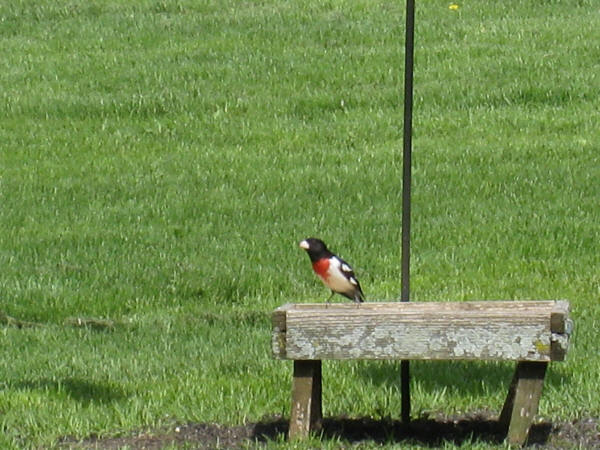 Rose-breasted Grosbeak photo courtesy Ed Vedral
---
Chris Madsen on 4/30 reported: Spent a couple of hours this morning birding along the Fox. Picked up five first-of-year birds at Fabyan Forest Preserve's west side. A Northern Parula was singing in the treetops north of the Japanese Gardens. Along the "path" in the scrubby growth at the far north end of the preserve, were a Blue-winged Warbler and a Nashville Warbler. Back out along the bike path, a Gray Catbird flew into a tree and perched right in front of me. On the way back to the parking lot, a lone Baltimore Oriole was singing between the gardens and the river.
The Great Horned Owls continue to enchant onlookers in the wooded area south of the Fabyan villa museum.
A drive-thru Mickey D's breakfast provided fuel for a walk from Les Arends Forest Preserve down to the North Aurora border. Saw nothing new until practically back to the parking lot when two more FOY's presented themselves: a Black-throated Green Warbler and a Warbling Vireo.
Palm Warblers were plentiful all morning, far outnumbering the Yellow-rumped Warblers. Blue-gray Gnatcatchers also were out in force. Had 3 or 4 Yellow Warblers too.
---
Jeff Duncan on 4/30 reported via e-mail: The green herons returned to the wetland near Jones Meadow Park in North Aurora on Sunday, April 28th.
---
Eric Secker on 4/29 reported via IBET: Early this afternoon after lunch I had a MISSISSIPPI KITE "kiting" low over the Fox River near the Gail Borden Library. A nice new addition to my Kane Co. list. I haven't been on IBET consistently, but looked back and see that Bob Fisher also had one on 4/24 in DuPage Co.

I doubt this bird will hang around but it was definitely hunting or at least trying and was never more than twice as high as tree level. The dragonflies have also been returning this week along the Fox and elsewhere.

On a slightly less exciting note, but still nice was a CAROLINA WREN that was singing on campus at Judson University today. I heard him on the way to work this morning and also out our living room window when I got home this evening.
---
Chris Mussachio on 4/29 reported via e-mail: Traveled to Freeman Kame Forest Preserve today and came away with these images.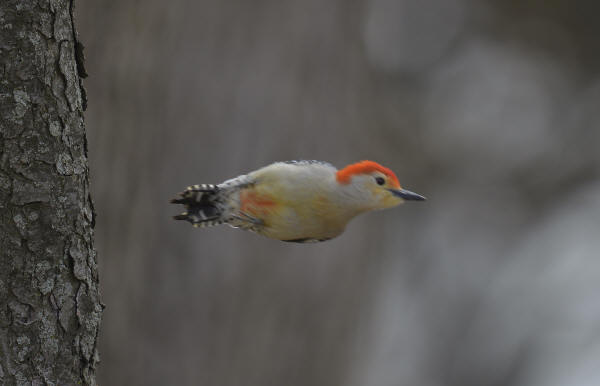 Red-bellied Woodpecker photo courtesy Chris Mussachio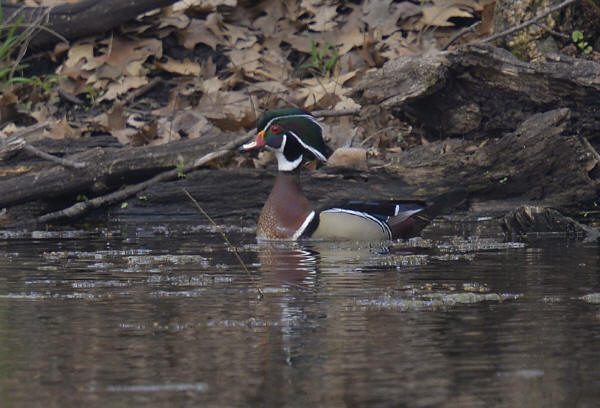 Wood Duck photo courtesy Chris Mussachio
---
Jackie Bowman on 4/28 reported via e-mail: While out birding today, we came across several Eurasian Collared Doves in the vicinity of the Kaneville Sod Farms. The birds were seen and heard scattered throughout the neighborhood homes just to the west of the sod farms on Merrill Road. Wouldn't it be nice to see them colonizing in Kane County?
---
Marion Miller on 4/27 reported via e-mail: Rich and I checked out Gunnar Anderson, Fabyan FP (east of 25), Les Arends and a few neighboring county FPs on Saturday. Activity wasn't as much as we had hoped but we had a total of 45 species for the day with highlights being many Yellow-rumped Warblers (all areas), Palm Warbler (Les Arends), Pine Warblers, Winter Wren (Gunnar Anderson) and Gray-cheeked Thrush (Fabyan). Pine Siskins and one Red-breasted Nuthatch continue to visit our feeders.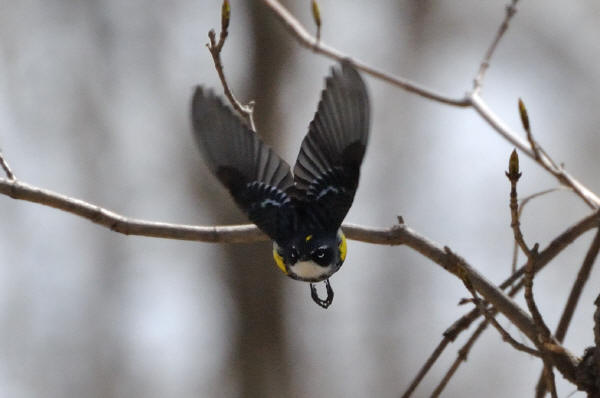 Yellow-rumped Warbler photo courtesy Rich Miller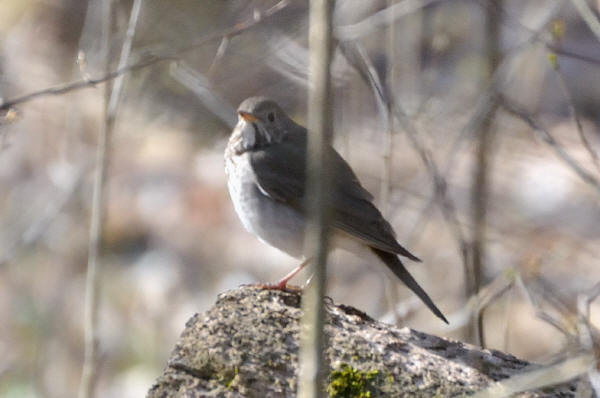 Gray-cheeked Thrush photo courtesy Rich Miller
---
Margaret Myers on 4/27 reported via e-mail: Our owlet has "gone out on a limb" it has really grown.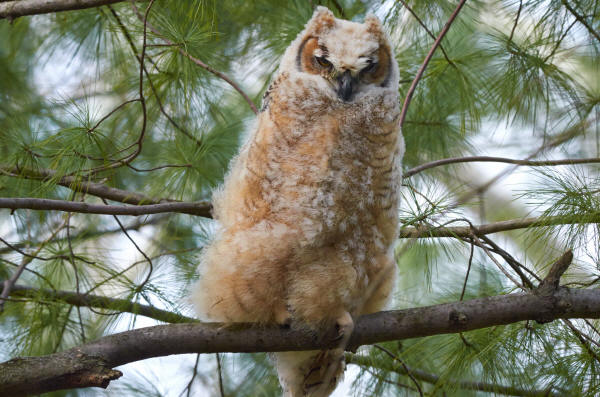 Great Horned Owlet photo courtesy Steve Myers
---
Eric Secker on 4/27 reported via IBET: On our walk this morning at Judson University in Elgin, we had a nice PROTHONOTARY WARBLER down by the Fox River. I'm sure he likes all the trees that are out in the water right now. Other birds included PALM WARBLERS, a NORTHERN WATERTHRUSH, YELLOW-RUMPED WARBLERS, two BROWN THRASHERS, and a HOUSE WREN.
---
John Heneghan on 4/27 reported via IBET: Went to [Big Rock Forest Preserve] in Kane Cty this AM. New birds there for Spring include Yellow Warbler, Blue Grey Gnatcatcher, Brown Thrasher, Palm Warbler. Quite a few Towhee's heard and seen, phoebes, blue birds, yellow rumped warblers, both White and Red Breasted Nuthatch, Titmouse, Field and Song sparrows, White Throated Sparrows, red bellied woodpeckers, flickers, saw 2 turkeys, 2 wood ducks in the flooded timber at the end of our street.
---
Mark Bowman on 4/26 reported via e-mail: Today, a purple finch came to my feeders which is about the time of year I will tend to see them, if I am around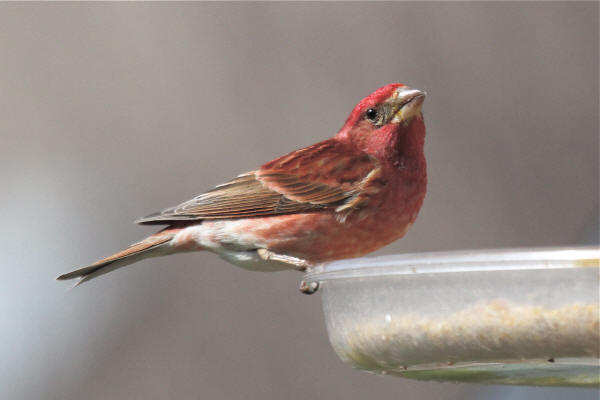 Purple Finch photo courtesy Mark Bowman
---
Mara Scharlow on 4/26 reported via e-mail: The baby owl was out this morning 4/26/13...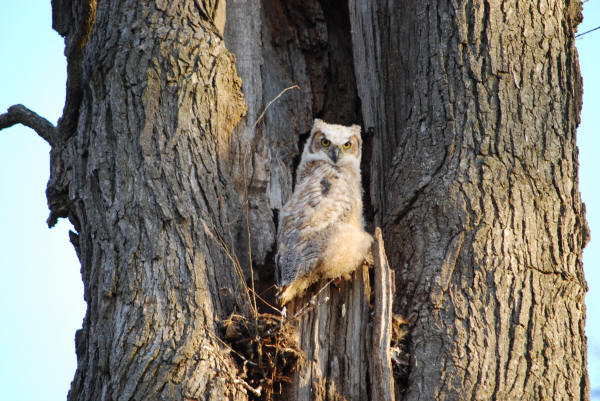 Great Horned Owlet photo courtesy Mara Scharlow
---
Linda Padera on 4/25 reported via IBET: Birding today in Kane County was very good. Marcia Nye and I visited several forest preserves along the Fox River. Les Arends produced the most variety including a good number of ruby-crowned kinglets and a single golden-crowned kinglet. Several warbler species provided highlights:

Black-throated Green 1
Black-and-White 2
Palm 2
Pine 2
Northern Parula 3
Orange-crowned 3
Yellow-rumped (lots) .

We didn't stay long at Quarry Park but were surprised there with a spotted sandpiper in breeding plumage at the edge of the water on the sandy beach of the swimming pool and a single flyover chimney swift. A visit to Fabyan Park produced expected species....
---
Marion Miller on 4/25 reported via e-mail: Rich and I got two FOYs this evening, the first was a Black-and-white Warbler creeping along the trucks and branches of the trees in our backyard. And unfortunately I only got the second FOY; but Rich didn't mind missing this one. It was an embedded tick that he had to remove from my back!! Time to tuck in the pant legs and check the clothing for these hitchhikers after all your bird outings.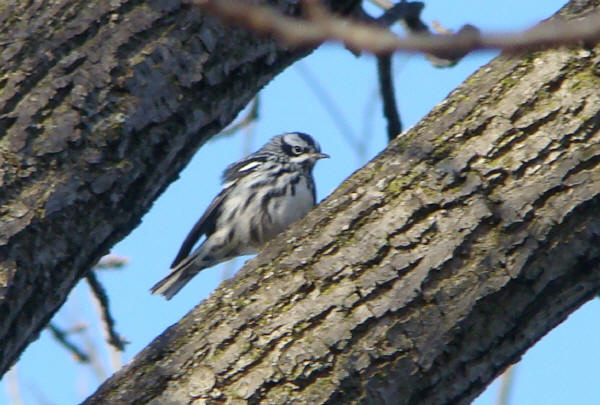 Black-and-white Warbler photos courtesy Marion Miller
---
Jack Pomatto on 4/25 reported via e-mail: Today, 4/25/13 at Les Arends F. P. a nice mix of the early Spring Warbler migrants were present:
2 Orange-crowned Warblers
2 Pine Warblers
2 Palm Warblers
100's of Yellow- rumped Warblers
1 Yellow Warbler ( my first of the season )
All were spending most of their time on the ground or down very low.
---
Paul Richardson on 4/24 reported via e-mail: Flicker nesting in utility pole near to main parking lot at Burnidge FB. Blue Birds are back as well.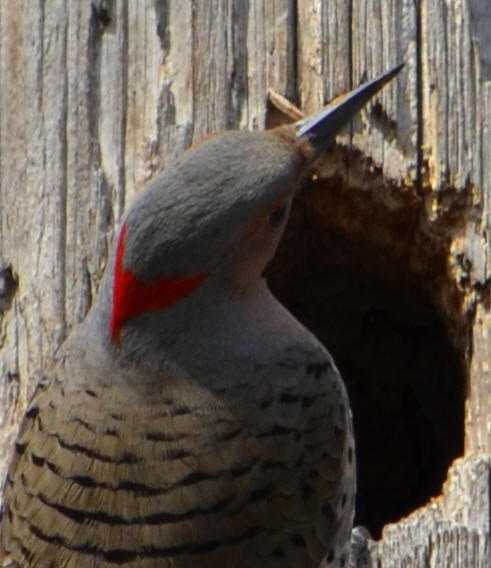 Northern Flicker photo courtesy Paul Richardson
---
Ken Schneider on 4/24 reported via e-mail: We briefly visited Fabyan FP West to show the Great Horned Owls to our granddaughters. I was surprised to see several warblers foraging on the lawn under the mature oak trees near the owl's nest. I identified Palm and Pine Warblers. I thought it unusual to see Pine Warblers on the ground.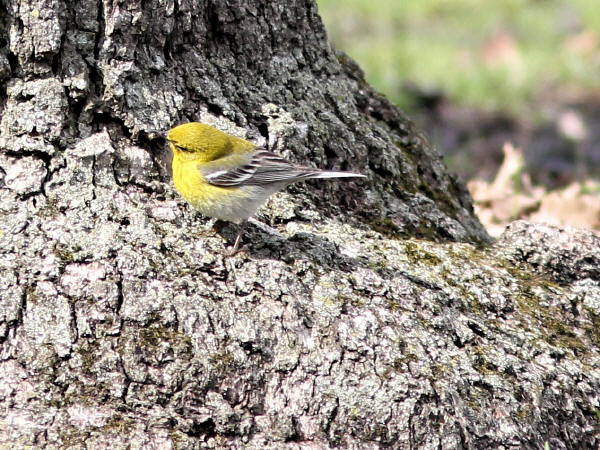 Pine Warbler photo courtesy Ken Schneider
---
Chris Mussachio on 4/24 reported via e-mail: In a photo update from Fabyan Forest Preserve, the Great Horned Owlet doesn't seem all that impressed with the attention that it's receiving.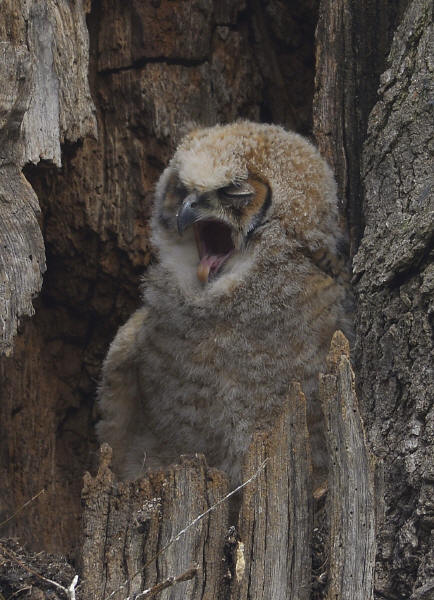 Great Horned Owlet photo courtesy Chris Mussachio
---
Gloria Dimoplon on 4/24 reported via e-mail: The recent rains have restored the water levels in the ponds throughout Burnidge Forest Preserve. The waterfowl are beginning to find their way back here. This morning there were five (!) Horned Grebes, along with Pied-billed Grebes, American Coot, Mallards, Canada Geese and Blue-winged Teal. BTW - This is the first time I've seen Horned Grebes at Burnidge.

In the woods, both Ruby-crowned and Golden-crowned Kinglets, Brown Creeper, several warbler species including a pair of Blue-winged Warblers, many Yellow-rumped Warblers, and a few Palm Warblers. Heard (but not seen) Brown Thrasher. Raptor species: two Turkey Vultures, one Red-tailed Hawk, and one Sharp-shinned Hawk (perched and willing to be observed closely).
---
Jack Pomatto on 4/24 reported via e-mail: This morning, Wednesday 4/24/13, the forest floor was alive with Yellow-rumped Warblers, and the trees with Ruby-crowned Kinglets. The temperature and/or wind might explain the warblers' behavior. This was the show at Jon J. Duerr F.P. (Blackhawk). The highlight birds of the walk were two ( probably three ) Orange- crowned Warblers in a small group in close proximity, just upstream/ North of the bridge on the bike trail. The birds were feeding two to three feet above the ground at around 8:30 A.M.
---
Marion Miller on 4/23 reported via e-mail: Had a new yard (Batavia) bird today: four Purple Finches at the feeders.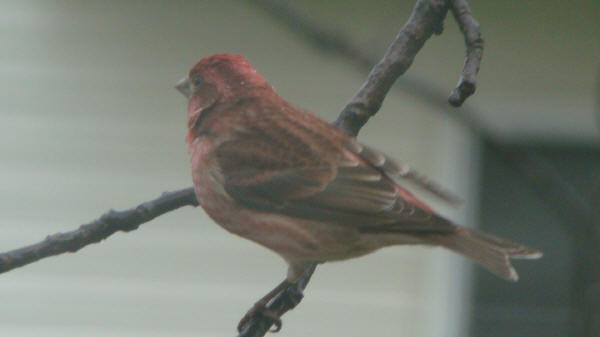 Purple Finch (male above, female below) photos courtesy Marion Miller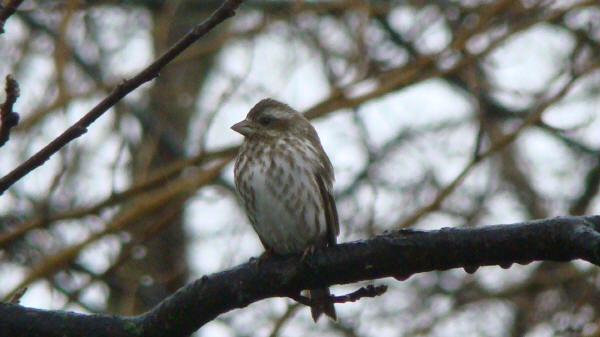 ---
Jack Pomatto on 4/22 reported via e-mail: Today, 4/22/13, the Duerrs and I had some of the recent migrant arrivals, along with our first sightings of Palm Warblers and a very bright male Pine Warbler. These were seen at Les Arends F.P. in Batavia, south of Quarry Park along the bike trail. These were a nice Earth Day prize.
---
Rich Miller on 4/21 reported via e-mail: Marion and I kicked off our annual search for a Kane County Bittern today. While spending time from early evening until dark (with no luck), we did see a few other note worthy birds. Our "first of year" Sora, Ruby-crowned Kinglet, hundreds of Coots, Blue-winged teal, Swamp Sparrow, and rough-winged swallows. It was nice to see the water level at CARSON SLOUGH up to it's normal level.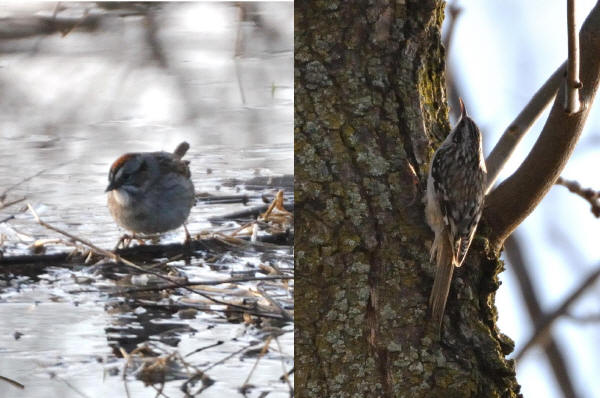 Brown Creeper and Swamp Sparrow photo courtesy Rich Miller
---
Chris Mussachio on 4/20 reported via e-mail: Found this Blue-gray Gnatcatcher along the river in Carpentersville.

Blue-gray Gnatcatcher photo courtesy Chris Mussachio
---
Brendon Lake on 4/20 reported via IBET: Hey all, today was probably my best day of birding since I started! But to cap it all off there was a single white Snow Goose and a single Greater White-Fronted Goose grazing amongst the resident Canada Geese at Fabyan West Forest Preserve this evening. These birds were incredible, as I have never been within 25 feet of a Greater White-Fronted Goose like I was tonight!
---
Karen Lund on 4/20 reported via IBET: This afternoon there was a swainson's hawk flying north along Walker Rd./Burlington Rd. about 1 mile north of Burlington.
---
Bill Koch on 4/20 reported via eBird: Seeing a Wilson's Phalarope at Pingree Grove Forest Preserve on Saturday morning's KCA bird walk.
---
Marion Miller on 4/16 reported via e-mail: Checked out the neighborhood (Batavia) pond at Trent and Wolcott this afternoon. Saw 4 Blue-winged Teal, which is a first for me in this pond. Also a beautiful Great Egret in breeding plumage flew in and perched. I had never noticed the green lores before!!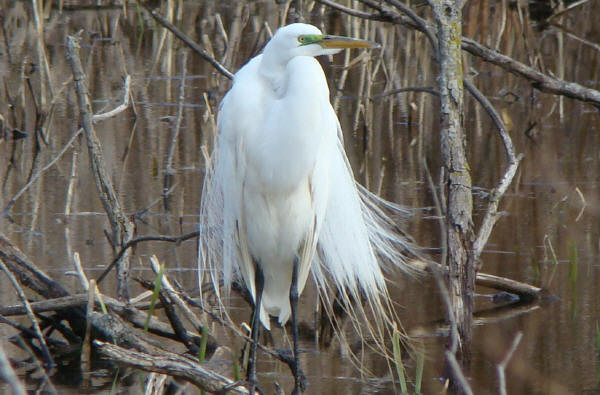 Great Egret photo courtesy Marion Miller
---
Bob Andrini on 4/16 reported via e-mail: Kath and I saw our FOY Northern Parula this morning on the Quarry Park bike path. There were also many Hermit Thrushes, Yellow-rumped Warblers and many calling White-throated Sparrows.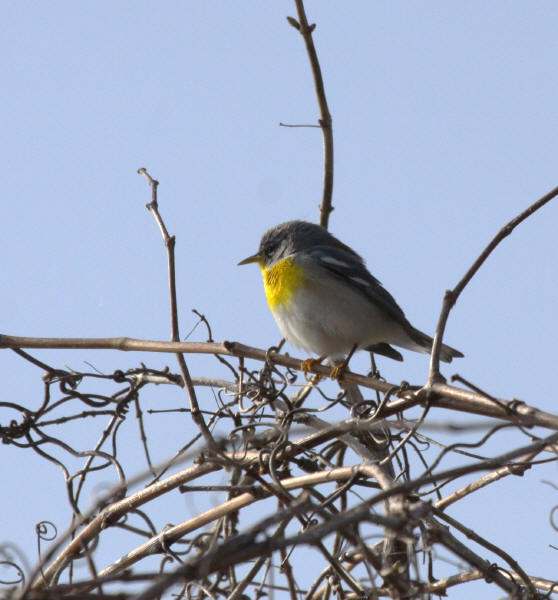 Northern Parula photo courtesy Bob Andrini
---
John Heneghan on 4/15 reported via IBET: Went to [Big Rock Forest Preserve] in Kane Cty this AM. Among the birds seen were yellow rumped warblers, ruby crowned and golden crowned kinglets, bluebirds, more flickers there than I have seen previously, rufous sided towhees, field and song sparrows singing, eastern meadow larks singing, titmouse, white breasted nuthatches, white throated sparrows, hermit thrush, red bellied woodpeckers, red headed woodpeckers, heard a turkey gobbling. Saw a brown snake sunning itself and the first spring ephemorals: spring beauty and hepatica. Lesson learned today: guaranteed to see more birds close up by leaving the camera at home!!
---
Mark Bowman on 4/14 reported via e-mail: This evening when I got home from work, I saw a different looking sparrow like bird at my feeder. I looked close and it was a FIELD SPARROW. The first one I have ever had at my feeders
---
Christopher Cudworth on 4/14 reported via IBET: During my run along the river path a black crowned night heron was flying toward their traditional feeding zone in the river below the dam.

A band of smallish grebes was parked and feeding in the Depot Pond. Worth a
check tomorrow. From a distance indeed appeared more likely to be pied-billed, but I have had eared grebes in that same spot in previous years.

The owlet in Fabyan Park had a crowd of 20 observers.
---
Marion Miller on 4/14 reported via e-mail: Purple Martins have returned to the Batavia Riverwalk. Also saw 8 Pied-billed Grebe, 1 Lesser Scaup and a Great Egret on the Batavia Depot Pond.
---
John Heneghan on 4/12 reported via IBET: We had a Rufous Sided Towhee at our feeders in the backyard this AM in Big Rock in Kane cty. First towhee at the house.
---
Kurt Frieders on 4/11 reported via e-mail: We recently have had a few interesting visitors to our yard (in Aurora township). A beautiful Yellow-Bellied Sapsucker was kind enough to drop by. We also had a Sharp-Shinned Hawk perch in one of our trees while working on a Starling. Killdeer have been frequent visitors. Our yearly pair of Mallards just started coming back to our feeders. They have been doing this for three years now, and usually stay all summer. Our male Red-Bellied Woodpecker has been calling like crazy. We also get daily visits from Downy Woodpeckers, Cardinals, Goldfinches, House Finches, Doves, Song Sparrows, and all of the Blackbirds.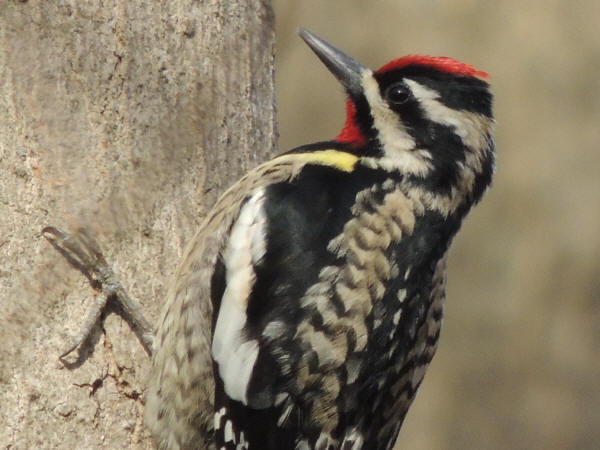 Yellow-bellied Sapsucker photo courtesy Kurt Frieders
---
Margaret Myers on 4/7 reported via e-mail: The Great Blue Heron were very active today [at Rutland Forest Preserve].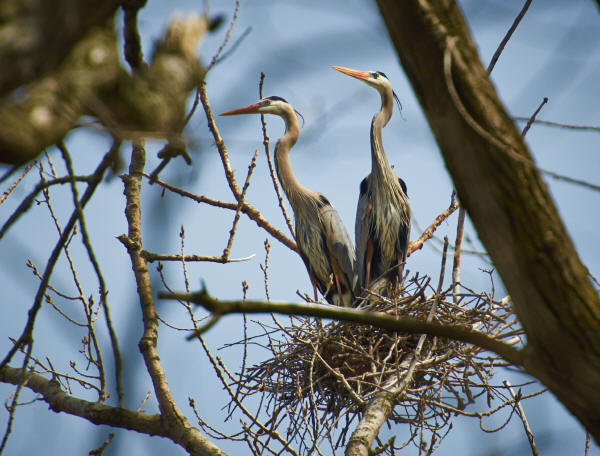 Great Blue Herons photo courtesy Steve Myers
---
Marion Miller on 4/7 reported via e-mail: We spotted one of each, Lesser Yellowlegs and Wilson's Snipe at Braeburn Marsh in Batavia on Sunday afternoon.

Lesser Yellowlegs photo courtesy Marion Miller
---
Jim Frazier on 4/7 reported via IBET: I spotted a [Common Loon] at Fabyan Forest Preserve south of the footbridges and north of the Fabyan highway bridge. Went out this morning and saw it - never had a Kane County loon.
---
Diane Hansen on 4/6 reported via e-mail: Yesterday I walked around Nelson Lake and there were still a couple smoldering logs from the recent burn. I haven't been there since last Thanksgiving on the 2 days when the Whooping Cranes were there (probably the peak of my new bird watching career). Yesterday I saw a few birds that were new to me so hopefully I have identified them correctly. First I encountered a tiny bird on the Audubon Bridge which I think is an Eastern Phoebe. Had it been calling I would have known for sure but it was silent. In the water I saw a Green-winged Teal and some American Coots among others I couldn't make out. There were 3 Sandhill Cranes present when I arrived and I did see them at various points around the lake as I walked. As I was taking my last look from the observation platform I saw a hawk of some sort. It did have stripes on the tail but my pictures weren't the best. I finally tore myself away and was rewarded with a Song Sparrow along the path to the parking lot.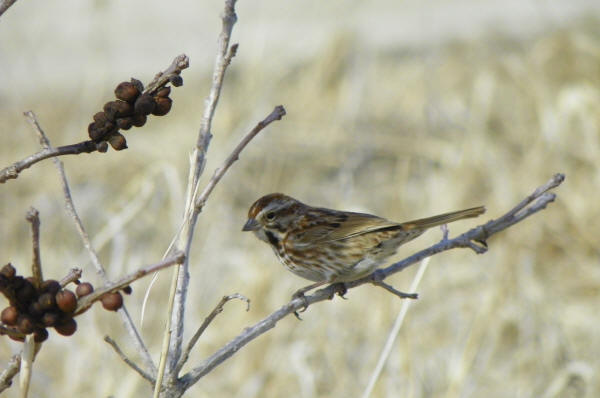 Song Sparrow photo courtesy Diane Hansen
---
Margaret Myers on 4/6 reported via e-mail: [A]t Fabyan Forest Preserve. Owlet giving Mom some love.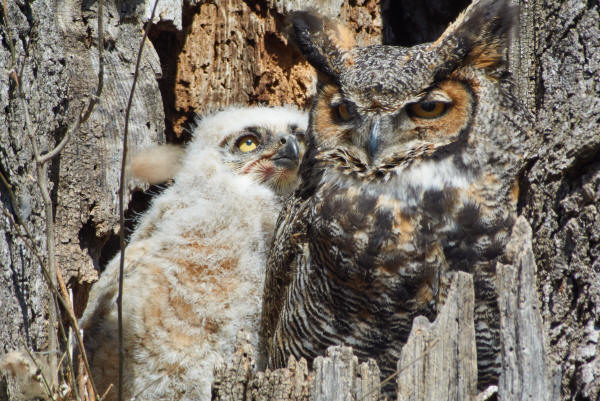 Great Horned Owl and owlet photo courtesy Steve Myers
---
Brendon Lake on 4/5 reported via IBET: Hey all, after finding some pretty neat stuff at the Burlington Meadows Pond here in Burlington yesterday, I wanted to do a follow-up on everything early this morning. A Barn Swallow was once again drifting over the pond with some Tree Swallows, although this one did not stay as long as the one yesterday, and it moved in a northwesterly direction. There were waves of Tree Swallows for the half hour that I spent out there, all briefly swooping over the pond, then heading off to the north-west. A Wilson's Snipe was tucked in next to a drainage pipe along the shoreline, and it eventually flushed out into the open, I do not know what caused it to flush as I was clear on the other side. Rusty Blackbirds are still present in good numbers, they were actually feeding along the shoreline of the pond today, rather than off in the inaccessible pond. Other nice finds today included Turkey Vultures, 2 Great Blue Herons, Mallards, Canada Geese, Killdeer, Song Sparrow, and some new arrivals, a pair of Wood Ducks!
---
Jack Pomatto on 4/4 reported via e-mail: Today 4/4/13 a Rusty Blackbird was seen at Rutland F.P. The Great Blue Heron rookery was very active as well.
---
Brendon Lake on 4/4 reported via IBET: Hey all, a 15 minute walk around the retention pond near my house [in Burlington] today gave me a couple of nice springtime treats. First, a blatant FOY Barn Swallow was swiftly darting around over the pond along with 2-3 Tree Swallows, and a pleasant surprise of a group of ~30 Rusty Blackbirds was hanging along the railroad tracks in an overflow area that was visible from the area I was walking. A train spooked them into trees even closer to where I was and I was able to photograph them and take video for around seven minutes. Surprisingly, no Killdeer were seen or heard even though they often breed nearby, and the other usual birds could be found, Canada Geese, Mallards, Song Sparrow, Red-Winged Blackbird, American Robin.
---
Chris Mussachio on 4/4 reported via e-mail: Spotted this female Eastern Bluebird at Freeman Kame. [At] Rutland Forest Preserve...there is some great action at the dozen or so Great Blue Herons nests that are there.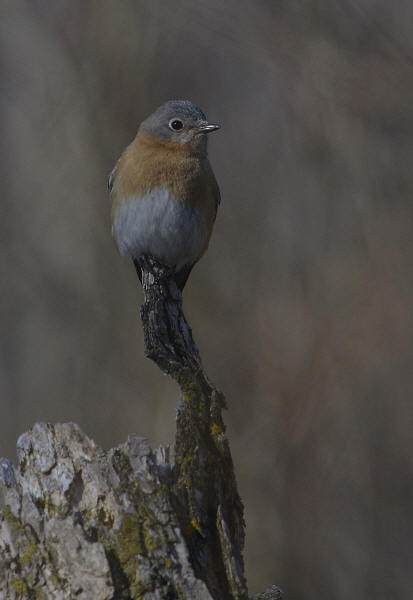 Eastern Bluebird photo courtesy Chris Mussachio
---
Diane Hansen on 4/2 reported via e-mail: Yesterday I saw my first Horned Grebe but didn't get any good photos. This morning I returned to the same spot right above the South Elgin dam and saw 2.
Later at Chipstone Park I caught a loon stretching it's wings. I also saw a group of Ruddy Ducks just above the Elgin dam much earlier this morning.

Horned Grebe photo courtesy Diane Hansen
---