---
Chris Bowman on 4/28 reported via e-mail: At around 2 PM 4/28 Tuesday, I had a yellow target winged goldfinch type fly past in the field bordering Prairie Green Marsh to the east. It landed on a plant stalk where it rested for about 15 seconds. Good looks revealed it to be an European Goldfinch. It flew south across the open field where I lost sight.
---
Roger Hotham on 4/25 reported via phone: Steve Keibler reported having seen a Pileated Woodpecker this morning in the woods along Snuffy's Prairie in Dundee Township.
---
Theresa LeCompte on 4/25 reported via e-mail: Spotted an Eurasian Collared-Dove under the back yard feeder yesterday afternoon. This was a new (and unexpected) bird for my west Aurora yard.
---
Ken Schneider on 4/24 reported via e-mail: Just arrived from Florida this past weekend (brrr...). This morning I visited Jones Meadow Park in North Aurora. As I approached the small marsh just west of the lake, I heard a Sora, and eventually as many as four. I watched for about a half hour. Then a Virginia Rail called and eventually a second walked out from the edge of the vegetation. I was unable to get a single clear shot through the grass. The second one was running as if to catch up with the other. A Sora also appeared briefly.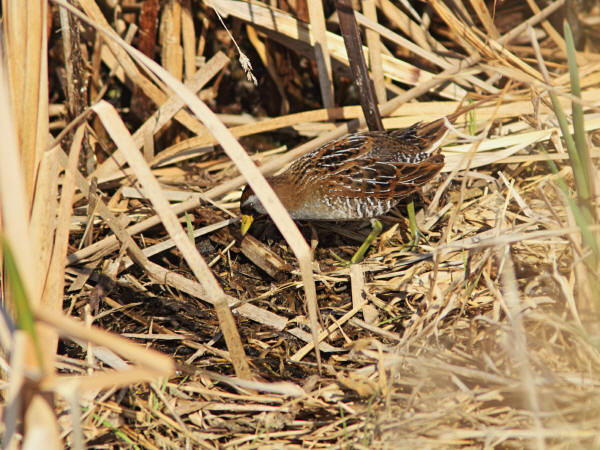 Sora photo courtesy Ken Schneider
---
Walt Lutz on 4/22 reported via e-mail: A beautiful male Kestrel at Burnidge Forest Preserve tonight but the big surprise of the night was a large Beaver on the north entrance pond.
---
Bob Andrini on 4/20 reported via e-mail: Purple Martins have also arrived at the houses at Hickory Knolls, by the garden plots.
---
Theresa LeCompte on 4/19 reported via e-mail: Caspian Terns at the pond near Hupp Park on Aurora's west side.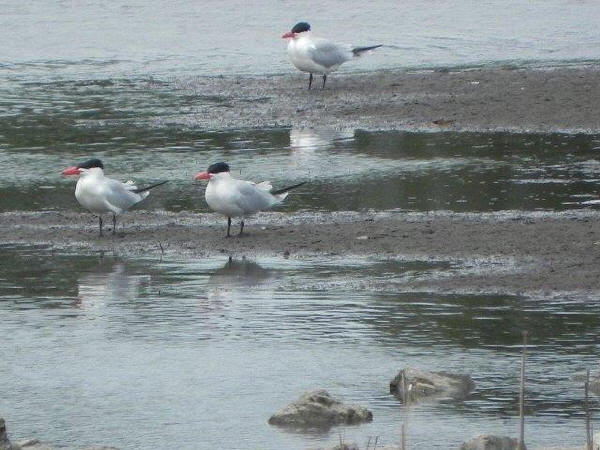 Caspian Terns photo courtesy Theresa LeCompte
---
Brendon Lake on 4/19 reported via eBird: Swainson's Hawks have returned to their Chapman Road location near Burlington.
---
Pat Sterbling on 4/19 reported via eBird: At Nelson Lake, a Yellow Warbler.
---
Chris Madsen on 4/19 reported: Carla and I ventured out this morning to chase the Snowy Owl reported by Kelsi Hirschy & Lisa Guess. We had no luck on that quest, but on the way home stopped in at Tekakwitha Forest Preserve where the wildflowers were in glorious display. After a Cooper's Hawk made a pass through the woods, I mentioned to Carla that Broad-wings were beginning to be reported in the state. Not more than ten minutes later we were treated to a kettle of six Broad-winged Hawks circling over the river. If the trees had been leafed out we certainly wouldn't have seen them. Given the setting, my mind jumped back to our departed friend Jack Pomatto, who regularly posted Broad-winged sightings every year at this time, from this site.
Later in the day we traveled down to Batavia's Riverwalk where the Purple Martins were beginning to set up housekeeping in the Martin houses.
---
Chris and Jackie Bowman on 4/18 reported via e-mail: Today we observed at least two Virginia Rail at Peck Farm, and enjoyed the lively song of the Northern Parula at Fabyan Park. Fabyan Park also had Chipping Sparrow, Blue Gray Gnatcatcher, & Eastern Bluebird. It was great to see all the folks coming out to see the Great Horned Owls and owlets, what a teachable moment they are offering all of us.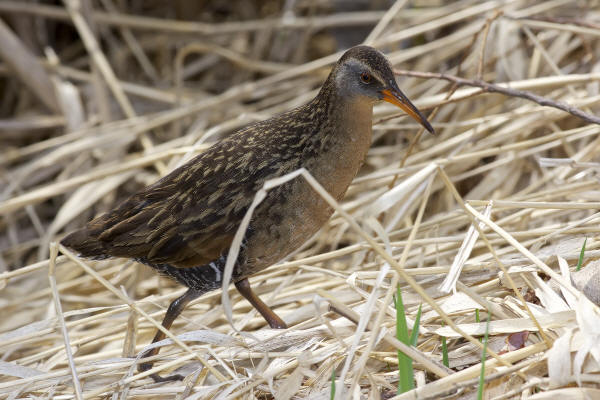 Virginia Rail photo courtesy Jackie Bowman
---
Kelsi Hirschy & Lisa Guess on 4/18 reported via e-mail: We saw a snowy owl tonight sitting on a fence near Rt. 25 and Kenyon Rd. Also, a pair of nesting bald eagles were sitting in the nest near Rt. 25 and Bartlett Rd. We were very excited to see both! Thanks!
---
Marion Miller on 4/18 reported via e-mail: The very vocal Yellow-throated Warbler and Northern Parula continued at Fabyan FP-Japanese Gardens today.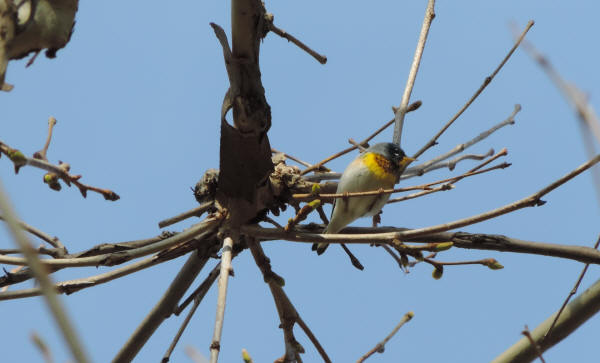 Northern Parula photo courtesy Marion Miller
---
Theresa LeCompte on 4/18 reported via e-mail: I happened to find a Bonaparte's Gull (in breeding plumage) on the Fox River late this morning, south of Quarry Park, just past the second foot bridge.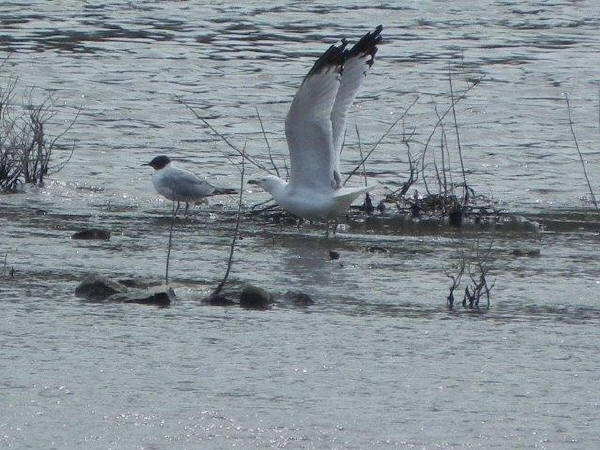 Bonaparte's Gull photo courtesy Theresa LeCompte
---
Tracy Finnegan on 4/18 reported via e-mail: We went to Nelson lake because we heard on tv that the American white pelicans were there. We only saw one on 4/14. We also were informed about the Great Horned Owl nest at Fabyan parkway near Rt 31 with the three babies. So amazing to see them.
---
JJ Jardini on 4/18 reported via IBET: At Fabyan FP, around 1:30 we heard and chased a singing Parula. After about an hour we were all able to get on it.
Wish the lighting was better . Seen with Randy Thorne and Lisa Granbur. We left to eat and when we came back we were rewarded with a Yellow Throated Warbler!

At 4:30 pm, heard singing from the parking lot by the bathrooms. Saw on the main path, just beyond the bathrooms. First on the west side of the path then flew to the trees on the east side of the path. Seen with Randy Thorne, Lisa Granbur and joined by Jon and Joy Duerr. Great views had by all!

Both birds were very striking!

Hope the rest of the warblers are as accommodating!
---
Bill Ahlgren on 4/17 reported via e-mail: A Yellow-throated Warbler @Fabyan's FP this morning along with 2 Northern Parula. I was with Art Johnson and ran into Rich and Marion Miller. They were in the vicinity of Fabyan villa and the Japanese Garden. A beautiful and birdy morning there today.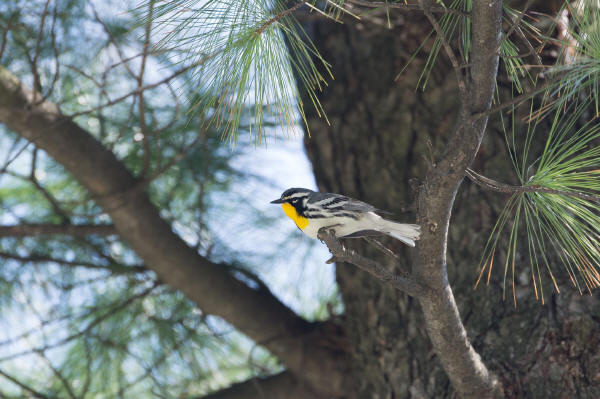 Yellow-throated Warbler photo courtesy Bill Ahlgren
---
Marion Miller on 4/17 reported via IBET: Very vocal male Yellow-throated Warbler and Northern Parula north of the garden near the Villa museum. Lots of Blue-gray Gnatcatchers too.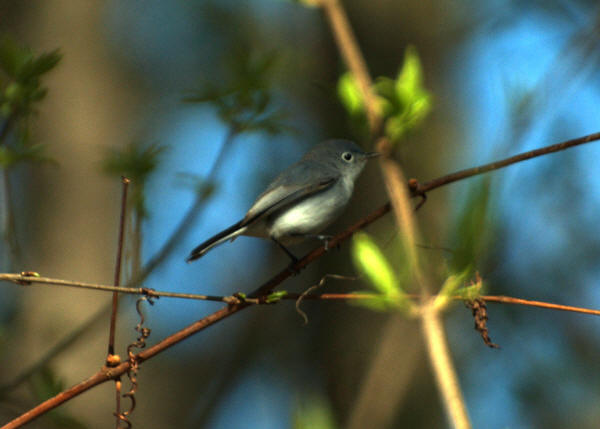 Blue-gray Gnatcatcher photo courtesy Rich Miller
---
Eric Secker on 4/15 reported via IBET: I took at long walk through Jelkes Creek this evening around sunset, from about 7-8 p.m. As I arrived a SANDHILL CRANE flew in and landed in the marsh. In one of the front marshes I also heard a VIRGINIA RAIL calling. Along one of the western trails I had a BROWN THRASHER calling up in the trees and my first PALM WARBLER of the year was working in one of the hedgerows along the trail. As I got back to the parking lot I heard at least three AMERICAN WOODCOCKS peenting and displaying out in the fields. Also my first bat of the year was flying over the front marsh.

Other birds included Eastern Bluebird, about 10 Blue-winged Teal, a Pied-billed Grebe, Hermit Thrush, Savannah, Song, and Swamp Sparrows, and other regulars.

Full list is below.

7 Canada Goose
17 Mallard
10 Blue-winged Teal
1 Pied-billed Grebe
1 Virginia Rail*
1 Sandhill Crane
2 Killdeer
3 American Woodcock
2 Mourning Dove
1 Red-bellied Woodpecker
1 Downy Woodpecker
2 Blue Jay
1 American Crow
2 Black-capped Chickadee
1 Eastern Bluebird
1 Hermit Thrush
X American Robin
1 Brown Thrasher
6 European Starling
1 Palm Warbler
3 Savannah Sparrow
13 Song Sparrow
2 Swamp Sparrow
2 Northern Cardinal
85 Red-winged Blackbird
2 Eastern Meadowlark
4 Common Grackle
2 Brown-headed Cowbird
2 House Finch
3 American Goldfinch
* calling from one of the marshes
---
Bonnie King on 4/15 reported via e-mail: There is a pair of Bald Eagles nesting near Route 31 and Mooseheart Road, in a lone evergreen near the southwest corner of the football field, very visible from the gate between 31 and A Street, where you can pull off and park. I saw both last night, there may be babies in the nest too.
---
John Heneghan on 4/15 reported via e-mail: At Les Arends Forest Preserve. Yellow Rumped Warblers and Blue Gray Gnatcatchers. Surprised by the numbers of Red Bellied Woodpeckers also. This was 4/14 in the evening.

---
Marion Miller on 4/14 reported via phone: At mid-afternoon Brendon Lake found a Hudsonian Godwit in a cornfield next to the ball field, next to the railroad tracks on Burlington Road in Burlington. Per Bob Andrini, although the bird had flown from the site, it had returned by 6:45. Then left again at 6:55.
---
Vern LaVia on 4/14 reported via IBET: Hi All IBET'ers...like clockwork...the Rough wg Swallows returned to downtown Aurora, IL April 9th.
Best seen from the Benton St. bridge (from the library parking lot), you can watch them choose nesting sites in old drainage pipes and other crevices along the stone walls of the Fox River.
These swallows will be joined any day by Cliff Swallows that nest under the bridges.
And from this same vantage point, I've seen Barn and Tree swallows over the past 15+ years (i.e. only once ever, I also had a Bank Swallow....Banks are readily abundant a couple miles north of this point, up the Fox River, behind the meat packing plants in North Aurora off of Rt. 25).

Spring is springing!
---
Chris Bowman on 4/14 reported via e-mail: On Tuesday, April 14th, at around 2:00pm I observed an American Bittern flushing from the southeast corner and landing in the northeast corner of the Prairie Green marsh. I was unable to relocated the AMBI in the reeds located there.
---
Theresa LeCompte on 4/14 reported via e-mail: Eastern Towhee at Hannaford Woods on Sunday 4/12.

Eastern Towhee photo courtesy Theresa LeCompte
---
Bob Andrini on 4/13 reported via e-mail: This morning walking at Quarry Park we saw our first Ruby-crowned Kinglets. Also seen were Hermit Thrushes, Eastern Phoebe, and a small flock of White-throated Sparrows.
---
Sue Wagoner on 4/13 reported via e-mail: I was pleasantly surprised to see a male Purple Finch in my backyard a few days ago. This is a first for my backyard list. The crest-like appearance of the head, deeply forked tail and lack of brown flank streaking sealed the ID for me.
Having done very little birding these days I am happy to see all yard migrants- not many this spring but I did have a nice Fox Sparrow, Brown Creeper, and my first Mourning Cloak butterfly for the year... so for me it is "quality, not quantity."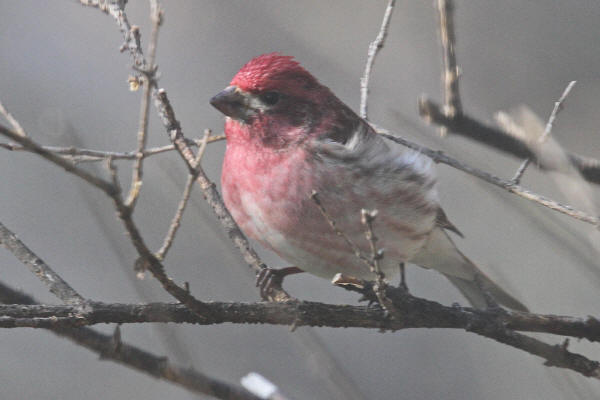 Purple Finch photo courtesy Sue Wagoner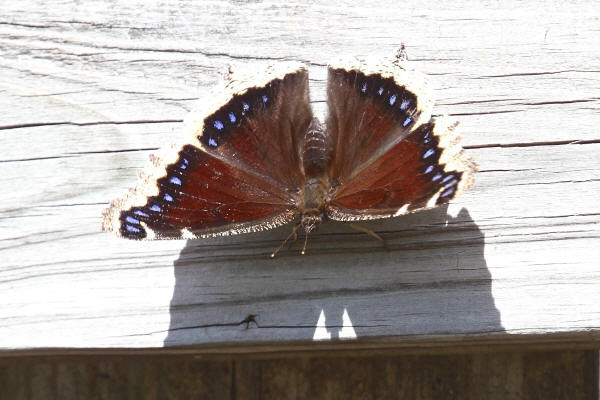 Mourning Cloak Butterfly photo courtesy Sue Wagoner
---
Walt Lutz on 4/13 reported via e-mail: Beautiful Red-headed Woodpecker yesterday @ Burnidge F.P.
---
Patrick Ricketson and Brendon Lake on 4/12 both reported via eBird: Seeing Yellow-headed Blackbirds at the Pingree Grove water treatment plant marsh.
---
Justin Wrinn on 4/12 reported via IBET: Last night I observed 3 AMERICAN WOODCOCKS displaying in the large field in the northwest corner of Burnidge Forest Preserve, starting shortly before 8PM. At least two other birds were heard in nearby locations (1 near the west parking lot, and one in the field west of the pond by the north entrance). I also saw one, possibly two GREAT HORNED OWLS in the treeline along the field - one perched halfway up a tree on the north side near the east end holding a fresh kill (possibly a robin based on the size and shape), and then a few minutes later another at the very top of a tree at the west end of the field. I am guessing it was two individuals, but I can't be certain.
---
Jan Hutchinson on 4/10 reported via e-mail: American White Pelicans at Peck Farm Park in Geneva at 10 AM.
---
Marion Miller on 4/7 reported via e-mail: I'm forwarding Bill Petersons's picture of two Rusty Blackbirds that he found yesterday on the Fox River south of Batavia.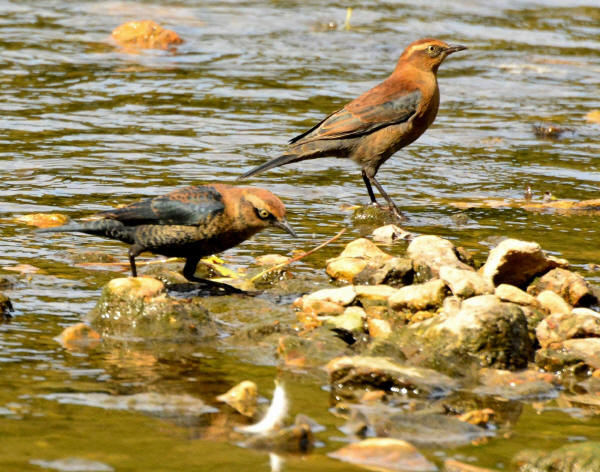 Rusty Blackbirds photo courtesy Bill Peterson
---
Brendon Lake on 4/6 reported via e-mail: Hampshire Forest Preserve was great birding this morning! I spent a little over two hours there, trying to keep track of every bird I could find. I ended up tallying 38 species! Highlights were a Red-Breasted Nuthatch and a couple of Pine Siskins still hanging on, four flyover Greater Yellowlegs, a male Eastern Towhee, a singing Field Sparrow, 11 Hermit Thrushes, 11 Yellow-Bellied Sapsuckers, 16 Golden-Crowned Kinglets, 2 Ruby-Crowned Kinglets, 5 Eastern Phoebes, a Rusty Blackbird and a male American Kestrel.

Also, yesterday (4/5) I found my first Vesper Sparrows of the year. Two of them were quite cooperative at a pasture at the corner of Percy and Middleton Roads near Burlington.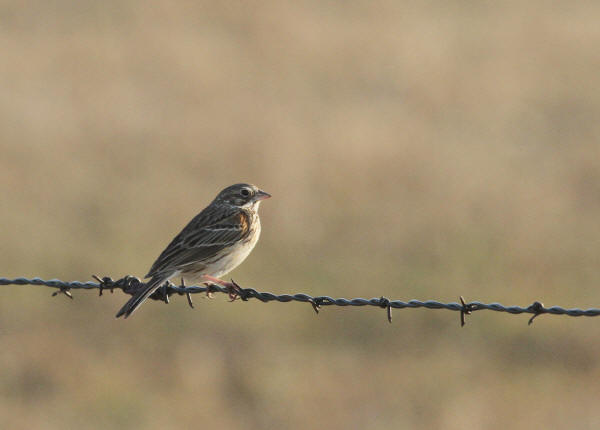 Vesper Sparrow photo courtesy Brendon Lake
---
Jackie Bowman on 4/6 reported via e-mail: On Sunday, 4/4, saw this Hermit Thrush at Fabyan Forest Preserve.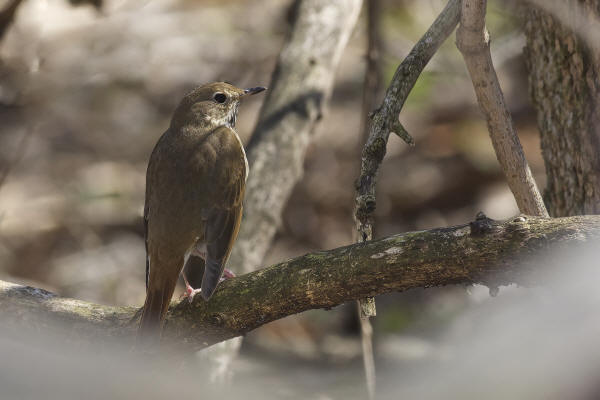 Hermit Thrush photo courtesy Jackie Bowman
---
Kathy and Bob Andrini on 4/6 reported via phone: Two Rusty Blackbirds next to the bikepath, below the windmill at Fabyan at 1 PM. No pelicans, but tons of American Coots at Nelson Lake. Twenty American White Pelicans at Carson Slough but very few ducks.
---
Eric Secker on 4/5 reported via IBET: We had many nice birds on a peaceful evening walk at the Camp Tomochichiknolls or what you will unit of Freeman Kame F.P.

Highlights included a Pine Warbler, 2 Yellow-rumped Warblers, 4 Winter Wrens including wonderful looks at two within six feet of us, an Eastern Towhee, Fox Sparrows, four Yellow-bellied Sapsuckers, and a total of 78 Golden-crowned Kinglets enjoying all the bugs and budding out trees.

Most of the birds were on the edges of the preserve and the southern loop, avoiding the countless acres that look like they have been nuke bombed by the forest preserve district tractors and wood chippers. I'm hopeful they will eventually plant some native shrubs again.

Full list is below.

2 Canada Goose
4 Wood Duck
2 Mallard
1 Turkey Vulture
1 Red-tailed Hawk
1 Ring-billed Gull
1 Mourning Dove
1 Red-bellied Woodpecker
4 Yellow-bellied Sapsucker
2 Downy Woodpecker
3 Northern Flicker
2 Eastern Phoebe
2 American Crow
3 Tree Swallow
14 Black-capped Chickadee
4 White-breasted Nuthatch
1 Brown Creeper
4 Winter Wren
78 Golden-crowned Kinglet*
1 Eastern Bluebird
1 Hermit Thrush
X American Robin
2 European Starling
1 Pine Warbler
2 Yellow-rumped Warbler
1 Eastern Towhee
1 American Tree Sparrow
7 Fox Sparrow
2 Song Sparrow
4 White-throated Sparrow
7 Northern Cardinal
11 Red-winged Blackbird
3 Common Grackle
2 House Finch
1 Pine Siskin
*"running tally kept. one loose group of over 25, few groups of about 10-15, may groups of 3-5"
---
Walt Lutz on 4/4 reported via e-mail: Saturday late afternoon at Pingree Grove WTP (the fenced pond/lake): Common Loon & Horned Grebe.
---
Rich Miller on 4/4 reported via e-mail: Marion and I were out to get better looks of the Western Meadowlark that has been seen around the Aurora airport this year and last year. We found this fella singing as we were traveling west on Wheeler Rd. near the abandoned farm that borders the airport. There was an Eastern Meadowlark there too giving our bird a hard time. My first half-way decent photo of this one.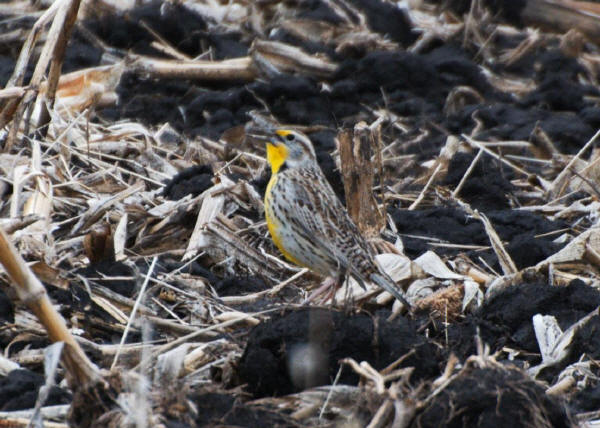 Western Meadowlark photo courtesy Rich Miller
---
Tim Balassie and Joy and Jon Duerr on 4/3 reported via text message: American White Pelicans have arrived at Nelson Lake.
---
Eric Secker on 4/2 reported via IBET: A short while ago [posted at 6:50 PM] I had a group of about 30 AMERICAN WHITE PELICANS fly over headed north near Judson and I-90 in Elgin.
---
Brendon Lake on 4/1 reported via IBET: Hey everybody, it was a beautiful day out and about! I birded at Jon Duerr Forest Preserve and Gunnar Anderson Forest Preserve along the Fox River today. I had 28 species at Jon Duerr this morning, with notables being one Eastern Phoebe, five Golden-Crowned Kinglets, a breeding plumage Yellow-Rumped Warbler, a Pine Siskin, two Field Sparrows and three Eastern Bluebirds. Gunnar Anderson FP wasn't too shabby either, with 21 species. Best of the bunch being my target bird for the day, an Osprey that flew by at 11:50 this morning headed north. Also notable were three Fox Sparrows, an Eastern Phoebe and a pair each of Common Mergansers and Wood Ducks that were hanging around on the river.
---
Rich Miller on 4/1 reported via e-mail: There were two Double-crested Cormorants soaking up the sun along the East side of the river - near the Aurora Casino.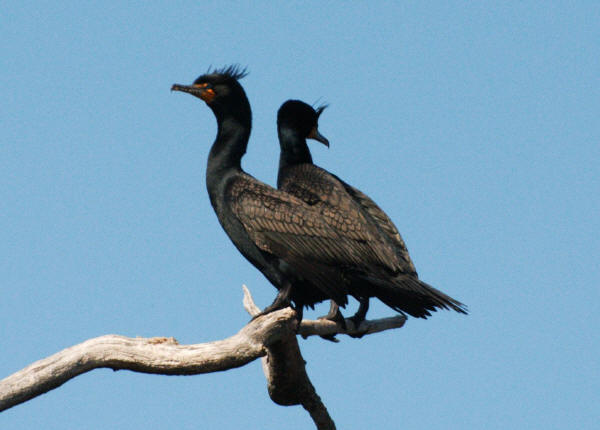 Double-crested Cormorants photo that Rich Miller has captioned
"Double or nothing at Hollywood Casino"
---