Debbie Wisser on 8/31 reported via e-mail: With the start of fall migration, I'm looking forward to the surprise visitors that may show up in my neighborhood. Yesterday I saw a Canada Warbler and an American Redstart in the big walnut tree that hangs over our yard. I have to be in the right place at the right time, but it is amazing how many different birds pass through briefly.
Tonight I went for a walk through Jon J Deurr forest preserve to the bike trail. There were not a lot of birds there, but I did see an adult Red-headed Woodpecker. Over the river there were about 6 Common Nighthawks. On the drive home, however, I saw at least 40 Common Nighthawks feeding over Highway 31 and State Street. I haven't seen that many in years. Later near the Dairy Queen, few blocks from my house, I noticed Chimney Swifts over an old factory building that still stands in the neighborhood. I stayed to see if I could see them descend into it's very large chimney. I saw the number of birds get smaller and smaller, but I never actually saw one go down a chimney. There are several on the building so I guess I'll try again from another vantage point. Back to Dairy Queen tomorrow :)
Chris Madsen on 8/30 reported: This afternoon at LeRoy Oakes Forest Preserve, Carla and I had Magnolia and Black-and-White warblers, American Redstart, Yellow-throated Vireo, and Common Nighthawks.
Matthew Cvetas on 8/30 reported via IBET: [Amar Ayyash and I]...headed to Hampshire's Coon Creek Sod Farm on Allen Rd. only to find a vast barren wasteland of grass.

Before we headed home, we stopped in Burlington to look for Swainson's Hawk. Several times during our 45 minutes there, a large buteo would appear over the trees, but each time the dark leading edge of the wing revealed a RED-TAILED HAWK. We counted 3 in total. Besides that, we had a COOPER'S HAWK come right over our heads with kill in talons.

Although a bit chilly to start, it was a great morning to be out.
Bob Andrini on 8/30 reported via e-mail: While walking out at Johnsons Mound today (Sunday), we saw 3 American Redstarts (either females or first year males).
Karen Land on 8/29 reported via IBET: I think they got flushed out of a neighboring field by a man walking his dog but on our way to the store this morning we saw 2 adult sandhill cranes walking across the circle driveway of HC Storm grade school in Batavia, just before 8 am this morning.? The man seemed aware of the cranes and kept along the edge of the wooded area. They were not to be seen when we returned from the store, by this time soccer teams had taken over the area.
John Heneghan on 8/26 reported via IBET: We have spent the last few days moving from La Fox to Big Rock in Kane County. Yesterday, I had an excited call from Tricia asking the whereabouts of the hummingbird feeders. She was outside and a hummingbird flew up and hovered almost at eye level seemingly saying "Its about time you got here, I am hungry!" We put the feeder up and were entertained with their antics during lunch. Our friend Dave who is a birder, who has been helping us, noted 2 turkey vultures fly over and a blue jay, which we never saw at the old house. There were quite a few waxwings in the trees. As there are many old oaks in the area, I am hoping we see red headed woodpeckers. We are planning to put in prairie plants in the back yard, it will be interesting to see what shows up. Also, more flowers to attract buterflies and more hummers!!
John Heneghan on 8/26 reported via IBET: Last night, we observed 12 nighthawks flying over Rt 64 and 3rd St [in St. Charles] about 1/2 hour before dark. They appeared to be feeding as they were flying in the same area.
Darrell Shambaugh on 8/26 reported via IBET: This afternoon I checked Dunteman's Sod Farm on the east edge of Kaneville (Kane County). There were at least 250 KILLDEER and about 15 AMERICAN GOLDEN PLOVER. All were in the newly planted field on the north side of Main Street.
Christopher Cudworth on 8/23 reported via IBET: This is interesting in that I have seen a peregrine several times now in the Kaneville area. In particular, on Main Street west of downtown. Twice now I've seen a peregrine hunting those fields.
Ari Shavit on 8/22 reported via IBET: I went to Sauer f.p in Kane county again looking for shore birds. I didnt see anything new but a Peregrine Falcon came by and i managed to get a quick photo which can be seen here.

American Kestrel photo courtesy Ken Schneider
Ken Schneider on 8/21 reported via e-mail: For the past two summers I have been regularly seeing a pair of kestrels near our North Aurora condo at Randall & Orchard. Today they showed up, catching grasshoppers in a disturbed field just outside our front door. By the time I got my camera, the female had moved out of range, but I captured several photos of the male.
Pete Moxon on 8/20 reported via phone: At Carson Slough, the water level is too high to provide shorebird habitat.
At the Kaneville sod farms on Main Street Road, tons of Killdeer, a few Horned Larks, some Yellowlegs, and Pectoral Sandpipers.
At Sauer FP, 6 Stilt Sandpipers, 2 Short-billed Dowitchers, 1 Greater Yellowlegs, 8 Lesser Yellowlegs, 9 - 10 Least Sandpipers, a juvenile Northern Harrier, 2 Pectoral Sandpipers, and 4 Semipalmated Plovers.
Yeanette Johnson on 8/19 reported via IBET: After a few birding stops in Kane Co today, Lisa G. and I decided that the BLACK TERN (4) at Nelson Lake would receive the bird of the day reward.
We also watched the 3 CASPIAN TERN (two adults & one juvenile) that have been hanging around the mostly dried up retention pond located at the S.E. corner of Orchard Rd & Illinois Ave. in Kane Co.
Chris Madsen on 8/19 reported: Eighteen Common Nighthawks feeding over the Fox River in St. Charles this evening at 7:15.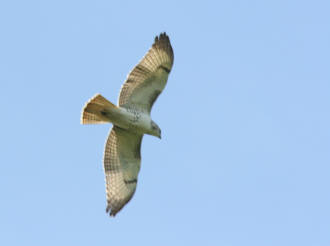 Immature Red-tailed Hawk photo courtesy Ken Schneider
Ken Schneider on 8/19 reported via e-mail: On this morning's Ramble at West Side Community Park (formerly Campton Hill Park) we saw several Broad-winged Hawks. When I looked at this photo, the tail appeared reddish, making me think I had possibly photographed one of the Red-tails that were also flying with them. However, note that the flight feathers have the same tone, due to color temperature, and wing linings are white. Distinctive wing shape and markings, white terminal tail band are consistent with immature Broad-winged Hawk. (In an updated message on 8/20 Ken writes: I was quite uncomfortable about the identity of the hawk I photographed, and now believe it is an immature Red-tail that was hanging out with the Broad-wings. See the interesting comments I received about this photo when I asked for assistance on Flickr.)

Pete Moxon on 8/18 reported via phone: Last night at Carson Slough there were about a dozen each of Greater and Lesser Yellowlegs, 2 Short-billed Dowitchers, and at least 1 Stilt Sandpiper.
At Sauer Forest Preserve, Pete reported seeing 3 Semipalmated Plovers, 4 Greater Yellowlegs, 10 Lesser Yellowlegs, 2 Solitary Sandpipers, 14 Spotted Sandpipers, 11 Least Sandpipers, 1 Semipalmated Sandpiper, and a Dowitcher species.
Mark Bowman on 8/17 reported via e-mail: Today at prairie green there is only the main pond which has water now. There was an immature black crowned night heron spotted. He was flying around from one side of the pond to the other as there is tons of frog activity. This should draw in a variety of birds over time and so this should be a place to keep an eye on over the next month or so.
Bill Koch on 8/17 reported via IBET: Stopped by one of my small neighborhood ponds in Elgin to scan for shorebirds.
There were many. Only have 8x binoculars but I did see several Greater & Lesser Yellowlegs, 1 or 2 Pectorals, Killdeer, many Least, Spotted and Solitary Sandpipers. There might have been others in there but had bad lighting and they were to far back.
Green Heron, Egrets, Pied Billed Grebes, Mallards and Barn Swallows were also present.
Walter Lutz on 8/16 reported via e-mail: A few observations today at Nelson Lake 6-8 a.m.: Ruby-throated hummingbird, Green Heron on the small pond at the northeast corner of the site, large groups of Robins; fairly large group of Cedar Waxwings; 2 Northern Harriers playing at the waters edge; 3 Coopers Hawks playing in the breeze on the edge of the woods as a Northern Harrier tried to slyly interact and seemed to be making half-hearted attempts to catch one. The hawks tired of this and finally ran it off. Finally, a poor look at what appeared to be a Pine Siskin.
Pete Moxon on 8/16 reported via phone: At Sauer Forest Preserve on Friday evening, One Long-billed and 3 Short-billed Dowitchers. Both species were absent on Saturday. However, Buff-breasted Sandpipers were present both days. As was a male Northern Harrier on Saturday.
On Saturday at Nelson Lake, there were scattered shorebirds, with the best being 2 Baird's Sandpipers, 1 White-rumped Sandpiper, and a Red-necked Phalarope.
Continuing on Saturday, Greater and Lesser Yellowlegs, Pectoral and Least Sandpipers were present at Carson Slough.
Then at a fluddle by the shopping mall near Kirk and Molitor roads were 8 Caspian Terns, some Greater and Lesser Yellowlegs, Pectoral Sandpipers, and other miscellaneous shorebirds. Nothing real special.
Finally, along McGirr Road, just east of the Kane/DeKalb border, a couple of Eurasian Collared Doves.
Bob Andrini on 8/15 reported via e-mail: Fall bird? Our neighbor reported a Red-breasted Nuthatch at her feeder.
Darrell Shambaugh on 8/14 reported via IBET: I checked the ponds around the Aurora Outlet Mall, on Farnsworth just north of I-88, late this afternoon. Afternoon isn't the best time to view these marshes because of the sun in the west, but I still saw a few neat species:

5 Caspian Terns
1 Green Heron
4 Great Egrets
5 Great Blue Herons
Several Pectoral Sandpipers
3 Greater Yellowlegs
1 Semipalmated Sandpiper
1 Double-crested Cormorant
Barn Swallows
About 50 Killdeer
Mallards
Canada Geese
Mourning Dove
House Wren
Eastern Kingbird

Ken Schneider on 8/13 reported via e-mail: We got out to Nelson Lake very early and only had time to bird around the east entrance. From the east observation platform, I photographed a coyote that was hunting at the edge of the lake. Many young birds-- kingbirds, catbirds and yellowthroats. There were many sandpipers that were too far away to safely identify without a scope, though 2 Least Sandpipers were ID'd by size and foraging habits. Saw 47 bird species including a Ruby-throated Hummingbird that alighted just off the edge of the viewing platform. See more photos at my flickr account and my Blog.


Canada Goose 22
Mallard 35
Double-crested Cormorant 5
Great Blue Heron 5
Green Heron 3
Red-tailed Hawk 3
Sandhill Crane (Greater) 1
Killdeer 50
Least Sandpiper 2
peep sp. 20
Ring-billed Gull 2
Mourning Dove 8
Chimney Swift 5
Ruby-throated Hummingbird 2
Red-bellied Woodpecker 3
Downy Woodpecker 1
Northern Flicker (Yellow-shafted) 8
Eastern Wood-Pewee 1
Eastern Kingbird 6
Blue Jay 6
Purple Martin 4
Tree Swallow 2
Barn Swallow 7
swallow sp. 20
Black-capped Chickadee 5
White-breasted Nuthatch 2
House Wren 2
Sedge Wren 3
American Robin 25
Gray Catbird 15
Brown Thrasher 2
European Starling 5
Cedar Waxwing 20
American Redstart 1
Common Yellowthroat 15
Eastern Towhee 3
Field Sparrow 2
Song Sparrow 20
Swamp Sparrow 2
Northern Cardinal 2
Indigo Bunting 12
Red-winged Blackbird 8
Eastern Meadowlark 1
Common Grackle 2
Brown-headed Cowbird 4
blackbird sp. 30
American Goldfinch 12

Ruby-throated Hummingbird photo courtesy Ken Schneider

Coyote photo courtesy Ken Schneider

Eastern Kingbirds photo courtesy Ken Schneider
Sue Wagoner on 8/12 reported via e-mail: On a quick trip to Nelson Lake 8-11 we saw 7 Great Blue Herons all standing in close proximity in the lake, many Gold Finches, many Robins migrating, several Sedge Wrens singing, Indigo Bunting, and this Northern Flicker who, after much preening, appeared to be displaying in response to an out-of-sight Flicker who was calling.

Tim Balassie on 8/11 reported via e-mail: Had Common Nighthawks over the house tonight for the first time in several years (STC).

Northern Flicker photo ocurtesy Sue Wagoner
Bryan Hix on 8/9 reported via e-mail: I wanted to report that this morning around 6:15am I was out at a shrinking retention pond off of Allen Rd in Hampshire and saw a lot of shore birds. I was able to count 4 Greater Yellowlegs, 9 lesser Yellowlegs, 2 solitary sandpipers, at least 3 semipalmated sandpipers, 2 pectoral sandpipers, 20+ of least sandpipers, a few spotted sandpipers, a pair of kingfishers, 1 great egret, 1 green heron, 1 GBH, too many kildeer to count, and 3 Green-winged teal. There were dozens more of probably the same mix at the other end of the pond/mud flats.

Solitary Sandpiper photo courtesy Bryan Hix.

Greater Yellowlegs flanked by Lesser Yellowlegs photo courtesy Bryan Hix.
Scott Cohrs on 8/9 reported via IBET: There was one (possibly 2) Buff-breasted Sandpiper present this morning at the sod farm across from Johnson's Mound FP. This is viewed from Hughes Road. Just a word of note though.... These birds were distant, so I wouldn't recommend this spot if looking for a photo. Also, I would think the heat distortion in the afternoon would make viewing very tough; probably best to check in early AM or evening.

Sauer held pretty much the same smattering of shorebirds that I saw there last week, best being a single Stilt Sandpiper and a Short-billed Dowitcher. Large amounts of both teal and some Shoveler were also present. Nice to meet Ari Shavit there this morning; he got a few nice pics of the Stilt.

Carson Slough had roughly the same shorebirds as well, though there were at least 3 Stilt Sandpipers there.
Pete Moxon on 8/7 reported via phone: Observed this evening at Carson Slough/Denny Road Marsh, which has "lots of shorebird habitat":
3 Stilt Sandpipers
2 Short-billed Dowitchers
2 Semipalmated Plovers
Lots of Lesser Yellowlegs and Pectoral Sandpipers
Several Greater Yellowlegs and Solitary Sandpipers
Spotted Sandpipers
Killdeer
Least Sandpipers
Semipalmated Sandpipers
2 Sandhill Cranes
Bunches of Wood Ducks
Then at Sauer Forest Preserve, also this eveining:
12 Greater Yellowlegs
15 - 20 Lesser Yellowlegs
At least 1 Stilt Sandpiper
6 Solitary Sandpipers
Spotted Sandpipers
Least Sandpipers
Semipalmated Sandpipers
Pectoral Sandpipers
Semipalmated Plovers
Killdeer
Wilson's Snipe
3 American Kestrels
Bryan Hix on 8/6 reported via e-mail: At a shallow drainage pond behind an industrial park in Elgin that he has been visiting every morning...There were at least a dozen killdeer, spotted sandpiper, at least one lesser yellowlegs, and least sandpiper. Along with those were barn swallows, BW Teal, and RW blackbirds.
Least Sandpiper (L) and Spotted Sandpiper (R) photos courtesy Bryan Hix
Ken Schneider on 8/6 reported via e-mail: Yesterday morning at the north end of Nelson Lake, I photographed this swallow in the company of about 20 juvenile Tree Swallows, in trees in the pavilion area.. Its markings are entirely consistent with Bank Swallow. Some of the Tree Swallows had incomplete brown smudges on their upper breast, but this one has a clearly demarcated band with an extension down the midline of the upper belly. Also heard three Henslow's Sparrows singing on the hill to the west. This morning at the eastern entrance of Nelson Lake we saw this Hairy Woodpecker. There were at least 5 singing Sedge Wrens in the east meadow, and another in the meadow to the south.
Bank Swallow (L) and Hairy Woodpecker (R) photos courtesy Ken Schneider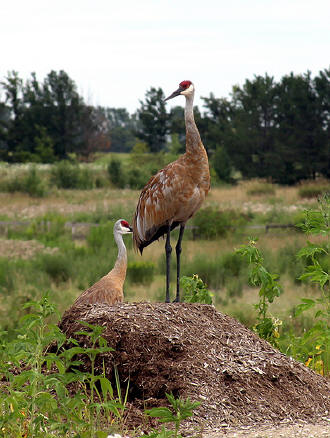 Sandhill Cranes photo courtesy Ken Schneider
Ken Schneider on 8/3 reported via e-mail: This afternoon, two Sandhill Cranes appeared in front of a home on Hunt Lane in Tanglewood Hills subdivision in Batavia. They foraged in a mulch pile in the front yard and in a vacant lot next to the home.
Pete Moxon on 8/3 reported via phone: At Sauer Forest Preserve this evening:
8 Stilt Sandpipers
1 Short-billed Dowitcher
3 Semipalmated Plovers
9 Greater Yellowlegs
14 Lesser Yellowlegs
15 Pectoral Sandpipers
4 Solitary Sandpipers
2 Spotted Sandpipers
Several Least and Semipalmated sandpipers
Christopher Cudworth on 8/2 reported via IBET: Species seen on the prairie side of [Nelson Lake/Dick Young Forest Preserve] this morning:

CLIFF SWALLOW
TREE SWALLOW
BARN SWALLOW
ROUGH WINGED SWALLOW
GREEN HERON
GREAT BLUE HERON
SANDHILL CRANE
WOOD DUCK
SONG SPARROW
YELLOWTHROAT
HENSLOW'S SPARROW
SAVANNAH SPARROW
GRASSHOPPER SPARROW
DICKCISSEL
COOPER'S HAWK
GOLDFINCH
ROCK DOVE
RED TAILED HAWK
KILLDEER
SEDGE WREN
CEDAR WAXWING
WILLOW FLYCATCHER
RED WINGED BLACKBIRD
GRACKLE
COWBIRD
ROBIN
EASTERN MEADOWLARK
MOURNING DOVE
Sue Wagoner on 8/1 reported via e-mail: This was only the second sighting this summer in our backyards of a Ruby-throated hummingbird. She came while I was "shooting" a hummingbird moth so I was prepared with my camera. The flower is a Rose of Sharon.
Female Ruby-throated Hummingbird photo courtesy Sue Wagoner.

Toad viewed on Nelson Lake walk on 8/1. Photo courtesy Sue Wagoner.

Two of four juvenile Ring-necked Pheasants seen at Nelson Lake on 8/1. Photo courtesy Sue Wagoner.
Chris Madsen reported on 8/1: Highlights of the Nelson Lake walk this morning included Black Terns, Caspian Tern, Sandhill Cranes, four juvenile Ring-necked Pheasants, and a large toad that attacked walk leader Terry Murray's foot.
John Heneghan on 8/1 reported via IBET: In the Spring drain tile was being installed in the field adjacent to the [Elburn] fuddle on the West. There was a bit of conflict as to the source of the flooding. The owner claimed the flooding was a result of the development at Rt38 and Rt47. A hydrologist said the fuddle was in a different drainage plain. I for one was happy to have such a draw for Spring waterfowl and Fall Shorebirds. Perhaps a muskrat or the like the will plug the outlet. The fuddle was only as big as it was for a few years.