---
Ken Schneider on 8/30 reported via e-mail: Had a nice flock of warblers early this morning at Les Arends FP. Over a dozen, mostly Tennessee, with at least two Nashville, a redstart and maybe a couple of elusive "Baypolls" thrown in. They were foraging with a flock of about 10 chickadees and 6 gnatcatchers. A hummingbird flew into view as I was photographing a warbler, caught a gnat and also showed off its long tongue.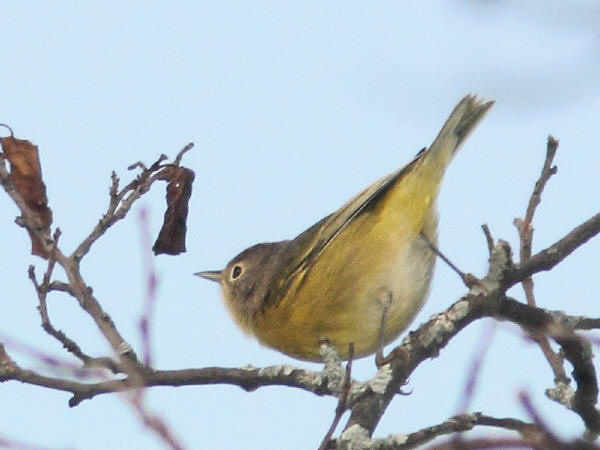 Nashville Warbler photo courtesy Ken Schneider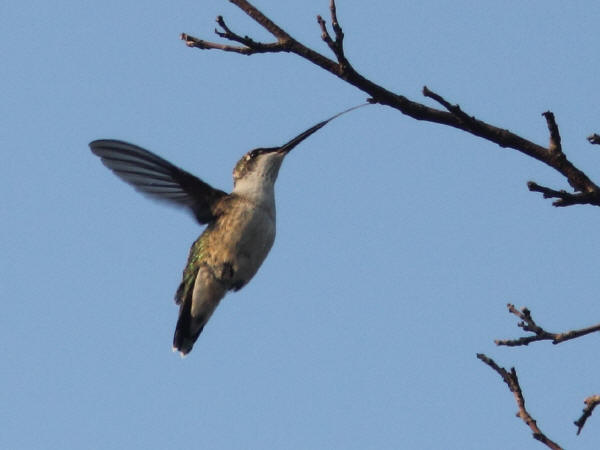 Ruby-throated Hummingbird photo courtesy Ken Schneider
---
Ken Schneider on 8/29 reported via e-mail: This rather large flycatcher was sitting high in the bare branches of a tree near the SW corner of the meadow at the east entrance of Nelson Lake. From a distance I noted it had no wing bars and a very white throat that contrasted with its black head, suggesting it might be an Eastern Kingbird. However its tail is short and deeply notched, and its breast is dark. It did not vocalize. It flew off before we could got very close, and it did not face towards us to let us see if there was a central white "vest" effect. It sometimes showed a few whitish feathers on its rump. My photos are badly back-lighted and heavily cropped, but I am quite certain it was an Olive-sided Flycatcher.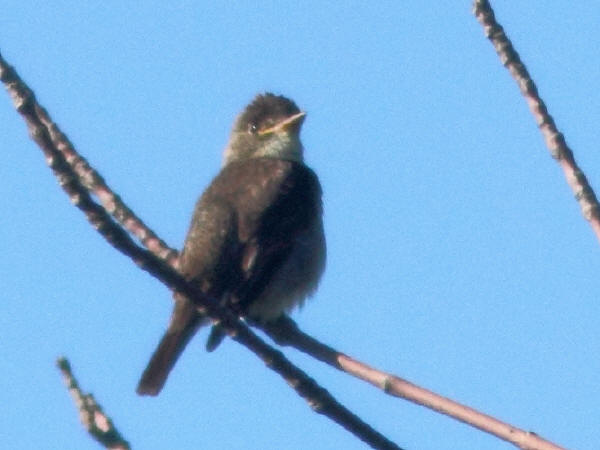 Olive-sided Flycatcher photo courtesy Ken Schneider
---
Marion Miller on 8/29 reported via e-mail: I was surprised to look at my backyard bird bath and see a Juvenile Cooper's Hawk drinking and bathing. He later flew to our shrub pile in pursuit of a snack. Although unsuccessful, he gave me about 15 minutes of quality hawk viewing time. I managed to take a video of him at the bird bath which can be viewed at this link for anyone interested.

Cooper's Hawk photo courtesy Marion Miller
---
Steve Bailey on 8/29 reported via IBET: ...I stopped at the Allen and Melms Rd. sod farms, but did not see anything but KILLDEER (though Michael did), but now that I was so close to Burlington, I drove on down to Chapman Rd. where I had seen one of the SWAINSON'S HAWKS back in July. I parked just east of the sharp bend in the road, just past (east of) the small pool of water that has collected in a field on the south side of the road where a landowner has broken a bunch of tile. There were actually two GREATER YELLOWLEGS and a SOLITARY SANDPIPER in the little pool! No sooner than having gotten out of my car, and looking north across the soybean field to the woods beyond, I saw a white spot perched in one of the few dead trees along the edge of the woods there. Lo and behold, it was an adult plumaged SWAINSON'S HAWK which continued to perch there for the 45+ minutes I was there. This was the woodlot to the northwest of where I was parked. A little while later, I looked toward the woodlot to the northeast, and while scanning the dead trees along the edge of the woods there, I spotted another white spot perched in a dead tree just to the right (east) of the large, green-roofed barn there. I no-sooner put my scope on it, and I saw that it was a juvenile-plumaged SWAINSON'S HAWK. Thankfully, it appears they had a successful breeding season at this spot, only one of two spots where this species has been found the last couple of years. I do not hold out much hope that this species will still be nesting in Illinois in the next 5-10 years…maybe not even that long. Good birding.
---
Marion Miller on 8/28 reported via e-mail: Managed to keep Ruby-throated Hummingbirds at our backyard feeders all summer but yesterday was the first adult male RT hummingbird I noticed. Wondering if he was one of the summer residents or migrating through since I thought the male migration has already begun.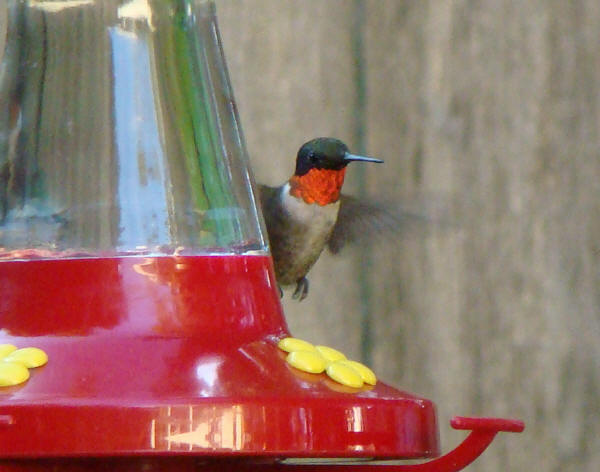 Ruby-throated Hummingbird photo courtesy Marion Miller
---
Michael Hogg on 8/28 reported via IBET: In Kane [Gerry Rosenband and I] found several small flocks of juvenile BLUEBIRDS moving without any adults in attendance and a NORTHERN HARRIER north of Hampshire. Along Algonquin Road...were 2 SANDHILL CRANES and there was a family party of 4 cranes south of Huntley along R47.

As to shorebirds, we had a single BUFF-BREASTED SANDPIPER at the Coon Creek Sod Farm on Allen Road and a LEAST SANDPIPER.

Overflying O'Brien Road we had an adult SWAINSON'S HAWK moving south which was attacked by a juvenile SWAINSON'S which then flew off to the NE.
---
Ken Schneider on 8/26 reported via e-mail: I forgot to report my sighting of a Swainson's Thrush at Lippold Park on August 25th. When I entered it into eBird, I noted no prior year Kane County records for the month of August .("since 1900"-- so I guess the retroactive data goes back that far!). As there were quite a few for DuPage, as early as the second week of August, this is probably due to under-reporting of Kane County sightings. However, I am attaching a poor photo for documentation purposes. All birders (me included) should be encouraged to more regularly report sightings to eBird, as it has become a very valuable resource.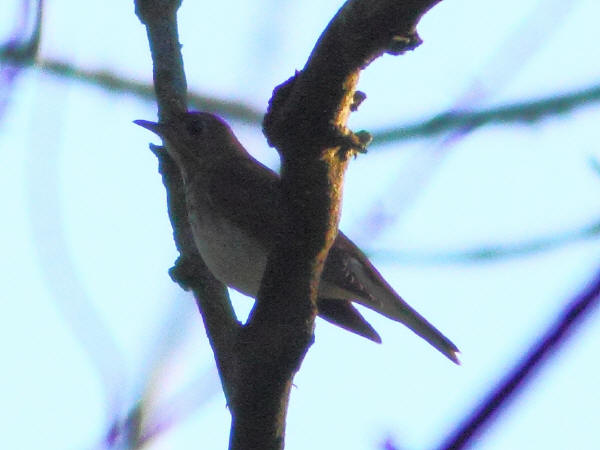 Swainson's Thrush photo courtesy Ken Schneider
---
Ken Schneider on 8/26 reported via e-mail: Yesterday morning at Lippold Park we saw 38 species, including a loose flock of 6 similar short-tailed clear-breasted warblers that were high up and against the bright sky. My photos confirmed our impression that at least two were indeed Tennessee Warblers. Also saw one American Redstart and a Warbling Vireo. A Great Egret posed nicely at the edge of the pond at the south end.

This morning at the east side of Nelson Lake we had 29 species-- among them another redstart, two Magnolia Warblers, and a Great Crested Flycatcher.

This spring and summer we have seen no towhees during several visits to Lippold, where they usually could easily be found near the north entrance. None seen or heard at Nelson Lake, either, though we have mostly birded the areas near both entrances. Have others been seeing them in usual numbers?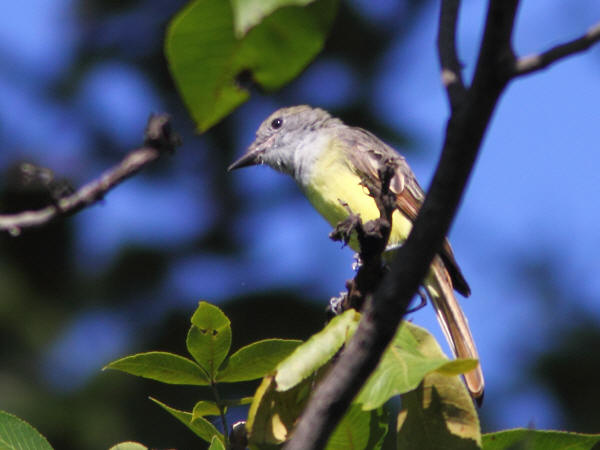 Great Crested Flycatcher photo courtesy Ken Schneider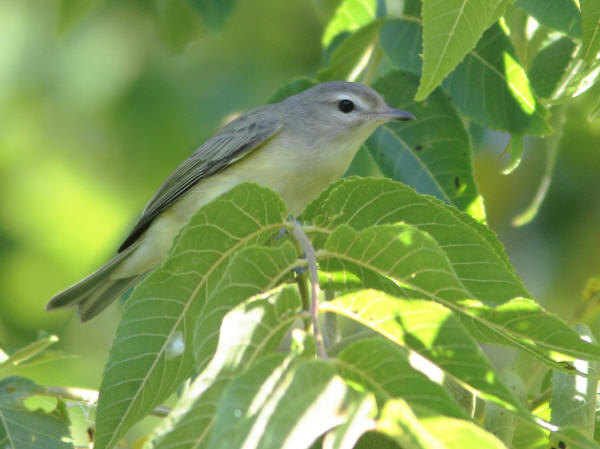 Warbling Vireo photo courtesy Ken Schneider
---
Jim Narovec on 8/23 reported via e-mail: Sighting on 8/18: Spotted a Bald Eagle soaring over the Fox River north of the Dam in Carpentersville around 5:30pm. Always see quite a few what i think are [Great] Egrets and [Great Blue] Herons standing on the sandbars or wading in the river. A great spot for bird watchers is along the Fox River Trail north of the C'ville dam next where the chemical companies truck parking area is. Unobstructed view of the river here and there are a couple of benches the Kane Co. FP have placed along the path.
---
Tim Balassie on 8/22 reported via IBET: Stopped by Sauer Prairie (Kane Co) on Sunday. East pond has drained to about 40% capacity, unlike last week. The exposed mudflats held LESSER YELLOWLEGS, SPOTTED, LEAST and SEMIPALMATED SANDPIPER.

For the second week in three observed a PEREGRINE FALCON hunting around the ponds.
---
Ken Schneider on 8/21 reported via e-mail: A new yard bird, I saw this Solitary Sandpiper in the vacant lots in front of our Illinois condo (SW corner of Orchard & Randall) this morning, just after driving out on the way to Nelson Lake. It was in a puddle caused by yesterday's heavy rainstorm. Returning home, we found two of the same species in another puddle right outside our front door.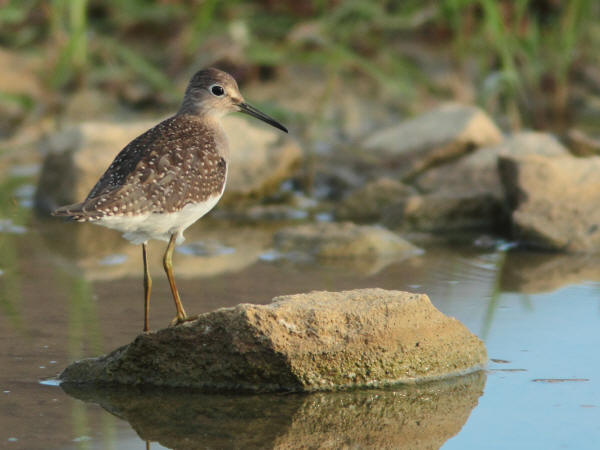 Solitary Sandpiper photo courtesy Ken Schneider
---
Ron Dickenson on 8/21 reported via e-mail: Bald Eagle photos taken today from the vicinity of the Mooseheart nest.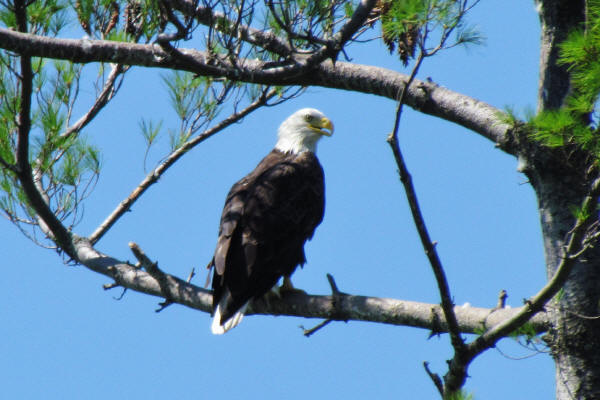 Bald eagle photo courtesy Ron Dickenson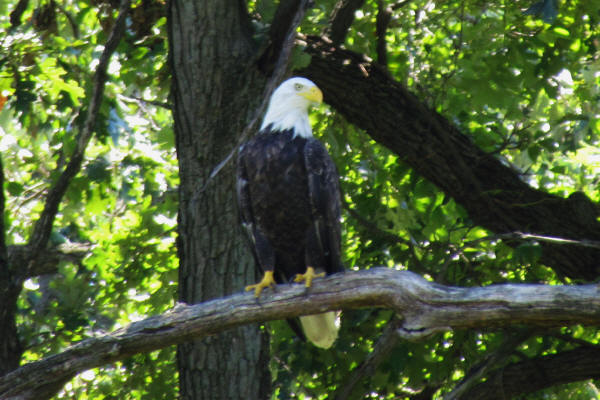 Bald Eagle photo courtesy Ron Dickenson
---
Ken Schneider on 8/21 reported via e-mail: I finally got a (sort of) clear shot of a Sedge Wren in prairie at north side of Nelson Lake, along with one of a Field Sparrow that left its perch just as I depressed the shutter. Did not see any warblers except for yellowthroats the past three mornings around both entrances, though I got a fleeting look at what could have been an Orange-crowned Warbler near the platform on Friday 8/19. Could not confirm this sighting.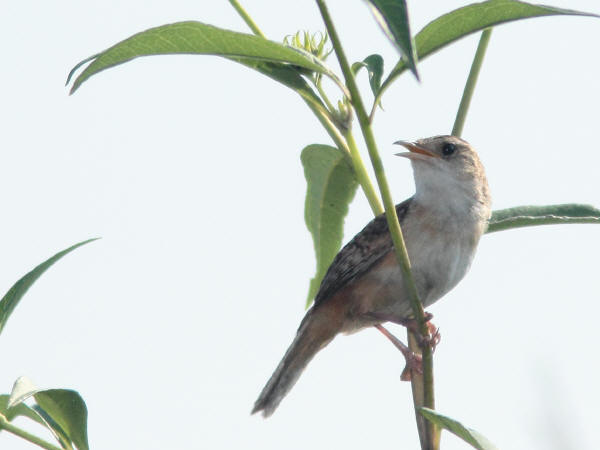 Sedge Wren photo courtesy Ken Schneider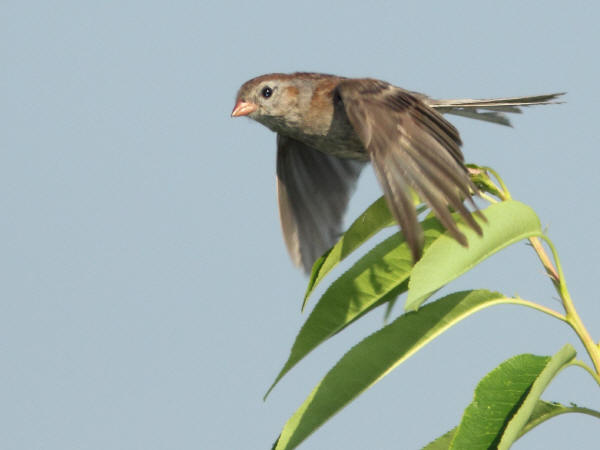 Field Sparrow photo courtesy Ken Schneider
---
Kathleen O'Deen on 8/20 reported via e-mail: Early evening on 8/19, I was bbqing on my patio in Elgin and spotted a Juvenile Golden Eagle flying over.
---
Chris Madsen on 8/19 reported: A harbinger of fall (migration)? Had a Black-and-White Warbler in my backyard in St. Charles this afternoon.
---
Ann Wilson on 8/18 reported via e-mail: On August 17, around 8 p.m., my friends and I (and some unidentified onlookers) enjoyed the antics and chittering calls of a large flock of chimney swifts flying into, out of, and soaring around the Geneva Post Office chimney. Pretty cool!
---
Ken Schneider on 8/17 reported via e-mail: Just back from Europe and got out to Nelson Lake this morning. There were two Hairy Woodpeckers at the culvert on the east lakeside trail.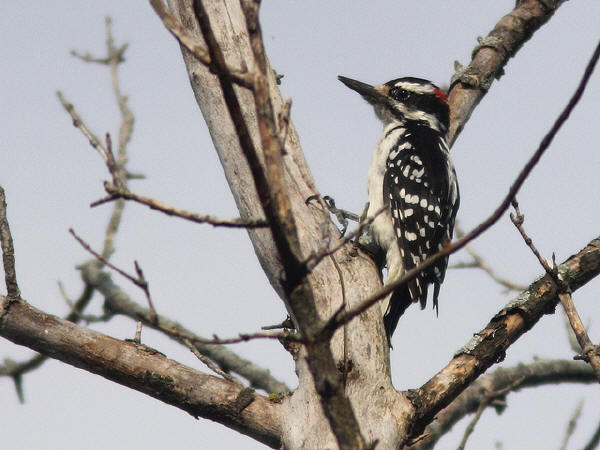 Hairy Woodpecker photo courtesy Ken Schneider
---
Tim Balassie on 8/16 reported via IBET: FWIW I encountered an EARED GREBE yesterday (15th)at the Jelke Creek Bird Sanctuary in West Dundee (Boncosky Rd). The bird was located in one of the upper pools in the north of the preserve. I'm not sure that Jelke will ever be great for shorebirds or large quantities of waterbirds, but it looks intriguing for rails.

Stopped by Sauer Prairie (Kane Co)on Sunday. Funny how the water levels are either allowed to fluctuate. Last week there was almost no water at all, with a couple of shorebirds. Yesterday the eastern pond was full - with a couple of SPOTTED SANDPIPERS, and an unidentified rail. The western pond has been allowed to fill-in with aquatics.
---
Joe Lill on 8/15 reported via eBird: Seeing 2 Swainson's Hawks on Chapman Road south of Burlington.
---
Eric Secker on 8/14 reported via IBET: This summer I found a nice spot for Bank Swallows at Fox River Shores F.P. in Kane Co. I had over 140 Bank Swallows there in late June.

Park in the lot west of the intersection at Williams Rd. and Bolz Rd. Walk north and follow the road that goes west then north along the river. There is a vacant lot where people fish a lot with a good view of the river and further north it becomes forest preserve property and there are a couple paths that go to the river.

Also this summer at Fox River Shores, I have had at least 5 pairs of American Redstarts along the bike path. Other birds include Red-headed Woodpeckers, Yellow-throated Vireos, and Rose-breasted Grosbeaks.
---
Christopher Cudworth on 8/14 reported via IBET: While taking photos at Dick Young Forest Preserve this morning I noticed a pair of bank swallows hanging out with an extended family of barn swallows.

Can't always count on finding bank swallows typically, even in summer.
---
Chris Weishaar on 8/12 reported via IBET: Spotted two SANDHILL CRANES this morning foraging in a field north of Gilberts off Galligan Road in Kane County. The field is north of Binnie Road, on the west side of Galligan, across from the school. There were also quite a few CANADA GEESE in the field as well.
---
Marion Miller on 8/6 reported via e-mail: Saturday's morning rain did not stop ten adventurous birders from meeting at Lake Nelson for the monthly walk. Terry Murray led the group through wet terrain to view a total of forty two species. The highlights were two American Bald Eagles, a Great Horned Owl, Coopers Hawk and Scarlet Tanager. Shore bird count was low with only a few Spotted Sandpipers seen by the lake in addition to 5 Great Blue Herons, 5 Double-crested Cormorants, a Great Egret, a Sandhill Crane and Mallards. Butterflies and Dragonflies were numerous and put on a colorful show.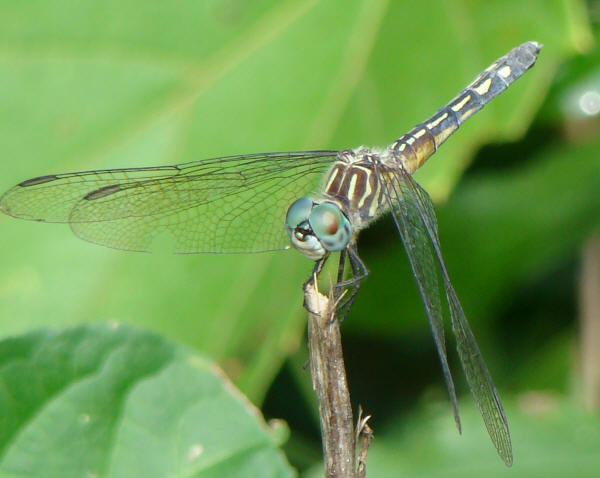 Blue Dasher Dragonfly photo courtesy Marion Miller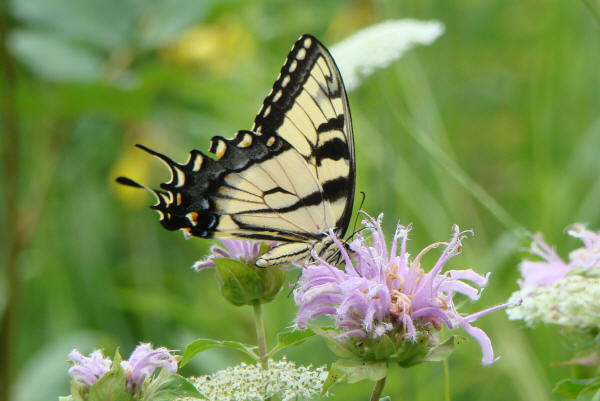 Eastern Tiger Swallowtail photo courtesy Marion Miller
---
Pete Moxon on 8/6 reported via text message: Sauer FP today had 2 Short-billed Dowitchers and 1 Semipalmated Plover with 7 other expected shorebird species. Water is nearly gone.
At Nelson Lake, Pete reported 1 Greater Yellowlegs, 4 Lesser Yellowlegs, 3 Solitary Sandpipers, 2 Spotted Sandpipers, 3 Pectoral Sandpipers, 2 Semipalmated Sandpipers, 4 Least Sandpipers, and 6 Killdeers.
---
Jeffrey Tabak on 8/4 reported via e-mail: Spotted a bald eagle today @ 10:45am December 23, 2010 sitting on the highest tree branch at the Northwest corner of Kimball and route 31 in Elgin. This is directly across from the Gail Borden library. Making two passes by this section about 10 – 15 minutes apart had the beautiful bird at the same spot for the entire time. With the running water by the dam under Kimball St, that would be nice if it made more appearances during the winter on the Fox River.
---
Kurt Frieders on 8/4 reported via e-mail: In the past couple of days we have had some birds in the yard (in Aurora township) that we haven't seen in our yard since spring. A mature male Ruby-Throated Hummingbird has been hitting some of the flowers we bought specifically to attract hummingbirds. We had not had a hummingbird in the yard since we had a juvenile on May 9th. The past few days have also seen the return of a pair of Northern Flickers. We had a single flicker that hung around for one week in late April. Now we have a pair that has been calling constantly around the yard, and have given us some great views as they have been spending a good amount of time on top of our old tv antenna.
---
Sean Fitzgerald and Aaron Boone on 8/3 reported via eBird: Seeing a Swainson's Hawk near the intersection of Peplow and Chapman roads south of Burlington.
---
Pete Moxon on 8/2 reported via text message: Stopped at Upland Sandpiper spot with Jeff Hakke and we just had 4 Upland Sandpipers standing together about 800 yards out and a lone Upland about 150 yards out that flushed farther out behind a ridge when we got out of the car. Birders almost certainly have to exit the car to view because of the terrain.
---
Christopher Cudworth on 8/1 reported via IBET: Interesting note. Yesterday I rode my mountain bike on the far west prairie trails at Dick Young FP. Many singing grasshopper and Henslow's, dickcissel, savannah and sedge wrens still vocal. No sign of bobolinks but it was 5:00 pm.
---
Pete Moxon on 8/1 reported via text message: At Sauer FP on Monday, one Short-billed Dowitcher remains, joined by a Stilt Sandpiper and Greater Yellowlegs, 10 Pectoral Sandpipers, 6 Lesser Yellowlegs, 12 Least Sandpipers, 5 Semipalmated Sandpipers, 3 Spotted Sandpipers, 2 Solitary Sandpipers, and 20 Killdeers.
Pete cautions that visitors to Sauer should walk the fields cautiously as there are many Grasshopper Sparrows still on nests with eggs.
---
John Baker on 8/1 reported via IBET: [Upland Sandpipers] still there at 10:30; east side of field, fairly close to Lasher Rd.
---
Joe Lill on 8/1 reported via IBET: A report from Pete Moxon via text at 8:49 this Monday morning: At least two Upland Sandpipers in a wheat/golden grain field along the north side of Lasher Rd., about a half mile west of Dauberman Rd. in Kane County. Birds were @100m and @600m north of the road. A 3rd sighting was @400m north of the road but went behind a ridge. Part of this field was very recently harvested.

This is just west of the Sauer Prairie Kame Forest Preserve.
---