---
Chris Mussachio on 8/31 reported via e-mail: Looks like this Lesser Yellowlegs has found a new home at the Carpentersville Dam along with 7 others.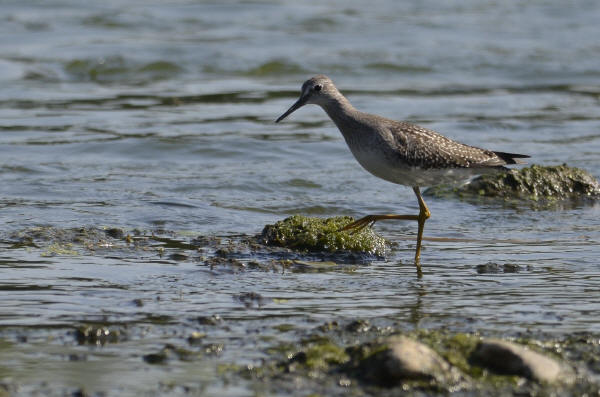 Lesser Yellowlegs photo courtesy Chris Mussachio
---
Al Stokie on 8/29 reported via IBET: Hello Bird People,

Today was "old retired guys" birding day but besides me only one other "old retired guy" from where I used to work went alone & that was Mr Al Wege. The other 2 regulars sat this one out...

...Pete [Moxson]..joined the group & went with the 2 Al's to Nelson Lake Marsh which should now be called Nelson Puddle Marsh with lots of mud flats. That wouldn't be so bad except that the shorebirds on the mud flats are too far to work with as far as I am concerned anyway. I could make out Yellowlegs, Pectorals & Killdeer but the Peeps will remain Peeps & that's all. Pete picked out 2 Semipalmated Plovers at a great distance. Back in the parking lot we had much closer looks at important birders Yeanette Johnson & Marion Miller.

Then to Dunteman's in Kaneville so Al Wege could see Golden Plovers & Buffies for the 1st time. But the Golden Plovers were no-shows today. However, we saw about 3 Buffies fairly far away & then located one that was
much closer so Al W got a very good lifer look after all.

Bird-Of-The-Day will be the one close Buff Breasted Sandpiper which allowed us great looks.
---
Sean Fitzgerald on 8/29 reported via eBird: A Blue Grosbeak at Fermilab near the intersection of Road B and Wilson Street.
---
Sean Fitzgerald on 8/28 reported via eBird: A Red-necked Phalarope at Nelson Lake/Dick Young Forest Preserve.
---
Ken Schneider on 8/28 reported via e-mail: Yesterday morning Mary Lou and I found 6 Buff-breasted Sandpipers at the sod farm in Kaneville. All were seen initially in the green turf area, but some moved to the bare ground after workers departed. No golden-plovers or hoped-for Upland Sandpipers. We saw nearly a hundred Killdeer and 20-30 Horned Larks, mostly in the cleared area. I checked the newly-cleared and finely milled field on the south side of the road and found only a few Killdeer,

This morning at Hickory Knolls we found 39 species, including a Veery and a Yellow-throated Vireo. The only warbler species was a Common Yellowthroat.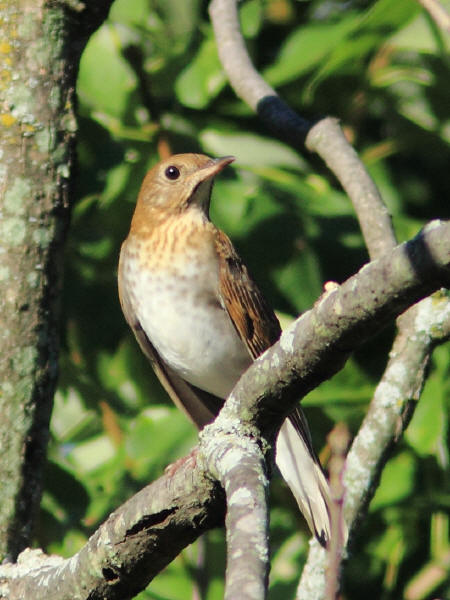 Veery photo courtesy Ken Schneider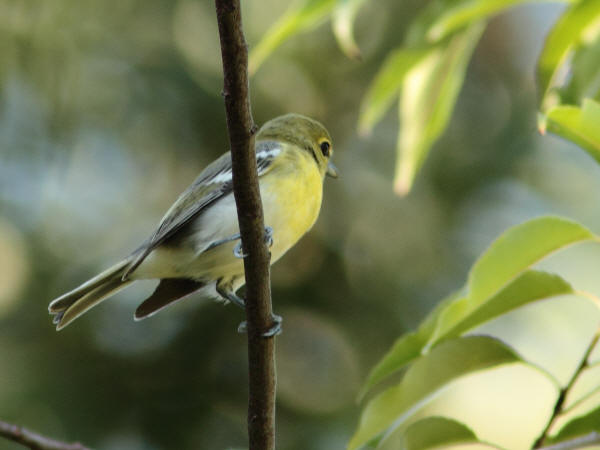 Yellow-throated Vireo photo courtesy Ken Schneider
---
Darrell Shambaugh on 8/27 reported via IBET: The rain Sunday left a little standing water in the cut sod area north of Main Street at Dunteman's Sod Farm in Kaneville. Birds that were splashing around there included 3 BUFF-BREASTED SANDPIPERS, a PECTORAL SANDPIPER, a few HORNED LARKS, a few AMERICAN CROWS, and some KILLDEER. These birds were all within 50 yards of the road.
---
Ken Schneider on 8/24 reported via e-mail: Mary Lou and I walked in Lippold Park this morning. We saw 39 species, including 3 hummingbirds, Hairy Woodpecker, Warbling and Red-eyed Vireos, Tennessee, Connecticut and Chestnut-sided Warblers. While I was studying a vireo up in a tree, a female Chestnut-sided Warbler just dropped in so close by that I had to back up to focus on her.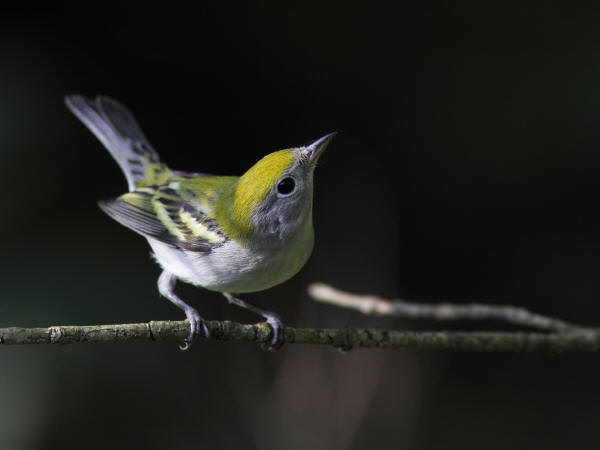 Chestnut-sided Warbler photo courtesy Ken Schneider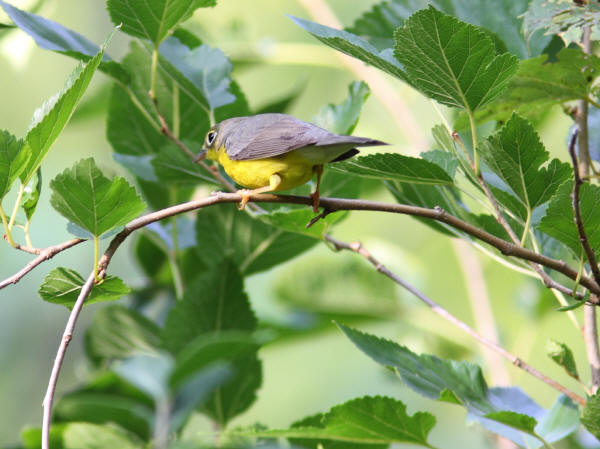 Connecticut Warbler photo courtesy Ken Schneider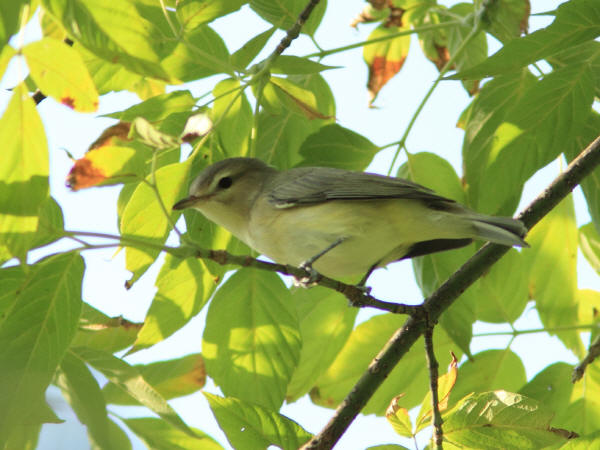 Warbling Vireo photo courtesy Ken Schneider
---
Ken Schneider on 8/22 reported via e-mail: This morning I turned onto the gravel road east of the sod farm right behind John and Joy, to find one of the Buff-bellied Sandpipers feeding right next to the road. After about 15 minutes they spotted the four American Golden-Plovers. Using the car as a blind, I waited and within the next half hour two of the plovers also foraged quite close by. In some photos, both species posed next to each another.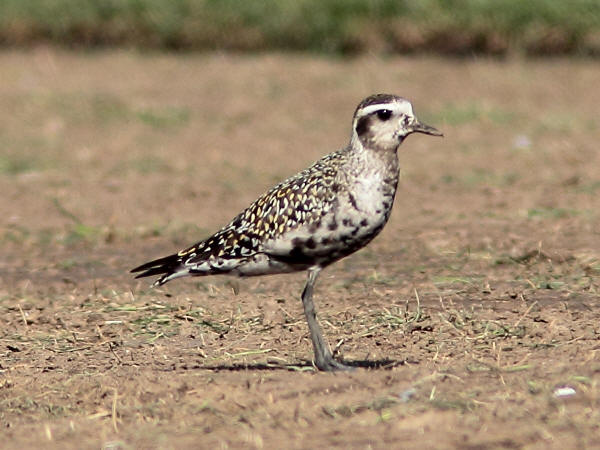 American Golden-plover photo courtesy Ken Schneider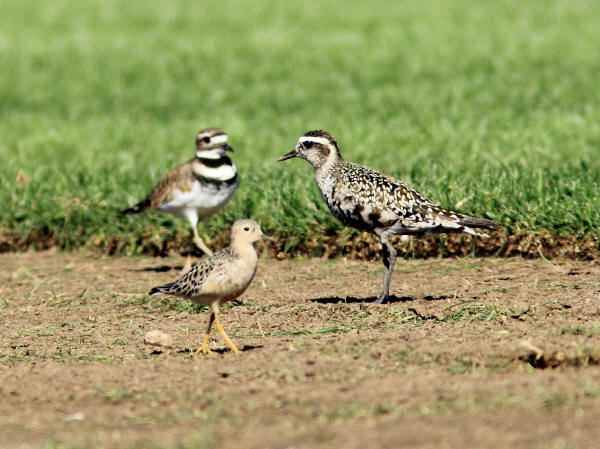 Killdeer, Buff-breasted Sandpiper, American Golden-plover (L to R)
Photo courtesy Ken Schneider
---
Joy and Jon Duerr on 8/22 reported via phone: The four plovers and at least one buffie sandpiper are still hanging out this morning at the Kaneville sod farm. The birds were not visible at first, but then appeared at about 9 AM. At the time of the phone report, the plovers were feeding near the gravel road and along the recently denuded area of the field.
---
Kathy and Bob Andrini on 8/21 reported via phone: The single Buff-breasted Sandpiper and four American Golden-plovers remain at Dunteman's sod Farm this morning.
---
Marion Miller on 8/20 reported via e-mail: Rich and I birded along the Fox River in pursuit of warblers. We visited Batavia Riverwalk, Japanese Gardens at Fabyan FP, Ferson Creek Fen, Jon Duerr FP and Tyler Creek. The only warblers we found were Tennessee, Nashville, and Yellow Warblers at Jon Duerr FP. Other highlights were the many Green Herons we found on the river, a Black-crowned Night-heron walking across the dam at the riverwalk, a Cooper's Hawk enjoying the sun and a soaring Osprey at Tyler Creek.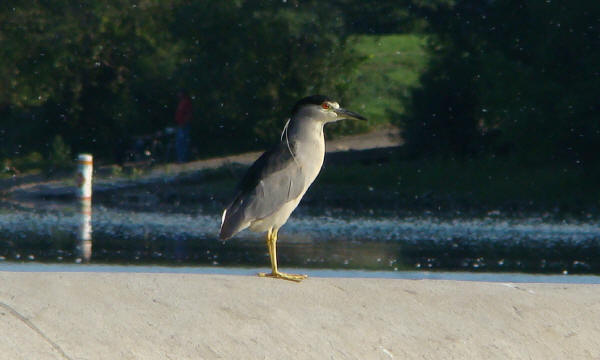 Black-crowned Night-heron photo courtesy Marion Miller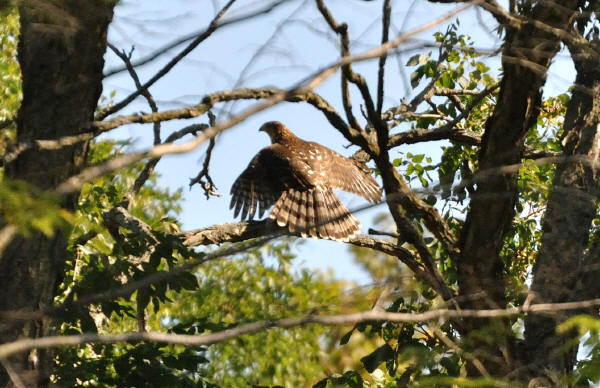 Cooper's Hawk photo courtesy Rich Miller
---
Chris Madsen on 8/20 reported: At 10:30 this morning at Dunteman's sod farm in Kaneville: 4 American Golden-plovers, a Buff-breasted Sandpiper, and a female Rusty Blackbird among the many Killdeer in the field on the north side of Main Street Road. The Horned Larks that Ken reported have been seen over the past few weeks mainly along Main Street Road.
Once again, a reminder that this is private property. For your viewing pleasure, please use Bateman Road, the gravel road on the east edge of the sod farm property.
A word of caution: work crews today are laying "Fresh Oil" on Main Street Road between Route 47 and Kaneville.
And a note of optimism: Dunteman's appears to be readying the field south of Main Street Road for sod production for next year. The field was planted in crop this year. Hooray for more birding habitat!
---
Ken Schneider on 8/20 reported via e-mail: Mary Lou and I got out to the Kaneville Sod Farm around 8:30 this morning and viewed from the gravel road to the east, as suggested by Donnie Dann. Along the bare earth where sod had most recently been removed, we saw about 30 Killdeer, two Horned Larks and a single immature Buff-breasted Sandpiper.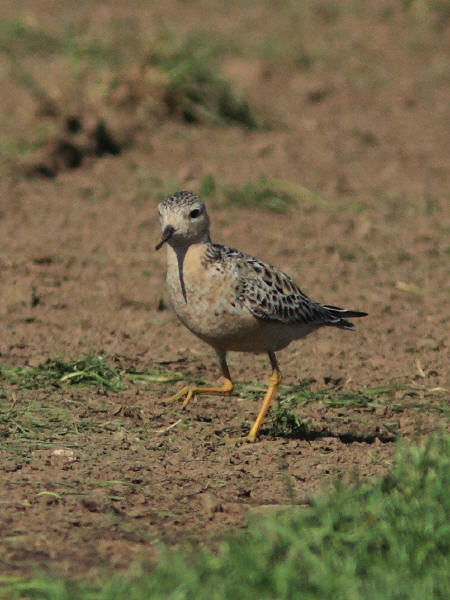 Buff-breasted Sandpiper photos courtesy Ken Schneider
---
Marion Miller on 8/19 reported via e-mail: Rich and I walked Les Arends in Batavia this evening at 6pm. We took the path south from the farthest parking lot to the horseshoe path that runs near the river. We encountered two pockets of warblers and identified 6 species: Blackburian, Magnolia, Redstart, Nashville, Tennessee, and Black & White. They were flying through rapidly, eating a few bugs and often behind lots of leaves, so we did not get our binoculars on all the birds. My guess is we missed a species or two. Other highlights of the walk were a Cooper's Hawk and an "ear-full" of 31 Cedar Waxwings.
---
Bob Meierhans on 8/17 reported via e-mail: Although "Sandy" and his mate raised their chicks elsewhere this year, the 2012 Sandhill Crane family continues to frequent our back yard [south of Elburn]. Here are a few photos from this afternoon. This year's "chicks" are nearly as large as their parents and fly well, hence a reason for Sandy to resume his visits, accompanied by his family...as in four previous years in a row. An interesting observation this year is that each parent seems to pair off with a different chick. Could it be father/son, mother/daughter?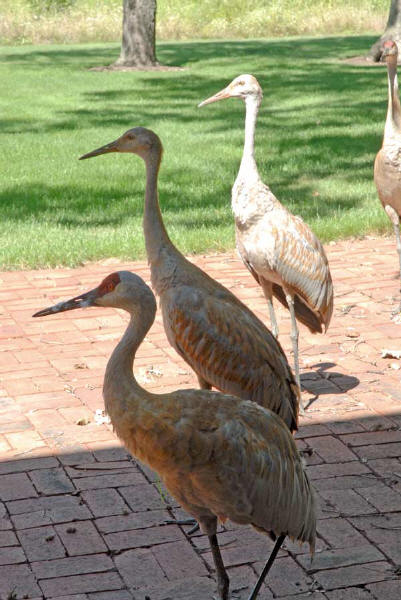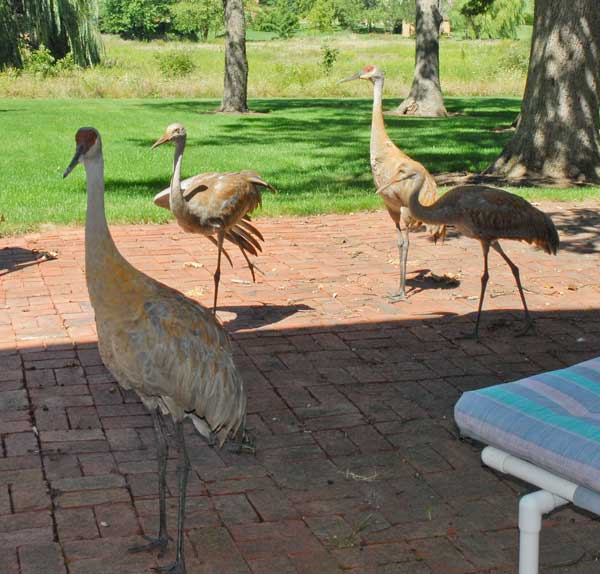 Sandhill Crane family photos courtesy Bob Meierhans
---
Paul Mayer on 8/17 reported via e-mail: You have to feel sorry for the chipping sparrow. She's been feeding the cowbird all week and I'm sure longer. Parasitism at its best.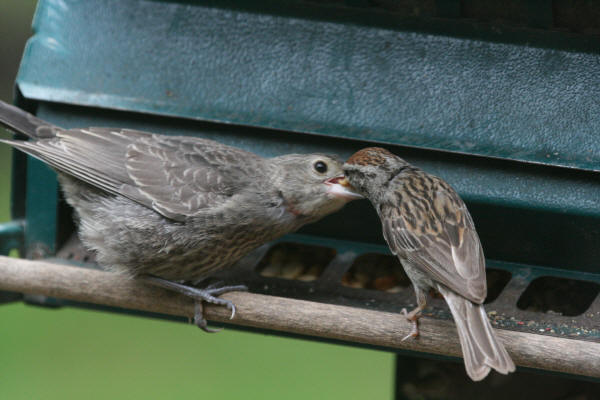 Chipping Sparrow (R) feeding Brown-headed Cowbird
---
Kurt Frieders on 8/17 reported via IBET: As much as we get a lot of really cool bird species in our yard (Aurora township), it has never been much of a hotspot for warblers of any kind. That is why I was so surprised to look out my window this morning and see a beautiful female American Redstart. It was playing around the edge of our bird bath and perching on the post that holds the Hummingbird feeder. She hung around and gave us looks for a good three minutes. It was a great way to start the day with a new yard bird.
---
Paul Mayer on 8/14 reported via e-mail: Two Tennessee warblers showed up today, August 14th. Early so keep your eyes open.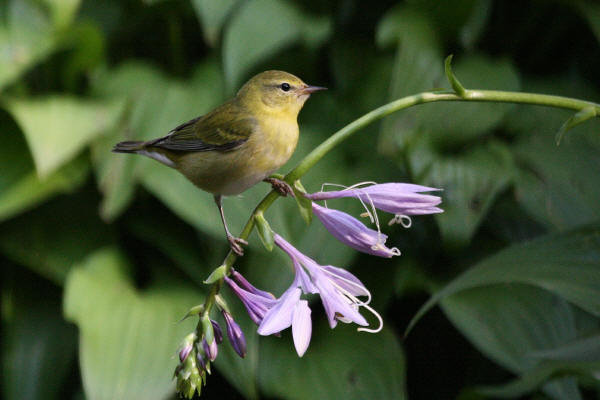 Tennessee Warbler photo courtesy Paul Mayer
---
Gloria Dimoplon on 8/10 reported via e-mail: August 10, 2012. Several of us birded along the Fox River in South Elgin this morning from J. J. Duerr FP to SEBA. Among the 44 species identified were a juvenile Little Blue Heron, an Olive-sided Flycatcher and a Canada Warbler. The Little Blue was with a group of Great Egrets. After a while the bird flew upstream and we were not able to relocate it.

The shorebirds included Solitary and Spotted Sandpipers along with others that we were not able to identify.
---
Brock Moran on 8/8 reported via eBird: Seeing a Northern Waterthrush at Campton Forest Preserve.
---
Darrell Shambaugh on 8/8 reported via IBET: I bicycled the Gilman Trail (Kane County) between the Fox River and Galena Avenue. The subdivision by the parking area on Galena had the most interesting birds

Lesser Yellowlegs
Solitary Sandpiper
Spotted Sandpiper
Killdeer
3 Eastern Meadowlarks
2 House Wrens
3 Song Sparrows
2 Common Yellowthroats
2 Dickcissel
1 Bobolink
---
John Heneghan on 8/6 reported via IBET: One of the benefits of cool weather is hearing the birds sing in the AM. Early this morning, I awoke to a screech owl calling from the neighbors oak tree. We had heard one in Winter and in Spring outback. Watched a pair of Pee Wees feeding their fledgling yesterday. The hummingbirds are taking advantage of the results of the recent rain, feeding on the flowers' nectar.

We also recently had an interesting occurence in the yard in the evening. There must have been a hatch of some sort as we had tree and barn swallows and swifts along with an assortment of dragonflies flying at and below the 2nd story windows en masse in our yard. I looked at both of the neighbor's yards and did not see similar activity. This went on for about 45 minutes.
---
Scott Cohrs on 8/5 reported via IBET: There were many shorebirds at Nelson Lake. Highlights were a Baird's Sandpiper and a Sanderling. Thankfully both spent at least a few minutes in front of the platform, otherwise distance can be an issue. The birds were very flighty this morning, possible due to the Bald Eagle that was flying around.
---
Rich Miller on 8/5 reported via e-mail: The August Kane County Nelson Lake bird walk brought shock and sadness to those who attended. The entire lake has nearly dried up. There are most likely no fish left, and 1/3 of it is now covered with vegetation. I submit this photo for the historical record. We need rain! We did see 50 species of birds during the walk.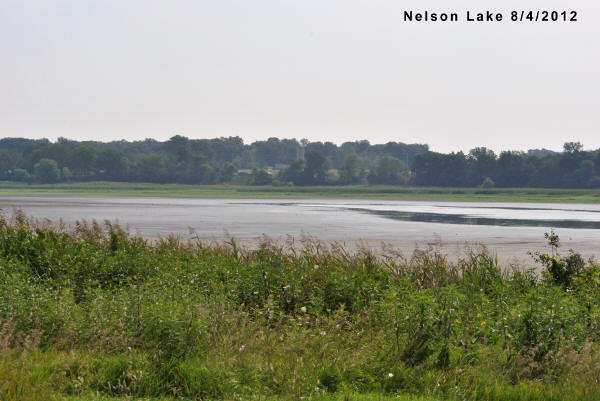 Nelson Lake photo courtesy Rich Miller
---
Eric Secker on 8/4 reported via IBET: Things have been very active along the Fox River at Judson where Tyler Creek empties out into the river. It's been magical and beautiful in the evening towards sunset and dusk. The past week or so a group of PURPLE MARTINS have been hanging around on the lights at the ball fields down by the river and adding to the sounds of late summer. NORTHERN ROUGH-WINGED SWALLOWS have also shown up in larger numbers and are swarming right over our heads in the evening along with some very low CHIMNEY SWIFTS that even skim the water at times. The BELTED KINGFISHER has been perched most nights and there have also been some shorebirds including LESSER YELLOWLEGS, PECTORAL, SOLITARY, and some distant PEEPS. The GREAT EGRETS out in the river also add to the scenery.

We've also enjoyed watching all the mammals. Deer have been coming down to feed in the grasses along the shore towards dusk. A Muskrat also swims up on the mudflats every day to chow down on grass. The Beavers have been fun to watch as well as they peek out of their home at us before diving back inside. They don't seem to mind the Muskrat living on the side of their lodge. We have also seen the resident Mink twice this week along Tyler Creek (including once when my wife spotted him out our living room window which was a nice treat!)
---
Darrell Shambaugh on 8/2 reported via IBET: I rode from Bliss Woods to Galena Avenue and back on Wednesday August 1. I also rode around the subdivisions south of Galena Avenue and east of Route 56. The subdivisions had the most interesting birds. There are several ponds, mostly small, but a couple larger ones are visible from Route 56 and the exit ramp from Rt. 56 to Galena Ave. I've never figure how to check these ponds without drawing the ire of the residents. Except that I'm too lazy to carry a spotting scope, bicycling works pretty well. These subdivisions, like so many others, have not had much development in the last few years. The lots are grown up with grass and weeds, and many of the streets are deserted. Birds seen and heard along the streets included an AMERICAN KESTREL, two EASTERN MEADOWLARKS, INDIGO BUNTINGS, AMERICAN GOLDFINCHES, and FIELD SPARROWS. The kestrel flew from one little parkway tree to the next as I approached, just like they fly from one telephone pole to the next on county roads.

The ponds had a few shorebirds, Two GREATER YELLOWLEGS, a LESSER YELLOWLEGS, 3 SOLITARY SANDPIPER, 4 PECTORAL SANDPIPERS, a single SEMIPALMATED PLOVER, and KILLDEER. My favorite bird was a CASPIAN TERN that flew around a pond a couple times and headed off to the east, maybe to check out the riverboat down town.

On the trail I heard an AMERICAN REDSTART by Prestbury golf course where they have little colony. My last bird of the day was a COOPER'S HAWK in Bliss Woods that flew from the ground up into the trees along the bike trail.
---
Al Stokie on 8/1 reported via IBET: Hello Bird People,

...My last stop was at Nelson Lake Marsh & there are quite a few shorebirds there but with half of Nelson Lake turned into a mud flat the shorebirds are so far away that I could hardly deal with them.
I could make out that there were large numbers of Killdeer & Pectorals but as to trying to I.D. the smaller shorebirds I had to give up. I was able to use the "if it's gray looking it's a Semipalmated & if it's brown looking with lines on the back it's a Least" method but that won't help with Baird's & White Rumped. Perhaps there's a way to get closer to the water edges through the reeds but I didn't see how to do that. And even if you could get closer you would probably find the water & mud would stop you before you get to a good viewing spot. If someone knows a better way of covering this place for shorebirds please let us know.
An adult Bald Eagle was flying around at Nelson Lake & I had great looks at that bird & that was nice in the Summer.
---
Margaret Mechtenberg on 8/1 reported via phone: Barb Rask has spotted an active Ruby-throated Hummingbird nest along the bike path adjacent the Tekakwitha Nature Center (across the river from Jon Duerr Forest Preserve). Two nestlings are being fed by a parent.
---
Donnie Dann on 8/1 reported via IBET: I saw a single BUFF-BREASTED SANDPIPER at the sod farm on the north side of Main St just east of Kaneville this morning. Prepare to pick carefully through KILLDEER galore. It would be best to visit the area in the morning from the small gravel road just east of the farm and the sun behind you.
---