---
Rich and Marion Miller on 8/31 reported via e-mail: So far the warblers are coming in slowly. At Gunnar we had low numbers of American Redstarts, Cape May, Black-and-white, Chestnut-sided and Ovenbird. Sunday a Nashville Warbler dropped in to visit our backyard for a few minutes. Checking out Fabyan FP on the west side of the river we found no warblers but did enjoy the many Cedar Waxwings eating the Pokeweed berries.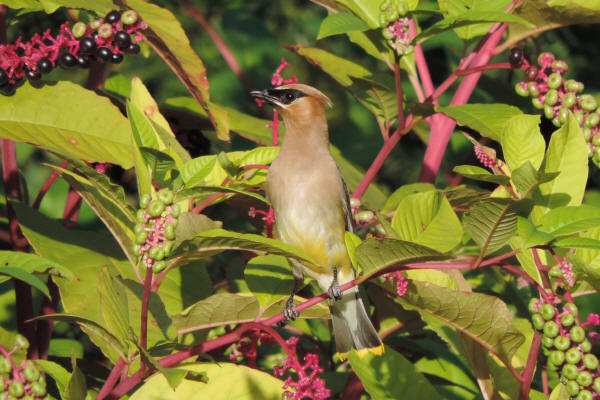 Cedar Waxwing photo courtesy Marion Miller
---
Brendon Lake on 8/31 reported via e-mail: I stopped by the roadside fluddles on Meredith Road, just south of the Route 38 intersection, to look for shorebirds. The first fluddle had a Lesser Yellowlegs and a number of Killdeer, and the second fluddle, just to the south of the first, had two Short-Billed Dowitchers, more Lesser Yellowlegs and Killdeer, Least, Pectoral, Semipalmated and Solitary Sandpipers. These fluddles are on the east side of the road, just off of the ditch. The shoulder isn't the widest, so be cautious when viewing these fluddles. A little later, I stopped at Gunnar-Anderson Forest Preserve, where I had 31 species of birds, including American Redstart, Black-And-White, Blackburnian, Cape May, Magnolia and Nashville Warblers. Non-warbler highlights were three Common Nighthawks and a couple of Northern Rough-Winged Swallows.
---
Joy Duerr on 8/31 reported via e-mail: Swift chasers:
Jon and I checked Thompson Jr High (in St. Charles) for the last couple of days, and there have seen no swifts.
We drove across the river, and found them using the chimney at the corner of Main (Rt 64) and 5th Avenue. It's an older commercial building with white siding and green trim on the northeast corner. We parked on a lot off 6th Avenue, just north of Main Street (you cannot turn left (north) into 6th avenue if going east on Main). They were really low to the roof at about 7:45, and using the chimney on the East side of the building.

When the swifts were already going into the chimney, Jon decided to check out Thompson again, to see if the birds were split into two groups. When we got to Thompson, there were no birds there, although we did see some birds while we were crossing the river. I think they are all together on the east side.
---
Joe Lill on 8/30 reported via IBET: ...Kaneville, at Main St. & Bateman Rd.: one Buff-breasted Sandpiper was seen in the southwest quadrant of the sod farm, north of Main and west of Bateman. Not as far out as the sprinklers. However, the birds were moving around and it wasn't there a bit later when we again tried to find it, although we had one American Pipit while we were there that time. At least one Golden Plover (likely there were more) was seen from Bateman Rd. north and west of the sprinklers, all the way out by the little marsh. We did not see any Uplands...although I saw (at Kaneville) a large, plump bird with longish wings fluttering away, being chased by a smaller bird. Enough of a look to be tantalizing, but not anywhere near enough to count. I only mention it so that people continue to keep their eyes peeled.
---
Pete Moxon on 8/29 reported via phone: Upland Sandpiper at Kaneville sod farm.
---
Marion Miller on 8/29 reported via IBET: Tried for the Ruddy Turnstone this morning without success. Thanks to Dan Williams was able to get on a Black-bellied Plover. Nice comparison looks with American Golden-plover in the same scope view. Both plovers on the west edge of the Sod farm in front of the corn field on the dirt area. This is west of Bateman.
---
Bob Andrini on 8/28 reported via e-mail: Good day at Kaneville (Dunteman's) sod farm on today's ramble:

Buff-breasted Sandpiper (2)
Short-billed Dowitcher (2)
RUDDY TURNSTONE (1)
Western Sandpipers (2)

other sandpipers: Least, Semipalmated, Pectoral
---
Chris Mussachio on 8/28 reported via e-mail: 2 for 1 day in Carpentersville. Don't think I need to identify either one of them.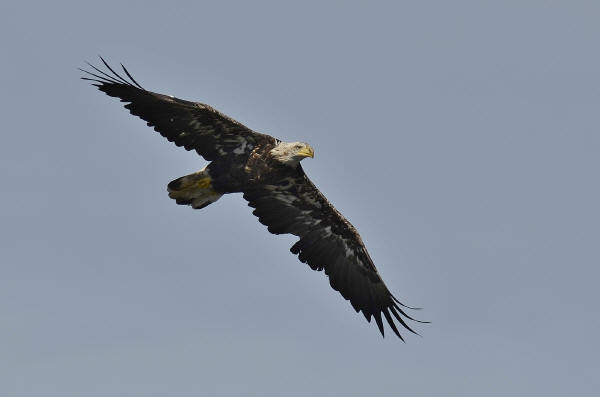 Immature Bald Eagle photo courtesy Chris Mussachio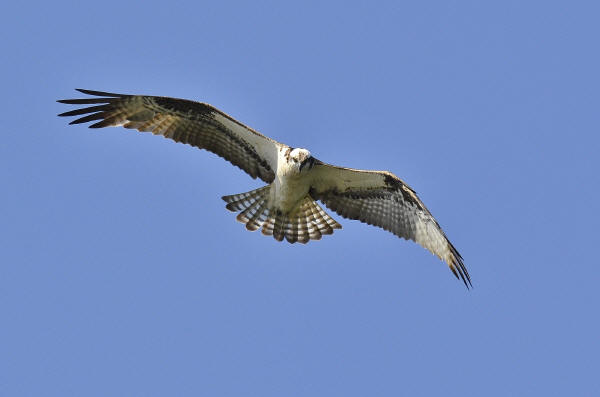 Osprey photo courtesy Chris Mussachio
---
Theresa LeCompte on 8/26 reported via e-mail: This Cooper's Hawk was seen yesterday at the birdbath in my Aurora yard. It eventually did take a quick bath. (Pic taken through backdoor screen.)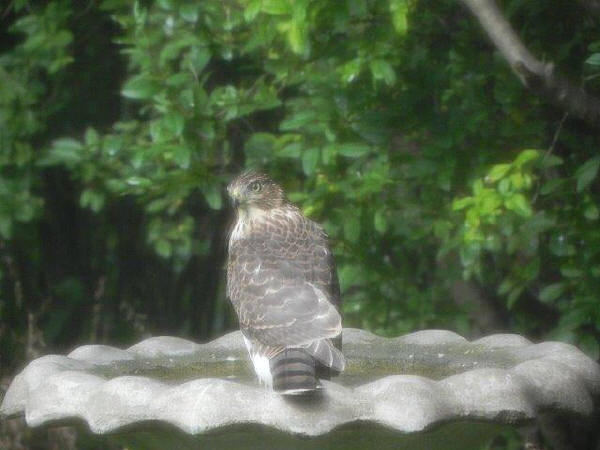 Cooper's Hawk photo courtesy Theresa LeCompte
---
Paul Mayer on 8/26 reported via e-mail: This morning at 10:15 a first summer American Redstart popped up briefly from the hostas, lit on the feeder and was chased immediately by a House Finch. Early migrant? Guess we should start watching.
---
Ed and Trudy Vedral on 8/25 reported via e-mail: Today we had a brief visit from a Black and White Warbler. He was on the railing of our deck. This is the first Black and White we have seen here (west of St. Charles).
---
Walter Lutz on 8/22 reported via email: Tyler Creek (Elgin) late Friday afternoon I tried to find the Red-headed Woodpecker that was reported and struck out. But I did see a Catbird missing its tail with a bloody rump. It was foraging and acting normal but it certainly had a close call.
Jelke Bird Sanctuary (Sleepy Hollow/West Dundee) saw 50+ Nighthawks in full light around 6:30. One massive group - quite a sight.
---
Julie Long on 8/22 reported via email: There is a pair of common mergansers, male and female, who were at Jon Duerr forest preserve this morning. They posed conveniently for eleven of us on the concrete boat ramp near the main parking area. The male is molting and may also have a wing injury, though he can fly. The pair has been seen in that general vicinity since spring according to Margaret Mechtenberg who is in the preserve many mornings. She has not seen any young birds this summer though, so they don't seem to have nested, or at least successfully nested.
---
Doug Stotz on 8/20 reported via IBET: I had a noontime meeting near Elgin, so I birded Tyler Creek FP (along IL 31 just south of I-90) for a bout an hour late morning. 27 species, lots of resident woodland species, woodpeckers, chickadees etc., 1 CAROLINA WREN, but more importantly two species of migrant warbler (1 individual each). Surprisingly those two birds were CANADA and MOURNING WARBLERS, both immatures. Both are early migrants, so not unexpected, but they probably would not be the species I would have guessed for a 2 warbler list.
---
Marion Miller on 8/20 reported via IBET: Two American Golden Plovers north of Main Street and west of Bateman. Easily seen in sod about 75 feet from Main st. First seen by Darrell S.
---
Brendon Lake on 8/18 reported via email: Tonight, on an afternoon/evening walk at Burnidge Forest Preserve in Elgin, a group of at least 20 Common Nighthawks was hunting over the pond, and out over the prairie as well, along with many Barn Swallows. It is obvious southbound migration is in full swing.
---
Chris Mussachio on 8/18 reported via email: Finally able to get some shots of a juvenile Caspian Tern at Fox River Shores. Already looks like a master of the Fox River.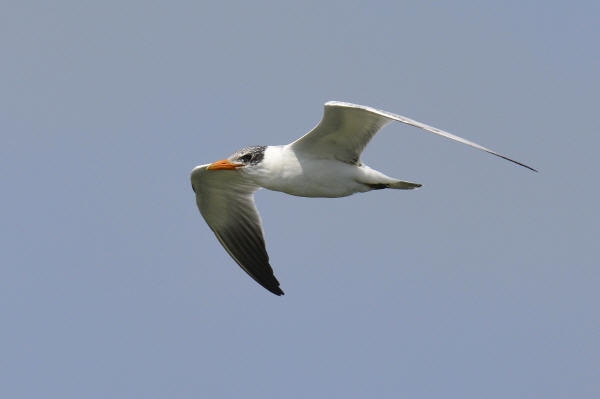 Juvenile Caspian Tern photo courtesy Chris Mussachio
---
Jude Vickery on 8/18 reported via IBET: Hi All, two Baird's Sandpipers in breeding plumage are easy to see and pick out among the peeps right along the west side of 47 south of Sugar Grove, North of Hwy 30. There were 10 shorebirds species present including all the most common, and Wilson's Snipe at 10 AM.
This is a very busy road, please be careful.
---
Carol Norcross on 8/16 reported via e-mail: Just saw 2 Sandhill cranes with a flock of geese in a field near Oberweis on Randall between Ice Cream Drive and Oak, west side of the street.

I am visiting from California, but used to live here, we drove around the block twice to definitely identify them, couldn't believe it the first time.
---
Joy and Jon Duerr on 8/15 reported via e-mail: Having viewed 400 - 500 Chimney Swifts dropping into the chimney at Thompson Junior High School in St. Charles on Thursday evening, shortly after 8 PM. (The birds use the chimney for their evening roost during their migration south.)
---
Chris Mussachio on 8/14 reported via e-mail: First time this season a Green Heron came close enough for some quick shots at South End Park.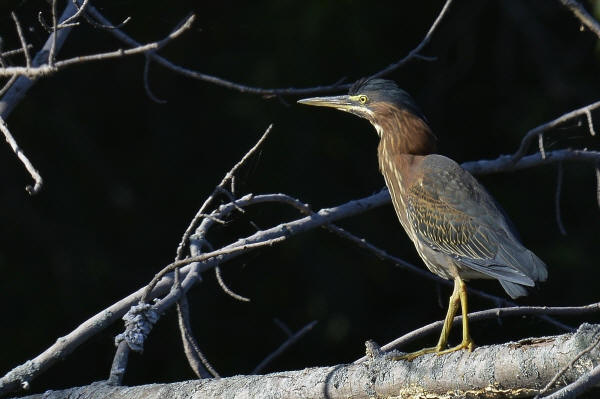 Green Heron photo courtesy Chris Mussachio
---
Julie Long on 8/10 reported via e-mail: There was an osprey flying over the Fox River at Ferson Creek Fen on Friday. The STC park district employees also saw it that day and watched it catch a fish
---
Chris Mussachio on 8/9 reported via e-mail: We seem to have an Osprey hanging out in the West Dundee area these last couple of weeks. Sure is a beauty.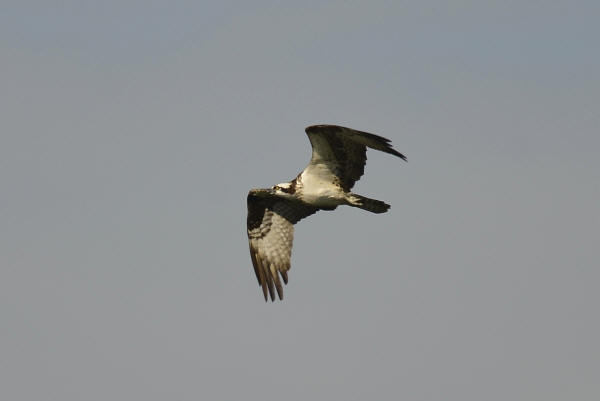 Osprey photo courtesy Chris Mussachio
---
Jackie Bowman on 8/7 reported via e-mail: Kane County Lifer #260 for this girl! Thanks go to Brendon Lake, for tips on this White Eye Vireo at Big Rock FP. (there were at least three heard/seen) by Chris and I, Thursday, Aug. 7 mid-afternoon.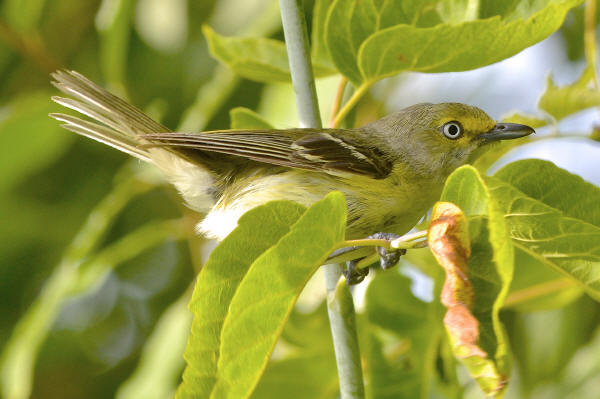 White-eyed Vireo photo courtesy Jackie Bowman
---
Diane Hansen on 8/7 reported via e-mail: Despite the challenges of the arriving carnival rides and the removal of all the vegetation between the guard rail and the river above the South Elgin dam, I have been spotting a young Black Crowned Night Heron regularly.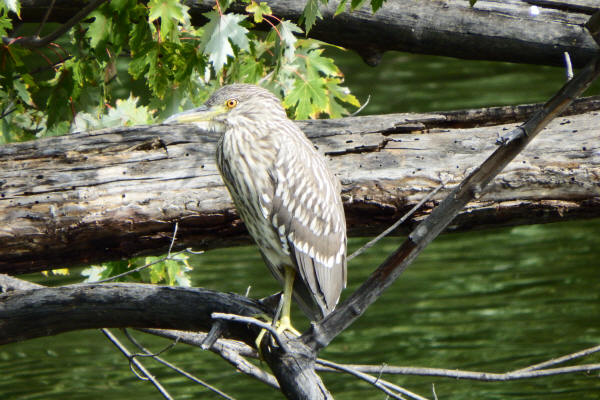 Black-crowned Night-Heron photo courtesy Diane Hansen
---
Walter Lutz on 8/6 reported via e-mail: Large number of immature Dickcissels at Muirhead Springs Forest Preserve Also a handful of immature Kingbirds.
---
Bill Ahlgren on 8/6 reported via e-mail: Here is the pair of Blue Grosbeaks at Dunteman's sod farm in Kaneville Tuesday afternoon around 2 PM. The male seemed quite proud of his catch!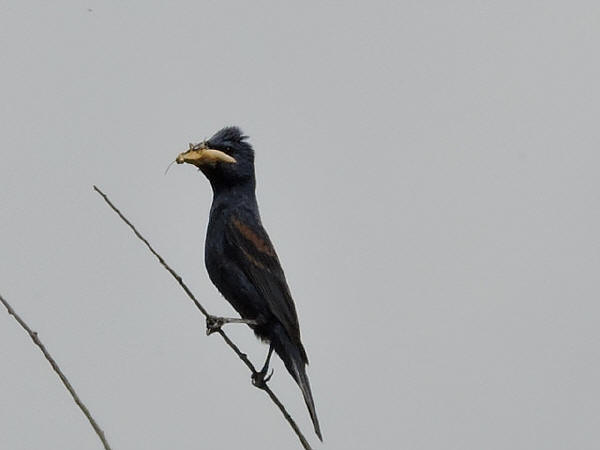 Blue Grosbeak photos courtesy Bill Ahlgren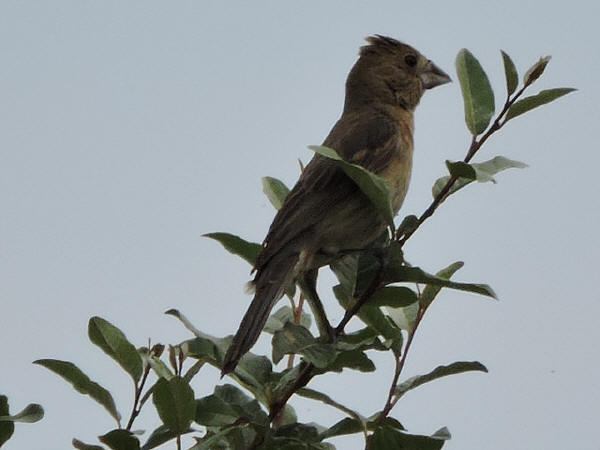 ---
Kurt Frieders on 8/5 reported via e-mail: Our yard (in Aurora township) has continued to be quite busy. We have had a juvenile Ruby-Throated Hummingbird at our flowers constantly since early July. In the beginning he was very difficult to photograph, but he seems to now be quite used to us. We have continued to see most of the usual suspects of birds in our yard (which happen to be eating us out of house and home with all of their fledglings). However our butterfly activity has been quite diverse as we daily see Red Admirals, Monarchs (also many caterpillars on our milkweed), Eastern-Tiger Swallowtails, Spicebush-Swallowtails, and Eastern Commas.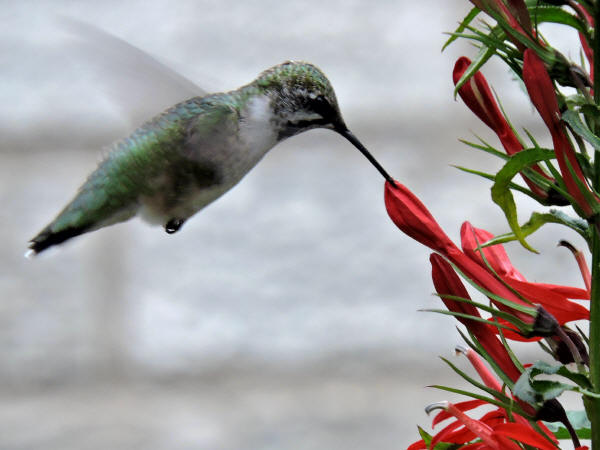 Ruby-throated Hummingbird photo courtesy Kurt Frieders
---
Brendon Lake on 8/3 reported via e-mail: A fluddle in a corn field on the east side of Meredith Road, just south of the Route 38 intersection, may bear watching over the next couple of days for shorebird activity. A brief stop here revealed six shorebird species, including many Killdeer, a Spotted Sandpiper, Solitary Sandpipers, Greater Yellowlegs and one each Least and Semipalmated Sandpipers. The shoulder here is relatively small, but the views of the birds are very close up, making identification easier. The fluddle at Kaneland High School along Keslinger Road, near Dauberman, is shallow and beginning to look attractive to shorebirds. Present here during a check were three Least Sandpipers, two Solitary Sandpipers and a juvenile Green Heron. Big Rock Forest Preserve had hundreds of swallows, mostly Tree Swallows but I was not able to identify all swallows. Also here were a Yellow Warbler, White-Eyed Vireo, Common Yellowthroat, Rose-Breasted Grosbeak, Ruby-Throated Hummingbird and Eastern Bluebird to name a few.
---
Marion Miller on 8/2 reported via e-mail: Rich and I enjoyed watching 4 Black-crowned Night-Herons fishing in the pond on the north side of Sam's parking lot in Batavia.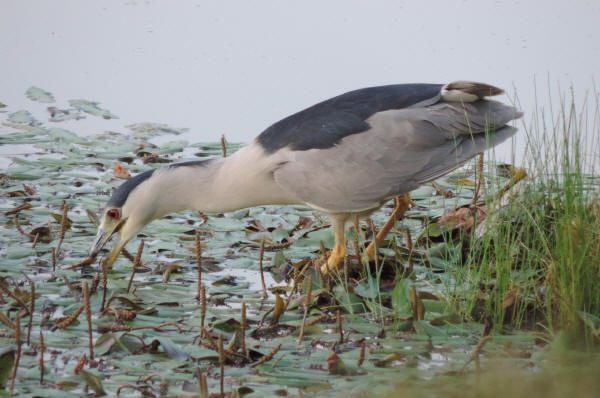 Black-crowned Night-Heron photo courtesy Marion Miller
---
Chris Madsen on 8/2 reported: Carla and I ran into Sally and Eric Secker and Pete Moxon who directed us to a pair of Blue Grosbeaks on the road that runs north from Main Street Road along the eastern edge of the sod farm in Kaneville. As we were about to leave, Scott Cohrs, who had reported one in that area about 2 weeks ago, also showed up.
---
Chris Mussachio on 8/1 reported via e-mail: This Red-headed Woodpecker is working on its second brood of the season near the Carpentersville dam.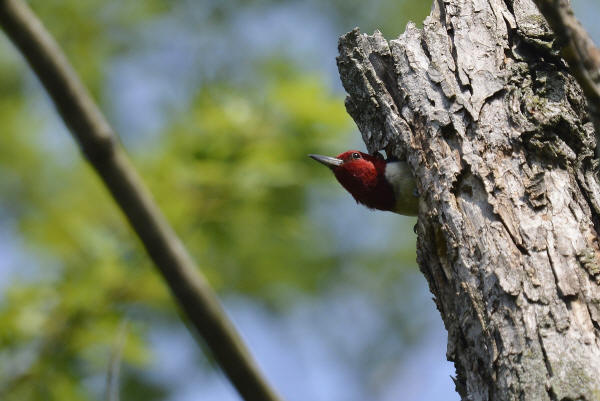 Red-headed Woodpecker photo courtesy Chris Mussachio
---
Theresa LeCompte on 8/1 reported via e-mail: Nature's sanitation crew (Turkey Vultures) waiting for an opportunity to safely clean up road kill on Galena Blvd. in Aurora.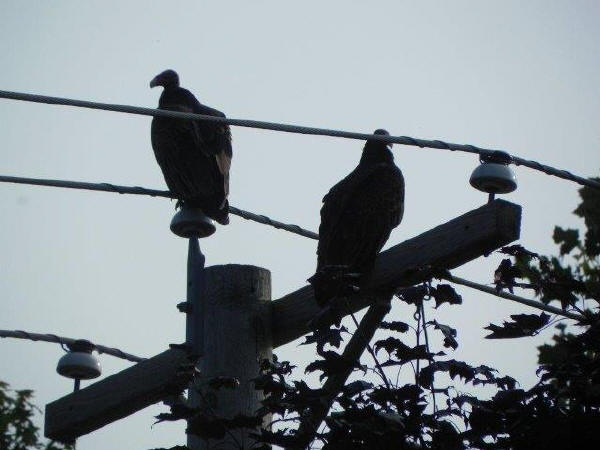 Turkey Vultures photo courtesy Theresa LeCompte
---
Marion Miller on 8/1 reported via IBET: No Avocets seen at the Exel retention pond or at the Vaughan athletic center pond. Both areas look good for shorebirds but only spotted sandpipers and Egrets seen this morning. The Exel retention pond can be viewed from the south berm which looks like it is not their property. There is a large pull off on the south side of Indian Trail road where you can park. Just be careful crossing the road.
---