---
Glenn Perricone on 8/30 reported via eBird: Seeing a Northern Goshawk on the Kane County portion of Fermilab: "Immature bird with white spots on back, superscilium and sharply-contrasting bands on tail. Viewed through a scope as it was perched as well as in flight binocular views as it flew over the county line. Visually confirmed and agreed upon by Peter Kasper and Dave Spleha."
---
Ken Schneider on 8/30 reported via e-mail: During a brief visit to Hickory Knolls on August 28 there was threat of rain but I did get photos of a Tennessee Warbler. There were a few other warblers that I could not identify as the light was so poor.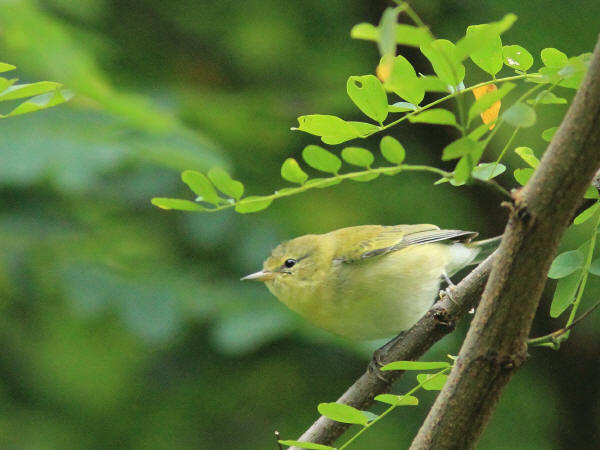 Tennessee Warbler photo courtesy Ken Schneider
---
Justin Wrinn on 8/30 reported via IBET: Since we're on the subject of other "Days" besides Big Days, I guess I could say I did a Big 2/3 Day at Burnidge today, meaning I birded there for about 2/3 of today's daylight hours. I ended up with 76 species after 8 hours and 38 minutes and was too exhausted to spend another few hours trying to break 80. But I think 76 is still a pretty good total for a single site in Kane County in August that doesn't have good shorebird habitat. Unfortunately none of those 76 were new for my Burnidge year list.

The highlight was 12 species of warbler, which is not much compared to somewhere like Montrose, but again, not bad for Kane Co. in August:

Ovenbird (3)
Northern Waterthrush (1)
Blue-Winged (1)
Black-and-White (2)
Tennessee (9)
Nashville (2)
Common Yellowthroat (15)
American Redstart (7)
Magnolia (1)
Blackburnian (1)
Chestnut-sided (4)
Black-throated Green (1)

Other birds of note:

Common Nighthawk (18) - 16 of them in one group flying north to south just after 2PM - not my high count for the year, but still cool to see
Red-breasted Nuthatch (1)
Veery (1)
Swainson's Thrush (2)
Gray Catbird (54) - I had 36 yesterday, and there were probably at least 15 breeding pairs this summer, but this was by far my high count for the year - there was a big influx of Catbirds overnight, and I also covered a larger portion of the park than usual
Vesper Sparrow (1)
Brewer's Blackbird (1)

The full list can be seen here.
---
John Heneghan on 8/29 reported via e-mail: Saturday evening from 6:30 to 6:50, we had 3 flyover nighthawks, 2 female redstarts, 3 unknown warblers, 5 or 6 hummingbirds and 5 chickadees in the yard in Big Rock.
---
Justin Wrinn on 8/23 reported via IBET: There were 2 winter plumage BLACK TERNS at the Dauberman Road fluddle just north of I-88 (same spot where one was seen yesterday. They flew in around noon and stayed maybe 20-30 minutes giving great views to myself and Jason Newton, who showed up a few minutes after I did. They were mostly resting in the middle of the fluddle, which still has quite a bit of water. Also of note were one Short-billed Dowitcher and two Semipalmated Plovers, along with several more common shorebirds. You can see the complete list and a photo of the terns on my eBird report.

Unfortunately we struck out on the White-rumped that was seen yesterday at the Hwy 38 fluddle. The fluddle is almost completely drained now with just a few small puddles left that will likely be gone in a couple of days. There were still quite a few shorebirds present (although nothing unusual) until a Cooper's Hawk, and then a Peregrine Falcon flushed them and more than half flew off and didn't return by the time we left, including a Baird's Sandpiper that I was hoping was the White-rumped.

The McNulty Rd fluddle still has a lot of water and a good number of shorebirds, but we didn't find anything out of the ordinary.
In spite of the rain, I was able to find again 10 species of warbler at Burnidge this morning, including two new ones for the fall, Black-and-White and Black-throated Blue.
---
Marion Miller on 8/22 reported via eBird: Seeing a Black Tern at the Dauberman Road fluddle next to the tollway.
---
Justin Wrinn on 8/22 reported via IBET: I found 10 species of warblers at Burnidge this morning (the benefit of forgetting my phone at home and staying much longer than intended since I had no way to keep track of time):

Golden-winged (1)
Blue-winged (1)
Tennessee (3)
Yellowthroat (15)
Redstart (2)
Blackburnian (1)
Chestnut-sided (4)
Pine (1)
Black-throated Green (2)
Canada (1).

Most of them were in two locations - the trees on either side of the road even with the west end of the pond on the west side of the north (Big Timber Rd) entrance, and the NE corner of the forested hill on the east side the west entrance lake.

I also found a probable Mockingbird in the bushes east of the west entrance parking lot, almost directly behind the outhouse. It was partly blocked by leaves, so I could only only tell it was a medium size bird with a gray back, dark gray or black primaries and a long black tail edged in white all the way down. I couldn't see the head, the breast, or the upper part of the wings. And unfortunately it disappeared into the bushes before I could get a better look. But it was the right size for mockingbird - just a little bigger than a Catbird, and the body shape and posture were consistent with Mockingbird. Based on color, size, tail length, and extent of white tail edges, I ruled out Blue Jay, Towhee, Western Kingbird, and both Shrikes. I am fairly certain it was a Mockingbird based on what I saw, and I can'! t come up with any other reasonable possibilities. But I wanted to see if anyone else had any other suggestions I might have missed.
---
Kane County Audubon on 8/22 reported: On a ramble for shorebirds found a White-rumped Sandpiper at the fluddle on Route 38 at Watson Road.
---
Jason Newton on 8/21 reported via eBird: An American Golden Plover, 2 Black-bellied Plovers, and one Buff-breasted Sandpiper at the Dunteman Sod Farm in Kaneville.
---
Justin Wrinn on 8/21 reported via IBET: I stopped by Jon J. Duerr this evening hoping to pick up a few good migrants. I ended up spending close to an hour up close and personal with a flock of peeps in the Fox River, observing their behavior and trying unsuccessfully to turn one of them into a Western Sandpiper. They were along a gravel bar on the south side of the bike path bridge across the river (east of the small island). I was able to look down on them from the bridge without them paying the least bit of attention to me. A scope is best if you want to see them from shore, but binoculars were plenty at this close range. I counted 19 Least Sandpipers along with 1 Semipalmated Sandpiper, 2 Solitary Sandpipers, and 1 Spotted Sandpiper. It was cool to get a different perspective looking down on them from above. Unfortunately, by the time I was done with the peeps, there were no migrant songbirds to be found, only regular summer breeders. If there were any, they went to bed early. But it was still a nice way to start the weekend. My full list.
---
Debbie Wisser among others on 8/20 reported via eBird: The Red-necked Phalarope continues at the Virgil fluddle on Route 38, just west of the Watson Road intersection.
---
Bill Ahlgren on 8/17 reported via e-mail: The Red-necked Phalarope is still present today Rt. 38. We were there at 1:40 PM on Monday. A Kane county lifer for us. Many other shorebirds present during our visit. I believe this bird was first spotted by Pete Moxon.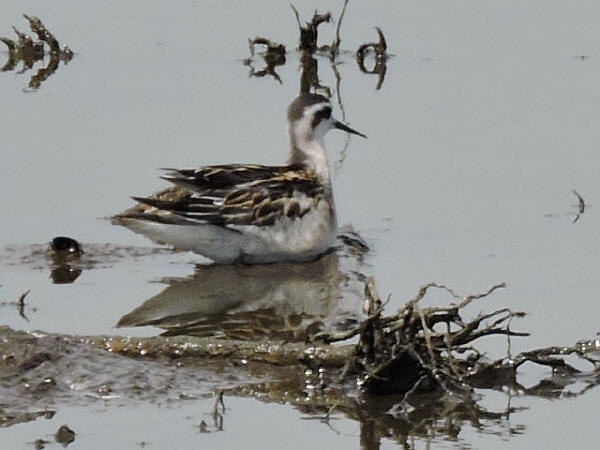 Red-necked Phalarope photo courtesy Bill Ahlgren
---
Al Stokie on 8/17 reported via IBET: Kane County Rt38 Fluddle (2 p.m.)

In addition to the truck on the back of the mud flats with draining tubes two large mounds of dirt are now present where they weren't yesterday. This fluddle appears to be doomed although the shorebirds are sticking it out for now.

Killdeer (10-12)
Spotted Sandpiper (1)
Lesser Yellowlegs (8-9)
Solitary Sandpiper (4)
Least Sandpiper (6)
Pectoral Sandpiper (9)
Wilson's Snipe (1)
RED NECKED PHALAROPE (1, continuing but nearer to the road today due to human disturbances)
---
Dan Williams on 8/17 reported via IBET: The Red-necked Phalarope is still present in the fluddle on IL 38 in Kane County at 12:50 pm today. It is on the edge of the puddle closest to the road. That is because someone in a pick-up truck on the north side of the puddle is running a pump and draining the water.
---
Al Stokie on 8/17 reported via IBET: [After checking for shorebirds at a number of locations in northern Illinois on Sunday, our]...last stop was at the flooded area along Rt38 as Bob E had seen the ebird report about this location. Here we added RED NECKED PHALALROPE (shorebird species # 14) plus Killdeer, Spotted, Solitary, Least, Semipalmated & Pectoral Sandpipers & Lesser Yellowlegs.
---
Brendon Lake on 8/16 reported via IBET: Hey everybody, after hearing about the Red-Necked Phalarope this afternoon, I went around looking for shorebirds. As Justin reports, there was a Red-Necked Phalarope in a fluddle on Route 38, west of Watson Road. The fluddle was on the north side of the road. This is a very busy highway, but very wide shoulders should allow for easy viewing.

But before viewing the phalarope, I visited another fluddle on McNulty Road, west of Meredith Road. This fluddle is still in very good shape as well, and hosted one Stilt Sandpiper, many Semipalmated Sandpipers, along with Least Sandpipers, Greater Yellowlegs, Lesser Yellowlegs, Pectoral Sandpipers, and the obvious Killdeer. Others saw a Baird's Sandpiper, which I missed.

All together, I had 10 shorebird species between these two locations. Shorebirding is still alive in Kane County!
---
Justin Wrinn on 8/16 reported via IBET: There was a Red-necked Phalarope in a fluddle on Hwy 38 maybe a mile or so east of Maple Park today. It is on the north side of the road, about halfway between the junction of Watson Rd to the East and the junction of Howard Rd to the west. The bird was first reported by Pete Moxon this morning and has been seen by several others throughout the day. When I was there this evening it was swimming around near the back side of the fluddle towards the right.
---
Julie Long on 8/16 reported via e-mail: I had my first fall migrant warbler in my St Charles yard this evening. A black and white warbler was hanging out with the chickadees and titmice.
---
Justin Wrinn on 8/16 reported via IBET: Fall migration is finally underway at Burnidge Forest Preserve. This morning I found Yellow-throated Warbler, Canada Warbler, and Blackburnian Warbler (1 each, all juveniles). There have been influxes of several other passerine sp. the past few days, but nothing else yet that isn't a regular summer breeder in the area. Also of note is a juvenile Peregrine Falcon that's been hanging around the lake at the west end of the park. It was first found by Walt Lutz Friday evening, and I got great looks at it both yesterday and today.
---
Pete Moxon on 8/16 reported via phone: Finding a Red-necked Phalarope at about 10 AM in a fluddle on the north side of Route 38, just west of Watson Road.
---
Marion Miller on 8/15 reported via eBird: During an afternoon stop at Dunteman Sod Farm, seeing both a American Golden Plover and a Black-bellied Plover.
---
Walt Lutz on 8/14 reported via e-mail: Took a quick walk around the large pond @ Burnidge F.P. tonight and found a Peregrine Falcon perched in one of the large, dead trees.
---
Marion Miller on 8/14 reported via e-mail: Chimney Swifts seem to be congregating already in large groups. I checked on the Limestone Coffee and Tea chimney in Batavia Thursday night. A total of 302 Swifts were estimated entering between 7:56p and 8:18p. They put on a good show circling in one direction then reversing the direction around the chimney, rapid diving, stalling moves and fake outs. The chimney is best viewed from Shumway Ave, about 1/2 block south of Wilson street, and west of the river.
---
Chris Madsen on 8/14 reported: An early Thursday morning stroll at Nelson Lake's west side produced flocks of Barn and Tree swallows skimming the prairie grasses, gathering breakfast. It was obvious that this was a good year for Common Yellowthroats - they were abundant. A dozen (?) Sedge Wrens were "chick-chick-chicking" in the morning light. There was a lone Caspian Tern patrolling the lake. I was treated to the sight of both a Sora and a Virginia Rail. The final highlight was this Olive-sided Flycatcher at the northwest corner of the lake loop trail.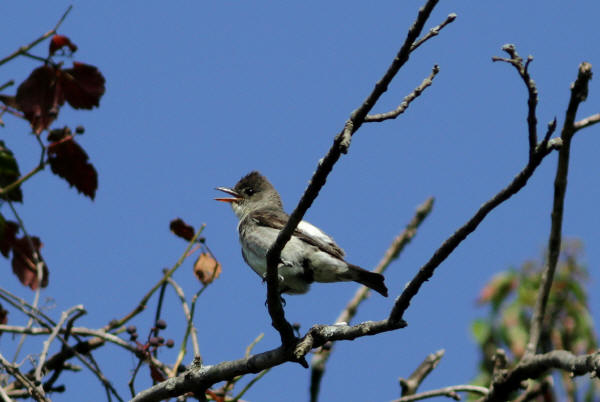 Olive-sided Flycatcher photo courtesy Chris Madsen
---
Pete Moxon on 8/11 reported via (many) text(s): There aren't lots of birds out there today and not lots of fluddles. I guess we need more rain. There's water in the Dauberman Road fluddle, and not many birds. But there was a Baird's Sandpiper at the northwest edge that kept disappearing into the corn. Parking is on the east side of the road just north of the bridge over I-88. Cross the road and the guardrail and walk up the hill so you can see all the water.
The McNulty Road pool still has its water, but didn't get much from the rain. Most of the birds that were there two days ago left, but there's still a handful of Pectorals, Yellowlegs, and Leasts, 6 Semipalmated Sandpipers, and one Short-billed Dowitcher.
At Breen Park, off Peck Road, Pectorals, Least Sandpipers, Yellowlegs, and two Stilt Sandpipers (adult, all gray plumage now).
---
Bill Ahlgren on 8/7 reported via IBET: Finally had good looks at one Buff breasted Sandpiper today at Dunteman's sod farm/south of Main St. field/2S184 Merrill Ave. Kaneville IL at around 11AM this morning. Actually a nice shady area to observe from by Behm Plumbing. [plug]. Ann H. reported seeing four later. Viewed the North field by the cemetery only finding Killdeer and numerous Barn swallows in flight
---
Ann Haverstock on 8/7 reported via IBET: 12:30 PM At [Dunteman] Sod Farm - Four Buff-breasted sandpipers off of Main St. on Merrill St., and many (35) Killdeer. Needed Scope, but sometimes can be seen from Main St. Sprinklers were working and that is why birds were happy.
---
Diane Hansen on 8/6 reported via e-mail: Yesterday I stopped at the Carpentersville dam for a little while. As I was headed back to the car I walked down to the river just below the dam and to my surprise was quite close to a Green Heron.
It stayed in place for quite a while as I slowly inched closer. At one point it opened its beak and gave this interesting view of the inner structure of the mouth and throat. I saw this shot and did some research to learn that they push the back of their throat forward to do this. Earlier in the week I again saw a Black Crowned Night Heron above the South Elgin dam and in that same spot a day later was a single Mute Swan.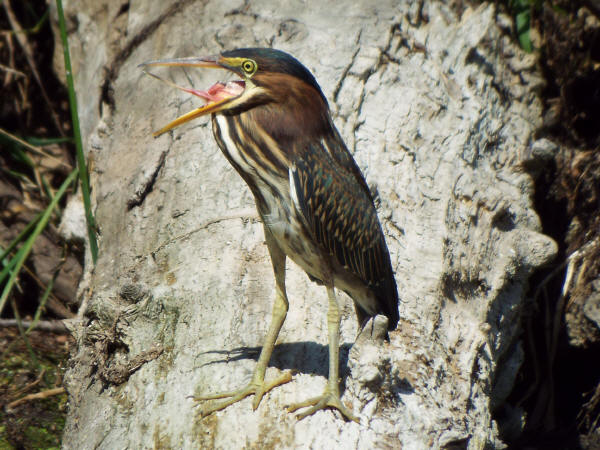 Green Heron photo courtesy Diane Hansen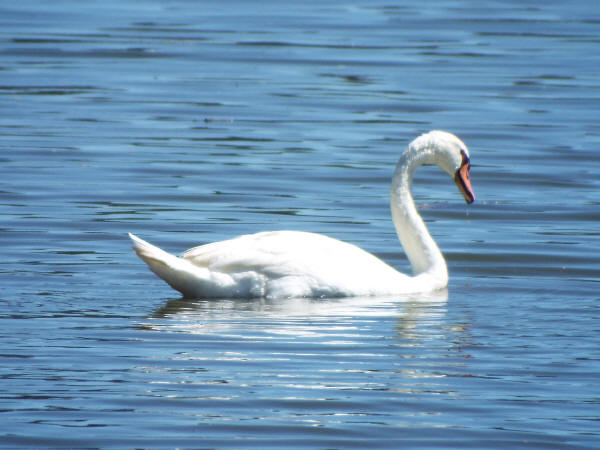 Mute Swan photo courtesy Diane Hansen
---
Glenn Perricone on 8/6 reported via eBird: The reappearance of a Blue Grosbeak and a sighting of a flyover Broad-winged Hawk on the Kane County portion of Fermilab.
---
Al Stokie on 8/4 reported via IBET: Today I went with Andy Sigler to the Dunteman Sod Farm in Kaneville. We did as well as Karen L with only Killdeer & Horned Larks found but no Upland or Buff Breasted Sandpipers. We checked the 3 places mentioned by Justin but were a day late & several sandpipers short. A highlight of sorts was when we saw 2 Brewer's Blackbirds.

Staying in Kane County we next visited 2 flooded field locations. The 1st was on Dauberman Rd. just north of I-88. Besides a Great Blue Heron & lots of Mallards we saw the following shorebirds:

Killdeer (~15)
Lesser Yellowlegs (4-5)
Spotted Sandpiper (1)
Solitary Sandpiper (2)
Least Sandpiper (2)

The 2nd flooded field was on Freeland Rd & had been reported on ebird by Pete M. Among other birds we saw probably as many Great Egrets as I have ever seen at 1 time in Kane Co. Here's that list:


Great Blue Heron (2)
Great Egret (67)
Killdeer (18)
Greater (1) & Lesser (17) Yellowlegs
Spotted Sandpiper (4)
Solitary Sandpiper (1)
Least Sandpiper (6)
Semipalmated Sandpiper (3)
Pectoral Sandpiper (1)
---
Karen Lund on 8/4 reported via IBET: I was [at Dunteman Sod Farm in Kaneville] around 1:30 today and saw only killdeer & starlings.
---
Justin Wrinn on 8/3 reported via IBET: I found 12 BUFF-BREASTED SANDPIPERS and 1 UPLAND SANDPIPER at Dunteman Sod Farm in Kaneville this evening. At least 1 Upland and varying numbers of Buff-breasteds were seen by several people yesterday, so I assume these are the same individuals. Maybe they'll stick around for awhile. I first saw the Upland and 2 Buff-breasteds working the field north of the cemetery. Then after checking the field south of Main (nothing but a few Killdeers), I checked the far NE field that is between Bateman Rd and I-88. Also, nothing but Killdeers, so I was about to go home when suddenly 12 Buff-breasteds flew in and landed in the middle of the field. I was able to get some good scope views, but no photos, before they flew off to the west. The 2 I saw earlier may or may not have been included in these 12. The Buff-breasted was a lifer, so I went home happy and satisfied after being unable to go yesterday.
---
Pete Moxon on 8/3 reported via e-mail: From Sunday, August 2, fluddle viewing at 3N481 Freeland Road, Virgil, resulted in the following:

1 Great Blue Heron
3 Great Egret
1 Green Heron
1 Turkey Vulture
1 Semipalmated Plover
28 Killdeer
4 Spotted Sandpiper
11 Solitary Sandpiper
5 Greater Yellowlegs
28 Lesser Yellowlegs
4 Stilt Sandpiper
16 Least Sandpiper
18 Pectoral Sandpiper
3 Semipalmated Sandpiper
2 Wilson's Snipe
1 Ring-billed Gull
3 Mourning Dove
2 Chimney Swift
1 Northern Rough-winged Swallow
2 Tree Swallow
13 Barn Swallow
8 European Starling
3 Cedar Waxwing
1 Chipping Sparrow
3 Vesper Sparrow
3 Song Sparrow
1 Northern Cardinal
2 Red-winged Blackbird
At another fluddle at 48W068 McNulty Road, Virgil, the following were observed:
36 Killdeer
5 Spotted Sandpiper
7 Solitary Sandpiper
27 Lesser Yellowlegs
11 Least Sandpiper
32 Pectoral Sandpiper
1 American Kestrel
4 Barn Swallow
3 Red-winged Blackbird
---
Marion Miller on 8/2 reported via e-mail: Rich and I enjoyed watching the chasing antics of 2 Green Herons at the local neighborhood (Batavia) retention pond this afternoon. This pond is located in the subdivision behind the Kohl's store.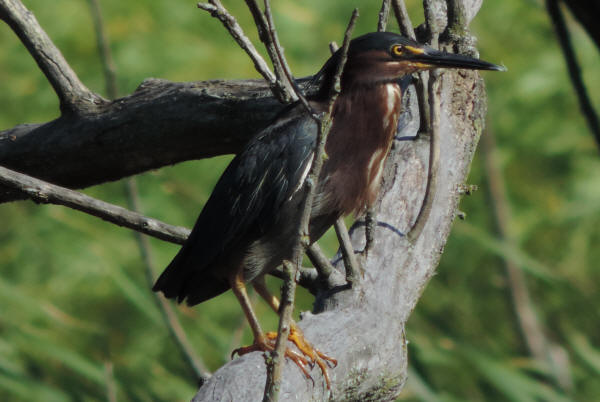 Green Heron photo courtesy Marion Miller
---
Scott Cohrs on 8/2 reported via eBird: At Dunteman Sod Farm in Kaneville, 6 Buff-breasted Sandpipers and at least 1 Upland Sandpiper.
(Editor's note: Please respect that the sod farm is private property. Viewing is permissible from Bateman Road on the eastern edge of the property and from Kaneville Cemetery. The gravel lane in the middle of the farm is not a public thoroughfare!)
---
Sue Wagoner on 8/1 reported via e-mail: Twice in my backyard I saw "my" House Wren fly onto a patch of mulch and lie flat against the ground, spreading its wings and tail, fluffing out its feathers, and staying there for several minutes. Both times it was only about 8 feet from where I was standing.
I had no idea why it would do that until Roger Hotham told me about "anting"- where a bird lies on the ground and allows ants to crawl over its body to help remove the bird's parasites. (Some birds apparently actually spread the ants over their bodies.)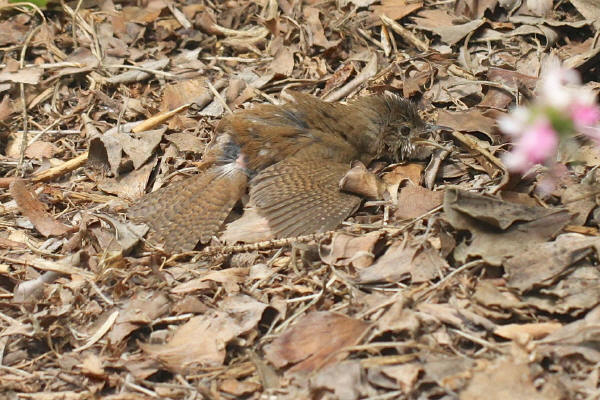 House Wren photo courtesy Sue Wagoner
---