Dave Johnson on 12/30 reported via IBET: This morning I observed two adult Bald Eagles perched in a tall cottonwood tree opposite Clark's Island along the Fox River this morning. This was next to a skate board park on Route 25 just south of Batavia.
Common Goldeneye, Common Mergansers and several Herring Gulls were up and down the river.
Bob Andrini on 12/30 reported via e-mail: Today while doing my monthly bird count at Norris Woods [north of St. Charles], we saw 2 Bald Eagles. One was an adult with all white head and tail the other was a 4th year Eagle (with a 'dirty' white head and tail). Yesterday we saw a first year Bald Eagle (totally brown bird) on the bike path in Batavia - so there are at least 3 Bald Eagles on the Fox River.
Len and Lora Hattendorf on 12/29 reported via e-mail: We sighted a Bald Eagle Sunday morning, Dec. 28th at 11:00 a.m. over Middle Street and East St. a few blocks east of the river [in South Elgin]. His white head and tail were unmistakeable!
Karen land on 12/29 reported via IBET: We were driving north of the Fabyan Forest Preserve on Ill. Rte. 25 about 1 pm today when an adult male bald eagle caught our eye gliding from the east in the area of the old landfill. We watched him beginning to circle in the area of Island Park and Mill Race Inn for several minutes until he drifted north of the bridge and out of sight.
Karen Land on 12/29 reported via IBET: RB and WB Nuthatches are frequent visitors to my sunflower seed feeders [in Batavia] up until about a week ago when a hawk came and snagged a male cardinal. The hawk has been hanging around daily and sits on a branch above the feeder.

Christmas day we were all in the family room playing Wii bowling when our white oak tree just outside the window filled up with [Cedar] Waxwings about 3:30. This is about the 5 day they have come about that time. My non-birder family who was visiting from the north were thrilled and fascinated.
Tami Bone on 12/26 reported via e-mail: On 12/25 at 2 p.m. we saw a bald eagle in the southern most tree at Boy Scout Island in St. Charles. My husband had seen one flying over Ferson Creek about a week ago and we've been looking for it since then.
Bob Andrini on 12/24 reported via e-mail: Along with the regular feeder biirds we had 2 Am.Tree Sparrows (unusual for our feeders).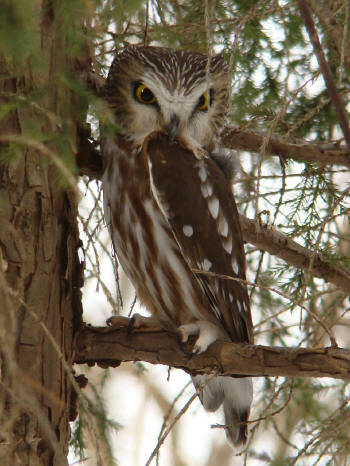 Saw-whet Owl photo courtesy Jerry Zamirowski
Jon Duerr forwarded this from Jerry Zamirowski on 12/23: This Saw-Whet [owl] was found [in south Batavia] during the Christmas count and is the first time ever for the Fermi count!
Dave Coulter on 12/23 reported via IBET: I saw an immature bald eagle on the ice - near open water - just north of the Fox River dam in Geneva, IL (Kane County) about 10:00 AM today. He had a handful of crows keeping an eye on him as well!
Christopher Cudworth on 12/21 reported via IBET: Common goldeneyes are back and feeding in their typical spot in St. Charles on the Fox River/Kane County. They like the stretch of river from the walking bridge one block south of Illinois Avenue south to wherever the river freezes over. In this weather the ice typically creeps up about 30 yards a day. I've only ever seen the river completely iced over all the way up to the Illinois street bridge once
or twice in my life.

You can also reliably find goldeneyes south of the railroad bridge in Geneva, north of Fabyan Park. Another excellent spot for winter ducks on the Fox is in Montgomery/Oswego. Usually there are parking lots open along Route 25 south of Aurora. You can park and walk stretches of the river.

This area is quite predictable for common merganser, goldeneye and other diving duck stragglers looking for company among flocks of mallards. Usually there are 1000 or so geese tucked in behind the islands. You can usually find hooded merganser. Red breasted merganser are quite rare here.

I have also seen merlin in winter, harriers resting in riverside trees and the ubiquitous red tails. Several bald eagles also like this "run" of water. You can see all ages of eagles from immature up to adult here.

No unusual gulls have turned up yet, but I keep my Sibley's handy just in case.

Joe Lill on 12/20 reported via IBET: At about 11:15 am on Saturday Cheryl Kreiman and I had two adult Bald Eagles swooping low over an Elgin neighborhood; this was just west of Rt. 31 and north of Rt. 20.
Sue Wagoner on 12/20 reported via e-mail: Watching over my bird feeders recently were this first year Red Tail Hawk (thanks Bob for the ID), and this mature Cooper's hawk, caught preening-- to look handsome at the dinner table, I guess. Both went away hungry!

Juvenile Red-tail Hawk (left) and adult Cooper's Hawk photos courtesy Sue Wagoner.
Karen Land on 12/19 reported via IBET: Tuesday afternoon and yesterday (12/18) I had about 6-8 [Cedar] Waxwings come to the young white oak I have in my yard [in Batavia] about 20 feet from my family room window. The white oak holds it's big brown leaves most of the winter so the leaves make a great shelter. I noticed the almost stealth group come over the fence and go under the leaves, working there way around the tree for a good position. I'm not sure if they spend the night or night, in each case it was about 4:20 and getting dark so I lost sight of them.
Cathy Martens on 12/18 reported via e-mail: Hi! I live in Fox Mill in Campton Hills. Yesterday I saw a northern shrike perched in a tree near my bird feeders! Last week, there was an American kestral near the creek (Mill Creek) behind my house. We live on a lot that overlooks the open space. Although I frequently see kestrals along Route 38 and on Dean St. near the train tracks, I've never seen a shrike in the 2 years we've lived in IL. We had loggerheads in TX. Alas, I probably won't see a red headed woodpecker in our neighborhood (not enough trees). We had those in TX, too. We do see a downy occasionally, though. Thanks for letting me share!
Frank Angileri on 12/12 reported via IBET: While returning from DeKalb...I drove south on IL Route 25 on the east side of the Fox River. I spotted two BALD EAGLES which were sitting in two separate trees on the west side of the river between Montgomery Road and the "Welcome to Oswego" sign. I sat in my truck along Route 25 for about 15 minutes, they were just surveying their surroundings and probably watching for their next meal to happen by.
Mark Bowman on 12/11 reported via e-mail: on 12-10: at my house this Am the bird feeder was very active with chickadees, juncos, white breasted nuthatches, tree sparrows, house sparrows, house finches, pine siskins, cardinals and a red bellied woodpecker. At campton in the west fields an adult bald eagle flew over fairly low. Along the fox river near fabyan there was a lot of activity with Canadian geese, mallards, common mergansers, common golden eyes and a pair of hooded mergansers. A hermit thrush and coopers hawk were also in the area
Debbie Wisser on 12/7 reported via e-mail: I took a walk today from SEBA park in South Elgin to Jon J. Duerr FP. On my way south I saw an adult Bald Eagle flying north over the river. On my way back I also saw an adult Bald Eagle this time flying south. Probably the same bird. Two Mute Swans flew north, and I saw one Common Merganser among the many Mallards and Canada Geese on the river. I also saw 4 Eastern Bluebirds and a Northern Flicker in the forest preserve near the shelter, and a Cooper's Hawk just north of the preserve.
Darrell Shambaugh on 12/6 reported via IBET: After work today I went searching for crossbills. I didn't find any. I checked the streets along Campton Hills Road [west of St. Charles]. There are many conifers in this area, but I didn't see any winter finches. Of course, it was windy and snowing while I was in the area, and very few birds were moving around.
However, I found a couple of FOX SPARROWS on Happy Hills road less than a tenth of a mile from Campton Hills Road. They were feeding on the edge of the road with a CARDINAL and a few DARK-EYED JUNCOS.
Pete Moxon on 12/5 reported via phone: A Rough-legged Hawk flying over the old Settler's Hill landfill this morning along Fabyan Parkway in Geneva.
Paul Mayer on 12/5 reported via e-mail: At about 1:20 PM today (12/5) there was what appears to be 2nd year Bald Eagle on the Fox River about half way between the Prairie Street bridge [in St. Charles] and where the ice jam begins down stream. Also present were three Goldeneyes (two females and on male.) This could well be the same bird reported earlier by Pete Moxon and Debbie Wisser.
Mark Bowman on 12/4 reported via e-mail: 12-3: went to sauer farm and it was very active with sparrows. American tree, song, swamp and savannah were present. A few raptors flew by but did not get any real good looks.
Pete Moxon on 12/3 reported via phone: At 1 PM spotted a Bald Eagle flying north over the State Street bridge in Geneva, carrying what appeared to be lunch.
Julie Long on 12/2 reported via IBET: There were about 75 sandhill cranes flying as a group over my house yesterday, Dec. 1. I live just west of the Fox River and just north of downtown St Charles. Seems really late for them, especially with snow on the ground here.