Morgan Jones on 12/30 reported via e-mail: I was having a cup of coffee enjoying watching the 10 blue jays that have breakfast with me every morning [just west of LeRoy Oakes FP] when I decided to check the front feeders of my house. I was surprised to see about 15 birds pulling dried berries off a crabapple. I ran to get my field guide and camera because it was a new bird I have never seen before in my yard. My book identified them as Cedar Waxwings. During the bird count this year I invited some members into the yard. Since then I have been paying more attention to the kinds of birds coming in and out of my yard.
John Heneghan on 12/26 reported via IBET: The birds seem to be enjoying the feeders today.

Seen were a pair of titmouses, a pair of white breasted nuthatches, numerous juncos (which were actually on the feeders) and chickadees, house finches, goldfinches, tree sparrows downy and red bellied woodpeckers and a pair of cardinals.
Bryan Hix on 12/21 reported via e-mail: I was at Taly Park in South Elgin along the Fox River today and saw 2 mature bald eagles hunting for fish, one flock of at least 20 golden eyes, 2 hooded mergansers, one bufflehead, and a pair of kingfishers. The ring-billed gulls were harassing the eagles every time the flew down the river. Although annoying to the eagles, it provided some good entertainment.
Christopher Cudworth on 12/20 reported via IBET: It was slow going during the Christmas Count yesterday. But I was pleased to find a FOX SPARROW near the west side observatory deck at Dick Young Forest Preserve.

It's chucking little call note caught my attention just after dawn. Like all Fox sparrows, it behaved rather skittishly so I chose not to pressure it but instead let it show itself on its own.

Ann Haverstock took these photos of a Brown Thrasher (L) and Horned Larks (R)
on 12/19 at Peck Farm Park. Tim Balassie reported a Blue Morph Snow Goose
from the same area but had no pictures. Click on the images for a larger view.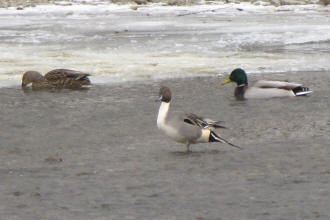 Ron Dickenson took a photo of this Northern Pintail just south of Quarry Park on 12/18. Click on the photo for a larger view.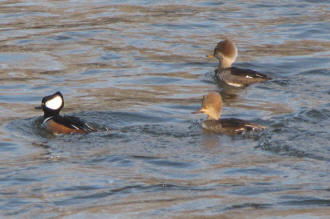 These Hooded Mergansers were photographed on 12/11 on the Fox River near Quarry Park in Batavia by Ron Dickenson. Click on the photo for a larger view.
Jon Duerr on 12/17 reported via e-mail: Winter Wrens: Fabyan F P Japanese Garden along south side next to spreading Yew and Bike Path under Indian Trail bridge-Aurora.
Darrell Shambaugh on 12/16 reported via IBET: Wednesday afternoon there was an adult BALD EAGLE near Route 30 where it crosses the Fox River at the Kendall / Kane County line between Montgomery and Oswego.

Jon Duerr on 12/12 reported via e-mail: Returned to Silver Glen Rd as we did 12/10 and found a very cooperative male Brewers BB along the road. There were more Horned Larks today but still no Snow Buntings. I drive out Burlington Blacktop and turn west onto Silver Glen. The Brewers was about 1 mile west near the creek bridge.
Ann Haverstock on 12/12 reported via e-mail: We had a great walk along the Fox River, sunny, cold and crisp. Temperature at 8 A.M. was 20°, but that did not stop us. Thirty-one fine species were in the area and it was well worth our slight discomfort. One thing about birders is that they know how to dress for the weather.
Some of our favorite sightings were: Bald Eagle, Snow Goose (blue morph), Cackling Geese, Common Goldeneye, Pintail, Hooded Mergansers, Brown Creepers, Golden-crowned Kinglet, Fox Sparrows, and the best sighting of all, thanks to Vern Lavia, was a lone very cold American Pipit. Pictures of the pipit follow this e-bird list:
Number of species: 31
Snow Goose 1
Cackling Goose 6
Canada Goose 1500
Mallard 25
Northern Pintail 1
Common Goldeneye 2
Hooded Merganser 5
Common Merganser 2
Bald Eagle 1
Red-tailed Hawk (Eastern) 2
American Coot 1
Herring Gull 2
Mourning Dove 3
Belted Kingfisher 2
Red-bellied Woodpecker 2
Downy Woodpecker 4
Hairy Woodpecker 3
Blue Jay 2
American Crow 2
Black-capped Chickadee 15
White-breasted Nuthatch 4
Brown Creeper 3
Golden-crowned Kinglet 1
European Starling 5
American Pipit 1
Cedar Waxwing 11
Fox Sparrow (Red) 2
Dark-eyed Junco (Slate-colored) 12
Northern Cardinal 12
American Goldfinch 1
House Sparrow 8
American Pipit (L) and an edited version (R). Photos courtesy Ann Haverstock.
Click on the picture for a larger view.
Christopher Cudworth on 12/11 reported via IBET: Made a large loop from Batavia out Main street to Kaneville, up to Kaneland High School, then Meredith up to Beith, Route 47 to Keslinger, to Pouley, Hughes and home.
The following birds were seen:

At Kaneville quarries (using scope from road) 5000 Canada Geese, 1 Goldeneye, 5 Merganser, 50 mallard, 10 coot

On Meredith Road north of Elburn Grain Coop: 15 Snow Bunting, 12 Lapland Longspur, 35 Horned Lark

Also seen on trip: Mourning Dove, Kestrel, Red-tailed hawk, Rock Dove, Tree sparrows, Junco, Starling (Pouley Road)

Not superbirdy out there, in late afternoon. Was hoping to find bigger numbers of roadside birds but I think I'll go further west next time.
Julie Long on 12/10 reported via e-mail: There was a carolina wren in the Fabyan Japanese garden, Fabyan forest preserve, Batavia, Tues, Dec. 8. I also have a fox sparrow coming to the feeder area at my house [in St. Charles] as of Dec. 9.
Jon Duerr on 12/10 reported via e-mail: Thursday 12/10 We drove along Silver Glen Rd. northwest of Wasco and found a number of small flocks of Lapland Longspurs/Horned Larks. No Snow Buntings seen.
Christopher Cudworth on 12/10 reported via IBET: During a run through Fabyan this evening I accidentally flushed 3 adult bald eagles that had been perched on the far northwestern end of the Island. All three birds launched out over the water in succession, flushing a flock of 45 Canada Geese on a patch of open water at that bend in the river.

I'm accustomed to finding this many eagles further south on the river between Aurora and Oswego. This is the first time I've seen three, particularly adults, in the Tri-Cities.

A nice reward for an otherwise stiff and cold run.
Karen Land on 12/9 reported via IBET: Even with the winds blowing the feeders around a lot, I'm getting a lot of activity right now [in Batavia] from cardinals, chickadees, finches with juncos and squirrels hanging around underneath.
John Heneghan on 12/8 reported via IBET: 2 flocks of sandhills flew over [my house in Big Rock] this AM, the first flock I heard but could not see in the snow. The next flock of about 40 just flew over heading Southwest. The feeders are being enjoyed by junco's!!!
Mark Bowman on 12/7 reported via e-mail: THis evening at 9 PM myself and my family opened my sons upstairs bedroom window and watched a great horned owl in my oak tree [in St. Charles]. he was calling over and over when a second owl flies in and sits on a branch across from him and they both start hooting. I even hooted and they hooted back. Even the rest of my family whom are not birders thought it was really cool.