---
Mark Bowman on 12/30 reported via e-mail: Chris and I birded WEST AURORA PRESERVE and the BATAVIA QUARRY. 1 adult and 1 immature BALD EAGLE at the quarry. Missed the northern shrike at west aurora, there was a lot of ROBINS and CEDAR WAXWINGS there with one RED-BELLIED WOODPECKER and one RED-TAILED HAWK with a # of CHICKADEES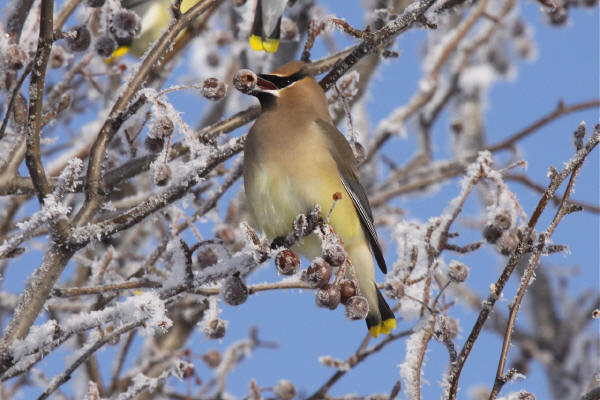 Cedar Waxwing photo courtesy Mark Bowman
---
Kurt Frieders on 12/30 reported via e-mail: This morning I spotted six birds in my field (in Aurora township) that I had not previously seen. It turns out that they were Ruby-crowned kinglets. They seemed fairly tame, and in no hurry to leave. Then again, they may not have spotted me. Their song was beautiful, and very similar to a chickadee. Hopefully I'll get to see them again soon.
---
Andrew on 12/30 reported via IBET: I decided to check out West Aurora County Forest Preserve in Kane County thanks to the post from a couple days ago about the Northern Shrike. When I first spotted it, it was in the tree where Verona Ridge Dr ends and turns into a trail in the eastern part of the preserve. This was around 1:30pm.
---
Benny Waters on 12/28 reported via IBET: Quarry Park in Batavia, Il. Today, at 12:15 p.m. Bird count: Two Eagles perched in a tree (1 mature, 1 immature) Park in the Quarry Park parking lot, access the multi-purpose trail, walk 1/2 mile north or south for best viewing.
Gulls and duck too numerous to count.
---
Bob Andrini on 12/26 reported via e-mail: We had a visit from 6 Pine Siskins at our feeders today - the first time this year.
---
Dawn Bassett on 12/26 reported via IBET: At around 2 p.m. on Christmas day, we say a Northern Shrike perched at the top of a tree. He stayed put for several minute to allow us to watch. He was on the west side of the grass trail directly south of the gravel bike trail and north of the RC airplane field.
---
Rich Miller on 12/25 reported via e-mail: Marion & I received a gift of two great sightings Christmas morning. We were watching Mallards & Geese behind Millrace restaurant in St. Charles when a Mature Bald Eagle flew in and landed right above our head - probably less than 30 ft. away. Marion was able to get several wonderful photos. We then stopped by along the river in Batavia, just north of the old Challenger Windmill factory. I spotted a Peregrine Falcon in a tree. It stayed there long enough to get several photos and set up our scope. What a Christmas thrill for us.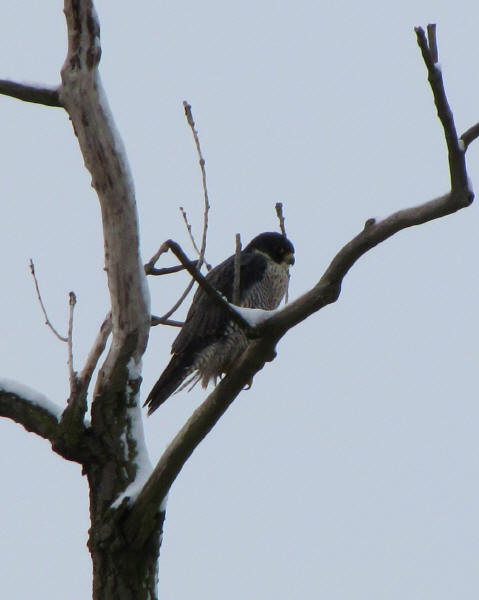 Peregrine Falcon photo courtesy Rich Miller
---
Jon Duerr on 12/24 reported via e-mail: Dec 24 Aurora West F P The Northern Shrike was patrolling the central shrub area at 8:30. Just a scattering of other species seen.
---
Karen Land on 12/24 reported via IBET: This morning the 2 adult Bald Eagles were sitting side by side in a tree at the bottom of the hill on Union Street east of Route 31. Later on we saw one of the immature eagles in a tree across from Batavia City Hall which is north of Wilson Street. From talking to various birders we have run into, the eagles are frequently seen between the location by City Hall and south towards Glenwood Forest Preserve on Route 25 which is mostly open water.
---
Ari Rice on 12/23 reported via IBET: After driving...out to Hampshire (Kane County), we turned onto Walker Road and encountered several mixed flocks of buntings and horned larks. One group south of Rt 72 had about 20 Snow Buntings and 40 Horned Larks. North of 72, we found a much larger group of horned larks (100 or so) and one big giant flock of 600 SNOW BUNTINGS! Most were feeding on an exposed section of a cornfield, but a number came closer to feed on cow manure, take snow-baths, and eat seeds from the roadside. I could have sworn I saw a few longspurs mixed in with one group, but the lighting was bad, and they took off rather quickly.

Somewhere in East Dundee, while filling on gas, I saw an enormous flock of birds wheeling in a field in front of the East Dundee water tower. They were very distant, but clearly not starlings or blackbirds, so my guess would be longspurs or snow buntings. There were about 500-600 of them, but I did not get good looks.
---
Ron Dickenson on 12/22 reported via e-mail: We saw seven Eagles along the Fox River by Montgomery today. There were four immatures and three adults. Two of the adults were on a nest that was built in 2009 and has not been used yet. Maybe this is the year that they will use it.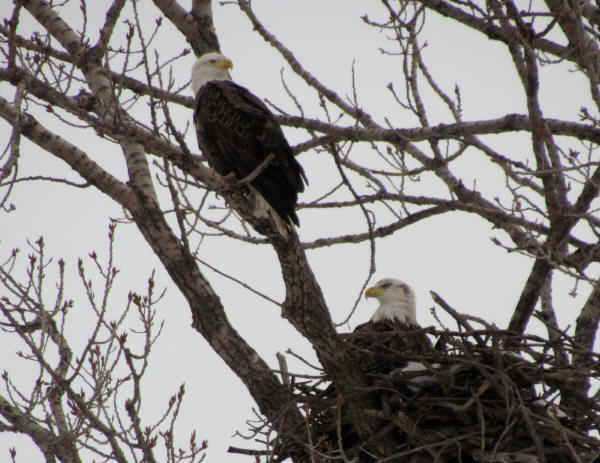 Bald Eagles photo courtesy Ron Dickenson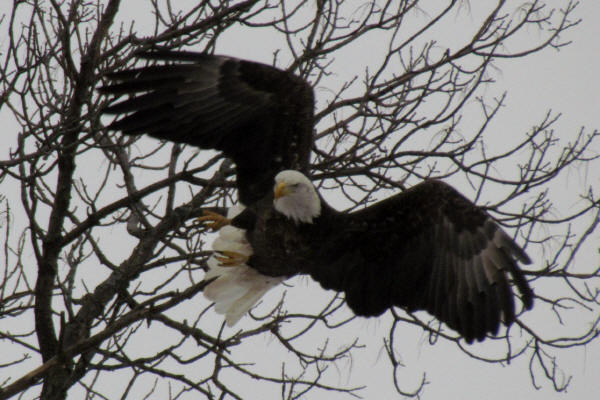 Bald Eagle photo courtesy Ron Dickenson
---
Kim Girard on 12/21 reported via e-mail: I've been seeing a Northern Short-Tailed Shrew under my feeders the last few days...and look who else has shown up! This Cooper's has been here daily! (At my home in Campton Township.)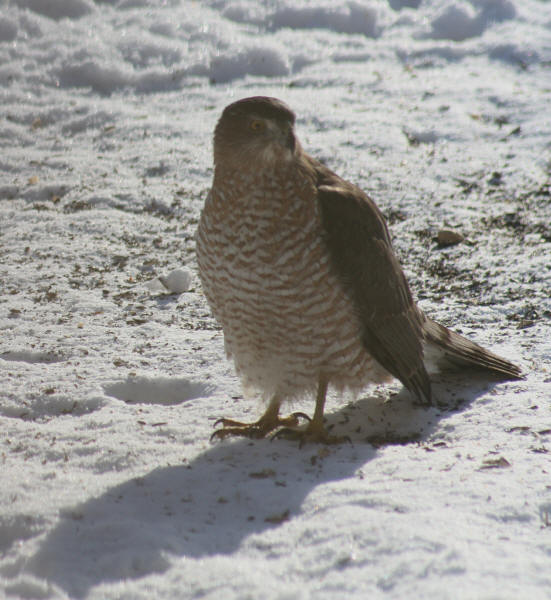 Cooper's Hawk photo courtesy Kim Girard
---
Paul Mayer on 12/20 reported via e-mail: A lone swan, appearing to be a Trumpeter, was seen today approximately !/4 mile west and north of Prairie Green. The bird was observed in flight from about 30 yards . Lores were black and the bill rather flat. There were no leg bands visible nor were there any neck bands. The bird flew east and north toward the Peck Road soccer fields. It was flying very low as if looking for a place to lite. If it finds open water it may still be in the vicinity.
---
Mark Bowman on 12/20 reported via e-mail: 12-20 Chris and I were at Campton by the school west of the dog park and the SPOTTED TOWHEE was around and very cooperative, not shy at all. Lots of AMERICAN TREE SPARROWS along with GOLDFINCHES and JUNCOS. There was some WHITE CROWNED SPARROWS, a few BLUE JAYS and one RED TAILED HAWK hanging around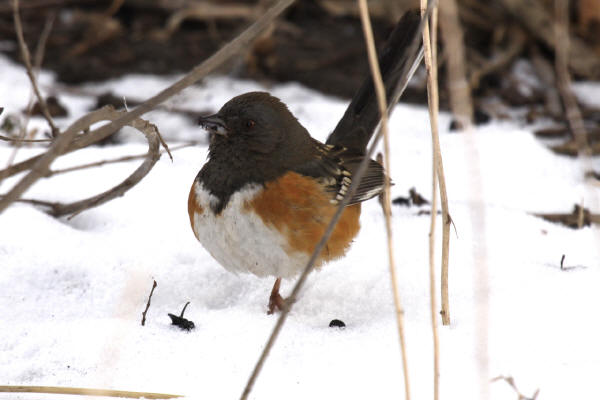 Spotted Towhee photo courtesy Mark Bowman
---
Ron Dickenson on 12/20 reported via e-mail: I saw six eagles down by the Batavia quarry this morning. Two Adults and four Immatures in the trees on the east side of the river.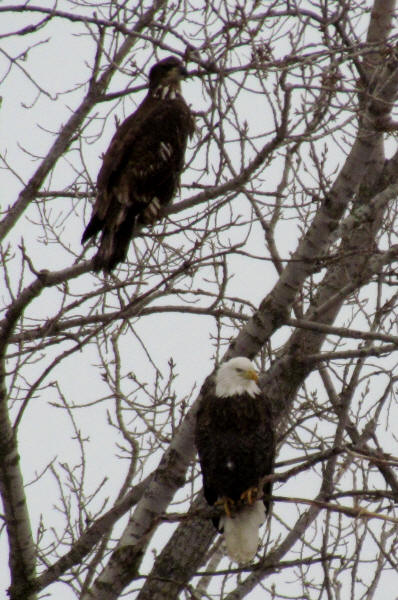 Immature and adult Bald Eagle photo courtesy Ron Dickenson
---
Benny Waters on 12/20 reported via IBET: Spotted 4 Eagles today. My location was Glen Wood Forest Preserve, route 25 south of Wilson st. Standing at the frozen river's edge, there were 3 Bald Eagles(2 mature, 1 immature) to the north perched in the trees on the island. Same viewing position, looking south was an immature Eagle on the small island, in the trees. Also, thanks to Eric Secker for the sighting at the Carpentersville damn. Went to the damn Saturday afternoon, only spotted one mature Bald Eagle, also viewed the muted Swans south of Huntley road.
---
Jon Duerr on 12/19 reported via e-mail: Joy and I found a flock of over 100 Pine Siskins at Binnie Woods F P Sunday morning. They are on the cones of the Alders west of the parking area. We hoped to find other winter species but no luck.
---
Bryan Hix on 12/19 reported via e-mail: I spent several hours driving around looking for as many species as I could find. West of Hampshire I found several flocks of mixed Snow Buntings, Lapland Longspurs, and Horned Larks. Most were located near spilled grain in farmers' driveway and a grain elevator. After heading out west of 47, I made my way back to the river where I stopped by Jon Duerr FP. I found several species there including: Eastern Bluebirds, Cardinals, Red-bellied Woodpeckers, Downy Woodpeckers, White-breasted Nuthatch, Brown Creeper, Pileated Woodpecker, 12+ Robins (I was a little surprised to see them still around), one Bald Eagle flying over pedestrian bridge, Bufflehead, Common Goldeneye, Mallards, and one dead Canada Goose laying by the shore that seemed to have died from natural causes. On my way home I stopped by Fitchie Creek FP and spotted a Red-Tailed Hawk hovering over the tall grass as well as small flocks of American Tree Sparrows.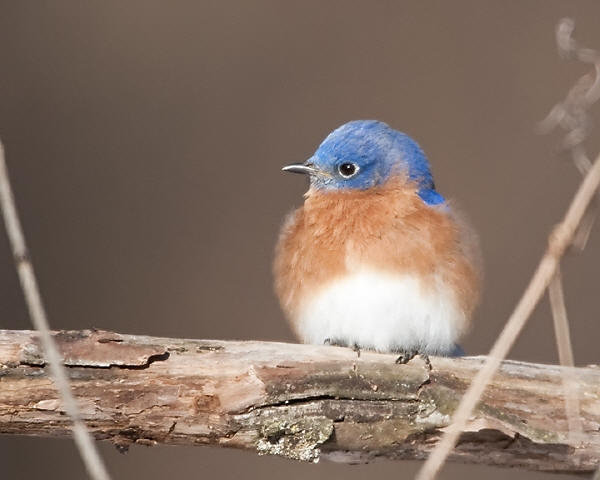 Eastern Bluebird photo courtesy Bryan Hix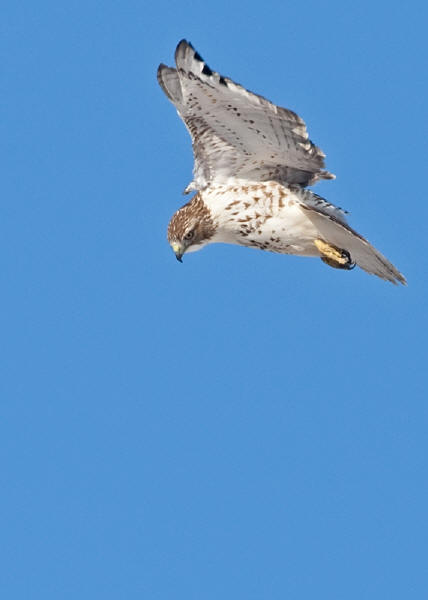 Red-tailed Hawk photo courtesy Bryan Hix
---
Bob Andrini on 12/19 reported via e-mail: Today (Sunday) I observed a Spotted Towhee on the road going into the old Boys School (IYC??) from Campton Hills Rd.. If you follow the road to the end (the fence) and then turn around (the sun should be at your back) - look for feeding birds along side the road. There will be many White-crowned Sparrows feeding. If you get lucky, the Towhee will make an appearance. Make sure you pull far to the side so the workers at the school can get by. If you happen to see birds smaller than the White-crowns (and not Am. Tree Sparrows) let me know - our group reported Chipping Sparrows at that location and I would love to get a picture of them.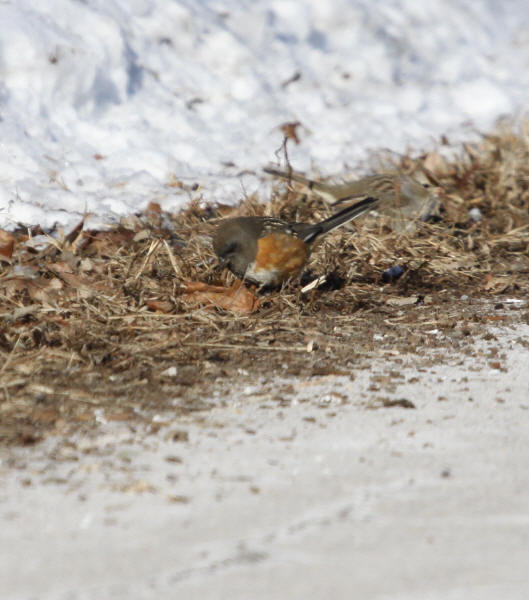 Spotted Towhee photo courtesy Bob Andrini
---
Julie Long on 12/18 reported via e-mail: There is a flock of horned larks hanging out around the plowed fields of Primrose Park, St Charles Park District park on Crane Rd, south of Red Gate. Also we had two carolina wrens today for the bird count, one at my feeder in Wild Rose, and one at a feeder in Wild Rose Springs areas of St Charles, both just west of rt 31 and north of rt 64 in St Charles.
---
"Bob" on 12/18 reported via IBET: There were 7 to 9 Eagles on the Fox river between Rt 72 and the dam North of Huntley Rd today (Dec 18). There were 2 between 72 and Huntley Rd. There were also 7 North of the dam that is North of Huntley Rd. When I was there about 10:30 they were sitting in a tree North of the dam on the West side of the river.

There were also 8 to 10 Mute Swans on the Fox between 72 and Huntley Rd.
---
Karen Land on 12/18 reported via IBET: We had a Eagletastic day today. First we were returning from grocery shopping at Woodman's in North Aurora and had an Adult Bald Eagle fly overhead about 9:15 this morning and heading west just over Mooseheart. Later today, about noon, we were driving south on Route 25 just past the Mill Race Inn when I saw an Adult Bald Eagle soaring just over Island park. Heading further south along Route 25 we saw 2 Red Tailed Hawks soaring just above the Fabyan Windmill. As we got in to Batavia we decided to drive to Quarry Pool which is on the west bank of the Fox River. As we proceeded down Union Street, we saw 2 Adult Bald Eagles soaring and diving and playing above the Fox River just opposite the Quarry Pool. We watched them for 10 minutes or so before they went out of out sight. There was a large number of geese and ducks in the open waters of the Fox. The Fox is open from Geneva south of State Street to just south of the Treatment Plant. There is a small open channel from Fabyan Forest Preserve to Batavia where it opens up again south of the dam just north of Wilson Street. A nice cold day!
---
Eric Secker on 12/16 reported via IBET: My fiance Sally and I did some warm car birding this afternoon...Along the Fox River in East / West Dundee, there was a lone MUTE SWAN between Carpentersville Rd. and the pedestrian bridge (to the south) along with some COMMON GOLDENEYE, and a KINGFISHER. South of the pedestrian bridge and north of Rt. 72 there were "seven swans a swimming" - more MUTE SWANS to be exact. You could see them from the parking area along the river by the Village Squire or from along the road on the west side of the river off of Second St. / Lincoln Ave.

North of Carpentersivlle Rd. along Lincoln Ave., we stopped at the Carpentersville dam. There were four BALD EAGLES in the area including two adult BALD EAGLES in the trees by the dam (visible from the parking lot). The other two birds (sub-adults) were flying down the river headed south.
---
Walter Lutz on 12/15 reported via e-mail: This morning south of the South Elgin Fox River dam; one adult bald eagle, small bunch of common goldeneyes, two buffleheads, couple kingfishers and a pair of winter wrens among the usual.
---
Ben Waters on 12/15 reported via IBET: Monday and Wednesday, flying over the Fox River, from 12:15 to 12:35 p.m. Batavia, IL south of Wilson st on Route 25, Glenwood Forest Preserve I have spotted an adult Bald Eagle. Both sightings birds flying in a southern direction. Today spoke with 2 employees of Kane County Forest Preserve, they reported spotting 2 adults flying together.
---
Bryan Hix on 12/15 reported via e-mail: I headed out west of 47 to see if I could find Snow Buntings and Horned Larks. Fortunately it didn't take long and I located a huge flock of buntings off Walker Rd north of 72 in Hampshire as well as a smaller flock of Horned Larks that were feeding on the side of the road. I saw another very large flock of Snow Buntings right by the Coon Creek Sod Farm as well. The Snow Bunting is a lifer for me, so that made it even better.
---
Ron Dickenson on 12/13 reported via e-mail: Along the fox river by the Batavia Quarry today. A variety of divers Golden eyes, Common Mergansers, and a Hooded Merganser. Plus one of the Eagles and a flyby by a Mute swan.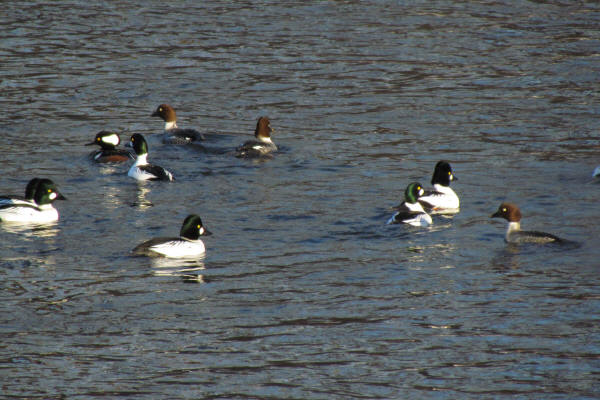 A solitary Hooded Merganser accompanied by a group of Common Goldeneye.
Photo courtesy Ron Dickenson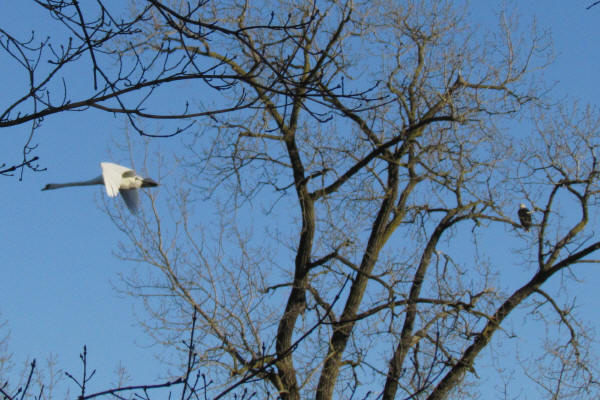 Mute Swan passes by Bald Eagle photo courtesy Ron Dickenson.
---
Bryan Hix on 12/12 reported via e-mail: One good thing about a strong winter storm with north winds is that it brings in new birds. This morning I looked out and mixed with the Juncos were small flocks of Common Redpolls and I noticed the Pine Siskins are also mixed with the Goldfinches. I have never seen either of these in my backyard since I moved to Gilberts in 2004. Can't wait to see what the wind might blow in next!
---
Rich Miller on 12/11 reported via e-mail: Marion & I got to squeeze a little birding this Saturday morning before the weather got nasty. We read Bob's report of his sighting on Meredith Rd in Maple Park (Elburn Co-op to be exact), and wanted to check it out. We were able to spot three birds that we did not have on our list for this year. A Horned Lark, Snow Bunting, and a Lapland Longspur. We wanted to get a photo of the other two, but a hungry Cooper's hawk scared them all away. There were also many of our commonly seen friends feeding at the nearby grain shoot.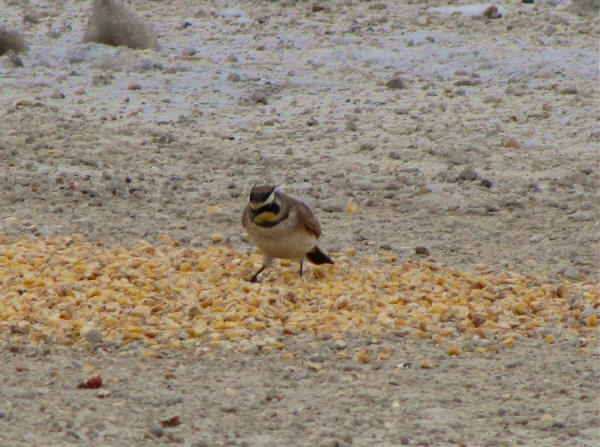 Horned Lark photo courtesy Rich Miller
---
Christopher Cudworth on 12/11 reported via IBET: Drove country roads (Seavey) west of Batavia and made a circle back from Sugar Grove to Montgomery to check out the river. These are all the birds I could glean on a Saturday morning.

Horned Lark (25)
Lapland Longspur (50)
Red Tailed Hawk
Cooper's Hawk
Crow
Blue Jay
Tree Sparrow (30)
Mourning Dove
Herring Gull (45)
Ring Billed Gull (35)
Mallard (250 est)
Canada Geese (2000+ est)
Common Merganser (6) one male that was sulphur yellow on its white plumage
Starlling
Robin (5 in our neighborhood)
---
Walter Lutz on 12/10 reported via e-mail: The bald eagles are still there in Dundee/C-ville as Heidi reported. I saw 1 adult and 2 juveniles along the river. I talked to a local who told me the eagles are are there almost everyday; he has seen as many as 4 at a time.
---
Bob Andrini on 12/9 reported via e-mail: On the ramble Thursday, we saw flocks of the most Snow Buntings and Lapland Longspurs I have ever witnessed. They were out on Meredith Road, west of Rt. 47. For 2 members of the group the Buntings were lifers.
---
Heidi Hohman on 12/9 reported via e-mail: At 9:45am 2 eagles were perched in a tree on the west side of the Fox River between the Carpentersville bridge and the pedestrian bridge.
---
Walter Lutz on 12/9 reported via e-mail: Thursday 9:30 a.m. below the South Elgin dam. Literally thousands of Canadian Geese (from the dam to the islands), a handful of Common Goldeneyes, Belted Kingfisher & a very cold-looking Great Blue Heron.
---
Tom Mohr on 12/9 reported via IBET: I heard, then saw, a few dozen [Sandhill Cranes] yesterday. They were circling near Fabyan and 31 in Geneva.
---
Ron Dickenson on 12/8 reported via e-mail: The male pintail was just south of the [Batavia] Quarry south parking lot in about the same place I saw one last year.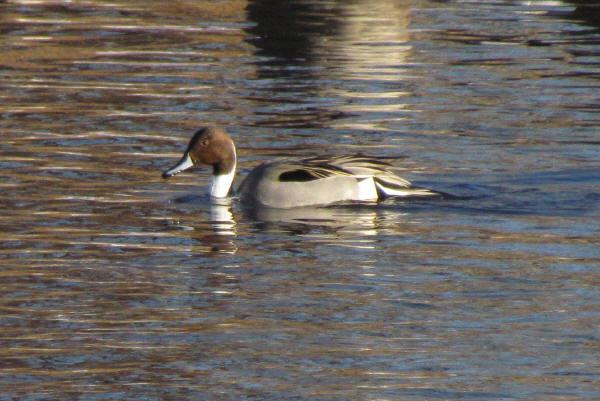 Northern Pintail photo courtesy Ron Dickenson
---
Ron Dickenson on 12/7 reported via e-mail: Eagles Along the Fox River today south of Batavia by the Quarry

Adult (top) and juvenile (lower) Bald Eagle photos courtesy Ron Dickenson
---
Karen Land on 12/7 reported via IBET: At 12:20 about 100+ Sandhill Cranes passed over my house [in Batavia] in a loose kettle and drifting eastward. There may have been more but my backyard trees prevented me from seeing the full group.
---
Julie Long on 12/6 reported via e-mail: There were 6 chilly looking sandhill cranes late this afternoon, Dec. 6, standing in the cornfield just east of the Garfield cemetery, along with thousands of geese.
---
Eric Secker on 12/5 reported via IBET: Today at the west unit of Fox River Shores F.P. (the parking area by the Dam on Lincoln Ave. east of Rt. 31), there was a distant BALD EAGLE out on the ice to the north that was picking apart a fish it had caught. South of the damn there were a few BLACK DUCKS among the MALLARDS and geese. Last Sunday, we also had great looks at a GREATER SCAUP that was sieving food out of the fast moving water below the dam. Probably the closest I've been to a GREATER SCAUP. I rarely see them away from deeper water and I believe this is only the second one I have ever had on the Fox River in Kane Co.
---
Angela A on 12/5 reported via e-mail: Today, Dec. 5, I spotted two male hooded mergansers on the Fox River Trail, west of the river and about a quarter mile south of Mooseheart.
---
Bryan Hix on 12/5 reported via e-mail: Saw two mature Bald Eagles on the Fox River just north of the 90 bridge in Elgin. Also there is a mass migration of Sandhill Cranes this afternoon. I started counting from my patio in Gilberts after the first few groups flew by and in one hour my count was at 1600+ birds (11am-noon). This was the biggest movement I have ever seen in that short period of time. It looks like they are taking advantage of the strong North winds today.
---
Karen Land on 12/5 reported via IBET: We just crossed the Fox River on the Fabyan Parkway bridge north of downtown Batavia at 11:30 when we spotted 2 small kettles of Sandhills flying just east of the River. At the same time just off the south side of the bridge we saw a bald eagle soaring fairly low. Lots of geese in the air everywhere we could see. The River is all open water but all of the ponds are frozen over now.
---
Walter Lutz on 12/5 reported via e-mail: Sunday @ 10:30 a.m. about 35 Sandhill Cranes flying south, low and fast, over west Elgin.
---
Kurt Frieders on 12/2 reported via e-mail: I recently spotted a Belted Kingfisher cruising my creek, in Aurora Township, looking for a meal. Lately there have been a lot of Pine Siskins at my finch feeder. Yesterday I spotted some ducks on a pond in Oakhurst subdivision that had too much white on them to be mallards. After pulling over and investigating it was plain to see that there were twelve Northern Shovelers mixed in with the mallards. Shoveler drakes usually do not get their mating colors until much later than this. However, these six drakes were all plumed out and stunning.
---