Christopher Cudworth on 12/30 reported via IBET: There was a very active Northern Shrike working the northern open field segment of Johnson's Mound forest preserve in central Kane County.

To find the bird, follow the main road to the woods entrance, veer right on the two-track and follow it back to the radio relay tower at the end of the trail.

The shrike was hunting from mid-sized shrubs at 9 a.m.

The bird is in adult plumage. I fumbled too long with my digiscope setup for the one opportunity for a pic.

No hint of the barred owls this morning. One large raptor, likely one of the resident red-tailed hawks was seen flying north from the woods. It was too foggy to nail that ID, but the wing-length and shape said red-tail.
---
Kim Girard on 12/29 reported via e-mail: At Les Arends on 12/28: about a dozen male/female Common Mergansers on the water; several Great Blue Herons near the shore and fly-bys.

Great Western Trail (near the Windings) on 12/29 - several white-throated sparrows scratching in the brush.
---
Ron Dickenson on 12/26 reported via e-mail: Mooseheart Eagles on a tree on the Island down below the old dam [in Batavia] this morning!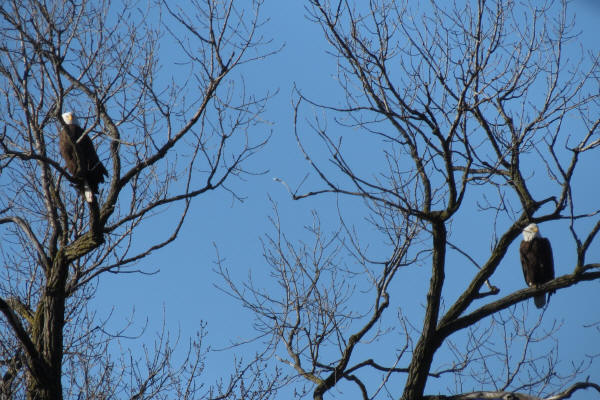 Bald Eagles photo courtesy Ron Dickenson
---
Sue Wagoner on 12/26 reported via e-mail: A stroll along the Fox River from the Batavia Quarry on Christmas was pleasant but pretty much birdless in the early afternoon except for this hungry Cedar Waxwing and the few (usual) "ducks on the pond."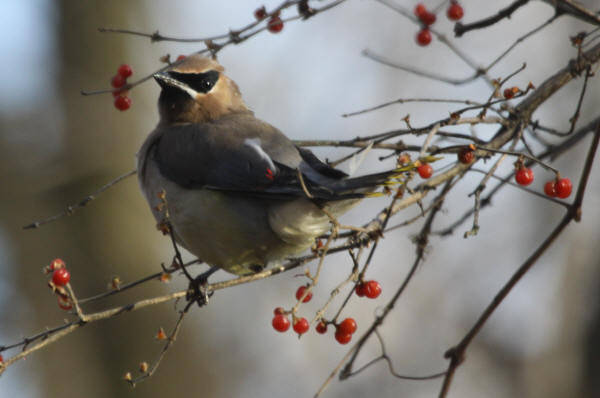 Cedar Waxwing photo courtesy Sue Wagoner
---
Don Lowe on 12/26 reported via IBET: There was a Lesser Black-backed Gull in the Fox River near the Batavia quarry (Kane County) today (Dec. 26). It was still there when I left at 11:30.

As you would expect it was mixed in with the Ring-billeds and Herrings.
---
Ron Dickenson on 12/24 reported via e-mail: The first Eagle was in a tree across the river from the Quarry [in Batavia] and the second one was in a tree below the old south dam on the Island.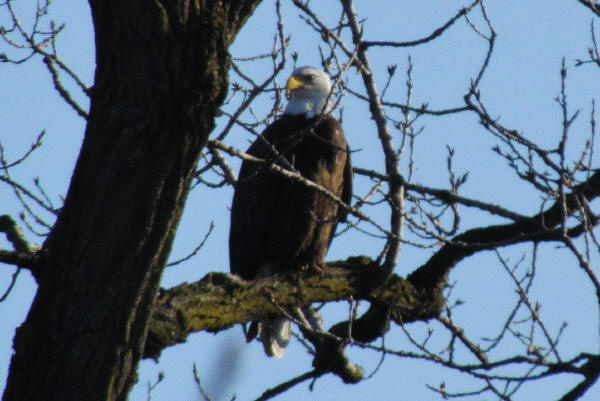 Bald Eagle photo courtesy Ron Dickenson
Bald Eagle photo courtesy Ron Dickenson
---
Jon Duerr on 12/23 reported via e-mail: Nelson Lake is 30% open today and with the 1000 Canada Geese and 400 Mallards there are 2 Pintail, 6 Ruddy Ducks, 2 Green-wing Teal, 8-10 Black Duck and 2 White-fronted Geese. 12/23 at 10:00
---
Eric Secker on 12/19 reported via IBET: On the FermiLab CBC Saturday, My mom and I birded a section of the Fox River from Wilson St. in Batavia north to Fabyan Rd. and also the eastern portion of Fabyan F.P. and surrounding areas near Settler's Hill. This marks my 11th? year doing the FermiLab CBC along the Fox River in Area 6. The Fermi Circle is divided into 8 sections and our area (Area 6) is further subdivided into three or four subsections covered by different groups.

Our highlight contribution for the count was a EURASIAN COLLARED-DOVE that flew over with two MOURNING DOVES in downtown Batavia. We were near the Fox's on the River Restaurant when they flew over. It is on the east side of the river just south of the Batavia Riverwalk where the pedestrian bridge crosses the river. The birds flew over headed east. Eurasian Collared-Doves have been seen further west in Kane Co. (near the grain silos and farm fields with food), but this was my first urban sighting.

One of my favorite birds of the day was a YELLOW-BELLIED SAPSUCKER that I heard while driving through a residential neighborhood. I quickly found him working on a tree right by the road (it was covered in sap holes). A great car bird! Another nice bird was a SHARP-SHINNED HAWK that was perched in a tree by the dam at the Batavia Riverwalk. It was calling constantly and easily heard from anywhere on the island. Another good bird was a WHITE-CROWNED SPARROW that was coming to some feeders in a small park north of Settler's Hill and the Kane Co. Cougars Stadium.

We ended the day with 32 species for our sub-section within Area 6 of the FermiLab CBC (about 2300 acres). This is about average for our area (our yearly counts range from 24 to 37). In total we've seen about 65 species in this area on the CBC.

Our complete list is below.

Canada Goose - 77
Mallard - 10
Great Blue Heron - 1
Sharp-shinned Hawk - 1
Cooper's Hawk - 3
Ring-billed Gull - 2
Herring Gull - 6
Rock Pigeon - 1
Eurasian Collared-Dove - 1
Mourning Dove - 3
Red-bellied Woodpecker - 8
Yellow-bellied Sapsucker - 1
Downy Woodpecker - 15
Hairy Woodpecker - 8
American Crow - 5
Black-capped Chickadee - 47
White-breasted Nuthatch - 3
Brown Creeper - 10
Winter Wren - 1 (Fabyan)
Hermit Thrush - 1 (Fabyan)
European Starling - 5
Cedar Waxwing - 17
American Tree Sparrow - 5
Song Sparrow - 5
Swamp Sparrow - 1
White-throated Sparrow - 6
White-crowned Sparrow - 1
Dark-eyed Junco - 52
Northern Cardinal - 40
House Finch - 21
American Goldfinch - 17
House Sparrow - 45
---
Margaret Myers on 12/18 reported via e-mail: The eagles were busy today working on the nest. Let's hope the Winter is kind to them.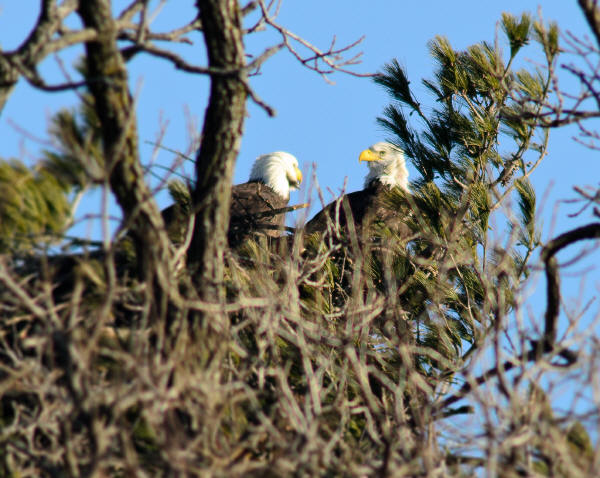 Mooseheart Bald Eagles photo courtesy Steve Myers
---
Andrew Aldrich on 12/17 reported via IBET: Hello! I participated in my first Christmas Bird Count today and had a blast. Started at 6am, just got home a couple hours ago. Territory was downtown Aurora area, west of the Fox River to the North Aurora Auto Mall. Our group had 5 people. We had 34 species, and 1200+ individual birds overall. Some of the highlights:

Hooded Merganser
Common Merganser
Sandhill Crane (4 in marsh near Orchard rd.)
Brown Creeper (at least 10)
Gray Catbird (bird of the day, near Indian Trail)
Swamp Sparrows

After we dropped off our CBC results, 2 of us continued on picking up a couple flocks of Horned Larks, Ring-necked Pheasant, a Short-eared Owl, and a Northern Shrike at Aurora West FP. One of the resident adult Bald Eagles was present at Mooseheart. Looking forward to seeing everyone else's results!

And because it's in Kane County, I also had the following at Oakhurst FP yesterday afternoon:

Gadwall (8)
Redhead
Greater Scaup
American Coot (36)
Sandhill Crane (45 +/- flyovers)
Hairy Woodpecker
---
Al Stokie on 12/17 reported via IBET: This adventure was a small part of the Fermi/Batavia X-mas count in Kane Co [from Fabyan Forest Preserve to Route 38]. I managed to avoid ending up in a ditch in spite of the bad road conditions on the way to the count & along with Andy Sigler managed to find a few fairly good count additions although nothing that others will want to rush out & see. Some of the highlights would be Great Blue Heron (2), Green Winged Teal (1-F), Kingfisher (1), Creeper (1), Winter Wren(1), White Throated Sparrow (1) & Siskins (4). Birds usually seen here but seen today in greater numbers were Goldeneye (77) & Cedar Waxwing (147).

Other more common species were Canada Geese (300 plus), Mallard (27), Common Mergs (10), Red Tailed Hawk (1-PR), Ring Billed (22) & Herring (13) Gulls, Red Bellied (5), Downy (9) & Hairy (8) Woodpeckers, Blue Jay (2 heard), Chickadee (29), W.B. Nuthatch (12), Robin (6), Starling (5), Tree Sparrow (6), Junco (1-heard), Cardinal (8), House Finch (16), Goldfinch (8) & House Sparrow (1 plus 2 heard).
We did not see one single Crow or Mourning Dove which is surprising for
this area...
---
Julie Long on 12/16 reported via IBET: There were about 150 cranes flying over my house in ST. Charles, just west of the Fox River, and north of downtown STC, at about 1:30 today...These seemed to be flying above the Fox River. Did not see any whooping cranes with them, as I had in late Nov. Let's hope they can get through Kentucky without harm, since their crane hunting season opens there today!!
---
Gloria Dimoplon on 12/16 reported via e-mail: A large group of Sandhills flew over my house in Elgin around 1:15 pm. They were headed southeast so I called Margaret Mechtenberg to alert her. She saw the birds in South Elgin a few minutes later.
---
Walter Lutz on 12/16 reported via e-mail: Roughly 300 Sandhill Cranes in 5 different groups over west Elgin at 2:30 pm.
---
Jack Pomatto on 12/16 reported via e-mail: Today 12/17/11 on the East side of St. Charles we still have Sandhill Cranes migrating in good numbers. At around 1:00 P.M. several waves of cranes passed overhead, numbering about 300 individuals.
---
Ron Dickenson on 12/16 reported via e-mail: SandHill Cranes on their way south today over Batavia around 130PM .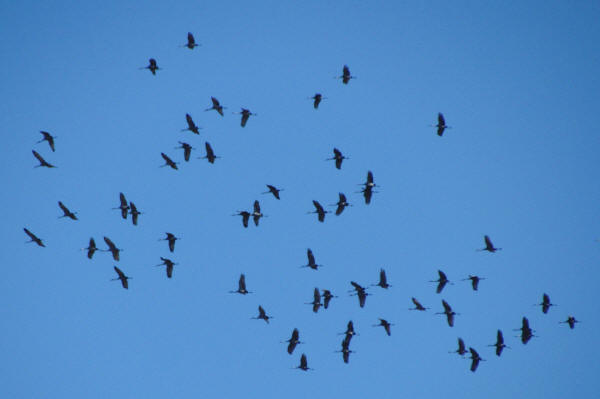 Sandhill Cranes in flight photo courtesy Ron Dickenson
---
Karen Land on 12/16 reported via IBET: I heard the first wave [of Sandhill Cranes] about 10:30 but didn't go outside to look. At 1:15 I heard more and stepped out on the porch. I could see about 200+ cranes in a loose circle and varying elevation approximately over the Fox River [in Batavia].
---
Mark Bowman on 12/14 reported via e-mail: 12-14: This AM had a PINE SISKIN on the thistle feeder with the goldfinches in my backyard in St Charles. Had 2 TURKEY'S cross RT 25 today going toward Norris Woods this afternoon
---
Kurt Frieders on 12/14 reported via e-mail: On Tuesday I saw the first Peregrine Falcon that I have ever seen on my property (in Aurora township). I saw him perched on a telephone pole right at dusk. My dad said he saw him fly by with some prey in his beak earlier in the day, but didn't know what kind of bird he was. The bird stayed long enough for me to show him to both my dad and my wife, then he gracefully took off after some more prey. On Sunday I saw the first Rough-legged Hawk that I have ever seen on our property. It was perched in a tree by the creek. There is also a Belted Kingfisher that I see daily.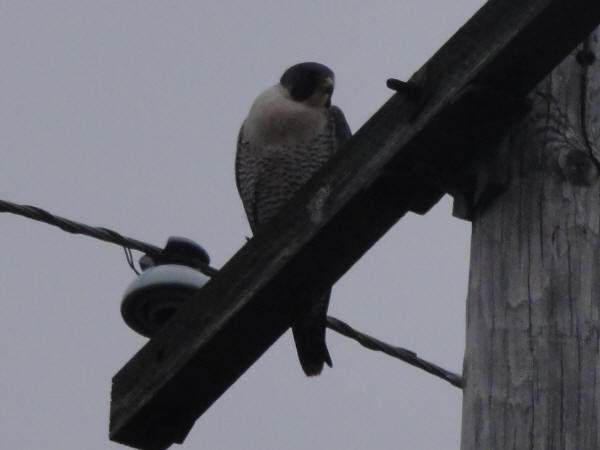 Peregrine Falcon photo courtesy Kurt Frieders
---
Diane Hansen on 12/13 reported via e-mail: 80 + cranes seen flying over Orchard Street in Elgin on December 6th.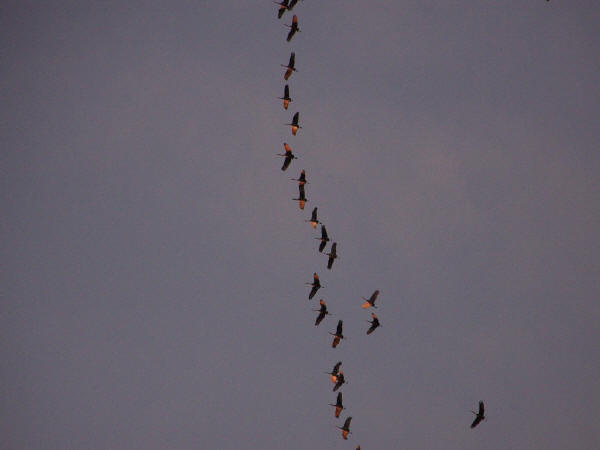 Sandhill Cranes photo courtesy Diane Hansen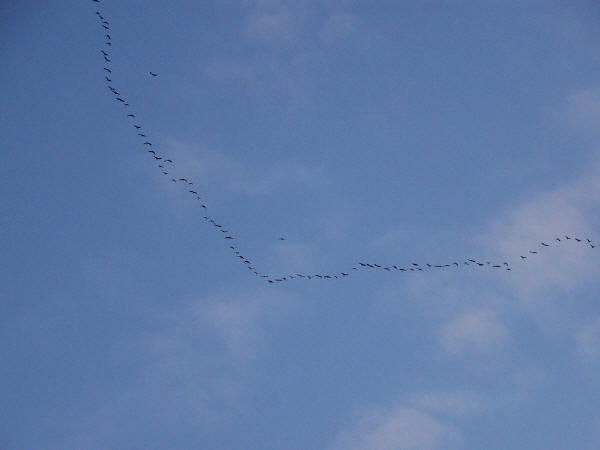 Sandhill Cranes photo courtesy Diane Hansen
---
Eric Secker on 12/12 reported via IBET: My wife Sally and I checked out a number of areas along the Fox River this afternoon. We checked most sections of the river other than the best spot north of Fabyan by the treatment plant.
Overall the Fox is unusually dead this winter. I have only seen one COMMON GOLDENEYE so far this fall.
The best stop for us was at the Gail Borden Library in Elgin. There was a group of 7-8 COMMON MERGANSERS north of the library. Also, an adult or near adult plumaged BALD EAGLE flew in and was sitting out on the ice.

On Saturday we did also have a HOODED MERGANSER between the Otto Facorty and downtown Dundee.
---
Al Stokie on 12/12 reported via IBET: Today Andy Sigler & I...saw 2 Collared Doves on a telephone wire in Kane Co off Plank Rd.
---
George Kruchten on 12/9 reported via e-mail: Saw immature Bald Eagle in tree in Elgin between Dam and water treatment plant on west side of River in Elgin. Saw the Eagle catch a fish and return to a tree closer to treatment plant. 8:45 am
---
Heidi Hohman on 12/7 reported via e-mail: Bald eagle perched high on large tree on the east side of the Fox River right at that business that sells cement parking lot dividers, near the old Quonset huts [in Carpentersville], 8:20am Wed.
---
Bob Andrini on 12/5 reported via e-mail: Keep watch on you feeders, you might be surprised - we were with the Pine Siskins first appearing today.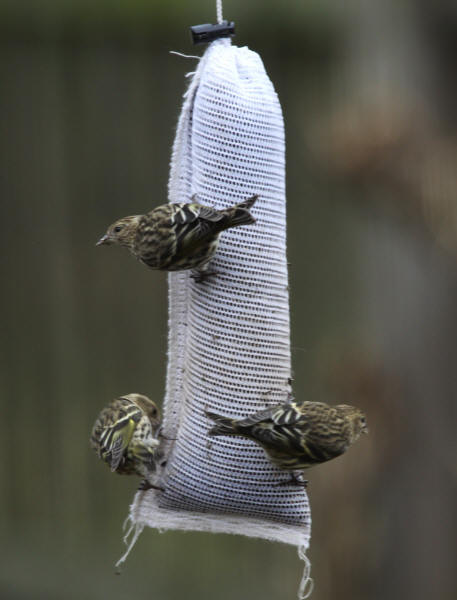 Pine Siskins photo courtesy Bob Andrini
---
Darrell Shambaugh on 12/3 reported via IBET: Friday afternoon there were 7 TUNDRA SWANS in the flooded field north of Route 38 at the Elburn Forest Preserve. Besides about 300 CANADA GEESE, other species included MALLARDS, NORTHERN SHOVELER, and CACKLING GEESE. Four KILLDEER and 6 AMERICAN COOTS were there too.
---
Gloria Dimoplon on 12/2 reported via e-mail: Friday December 2, 2011. Several of us birded Burnidge Forest Preserve this morning. Among the sightings: Northern Shrike and American Black Duck. Also present: Northern Shoveler, American Widgeon and Eastern Bluebird.
---
Kathleen O'Deen on 12/1 reported via e-mail: Dec 1st at about 4pm I spotted a coopers hawk swoop across larkin ave between Larkin HS and Jewel. This crazy bird came in so low he almost got hit by a van. He got into a tree with about a hundred birds and tried to pick several of them off. I was stopped so long watching this the person behind me was laying on his horn. As I turned the Coopers hawk flew away at street level and just guided himself over the cars in traffic. It was quite a sight! Too bad the nasty man behind me couldn't take a minute to enjoy the the beauty of this bird of prey! :)
---