---
Chris Madsen on 12/31 reported: Thanks to a tip from Tim Balassie, Carla and I were able to add these Mute Swans to our 2012 year list. They were swimming in the icy Fox, about one-quarter mile north of the dam in South Elgin.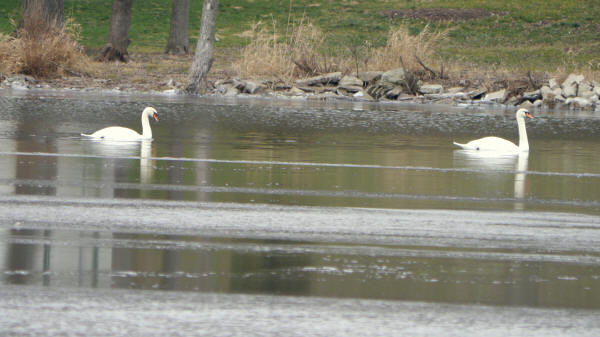 Mute Swans photo courtesy Chris Madsen
---
Jane Lawson on 12/31 reported via e-mail: At Burnidge Woods near Big Timber and Randall, I have tufted titmice and Carolina wrens visiting my bird feeders regularly (every few minutes) enjoying safflower seed. I heard great horned owls calling to each other in the woods. I haven't been able to identify the redpolls, but believe they are visiting too.
---
Brendon Lake on 12/31 reported via IBET: Hey all, yesterday I was all over the place and was able to cover some good ground. Notable sightings...are as follows.

Bald Eagle-3 Adults all at the Carpentersville Dam.
American Kestrels-4 all males sprinkled in many backroad locations including Peplow Road near Burlington.
Belted Kingfisher-4 all at the Carpentersville Dam actively chasing each other.
Red-Tailed Hawk-Estimated 6-10, including 1 at the Carpentersville Dam.
Red-Shouldered Hawk-1 immature LIFER!!!! #205 for me, actively hunting the wooded path headed south at the Carpentersville Dam.
Common Goldeneye-13 at the Carpentersville Dam
Snow Bunting-Estimated 15-25 on Romke Road headed towards Burner Road.
American Black Duck-3 at the Carpentersville Dam
Northern Harrier-1 male near Kaneland High School on Keslinger Road.
---
Chris Mussachio reported on 12/30 via e-mail: Captured a shot of this Common Goldeneye as he zipped by today at Buffalo Park in Algonquin.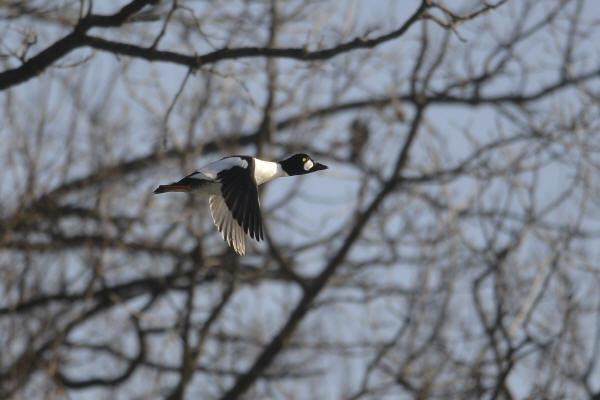 Common Goldeneye photo courtesy Chris Mussachio
---
Jim Narovec on 12/29 reported via e-mail: Pair of Bald Eagles on the west bank of Fox River in Carpentersville around 1pm on 12/28. Perched in the same tree for quite awhile.
---
Eric Secker on 12/26 reported via IBET: Our best spot this morning was near the water treatment plant off of River Bluff Rd. Head south on RT. 25 from I-90 and turn right on River Bluff Rd. Follow it around the many bends to the road that goes down to the river just before David C. Cook publishers. There is a parking lot here for the bike path where you can view the river well.

There we had a small group of COMMON GOLDENEYE and a MERLIN that Sally spotted perched in one of the largest dead trees on west side of the river. The MERLIN was still there a couple hours later at 2pm when we stopped back by.

This morning at our home at Judson University we had a COMMON REDPOLL come to our feeder and three EASTERN BLUEBIRDS bathing in Tyler Creek. Also a RED-BREASTED NUTHATCH, 10 goldfinches, 6 HOUSE FINCHES, 16 DARK-EYED JUNCOS, NORTHERN CARDINALS, 2 RED-BELLIED WOODPECKERS, 2 DOWNY WOODPECKERS, 1 HAIRY WOODPECKER, 2 WHITE-BREASTED NUTHATCHES, and a BROWN CREEPER.
---
Theresa LeCompte on 12/25 reported via e-mail: About 80 sandhill cranes were seen flying over the intersection of Orchard & Prairie (in Aurora) at 1:39 pm this Christmas afternoon.
---
Brendon Lake on 12/25 reported via IBET: ...I got out of the house for a little while and went to a few places along the Fox River. First thing to report was an adult Bald Eagle sitting and preening in a tree behind an apartment complex in West Dundee. Second, was a flyover immature Bald Eagle and two feeding American Black Ducks at the Carpentersville Dam. A stopover at the South Elgin Dam provided distant looks at a group of Common Goldeneyes and a pair of Mute Swans! Lastly on the way home, a male Northern Harrier was hunting the marshy area near Kaneland High School on Keslinger Road.
---
Walter Lutz on 12/24 reported via e-mail: Spotting a Northern Harrier this morning at Jelke Bird Sanctuary.
---
Marion Miller on 12/22 reported via e-mail: Common Redpolls returned to our yard again today. Six were at our thistle feeder in the front yard this afternoon. Also perched on the Birch and Plum tree. If anyone wants to see them we live at the corner of Saratoga and Charleston St, in Batavia. Call ahead if you want to check if they're here 630-291-2690.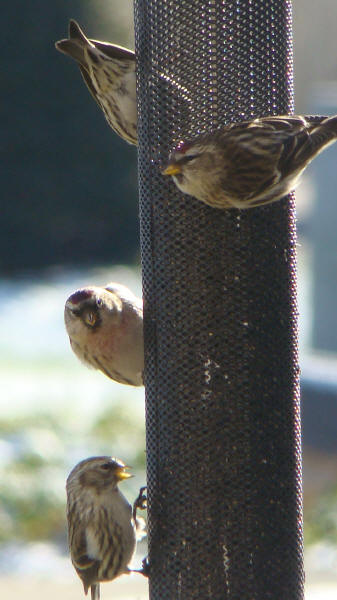 Common Redpolls photo courtesy Marion Miller
---
Tim Balassie on 12/22 reported via e-mail: FYI the Common Loon is still at the impoundment area north of the South Elgin Dam as of 8:30am today (22 Dec).
---
George Kruchten on 12/22 reported via e-mail: Spotted pair of Eagles in Dundee today.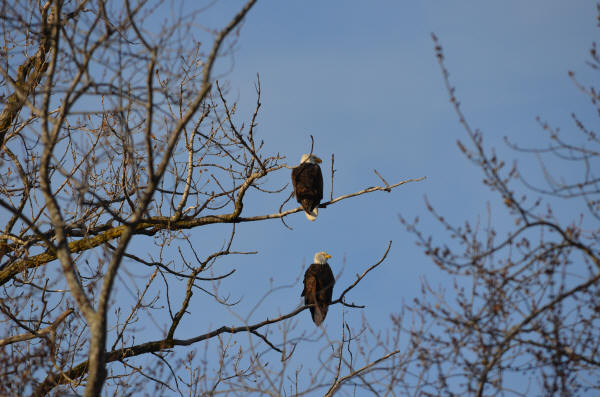 Bald Eagles photo courtesy George Kruchten
---
Andrew Aldrich on 12/22 reported via eBird: Having spotted a Vesper Sparrow this morning at Oakhurst Forest Preserve in Aurora. Other birds of interest on his checklist include Gadwall, Northern Shoveler, Green-winged Teal, and Redhead of the waterbirds. Land-based birds of note include Great Horned Owl, Red-breasted Nuthatch, Brown Creeper, Carolina Wren, Golden-crowned Kinglet, Fox Sparrow, and Pine Siskin.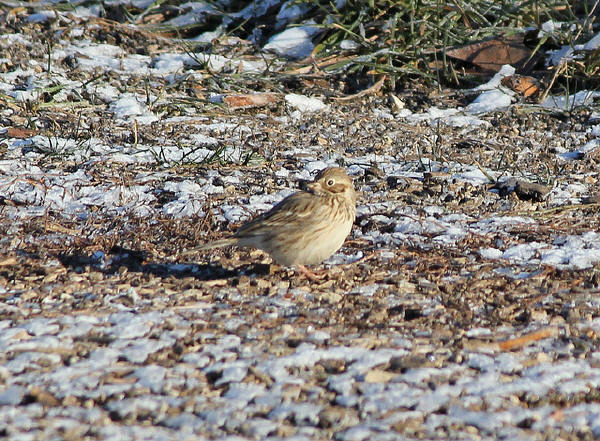 Vesper Sparrow photo courtesy Andrew Aldrich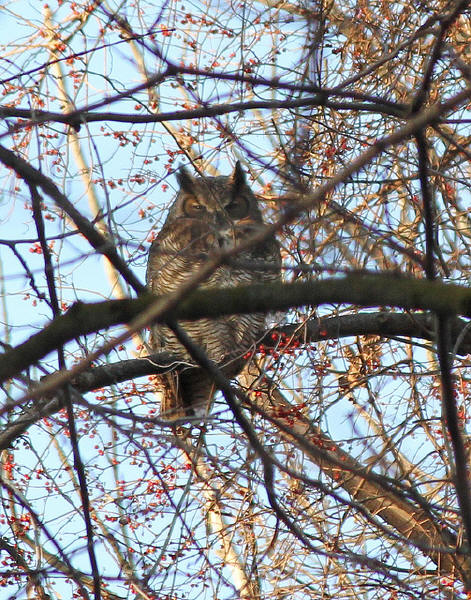 Great Horned Owl photo courtesy Andrew Aldrich
---
Marion Miller on 12/21 reported via e-mail: Single Common Redpoll visiting our Batavia backyard this morning. Flying back and forth from the thistle sock to the ground by the fence. Not sure if it is looking for protection from the 25mph winds or if it is sick. Eating and flying the short distance well. The only other Common Redpoll we had in our backyard was March 2012.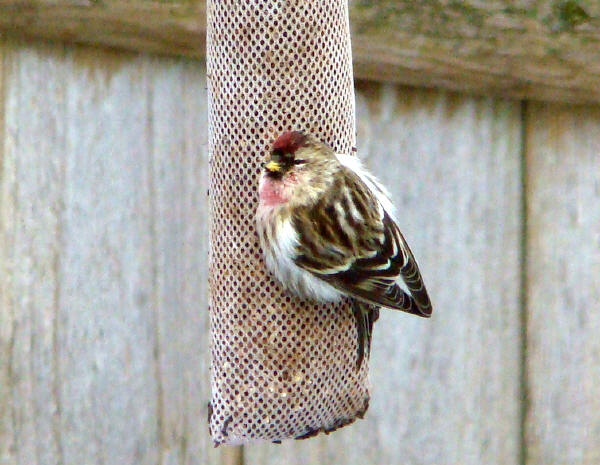 Common Redpoll pictures courtesy Marion Miller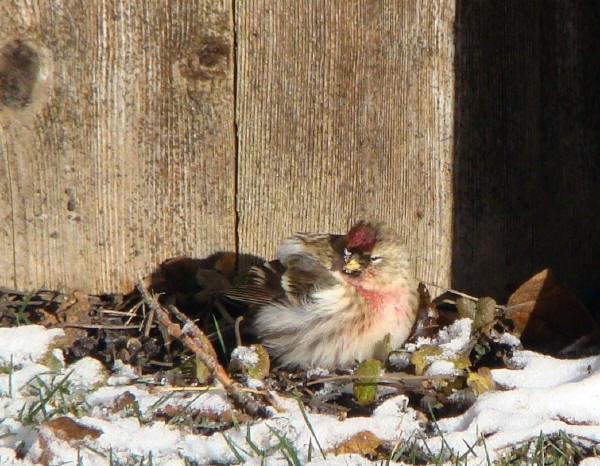 ---
Steve Smith on 12/20 reported via IBET: After an absence of 2 weeks a Northern Shrike made an appearance yesterday at Bowes Creek Woods preserve. Also, there were 3 Sandhill Cranes in corn field stubble off Bowes, west of Randall, near the entrance to Del Webb. An adult male Northern Harrier made a brief appearance at Bowes Creek Woods Tuesday morning.
---
Julie Long on 12/19 reported via e-mail: My friend, Liz Safanda reported to me that there was an adult bald eagle in a tree just on the south side of the rt 38 bridge in Geneva. It was there midday Tues, Dec. 18.
---
Jon Duerr on 12/19 reported via e-mail: 12/19 South Elgin; The Common Loon is still on the Fox River north of the S. Elgin Dam. It appears to be a juvenile 1st year bird. I watched it at 9:30 this AM.
---
Chris Mussachio on 12/18 reported via e-mail: Spotted the Bald Eagle today in Dundee. Haven't seen the pair together in over a week, so hopefully everything is ok.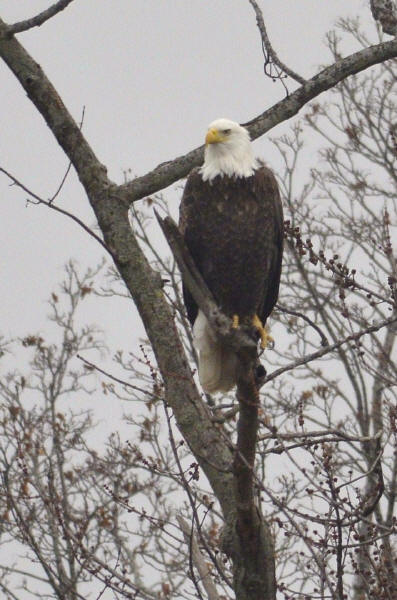 Bald Eagle photo courtesy Chris Mussachio
---
Brendon Lake on 12/18 reported via IBET: Early this morning, around 1 AM, I had to let my dog out and I decided to go out with him to see if I could hear our resident Great-Horned Owl pair. Almost immediately the female's call rang out through the night, and was quickly followed by the surprise of the week so far, an Eastern Screech Owl! This is the first time I have heard an Eastern Screech Owl vocalize in my neighborhood [in Burlington] and it was incredibly exciting!
---
Al Stokie on 12/16 reported via IBET: Yes once again it's X-mas count time in Northern Illinois. That's when we all get excited to see birds like Myrtle Warblers, Creepers, Kingfishers & the once in a while Hermit Thrush, all birds we pretty much ignore in migration but are such a treat in December. Yesterday Andy Sigler & I joined Mike Madsen's Area 6 crew on the Fermi/Batavia count. We covered the Fox River from Rt38 in Geneva to Fabyan Woods F.P. This includes Geneva's Island Park & the ravine by the Kane Co government buildings. We walked this area for 4 1/2 hours & it rained for the entire time we were out. Sometimes it rained lightly & sometimes it rained much harder but it rained the whole time. And then there was the wind which got stronger as the day went on. It was no surprise that we had the lowest species total that I can remember.

Highlights in or near the Fox River:

Great Blue Heron (3)
GREEN WINGED TEAL (2-F) (Must be a good species as we had to document it!)
Black Duck (2)
Common Goldeneye (32)
Hooded Merganser (1-Pr)
KINGFISHER (2-3)

Landbird highlights were Brown Creeper (2), Golden Crowned Kinglet (3), Song Sparrow (8) & later Andy found 2 Eastern Bluebirds that I did not see. Our species total was only 24.
---
David Phillips on 12/16 reported via IBET: This afternoon, I found a flock of 70+ COMMON REDPOLLS in and around the Harvell Farms subdivision in Batavia. Basically, it is west of Millview Dr and south of Danforth Dr if you are coming from Main St.

Although some birds had very white undertail coverts, I didn't see any that obviously looked like a Hoary. However, there were a lot of birds to go through and it was hard to get a full view of all of them without disturbing the flock.

I saw the Redpolls on Lockwood Ln, and also Cannon Ct, but they have since moved and there are Birches along many houses in the subdivision. Because of this, it can be hard to tell where the flock is unless you look everywhere. Or you can try to follow the Redpolls when they are airborne (which is often) and then drive in their direction - I had luck with the latter.

There were also a few flocks of 60+ CEDAR WAXWINGS in various trees on Fagan and Halladay, but after a quick examination, none that stood out as Bohemian.

If you aren't familiar with the area, please note that some of the roads get a decent amount of local car and pedestrian traffic, and some are rather winding. Be care about parking on a blind curve.
---
Brendon Lake on 12/16 reported via IBET: Just had a male Oregon Dark-Eyed Junco at my bird feeders for a little over five minutes, then for more than 20 minutes it sat in the tallest maple tree in my yard [in Burlington].
---
John Heneghan on 12/16 reported via IBET: I was at [Big Rock Forest Preserve] at daybreak to do the CBC this AM. On the quarry pond was a barnacle goose among canadians and 1 snow goose and blue goose. They flew off after an hour or so. I will be there throughout the day and will post again if it returns.
---
Kurt Frieders on 12/12 reported via e-mail: On Tuesday afternoon we had our second ever visit by a Common Redpoll to our yard (in Aurora township). We also had one visit two years ago that we were unable to photograph. This bird showed up with one other Common Redpoll to visit our thistle feeder. By the time I grabbed the camera, they were perching in our birch tree. They stayed there for about ten minutes before flying off. We have not yet seen them today, but we did see our resident male Red-Bellied Woodpecker. Until recently we had never had one of these visit our yard, but this guy has been seen almost every day ever since the day he showed up. Hopefully he sticks around for good as he loves to put on a show.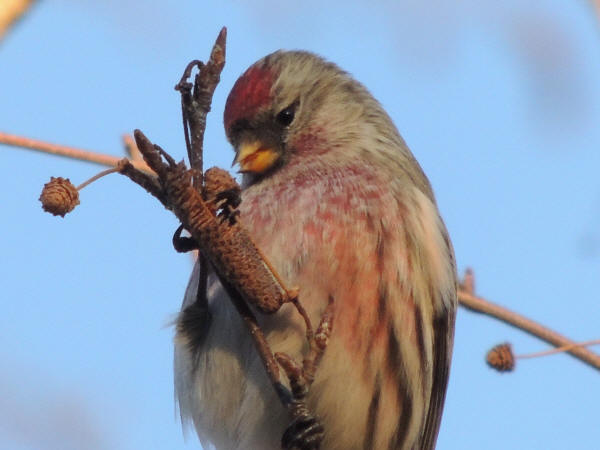 Common Redpoll photo courtesy Kurt Frieders
---
Aaron Gyllenhaal on 12/9 reported via IBET: Today, my brother, dad, and I decided to try for the Barnacle Goose that Andrew Aldrich refound yesterday. When we got to the spot [at the Kaneville quarries] at 8:30 this morning, it was quickly apparent that the goose was not in the pond it was in yesterday. Soon though, we saw a massive flock of geese take off from the west. After sorting through them carefully, we determined that there only was Cackling and Canada in it. About 10 minutes later, an even larger mass of geese flew up from the same area as before. Ethan quickly called out two Snow, but I never got on them. But I was able to get on a single Greater White-Fronted Goose in the mass of Canada and Cackling. Also, there was a Bald Eagle flying around the area where the geese flushed from. Right after the flock passed by us, Ethan heard a strange chirp overhead. He called it out and I started to hear it too. At first we thought it was a Starling, but then the chirp turned into chatter, I looked up and screamed, IT'S AN EVENING GROSBEAK!!!! Ethan also got on it and it disappeared into the distance. I'll take a flyover Evening Grosbeak as a consolation prize any day. Soon, everything was back to normal and we decided to check where the geese seemed to be flying from. We found the quarry pond and met a very nice couple scanning it who said that they hadn't seen the Barnacle Goose yet. In the pond, there was waterfowl galore! Though most of the geese had left, 20 Tundra Swans still remained. Other waterfowl were 500 Mallards, 20 Black Ducks, 15 Pintail, 4 Gadwall, 2 Green-Winged Teal, 1 Canvasback, 3 Lesser Scaup, 1 Ring-Necked Duck, and 1 Ruddy Duck. After that, we went back to the first pond and found that everything had left there...JohnFor missing our target bird, today sure was successful.
---
Marion Miller on 12/9 reported via e-mail: Red Fox seen at Gunnar Anderson FP in Geneva.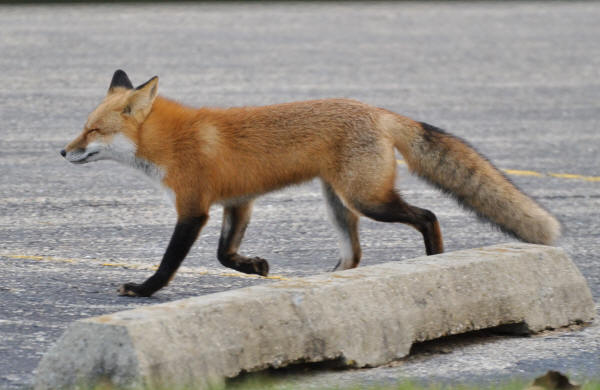 Red Fox photo courtesy Rich Miller
---
Andrew Aldrich on 12/8 reported via IBET: I have relocated the barnacle goose [that had been seen a couple of weeks ago in Will and Kendall counties] in a quarry pond on n lorang rd just north of main st in what I believe is elburn. There is an opening in the fence on the right. Go to the top of the berm. You will most likely need a scope. Ill try to keep an eye on it but can't stay long. Also please use caution as this is a private quarry. I don't believe they are operating today but if you see anyone be sure to ask permission before viewing and let them know why you're there.
---
Kathleen Wagner on 12/5 reported via e-mail: On December 2, I saw one mature bald eagle near the Village Squire in West Dundee, watched her (?) for about fifteen minutes, shared with a family passing by.
---
Chris Mussachio on 12/5 reported via e-mail: Saw this lone Sandhill Crane this morning in Carpentersville.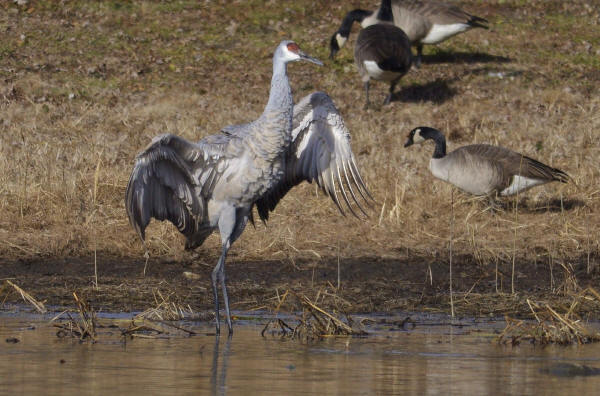 Sandhill Crane photo courtesy Chris Mussachio
---