---
Sue Wagoner on 12/31 reported via e-mail: This is the Short-Eared Owl at the Aurora airport, along Dugan Rd. between Wheeler and Scott (in Sugar Grove).

Short-eared Owl photo courtesy Sue Wagoner
---
Al Stokie on 12/30 reported via IBET: Hello Bird People,

Last time I tried for the Dauberman Rd. Snowy with Andy S we failed to find it but Andy had seen it since then & we now had better directions as well. And another Owl had just been seen by Brendon L so I figured our chances were better this time. 1st we looked for the Meredith Rd. Owl & although we didn't find it we ran into Scott C who showed us a Peregrine on a telephone pole as a consolation prize. Then we drove around & around on Dauberman, Scott, Wheeler & Dugan roads for almost 2 hours checking all the open fields & the airport. But again we found no Owl & had finally given up & decided to head back to the Fox River area. Left Wheeler Rd. & turned on to Dauberman & few minutes later Andy pulled over to the side of the road & there on a fence post was a fairly white SNOWY OWL looking over the field next to it.

The sighting was at 1:45 p.m. & it was along Dauberman between Lasher & Scott. It was on the west side of Dauberman on one of several fence posts about 75 yards from the road. We watched the Owl for only about 5-7 min (it was cold out there on the roadside using a scope) as traffic was more than I expected. The Owl was still on it's post when we left.

Other birds seen while driving the above mentioned roads included:

Canada Geese (100's)
Bald Eagle (1 seen by Andy only)
Northern Harrier (1)
ROUGH LEGGED HAWK (2)
PEREGRINE (1)
Kestrel (1)
Mourning Dove (~12)
Horned Lark (~40)
Starlings (few)
Tree Sparrow (few)
WHITE CROWNED SPARROW (3-4)
Junco (~50)
Lapland Longspur (~120)
SNOW BUNTING (3-5)
Meadowlark Sp? (3 which did not respond to either Eastern or Western calls)

Seen elsewhere were 2 Red Tailed Hawks & in Batavia another Bald Eagle as we drove by the river. The Snowy Owl was important to me as it was Kane County species #250 & I saw it before year's end. Thanks to Andy for picking it out after we had given up.

Bird-Of-The-Day to the Snowy Owl & Runner-Up to the 1 Rough Legged Hawk that I saw.
---
Bill Ahlgren on 12/29 reported via e-mail: I captured this Snowy this morning on Dauberman Rd. between Scott & Wheeler Rd. A distant, cropped shot, but a real treat for us. We were able to observe it for several minutes before flying further into the field.

Snowy Owl photo courtesy Bill Ahlgren
---
Ed Max on 12/28 reported via e-mail: We spotted one pair of eagles over the North Ave bridge in St Chas., on Sunday, another pair frollicking in the trees near the inn along the Fox in Geneva, then spotted a lone adult near the island at Fabyan Pk in Batavia. Ice covers more than 75% of the surface - except near dams on the Fox.
---
Ellen Hadzima on 12/28 reported via e-mail: On Dec. 28 my husband and I saw a Snowy Owl fly over our house around 3:00P.M. It was flying south west. We live in Elburn and back up to Hughes Creek Golf Course. It was a beautiful sight!
---
Brendon Lake on 12/28 reported via IBET: On my way home from finding the Aurora Snowy (150 yards south of Scott Rd. in a corn field on a fence post) I found another Snowy Owl! This one was a young bird, and had a smudgy appearance. I found this one on Meredith Road about 1 mile north of Route 38, sitting on a fence post at the back of what appears to be a hay field. The field is on the east side of the road.
---
Glenn Perricone on 12/28 reported via eBird: Seeing a Thayer's Gull at the South Elgin dam mid afternoon.
---
Andrew Aldrich and Scott Cohrs on 12/28 reported via eBird: Seeing the Townsend's Solitaire at Jon Duerr Forest Preserve at midday.
---
Marion Miller on 12/27 reported via e-mail: Spotted a juvenile Mute Swan on the Fox River in St. Charles between Prairie St bridge and the pedestrian/bike bridge. Also some Common Goldeneyes in the area.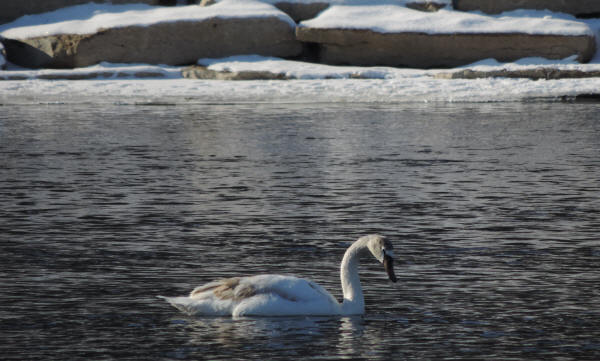 Mute Swan photo courtesy Marion Miller
---
Urs Geiser on 12/27 reported via IBET: Today I traveled along the Fox River (Kane Co.) from North Aurora to St. Charles and back. My main targets were the uncommon gulls reported recently from the Geneva dam, which unfortunately did not show today (nor at the North Aurora, Batavia, or St. Charles dams). However, the number of BALD EAGLES was the highest that I've ever encountered along that stretch of river, i.e. 1 in North Aurora, 15 at Glenwood Park F.P., 10 in Batavia, 18 in Geneva, and another 10 at Les Arends F.P., for a total of at least 54.

Note to photographers: most of the views were of distant and/or partially obstructed birds. You will probably get better photos at the dams on the Illinois or Mississippi Rivers.

Other interesting birds:
COMMON GOLDENEYE and COMMON MERGANSER at many locations.
1 GREAT BLUE HERON flyby at Glenwood Park, and tracks (photographed) in Batavia.
1 SHARP-SHINNED HAWK at Glenwood Park.
1 AMERICAN COOT on the river at the Geneva water treatment plant.
1 MUTE SWAN in St. Charles.
2 BELTED KINGFISHERS in Batavia.
1 WINTER WREN at Les Arends.
---
Marion Miller on 12/27 reported via IBET: [Today's Snowy Owl was] Relocated by Greg LeCompte off Dauberman about 200 yards east in the field. Sitting on the ground along what looks like a former fenceline. Still present at 2 PM.
---
Nathan Goldberg on 12/27 reported via IBET: I just relocated the snowy owl in Kane County. It is between Wheeler and Scott roads on Dauberman (on the east side of the road). It just took flight further to the east, but re-landed in the field. I got some distant photos.
---
Davida Kalina on 12/26 reported via IBET: ...my husband and I saw many Bald Eagles along the Fox River in Kane County today--at least 15 individuals near Quarry Park in Batavia, at least 4 individuals near Island Park in Geneva, and 3 at Jon J. Duerr FP in S. Elgin. I say "at least", because they were flying north and south, perching, taking off again, circling, etc.
---
Marion Miller on 12/26 reported via e-mail: In my continued search for the Kane County Snowy Owl, Theresa LeCompte and I traveled some roads near the Sugar Grove airport for a few hours Thursday morning. We had a great view of a Rough-legged Hawk hunting and kiting over a field near Dugan & Wheeler and a mixed flock of Horned Larks, Lapland Longspurs and Snow Buntings on Wheeler. Although we did not find the Snowy Owl we met a man that plows the runways at the airport. He told us he saw a Snowy Owl when he was plowing last week. He described it as an owl with a white face and white body with black specks. He said it was hanging around while he plowed because it had caught some prey. Sounds like this Snowy might be hanging around.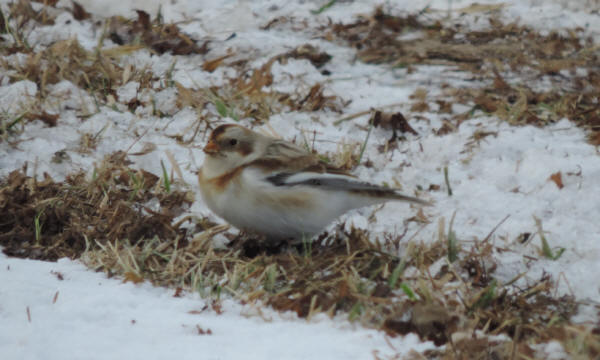 Snow Bunting photo courtesy Marion Miller
---
John Heneghan on 12/26 reported via IBET: Recently, the farmer down the street took in his corn. There were at least 2000 geese in the field today, including a snow goose and a blue goose. I looked for a while hoping to see a brant or barnacle goose, did not see any. One goose had an orange neck band. This was in the corn field on the Northwest corner of Dugan and Jericho near Sugar Grove in Kane Cty. I also checked on the reported Snowy Owl at the Aurora airport and did not see it.
---
Kurt Frieders on 12/26 reported via e-mail: The past two days have brought a lot of really good birds to our property (in Aurora township). This morning brought only the second Peregrine Falcon we have ever seen on our property. We watched it dive after prey for about five minutes. Then it perched a mere 20 yards away from me. It was a beautiful sight. This morning was also the first time that Common Mergansers have flown over our property. We also saw a single drake Common Goldeneye, which also graced our property for the first time. Our male Red-Bellied Woodpecker is back after not having been around for a month. We have seen a pair of Belted Kingfishers daily on our creek. We still have more Goldfinches than we have ever seen in our lives filling every spot on our three feeders, plus many waiting on the branches for a spot to eat. Each day (including today) we see both our resident Red-Tailed Hawk and our resident Cooper's Hawk. The rest of the usual suspects have also been in attendance.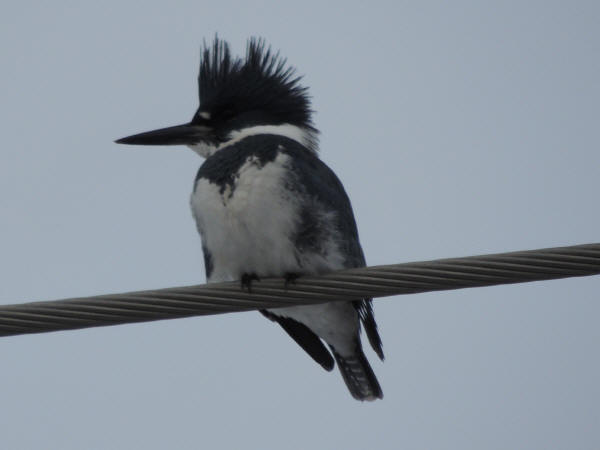 Belted Kingfisher photo courtesy Kurt Frieders
---
Jackie Bowman on 12/26 reported via e-mail: Thanks to Paul Mayer's report, Chris and I knew to keep an eye out for the Rough-Legged Hawk on our way home from grocery shopping today. We first observed the RLHA perched in a tree just west of Lowe's. We went home to pick up my camera and observed him in the same tree, he then flew off to the north. We drove through the Kane County Courthouse complex and then headed east on Rt. 64. We relocated the hawk in a tree just west of MBF and Meijer. What a treat despite the overcast skies!

Rough-legged Hawk photo courtesy Jackie Bowman
---
Bob Ludicky on 12/26 reported via e-mail: This morning (Decenber 26) I saw 6 -7 eagles roosting in the trees on the inland in the Fox River right in the middle of downtown Elgin. I also saw one soar past Kimball street and land in one of the trees. They were clearly visible from route 31 and I parked by the library and walked close enough to hear them. Its not the type of call you would forget and it sounds the same here as it does in Alaska or Canada.
---
Andrew Aldrich on 12/26 reported via e-mail: After looking unsuccessfully for the previously reported Snowy Owl & Short-eared Owls (but getting a flock of Snow Buntings, an adult male Northern Harrier and 2 Rough-legged Hawks), I headed to the river starting at the St. Charles dam and made several stops between there and North Aurora. The highlight was at Island Park in Geneva, where there was a first cycle Great Black-backed Gull and an adult Thayer's Gull. Waterfowl of note were a Bufflehead in St. Charles, a Red-breasted Merganser in Batavia, an American Coot and 5 American Black Ducks (with one hybrid Black Duck x Mallard) just north of Fabyan, and a female Hooded Merganser at North Aurora Dam. Good birding and Happy Holidays!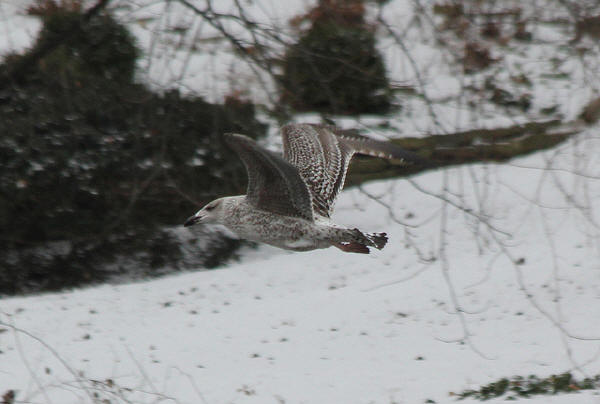 Great Black-backed Gull (1st cycle) photo courtesy Andrew Aldrich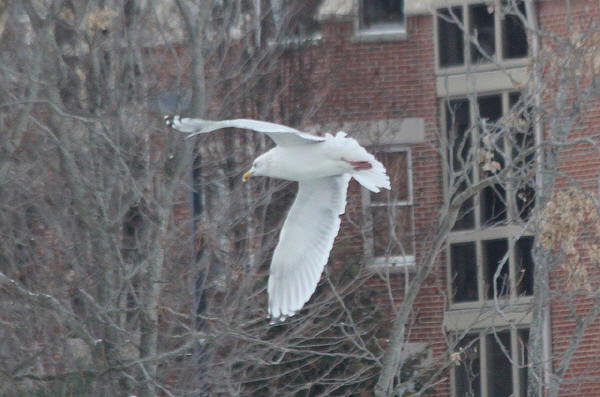 Thayer's Gull photo courtesy Andrew Aldrich
---
Roger Hotham on 12/25 reported via IBET: Margaret Mechtenberg saw the [Townsend's Solitaire] this AM in its traditional location at the Jon Duerr FP.
---
Alan Robertson on 12/25 reported via IBET: 30+ Bald Eagles on Fox River between Fabyan and Island Park...We were out this morning on the east side of the Fox River between the Geneva sewage plant and the Fabyan Forest preserve

Most of the birds were roosting in trees on both sides of the river.

At several points along the river we spotted as more than 15 eagles per tree.

At several spots there were recent partially eaten 6 to 8 inch fish left on the snow cover.

The river is largely open at the route 38 bridge but is greater than 90% ice covered just north of the foot bridge in Fabyan Park.

Approximately 30% of the eagles are mature adults.
---
Brendon Lake on 12/24 reported via IBET: I was out and about this morning looking for a Snowy of my own in northwestern Kane County. Unfortunately, I came up empty, but I still came away with a Rough-Legged Hawk south of Burlington on Peplow Road, near Route 64. I then heard about the Snowy at Aurora Airport, and headed down there and found it exactly where Eric previously described, this was from 11:50 am to 12:02...
---
Chris Madsen on 12/24 reported: Drove to Aurora airport following Pete Moxon's sighting of a Snowy Owl. Didn't see it. But did see 2 Short-eared Owls maneuvering just to the north of runway 9/27 in front of the tower.
---
Walter Lutz on 12/24 reported via e-mail: Christmas Eve midday hiked from South Elgin dam south to Jon Duerr F.P.

Among the usual:

Eastern Bluebird couple at the dam.

Then saw what appeared to be a large goose - larger than a Canadian. Mostly grey with a all white rump and a dull, orange beak. Thick, substantial neck with kind of a darker blackish band running from the top of its head down the back of its neck about 12". Had no idea what it was and still don't after reviewing my guide books. Do not think it was a Greater White-fronted Goose but I could be wrong. It was mingled in with the Canadians just below the South Elgin bridge. If anyone knows or has an idea I'd really like to hear - walterjlutz@wowway.com

Lots of Bald Eagle activity. No way to get a accurate count but I'd say at least 6 mature and at least 4 juvenile.

The Townsend's Solitaire was easy to find - right by the tracks eating berries.

also a Northern Flicker (which I've hardly seen at all this winter and past fall for some reason)
---
Eric Secker on 12/24 reported via IBET: Pete Moxon found a Snowy Owl yesterday along the S side of Scott rd & just E of Dauberman. He and Jude relocated it at 10 am this morning on the Aurora Airport property along Dugan road south of Wheeler approxmently a quarter mile. It's viewable from the fence by gate W 5. It's approximately 100-125m straight out from gate w 3 which is to the south of w 5. In between w 3 and w 5 is a little white shack with the blue roof near the fence.
---
Paul Mayer on 12/23 reported via phone: At 2:30 pm, a Rough-legged Hawk just west of Lowes in St. Charles on the north side of Bricher Road.
---
Chris Weishaar on 12/22 reported via IBET: There are currently four bald eagles hunting along the Fox River in downtown St . Charles between public works and Main Street bridge. They have been quite successful and giving great views, particularly from the Prairie Street bridge.
---
Mark Zelman on 12/20 reported via eBird: On the afternoon of Wednesday, December 18th, spotted a Snowy Owl near the intersection of Randall Road and Orchard Road in North Aurora.
---
Brendon Lake on 12/18 reported via IBET: Hey all, I first heard and then later saw the Townsend's Solitaire this afternoon at Jon Duerr Forest Preserve in South Elgin. To get to its location now, follow the tracks back until you get to a wooden crosswalk on the tracks. It vocalized in this area first and I later found it feeding in one of the short cedar trees near a utility pole here. When I left it was still hanging in the woods near this area. Also there were a Yellow-Rumped Warbler with a LOT of yellow on the flanks, and six flyover bald eagles with four of them flying together headed N. The South Elgin Dam earlier had a Belted Kingfisher, 8 Common Goldeneyes, and six Bald Eagles, one of which hunted below the dam.
---
Chris Mussachio on 12/17 reported via e-mail: A fellow photographer spotted this Red-Shouldered Hawk taking in all the river action along with us in Carpentersville.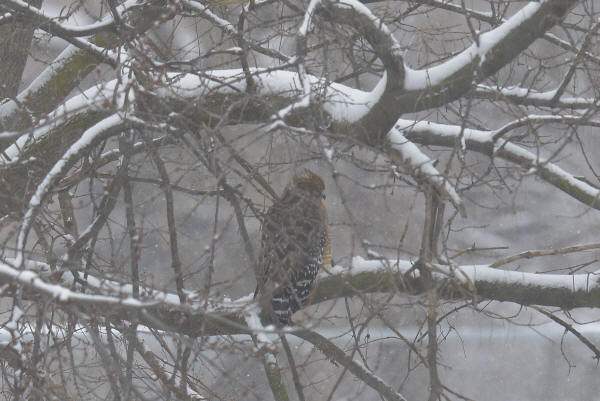 Red-shouldered Hawk photo courtesy Chris Mussachio
---
Chris Mussachio on 12/16 reported via e-mail: Very surprised to see this Great Blue Heron in Carpentersville, but not surprised to see this Common Merganser since it's time for its usual visit.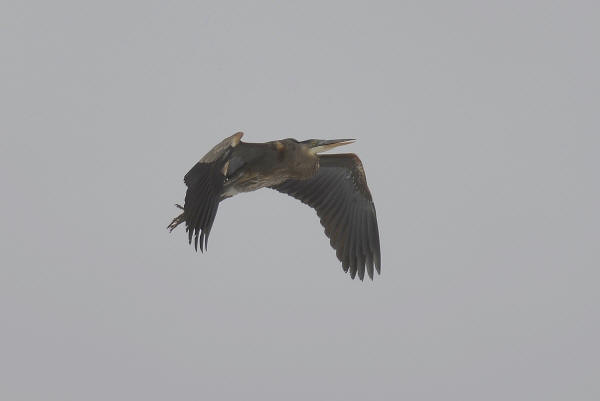 Great Blue Heron photo courtesy Chris Mussachio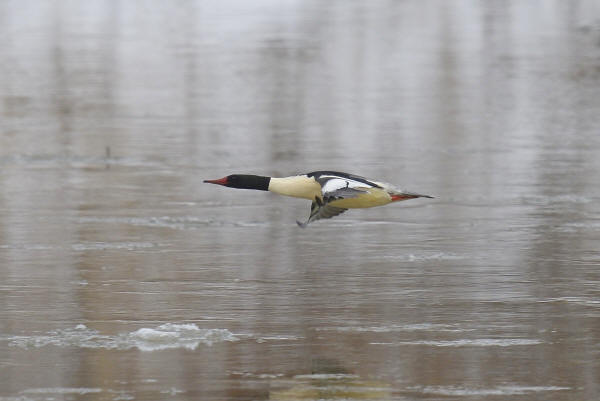 Common Merganser photo courtesy Chris Mussachio
---
Liz Safanda on 12/16 reported via e-mail: Dec 14 – 3 great horned owls spotted in cottonwood tree on 6th Street School property, Geneva, 10 PM. A 4th heard calling but not seen.

Dec 15 - 4 mature eagles spotted in trees and flying, over Fox River, Geneva, in Island Park area, south of dam

Dec 16 - 2 mute swans flying south over Fox River in St. Charles, just south of Illinois Street ( downtown area ). – at noon.
---
Scott Cohrs on 12/16 reported via eBird: A Lesser Black-backed Gull on the river in St. Charles south of the Illinois Street bridge.
---
Christopher Cudworth on 12/16 reported via IBET: Wanted to share a quick story about an event yesterday.

Was on my way home from church when a Cooper's hawk dove across Route 25 and glanced off a vehicle.

At first I thought it was a torn paper bag on the road because I didn't see it happen clearly. But I stopped and there in the middle of the lane was a healthy-looking sub-adult Cooper's hawk.

I know these birds well because they've bred in my backyard for years. This one was smallish and possibly a male, but it was stunned and lying flat on its back in the road with both wings extended and feet retracted.

Knowing that birds seem to recover a little better if you get them upright (in my experience anyway) I carefully stood him up on the road at first, waving at cars to go around. Had I not been the one to see this bird it sure would have been smangulated.

The bird showed alertness but was still a little dazed.

I went around behind and using gloves carefully closed his wings and lifted the bird off the road. Holding him for a few moments I could see he was getting his senses back. The fire in those pale green eyes! That gaping beak!

The bird twitched and I felt the strength had returned, so I loosened my hands and he took off immediately. Total time, probably 45 seconds. But what a gift to be that close to a bird like that and to release it healthy and all. It flew up over the trees.

Surely I hope no laws were broken in stopping to help the bird. Letting it lie there would have proved nothing but disaster.
---
Jim Narovec on 12/16 reported via e-mail: Spotted a Bald Eagle 12/14/2013 enjoying a meal in a tree in Carpentersville.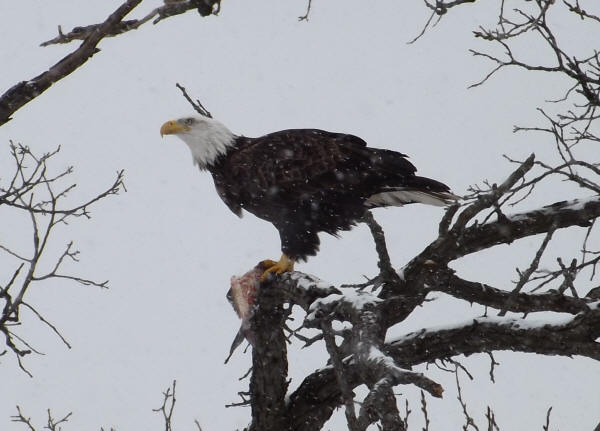 Bald Eagle photo courtesy Jim Narovec
---
Julie Long on 12/15 reported via eBird: A Christmas Bird Count Savannah Sparrow at Sauer Family Prairie Kame Forest Preserve.
---
Ann Haverstock on 12/15 via e-mail shared this photo: "Counting Tree Sparrows CBC"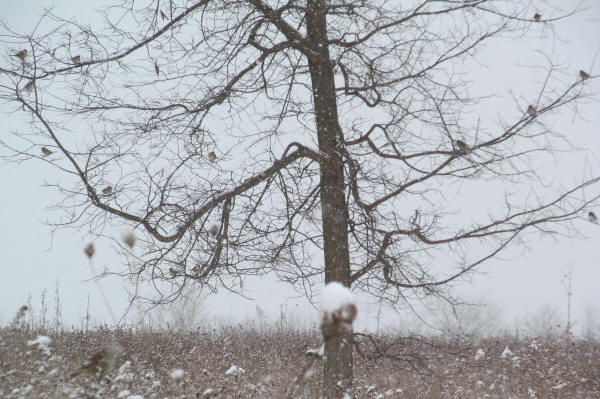 Tree Sparrows photo courtesy Ann Haverstock
---
Day Waterman on 12/14 reported via e-mail: The Ross' goose reappeared today about 4:30 pm, flying in with a flock of Canada Geese on the Fox River in South Elgin. It is mixed in with the CGs on the west side of the river south of the footbridge alongside the ball fields.
---
Diane Hansen on 12/14 reported via e-mail: I read the post about eagles in South Elgin and went to check it out this morning. I saw 2 or 3 of them including this one on the ice just above the dam. 2 of them put on quite a show flying over the water just below the dam.

Bald Eagle photo courtesy Diane Hansen
---
Chris Mussachio on 12/13 reported via e-mail: Starting to see some Goldeneye around Cville/Dundee again. And, I spotted 4 Mute Swans in Cville. First time I've ever seen them up close.

Common Goldeneye photo courtesy Chris Mussachio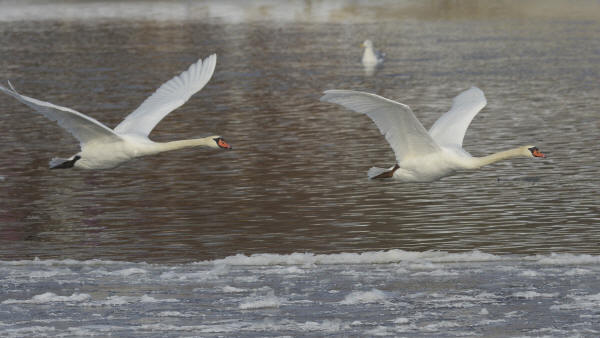 Mute Swans photo courtesy Chris Mussachio
---
Jeremy Berger on 12/13 reported via eBird: A Snowy Owl on a Utility pole on Dauberman Road between Keslinger Road and the tollway.
---
Benjamin Sebastian on 12/13 reported via eBird: Two Turkey Vultures along the Fox River in Batavia just south of the Wilson Street bridge.
---
Jon Duerr on 12/12 reported via IBET: So. Elgin. S.E.B.A. Park along Fox River. Margaret Mechtenberg found a white phase Ross' Goose among the 100s of Canada Geese day roosting. Also, present are 25 C. Goldeneye and 3 Bald Eagles in the Cottonwoods. These are present daily.
---
Marion Miller on 12/11 reported via IBET: Seen small mixed flock of approx 75 birds along Seavy Rd near Black Sheep Golf Club at 10:30. Only 2 SNOW BUNTINGS among the LAPLAND LONGSPURS and HORNED LARKS.
---
Heidi Hohman on 12/11 reported via e-mail: At 7:10am I saw five eagles on the Fox River between the Carpentersville bridge and West Dundee bridge. One was actually immature, but I still feel lucky and it was a great way to start the day.
---
Jon Duerr on 12/10 reported via e-mail: St. Charles riverfront between Main and Illinois St bridges approx. 1:45 Dec 10.. A Peregrine Falcon flew in from south and encountered a flock of Rock Pigeons above the river. The Hawk dove into the flock which scattered then reformed. This drama lasted about 3 minutes then the Peregrine gained altitude and flew to the northeast.
---
Al Stokie on 12/10 reported via IBET: I am in temporary hibernation right now but Andy Sigler told me that he made a stop at Jon Duerr F.P. yesterday (12-9) & the only bird he could find in the area where the T. Solitaire has been staying was one Northern Shrike. I hope this doesn't mean the Solitaire will be in big trouble if it stays nor that it will leave but it will be interesting to see if folks still find the Solitaire & if the Shrike stays. I should mention that the Solitaire that stayed all winter at Lyons Woods a few years ago also had a Shrike for a neighbor that stayed most of the winter as well so perhaps both can survive in the same area. So let's see what happens at Jon Duerr F.P. And for that matter the Shrike may be the one to leave.
---
Kathy Benedetto on 12/9 reported via e-mail: My daughter and I were on our way to school this morning [in East Dundee]. We spotted a juvenile eagle. He flew a bit for us over the top of the fox river then landed in a nearby tree. It was a great way to start a snowy day.
---
Steve Bailey on 12/8 reported via IBET: Sheryl and I visited Jon Duerr Forest Preserve this morning to add the TOWNSEND'S SOLITAIRE to our Buddy List (#328), and though it took a little while, it did not disappoint. We walked a short distance north of the rock cairn along the tracks, and the bird eventually flew in from the northwest, in the area just north of the trail leading west away from the tracks where Andrew A. had it yesterday. It then flew east over the tracks and landed a short distance away, giving us some nice looks while it fed on a few Oriental bittersweet berries growing up into the top of a small tree. It later disappeared farther east dropping down into the woods on the bluff there. While in the area, which included a short stop along the edge of the Fox River, other highlights included:

1 Barred Owl
2 Belted Kingfishers (a male & female)
2 Hairy Woodpeckers
2 Brown Creepers
1 Golden-crowned Kinglet
10 American Robin
6 Yellow-rumped Warbler
8 House Finches (also eating Oriental bittersweet berries)
---
Rich Miller on 12/8 reported via e-mail: Juvenile GLAUCOUS GULL above dam. First spotted by Tim Balassie. We went out mid-day to see this fellow. It was taken by at rivers edge, east side of river, by police station.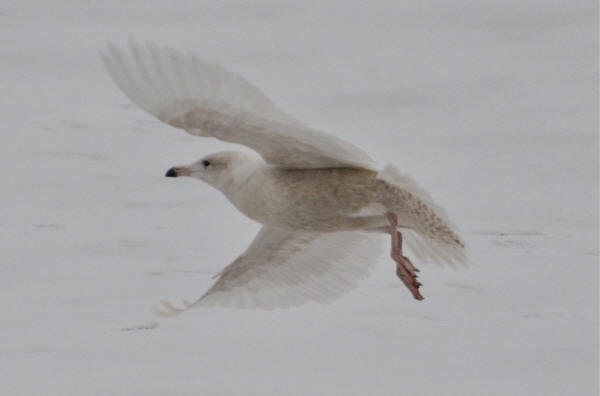 Glaucous Gull photos courtesy Rich Miller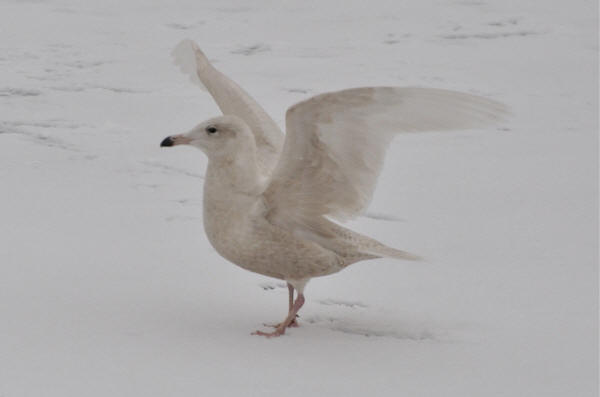 ---
Marion Miller on 12/8 reported via IBET: Juvenile GLAUCOUS GULL above [St. Charles] dam. First spotted by Tim Balassie.
---
Jon Duerr on 12/8 reported via eBird: The Townsend's Solitaire continues at Jon Duerr Forest Preserve: "Gray bird with brown wing edges, bright white eye ring, perched upright. 30 M north of trolley [right of way] on Juniper gleaning berries, it would then perch for minutes. the air temp was 17 F but bird perched in shadow of a Juniper! it returned to the berries, I left it after it flew into a large Juniper, perching 2M above ground in the interior branches."
---
Tim Balassie on 12/8 reported via text: glaucous gull @ stc dam.
---
Scott Kuiper on 12/6 reported via eBird: "I was leaving the Jewel Store parking lot, located at Rt. 64 and Kirk Rd., at 5:36 PM and sighted 1 male Snowy Owl perched on the edge of the stores roof. I observed the bird for several minutes and it was still there as I left. Unfortunately I did not have a camera with me. Seeing this bird when grocery shopping was the last thing I would have expected."
---
Diane Hansen on 12/5 reported via e-mail: This morning I was crossing the river in Elgin and caught a glimpse of something in the water near the library. I went back to find a lone Common Goldeneye.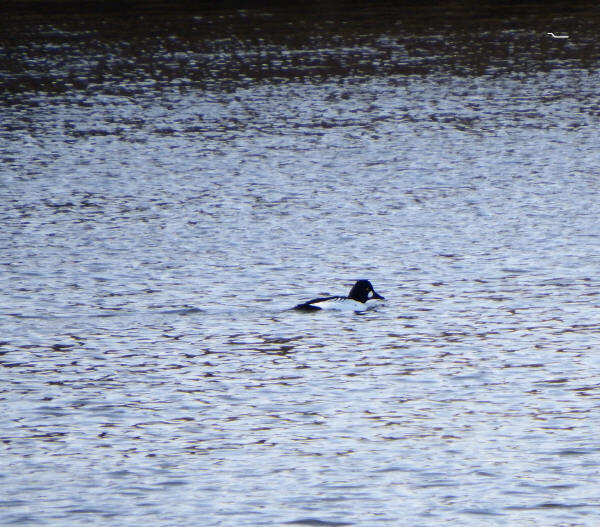 Common Goldeneye photo courtesy Diane Hansen
---
Jim Navorec on 12/3 reported via e-mail: Spotted 4 Bald Eagles (3 adult, 1 juvenile) on 12/2 and 3 Adult Bald Eagles on 12/3 around 8am both days in the same tree on the west bank of the Fox in Carpentersville.
---
Diane Hansen on 12/3 reported via e-mail: Even a gloomy morning can hold a surprise. Here is my first American Kestrel. He was on the east side of Elgin along Summit.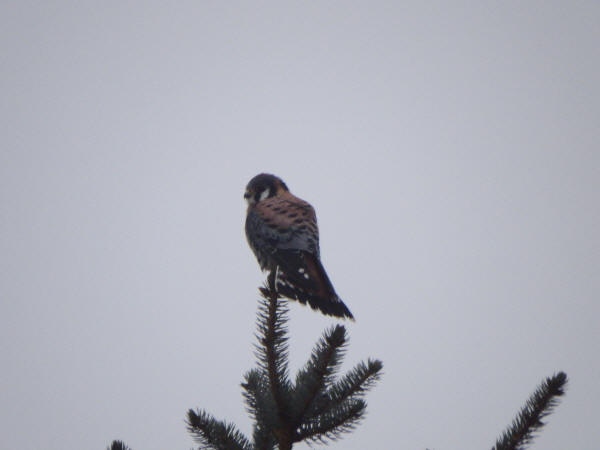 American Kestrel photo courtesy Diane Hansen
---
Eric Secker on 12/1 reported via IBET: ...Along the Fox River in Elgin today we had two BALD EAGLES, an adult along the river by Judson and a sub-adult bird circling over the river in Carpentersville. The ice is melting and there were more gulls present on the river at Judson today, but nothing rare. On Friday, we had an adult THAYER'S GULL down by the river at Judson - maybe the same bird the Gyllenhaals had on Sat.?
---
Marion Miller on 12/1 reported via IBET: Viewing a ROSS'S GOOSE with a large group of Canada geese on the retention pond east of Orchard Road in Aurora. Best viewed from Independence Dr and Mayflower St east of pond.
---