---
Justin Wrinn on 12/31 reported via IBET: I spent a chilly morning at Burnidge hoping to stumble upon one last Kane Co or Burnidge year bird. No such luck, but I did have a nice 3 1/2 hour walk and managed to scrape up 25 species including a trio of Cowbirds huddled together in a tree at the west end of the park - the first I've seen there in well over a month. Nothing else unexpected, but other better birds were Cooper's Hawk, Winter Wren, Golden-crowned Kinglet, and Eastern Bluebird (one of each). You can see the full list here.

Although I didn't add anything new, not a bad way to wrap up my Burnidge site big year. I ended up with 195 species, which far exceeded my expectations when I started out in mid-March.
---
Paul Richardson on 12/25 reported via e-mail: Santa even brought Mr. Cooper something! Dec 25, Elgin Illinois Corner of Crighton and Highland Ave.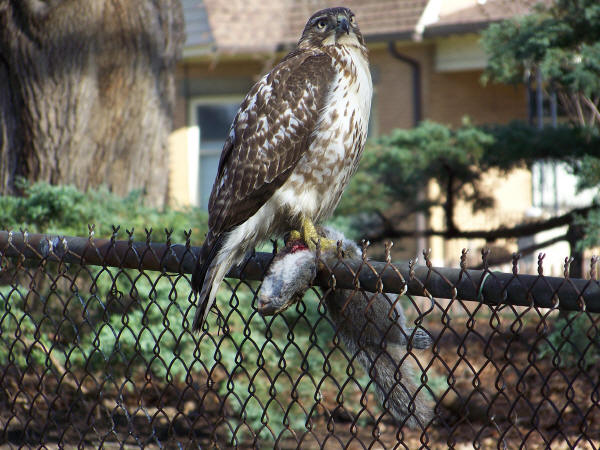 Cooper's Hawk photo courtesy Paul Richardson
---
Sue Wagoner on 12/22 reported via e-mail: Doing the Christmas Count, Big Rock Circle on Sunday with Nancy Schnaitman and Pat Prieditis, we were surprised to see Greater White-Fronted Geese on a Waubonsee Community College campus pond with the many Canada Geese. The only other acceptable photo I got was of a flying Red-Tailed Hawk near Hannaford Woods. Unfortunately the Northern Harrier we saw was too far away for a photo.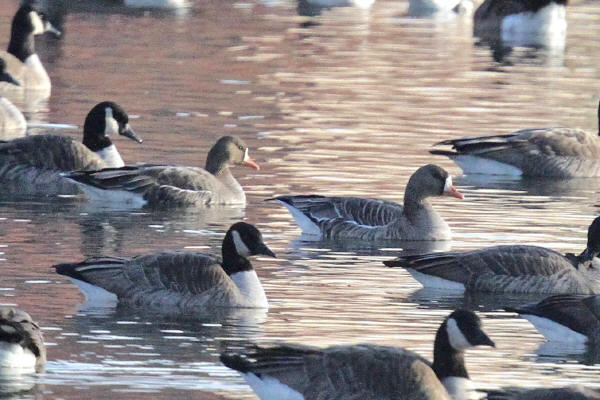 Greater White-fronted Geese photo courtesy Sue Wagoner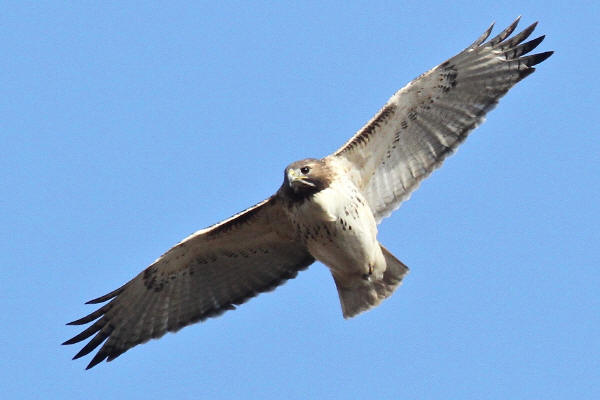 Red-tailed Hawk photo courtesy Sue Wagoner
---
Bob Andrini on 12/22 reported via phone: He and Kathy on their monitoring of Delnor Woods in St. Charles saw a Barred Owl, a first for that location, this morning.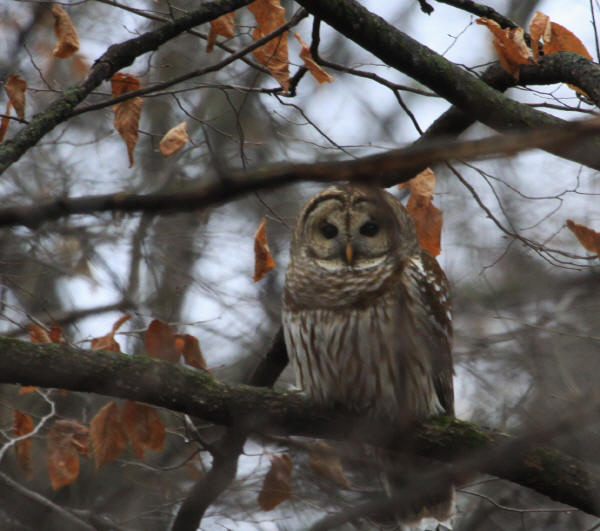 Barred Owl photo courtesy Bob Andrini
---
Justin Wrinn on 12/22 reported via IBET: Mostly of local interest, but there was a Snow Goose at Burnidge this morning on the lake near the west entrance with about 500 Canada Geese. It was still present when I left around 7:40. This is the first eBird record for the park, and most of the Snow Geese reported in Kane County this year have been in the southern part of the county, so I thought it was worth mentioning. Overall, I had 20 species at Burnidge this morning, but nothing else worth mentioning - just low quantities of common birds.
---
John Heneghan on 12/21 reported via e-mail: There were 3 snow geese in with a large flock of canadian geese in the ag field on the north side of Prairie east of McCannon in Sugar Grove this evening (12/21). We had 3 snow geese from the Big Rock CBC.
---
Justin Wrinn on 12/21 reported via IBET: I found the Barrow's Goldeneye (finally) this morning around 7:30 in the Fox River just north of the small parking area at John "Jack" Hill Park along Lincoln Ave. on the west side of the river. It was with about 50 Common Goldeneyes. The only other bird out and about in the pouring rain was one Chickadee trying to stay dry in the gazebo. Based on eBird reports, several others saw it in the same area over the weekend.
---
Gordon Garcia on 12/18 reported via e-mail: Barrow's Goldeneye on Fox River this afternoon in East Dundee at Illinois Street. Photo attached (from west side of river).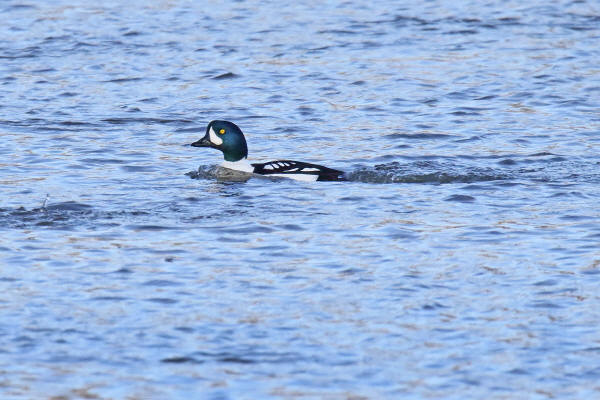 Barrow's Goldeneye photo courtesy Gordon Garcia
---
Cliff Brown on 12/18 reported via e-mail: 12/17 at dusk. Fox River at Fabyan Park, Batavia: Belted Kingfisher - easy to spot with his persistent chattering, probably annoyed with the shortened dinner hours. Sunset was 4:20 pm CST.
---
Kathy Benedetto on 12/18 reported via e-mail: On 12-17-15 I was picking my daughter up from school in East Dundee. A very large bald eagle soared right over our heads near Higgins at fox river.

On 12-18-15 My daughter and I got out of the car at Ace Hardware-Elgin and spotted about 20 sandhill cranes heading south along fox river…
---
Justin Wrinn on 12/13 reported via IBET: I spent a couple of hours this afternoon checking along the Fox River from the Higgins Rd (Hwy 72) bridge in West Dundee up to Fox River Shores above Carpentersville Dam. No sign of the Barrow's Goldeneye, and very little waterfowl period. Other than a handful of mallards and Canada Geese, the only other waterfowl I saw were a pair of Common Goldeneyes, one Common Merganser, and a pair of Wood Ducks. As far as I know, no one has seen the Barrow's Goldeneye since Brendan L. on the 8th. Hopefully it will show up again, especially since I missed it by a few hours last winter and almost went to check that area last weekend (not knowing it had been seen) but was running late and decided to skip it. The only other bird worth mentioning was a Rough-legged Hawk (county lifer) that flew low across the river in West Dundee.
---
Justin Wrinn on 12/11 reported via IBET: The Tundra Swans were gone this morning. The only thing on the fluddle was about 20-30 Canada Geese along with a few two dimensional wooden decoys of Canada Geese that weren't there yesterday. I guess the landowner or someone wants to use the fluddle for hunting? It doesn't seem like good sport so close to the road. Or maybe there is another explanation. Glad several people got to see the swans yesterday - not exactly rare, but not so common in Kane County either.
---
Cliff Brown on 12/10 reported via e-mail: 12/7 at dusk. Fox River bike trail on West side of River between Fabyan Park and Batavia:
2 Bald Eagle sightings within ˝ hour of each other. Seen singly flying low and South above the river. Could have been the same bird seen 2x.
Also, possible Red Shouldered Hawk sighted in tree along bank, very vivid orangey-red shoulder pathches.
---
Joe Lill on 12/10 reported via IBET: Thanks for a fine year bird (I love doing the December clean-up)!
The 13 Tundra Swans were still present at 10:00 this Thursday morning. With a scope, the yellow lores were seen on a number of the birds.
---
Justin Wrinn on 12/10 reported via IBET: I just found 13 Tundra Swans in a fluddle along Sandwald Rd south of Huntley on my way to work this morning. The fluddle is on the east side of Sandwald, about halfway between Big Timber Rd and I-90. A scope isn't necessary for ID. The shoulder is kind of narrow, but there is a small pull off. [Posted at 8:10 AM]
---
Brendon Lake on 12/8 reported via IBET: Yes indeed, he is back!

For the third winter in a row, an adult male Barrow's Goldeneye is back in West Dundee/Carpentersville! After receiving a text about the bird being back, I went and tried to find it. The ONLY diving ducks in the area currently are the group that the Barrow's is with. There were 14 Common Goldeneye (only 2 adult male), the one and only BARROW'S GOLDENEYE, and a female Bufflehead, all diving together north of John Hill Park. They were roughly across the river from the countertop factory.

Wonderful to see him yet again!
---
Anna Szal on 12/8 reported via eBird: Seeing a Barrow's Goldeneye on Sunday morning at the Carpentersville dam.
---
Bob Andrini on 12/7 reported via e-mail: Winter must be here- we saw our first Common Goldeneye on the river in St. Charles today.
---
Scott Cohrs on 12/6 reported via e-mail: I was fortunate to have a Whooping Crane fly over my yard today [in Geneva]. I was actually able to snap a few pictures.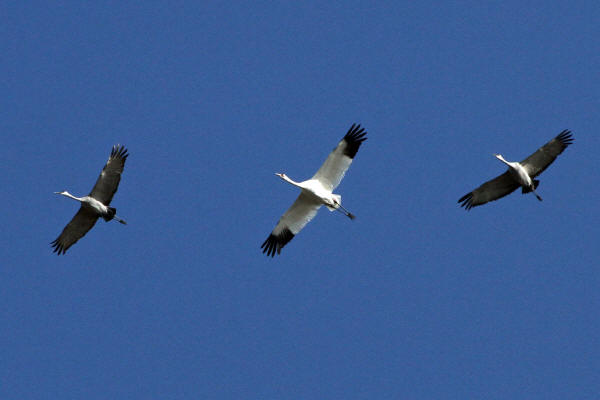 Whooping Crane photos courtesy Scott Cohrs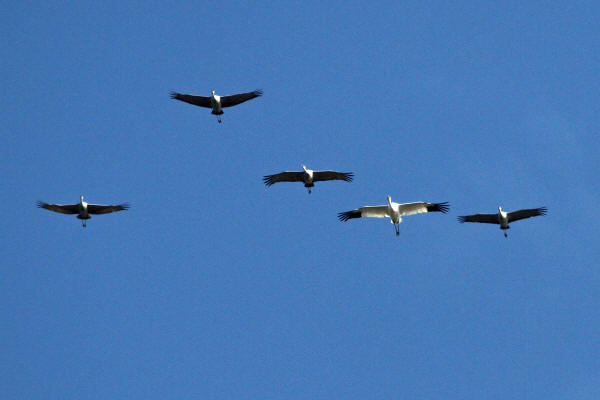 ---
Diane Trautt on 12/1 reported via e-mail: Tuesday Dec. 1, 2015. I heard a bunch of crows making quite a ruckus in my back yard this morning around 9:30 a.m. It seemed to be going on and on and on. Looked out my back door and I spotted a large bird in my maple tree which at first glance I thought was a hawk. Upon a closer look it turned out that it was in fact a bald eagle. I ran to get my camera because I couldn't believe my luck.

Even with me out in the yard photographing the birds they didn't scare away. After a while the crows persisted in getting the eagle into flight. I got a distance shot of them in hot pursuit.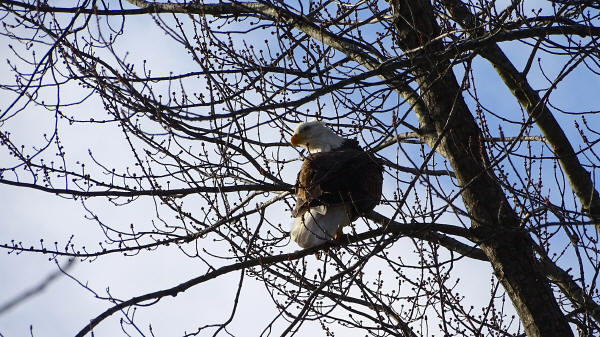 Bald Eagle and same bird pursued by crows below. Photos courtesy Diane Trautt.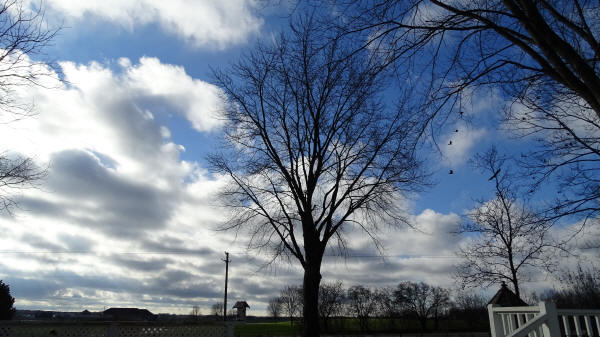 ---