---
Paul Mayer on 12/29 reported via e-mail: There was a Rough-legged Hawk at the Kane County Fairgrounds just west of Costco at 9:57 this morning. It was hunting and not simply passing through.
---
Jason Newton on 12/28 reported via eBird: At the Kimball Street dam in Elgin, a Glaucous Gull that "[a]ppears to be the same immature bird seen yesterday at Carpentersville dam. Disappeared after about 30 mins." He also had 2 Thayer's Gulls.
---
Christopher Cudworth on 12/28 repoted via IBET: Along with the requisite DARK EYED JUNCOS, TREE SPARROWS and HOUSE SPARROWS, we have a holdout White Crowned Sparrow at our feeder in North Aurora. This bird has been here for four weeks now.

We also have a lone female RWBB and were hosting two COWBIRDS and a GRACKLE up until the last round of storms.

Plenty of MOURNING DOVES, BLUE JAYS, five CARDINALS (three male, two female) RED-BELLIED WOODPECKER and two DOWNY WOODPECKER (one male, one female) on the suet feeder. Also a WHITE-BREASTED NUTHATCH. We had a FLICKER through December 21 or so.

Typical feeder birds.
---
Brendon Lake on 12/27 reported via IBET: Hey all. This morning I birded at the Carpentersville Dam in my continuing search for a Kane County Glaucous, and this time, I was successful! I believe it was a second cycle bird, it was sleeping on the ice above the dam, and later hunting at the top of the dam. Those flawless white wingtips were stunning! I had the bird from 9:36 until I left at 11:10. The bird never left while I was there.

I also had a fly-by adult Kumlien's Gull at the Gail Borden Library in Elgin at about 11:40am. There are several groups of gulls resting on the ice at this location.
---
Al Stokie on 12/27 reported via IBET:

There has been a Canvasback here in the river between Fabyan Woods & Gunnar Anderson since at least 12-17 & it was seen yesterday so I thought I should find it easily today which shows how much I know. Looked for over 2 hours all the way to the Rt 38 bridge & dam in Geneva & did not find the Canvasback. A case of a day late & a Canvasback short! But I saw some interesting birds & 1 was a new species for December so I can't complain too much. Here's my site list:

Fabyan Woods & The Fox River (9:15-11:30 a.m.)

P.B. Grebe (1)
Great Blue Heron (saw 2 together & Bill A said there was a 3rd)
Canada Goose (~25, most left)
Mallard (~75)
(No other puddle ducks mixed in)
Common Goldeneye (16-18)
Common Merganser (51)
Red Breasted Merganser (1-F with the larger female Common Mergs)
BALD EAGLE (1-AD & 1-IM)
Hawk Species? (Too big to be a Cooper's & too small to be a Red Tail, there's never a hawk expert around when you need one!)
Coot (2 hanging out with the P.B. Grebe)
Herring Gull (4 hunting the river)
Mourning Dove (12-15, toward Gunnar Anderson)
Red Bellied Woodpecker (1)
Downy Woodpecker (2)
Blue Jay (heard 1)
Chickadee (4-6)
W.B. Nuthatch (3)
WINTER WREN (1 heard well but seen poorly as it flew)
Junco (2)
Goldfinch (2)

Bird-Of-The-Day to the Winter Wren, my 1 new bird for December, in spite of my poor look. Runners-Up to the 2 Eagles & the late P.B. Grebe. Brendon Lake on 12/27 reported via IBET:
There will be other Canvasbacks, I hope.
---
Marion Miller on 12/26 reported via e-mail: Rich and I checked out the water above the Elgin dam on Monday. There were over 200 gulls, mostly Herring and Ring-billed Gulls. We were surprised to find two Bonaparte's Gulls, hidden in the group standing on the ice. Five Eagles were also on the ice or in the trees there.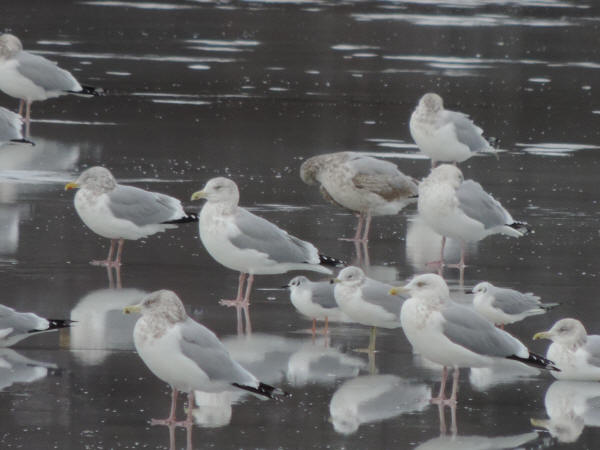 Bonaparte's Gulls (the little ones with the comma behind the eye) photo courtesy Marion Miller
---
Al Stokie on 12/26 reported via IBET: Hello Bird People,

As others have reported I too did not see the Barrow's Goldeneye seen here for the last few years but not (so far) this year. But Common Goldeneye numbers are over 100 between the Rt 72 bridge & the Carpentersville Dam so we need to keep looking. Also seen in good numbers were many Mallards & in with them by the Otto buildings on the west side of the river off Lincoln & north of Main were 2 Black Ducks & the female PINTAIL already reported by Oliver B.

In or by the river just north of the Rt 72 bridge in W. Dundee were Canada Geese (~40), Mallard (45), Goldeneye (only 4), Bald Eagles (2-AD & 1-IM) plus Ring Billed (only 2) & Herring (~20) Gulls.

Farther north in the river by the Jack Hill Park were Mallards, Goldeneye (~70), Bald Eagle (1-AD), Ring Billed (4) & Herring (~30) Gulls & Kingfisher (1-M). While here I heard 2 Chickadees calling to the west across the street. While looking at the Herring Gulls on the ice in came the 3rd year GREAT BLACK BACKED GULL which landed but only stayed about 30 seconds as right at that moment in came a low flying Bald Eagle which flushed all the Gulls including the Black Backed. I stayed another 30 min in the hopes the big gull would return but it did not nor did I see it again at all the other gull spots. I am not sure if I should be upset that I had such a brief look or be glad I saw it at all? I guess I'll do both.

Carpentersville Dam

Probably between 450 & 500 gulls here with about 50 Ring Bills & the rest Herring. Another birder (Walt I think) had been looking longer than I & he gave up & went back to the lot. Then in flew a 1st year ICELAND GULL circling over the dam. This species in the 1st year can either be pure white or a somewhat darker color but the key is that the wing tips & the rest of the gull are the same color whereas a 1st year Thayer's (which can also appear pretty light) shows darker wing tips than the rest of the birds color. So I am pretty sure this gull was an Iceland & not a Thayer's. Since it was a 1st year Iceland the bill was all black & not bi-colored. Called Walt back just in time & he got to see the Iceland Gull but on the ice & not flying. Not as good for I.D. purposes but good enough.

A short stop at the Kimball St dam in Elgin found about 30 gulls circling that dam but all seemed to be Herring Gulls...

Thanks go to Oliver B & his dad for showing me what turned out to be the female Pintail as I would not have looked at the river from that location had they not taken me there.

Bird-Of-The-Day to the close by & well seen Iceland Gull & Runner-Up to the somewhat uncooperative Great Black Backed Gull but that was the Eagles fault I guess.
---
Oliver Burrus on 12/26 reported via IBET: I wanted to go out today to try out my new 200-500 mm lens. Once we got to the overlook [at the Carpentersville dam], we found that some of the gulls had dispersed because some of the ice had melted. The only notable Gull species we found today were three Thayer's. We walked down the path finding just the usual birds except for a Merlin. But when we got to the end of the path we found a strange dabbling duck with a reddish head and all black bill. We walked back and found Al Stokie looking for Gulls. We told him about the Duck and he said he would come and check it out. All of us drove to the Otto parking lot and Al identified it as a female Pintail (new for my Carpentersville Dam list and new for Al's month list). After that, we decided to go down to the Fox River in West Dundee to see if the Great Black-backed Gull was still there. Once we got there we did not find it. But we did see four adult Bald Eagles at a fairly close distance.
---
On 12/25: There were a number of sightings of a Great Black-backed Gull on the Fox River at Lincoln Avenue in Carpentersville.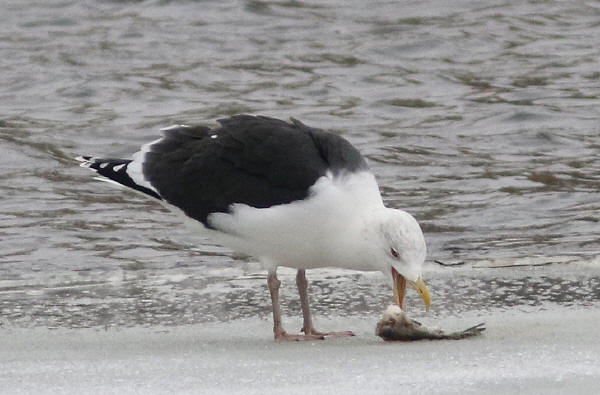 Great Black-backed Gull photo courtesy Chris Madsen
---
Oliver Burrus on 12/24 reported via IBET: We started out again at the Otto parking lot finding twenty Eagles. Then, we drove up to the Dam where we spent a longer time scanning through the Gulls then last time. We were rewarded with six Thayer's Gull, a Lesser Black-backed Gull, and the second winter Iceland Gull. After we scanned the Gulls thoroughly, we walked down the path finding about ninety Goldeneye, fifteen Mergansers, and some more Eagles. We went back to our car and drove down to the Fox River in West Dundee. At the first stop (northern most parking lot on Lincoln Avenue between Otto and Washington St.), we saw just some Gulls. As we drove down Lincoln Avenue, we also saw some Gulls. I did a quick scan of them and found a third winter GREAT BLACK-BACKED GULL. We watched it for about fifteen minutes to make sure that it was not something else. While we were watching it, we saw it steal a large fish from a Herring Gull.
Then later wrote: The second year Iceland Gull that I found was identified by Amar Ayyash as a Herring x Glaucous Gull (hybrid).
---
Bill Ahlgren on 12/22 reported via e-mail: Although the lighting was bad, it was enjoyable seeing 3 Rough-legged Hawks west of Batavia in Kane County Wednesday afternoon along with 2 Northern Harriers and 2 Red-tailed Hawks. Good Hawk movement the last two days.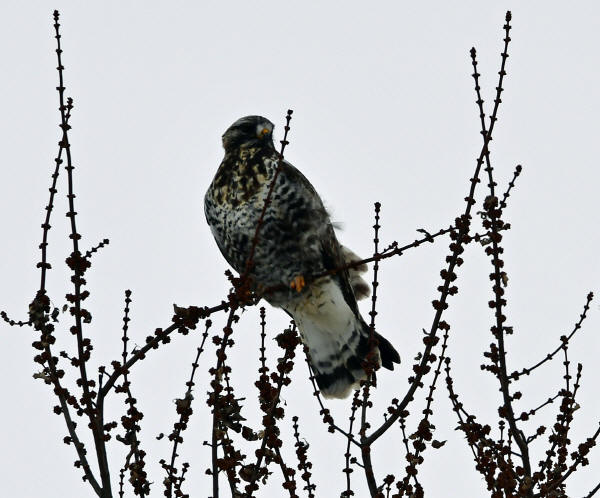 Rough-legged Hawk photo courtesy Bill Ahlgren
---
Brendon Lake on 12/21 reported via IBET: Hey all, today was a rare day away from work and prior obligations, so I spent all day out in the Fox River Valley. My first stop was at the Carpentersville Dam, where I met up with Oliver B. for a short time, and he and his father showed me an adult Lesser Black-Backed Gull and a second cycle Iceland Gull almost immediately after I arrived. I later saw one of the Thayer's Gulls that they saw, an adult. The gulls show very well here, both the Lesser Black-Backed and Thayer's fished directly in front of the observation area. I took a walk along the paved path to the south to look for waterfowl, and the best I found were four Ring-Necked Ducks and a female Red-Breasted Merganser. Northern Cardinals were abundant along the path, feeding on the red berries that were on the bushes on either side of the pathway. John Hill Park in Dundee was slow, several Bald Eagles being the highlight there.

I next birded at Walton Island in Elgin, where eight Common Goldeneye, a Belted Kingfisher, and a probable Peregrine Falcon were highlights. I say probable as it was at a great distance, so I was unable to ID for certain, but it was sitting atop an antenna south and east of the Elgin Tower Building. It disappeared while I tried to get a closer look.

The South Elgin Dam had almost nothing going on, a single American Black Duck being the exception. I decided after to walk the shoreline at SEBA Park, just south of the South Elgin Dam. More Common Goldeneyes were here, and a fly-by Merlin was a real treat! Merlin have been in this area in the past, this is likely a good hunting area for them.

Passerine activity was high today at Jon Duerr Forest Preserve. I first heard, and then a saw, a single Hermit Thrush, feeding on some red berries along the trolley tracks. I accidentally spooked a Winter Wren out of a small cedar tree in between the old and current sets of trolley tracks, and it wasn't very happy that I did! I later came across two more Winter Wrens along the river that were constantly calling back and forth to one and other. Golden-Crowned Kinglets, Eastern Bluebirds, Downy, Hairy, and Red-Bellied Woodpeckers were all numerous along the river as well.

Island Park in Geneva was the last stop on the river, and here were 25 more Common Goldeneye, 23 Common Mergansers, two American Coots, a Cooper's Hawk, a Great Blue Heron, a Belted Kingfisher, and a continuing female Canvasback. The majority of the waterfowl were down toward Gunnar Anderson Forest Preserve, south of the foot bridge that goes underneath the railway bridge.

A great day to be out on the Fox!!
---
Scott Bowers on 12/21 reported via IBET: I was walking around at Ferson Creek Fen in St. Charles (Kane Co.) when a small quail-sized gray bird flew across the boardwalk in the frozen sedge swamp. I got a solid 1.5 seconds of viewing time as it dropped into the swamp on the other side. It looked very much like a Sora, but I don't live in the area, and anyway, don't they migrate? It moved entirely too quick to see any specific markings and it looked solidly dark gray. The bill was short like a sora but also looked dark.
---
Oliver Burrus on 12/21 reported via IBET: We started the day off at the Otto parking lot. There we found ten Eagles in one tree and eleven others flying around and hundreds of Canada Geese in the water. After that, we drove up to the dam finding lots of Gulls. After some scanning, we found out that the Herring Gulls way outnumbered the Ring-billed Gulls. In that flock, we found a juvenile Thayer's followed by an adult. Shortly after we found those, we found an adult Lesser-backed Gull (first of season for me). Then Brendon Lake showed up and we pointed out to him the Lesser Black-backed. We also found a borderline 1st winter Herring/Thayer's. We were still missing the Iceland Gull. After some searching though, we found one (but not the same one as seen previously). This one was a 2nd winter with a bicolored bill. Then we headed down the path to scan the other side of the waterfowl that we saw at Otto. Once we got to a good location to observe them, we found a flock of about 80 Common Goldeneye. We searched for the Barrow's with no luck but we did find a very interesting looking leucistic Common.
---
Paul Mayer on 12/19 reported via e-mail: Today at our feeder there were two Brown-headed Cowbirds; one male, one female. Must have missed the plane!
---
David Phillips on 12/18 reported via IBET: At dusk, I saw 6 Snow Buntings on Seavey Rd. between the golf course and Rt. 47. The location was right after the last house on left (when going west) and before the creek.
The flock was quite wary at first, but I slowly stalked close enough to get great views of them. There were 2 very snowy looking adult males in the group.
---
Marion Miller on 12/18 reported via eBird: Finding a Dark-eyed Junco, Oregon race, near Kaneville. "Junco with full dark black hood, chestnut flanks and brown to back. Eating seed from ground under feeders at a home off Main St just west of Dauberman Rd."
---
Eric Secker on 12/18 reported via IBET: It was actually a beautiful day for birding along the Fox River especially for mostly driving in a warmed up car with short walks in between. Having the sun out all day was also a big plus. In Carpentersville, we had one first winter THAYER'S GULL along the river at the park by Lincoln Ave. Also at least five BALD EAGLES perched and taking short flights all along that stretch of the river putting on a nice show today and probably enjoying that all the people are inside staying warm and not out harassing them. COMMON GOLDENEYE were up to 60 today but still no sign of their western counterpart returning.
At Carpentersville Dam there were three more BALD EAGLES perched. Among the gulls flying around the dam were two adult THAYER'S GULLS and one first winter THAYER'S GULL (possibly two, but one could have been the same bird seen at the first stop). In the parking lot, I walked up on a very cold CHIPPING SPARROW that was feeding in a small area of grass that the plow had exposed. He was very alert and actively feeding, but let me get within a foot of him. A SONG SPARROW was also foraging in the grass there as well.
The rest of the river north to Algonquin didn't produce anything else unusual. There were two more BALD EAGLES at Algonquin dam and a lot of Herring Gulls but no other unusual species that I could pick out.

Coming back home, we drove along the road at Judson and saw a beautiful adult GREAT BLACK-BACKED GULL in with a large circling swarm of Herring Gulls near the water pumping station down by the Fox River - a new species (#201) for my Judson University site list.

There is also still open water in the riffles along Tyler Creek out our living room window that the BELTED KINGFISHER continues to visit from time to time.
---
Walter Lutz on 12/17 reported via e-mail: After Taylors excellent raptor day at Brunner F.P. I thought I'd give it a try today and it didn't disappoint. Kestrels, Rough-legged hawks, lots of Bald Eagles, a Harrier, Red-tails and a few others I think were maybe a Coopers and a Merlin.
---
Jason Newton on 12/17 reported via IBET: This afternoon along Seavey Rd in Sugar Grove there was a nice variety of birds, most notably a dark morph Harlan's Red-tailed Hawk and a light morph Rough-legged Hawk. These two were both near the Black Sheep golf course west of Bliss Rd. They are feeding on what appears to be a couple of Canada Geese carcasses. We saw both hawks, along with two Harriers and an Eastern Red-tailed, around 12:30pm and again at 1:50pm on the ground where the golf course meets the corn field, east of the golf course entrance. The Harlan's retreated to a tree on the golf course several times while we were watching it and is still there now. Photos on ebird later.

Other notable birds were 9 Rusty Blackbirds (perched in a tree in front of a house), an immature Red-headed Woodpecker (also perched in a tree in front of a house), and a handful of Lapland Longspurs and Horned Larks closer to Route 47.
---
David Phillips on 12/14 reported via IBET: Didn't see the Pipit or the Snow Bunting on Esker Rd this afternoon, but there were the flocks of Lapland Longspurs / American Tree Sparrows, plus one immature White Crowned Sparrow tagging along.

There were also 2 Meadowlarks (could be Western) and they were often with the Longspurs. There was also a male Northern Harrier closer to Wheeler.

Never been along Esker Rd. before -- thanks!
---
Oliver Burrus on 12/14 reported via IBET: ...Along the way to the [Carpentersville] dam, we stopped at the Otto parking lot to find eight Bald Eagles flying around. After a short stop there, we drove up to the Dam to try to find some rare Gulls. We got to the overlook and we found the 1st year ICELAND GULL and three more Eagles. At the dam, we saw that up the river at Fox River Shores FP, there were lots more gulls. So, we decided to check it out. The hike to the point was terrible with the very cold wind blowing straight in to our faces. When we got to the point, we found about 75 to 100 Gulls sitting on the ice. One Gull was a possible California because of the bicolored bill (red gonydeal spot before black ring) and in between the size of a Herring and a Ring-billed. Those were the only field marks I could make out. Also, I could have possibly mistaken the size and it could have been a very late transitional plumage third year Herring Gull. So on ebird I will only put Larus spuh. But still a very intriguing bird that I think others should check out. After a slightly more pleasant walk back, we headed over to the Fox River in West Dundee to see if the Barrow's Goldeneye was there. Once we got there, we saw hundreds of Canada Geese, wild and domestic Mallards, seven Common Goldeneye (with no Barrow's), and some of the gulls from the dam (including the 1st year ICELAND).
---
Jim Narovec on 12/14 reported via e-mail: That time of year again, on 12/14, spotted 2 adult and 1 juvenile eagle in a tree on the west bank of the Fox River in West Dundee.
---
John Heneghan on 12/13 reported via e-mail: A spike buck and cowbirds enjoying bird seed in Big Rock.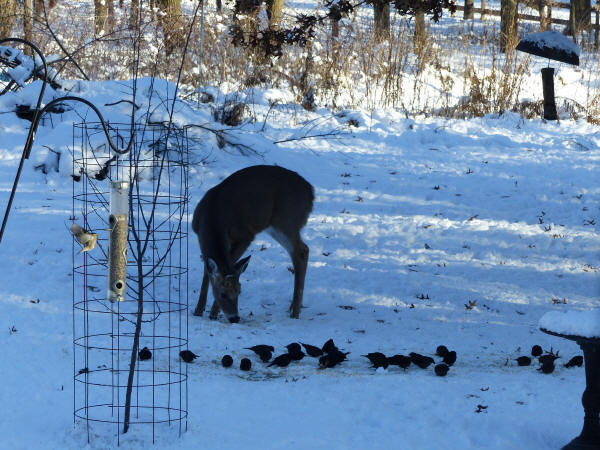 Brown-headed Cowbirds and deer photo courtesy John Heneghan
---
Both Jenny Vogt and John Forbes on 12/13 reported via eBird: That the Iceland Gull continues at the Carpentersville dam.
---
Kurt Frieders on 12/13 reported via e-mail: We have had several good sightings in our yard and on our property (in Aurora township) lately. One of the most exciting was three Greater White-Fronted Geese that landed in our field on Monday. There was one mature one with heavy barring on the breast, and two juvenile ones. We've also had many Cackling Geese and Sandhill Cranes passing through. Our yard has been continually visited by our Red-Bellied Woodpecker who is storing his food for the winter in the top of the telephone pole that I photographed. There also have been daily visits from a Cooper's Hawk and an American Kestrel. Not to be discouraged our regular Juncos, Downey Woodpeckers, Goldfinches, Cardinals, Blue Jays, and House Finches continue to visit our feeders.

Red-bellied Woodpecker photo courtesy Kurt Frieders
---
Oliver Burrus on 12/12 reported via IBET: I got a ebird RBA that said there was a Iceland Gull at Carpentersville Dam found by Eric Secker so we decided to try for it. We searched through hunderds of Ring-billed and Herring Gulls after about 30 minutes of looking we found a adult THEYER'S with black on only the tips of p6-10 on the underside and later a 1st winter ICELAND GULL also about 700 Canada Geese were around.
---
Eric Secker on 12/12 reported via IBET: Around lunchtime today there was an adult LESSER BLACK-BACKED GULL and a first winter ICELAND GULL mixed in with the gulls around the dam at Carpentersville Dam. There were about 500 Ring-billed Gulls and 80 Herring Gulls on the ice north of the dam and further to the north. Other birds included a few COMMON GOLDENEYE and COMMON MERGANSERS. On Saturday I also had one adult THAYER'S GULL along the river between Dundee and Carpentersville...
---
Kirk and Kate LaGory on 12/11 reported via IBET: Followed up on John's observations and drove out to Dugan Rd. in Kane Co. in search of longspurs and snow buntings this afternoon. There were a lot of American tree sparrows and juncos on Dugan, but we found two flocks of Lapland Longspurs (70 and 30) along Esker Rd. nearby. The larger flock had a single Snow Bunting and an American Pipit as well, all feeding in the grass along the shoulder of the road.
---
Brendon Lake on 12/10 reported via eBird: A late season Orange-crowned Warbler and 4 Bonaparte's Gulls at the Carpentersville dam.
---
John Heneghan on 12/9 reported via IBET: On Dugan Rd North of Rt 30, there was a flock of 60 longspurs where Dugan and the approach lights for the east- west runway at the Aurora airport. With the predicted snows this weekend, snow buntings should make an appearance also along the roadsides in areas with ag fields. Birded Sauer Family Fp in Kane Cty this evening. Saw 2 Harriers and a Coopers Hawk.
---
John Mayer on 12/8 reported via e-mail: Yesterday afternoon at C-Ville dam.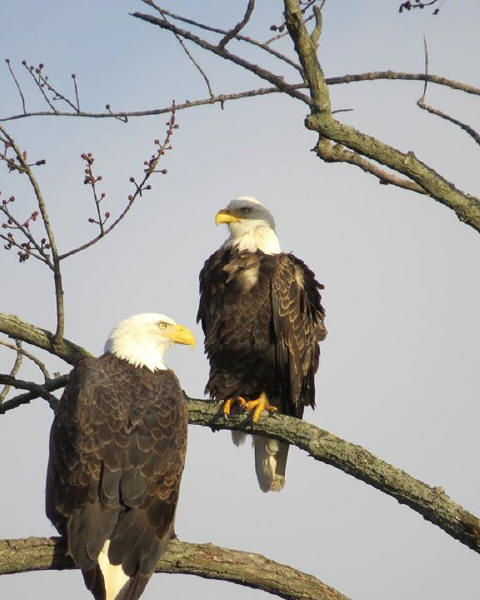 Bald Eagles photo courtesy John Mayer
---
Oliver Burrus on 12/8 reported via IBET: I saw about 70 Sandhill Cranes and a juvenile Bald Eagle along with a lot of Herring and Ring-billed Gulls over the Fox River [in Carpentersville. Then] About 1100 Sandhill Cranes just flew over Helm Woods FP at about 1 PM].
---
John Mayer on 12/7 reported via e-mail: A Whooping Crane flyover today at Judson University. Heading south for the winter.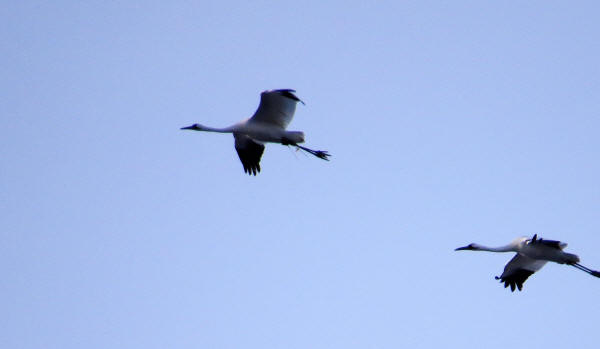 Whooping Cranes (with tracking device visible on lead bird) photo courtesy John Mayer
---
Oliver Burrus on 12/5 reported via IBET: We went looking for a Barrow's Goldeneye or rare Gulls at the Fox River just south of the dam at 9 am. There, we only found one lone Common Goldeneye, a few domestic and wild Mallards, Canada Geese, and a few Herring Gulls (one was a 3rd year Gull with a black tail band). After searching there for about 25 minutes, I thought that the Goldeneye flock I saw a couple days ago might be at the Dam. So we went up there. North the dam, we found 17 Ring-necked Ducks, about 30 Canada Geese, and Mallards. As we waited a while, Herring Gulls started to fly overhead with one being a THAYER'S GULL. We walked down the trail finding lots of Passerines such as Ruby-crowned Kinglet, American Tree Sparrow, and lots of Juncos. At the end of the paved path, we saw the Goldeneye flock. But we flushed them back to thier origanal spot just south of Main Street bridge. We decided to walk back and drive back to the Goldeneye spot to scan them more thoroughly but found no Barrow's.

Carpentersville Dam

Canada Goose Branta canadensis
American Black Duck Anas rubripes
Mallard Anas platyrhynchos
Ring-necked Duck Aythya collaris
Common Goldeneye Bucephala clangula
Common Merganser Mergus merganser
Great Blue Heron Ardea herodias
Ring-billed Gull Larus delawarensis
Herring Gull Larus argentatus
Thayer's Gull Larus thayeri
Belted Kingfisher Megaceryle alcyon
Red-bellied Woodpecker Melanerpes carolinus
Downy Woodpecker Picoides pubescens
American Crow Corvus brachyrhynchos
Black-capped Chickadee Poecile atricapillus
White-breasted Nuthatch Sitta carolinensis
Ruby-crowned Kinglet Regulus calendula
Eastern Bluebird Sialia sialis
American Robin Turdus migratorius
European Starling Sturnus vulgaris
American Tree Sparrow Spizelloides arborea
Dark-eyed Junco Junco hyemalis
Northern Cardinal Cardinalis cardinalis
Red-winged Blackbird Agelaius phoeniceus
House Sparrow Passer domesticus

Fox River at West Dundee

Canada Goose Branta canadensis
Mallard Anas platyrhynchos
Common Goldeneye Bucephala clangula
Ring-billed Gull Larus delawarensis
Herring Gull Larus argentatus
Dark-eyed Junco Junco hyemalis
---
Jim Mountjoy on 12/3 reported via IBET: On the way back from some car shopping in Chicagoland, my wife and I did a bit of birding along the way. At Jon J. Duerr Forest Preserve in Kane County, there was a WINTER WREN along the river's edge, a handful of GOLDEN-CROWNED KINGLETS and one late RUBY-CROWNED KINGLET, four HERMIT THRUSHES, and a YELLOW-RUMPED WARBLER. At one point I heard a few clear notes that suggested a Townsend's Solitaire - nothing conclusive, but given the past history at this site and the number of sightings already this year, worth bearing in mind if you are visiting this site? I also had a few WHITE-THROATED SPARROWS, which might not be so surprising, but they were a county tick for me and my 100th county for this species...
---
Marion Miller on 12/1 reported via e-mail: A lone juvenile Snow Goose is hanging out with a large group of Canada Geese in the fields across from Green Rd & Hughes Rd in Elburn.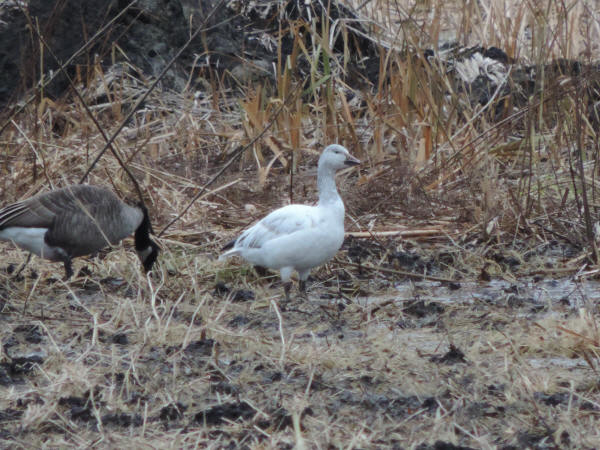 Snow Goose photo courtesy Marion Miller
---
Christopher Cudworth on 12/1 reported via IBET: There was an immature bald eagle flying over the retention/wetland on Tanner Road west of Deerpath on the border of Batavia/North Aurora. A similar bird is being seen over Nelson Lake just a half mile to the north.

Still no large movements of sandhills thus far, but a group of 13 was seen behind my home which sits about a mile southeast of Dick Young Forest Preserve in Batavia.
---