---
Christopher Cudworth on 2/28 reported via IBET: Mostly quiet on a 2 mile walk with exception of one calling Red Winged Blackbird on the east side near the abandoned farm property at the top of the hill.

Otherwise, the regulars:

3 Red Bellied Woodpecker
4 Downy Woodpecker
3 White breasted nuthatch
10 Blcak Capped Chickadee
25 House Finch
4 Tree Sparrow
12 Dark Eyed Junco
1 Kestrel
---
Dennis Walz on 2/25 came across this unflattering sight on the bikepath along the Fox River. He issues the challenge: "Can you find the Pintail?"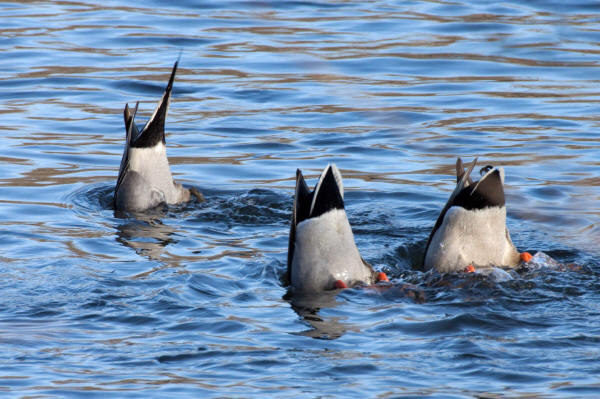 ---
Darrell Shambaugh on 2/25 reported via IBET: Hello birders. Here's what I've seen on my way home from work this week...

Thursday:

A COOPER'S HAWK flew across the street north of the Home Depot at the corner of Fabyan Parkway and Randall Road in Batavia (or maybe Geneva) about 3:00 PM. An AMERICAN KESTREL was on a wire along Dugan Road south of Richie Rich's golf course. A RED-TAILED HAWK was east of Big Rock Forest Preserve on Jerhico Road...

Wednesday:

The roads really sucked, covered with ice and drifting snow. I could hardly stop to check out the flocks of birds. Luckily, I got out of work at 1:45 and beat the crowds. I had Main Street...to myself, or myself and the birds. There were lots of SNOW BUNTINGS, LAPLAND LONGSPURS, and HORNED LARKS west of Kaneville. Totals were [615] Snow Buntings, [425] Lapland Longspurs, and [135] Horned Larks.

Monday:

An adult BALD EAGLE was about a half mile north of the Illinois Avenue bridge in Aurora...A SHARP-SHINNED HAWK flew across Route 25 near the Red Gate bridge in Aurora.
---
Claire Dassy on 2/25 reported via IBET: This morning I took a walk down my favorite neighborhood location "Fox River Shores" landing (within the Forest Preserves) in Carpentersville and located not only the eagle pair but a juvenile, which I'd not seen around here to date. The adults were perched across the river, and the juvie took off pretty much after I got out on the peninsula. 300mm doesn't go too far, but I was able to get a few record shots. They're viewable on my flickr account.
---
Jon Duerr on 2/22 reported via e-mail: Lees Road, west of Rt 47 north of Lily Lake, was a good location for Snow Buntings and Longspurs Monday afternoon. There is not much traffic and the farmer is spreading manure onto the fields. Horned Larks and Tree Sparrows are also present.
---
Scott Cohrs on 2/17 reported via e-mail: I had Snow Buntings on Seavy Rd. (west of Bliss) on Sunday morning. Also had Snow Buntings and many Lapland Longspurs in the west fields of Nelson Lake, though you'd have to get out of the car to see those.

There was a Northern Shrike at Otter Creek on Monday. Very cooperative. I think there was one reported there back in late fall/early winter, so perhaps this is the same one?
---
Jon Duerr on 2/16 reported via e-mail: We walked Tuesday morning and new for me were Carolina Wren singing, Robins by Arends, a Fox Sparrow by the "mansion" and a N Pintail on the river. It is nice to be out of the wind.
---
Angela A. on 2/15 reported via e-mail: During the Backyard Bird Count, I saw 5 Hooded Mergansers on the Fox River Trail at Les Arends Park in Batavia, IL on Saturday, February 13. We also spotted 1 Great Blue Heron along the Fox River Trail south of Les Arends, near Mooseheart that same afternoon at around 5:30 pm. If people are interested in Carolina Wrens, I saw two this afternoon (Monday) on the Fox River Trail near Oak Street.
---
Bob Andrini on 2/15 reported via e-mail: While birding Norris Woods today we saw 2 Brown Creepers, a Hermit Thrush and the typical other woodland birds. While walking on the bike path, we were lucky to witness an adult Bald Eagle being harassed by 3 Crows.

---
Sue Wagoner on 2/14 reported via e-mail: Doing the GBBC this weekend along the Fox River I saw about a million Canada Geese (maybe a little less), plus a Bald Eagle in Montgomery at Routes 30 and 25; at Red Oaks and Les Arends I saw about 25 Common Golden Eyes (actually 50 golden eyes on 25 birds), 60 Mallards, several Common Mergansers, and the usual Red-Bellied Woodpeckers and White Breasted Nuthatches. At Les Arends I saw 4 Robins and one was actually singing!

Front-loaded Mallards (Top), Red-bellied Woodpecker (Middle), Common Goldeneye (Bottom Left) and White-breasted Nuthatch (Bottom Right) photos courtesy Sue Wagoner.
---
John Heneghan on 2/10 reported via IBET: This AM we had a Red Winged Blackbird at the finch feeder. Pleasant surprise, though a little early. The White Breasted Nuthatches and Titmouse (or Titmice pl) continue to frequent the feeders.
---
Christopher Cudworth on 2/9 reported via IBET: There has been a mixed flock of lapland longspurs, horned larks and snow buntings seen consistently on Davis Road where it intersects Wheeler Road north of Hinckley/Big Rock in southern Kane County. Predominantly lapland longspurs.
---
Bob Andrini on 2/7 reported via e-mail: There are many Common Goldeneyes up at Jon Duerr FP. This is the time of year the males are courting the females by throwing their heads back and giving their "PEENT" call. Its worth checking out if you haven't seen it before.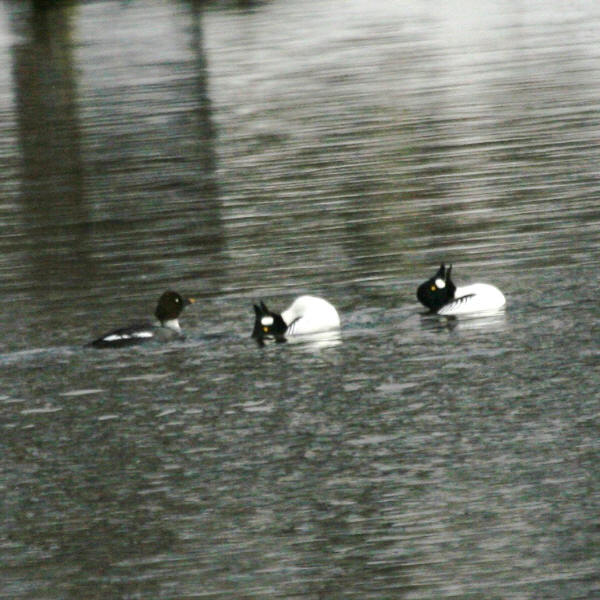 Common Goldeneye males wooing female photo courtesy Bob Andrini.
---
Walter Lutz on 2/5 reported via e-mail: Very, very quiet today, Friday, at Nelson Lake (Dick Young Forest Preserve). But unbelievably, I spotted a American Woodcock in the reeds by the small pond at the north end of the site.
---
Darrell Shambaugh on 2/1 reported via IBET: There was an adult BALD EAGLE at the North Aurora Police Station about noon today.

There are LOTS of CANADA GEESE in the Fox River along Route 25 between Batavia and Oswego, at least 10000, maybe closer to 20,000. There are a smattering of COMMON GOLDENEYE, COMMON MERGANSERS, and MALLARDS too. Between Montgomery and Oswego I found 11 GREAT BLUE HERONS.

Red Oak Nature Center in North Aurora had a HAIRY WOODPECKER near the feeders at the nature center.