---
Yeanette Johnson on 2/28 reported via IBET: Lisa and I spent the day birding in our very own Kane County. We were pleased to find SANDHILL CRANES stomping around their usual haunts! Tanner Road Marsh held one pair, as did Denny Road Marsh (Carson Slough).
We also noticed many flocks of RED-WINGED BLACKBIRDS heading North.
More pleasant surprises...
10 GREATER WHITE FRONTED GEESE at Tanner Road Marsh! AND...
2 Blue Morph SNOW GEESE at Orchard Road and I-88 (behind the large hotel)
The CAROLINA WRENS were still present at Les Arends FP, as were GOLDEN-CROWNED KINGLETS, HAIRY WOODPECKERS, COMMON MERGANSERS, GOLDENEYE, SONG SPARROWS, and many many AMERICAN ROBINS, Etc.
---
Yeanette Johnson on 2/26 reported via IBET: A nice walk along the Fox River [at Les Arends Forest Preserve in Batavia] today gave Lisa G. and I looks at the following:

CAROLINA WREN
BROWN CREEPER
GOLDEN-CROWNED KINGLET
SONG SPARROW
WHITE-THROATED SPARROW
HOODED MERGANSER
COMMON MERGANSER
GOLDEN EYE
HAIRY WOODPECKER
DOWNY WOODPECKER
RED-BELLIED WOODPECKER
RED-WINGED BLACKBIRD
BLACK-CAPPED CHICKADEE
NORTHERN CARDINAL
AMERICAN ROBIN
MALLARD
CANADA GOOSE
DARK-EYED JUNCO
GREAT BLUE HERON
RED-TAILED HAWK
WHITE-BREASTED NUTHATCH
EUROPEAN STARLING
---
Karen Land on 2/26 reported via IBET: Heading off to our usual Saturday morning grocery shopping down Randall Road, we spotted 2 adult Bald Eagles perched just above their old nest on the Mooseheart property at 8:30 this morning. They were not there when we returned an hour later. My partner drives this way daily to and from work and sees them several times during the week.
---
Kim Girard on 2/26 reported via e-mail: 8 a.m. on Sat., Feb 26 at my home in Wasco area - a dozen male Redwing Blackbirds at my feeders. They have chased away the Mourning Doves and a Red Bellied Woodpecker, and they are squabbling with each other for seeds. Seems so odd to see them against the snow!
---
Eric Secker on 2/23 reported via IBET: I met up with Pete Moxon and checked a number of spots along the Fox River...today.

The best bird by far was a calling AMERICAN PIPIT that we heard and saw flying low over the Fox River headed north by the Gail Borden Library in Elgin...

When I was coming home to my apartment in West Dundee last night around 12:30am, I heard a flock of GREATER WHITE-FRONTED GEESE flying over...

FOX RIVER SHORES FP (Kane Co.):
At the dam by Fox River Shores F.P., we had a group of 5 GREATER WHITE-FRONTED GEESE fly over with a larger flock of Canada Geese. There were small groups of COMMON GOLDENEYE and COMMON MERGANSERS at various spots along the river including 40 COMMON GOLDENEYE along the stretch in West Dundee south of Rt. 72.

GAIL BORDEN LIBRARY - FOX RIVER (Kane Co.):
At Gail Borden, in addition to the flyover AMERICAN PIPIT, we had an adult ICELAND GULL among the many HERRING GULLS and RING-BILLED GULLS that are currently enjoying the mix of ice and open water. We also had a BELTED KINGFISHER and a KILLDEER calling from somewhere along the shore. Ducks included about 300 COMMON GOLDENEYE, 2 NORTHERN PINTAILS, 8 HOODED MERGANSERS, 5 SCAUP SP., 8 RING-NECKED DUCKS, 38 COMMON MERGANSERS, and MALLARDS.
---
Kurt Frieders on 2/23 reported via e-mail: I just looked out my window (in Aurora township) and noticed there were no birds at any of my feeders. This only ever happens when there is a hawk very nearby. Seconds later a large hawk appeared just five feet out my window right between the birdbath and all of the feeders. It was a large hawk, but definitely not a red-tail hawk. After looking in my book I discovered that it was my first up close sighting of a red-shouldered hawk. He stayed for about ten seconds before flying away. I'm glad I happened to be standing at my window at that time.
---
"Bob" on 2/21 reported via IBET: One Snow Goose was feeding with a flock of Canada Geese on Freeman Road in North Kane County Saturday afternoon.

There were two Eastern Bluebirds enjoying the warmer weather Saturday at the old Boy Scout Camp on Freeman Road.
---
Julie Long on 2/20 reported via IBET: My neighbor told me last night that he and his family heard and saw a small group of sandhill cranes (10 or so) flying very high to the north yesterday. They were above our neighborhood in Wild Rose subdiv. which is just west of the Fox R. and just n. of downtown St Charles (between Randall and rt 31). I was hoping others had seen or heard them to confirm what he said. I don't think the birds will like today's weather, especially in Wis.
---
Marion Miller on 2/19 reported via e-mail: Rich and I walked along the Batavia River Walk Saturday afternoon for one of our GBBC sites and we where surprised to hear and see a single male Wood Duck among a raft of Mallards.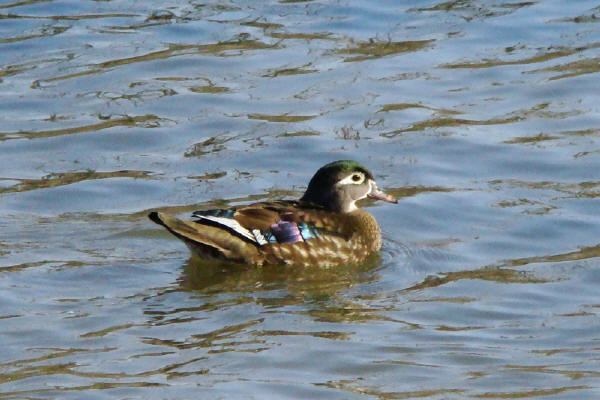 Wood Duck photo courtesy Marion Miller
---
Yeannette Johnson on 2/18 reported via IBET: Spent this fine day birding along the river with Sue W. We started out at Quarry Park and birded to Les Arends! Here is our list...

HOODED MERGANSER
COMMON MERGANSER
GOLDEN-CROWNED KINGLET
BROWN CREEPER
BELTED KINGFISHER
COMMON GOLDENEYE
WHITE-BREASTED NUTHATCH
BLUE JAY
JUNCO
MALLARD
HAIRY WOODPECKER
RED-BELLIED WOODPECKER
DOWNY WOODPECKER
BALD EAGLE
AMERICAN CROW
AMERICAN GOLDFINCH
HERRING GULL
AMERICAN ROBIN
CEDAR WAXWING
CANADA GOOSE
RED-TAILED HAWK
BLACK-CAPPED CHICKADEE
HOUSE SPARROW

Also had my first of season male RED-WINGED BLACKBIRDs in my yard this morning! Nice!!!
---
Ed and Trudy Vedral on 2/18 reported via e-mail: This morning we had (2) male Red Wing Blackbirds in our yard and (1) Grackle. It was nice to hear the Red Wings calling this evening while they were getting ready to roost for the night. Although we saw only (2), I heard a lot more this evening.
---
Kathy Andrini on 2/18 reported via phone: A possible sign of spring? Five Turkey Vultures flew over their car today as they drove through downtown Geneva.
---
Kurt Frieders on 2/16 reported via e-mail: As I had mentioned in an earlier post, I've had a lot of Canada geese hitting my fields (in Aurora township) the last few days. There are even more flying around today than the previous two days. Right before I was about to step into my car I heard a familiar call to my ears, but a very foreign one on my property. I looked up and saw a flock of specklebellys (white-fronted geese) flying right over my head. It is only the second time ever I have seen specs from my property. There were ten of them in the flock. From the barring I could see on them, they looked to be a flock of mature birds.
---
Kurt Frieders on 2/16 reported via e-mail: I just saw my first pair of spring birds at one of my feeders (in Aurora township). I'm not terribly excited about the species because they are brown headed cowbirds, but I'm happy to see spring birds nonetheless. Last week I had my first common redpoll visit the feeder. Pine siskins, northern cardinals, house finches, house sparrows, dark eyed juncos, black capped chickadees, downy woodpeckers and mourning doves continue to be daily visiters to my feeders. With the snow melting off of my fields, Canada geese are starting to feed in them again.
---
Eric Secker on 2/14 reported via IBET: Sally and I stopped along the Fox River today by the Otto Factory in Carpentersville. There were a couple BALD EAGLES visible from the Otto Factory parking lot on the east side of the river including an adult and an immature bird that put on a show flying around over the parking lot. Also, there was an adult THAYER'S GULL flying around with the other gulls by the Otto Factory (between the old railroad bridge and Huntley Rd. / Main St.) I wonder if this is the same bird that was present back in mid December? Also along the river, we had two AMERICAN COOTS and a few COMMON MERGANSERS.
---
Joe Lill on 2/14 reported via IBET: ...on Sunday I had one male Pintail and two male Gadwalls on the Fox just south of North Ave. in St. Charles, near the bike trail/pedestrian bridge. There's a parking lot on the west side of the river at that spot, too.
---
Karen Land on 2/14 reported via IBET: I have a youngish White Oak outside my family room window, it still has most of it's leaves on but they are going fast. Today about 2 pm, about 40 waxwings kept coming to the oak flying quickly from the pines from my back lot line. In the past I have had the waxwings spend the night within the cup the oak leaves create. Also saw a few robins today.
---
Karen Land on 2/13 reported via IBET: This morning while returning from grocery shopping via Randall Road, we spotted 2 adult Bald Eagles sitting outside of the nest they occupied this past summer on the Mooseheart property
---
John Janunas on 2/12 reported via e-mail: Had this shot from a rare sunny day on the Fox.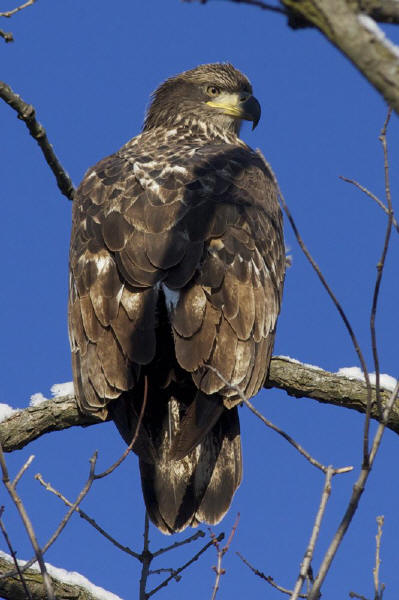 Bald Eagle juvenile photo courtesy John Janunas
---
Ed and Trudy Vedral on 2/12 reported via e-mail: Today we have 8 female Red Wing Blackbirds in our yard, but we have not seen any males this year. At least a dozen Robins and a small flock of Cedar Waxwings were here also.
---
Kathleen O'Deen on 2/12 reported via e-mail: A gorgeous adult Bald Eagle flew right over my house being chased by a juvenile bald eagle on 2-11-11 about 3pm. I live at larkin & edison in Elgin. Looks at though they were just having a little fun.
---
Jim Narovec on 2/11 reported via e-mail: Juvenile Eagle in a tree on the islands between the Otto buildings in old Carpentersville on 2/11/11 around lunchtime. I saw 4 (2 pair) by Otto and one further south in W. Dundee.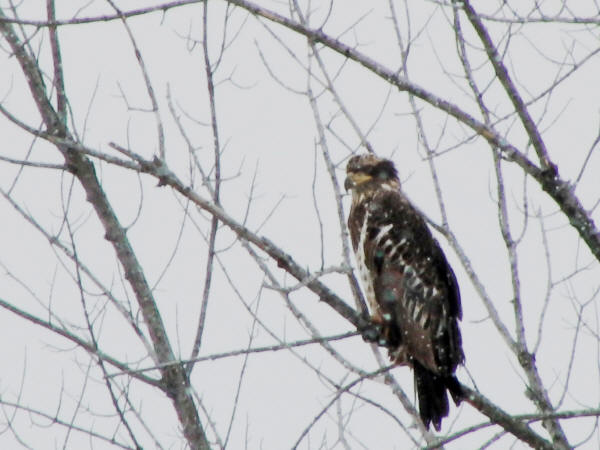 Juvenile Bald Eagle photo courtesy Jim Narovec
---
Bob Andrini on 2/11 reported via e-mail: This White-throated Sparrow made an appearance at our bird feeders after the sun had gone down. I think he forgot to head south for the winter.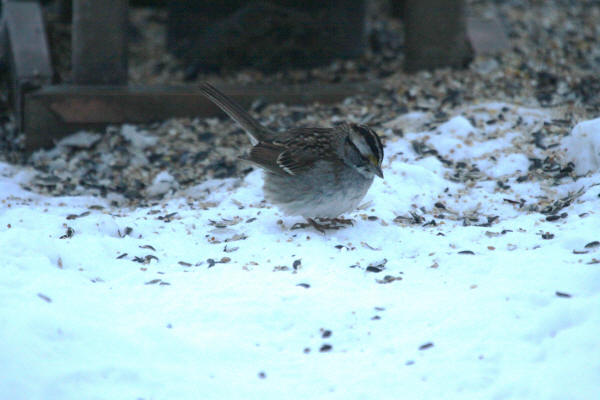 White-throated Sparrow photo courtesy Bob Andrini
---
Julie Long on 2/8 reported via e-mail: There was a yellow rumped warbler with a small flock of nuthatches, woodpeckers, and brown creepers at Jon Duerr forest preserve parking lot on Monday, Feb. 7.
---
Steve Beckle on 2/6 reported via IBET: Sunday at 2 PM I was on the small suspension bridge over the river south of Wilson St. [in Batavia] directly across from the water plant, observing the GB heron on the west bank south of me about 75 yards. A mature bald eagle flew over me heading south and perched in a tree on the east bank about 400 yds downstream from me.
---
Ed and Trudy Vedral on 2/5 reported via e-mail: Today we had a female Red Wing Blackbird by our ground feeder. She is quite shy.
---
Karen Land on 2/5 reported via IBET: We hadn't seen any eagles i a few weeks but then we only have time to look on the weekends. Today we had to run a few errands in downtown Batavia and while sitting in traffic on the Wilson Street Bridge, a Great Blue Heron flew over twice, once up river then back down. There is open water from just north of the bridge to below the Waste Water Treatment facility were they release clean effluent into the river. We drove south on Shumway Ave from Wilson and just behind the old Tri-Com building one of the immature bald eagles was sitting in a tree less than 30 feet away. While we were taking some photos, the GBH flew over us again. This was about noon on Saturday (today)
---
John Janunas on 2/5 reported via e-mail: An argument over a branch on the Fox River.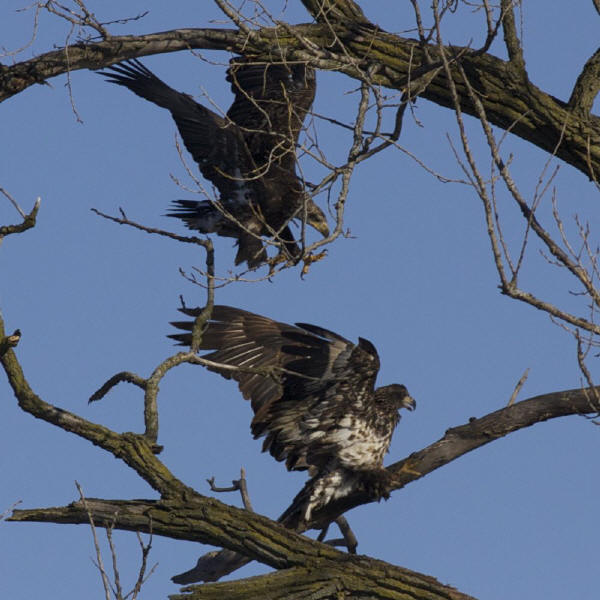 Juvenile Bald Eagles photo courtesy John Janunas
---
Walt Lutz on 2/4 reported via e-mail: Friday midday: 3 Bald Eagles and 2 Mute Swans south of the South Elgin dam. 1 Bald Eagle at the Elgin dam. Nesting Great Horned Owl At Rutland Forest Preserve.
---
Mark Bowman on 2/2 reported via e-mail: After working for hours cleaning up the snow and putting out a little bird food, I was sitting at my desk fixing the suet feeder that the deer and squirrels keep pulling down! I saw something come into the maple tree which ended up to be an unusual visitor to my feeders, A HAIRY WOODPECKER. It was a female and she was very attractive. I grabbed my camera and quickly took a few shots. Unfortunately, I did not have it on single focus and got only one good shot. Hopefully she will visit on occasion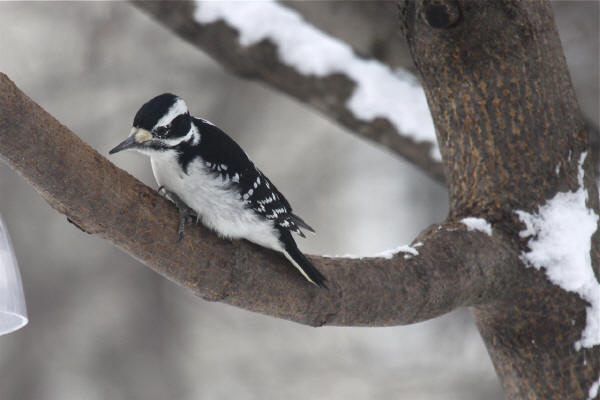 Hairy Woodpecker photo courtesy Mark Bowman
---