---
Yeanette Johnson on 2/28 reported via eBird: The Woodcock's began "Peenting" at 6pm at the woodland edge of the Fen in St. Charles IL. 3 (possibly 4) birds were present. As I stood watching and listening, one Woodcock actually flew up right over my head and gave me a very nice look at himself. His short, chunky body & roundish wings were easily seen, as was his long bill. Hearing his twittering wings above my head was a real treat!
---
Debbie Wisser on 2/27 reported via e-mail: There was a Peregrine Falcon perched on the Tower Building, in downtown Elgin, today. It was on the west side of the building about a third of the way down from the top of the building. I saw it at about 4:15 pm.
---
Dahria (no last name given) on 2/27 reported via e-mail: At 1pm this afternoon, there was an adult bald eagle soaring over my house! (Batavia, IL near Mooseheart)

On February 25th there was a sharp shinned hawk in my tree.

On February 24th there was a red tailed hawk flying through my back yard.

Two cooper hawks both male and female frequent my back yard.
---
Jim Narovec on 2/27 reported via e-mail: ...spotted the usual flocks of Canadian Geese, Mallard Ducks and a few Golden Eyes on the Fox River along the bike trail north of the dam in Carpentersville. Also snapped a few pictures of a Red Tailed Hawk soaring over the river.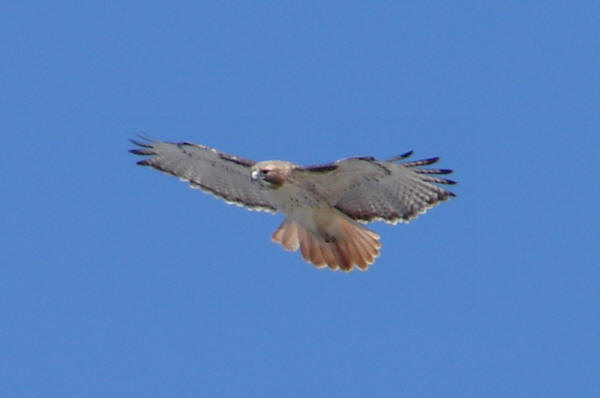 Red-tailed Hawk photo courtesy Jim Narovec
---
Tim Bradley on 2/27 reported via e-mail: I spotted these two Sandhill Cranes on Main Street and Nelson Lake Road, across the street from Dick Young Forest Preserve. They were working a cornfield just prior to sunset.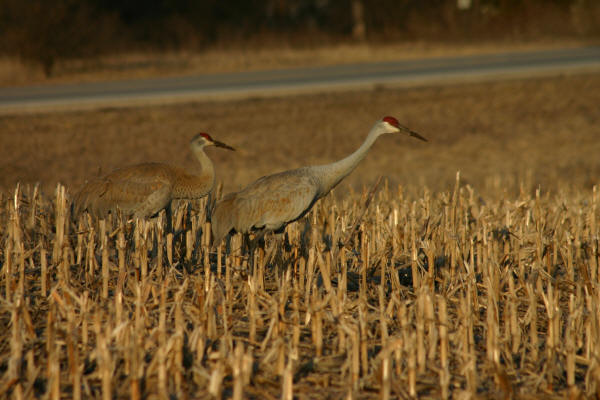 Sandhill Crane photo courtesy Tim Bradley
---
Walter Lutz on 2/26 reported via e-mail: Turkey Vulture over west Elgin (in town) today, Sunday 3 p.m. First of the year for me.
---
Kurt Frieders on 2/26 reported via IBET: We woke up this morning to take out the dog and flushed our usual Cooper's Hawk out of our birch tree. He was very soon replaced on the fence by the Sharp-Shinned Hawk that he has been competing with for our songbirds. A few hours later our usual Red-Tailed Hawks flew by. All of these above birds have been daily sightings for the past three weeks. Then just before noon a real treat arrived in a single juvenille light Rough-Legged Hawk. This is only the second one that has graced out property [Aurora township]. In the early part of winter we had an adult male in one of the trees at the edge of our field, and now this special juvenille was hunting the property today.
---
Bill Koch on 2/23 reported via e-mail: Viewed and heard 2 Killdeer today while walking my kids to the bus. This is about 2 weeks earlier than the last 5 years for me. The Red Winged Blackbird males are back singing right on schedule as I usually hear and see them in good numbers in the second week of Feb. I did view more Red Wingeds than usual in the area this winter though.
---
Marion Miller on 2/20 reported via e-mail: Decided to get in one last count for the GBBC today by going to the Main Street entrance for Dick Young FP/Lake Nelson. Arrived there at 4:30pm and had a great 15 minute observation! Beside the 100's of flying Canada Geese, observed a Great Horned Owl flying from the tree onto the ground, 2 adult Bald Eagles flying over the tree tops down towards the lake, 2 vocal Sandhill Cranes flying pass the parking lot twice and finally a female Northern Harrier hunting low over the grasses. What a great way to end my counting for the GBBC.

---
Kurt Frieders on 2/20 reported via IBET: I've only been home for a half hour and have had a few great looks at raptors. All of my bird feeders were vacant because there was a Peregrine Falcon swooping around my house [in Aurora township]. It's only the second time I have seen one in my yard, and this time the bird did not perch on a phone pole for a photograph like last time two months ago. After coming in the house I was treated to a Sharp-shinned Hawk on my birdbath. He has been competing with a local Cooper's Hawk for my songbirds lately.
---
Jackie Bowman on 2/20 reported via e-mail: This morning Chris and I went out to Carson Slough in hopes of seeing yesterdays reported Tundra Swans. While there were no swans present we did enjoy looks at 3 Sandhill Crane, and mixed in with a group of distant Canada Geese, was a lone goose of a different color. First looks hinted at a possible Barnacle Goose, but upon closer unobstructed views the orange bill and feet indicate a probable Barnacle x Snow Goose hybrid. Still a beautiful specimen....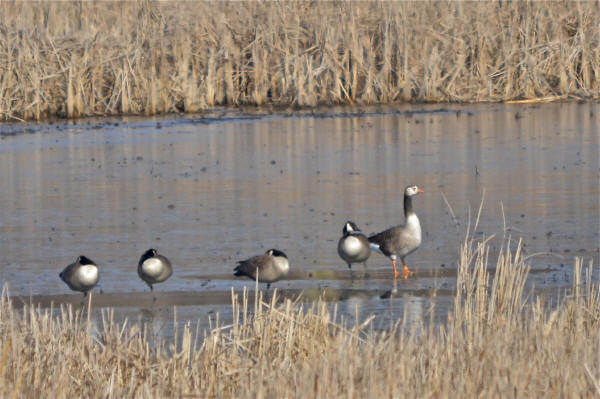 Possible Barnacle Goose hybrid photo courtesy Jackie Bowman
---
Rich Miller on 2/19 reported via e-mail: Marion and I decided to use the west side bike path, south of the Quarry Park for a backyard bird count. The highlight for me was seeing groups of Goldeneyes flying up and down the river as they were spooked by various things. I managed to get one decent photo of a group in flight. We counted 60+ of these beautiful birds.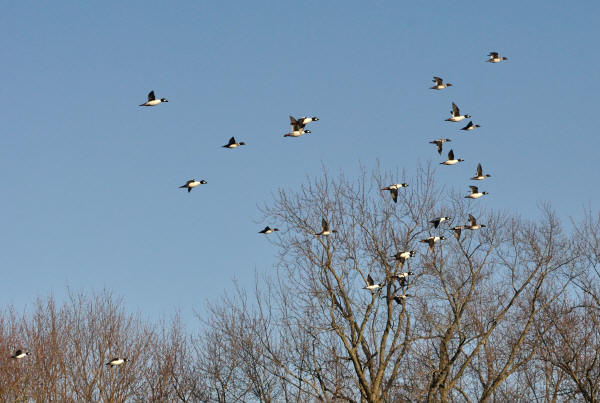 Common Goldeneyes photo courtesy Rich Miller
---
Walter Lutz on 2/19 reported via e-mail: Beautiful Eastern Bluebirds this morning at Schweitzer Woods (West Dundee/Sleepy Hollow)
---
John Heneghan on 2/19 reported via IBET: Watching a flock of 19 sandhills flying pretty high [over Big Rock Forest Preserve] heading North. Amazing how they glide along with out much effort!!
---
Sean Fitzgerald on 2/19 reported via eBird: Sighting 4 Tundra Swans on Saturday at Carson Slough in Aurora.
---
Andie Groff on 2/19 reported via eBird: Sighting a Golden Eagle at 4:15 on Friday in Big Rock near Price Road and Rhodes Street.
---
Bud Schultz on 2/18 reported via e-mail: Today 2/18/2012 at 2pm, My wife and I saw about 25 – 30 pelicans come into scope out Nelson Lake, near the east overlook. One landed and the rest were circling at a low level. The one took off and they circled till they were almost out of sight and then headed southeast. Their decision might have been due to limited open water and the hunting Bald Eagle.
---
John Heneghan on 2/18 reported via IBET: We went to Big Rock Forest Preserve in Kane County last night for a quick look. We saw quite a few robins, cardinals, chickadees, a few juncos and tree sparrows and FOY red winged blackbird and kingfisher. Good to hear the calls of RWB and kingfisher.
Geese and ducks were pouring into the quarry as we were leaving. Saw what I
think was a flock of mergansers heading north.
---
Jim Narovec on 2/16 reported via e-mail: On 2/16/2012 about 8am, spotted 4 Bald Eagles; 2 Adult and one juvenile just north of Otto Engineering along the Fox River in C'Ville and one adult along the river at the C'ville/W. Dundee border. Also spooked a Coopers Hawk that was sitting on a Bridge Railing on the Fox River Trail soouth of Main St. in C'ville next to the Otto parking lot.
---
Mary Lou Mellon on 2/15 reported via IBET: The Tuesday Birders found a Hermit Thrush in Elgin yesterday (east of the Fox River Trail and north of Trout Park Blvd). Can spring be far behind?
---
Marion Miller on 2/13 reported via e-mail: Enjoyed a walk along the river from Quarry Park to Les Arends today. Highlights were 12 Cedar Waxwings making a colorful bright spot in the gray day, 60+ Common Goldeneyes, Common Mergansers, White-throated Sparrows rummaging through the damp leaves and 9 Robins in one shrub.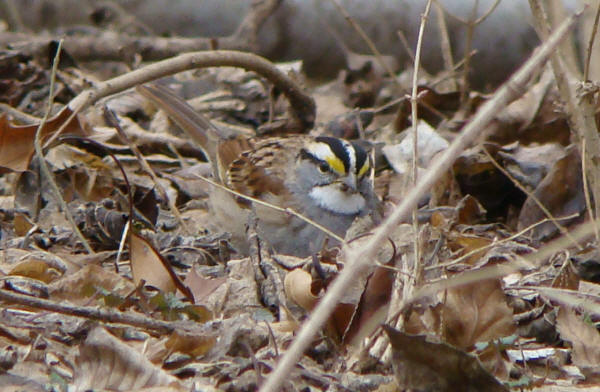 White-throated Sparrow photo courtesy Marion Miller
---
Walter Lutz on 2/13 reported via e-mail: Monday Feb. 13 A.M.
From SEBA park to Jon Duerr F.P.: Among the hundreds and hundreds of geese and mallards 4 Bald Eagles (2 adults, 1 juvenile, 1 unidentified), huge flock of Robins, large group of Goldeneyes, couple Kingfishers, Brown Creeper (& Northern Pintail seen by others)

Voyagers F.P.: River is frozen over. Very quiet.

Jelke Creek Bird Sanctuary: Ponds are frozen over. Many Red-tail Hawks otherwise very quiet.
---
Chris Madsen on 2/12 reported: Signs of spring this weekend - Northern Cardinals have begun to sing and male Common Goldeneyes on the Fox River are engaging in their courtship display.
On Sunday mid-morning, Carla and I spotted a dark morph Snow Goose among the thousand or more Canada geese near the old quarry in Batavia. By the time we returned with a camera in the afternoon, the snow goose (and most of the Canadas) had departed the shoals where we saw it in the AM.
Later, having read reports of eagles laying eggs in Iowa and along the Mississippi in Illinois, we checked the newly-built nest at Mooseheart. Apparently this pair has honed their nest-building skills. The new aerie seems larger and deeper than the nest that didn't survive last summer's storms. And, the sight we hoped to see, the nest was occupied. Two Bald Eagle heads barely visible above the rim of the nest. Perhaps brooding has begun.
---
Tim Bradley on 2/11 reported via e-mail: While out checking for hawks came across this beautiful Rough-legged Hawk soaring over [Aurora West] forest preserve on Hankes Road in Sugar Grove. We were lucky enough to snap this one photo as it soared past us. We also spotted 12 sets of Red Tail Hawks paired up. Only one single Red Tail was spotted without a mate. Tim Bradley and Taylor Joray. Spotted bird Saturday, February 11 at 10:00 am.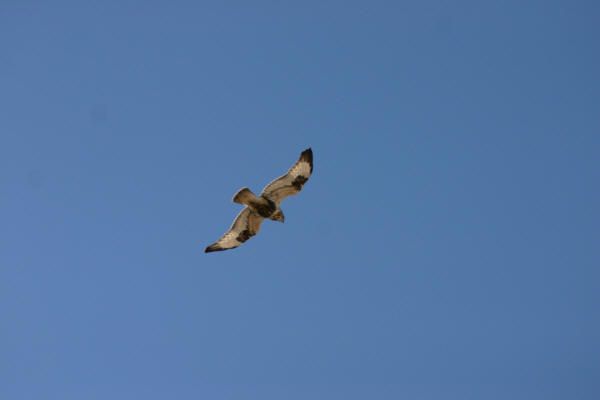 Rough-legged Hawk photo courtesy Taylor Joray
---
Brendon Lake on 2/11 reported via e-mail: Went out late today and saw a total of 5 BALD EAGLES between Carpentersville, Dundee, and Elgin. The only juvenile was near Village Squire, where I witnessed it dive bombing a group of goldeneyes. Also in Elgin on the Elgin Tower Building, a Peregrine Falcon was sitting on a ledge.
---
Tim Bradley on 2/10 reported via e-mail: I sighted an American Kestrel overlooking the field at Hannaford Forest Preserve on Merrill road in Sugar Grove. He took off and hovered midair for a few minutes looking for his prey in the fresh snow. Tim Bradley, February 10th, 1:30 pm. Snow and 32 degrees.
---
Kurt Frieders on 2/10 reported via e-mail: Recently we have had a lot of different hawks visiting our yard (in Aurora township). We see a pair of Red-Tailed Hawks in one of our trees daily. We have also have a Cooper's Hawk perching in some of our smaller trees, and even waiting under the birdbath for a free meal. On the few days that we haven't seen the Cooper's Hawk, we have seen a Sharp-Shinned Hawk perched on our fence near the birdfeeders. Needless to say, our songbirds have been pretty stressed lately.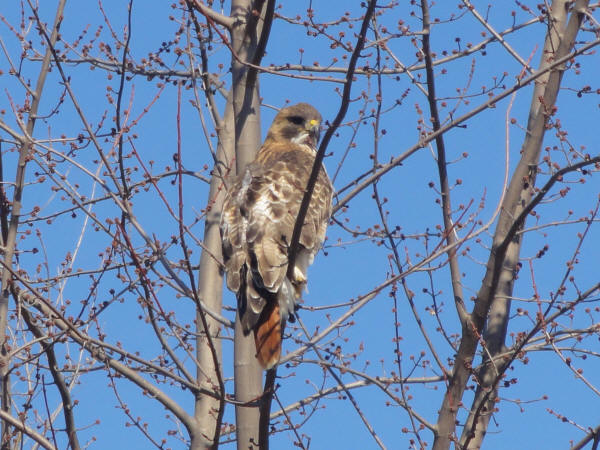 Red-tailed Hawk photo courtesy Kurt Frieders
---
Mark Bowman on 2/9 reported via e-mail: I have not seen this guy all winter, or at least while I have been around. But he showed himself today looking for a little treat at my feeders.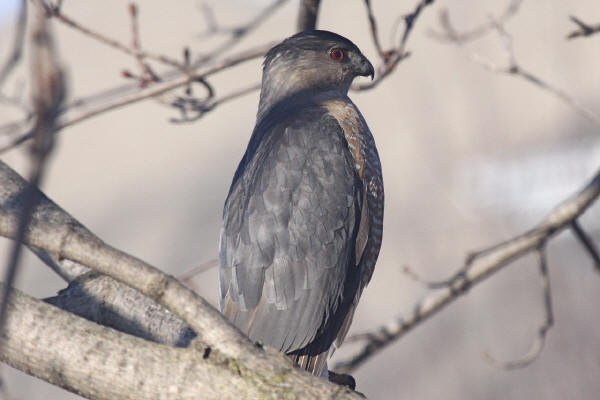 Cooper's Hawk photo courtesy Mark Bowman
---
Jim Narovec on 2/9 reported via e-mail: On 2/9/12 around 1pm, spotted a Bald Eagle in a tree along the West Bank of the Fox River in Carpentersville. A few minutes later, it flew off and circled the river after being bothered by some Blackbirds. After a few minutes it landed back in the same tree.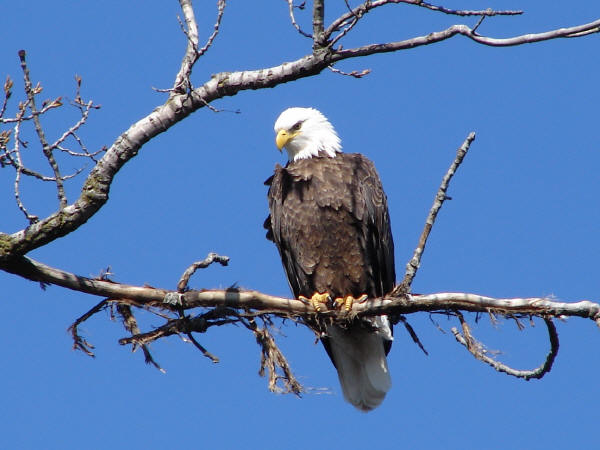 Bald Eagle photo courtesy Jim Narovec
---
Tim Bradley on 2/9 reported via e-mail: While scouting areas to hang Kestrel boxes this weekend I came across this hawk eating a mouse on an electrical pole. I had to go into a field and rest the camera on a concrete drain tile to get the long distance shot. He stayed around for about 20 photos and took his prey (a bat) and left. Upon enlarging the photo the bat is seen laying over the pole in front of the Kestrel. This photo was shot on Deerpath road and the tollway on February 9th.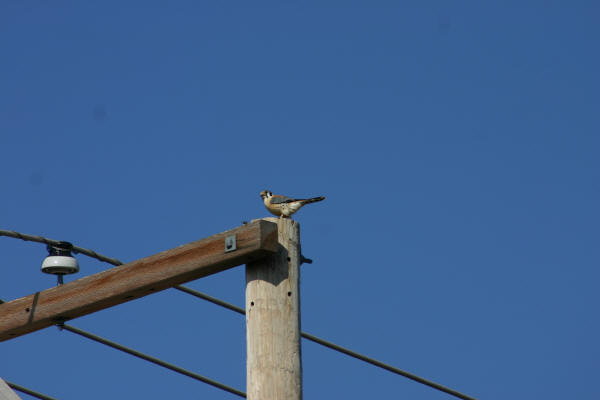 American Kestrel photo courtesy Tim Bradley
---
Barbara Bernard on 2/7 reported via e-mail: There is a bald eagle at Boy Scout Island [in St. Charles] on Tuesday at 4:40 in the afternoon.
---
Tim Bradley on 2/7 reported via e-mail: Spotted from my kitchen window on the far west side of Aurora a Coopers Hawk in my neighbors backyard feasting on a sparrow. Took several photos of him while he ate. Spotted him February 5th in the afternoon. Overcast and cool outside.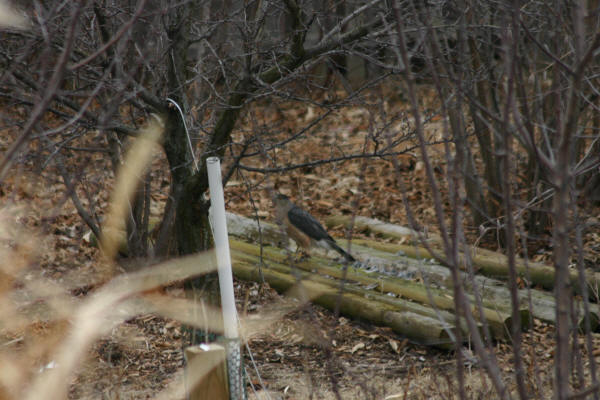 Cooper's Hawk photo courtesy Tim Bradley
---
Dorothy Mayerhofer on 2/7 reported via e-mail: On Tuesday 1-31-12 while walking my dog at Dick Young saw a pretty large flock of robins. Observed at close range as one stopped to enjoy a few red berries before proceeding south with the rest of the flock. The temp. was 46 degrees with a S-SW wind at 10-20mph. It was sunny and clear at the time of my sighting.
---
Jean Marie Steerup on 2/6 reported via e-mail: Saw one mature Bald Eagle at Tekawitha Woods near the parking lot for Capone's Hideaway. Adult Male. Friday 2-3-12. Then on Sunday saw one at Red Gate and 31 above the river. Then at John J. Duerr saw 3 soaring high. Two juveniles and one adult.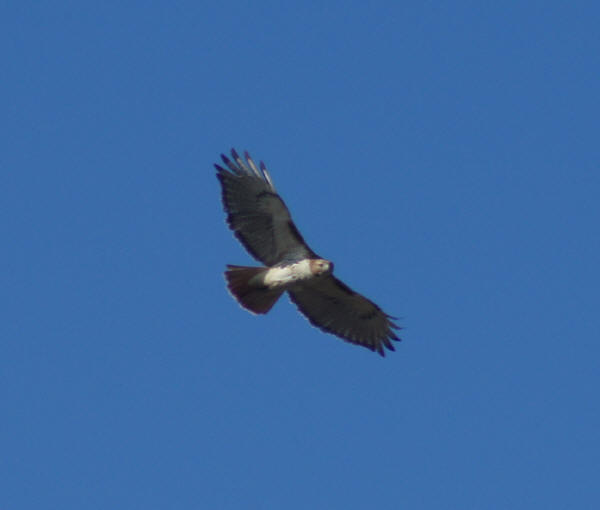 Red-tailed Hawk photo courtesy Jean Marie Steerup
---
Julie Long on 2/3 reported via e-mail: There was an adult bald eagle at the south end of Ferson Creek Fen, at about 4 PM Wed, Feb. 1. It was in the trees just north of the outlet of Ferson Creek where it empties into the Fox River. Then today, Feb. 3, my husband spotted an adult eagle on the trees of the Boy Scout Island where it juts out into the river. It was not there when I drove past a few hours later, unfortunately.
---