---
Bob Meierhans on 2/28 reported via e-mail: For 4 of the last 5 years, excluding this year, the cranes returned to Nottingham Woods on this date. The other year, they came a few days later.

Maybe they decided to go elsewhere this year because they lost both of their two chicks, one to causes unknown to me, and the other because I witnessed a fox kill one.

Still, we had 14 deer troop through the field behind us. First 2, then 4, then bit-bit-bit another 6, and after another 5 minutes, another group until they totaled 14 grazing in the field behind us.

I'm wondering now if the exceptional snow cover and extreme cold in our area is influencing the pattern for both Sandhill Cranes and deer.
---
Diane Hansen on 2/28 reported via e-mail: We were heading north on Randall when I spotted a single bird that looked unusual. We went back to find a Red-Breasted Merganser in the pond on the west side of Randall just a bit north of 90. I chose a shot with the golf island visible so you can pretend the grass is real and spring is here!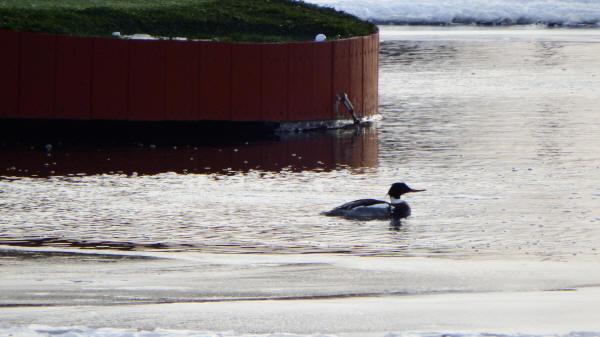 Red-breasted Merganser photo courtesy Diane Hansen
---
Marion Miller on 2/28 reported via e-mail: While driving Route 31 in Batavia, spotted a Red-shouldered Hawk perched low on a tree on the west side of Les Arends Forest Preserve. Also had an unexpected Peregrine Falcon on a telephone pole along Hughes Rd near Johnson Mound (Elburn) yesterday.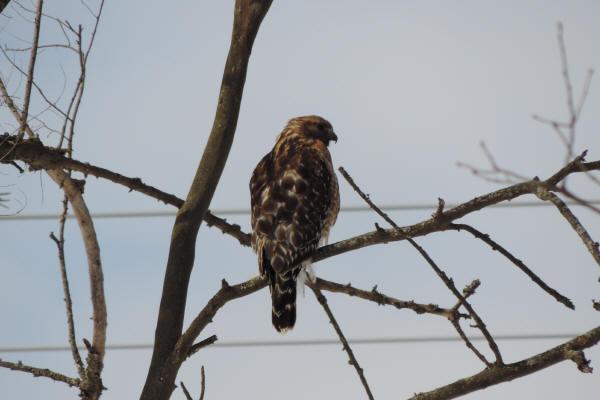 Red-shouldered Hawk photo courtesy Marion Miller
---
Debbie Wisser on 2/28 reported via eBird: The Townsend's Solitaire continues at Jon Duerr Forest Preserve, seen "near the river approaching where the trail at Jon Duerr intersects with the bike path."
---
Marion Miller on 2/28 reported via eBird: The Long-tailed Duck continues at the dam in Montgomery.
---
Pete Moxon on 2/26 reported via text message: Last night he received a report of a Snowy Owl in Kane County. He drove over to confirm the sighting: one Snowy Owl along Fabyan Parkway near Settler's Hill in Geneva.
---
Marion Miller on 2/23 reported via e-mail: Relocated the 2 Tundra Swans reported by Darrell C. on the ponds in back of the Vaughan Athletic Center off Indian Trails in Aurora. Both swans were close enough to view the small yellow tear drop shaped spot on its bill near its eye.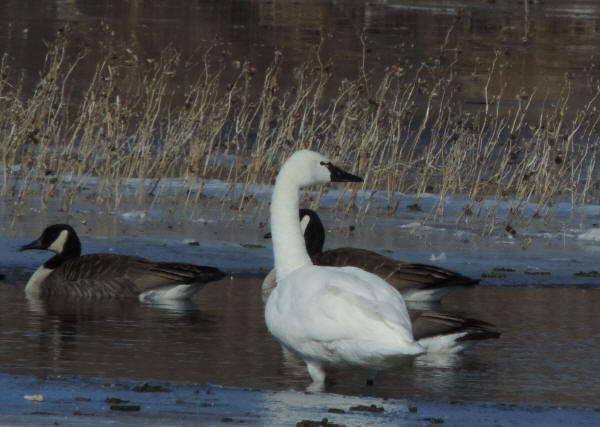 Tundra Swan photo courtesy Marion Miller
---
Brendon Lake on 2/22 reported via IBET: Hey all, a very good day to be birding in Kane County today. First of all, I noticed that gulls are slowly returning to the Fox River, however only Ring-Billed and Herring Gulls today throughout. I had a couple of Bald Eagles, one at Seba Park and one at Gunnar Anderson FP in Geneva. Seba Park was the highlight of the day for me, as while I was trying to get a better angle on a group of Mallards to scan, the good stuff popped right out at me when two ducks took flight, a male/female pair of Northern Pintails! The Fox River in St. Charles between Illinois and Prairie Streets had a pair of female Bufflehead. Island Park in Geneva had only one White-Winged Scoter today that I saw. The female Long-Tailed Duck showed well just south of the Mill Street bridge in Montgomery as it dove. Nearing 4 o'clock a bunch of geese were flying over as we parked at Big Rock FP, and scanning those groups produced one obvious Cackling Goose, and a pair of Great-Horned Owls were heard hooting near the bridge area. Finally, on Dugan Road near Scott Road, a group of four Eurasian Collared-Doves were sitting in a tree at a farm. On a non-bird note, a lone Mink was a nice surprise as it skulked and ran around near the bank of the creek at Big Rock FP.
---
Bob Andrini on 2/22 reported via e-mail: The Long-tailed Duck is now hanging around the Mill St. bridge (south of the dam) in Montgomery.
---
Diane Hansen on 2/21 reported via e-mail: On Wednesday I was visiting a few favorite spots and thought I was headed home when I saw a silhouette on the river as I passed Beck Street which leads to Chipstone Park [in South Elgin]. Of course I had to turn around and check it out. It was a Great Blue Heron. I watched as it flew from one spot to a second spot and fell thru the ice upon landing. I got several shots of this event thinking that would be a great post. I then noticed 4 other herons in the same area and observed one close to shore being barked at by a German Shepherd. The bird seemed okay with the barking and stayed for a long time. I thought that too would be a great post. Then I observed two of the birds squabbling over one fish which resulted in this photo, my favorite of the day.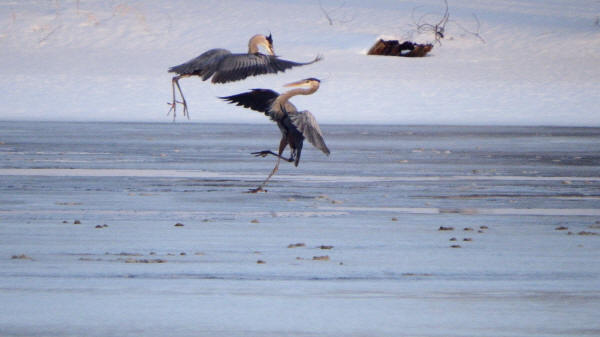 Great Blue Herons photo courtesy Diane Hansen
---
Jude Vickery on 2/21 reported via IBET: Hi All, There is a Long-tailed Duck actively diving just 100' south of the MILL STREET BRIDGE , in Montgomery, IL. This is just a half mile more or less north of the Kendall county line, on the Fox river.
---
Chris Mussachio on 2/19 reported via e-mail: Spotted these 2 Mute Swans heading north through Carpentersville. Can't blame them since it's so hot out these days.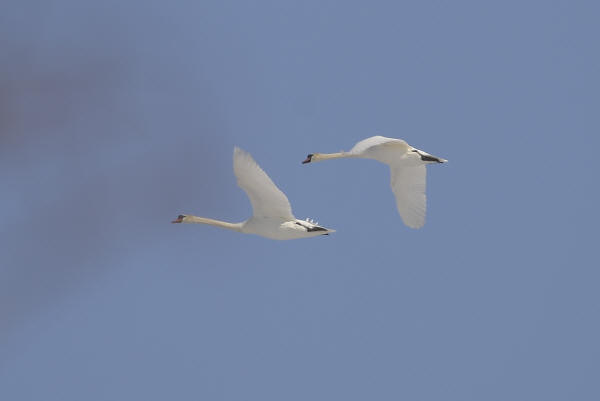 Mute Swans photo courtesy Chris Mussachio
---
Ryan Jones on 2/19 reported via eBird: Another(?) Long-tailed Duck at South Broadway Park in Montgomery.
---
Diane Hansen on 2/18 reported via e-mail: Sunday I was one of several birders viewing the Long Tailed Duck. Yesterday I took my granddaughter to the South Elgin dam hoping to find her first eagle. We didn't see any eagles but thanks to Brendon introducing me to the Lesser Black-backed Gull a couple weeks ago, I recognized it at the dam.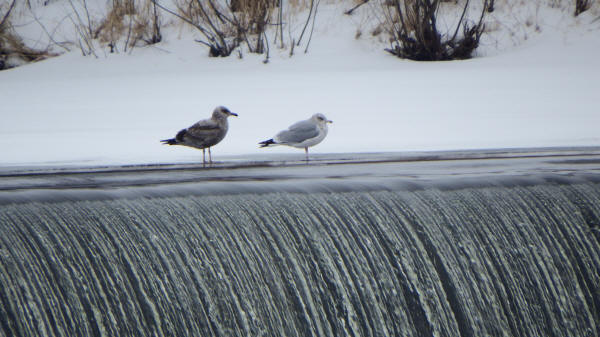 Lesser Black-backed Gull (R) photo courtesy Diane Hansen
---
Jackie Bowman on 2/18 reported via IBET: Batavia's Long-tailed Duck female continues today. We observed her south of the pedestrian bridge from 11:00-12:00.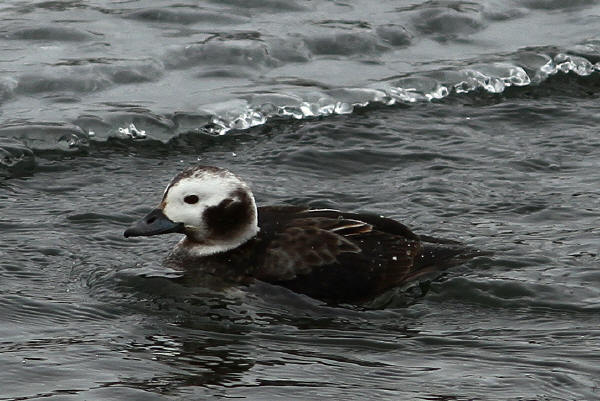 Long-tailed Duck photo courtesy Chris Madsen
---
Kathy Noerenberg on 2/17 reported via IBET: Yesterday at 4:30 I saw a Rough-legged Hawk at the top of a tree by a house on the south side of Rte. 30 just west of the entrance to the Aurora Airport. Even though it was the light morph its size and dark color made it stick out. It then treated me to flying off toward the airport so I was able to clearly see the identifying underside of the wings.
---
Eric & Sally Secker on 2/16 reported via IBET: We checked spots along the Fox from Algonquin to Dundee today. Nothing unusual species wise. Common Goldeneye, Common Mergansers, a couple Red-breasted Mergansers, and Bald Eagles were the usual highlights.

The most interesting bird was a Common Goldeneye x Hooded Merganser hybrid.

[An update] from yesterday: we saw one of the Geneva area White-winged Scoters from the Gunnar Anderson F.P. parking lot...
---
Marion Miller on 2/15 reported via IBET: Long-tailed Duck on the Fox river in Batavia. Best viewed from Wilson Street bridge looking north. It is swimming and diving between that bridge and the iron pedestrian bridge that says Peace on Earth.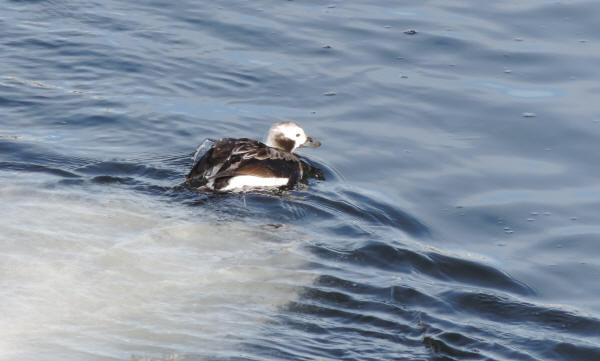 Long-tailed Duck photo courtesy Marion Miller
---
Brendon Lake on 2/12 reported via e-mail: I took a hike for a little over an hour at Burnidge Forest Preserve today, and came up with 11 species of birds. Highlight of the hike was the very first bird seen, a female Purple Finch. There were plenty of Northern Cardinals, American Goldfinches and White-Breasted Nuthatches, as well as flyover Cedar Waxwings. A lone American Robin and a Red-Tailed Hawk rounded out the notable sightings.

Purple Finch photo courtesy Brendon Lake
---
Richard Wilson on 2/12 reported via e-mail: Watched one rough- legged hawk today on Sandwald RD between Bigtimber rd and the tollway bridge near Huntley. This Buteo was hunting the corn fields and mostly from sitting on the ground. It did some hovering but seemed in no hurry. A very good display for 1/2 hour. Very close to the road.
---
Kurt Frieders on 2/10 reported via e-mail: Sunday brought several good birds to our property (in Aurora township). We were most excited to see a pair of Rough-Legged Hawks that circled our field for most of the day. Our feeders were busy all day with Goldfinches, Cardinals, Juncos, Downy Woodpeckers, and a lone American Tree Sparrow stopping by. Also for the past 4 days (including today) we have seen a flock of 12 Horned Larks hanging out around the south parking lot of Parkside Lanes.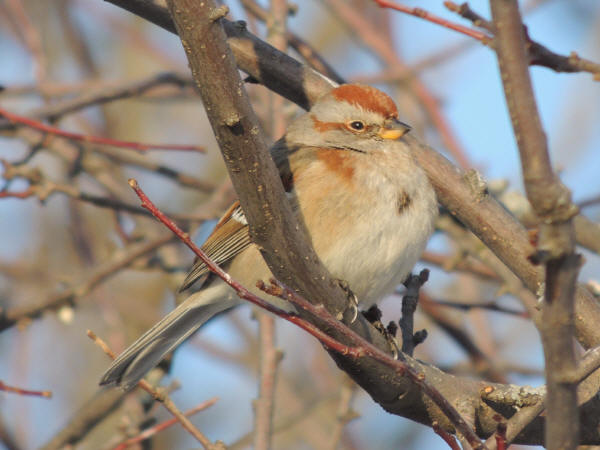 American Tree Sparrow photo courtesy Kurt Frieders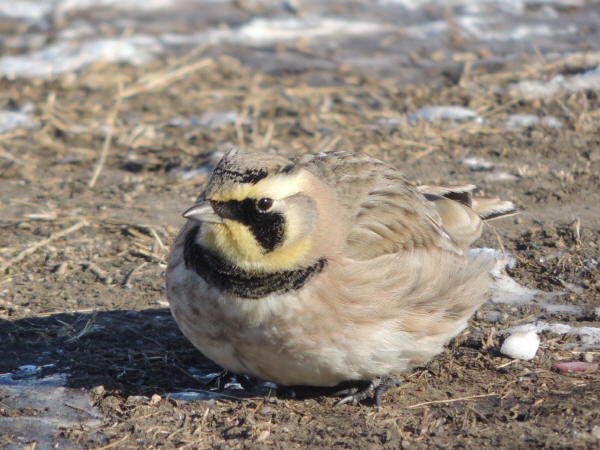 Horned Lark photo courtesy Kurt Frieders
---
Chris Madsen on 2/9 reported: This morning Carla and I went looking for the Snowy Owl that had been reported earlier this winter along Dauberman Road between Scott and Wheeler roads. We had no luck with the owl, but did spot Bob and Rhonda Nelson, also car-birding. We also found these Eurasian Collared Doves at the intersection of Dugan and Scott roads.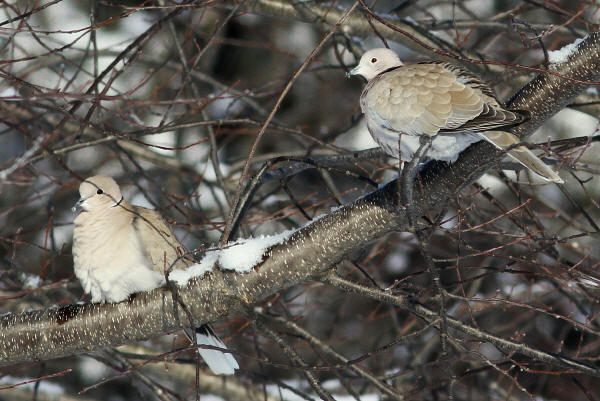 Eurasian Collared Doves photo courtesy Chris Madsen
---
Urs Geiser on 2/9 reported via IBET: On Sunday morning there were 6 WHITE-WINGED SCOTERs on the Fox River in Geneva (Kane Co.): 1 adult male, 1 immature male, and 2 females south of the wastewater treatment plant, and 2 females north of the railroad bridge (Island Park). Best access for both is the lot at the water treatment plant off IL-25.
---
Roger Hotham on 2/9 reported via IBET: Margaret Mechtenberg had an interesting encounter with her bird [the Townsend's Solitaire] early this AM. She enjoyed a close (up to 10 ft.) study for 5 minutes as it moved about the nearby vegetation. It cocked its head as she talked to it. She hopes it was not saying "good-by". The new location is at the north end of the bike trail bridge over the river. This is several hundred yards SE of the traditional gravel pit area of the Jon Duerr Forest Preserve.
---
Gloria Dimoplon on 2/9 reported via e-mail: I had a great look at an adult male Northern Harrier in flight this morning as he crossed low over the road that runs through the Burnidge Forest Preserve.
---
Tony Ward on 2/9 reported via IBET: The Townsends Solitaire is at [Jon Duerr FP] as of 12:45. Earlier the Harlequin Duck was seen at the Elgin Dam
---
Rhonda Nelson on 2/9 reported via phone: Bob and I car-birded west of Batavia today. We had 5 Ring-necked Pheasants at Nelson Lake along Seavey Road. Many Horned Larks feeding along the roadside, also on Seavey. Further west on Seavey near the Black Sheep golf course, a Rough-legged Hawk in a tree.
---
Carla Jaffe on 2/8 reported: Saturday's KCA walk at Batavia's Quarry Park was highlighted by sightings of 3 Black Ducks and a single Bufflehead and Ring-necked Duck. After a refueling break the group moved to Geneva's Island Park where 7 White-winged Scoters were seen, two of them male.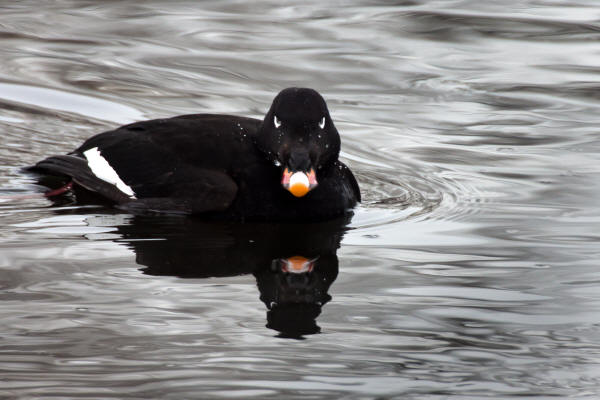 White-winged Scoter photo courtesy Dennis Walz
---
Marion Miller on 2/7 reported via IBET: Theresa LeCompte and I traveled around some of Kane County today. Continuing highlights were the HARLEQUIN DUCK at the dam off Kimball St. in Elgin, 4 WHITE-WINGED SCOTERS and a female RED-BREASTED MERGANSER at Island Park in Geneva and the RUSTY BLACKBIRD at John's feeders in Big Rock. We did find some HORNED LARKS, LAPLAND LONGSPURS, and SNOW BUNTINGS in Sugar Grove. One mixed group with 3 SNOW BUNTINGS was on the north side of Lasher rd approximately 1.5 miles from Harter rd in a field next to the farm with some grainery silos behind the house. The flock would fly between the farm fields and the house's backyard where there was a large grain spill. Our largest LAPLAND LONGSPUR group was on Seavey Rd between Bliss Rd and the Black Sheep Golf Club
---
Marion Miller on 2/4 reported via e-mail: Spotted this goose at the Carpentersville Dam in January. Although smaller than the other Canada Geese in the area, with a smaller bill and a prominent neck ring, it just didnít seem to fit the bill for a Cackling Goose. After checking with people who know more then me, it was determined it was a probable Lesser Canada Goose, subspecies of the Canada Goose. Although not easily seen in this photo, it does have a silver band on its right leg, but the numbers were not legible for reporting.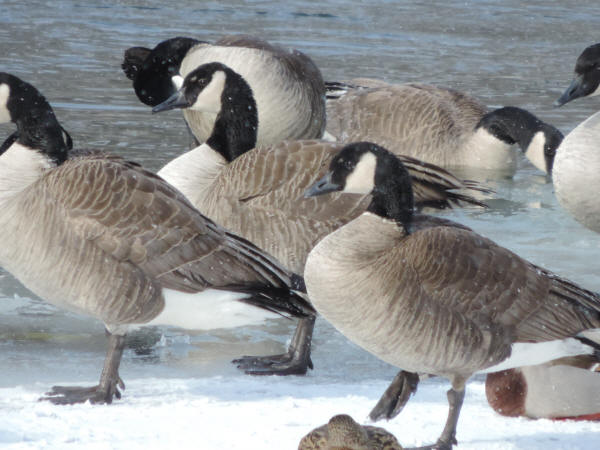 Lesser Canada Goose (right foreground) photo courtesy Marion Miller
---
Matthew Cvetas on 2/4 reported via IBET: ...After further scrutiny of additional photos, I am retracting the South Elgin Lesser Black-backed Gull I reported on Sunday. I got fooled by a bad angle on a Herring Gull with a bleached white head. You live and learn.

Oh, and congratulations to the Seattle Ospreys or is it Augur Buzzards?
---
Tim Balassie on 2/4 reported via e-mail: Have not seen many Northern Shrike reports this winter. My first was last Sunday (2/2) on North Lorang Rd near Elburn.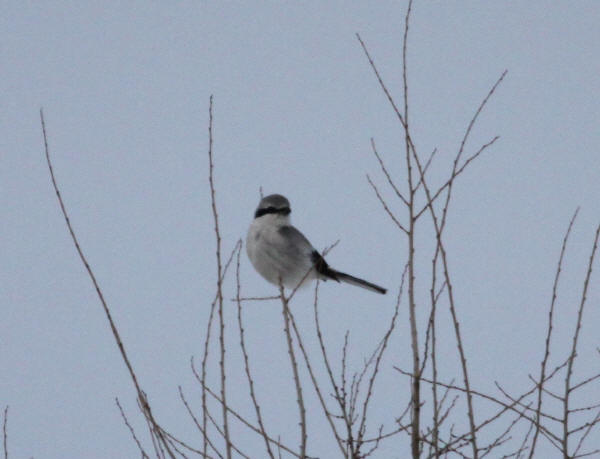 Northern Shrike photo courtesy Tim Balassie
---
Brendon Lake on 2/3 reported via IBET: Hey everybody, wanted to say that the Lesser Black-Backed Gull Matthew and Jake C. reported yesterday was still at Seba Park this morning. It was one of only three gulls, and the only one that was not an adult. It flew back and forth between the dam, the light post, and Seba Park regularly. The 6 White-Winged Scoters were again a treat to see down at Island Park in Geneva, as was the pair of Lesser Scaup.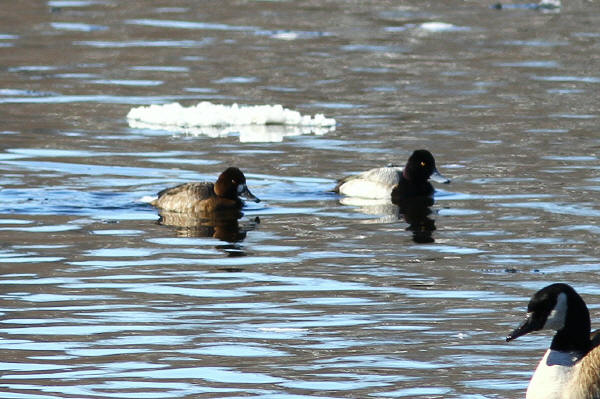 Lesser Scaup photo courtesy Chris Madsen
---
Jackie and Chris Bowman on 2/2 reported via e-mail: Many thanks to Andrew and Tim for their IBET report today about the 5 White-winged Scoters near Geneva's Island Park! Here are a few photos of what appears to be a happy little family.

White-winged Scoter photos courtesy Jackie Bowman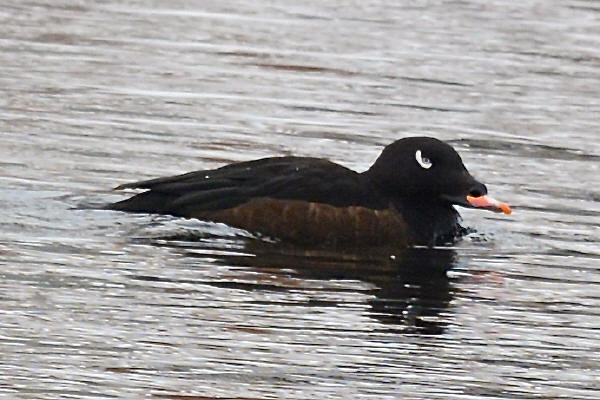 ---
Matthew Cvetas on 2/2 reported via IBET: Jake and I hit Kane County to see two of its continuing goodies. We arrived at the Kimball St. Dam in Elgin about 7:30am and walked around looking for the long staying HARLEQUIN DUCK. We actually missed it on first pass, walked a bit south and then returned to the dam. Apparently, I hadn't had enough coffee 'cause I finally spotted it resting on the far shore, perhaps on a submerged rock, just under the rushing water. It's very interesting how this location must feel much like where this duck was born.
From there, we hit Jon Duerr FP, ran into the man, the legend, himself, along with Margaret, who first located the TOWNSEND'S SOLITAIRE, and Debbie. Our stay here was a bit comical as it took us 90 minutes to actually see this western thrush while we heard it a few times early in our visit. Twice we walked right by it apparently only to be called back by the group. Of course, once we backtracked, we arrived to arms up in the air, shrugs, apologies, and no thrush. So, while everyone left we kept at it and finally got our bird. My dreams of getting pictures in good light kind were kind of frost bit. So, we headed out.
Our next stop was the dam at South Elgin. Not much happening here, but I did notice an interesting gull sitting atop a street lamp on the bridge. I walked over to have a closer look and found a 1st cycle LESSER BLACK-BACKED GULL. I snapped a few pics and we were on our way home.
...Since I don't have a horse in today's Superbowl race, I'll say what any decent birder might, "Go Seahawks!" Or, what the heck is a Seahawk? Eagle, right?
---
Andrew Aldrich on 2/2 reported via IBET: Hi, folks. Tim Balassie and I just had 5 white-winged scoters just south of island park in Geneva, north of the water treatment plant/railroad bridge.

Only other birds of note were a hooded merganser, 2 coots and 2 lesser scaup just south of the WTP.
---
Becky DeSilva on 2/2 reported via e-mail: Two Mute Swans were feeding near the Prairie Street Bridge in St. Charles today. One is in juvenile plumage.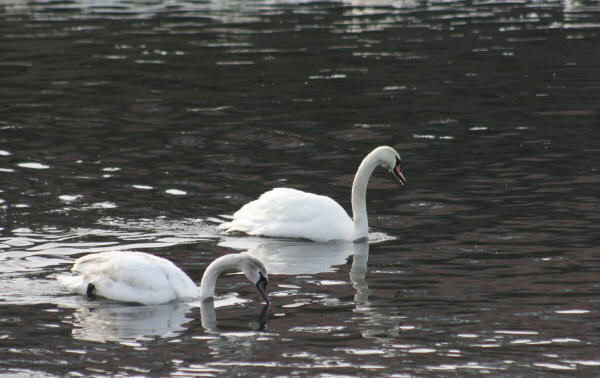 Mute Swans photo courtesy Beck DeSilva
---
Dan Ridolfi on 2/1 reported via e-mail: A male and female Hooded Merganser were hanging out with the ducks and geese on the Fox river in Batavia by the old windmill.
---