---
Steve Bayer on 2/27 reported via eBird: He saw the Barrow's Goldeneye near the bridge in West Dundee.
---
Diane Hansen on 2/27 reported via e-mail: I visited the Carpentersville dam late yesterday afternoon and saw a Red-Breasted Merganser.
---
Liz Gerity on 2/24 reported via e-mail: An Eastern Bluebird was sitting on the bluebird box in my Campton Hills backyard this morning!!
---
Jackie Bowman on 2/23 reported via IBET: I spent a little over an hour watching Kane County's Barrow's Goldeneye today from 1:30-2:45pm. I first observed him just behind the Otto Plant with a pack of COGO. They all flew south and took up feeding just across the river from the Squire Restaurant, north of the Rt 72 bridge. He seems to have taken to one of the female COGO, as he was constantly by her side. Views were good but a little distant as they all hugged the ice line on the east side of the river. Other birds of note, Canada Goose, Common Merganser, Bald Eagle.
---
Patrick Ricketson on 2/22 reported via e-mail: I am excited to share a photo of the Barrow's Goldeneye and a photo of a Redhead that I captured in the Carpentersville/Dundee area of the Fox River over the weekend.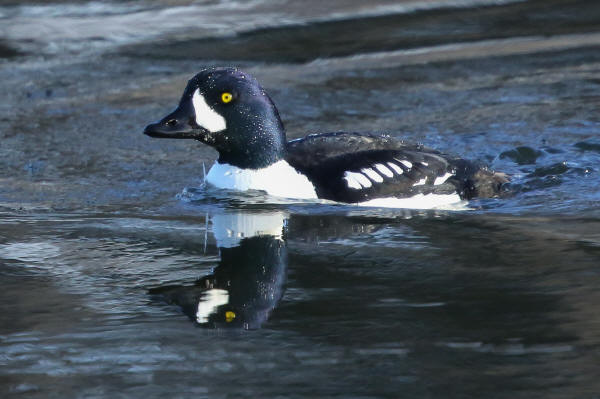 Barrow's Goldeneye photo courtesy Patrick Ricketson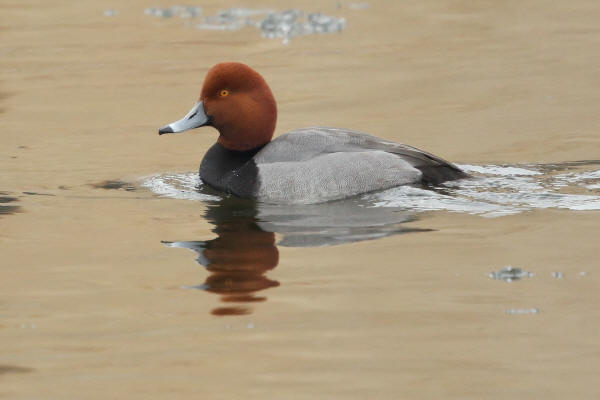 Redhead photo courtesy Patrick Ricketson
---
Peter Quagliana on 2/22 reported via IBET: Barrow's goldeneye was in the Fox River at the West Dundee/Rte. 72/Village Squire restaurant site (just north of the Rte. 72 bridge over the river) today at 11:30 am. Easily seen from the parking lot on the West Bank of the river without a scope, the bird was diving frequently with about 20 of its Common cousins. A common merganser was also nearby.
---
Diane Hansen on 2/22 reported via e-mail: I visited the Elgin dam yesterday. I hadn't been there since before the Harlequin rescue. In addition to the usual, I saw 2 Redhead, male and female Common Mergansers and a trio of American Coots.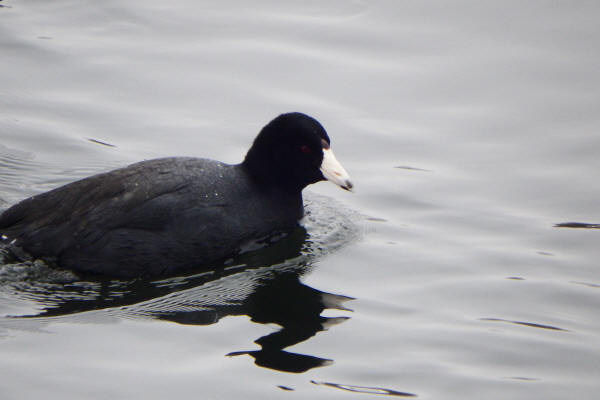 American Coot photo courtesy Diane Hansen
---
Linda Radtke on 2/21 reported via IBET: Had an adventurous time searching for the Barrow's Goldeneye today.

I arrived at about 11:00 and spent about 2 hours time near the Otto plant, but could not find the Barrow's. In this area there is a male Pintail, Black ducks, Hooded mergansers, and south of the Otto plant Redhead ducks.

I decided to take a break for lunch and then try for the Barrow's near the Village Squire restaurant near Rt. 72 where it also has been seen in the past. When I got there, there was a couple who said they had seen the Barrow's about 5 minutes before, but a dog had come by and scared all the Goldeneyes away! So, I went north up the river and tried to find it, and then went back to the Village Squire restaurant area to try again. The same couple had returned and told me that the bird had come back. There were about 4 or 5 birders who all got a good look at the bird. But not a long one, as something again spooked the Goldeneyes and they all flew off.
---
Cathy Martens on 2/20 reported via e-mail: I was astonished to see an adult bald eagle flying over my neighborhood this evening, a little before 5:30pm. From a distance I thought it must be a vulture, but as it came closer, there was no mistaking that white head and tail. It was headed NW toward the intersection of Route 64 and LaFox Road.
---
Adam Sell on 2/19 reported via IBET: Barrow's still continues north of Otto parking lot. Pintail continues by the dam overlook.
---
Drew Ullberg on 2/17 reported via IBET: Had to get outside & feel the sun during lunch. On the Fox River, near the old South Batavia Dam, I observed several pairs of goldeneyes, common mergansers, dozens of mallards, geese (of course) and a large female Bald eagle flew over.
---
Pete Moxon on 2/17 reported via eBird: Both the Barrow's Goldeneye and a Thayer's Gull at Otto in Carpentersville.
---
Julie Long on 2/17 reported via IBET: The Barrow's goldeneye was present this morning at 10 am on the northeast side of Otto Mfg. Near the island. Carpentersville. Seen by several people. Also present were two black ducks and a pintail.
---
Bill Ahlgren on 2/16 reported via IBET: Barrow's spotted today at 12:15pm north of the collapsed foot bridge at the Otto factory parking lot. Observed for about 5 minutes with scope. Kids walking in ice on west bank flushed the group of about 50 flying south. Unable to relocate but got good looks at the time we had.
---
Rich Miller on 2/16 reported via e-mail: Since is was nice clear day with greatly reduced wind, I decided to scour the pines at Nelson Lake for the Long Eared Owl. The only evidence to suggest an Owl presence was some white-wash on a White Pine. As I was making my way through I heard this little fella tapping away above my head. A Downy Woodpecker. One of many seen today. The snow is still 10-12" and crunchy in there. It is impossible to sneak up on anything.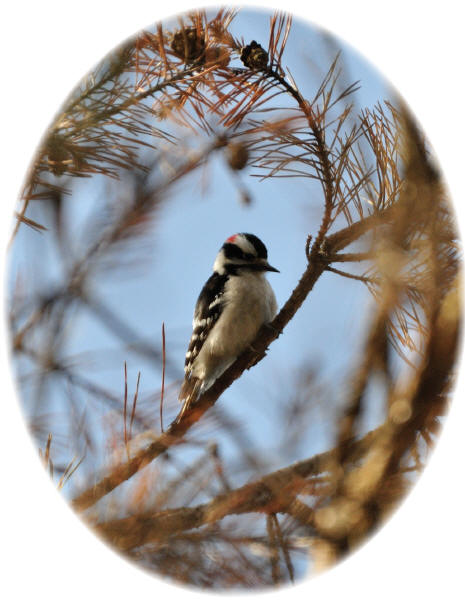 Downy Woodpecker photo courtesy Rich Miller
---
Marion Miller on 2/15 reported via eBird: A Sharp-shinned Hawk at the downtown Batavia McDonalds parking lot. She further informs that the bird " was right near the drive-thru. Probably waiting for a McSparrow!"

Sharp-shinned Hawk photo courtesy Marion Miller
---
Joan Campbell on 2/15 reported via IBET: Barrow's-Yes, but different location.
Ed & I arrived at the regular place--bridge north of the Otto building, at 1PM. Plenty of Commons, plus one Redhead and an immature Bald Eagle, but no Barrow's. We drove a little south of Main and pulled over a few places and scanned the open water but still couldn't find it. We finally headed back to the bridge at about 2:30 and a man (Jeff) pulled up and said he had seen it just 5 minutes before and offered to lead us to it. Thank you Jeff! The Barrow's had relocated about a mile south. We headed back over the bridge and turned left (south) on Lincoln to a parking lot near Third Street, just around the bend from the Village Squire. There were 4 of us and we got great views of the Barrow's, no scope required. We watched him for 20 minutes and he was still there when we left at around 3:15PM.
---
Jude Vickery on 2/15 reported via eBird: Not only the Barrow's Goldeneye, but a Thayer's Gull in the same vicinity (north of the Otto building in Carpentersville).
---
Diane Hansen on 2/15 reported via e-mail: Yesterday in South Elgin I noticed an adult bald eagle at one of my usual spots to visit. I drove closer and braved the bitter cold and wind to walk out to get a better look. It was then I noticed a second eagle on the river below the tree. Soon they were both in the tree...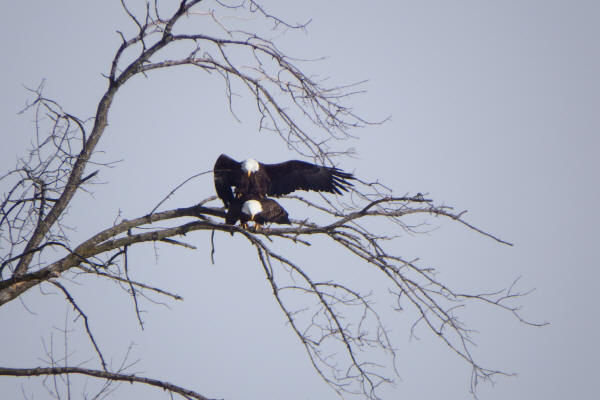 Bald Eagles photo courtesy Diane Hansen
---
Colin Dobson on 2/15 reported via IBET: The Barrow's Goldeneye is north of the bridge, north of the Otto building with 70+ goldeneye.
---
Marion Miller on 2/14 reported via e-mail: Rich and I finally located the Barrow's Goldeneye, in Carpentersville, after 3 attempts since first found by John in January. Around 1pm it was frolicking with a group of 30 Common Goldeneyes north of the Otto factory. Thank goodness we were able to view it with our binoculars from the warmth of our car! We were lucky if we got a total of 5 minutes viewing time since it was aggressively diving most of the time we were there. It was fun to try to locate it over and over again. Other notables there were Redhead, pair of Hooded Mergansers, American Black Ducks, and both adult and immature Eagles.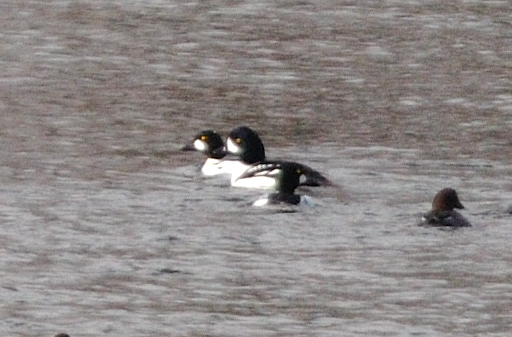 Barrow's Goldeneye (center) among Common Goldeneye. Photo courtesy Marion Miller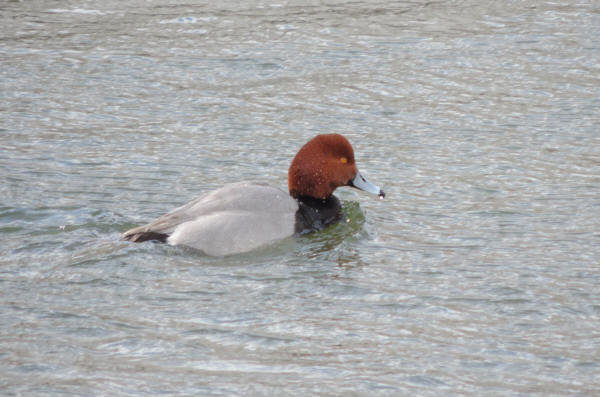 Redhead photo courtesy Marion Miller
---
Alex Peterson on 2/14 reported via e-mail: Yesterday, at Rutland Forest Preserve: 11 Great Blue Herons and 9 nests (difficult to find the rest). A very active community! When I arrived home and started editing my photos, I noticed something fuzzy on one of the nests. Upon closer inspection, there were 2 Great Horned Owlets peeping out of one nest, and another Owlet perched on the edge of another. Even with binoculars and a 500mm lens on my Nikon, my family and I had no idea the owlets were up there!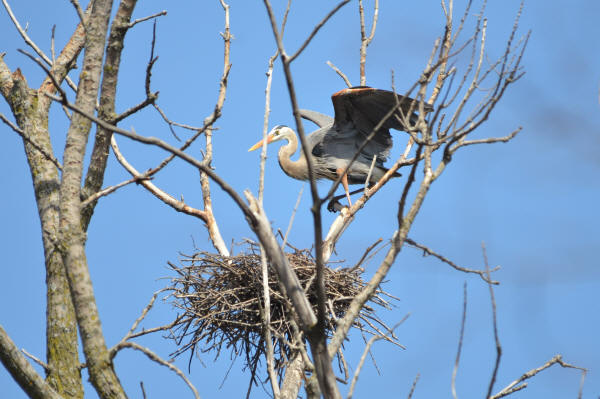 Great Blue Heron photo courtesy Alex Peterson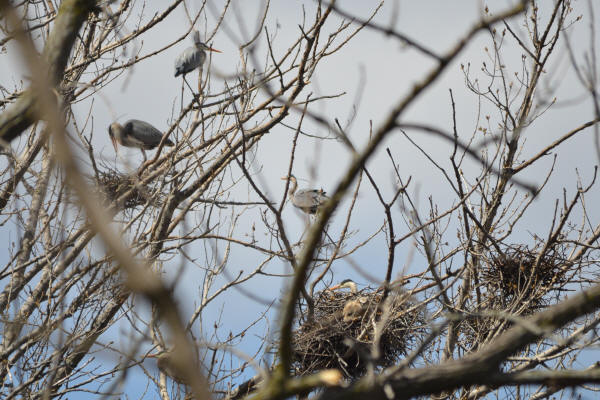 Great Blue Herons with Great Horned owlet face below lowest heron's head. Photo courtesy Alex Peterson
---
Eric Secker on 2/14 reported via IBET: The BARROW'S GOLDENEYE is present this morning on the river north of the OTTO Factory in Carpentersville. Still present as of 11:15 a.m.
---
Diane Hansen on 2/13 reported via e-mail: On Tuesday we drove out to Marshall Road (thanks again to Brendon) for better photographs than our first trip yielded. It was a successful trip.
I got great shots of Horned Larks, Snow Buntings and on Route 20 heading back to Elgin a Ring Necked Pheasant.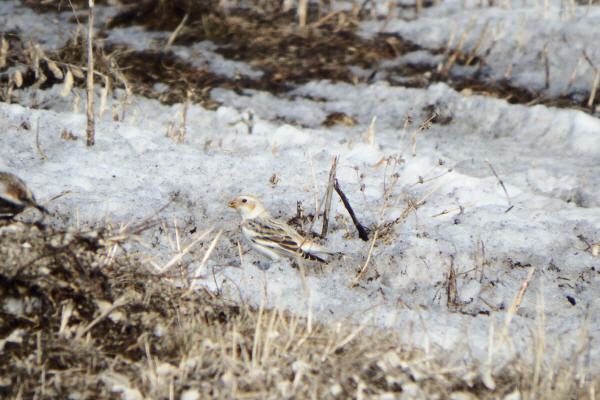 Snow Bunting photo courtesy Diane Hansen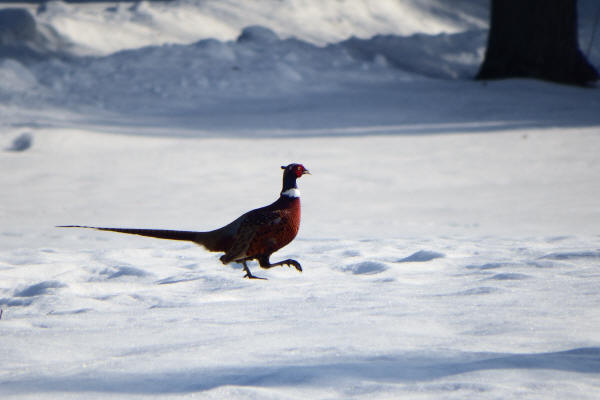 Ring-necked Pheasant photo courtesy Diane Hansen
---
Eric Korzeniowski on 2/13 reported via e-mail: I saw a Bald Eagle yesterday on my way to work on RT 25 and Fabyan pkwy. Around 8:30 am.
---
John Heneghan on 2/12 reported via IBET: I spoke to the folks at Willowbrook Nature Center today (2/12) about the Harlequin duck that was rescued from the Fox River in Elgin. The duck is doing better, the infection in its legs is getting better. It has been transferred to a rehabber who has ponds that the duck can be kept on. It will continue to be cared for and hopefully, its foot, which there are problems with, will continue to heal. Apparently, one of the ponds is enclosed or covered.
---
Diane Hansen on 2/9 reported via e-mail: We headed out for some multi-county car birding Friday thanks to a tip from Brendon's post. Some of the Kane County birds we located were my first Eurasian Collared Doves.
This morning I saw a Great Blue Heron and an immature Bald Eagle above the South Elgin dam, a change from the mature eagle I have been seeing recently in the same area.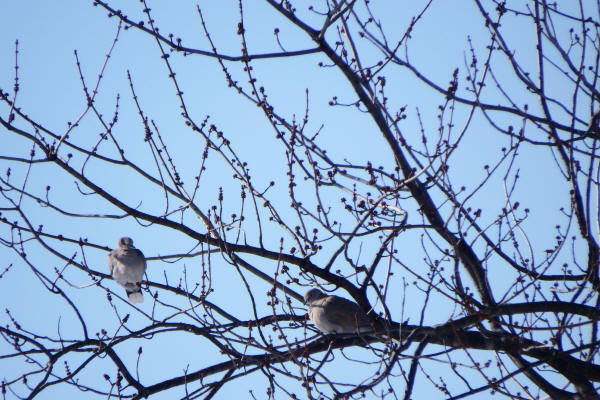 Eurasian Collared-Doves photo courtesy Diane Hansen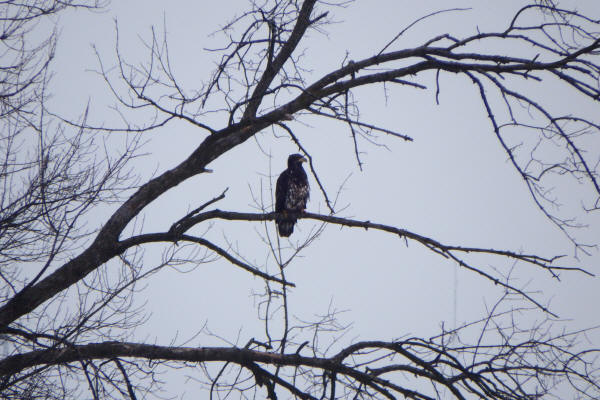 Immature Bald Eagle photo courtesy Diane Hansen
---
Tom Kelley on 2/8 reported via e-mail: Three Mute Swans this afternoon on the Fox River along Langum Park in St. Charles.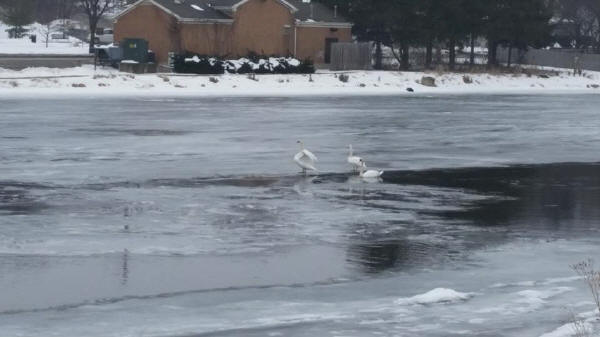 Mute Swans photo courtesy Tom Kelley
---
Chris Madsen on 2/7 reported: Given the many Barrow's sightings this morning, Carla and I drove up to Carpentersville this afternoon. We saw many birders, but, alas, no Barrow's.
However, all was not lost. We did see many Common Goldeneye and Common Mergansers. Four Hooded Mergansers, two north of the bridge and two south. One Northern Pintail. Three Redheads. At least three American Black Ducks. Highlights of the day were seen at the Carpentersville/West Dundee border: a Red-shouldered Hawk on the East Dundee side of the river, and, just as we were about to pack up and go home after a final scan of the goldeneye, we spotted this Merlin just above our heads.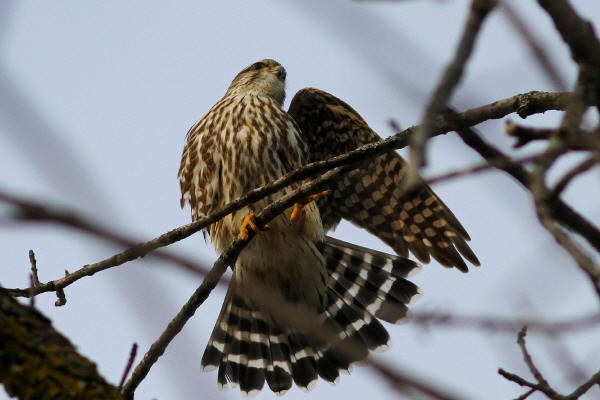 Merlin photo courtesy Chris Madsen
---
Bob Andrini on 2/7 reported via e-mail: Today the intrepid walkers around Nelson's Lake were treated with an Eastern Meadowlark at the west end of the lake - very early for this bird.
---
Steve Farmandi on 2/7 reported via e-mail: Late morning on 2-7-15 Barrow's Goldeneye were located by Carpentersville dam where the collapsed bridge is located.
---
Roger Amery on 2/7 reported via e-mail: Hi Bird People, I was birding along the west side of the Fox River south of the Wilson street bridge in Batavia. I observed what I thought was a domesticated duck. He was north of the islands but south of Wilson. This may be a leucistic mallard. He pair bonded with a female mallard. I could not see the eyes to determine if he was leucistic or albino.
---
Nolan Lameka on 2/7 reported via IBET: Yesterday I was unsuccessful in seeing the Barrow's Goldeneye. I did see at least three Bald eagles flying between the Rt. 72 bridge in West Dundee and the Main St. bridge in Carpentersville.
This morning there was only one Bald Eagle flying the area , but the Barrow's was seen in the Fox River. First he was north of the Main St. Bridge, and then he and about fifty Goldeneye flew south of that bridge.
---
Urs Geiser on 2/7 reported via IBET: Barrow's Goldeneye still at Main Street bridge (Otto) at 10:15.
---
Doug Stotz on 2/7 reported via IBET: Just saw the male Barrow's GoldenEye on Fox River. Looking north from bridge by Otto factory. Diving a lot.
---
Brendon Lake on 2/6 reported via IBET: Hey everybody. First stop today was to try and re-locate the Barrow's Goldeneye, and indeed after nearly 40 minutes of scanning the multitude of Common Goldeneyes north of the Otto Engineering plant, I spotted the Barrow's Goldeneye. It gave great scope views from the very same parking lot Eric Secker saw it from yesterday. This was just before noon. A Song Sparrow was also here flitting about the old fallen bridge. After my share of looks at the Barrow's, I moved on and found out from some photographers that a Northern Pintail had been seen at the Carpentersville Dam. There ended up being two male Northern Pintails there, seen sitting on an ice shelf below the dam with Mallards. A goose took off from this ice shelf a couple minutes later, and the Pintails took off after the goose, flying south. Afterwards, I headed west to the Kaneville area to look for Eurasian Collared-Doves. I found a group of 8 on a farm along Dugan Road, just south of the intersection with Scott Road. Last but certainly not least, I stopped at Sauer Prairie-Kame to look for Northern Harriers. There was one Northern Harrier immediately seen when it flushed from the turnaround at the end of the drive. Also there was a roadside light-morph Rough-Legged Hawk atop a telephone pole. The Rough-Legged Hawk was seen again along Harter Road sitting on powerlines on the way home.
---
Here's an update on the injured Harlequin Duck that was rescued on 1/31: Click on this link to the Chicago Tribune's story.
---
Brendon Lake on 2/5 reported via IBET: Hey everybody, I'm writing up this post for a gentleman who I spoke to late last year, who was looking for Snow Buntings. Today on Marshall Road, there was a small mixed flock of Lapland Longspurs and seven Snow Buntings. Marshall Road is a connecting road in NW Kane Co. between Plank Road and Route 20. It is my most reliable spot for the three winter roadside birds. In addition, there was a large flock of mostly American Tree Sparrows, but I also managed to pull one Savannah Sparrow out of the group.
---
Chris Mussachio on 2/5 reported via e-mail: Found this Sandhill Crane trying to "blend in " with these Canada Geese in Carpentersville. As you can see it did not work out too well.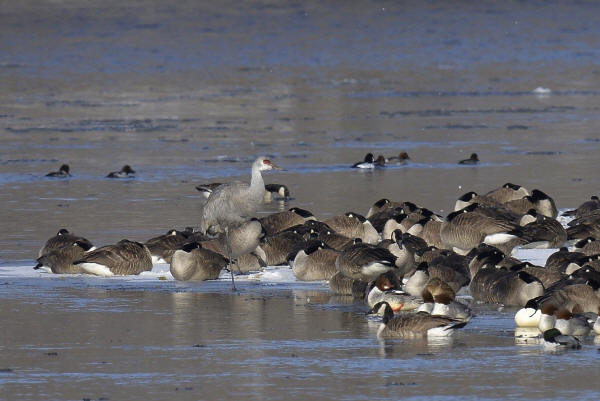 Sandhill Crane rising above geese and other waterfowl. Picture courtesy Chris Mussachio
---
Eric Secker on 2/5 reported via IBET: We relocated the BARROW'S GOLDENEYE on the Fox River north of the OTTO Factory just now during my lunch break. This is just north of Carpentersville Rd. east of Rt. 31. Park in the north end of the OTTO Factory lot east of the river. He is with a group of about 160 COMMON GOLDENEYE. In total about 240 Goldeneye in the area right now.

Also nice was a SANDHILL CRANE, about 80 COMMON MERGANSERS, and 9 BLACK DUCKS.
---
Lucy De Lap on 2/5 reported via IBET: Cardinals thrive in my neighborhood [in East Dundee] and we have many occasions where we may have as many as four pairs in the yard at the same time.

At the height of the snowstorm on Tuesday afternoon, we set a new record with an amazing 15 pairs! They were taking turns at the feeder and on the ground. The cardinals were adorning a small tree near the feeders while waiting. It happens to be a cherry tree and it appeared to be covered with very large and mobile fruit!
---