---
Justin Wrinn on 2/29 reported via IBET: I had a nice morning of birding at Burnidge on Saturday and ended up with 39 species. 40 would have been nice, but I couldn't stay too long as I had a few other places I wanted to check out. I didn't find anything too unusual, but there were several nice birds. The highlight was probably the flock of 30+ Redpolls in the alders in the SW corner. I have seen decent sized flocks in this area several times this winter. Although not nearly as uncommon, running a close second were the 30 Cardinals I found spread all over the park, mostly singing males. Red-winged Blackbirds are also starting to set up their territories and Pheasants are becoming a lot more vocal. Spring is definitely on it's way.

Other birds of note:
Cackling Goose (flyover)
Ring-necked Pheasant
Bald Eagle (immature, low flyover)
Red-shouldered Hawk (1 adult on the north side of the west entrance lake, assumed same one I saw there 2 weeks ago)
Tufted Titmouse (calling near the redpolls)
Golden-crowned Kinglet
Lapland Longspur
Fox Sparrow
Purple Finch
Pine Siskin

Full list is here.

Now I regret to say that Saturday marked the end of my regular monitoring of Burnidge. Furthermore, effective yesterday I am taking an extended break from birding for at least the next few months. IBET is not the place for personal drama, so I will just say I need to focus on some neglected areas of my life. I will still report anything of particular interest that I see incidentally such as the 7 Turkey Vultures near Gilberts on my commute this morning. And I may chase a few ABA lifers if the chance ! arises. And I am very sure I will be back at it eventually, but likely at a less fanatical level, and I'll have likely moved [back] to Schaumburg by then.

It was a tough decision to abandon my Kane County big year at 98 species, which is way ahead of my pace last year, and also to leave my Burnidge life list hanging at 199 species. But it would have gotten even tougher to do as the year progressed and spring migration was in full swing.

Anyway, I want to take this opportunity to thank all of the wonderful IBETers and other birders that have helped welcome me to Illinois and Kane County birding over the past year and a half, especially Kane County Audubon and also the Burnidge regulars that I often ran into there (Debbie W, Patrick R, Walt L, and the wonderful ladies group that has been birding Burnidge every other Friday for many years).
---
Rich Miller on 2/28 reported via e-mail: Marion and I got a jump on spring when we decided to check for the Woodcock on Sunday night at Ferson Creek Fen in St. Charles. First heard at 5:55pm, first fly-by sighting at 6:05pm. At least three birds. Maybe more. North of the parking lot. We stayed right on the straw covered path.
---
Justin Wrinn on 2/27 reported via IBET: 23 Greater White-fronted Geese just flew in and landed on the edge of the ice on Nelson Lake (lake is about half open) shortly after 1pm right as I was leaving. They are easily seen from the viewing platform. There was also a Mute Swan earlier, but it swam out of sight near the south end of the lake. Other than a few Common Mergansers and a flyover Killdeer, nothing else interesting. It was hard to use the scope because of the strong wind, so I may have missed something.
---
Lucy DeLap on 2/25 reported via IBET: I've been watching for the Barrows [Goldeneye] daily and today, around 10 am, I spotted it with a group of about 30 common goldendeyes north of the pedestrian bridge on the Fox River. There's a small turnaround parking lot on the east bank of the river just north of Illinois Street in East Dundee where the Goldeneyes, including the Barrow's, can be viewed.
---
Marion Miller on 2/24 reported via e-mail: Theresa LeCompte spotted four Ring-necked Ducks on Tanner Rd pond Tuesday morning. Still there at 4pm looking stunning in the sunlight.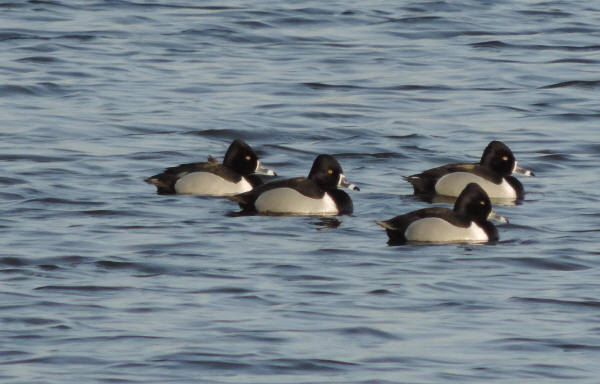 Ring-necked Ducks photo courtesy Marion Miller
---
Lisa Perry on 2/23 reported via e-mail: Found this pair of Common Goldeneye in West Dundee just North of Main Street on Tuesday.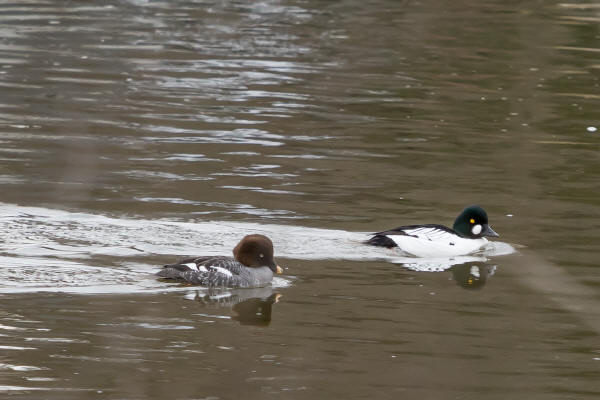 Common Goldeneye photo courtesy Lisa Perry
---
Marion Miller on 2/22 reported via e-mail: Checked out a few fluddles Monday afternoon after work. It was nice to see some spring migrants arriving. There were 9 very vocal Killdeer in the fluddle off Green Rd (between Main St and Hughes Rd in Elburn), and a Wood Duck and 1 Sandhill Crane in fluddles along Seavey Rd between Bliss Rd and Deerpath. Many male Red-winged Blackbirds were also seen and heard.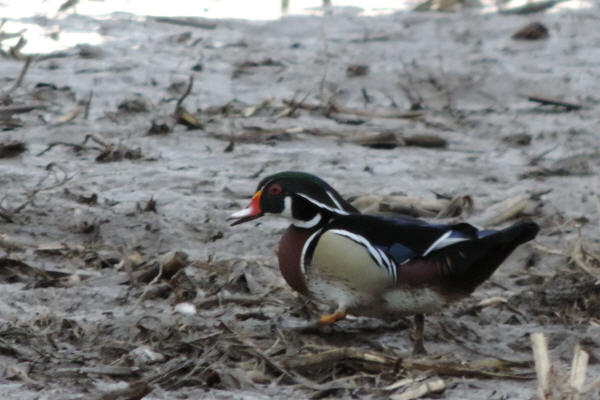 Wood Duck photo courtesy Marion Miller
---
Justin Wrinn on 2/22 reported via IBET: Red-winged Blackbirds are definitely showing up in numbers around Kane County. I had ~50 at Nelson Lake Saturday morning, then ~110 at Burnidge and ~70 near my company in Huntley this morning along with a lone Sandhill Crane circling around overhead (my FOY). Although most of the Burnidge birds were flyovers in several flocks, there were about 15 spread out around the lake and some of the open fields singing away.
I'm a little late reporting, but I found a Brewer's Blackbird at Nelson Lake Saturday morning. It looks like the first eBird report of the year for northern IL for this species, so I thought it was worth mentioning. It was in a tree just south of the viewing platform on the east side of the lake along with about 20 Red-winged Blackbirds. I heard it calling first and then was easily able to pick out the one with yellow eyes.
---
Christopher Cudworth on 2/22 reported via IBET: On my mountain bike ride yesterday through St. Charles I heard the first Red winged blackbird call of the spring. There were also cadres of people pulled over by the side of the road at the Boy Scout Service Center ogling the six or seven eagles perched in the cottonwoods.
---
Theresa LeCompte on 2/21 reported via e-mail: While birding this afternoon at Lake Run FP on Tanner Road, Sue Schneider and I were surprised to hear and see approximately 60 Sandhill Cranes flying overhead at about 12:30 pm. Shortly after 1 pm, another flock of 30+ flew over. And when we stopped later at Hannaford, we observed yet 2 more groups heading northwest.
---
Mario Roache on 2/21 reported via e-mail: cranes over fox river in north aurora 2 sets each around 30-40 cranes. time 2pm -230pm
---
Liz Gerity on 2/21 reported via e-mail: Heard a large number of Sand Hill Cranes flying over Headwaters Conservation Area in Elburn about noon today. Couldn't find them against the cloud cover.
---
Walter Lutz on 2/20 reported via e-mail: Peregrine Falcon on top of the Tower Building in downtown Elgin. Thanks to Kevin Sheely for finding this Peregrine.
---
Kevin Sheely on 2/20 reported via e-mail: Spotted a Peregrine Falcon roosting on top of the Elgin Tower Building at Chicago and Douglas on Saturday February 20, 2016.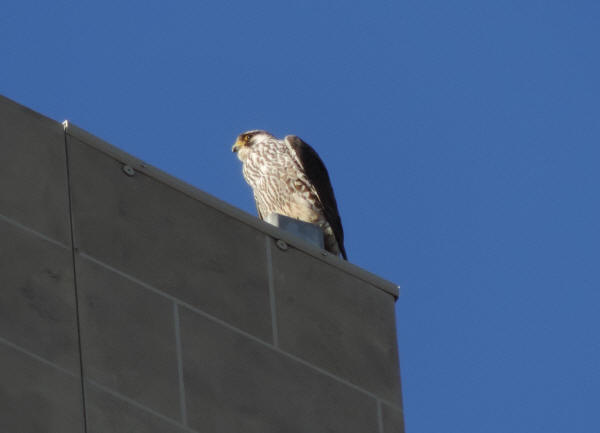 Peregrine Falcon photo courtesy Kevin Sheely
---
Roger Amery on 2/20 reported via e-mail: At the peak ledge of the Elgin Tower, southeast corner was a young perched peregrine falcon facing westward. There were a couple eagles flying in that area of downtown Elgin this mid-afternoon.
---
Chris Madsen on 2/20 reported: Carla and I began our quest for a Red-headed Woodpecker in this afternoon's beautiful weather at Hannaford Woods. We whiffed there but continued on to Bliss Woods on the Virgil Gilman bike trail. There we were delighted to come across an old friend, a gold morph Red-bellied Woodpecker. If my research is correct, we first saw this bird (or its parent?) in November of 2012. On our trip back to the car at Hannaford, we were rewarded with a sighting of this juvenile Red-headed Woodpecker. On close inspection you can see his head transitioning from brown to red.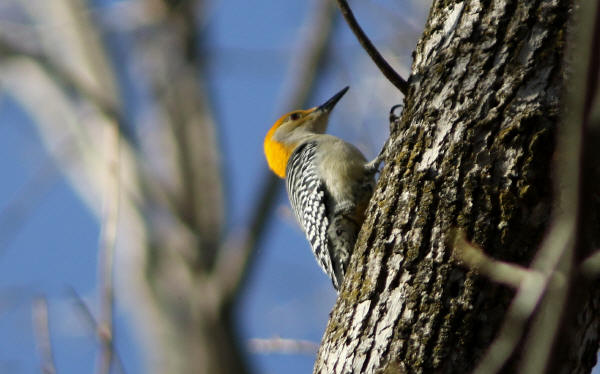 Woodpeckers. Gold morph Red-bellied above, juvenile Red-headed below. Photos courtesy Chris Madsen.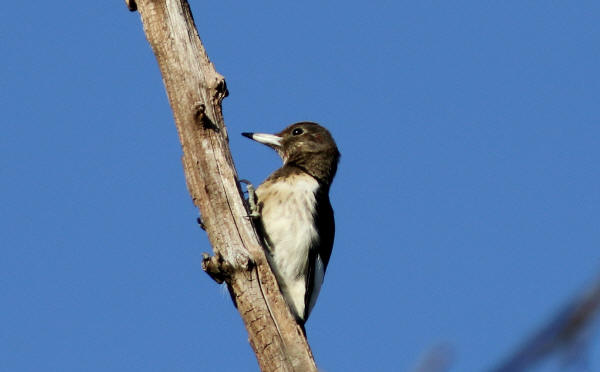 ---
Eric Secker on 2/20 reported via IBET: Looking out our living room window this morning (at Judson University), I saw four GREATER WHITE-FRONTED GEESE flying over along with the many Canadas. Later in the morning when we went for a walk around the campus we also saw and heard a TRUMPETER SWAN flying south along the Fox River and then again flying back north. A new site bird for my list there.

Also, yesterday there was a single REDHEAD north of Carpentersville Dam along with the other ducks.
---
Justin Wrinn on 2/19 reported via IBET: I stepped outside my company in Huntley on my afternoon break a few minutes ago to see if the warmer weather had brought in any interesting birds. As I was scanning the usual Canada Goose flocks along the horizon, I caught a flash of white in one small flock just passing below the treeline. It turned out to be 10 Snow Geese (3 white & 7 blue), and they circled back around and overhead to give me a great look. As I was attempting to get some phone pics through my binoculars, another small flock of geese flew right over my head, and it turned out to be 7 Greater White-fronted Geese. Point your eyes to the sky wherever you are - you never know what the winds will blow in...
---
Bob Andrini on 2/16 reported via e-mail: Kath and I birded Lippold Park today (Tuesday 2/16) and had a mixture of typical winter resident birds. We were surprised by a Northern Cardinal singing his spring song (what does he know that we don't??). We also saw a Muskrat out getting some fresh greens for his lunch.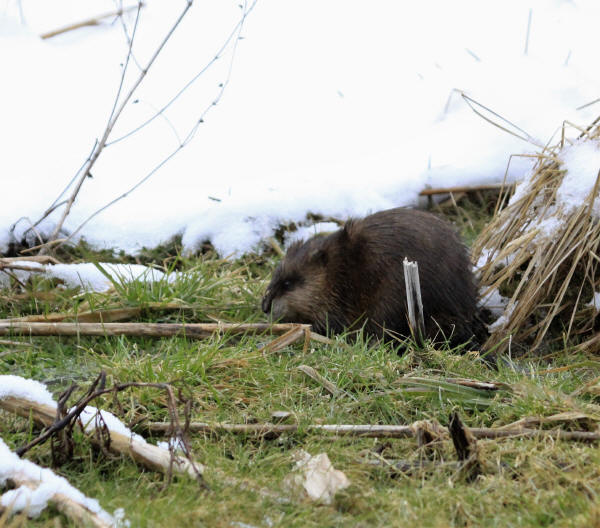 Muskrat photo courtesy Bob Andrini
---
Marion Miller on 2/15 reported via eBird: Seeing 500 (!) Lapland Longspurs and 3 Snow Buntings on Seavey Road west of Bliss Road.
---
Both Jon Duerr and Justin Wrinn on 2/15 reported via eBird: The Trumpeter Swan pair continue on the river at the Elgin Continental Little League ball fields.
---
Adam Smith on 2/15 reported via e-mail: This photo was taken in Elgin on the Fox River 2/14/16 Centenial Baseball Fields.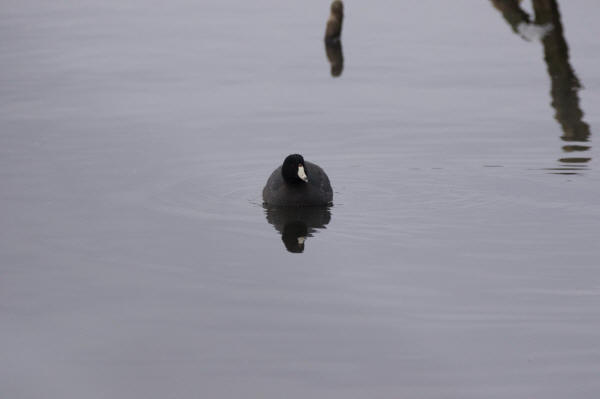 American Coot photo courtesy Adam Smith
---
Justin Wrinn on 2/14 reported via IBET: After returning from my unsuccessful Slaty-backed hunt yesterday morning, I spent the rest of the day and all day today scouring Kane County for as many birds as I could find for the Great Backyard Bird Count in spite of the weather. As is often the case, I had my best luck at Burnidge this morning (27 species including several nice birds before the snow started). But I found some good birds at other locations as well and ended up with 50 species for the weekend (I doubt I'll add anything new tomorrow morning before work, but you never know). Highlights are below in chronological order (if I saw a bird multiple times, I only listed the first sighting):

Sandwald Rd (2/12):
Horned Lark
Cowbird

Montgomery Dam (2/13):
Bald Eagle
Pintail
Cooper's Hawk

Les Arends FP (2/13):
Flicker
Hooded Merganser
Brown Creeper
Kingfisher

Johnson's Mound FP (2/13):
Bluebird
Barred Owl

Burnidge FP (2/14):
Common Redpoll
Golden-crowned Kinglet
Tufted Titmouse
Brown Creeper
White-throated Sparrow
Hermit Thrush
Red-shouldered Hawk
Snow Goose

Marshall Rd (2/14):
Lapland Longspur
Savannah Sparrow

Carpentersville Dam (2/14):
Black Duck

Elgin Shores FP (2/14):
Trumpeter Swan
Mute Swan
Thayer's Gull
Lesser Black-backed Gull
---
Janmike Walters and Julie Long on 2/13 reported via eBird: Common Redpolls and Pine Siskins in yards in Aurora and St. Charles.
---
John Forbes on 2/13 reported via eBird: Seeing a Common Raven at Jon Duerr Forest Preserve flying over the river.
---
Bob Andrini on 2/12 reported via e-mail: Friday we heard Ross's Geese feeding in Aurora at the corner of Indian Trail and Highland. We went down and found the birds. Unfortunately, someone slammed a car door and the flock of Canada Geese and the 3 Ross's flew away.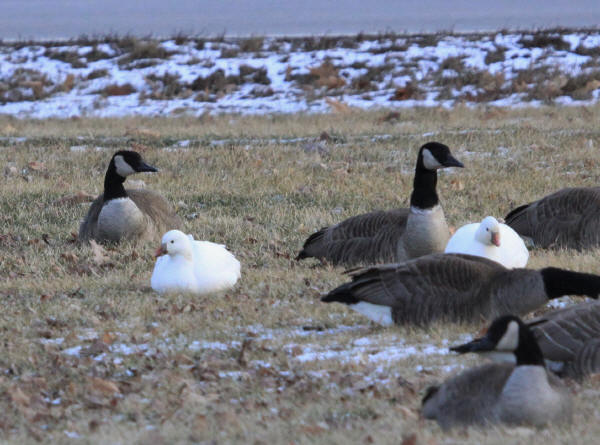 Ross's Geese photo courtesy Bob Andrini
While doing the Great Backyard Bird Count in our yard (for the 4th time - morning, mid-afternoon, late afternoon and then at sunset) we saw a juvenile White-crowned Sparrow. I'm not used to seeing the young birds on their northern migration. This was a first-of-year bird for us this year.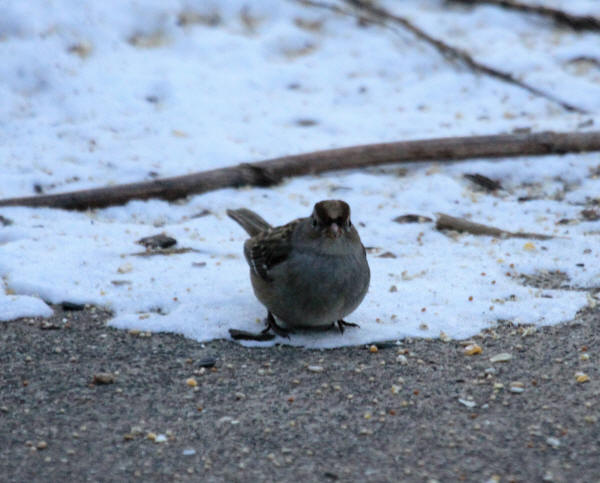 White-crowned Sparrow photo courtesy Bob Andrini
---
Kristyn Vinikour on 2/12 reported via e-mail: I've been seeing male, female, and what appears to be a juvenile bald eagle flying back and forth past the back of my house on the Fox River for the past 2 days. I live in St Charles in the Fox River estates. It appears the mature adults are making a nest because they keep going back to the same tree. I expect to see them again tomorrow. They were also sitting on the ice right by my dock and farther down the river by the Red Gate Road bridge.
---
Julie Long on 2/12 reported via eBird: One Common Redpoll and five Pine Siskins in her yard in St. Charles.
---
Roger Hotham on 2/12 reported via IBET: This AM there were about 50 eagles along a 5 mile stretch of the Fox River downstream from the Hwy 20 bridge in Elgin. One group is at the Elgin sewerage plant. This is best viewed from a riverside park accessed from the road into the state driver license testing facility on RT 31 at Hwy 20. Another concentration was in a tight group of trees about 1000 feet upstream from the South Elgin dam. Many birds were between these two. More werealong the river bike trail below the dam.
The eagle nest on the Cook CO line in Heron Woods east of South Elgin appears to be active again this year.
---
Mike Klancnik on 2/6 reported via e-mail: My photo of a female Bald Eagle taken late afternoon Feb 4 at Voyager Park launch area, Fox river. Photo taken with smart phone and spotting scope. Range est. 250 feet.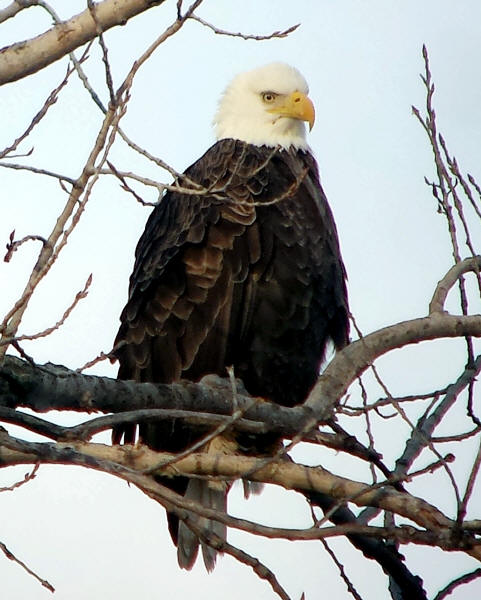 Female Bald Eagle photo courtesy Mike Klancnik
---
Joan Peterson on 2/6 reported via e-mail: 2 bald eagles in the nest at Mooseheart this morning at 9:45 AM
---
Bob and Kathy Andrini on 2/4 reported via e-mail: Finally after two years drought, we got a Red-breasted Nuthatch at the north end of DelNor Woods - by both sight and sound, and one of us saw a Carolina Wren. Got them today (Thursday)
---
Julie Long on 2/2 reported via e-mail: It was an amazing sight this morning when 25-30 Common Redpolls showed up in my yard this morning during the strong winds just ahead of the sleet and winter weather. They were mostly on the ground under my finch feeders but some were also on the feeders. There were pine siskins also in the flock. The redpolls were pretty skittery so I was never able to get an accurate count or great pictures.
---
Diane Hansen on 2/2 reported via e-mail: The Barrows Goldeneye continues in South Elgin this morning. Originally seen from Stone Street above the dam before 9:00. Later seen around 10:30 at the north end of Chipstone Park from Beck Street. This photo was from yesterday when he was found behind the houses on Water Street. Thanks to the gentleman who invited me to view from his back yard.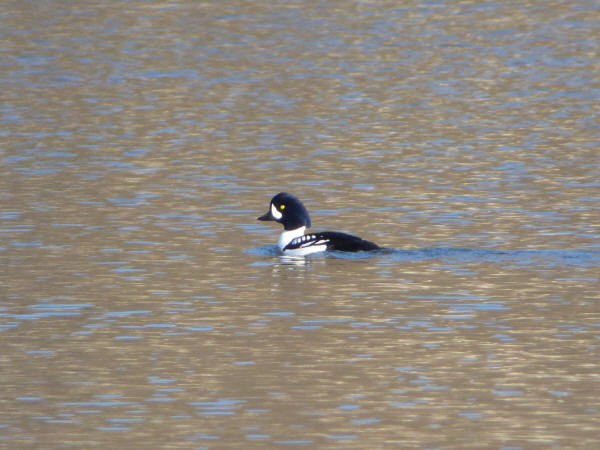 Barrow's Goldeneye photo courtesy Diane Hansen
---
Diane Hansen on 2/1 reported via e-mail: Barrow's Goldeneye currently [3:07 PM] still in South Elgin. Behind houses along Water Street.
---
Al Stokie on 2/1 reported via IBET: I just got a call [1:41 PM] from Mike Madsen who along with Jeff Smith is currently watching the Fox River BARROW'S GOLDENEYE above (north of) the South Elgin Dam. This is quite a bit south of it's usual West Dundee/Carpentersville locations but it does move around & is sometimes not seen for a few days so perhaps his range is larger than we thought.
---
Oliver Burrus on 2/1 reported via eBird: Both an Iceland Gull and Ruby-crowned Kinglet at the Carpentersville dam.
---