---
Jason Newton on 2/28 reported via eBird: Two Horned Grebes this morning at Nelson Lake in Batavia.
---
John Heneghan on 2/24 reported via e-mail: We had 40 sandhill cranes land in the bean field down the street from us in Big Rock. Lifelong area neighbor said he had never seen them there.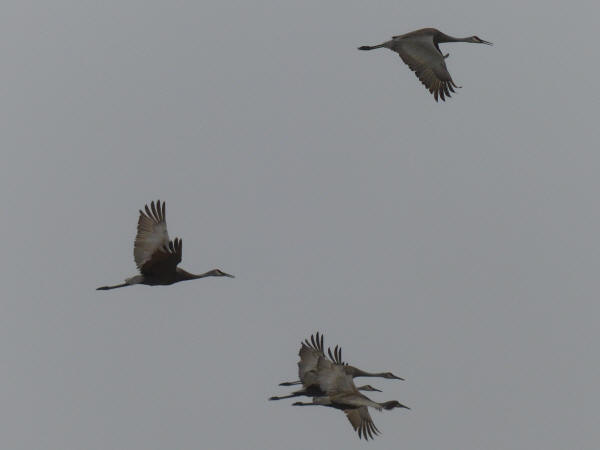 Sandhill Cranes photo courtesy John Heneghan
---
Brendon Lake on 2/23 reported via IBET: A flock of about 30 American White Pelicans was flying north over Main Street, just west of Randall Road in Batavia at 12:19pm.
---
Stuart Koch on 2/23 also responded on IBET: A group of vultures is called a wake, committee, venue, kettle, or volt. The term kettle refers to vultures in flight, while committee, volt, and venue refer to vultures resting in trees. Wake is reserved for a group of vultures that are feeding.
---
Steve Jner on 2/23 responded on IBET: A group of Turkey Vultures has many names... Cast, Committee, Meal, Vortex, and Wake. I have also heard of them being referred to a Kettle of Vultures when kettling.
---
Lucy DeLap on 2/23 reported via IBET: On a casual walk across the pedestrian bridge from East Dundee through downtown West Dundee and back with bird watching not the main goal, we were surprised first by a FOY flock(?) of 25 or so turkey vultures making their way north along the river. (Is there a proper name for a flock of vultures?)

Next we noted an adult bald eagle lazily gliding in circles over our villages (hardly rare for this area but still magnificent in the waning sun).

Then toward dusk, as we walked north in East Dundee a block or so from the river, we were especially surprised to see a bat (possibly 2) swooping around in search of food.
---
Joan Campbell on 2/21 reported via IBET: Thanks to Christopher Cudworth's post from yesterday, I decided to check out the viewing platform at Dick Young Forest Preserve this morning. I was afraid we wouldn't be able to see anything since we were driving into fog coming from Downers Grove, to Batavia. But visibility was pretty decent and there were a LOT of birds! So glad we went! Here are some highlights:


Green-winged Teal (19)
Pied-billed Grebe (2)
Trumpeter Swan (7)
Snow Goose (4)
Greater white-fronted Goose (Fly-over flock plus 3 in the water)
Canvasback (13)
Sandhill Cranes (Fly-over flock, plus 2 that flew back & forth, right in front of us!)
Redheads (7)
American Wigeon
---
Bill and Carol Ludemann, David and Paula Altekruse on 2/21 reported via e-mail: February 20 about 6pm on the Great Western Trail, just east of the mile 6 bridge, we were startled to hear 2 American Woodcocks. They flew quite close to us, but since it was getting dark we did not see much detail. We were out to look for beavers, which we saw. The Woodcocks were a bonus.
---
Christopher Cudworth on 2/20 reported via IBET: The view from the East viewing deck at 10:30 a.m. included the following species:

Ring-necked duck
Ruddy duck
Common merganser
American wigeon
Bufflehead
Scaup (-)
Black duck
Mallard
Green-winged teal
Coot
Canada goose

At this rate, the White Pelicans will be here before March hits.
---
Jake Bartecki on 2/20 reported via eBird: Seeing an Osprey along the Fox River Trail in North Aurora.
---
Theresa LeCompte on 2/18 reported via e-mail: Went out to Nelson Lake again today and, just in the time frame of noon to 1 pm, I must have seen over 200 migrating Greater White-fronted Geese in three separate flocks. One group even came in for a rest.

---
Brendon Lake on 2/18 reported via IBET: Currently [mid-afternnon] one young Trumpeter Swan at Slade Avenue Park in Elgin, where the Long-tailed Duck has been. No sign of the duck.
---
Marion Miller on 2/18 reported via eBird: A very early Tree Swallow at Nelson Lake.
---
Theresa LeCompte on 2/17 reported via e-mail: Saw a flock of nearly 100 Greater White-fronted Geese flying high over Nelson Lake this afternoon just after 2 pm.
---
John Mayer on 2/16 reported via e-mail: This afternoon at Brunner Farm Forest Preserve, saw three Red-tailed Hawks, twenty Cedar Waxwings, two Great-horned Owls, three European Starlings, twenty American Tree Sparrows, and six Common Mergansers.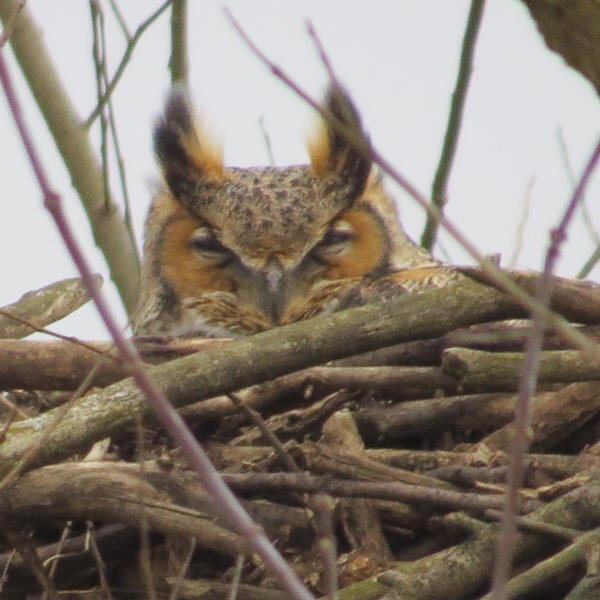 Great Horned Owl photo courtesy John Mayer
---
John Waterhouse on 2/16 reported via e-mail: There was a bald eagle this morning on McDonald road in South Elgin near the retention pond across from Thornwood subdivision.
---
Robert France on 2/15 reported via e-mail: There is an eagle in a nest along Route 25 in Bartlett.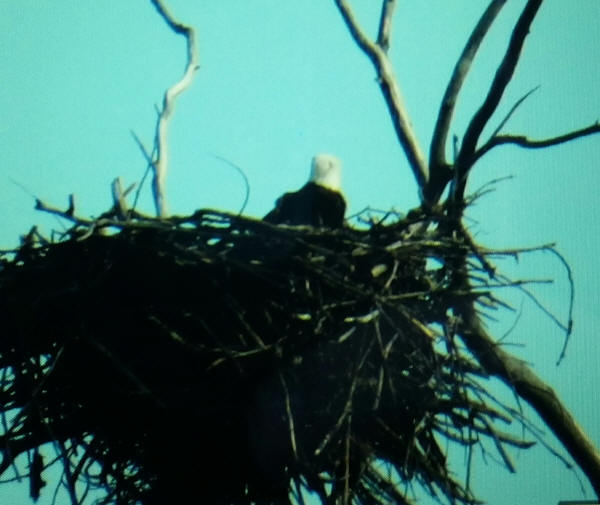 Bald Eagle photo courtesy Robert France
---
Mary Ochsenschlager on 2/15 reported via IBET: I saw a flying and calling sandhill crane this morning flying from Hannaford Woods Forest Preserve to Waubonsee Community College in Sugar Grove Township southern Kane County. Could it be that it has stayed all winter.
---
Christopher Cudworth on 2/15 reported via IBET: Just had a pair of sandhill cranes pass over my North Aurora home in Kane County. Headed toward Dick Young FP one mile NW
---
Gordon Garcia on 2/14 reported via e-mail: Long-tailed duck still present today (2/14) on Fox River near Judson University.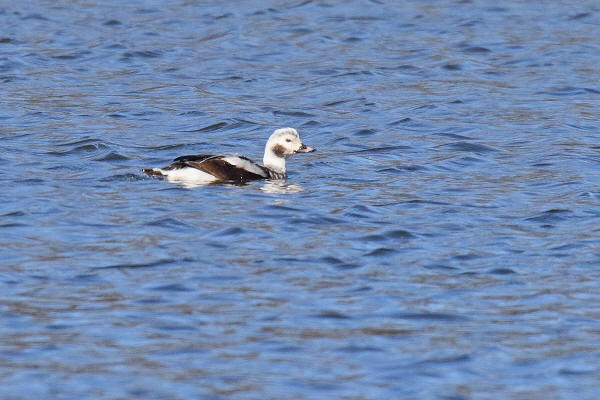 Long-tailed Duck photo courtesy Gordon Garcia
---
Ryan Jones on 2/14 reported via eBird: Locating 2 Trumpeter Swans on a pond in northeast Aurora.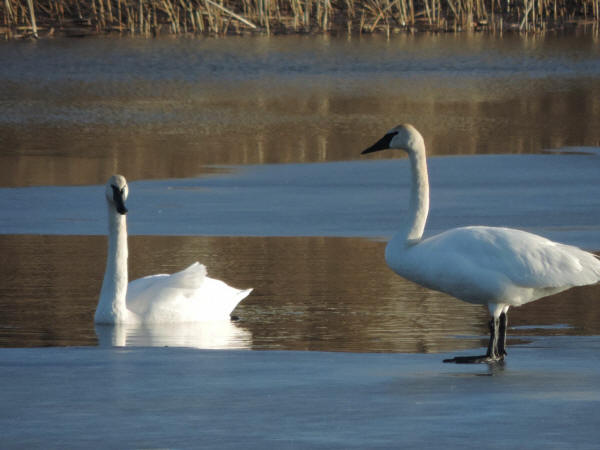 Trumpeter Swans photo courtesy Marion Miller
---
John Mayer on 2/13 reported via e-mail: I spotted this Merlin at the Brunner Family Forest Preserve this morning.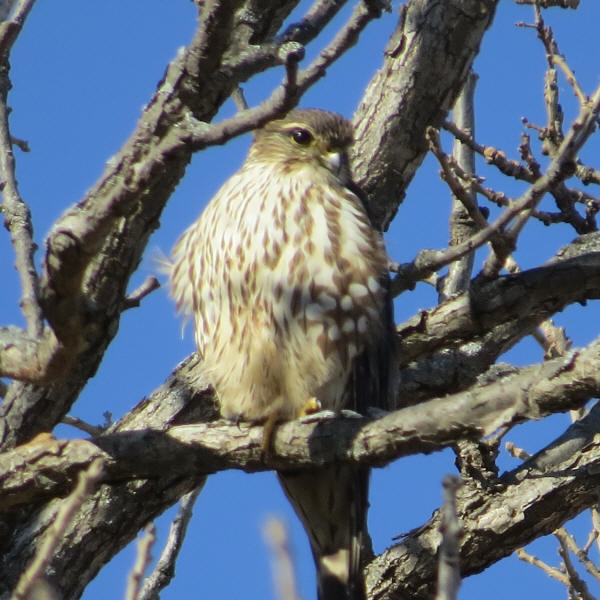 Merlin photo courtesy John Mayer
---
Walter Lutz on 2/13 reported via e-mail: Over the weekend I saw a Red-tail Hawk picking at a road-kill deer carcass which is the first time I've ever seen a hawk acting as a scavenger.
---
Chris Madsen on 2/12 reported: A cold, blustery morning at Jon Duerr Forest Preserve produced few birds. Carla and I were happy to hear Cardinals singing, a sure sign of impending Spring. The river hosted Mallards, Canada Geese, the resident Belted Kingfisher, Common Mergansers, and Common Goldeneye. Back in the gravel pit area, we had both a Cooper's Hawk and Red-tailed Hawk, chickadees and goldfinches, and little else. On the path to the bridge, we saw one Brown Creeper and a pair of foraging Golden-crowned Kinglets.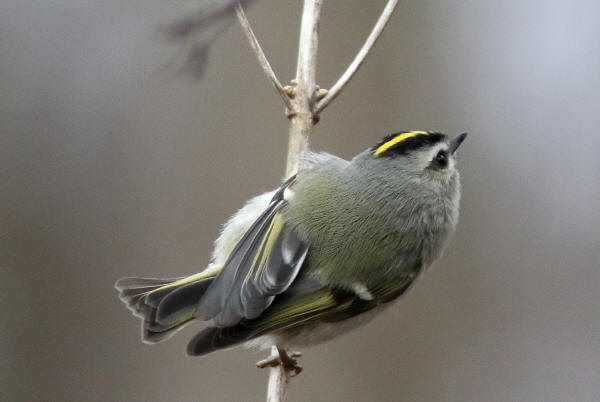 Golden-crowned Kinglet photo courtesy Chris Madsen
---
Kane County Audubon on 2/11 reported via eBird: The Long-tailed Duck at Slade Avenue Park in Elgin on an outing led by Tim Balassie.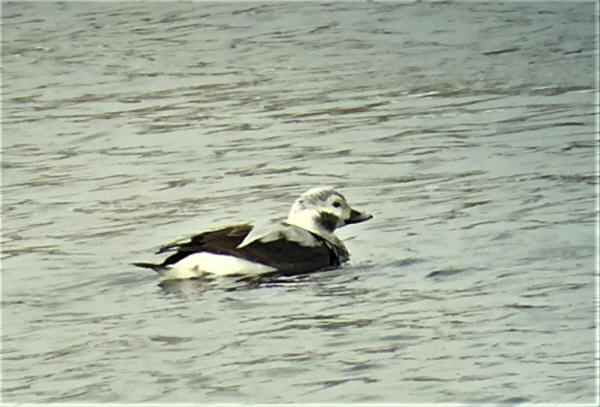 Long-tailed Duck photo from 2/6 courtesy Bob Andrini. Bob IDs the bird as an immature male because of the white feathers on the bird's back. The female should not have them.
---
Eric Secker on 2/11 reported via eBird: At Les Arends Forest Preserve, an Eastern Phoebe.
---
Marion Miller on 2/10 reported via e-mail: I couldn't believe I spotted another Hermit Thrush this morning when Rich and I were walking through the pines at Campton Forest Preserve. And this time there were 2 moving together. This makes 4 Hermit Thrushes in the last 9 days! The first one was on 2-2 at Lippold Park (Batavia) and then 2-5 at Gunnar Anderson FP (Geneva.) Campton's forest was pretty quiet on the whole except for a brief moment when there was a group of 3 "tsee-ing" Golden-crowned Kinglets quickly hoping along the tree tops in front of us. (Photo by Rich)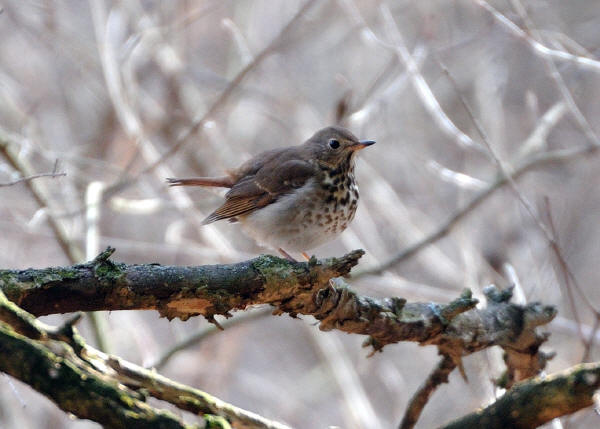 Hermit Thrush photo courtesy Rich Miller
---
Al Stokie on 2/10 reported via IBET: Hello Bird People,

I saw on ebird that Scott L saw the L.T. Duck on his 4th try so I decided I should at least make my 3rd attempt to show that I too can be persistent even if not successful. But I turned out to be not only persistent but successful as well. About time!

Covered the usual Fox River stops north & south of Elgin with the usual results meaning that I saw Mallards, Goldeneye, Common Mergansers, Ring Billed & Herring Gulls (in very small numbers) & 100's & 100's of Canada Geese. Arrived at Slade Park to find much more open water than on my last visit with that open water extending well to the north. Looking well to the north I saw a different duck with several Goldeneye & it seemed to be a good candidate for the L.T. Duck. Got the scope from the car & found that the different duck was indeed the L.T. DUCK but it was far away & I wanted a better look after all my previous failures. There's a walkway (bike path?) that runs north along the river & next to the water department property. Followed that & came to a viewing platform with a railing around it. From there I could see the L.T. Duck & it's friends the Goldeneye very well. Turns out that this part of the river is right next to the section of Judson University where you can see the baseball fields. While scanning the large flock of Canada Geese I was finally able to pick out one CACKLING GOOSE which was not only very small in size but also had that small pushed in bill as do Ross's Geese. I had spent the last 6 weeks looking through Canada's but this was my 1st Cackler for 2017. Also about time!

Other interesting birds seen in or along the river were 2 Black Ducks at South Elgin Dam, a Green Winged Teal (female) farther north which flew away & 2 Kingfishers. I saw 5 Bald Eagles along the river & unlike other visits all 5 were adults. I guess all the previously seen young ones were at school today & not to be seen.

I will mention that viewing was not easy today due to very strong winds. I finally gave up at the Borden Library part of the river as the wind twice almost blew over my scope & tripod. Can't have that happening!

Bird-Of-The-Day to the finally found Long Tailed Duck & Runner-Up to the tiny Cackling Goose with the pushed in bill. I was glad to see them both!

Finally I must mention that if you walk north from Slade Park look on the water department wall & you will see an absolutely wonderful display of art work showing underwater creatures & plants. I don't know what artist or group did that display but they should be hired to do more projects!
---
Kathy and Bob Andrini on 2/6 reported via eBird: Finding the Long-tailed Duck at its old haunt, the river at Slade Park in Elgin,
---
Tim Felinski on 2/6 reported via eBird: Flushing an American Woodcock from the prairie at Corron Farm on 2/1.
---
Theresa LeCompte on 2/4 reported via e-mail: There was a pair of "love birds" in our Aurora back yard from 8:30 am until 10:00 am on 2/2. When I tried to take a picture, their love took flight.

Camera-shy Red-tailed Hawks photo courtesy Theresa LeCompte
---
John Mayer on 2/4 reported via e-mail: Seen today at Fox River Shores Forest Preserve:
20 Cackling Goose
20 Canada Goose
20 Mallard
2 Ring-necked Duck
25 Common Goldeneye
4 Red-tailed Hawk
3 Herring Gull
15 Rock Pigeon (Feral Pigeon)
6 Mourning Dove
2 Hairy Woodpecker
1 Horned Lark
---
Marion Miller on 2/3 reported via e-mail: Rich and I walked the Fox River bike path from the Quarry parking lot south to the fourth bridge on the cold but sunny Friday morning. Thanks to Rich's eagle eyes we got to enjoy prolonged looks at a perched Merlin on our side of the river. Other highlights were a flock of 20 vocalizing Robins that flew across our path, many cute White-throated Sparrows foraging along the trail and 2 Eagles, one adult and one immature, fishing the river.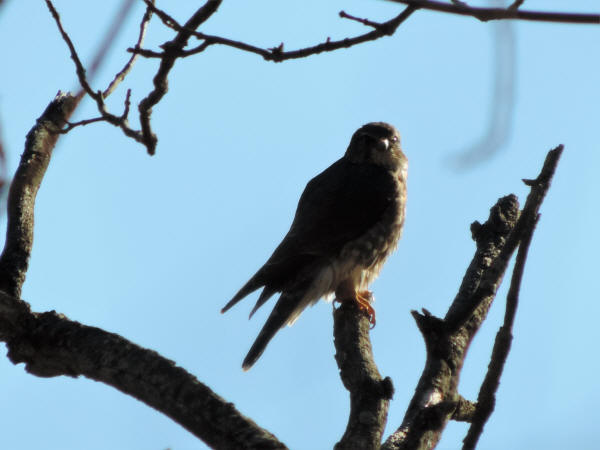 Merlin photo courtesy Marion Miller
---
Bob Fisher on 2/2/ reported via IBET: Thanks to a birder from Shorewood (didn't get his name), Karen and I saw the [Long-tailed] Duck by looking upriver with a scope from the Slade Ave Park on the E side of the river.
---
John Mayer on 2/1 reported via e-mail: Went to Judson University this morning at 8:00 am and finally got a few better pictures of the elusive long-tailed duck. Also spotted these two White-fronted Geese. The list:
2 – Greater White Fronted Geese
20 – Cackling Geese
200 – Canada Geese
1 – Long-tailed Duck
50 – Common Golden-eye Ducks
10 – Common Mergansers
5 – Bald Eagles
3 – Downy Woodpeckers
4 – Black-capped Chickadees
2 – Brown Creepers
1 – Northern Cardinal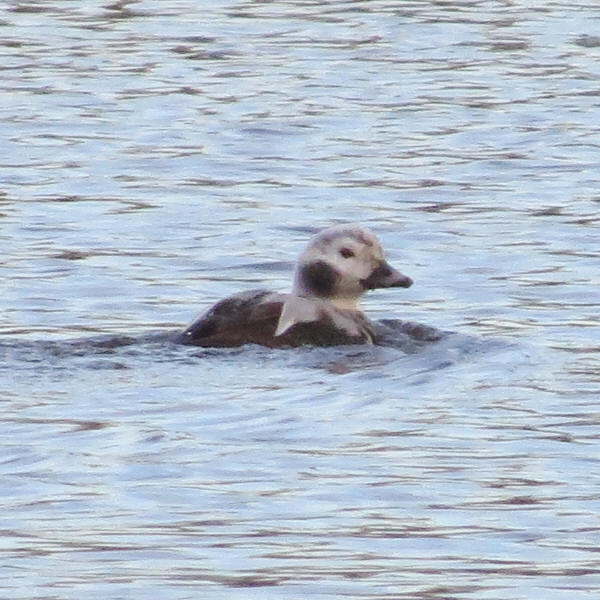 Long-tailed Duck photo courtesy John Mayer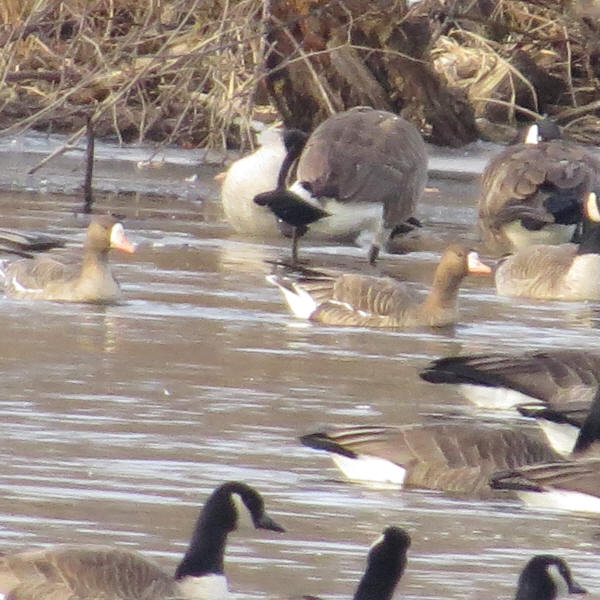 White-fronted Geese photo courtesy John Mayer
---
Oliver Burrus on 2/1 reported via IBET: After all of the Geese we saw with ILYB on Sunday, we thought we would try to get closer to the flock by going up to Fox River Shores FP. Right as we pulled up to the parking lot, we saw a flock of about thirty Red-winged Blackbirds and as we walked, we heard and saw more of the very common summer birds like American Robins and Eastern Bluebirds. Once we got to the point of Fox River Shores FP, we scanned through hundreds of Canada Geese finding no other species of Geese. Then we drove over to Carpentersville Dam in hopes of finding the two Ruby-crowned Kinglets someone saw there yesterday. Immediately I found the banded Canada Goose but that was the only good bird in the water. We walked down the path finding a few Goldeneye, a couple Eagles, and the same land birds that we saw at Fox River Shores FP. We walked back to the dam overlook and found about fifty Goldeneye and seven Great Blue Herons.
---