---
Liz Gerity on 1/31 reported via e-mail: A Kingfisher was busy at noon today on the Great Western trail a half mile west of the Windings near the bridge and beaver dams.
---
Vicky Sroczynski on 1/31 reported via eBird: At Judson University, the Long-tailed Duck.
---
Howard Blum on 1/30 reported via IBET: ...Not much by the Carpentersville dam, but on Lincoln Avenue a few blocks north of Route 72 bridge was an awesome Mallard Hybrid, it had the green head and a white patch on the breast, but with no trim and the body was all brownish like a cinnamon Teal? For lack of a really good description I'm gonna look at my pictures and come to a conclusion later! Also a pair of Hooded Mergansers nearby and dozens of Goldeneyes. Nothing much else by the river at Trout Park in Elgin and and nothing but one Mute Swan and a few Common Mergansers at Slade park as well, no sign of any Longtailed Duck, (chuckle) !! All right I can't get my expectations too high now! My excuse was there was a lot of ice flow.
---
Al Stokie on 1/30 reported via IBET: Hello Bird People,

Made my 2nd attempt to see the Long Tailed Duck today thinking that since the Young Birders Group saw it yesterday I should try as soon as possible. But on arriving at my 1st stop I could see right away that finding ducks in the river would not be easy as the fast flowing river at West Dundee was choked with fast flowing ice! This proved to be the case at all my river viewing locations & ducks (except for Mallards) were indeed scarce. Not so with Canada Geese & there must have been over 2000 of them and they were at every place I went. Mallards were mixed in but in smaller numbers. Goldeneye were seen in small numbers wherever enough open water was found with most just south of Carpentersville Dam. Common Mergs were hard to find with about 8 just north of the Borden Library & 2 at South Elgin Dam. With all those Geese I thought I'd find 1 other Goose species but I did not. I did locate Slade Park (yesterday's L.T. Duck site) but that was my only success of the day although all I found there were Canada Geese & lots of ice. Herring Gulls were found at most of my stops & 1 Ring Billed Gull was behind the Borden Library but that was the only 1 seen all a.m.

I saw 6 BALD EAGLES along the river & 4 were adults. Saw male Kingfishers (2) at both the Carpentersville Dam & in the river by the Trout Park Blvd pull off. Only the most common land birds were found but I was not looking for land birds. Until the flowing ice calms down it will not be easy to find enough open water for the diving ducks to congregate so I think I'll give up on this L.T. Duck & try & find another one perhaps in Lake Michigan.

Bird-Of-The-Day to the adult Bald Eagles (the young ones can win the award when they grow up) & Runner-Up to the 2 male Kingfishers. Another one of those slow days I seem to be having most of the time lately.
---
Oliver Burrus on 1/29 reported via IBET: [The Illinois Young Birders] met at Carpenters Dam with guest leader Scott Cohrs. In the parking lot, Scott heard a Brown Creeper and a Bald Eagle flew over. Once everyone got there, we looked at the river finding a banded Canada Goose (N6Y3) (white numbers on an orange band) and three Greater White-fronted Geese (good spotting by Ethan Ellis) among the hundreds of Canadas. after the excitement of all of the Geese, we walked down the path where Matthew Cvetas found the leucistic Goldeneye. On the walk back, we found a lone Green-winged Teal, and a perched Bald Eagle. After a stop at Panera, we went to the Gail Borden Library. There we saw that up the river at Judson there were a lot more Geese. So we made the stop there short. We drove to a place across from Judson where we found some Cackling Geese and a very cooperative Brown Creeper. We walked up a path, finding the Long-tailed Duck (which has not been seen since Wednesday), another Cackling Goose, and a couple Bald Eagles. Then we drove down to John J. Duerr FP, where the best bird was a low flyover, juvenile Bald Eagle. But wait that is not it, as we were driving home I saw a flock of Canada Geese and in that flock, there was a tiny white goose and at first I said there was a Snow Goose but I soon realized that the bird was way too small to be a Snow and I decided it was a lifer Ross's.
---
Al Stokie on 1/26 reported via IBET: ...The Carpentersville Dam had few ducks or gulls & nearby Jack Hill Park only had Goldeneye (~20) & a few Mallards. Checked the river both north & south from Elgin's Kimball St bridge & dam & all the ducks were just north behind the big library building. Here I saw 1 each Lesser Scaup & male Redhead, Goldeneye (6) & Common Mergs (20-22) but if the L.T. Duck was there I didn't find it. One adult Bald Eagle & 2 Great Blue Herons were also there.

I had never been on the Judson College grounds so I did a visit of exploration finding the 2 places where the L.T. Duck was seen on the 24th but did not see it today. At least I know how to get into this place so I'm ready for the next great bird that I am sure Eric S will locate. I noticed that Judson College teams are called the Eagles so it was fitting that a Bald Eagle flew by as I was driving around the grounds.

I must say that after the recent warm weather today's 31 degree temps with strong winds & light snow reminded me that Winter is not over yet.
---
There were many reports of the Long-tailed Duck on 1/24. It was spotted up river from the Gail Borden Library in Elgin north to Judson University.
---
Davida Kalina on 1/24 reported via eBird: Spotting a Thayer's Gull also at Judson.
Eric Secker on 1/24 reported via eBird: Seeing a Glaucous Gull also at Judson.
---
John Mayer on 1/23 reported via e-mail: I came across this Long-tailed Duck at Judson University today at 3:45 PM. This duck was swimming with three Common Mergansers at the north end of the University property. I could not get any better quality photos from the distance I was away. I relocated to the north but the duck was gone.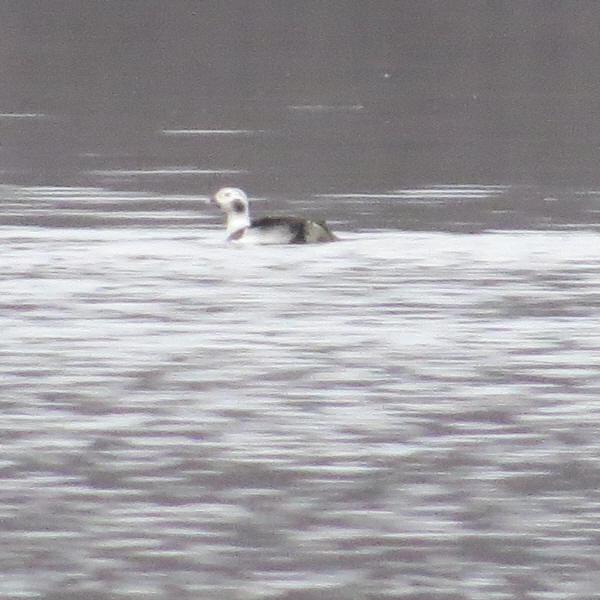 Long-tailed Duck photo courtesy John Mayer
---
Scott Cohrs on 1/23 reported via eBird: Spotting a Ross's Goose at James O. Breen Community Park South in St. Charles.
---
Jason Newton on 1/23 reported via eBird: Finding a Ross's Goose along Jehrico Road in Big Rock.
---
Diane Hansen on 1/23 reported via e-mail: I walked from SEBA Park to Jon J Duerr and back Sunday but before I even got there I pulled over to check out a silhouette in a tree along Route 31 just south of Route 20. It was an American Kestrel. I took that as a good sign for the rest of the day. The trees next to the first ball field as you head south on the river trail just past the foot bridge were full of birds. I saw goldfinches, house finches, juncos, chickadees, downy woodpeckers and several Eastern Bluebirds. They were a lovely pop of color on a drab day.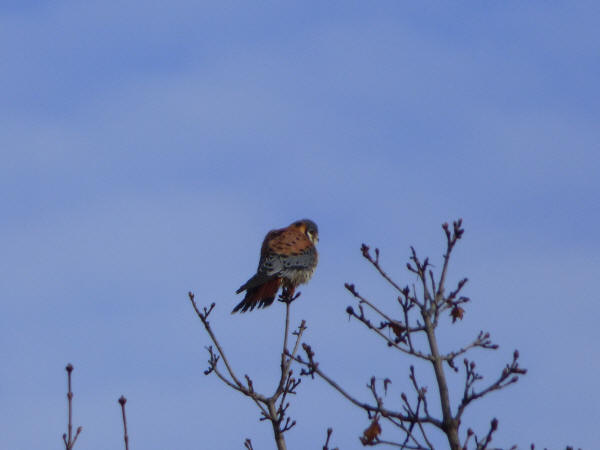 American Kestrel photo courtesy Diane Hansen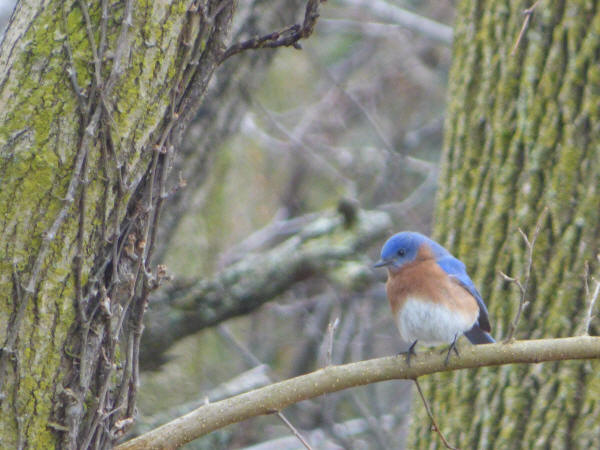 Eastern Bluebird photo courtesy Diane Hansen
---
Oliver Burrus on 1/22 reported via IBET: We had not been to Carpentersville Dam in a week and a half so I wanted to see if anything was there. At the dam, few birds were present (although we did see lots of Canada Geese). We walked down the trail finding some American Tree Sparrows, a pair of Cardinals, and some Chickadees. We headed back to our car to drive down to the Fox River in West Dundee. We scanned the river looking for the Barrow's Goldeneye which has not been seen this year. We had no luck with the Barrow's but we did find what could be a first basic Lesser Black-backed Gull.
---
Oliver Burrus on 1/21 reported via IBET: I also noticed that in Carpentersville. Also I saw five Mute Swans on the Fox River in West Dundee.
---
Brendon Lake on 1/21 reported via IBET: At 11:30, there was a large flock of geese on Meredith Road, just north of Route 38, near Elburn. At least 42 Snow Geese, and one Greater White-fronted Goose were among the many Canadas. Lots of geese airborne and on the move today.
---
Scott Cohrs on 1/21 reported via eBird: A Ross's Goose at a fluddle on Palmer Road. "Small white goose, stubby bill. Circling area. Appeared to be a juvenile as it still had some gray plumage. "
---
Eric Secker on 1/15 reported via IBET: We took a nice long walk through Oakhurst F.P. today. Looks like the freezing rain hit harder here than by us up in Elgin. Trails were very icy and we walked mostly along the grass trail edges. The birds were fairly active for a winter day.

Highlight on our walk was a calling COMMON REDPOLL that flew over twice near the main entrance road. For anyone looking for that species, I did notice that there's also a very large stand of alder trees at Cheshire Lake Park just east of Oakhurst. Full list is below.

2 Canada Goose
11 Mallard
1 Red-tailed Hawk
2 Mourning Dove
1 Red-bellied Woodpecker
5 Downy Woodpecker
1 Hairy Woodpecker
9 Blue Jay
2 American Crow
10 Black-capped Chickadee
2 White-breasted Nuthatch
1 Brown Creeper
46 American Robin
4 American Tree Sparrow
2 Fox Sparrow
26 Dark-eyed Junco
3 White-throated Sparrow
16 Northern Cardinal
3 House Finch
1 Common Redpoll
4 American Goldfinch
6 House Sparrow
---
John Heneghan on 1/13 reported via e-mail: On my suet feeder at home in Big Rock, a Hairy and Downy Woodpecker.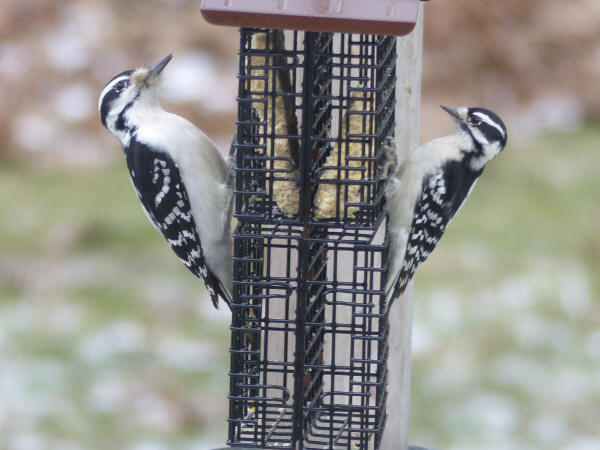 Hairy and Downy Woodpeckers photo courtesy John Heneghan
---
Theresa LeCompte on 1/9 reported via e-mail: My husband, Greg, and I went for a walk at Johnson's Mound this morning. I told him to keep his eyes peeled for a Barred Owl and this is what he found for me.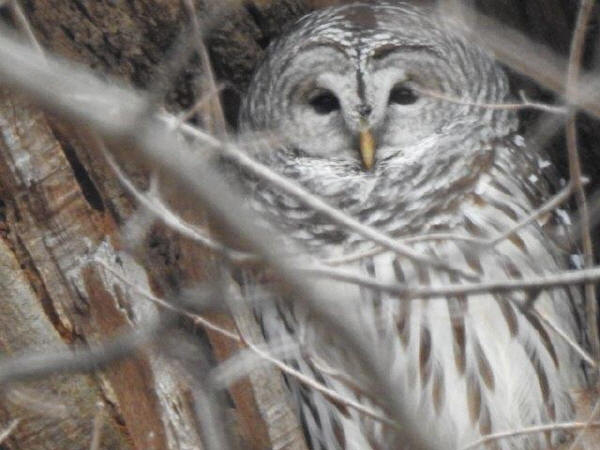 Barred Owl photo courtesy Theresa LeCompte
---
Lanette Padula on 1/9 reported via e-mail: Today I spotted a swan on the fox river in St. Charles from our back yard. The other day I saw six of them with one juvenile.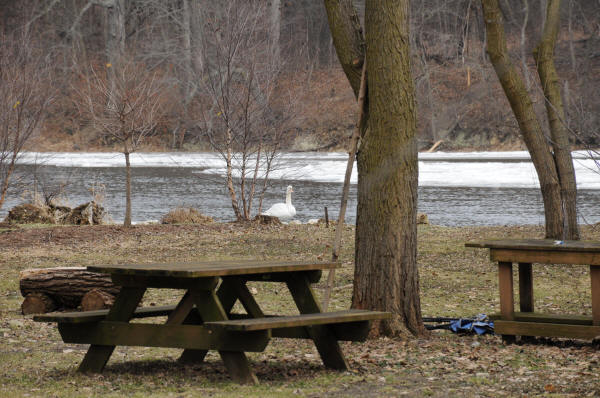 Mute Swan photo courtesy Lanette Padula
---
Alan Lloyd on 1/9 reported via e-mail: Saw several Bald Eagles yesterday, north of the Elgin library around the Slade Avenue park ...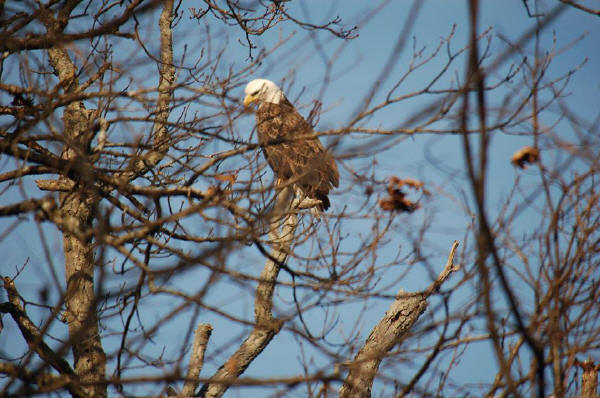 Adult Bald Eagle photo courtesy Alan Lloyd
---
Several People on 1/9: Reported seeing a Greylag Goose along the Fox River near the ballfield south of the dam.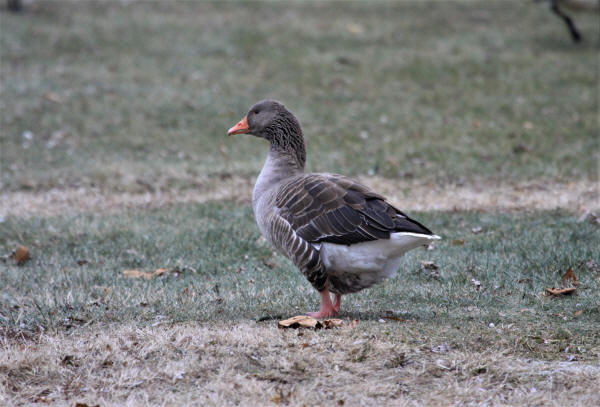 Greylag Goose photo courtesy Bob Andrini
---
Walt Lutz on 1/8 reported via e-mail: Shocked to see this Killdeer on this bitter cold day at Muirhead Forest Preserve.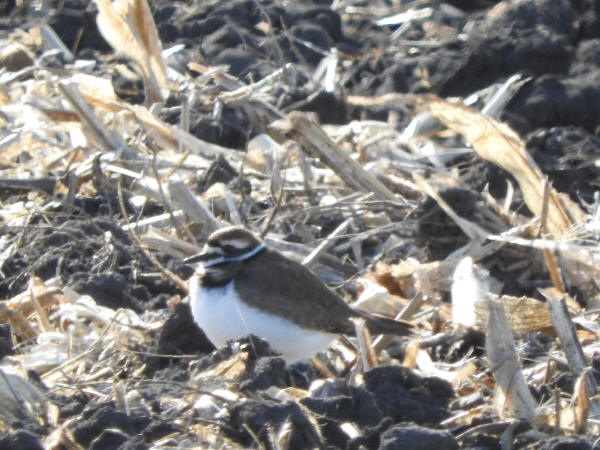 Killdeer photo courtesy Walt Lutz
---
Chris Madsen on 1/8 reported: Carla and I walked from Batavia's Quarry Park to Les Arends Forest Preserve this morning. Considering the frigid temps, there was quite a bit of bird activity. We tallied 22 species in little over an hour.
Highlights included the Common cousins - Goldeneye and Merganser, 4 or 5 Bald Eagles, at least 4 Red-Tailed Hawks, a flock of 10(?) berry-devouring Cedar Waxwings, and one each of Belted Kingfisher, Great Blue Heron, puffed against the cold American Robin, White-throated Sparrow, and our prize-of-the-day Yellow-bellied Sapsucker.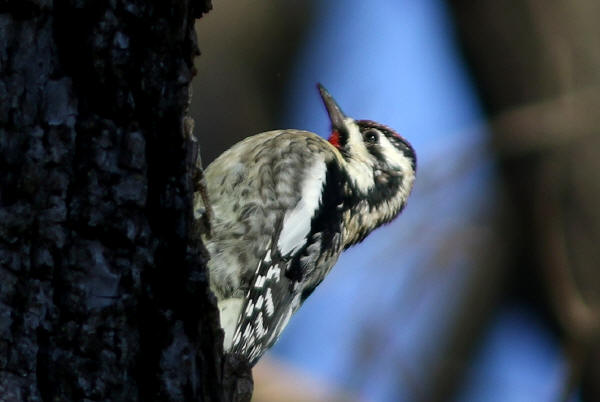 Yellow-bellied Sapsucker photo courtesy Chris Madsen
---
Oliver Burrus on 1/8 reported via IBET: As we pulled into our driveway [in Carpentersville] I noticed a Bald Eagle perched on our neighbor's tree. As I scanned their yard I found 5 more! I ran inside to grab my camera to photograph them and while I was outside I saw a Merlin and a Red-tailed Hawk flyover along with a Brown Creeper, some Cedar Waxwings, a Red-breasted Nuthatch, and the common feeder birds. All of these birds were seen within a minute.
---
Oliver Burrus on 1/7 reported via IBET: We started our day off at the Otto Parking lot [in Carpentersville] finding three Eagles, lots of Goldeneye (including the leucistic) and Mallards, and hundreds of Canada Geese. After a short stop there, we drove up to the Dam finding that there were still very few Gulls. Although we did find a lot of American Tree Sparrows. We walked down the path where the birding was better with the same birds seen at Otto and a pair of Hooded Mergansers. As we walked back, we scanned the Tree Sparrow flock finding a Ruby-crowned Kinglet.

I also found a mystery Duck (probably just a Mallard but the supercilium looked off).
---
Kurt Frieders on 1/5 reported via e-mail: There were several Bald Eagles, including this really cooperative one, along Route 25 in Montgomery this morning. The numbers of Common Goldeneyes and Common Mergansers seem to be building. There also are the regular Canada Geese and Mallards. Many Great Blue Herons are huddled together on one island.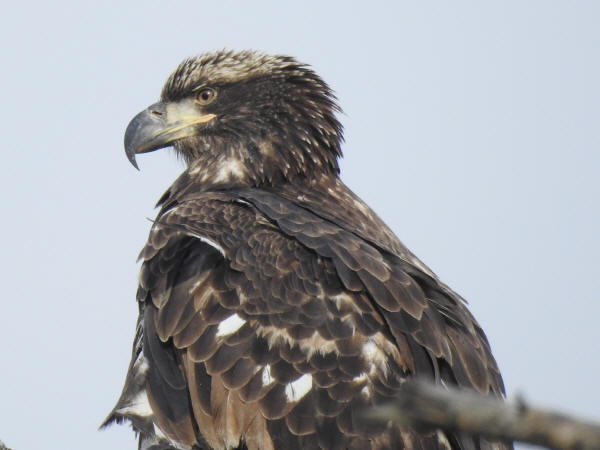 Bald Eagle photo courtesy Kurt Frieders
---
Stacy Schroeder on 1/4 reported via e-mail: Today I saw an adult Bald eagle and a young bald eagle soaring above St Patrick's Preschool/ Church in downtown St Charles. They were in the area for at least 15 minutes.
---
Al Stokie on 1/3 reported via IBET: Hello Bird People,

Today Jeff Sanders & I made 6 stops along the Fox River between the Carpentersville Dam & the Kimball St Dam in Elgin. When I covered these areas 1 week ago the river was partially frozen at all locations with 100's of Gulls on the ice & hunting for food at both dams. Today ice was in short supply & because of that Gulls were also in short supply. Oliver B has already mentioned the lack of Gulls at the Carpentersville Dam but this was true at all our stops today. All locations had fair numbers of Canada Geese & Mallards & small numbers of Common Goldeneye & Herring Gulls & smaller still numbers of Ring Billed Gulls. The only duck species seen were the 2 mentioned above, Mallard & Common Goldeneye. The only place with more than 10 Gulls was on the ice behind the Gail Borden Library by Kimball St. Not one Gull was flying at either of the 2 dams! Our only interesting species seen today was BALD EAGLE with 1 at Jack Hill Park, 2 at the Trout Park overlook, 2 on the ice at Gail Borden Library & 1 in a tree near the Kimball St dam. We are in for some very cold temps for the rest of the week which should result in the ice returning to all areas of the river & that should increase Gull numbers. I suggest waiting until the cold has done it's work before checking this part of the river again. At least that's my plan.

Bird-Of-The-Day to the 6 Bald Eagles & Runner-Up to the nice looking Goldeneye.
---
Oliver Burrus on 1/3 reported via IBET: ... we decided to go over to Carpentersville Dam to see if any of the Gulls seen last week and before were still there. On Lincoln Avenue, there were some Goldeneye, Geese, Mallards, and a Herring Gull. But at the Dam, birding was slow with only some Mergansers, a Great Blue Heron, and a few Gulls. We walked down the path finding a Brown Creeper and more ducks including the same leucistic Goldeneye.
---