Darrell Shambaugh on 7/31 reported via IBET: I've been checking [the Elburn fluddle] since the summer of 2007. It has been full of water for at least two years! I think it filled up right after our most recent drought. However, the wind and sun had very little to do with it drying up. I was told that the landowner had been trying to get rid of the water for a long time and finally found the plugged drainpipe and got it unclogged within the last couple of weeks.
Christopher Cudworth on 7/31 reported via IBET: I drove out to Elburn after my errands and found the area across from the Elburn Forest Preserve entrance almost bone dry. It had the appearance however of an African watering hole. A group of 16 egrets and an equal number of great blue herons were standing around a willow where there was some shade. There was a line or two of wet ground, but no remaining standing water. One egret did gag down a rather dry looking fish. It did not go down its craw easily.

The whole group moved out into the center of the once-wetland when I moved my scope. There were a few killdeer scattered across the turf but no other shorebirds. Guess the wind and sun dried this one up for now. So...save your gas and wheels on this site until there is consistent rain.

I checked the egrets for little blue heron and snowy status, but no go. There were quite a few GBH young on site.
Darrell Shambaugh on 7/30 reported via IBET: There is a pond at Hupp Park at the corner of Illinois and Orchard on the west side of Aurora that is going down and has a nice mudflat. Birds seen there about 6:00 PM tonight include

~15 Killdeer
1 Semipalmated Plover
1 Spotted Sandpiper
1 Pectoral Sandpiper
5 Caspian Terns
4 Ring-billed Gulls
2 Great Egrets
2 Great Blue Herons
3 mallards
~15 Canada Goose

From Orchard road, go east on Illinois Ave. and take the street on the east side of Hupp Park You can see this pond really well from there.
Bob Andrini on 7/30 reported via e-mail: We did get the Swainson's Hawk today near the cemetery at Burlington. The parents must have had their young out, for they kept flying over the car 'screeming' at us. It was...one of the best views of the bird I've had. We also went to the fuddle across from Elburn FP and there was mainly mud - and 50+ Great Egrets and 38 Great Blue Herons.
Darrell Shambaugh on 7/25 reported via IBET: I stopped at Elburn on the way home from work Saturday afternoon and missed the Stilt Sandpipers and the Wilson's Phalaropes, but I did see a BLACK TERN flying around. The water level is way down from last Saturday.
Urs Geiser on 7/25 reported via IBET: On Saturday afternoon along IL-38 west of Elburn, shorebirds were up considerably from the numbers that Darrell reported a few days ago. In addition to the species mentioned in his post..., there were also 2 adult STILT SANDPIPERS and 2 adult (probably male) WILSON'S PHALAROPES. A CASPIAN TERN was also present, and a family group (mother, 3 pups) of COYOTE were eyeing the birds, which also included a good number of GREAT BLUE HERONS and GREAT EGRETS.

The other NW Kane Co. spots where shorebirds were reported within the last week have dried up despite the rains of the last couple of days.
John Heneghan on 7/25 reported via IBET: We have had a pair of Blue Grosbeaks hanging around the house [in La Fox] for the last few days. The male sits in a tree calls for about 15-20 minutes and then moves to another tree and begins calling again. First I have seen in this area.
Ari Shavit on 7/22 reported via IBET: I went by [the Elburn fluddle] this afternoon around 3pm, scoped the slough and could not find the Hudsonian Godwit. There were lots of yellowlegs, Great egrets, and Kildeer.
Pete Moxon on 7/22 reported via phone: New arrival today at Sauer Forest Preserve: 2 Willets. The Stilt Sandpipers were not relocated.
Pete Moxon on 7/21 reported via phone: At about 6 PM at the fluddle across Route 38 from the entrance to Elburn Forest Preserve: a molting Hudsonian Godwit. In addition, "lots" of Lesser Yellowlegs and "quite a few" Greater Yellowlegs; Pectoral, Spotted, Solitary, Least, and Semipalmated sandpipers; two Short-billed Dowitchers, and a possible White-rumped Sandpiper (the lighting was marginal). Duck-wise, Pete reported Blue- and Green-winged Teal, Wood Ducks, and Gadwalls. At 7 PM, a single Cattle Egret foraging among some Great Blue Herons.
A report from Sauer Forest Preserve at 9 PM: Three Stilt Sandpipers and four Short-billed Dowitchers along with several Greater and Lesser yellowlegs, some Least and a few Pectoral sandpipers, Spotted Sandpipers, and Killdeer.
Jon Duerr on 7/20 reported via e-mail: An immature Yellow Warbler came to our garden pond Monday evening. Since our yard and neighborhood are not normal habitat for Yellow W. I assume this one is beginning its migration.
Darrell Shambaugh on 7/19 reported via IBET: Saturday evening on my way home from work I stopped by Elburn Forest Preserve (Kane County, on Route 38 west of Route 47 and Elburn) to check the flooded field north of the preserve for shorebirds, ducks, and whatever else may be there. I hope this guy doesn't get his tiles fixed for a long time. This is on fabulous casual wetland. There were lots of swallows flying around. I could pick out TREE, BARN, and NORTHERN ROUGH-WINGED. There were 3 PIED-BILLED GREBES, BLUE-WINGED TEAL, MALLARDS, WOOD DUCKS, and CANADA GEESE. All had immature with them. Shorebirds included 2 GREATER YELLOWLEGS, ~30 LESSER YELLOWLEGS, ~ 15 PECTORAL SANDPIPERS, ~ 20 LEAST SANDPIPERS, ~2 SPOTTED SANDPIPERS, ~10 SOLITARY SANDPIPERS, ~100 KILLDEER, and some others that were too far away to ID.

In the forest preserve itself were COMMON YELLOWTHROAT, GRAY CATBIRD, EASTERN TOWHEE, INDIGO BUNTING, and other regular summer birds.
Bob Fisher on 7/18 reported via IBET: Karen and I led a DuPage Birding Club field trip on Saturday in search of Swainson's Hawks and other birds.

The group watched a lone adult Swainson's soaring over a treeline to our east for about 15 minutes as we stood in the parking lot of a small cemetery located at the NW corner of the intersection of Peplow and Chapman Rds approx. 1 mile south of the small town of Burlington in NW Kane County.

From there we checked out several shorebird spots...The very large fluddle/wetland on the N side of Rte 38, directly across from the entrance to Elburn FP had numerous yellowlegs, mostly Lesser but with a couple of Greaters mixed in, along with Pectoral Sandpipers and some very distant peeps, unidentifiable as to species.

The most interesting and productive shorebird spot proved to be the OBrien and Melms Rd fluddle in far NW Kane County. We visited it twice, the 1st time in late morning, when it wasn't very exciting - the 'best' bird being a Short-billed Dowitcher viewable at fairly close range. The 2nd time we stopped, around 2PM, there had clearly been an influx of new shorebirds. Peeps (almost all Least Sandpipers) were much more numerous and included 1, possibly 2 White-rumped Sandpipers (we've never had a July sighting for this species; possibly these White-rumps never made it to their breeding grounds?). The dowitcher was still there, as were several Lesser Yellowlegs and an equal number of Pecs. Mixed in with these larger shorebirds were 2 adult Stilt Sandpipers, still in breeding plumage.
Deb Russo on 7/16 reported via e-mail: On July 16 2009 I had an adult and juvenile cedar wax wing over my head in our locust tree. I had never seen this specimen in our yard before. I wondered if my raspberry bushes attracted them or maybe the columbine seeds I was collecting. After reading about their diet I think it is the berries on my junipers
Bob Fisher on 7/15 reported via IBET: The fluddle at OBrien and Melms Rd was loaded with shorebirds when we stopped there [this afternoon]. Nothing rare but nice numbers. I counted 45 Lesser Yellowlegs before they flushed and reshuffled the deck, and about the same number of Least Sandpipers. Singles of Spotted, Solitary, Short-billed Dowitcher and a few Pectorals rounded out the mix, with of course numerous Killdeer. We also had good looks at least one Brewer's Blackbird, though there were probably a few more in the willow trees along OBrien Rd
Leo Miller on 7/15 reported via IBET: [Around noon today at] the O'Brien/Melms Rd fuddle there were lots (over 60) shorebirds. I counted 16 Lesser Yellowlegs, 7 Pectoral Sandpipers, 1 Short-billed Dowitcher and numerous Least Sandpipers and Killdeer.
Pete Moxon on 7/13 reported via phone: This evening at Sauer Forest Preserve Pete reports at least one American Avocet, 2 Black-necked Stilts, 12 Short-billed Dowitchers, "a few" Pectoral Sandpipers, 7 Greater Yellowlegs, 10 Lesser Yellowlegs, 8 Least Sandpipers, and 3 Semipalmated Sandpipers. He also caught a glimpse of a possible Stilt Sandpiper that darted quickly back into the vegetation. Pete cautions that the birds are very skittish as at least one coyote is working the area. He thus advises keeping a distance from the birds so you don't flush them, preventing later-arriving birders from getting looks.
Karen Lund on 7/13 reported via IBET: Today's new arrivals [at the Melms/O'Brien Road fluddle] are 3 pectoral sandpipers. Four of the s.b. dowitchers are still there, along with many least and spotted sandpipers, both yellowlegs and a solitary solitary sandpiper. I did not see the phalaropes.

This area is drying up and may be gone by the weekend.
Darrell Shambaugh on 7/11 reported via IBET: I was at Nelson Lake this afternoon from 5:30 until 8:00 PM. There were a lot of birds, and even more deer flies. Some nice mud flats are developing around the edge of the lake. There were a lot of KILLDEER and a few LEAST SANDPIPERS, and some other slightly larger peeps. A lot of other birds were on the mud flats too: ROBINS, MOURNING DOVES, SONG SPARROWS, RED-WINGED BLACKBIRDS among them. Also over the lake were 5 BLACK TERNS. There were lots of Swallows flying around. I picked out BARN, BANK, NORTHERN ROUGH-WINGED, and TREE. Many CEDAR WAXWINGS were zooming around with the swallows. A pair of SANDHILL CRANES were on the mudflat in the southeast part of the lake.

Birds in the grasslands included 2 singing HENSLOWS SPARROWS, a SAVANNAH SPARROW, several juvenile FIELD SPARROWS, DICKCISSELS, COMMON YELLOWTHROAT, SEDGE WREN, SONG SPARROW, and EASTERN MEADOWLARKS.

Along the Lake Loop trail a male ORCHARD ORIOLE was feeding its stepchild BROWN-HEADED COWBIRD. A pair of GREEN-BACKED HERONS were in the ditch on the north side of the trail. As I was enjoying a cold water in the parking lot, a COOPER'S HAWK flew past with 4 angry Red-winged Blackbirds in hot pursuit. A few minutes later at least one MARSH WREN began to call from the pond near the west parking area.

My favorite animal today was big snapping turtle on the trail bordering between the grasslands and the woods on the west side of the lake. It was quite a sight, pulling its head back into the shell as I biked past. If only he would eat some deer flies.
Karen Lund on 7/11 reported via IBET: Stopped by [the Melms/O'Brien road fluddle] mid-afternoon. There's pretty much the same mix of birds as seen on Thursday, except there are now 4 short-billed dowitchers (all in breeding plumage) and there seems to be a second wilson's phalarope. One was quite active, unfortunately after Donnie & Jackie Dann left; the other was snoozing along the grasses and it looked like a juvenile. There were more of both the yellowlegs as well

Thought I would clarify the exact location of this site. O'Brien Rd. is an unmarked gravel road west of Walker Rd. and east of County Line Rd. The water is not visible from Melms Rd.
Ari Shavit on 7/11 reported via IBET: There's a couple of Caspian terns at the big fluddle across from Elburn forest preserve. They are way on the other side, if they aren't flying you need a scope to see them.
Karen Lund on 7/9 reported via IBET: I've been checking [the Melms/O'Brien Road fluddle] periodically since it's kinda, sorta on my way home. Today it paid off. There were 2 short-billed dowitchers, 3 wilson's snipe, 1 adult male wilson's phalarope, 30+ least sandpipers, 10+ each of greater and lesser yellowlegs, 13 spotted sandpipers and many killdeer. There are still plenty of bank swallows around.

Melms Rd. is approx. 3 miles north of Rte. 72 & O'Brien Rd. is approx. 3-1/2 miles east of Rte. 23. The 2 fluddles are on the northeast corner of this t-intersection, so viewing is best later in the day.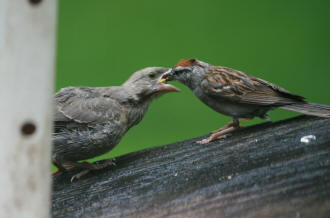 Chipping Sparrow feeding young
Brown-headed Cowbird courtesy Paul Mayer
Paul Mayer on 7/4 reported via e-mail: There's no question that now's the time for fledging and being taken care of. Here's a Chipping Sparrow feeding a young parasitic Cowbird.
Amar Ayyash on 7/4 reported via IBET: I...made a stop to Kane County and found a single SWAINSON'S HAWK perched across the street from the cemetery on Peplow. It got up and flew to where it was regularly seen last year on Chapman Rd.
Beau Schaefer on 7/2 reported via IBET: Thanks to Joe Lill for his post on the SWAINSON'S HAWK. Last time I went I wasn't looking in the right place. This time I was and had great looks at a cruising Swainson's right in front of me on the east side of Chapman Rd. [south of Burlington] right after the road turns south. It was pretty much in the same spot that Joe reported it from earlier. That's a great-looking bird!
Christopher Cudworth on 7/1 reported via IBET: [Went to West Side Community Park (formerly Campton Park) in St. Charles.] On Campton Hills Road 1 mile west of Peck.
Took a stroll to listen for breeding birds but hit the "quiet" zone when low ceiling clouds dampened the bird activity at 6:30 a.m.

When it picked back up (sort of) the following species were found:

GREAT CRESTED FLYCATCHER (5)
DOWNY WOODPECKER (3)
RED BELLIED WOODPECKER (2...Nest hole along trail)
WOOD PEWEE (3)
INDIGO BUNTING (9)
ORCHARD ORIOLE (2)
ROSE BREASTED GROSBEAK (2)
BLACK CAPPED CHICKADEE (2)
BLUE GRAY GNATCATCHER (3)
FIELD SPARROW (4)
BLUE JAY (5)
CROW (1)
ROBIN (2)
WILLOW FLYCATCHER (2)
EASTERN BLUEBIRD (5)
TREE SWALLOW (4)
BARN SWALLOW (2)
YELLOWTHROAT (4)
COWBIRD (4)
HOUSE FINCH (3)
CEDAR WAXWING (5)
SONG SPARROW (7)
RED WINGED BLACKBIRD (LOOKOUT! 5)
MOURNING DOVE (4)
HOUSE SPARROW (2)
GRACKLE (2)
WOOD DUCK (1)

Lots of mosquitoes and no ticks (I think) in 40 minute walk out to spot where Blue Grosbeaks bred last year. No sign of them this time.