---
Chris Mussachio on 7/31 reported via e-mail: Here is the juvenile red-headed woodpecker from today in Cville. The parents were paying attention to it, so I think everything is ok. Actually there were at least 4 adults flying around the area.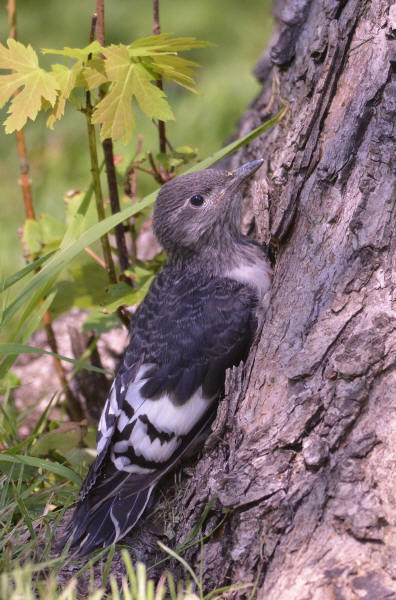 Juvenile Red-headed Woodpecker
---
John Janunas on 7/30 reported via e-mail: This Osprey was hanging around Fabyans this afternoon.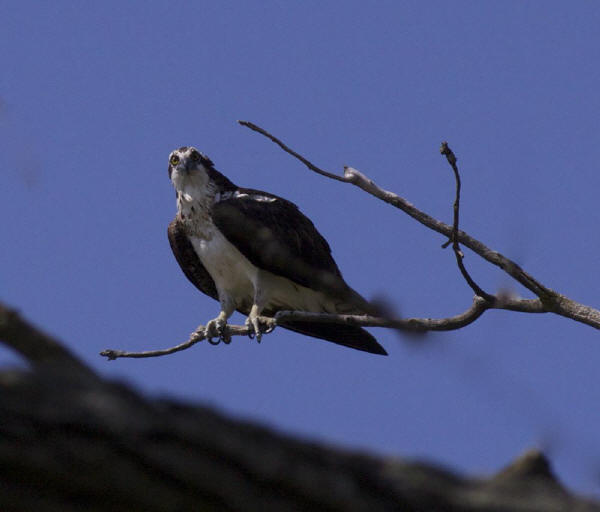 Osprey photo courtesy John Janunas
---
Bob Fisher on 7/30 reported via IBET: Karen and I checked out the sod field on the N side of Main St, on the E edge of Kaneville Monday morning. 2 Buffies were still present among the very numerous Killdeer.
---
Andrew Aldrich on 7/29 reported via IBET: Hello! I spent the morning and early afternoon looking for shorebirds. Some highlights below:

Nelson Lake (Batavia, Kane County)
SEMIPALMATED PLOVER 2
KILLDEER 30+
SPOTTED SANDPIPER
SEMIPALMATED SANDPIPER 10
LEAST SANDPIPER 8
BAIRD'S SANDPIPER
PECTORAL SANDPIPER 65+

Dunteman Sod Farm (Kaneville, Kane County)
KILLDEER 112
BUFF-BREASTED SANDPIPER 4

Two of the Buff-Breasted Sandpipers were observed doing what I took to be a courtship display. Not something I expect to see during migration.
---
Aaron Gyllenhaal on 7/29 reported via IBET: My dad and I just had a [Buff-breasted Sandpiper] at Kaneville Sod Farms about half way down Bateman Rd and a third of a mile out in the sod. This was at 2:50. A spotting scope is needed.
---
Jackie Bowman on 7/27 reported via IBET: At 5:40 Chris and I relocated one UPLAND SANDPIPER and two BUFF BREASTED SANDPIPERS at the Kaneville Sod Farms. They were all on the north side of Main Street and the west side of the gravel road. Thank you Scott for your keen eye!
---
Scott Cohrs on 7/27 reported via IBET: There were 2 Upland Sandpipers at the Kaneville sod farms this afternoon. They were on the north side of the road (Main St), and initially in the bare dirt. They then moved north into the grass. As I was watching, a Cooper's Hawk came by and all the birds lifted, but it appeared as if they all settled again further north in the field. I did not try to relocate them after that.

There were some people working in the fields today, so please be respectful. A couple people drove by and just waved, but I did not venture off the gravel road on the east side either. This evening may provide better luck because of both heat waves and activity.
---
Eric Secker on 7/23 reported via IBET: On Friday evening my wife and I had a CLAY-COLORED SPARROW singing (if you can call it that) in the fields north and east of the westernmost parking lot at Burnidge F.P. in Kane Co.

For those interested in knowing, the marsh is one giant veg field. There is still some mudflat at the far east end but there were only Killdeer present when we were there.

Back home at Judson University we have been enjoying the birds we see out our living room window. On Friday there was a COMMON NIGHTHAWK feeding over Tyler Creek just above tree level. The BELTED KINGFISHERS have also been around regularly and baby Muskrats have been trimming the plants along the creek.

Elsewhere on the campus, a CAROLINA WREN was back again recently in the far SW corner of the property. Down by the river there has also been a small mix of common shorebirds.
---
Jeffrey Duncan on 7/22 reported via e-mail: I saw what I believe to be a Caspian Tern hunting at the retention pond in Orchard Estates in North Aurora this afternoon. It dove and dropped it's prey several times before finally securing a meal and flying off.
---
Ken Schneider on 7/16 reported via e-mail: This morning Mary Lou and I found a female Dickcissel perching in an oak tree in Hawk's Bluff Park, Batavia. I almost did not recognize it out of a grassland habitat. It is the first Dickcissel we have seen in the park. At Nelson Lake this past Thursday, two adult Bald Eagles seemed to be hunting cooperatively, taking swoops at what looked like a female Mallard that was accompanied by a longer-necked bird, possibly a Pied-billed Grebe. There appeared to be several ducklings in the water and in the grass that was now growing out of the lake, as it is very shallow. The second of two cooperative attempts appeared to be successful, as I photographed the first eagle departing with a small prey item-- a duckling? I also counted 108 Killdeer in a panoramic photo I took of the lake from the east viewing platform. I have posted a series of photos on my FLICKR pages and latest blog.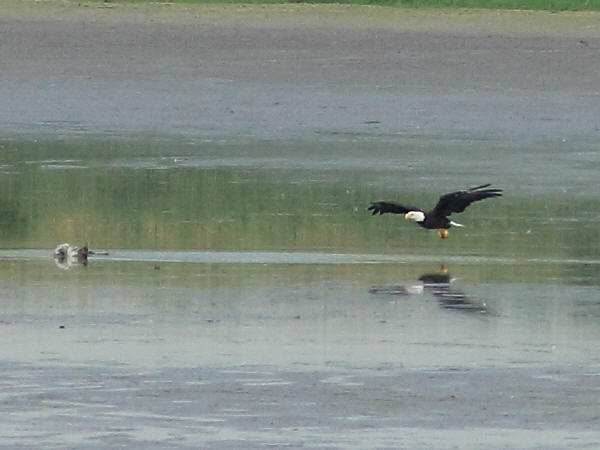 A pair of eagles hunting at Nelson Lake (above) and one carrying off prey.
Photos courtesy Ken Schneider.
---
John Heneghan on 7/16 reported via IBET: My girlfriend called this AM on the way to work to tell me of seeing 8 sandhill cranes in the harvested wheat field on Bliss Rd north of I-88 in Kane County. We have seen them here abouts, in the past, in the fall.
---
Bob Andrini on 7/15 reported via e-mail: While birding Norris Woods Sunday, Kath and I heard a couple of very harsh bird sounds. Upon investigating at the rivers edge, we saw 4 Caspian Terns doing some very serious fishing.
---
Marion Miller on 7/14 reported via e-mail: Rich and I visited Helm Wood Forest Preserve in Carpentersville this morning. It is a beautiful quiet woods surrounded by some grasslands. Besides enjoying the many deer seen, we heard our first, Yellow-billed Cuckoo. Other highlights of the 34 species tallied, were Blue-winged Warbler, Scarlet Tanager, Wood Thrushes and watching 4 Red-headed Woodpeckers, two of them being juveniles, flying in close proximity to each other. For a complete checklist visit this Ebird link. A special thanks to Scott Cohrs for his help that lead us to this preserve.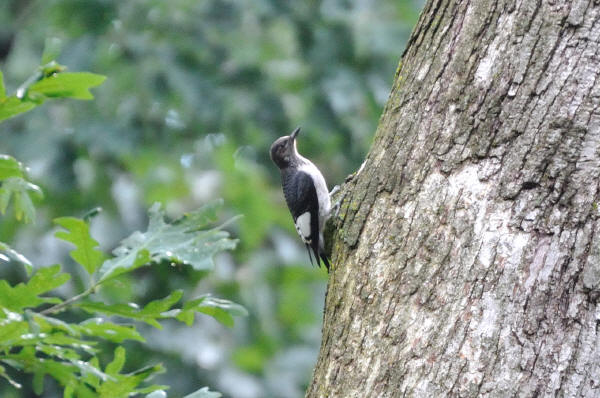 Juvenile Red-headed Woodpecker photo courtesy Rich Miller
---
Darrell Shambaugh on 7/13 reported via IBET: There were some shorebirds in a pond west of Aurora this afternoon, 7/13/12. I was bicycling on the Gilman Trail and didn't have my scope, so I didn't get to check them as well as I would have liked. I could see two LESSER YELLOWLEGS, a couple larger shorebirds too far away to ID, and a bunch of small ones.

Where is this at? It is where the Gilman bike trail crosses Galena a mile or so west of Aurora and a half mile east of Route 56. Park at the trail parking area and walk up the hill to the overpass. The pond is south of the trail.
---
Marion Miller on 7/9 reported via e-mail: Two Black-crowned Night Herons were seen at 10:30 today at the marsh on the corner of Trentt Dr. and Wolcott Ln in Batavia. They are both perched in the bare branches to the back of the pond and are best seen from Trentt Dr.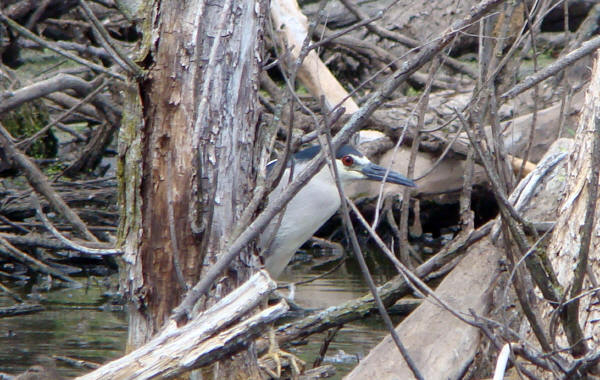 Black-crowned Night-Heron photo courtesy Marion Miller
---
Chris Madsen on 7/9 reported: What a treat this morning in St. Charles! At 6:30 a Carolina Wren bugled its reveille call from the bushes beside my front porch. Mission accomplished, it was gone before I could reach for my camera.
---
Chris Madsen on 7/8 reported: Among the many young birds that Carla and I came across this weekend was this male Rose-breasted Grosbeak seen this morning at Hickory Knolls Natural Area.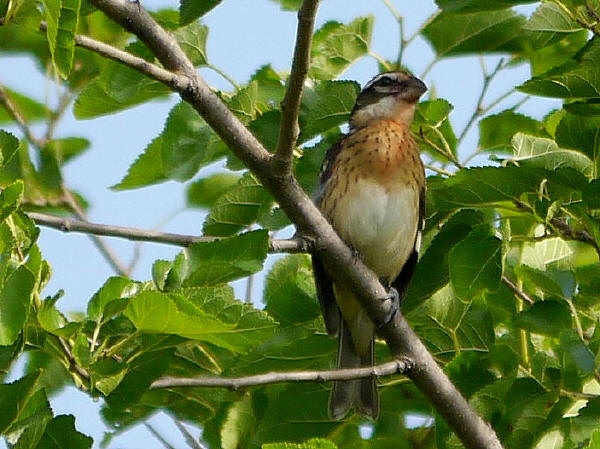 Rose-breasted Grosbeak that has yet to get his rose on. Photo courtesy Chris Madsen
---
Chris Mussachio on 7/6 reported via e-mail: Came across these Tree Swallows at the Woods Creek Riparian Corridor in Algonquin.

Nestling pleads, parent feeds Tree Swallow photos courtesy Chris Mussachio
---
Rich Miller on 7/3 reported via e-mail: Marion and I were out at Grunwald Farm Forest Preserve this morning (7-3-12). It was muggy and humid - even at 7:00am. We walked the forest and pond trails. The highlights of the day were a Broad-winged Hawk, Rose-breasted Grosbeak, and a Killdeer with 3 chicks.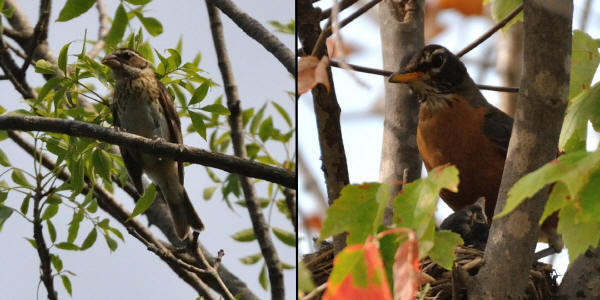 Female Rose-breasted Grosbeak - Robin comparison photo courtesy Rich Miller
---
Eric Secker on 7/2 reported via IBET: On Saturday, my wife and I finally went to check out the marsh in Pingree Grove on Reinking Rd. that Steve Bailey mentioned in his recent post. I always thought this spot looked good from satellite maps.

We saw at least three or four distant YELLOW-HEADED BLACKBIRDS when we were there in the evening, although they were fairly elusive and one male that was flying around a bit eventually flew out of sight to the north probably to forage for food elsewhere. I have seen Common Moorhens at Pingree Grove F.P. in recent years, but we struck out on that one here. However, we were happy to also see two BLACK-CROWNED NIGHT-HERONS sitting on the fence that surrounds the water facility to the south. Other birds included a couple BLUE-WINGED TEAL, PIED-BILLED GREBES, COOTS, and lots of MARSH WRENS. I also thought, but wasn't 100% certain that I heard a LEAST BITTERN briefly.

Back home, I had two COMMON NIGHTHAWKS at Spring Hill Mall near the Barnes & Noble side as well as one down by the Fox River in Dundee and one at Judson University.
---
Al Stokie on 7/1 reported via IBET: Hello Bird People,

Having noticed that others had been seeing the Burlington Swainson's Hawks recently Bob Erickson (who like Hawks much more than I do) & I decided we would give it try today although I must admit that driving around in circles for hours is not my idea of birding fun. We arrived too early (about 8:15 a.m) as it took less time to get there than I remembered. So we drove Burlington Rd, Chapman Rd & Peplow Rd until about 9 a.m. without seeing any Hawks at all. Still too early for them to start soaring I guess. Finally figured out where we had seen the Swainson's the last 2 years & parked off the road & waited. At 9:20 we saw 1st one & then a 2nd Red Tailed Hawk in the sky. Perhaps that meant that other Hawks would also start soaring as well so we looked even harder. At 9:25 I saw another flying hawk & this one was lower so that probably meant it had just started flying. Bob was able to quickly I.D. it as a Swainson's & for the next 5 min we had good looks as it circled the area.

Then as it went higher & farther away I used the scope for another 5 min. Eventually it flew off toward Burlington Rd but was so high you couldn't really deal with it any longer. So our entire Swainson's adventure lasted 10 min from 9:25 until 9:35 when it was too high to see very well. If you are there when it lifts off you can see it fairly well but it doesn't take long until it's gone for a while anyway.

The only other birds we saw while Swainson's searching were the 2 Red Tails, 2 Kestrels, Robins, a Cedar Waxwing & some Red Winged Blackbirds. I am very glad we saw the target bird as I did not want to repeat the search as I have had to do that more times than I care to recall.

Bird-of-The-Day is without a doubt the low flying (for a while) Swainson's Hawk.
---