---
Jude Vickery on 7/31 reported via eBird: At the Sugar Grove Sports Complex, a Wilson's Phalarope along with a Least Sandpiper, 2 Spotted Sandpipers, and 5 Lesser Yellowlegs.
---
Marion Miller on 7/31 reported via e-mail: Rich and I checked out some areas for shorebirds this morning. Prairie Green has a small amount of water remaining and some mudflats. Will probably dry up in a day or two if it doesn't rain. Solitary and Spotted Sandpipers and 11 Great Egrets were the highlights. The water level at the retention pond between Deerpath and Orchard, that is opposite the Auto Mall, is too high and has no mudflats. However 4 vocal Red-tailed Hawks flying over our heads while we were checking was pretty cool. Guessing they might be the family from the silo nest a little bit north of the pond. The best find were 4 American Avocets, in breeding plumage and 24 Caspian Terns, some immature, at a retention pond off Indian Trail in Aurora. The Caspian Terns were very vocal and were either fighting over or sharing some tiny fish. The Avocets did fly to the Vaughan Athletic Center ponds just west of the original site later in the afternoon. In the ponds at the back of the Vaughan Athletic Center, 2121 W Indian Trail in Aurora, there are some mudflats and a Greater Yellowlegs was there.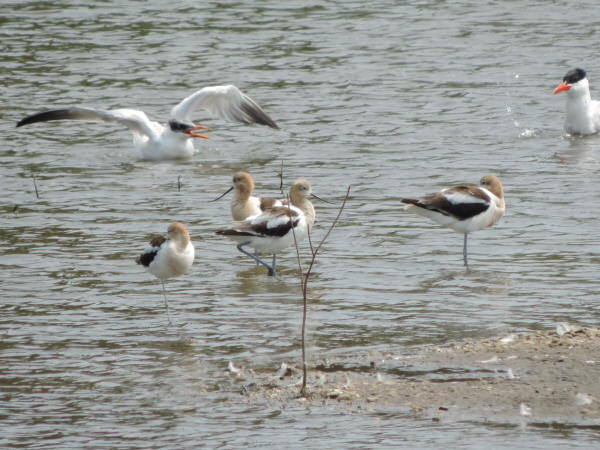 American Avocets and Caspian Terns photo courtesy Marion Miller
---
Eric Secker on 7/31 reported via e-mail: This past weekend we were at the Blue Goose Market in St. Charles and noticed over 150 Cliff Swallows flying up on the ledge of this building at the corner of Illinois St. and 1st Street. I'm sure a lot of them were grown young from the nests under the Rt. 64 bridge over the Fox River.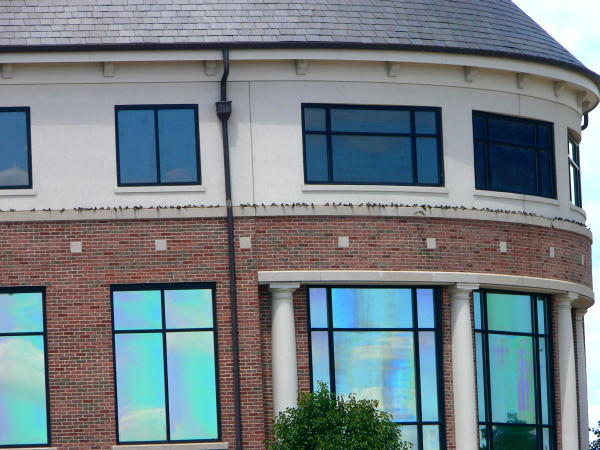 Cliff Swallows photo courtesy Eric Secker
---
Jim Narovec on 7/31 reported via e-mail: We have a Cardinal nest in a tree about 2 feet from a bedroom window at our house and finally one of the babies wandered away from the nest. Also have a single Hummingbird that routinely visits a feeder between 6 and 7 in the morning.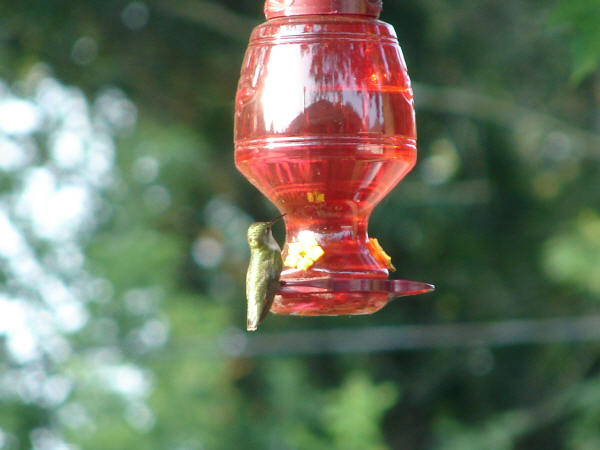 Ruby-throated Hummingbird photo courtesy Jim Narovec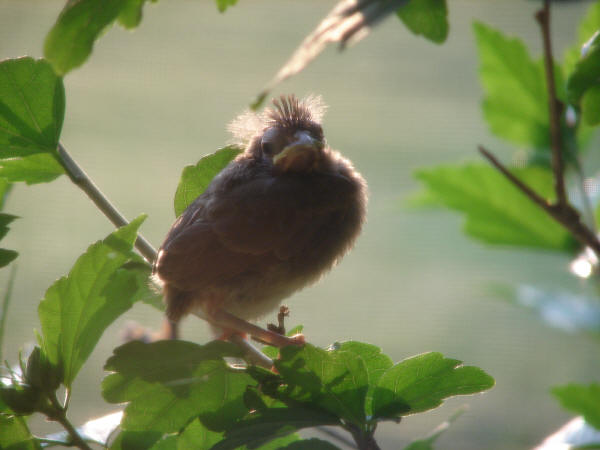 Northern Cardinal photo courtesy Jim Narovec
---
Pete Moxon on 7/25 reported via eBird: Had a Northern Mockingbird on Finley Road just west of Route 47 in Blackberry Township.
---
Diane Hansen on 7/25 reported via e-mail: I had a great walk along the Fox River from S.E.B.A. to Stearns Road and east to Brewster Creek then back.
I saw several birds I don't normally see including 1 Indigo Bunting, 1 Osprey and a Green Heron that landed in a tree near the Stearns Road bridge.
I also saw Cedar Waxwings, Goldfinches and a Red-Headed Woodpecker that seems to hang out in S.E.B.A Park these days plus Great Blue Heron, Spotted Sandpiper and Killdeer.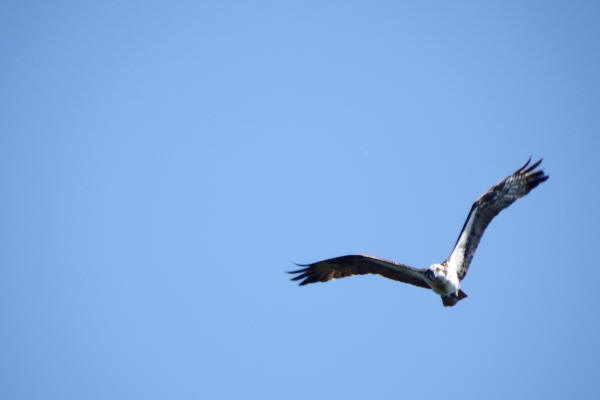 Osprey photo courtesy Diane Hansen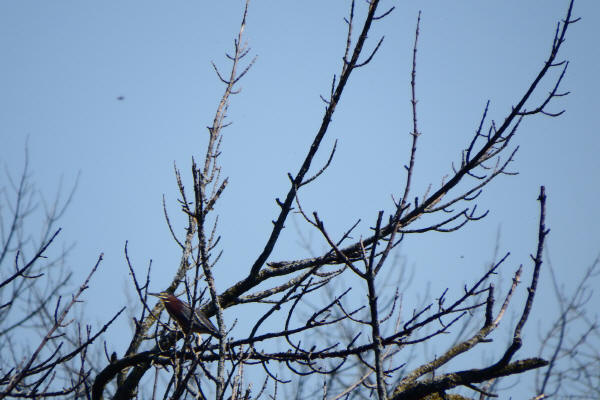 Green Heron photo courtesy Diane Hansen
---
Ted Schnell on 7/21 reported via e-mail: I seldom crop my photos. My training was to crop inside the camera — in other words, frame the photo so you don't have to crop it. There are exceptions to the rule, however, and I thought this shot of a great egret was one. I shot this Sunday evening, July 20, 2014, along the Fox River Trail, north of Slade Avenue Park in Elgin, Illinois.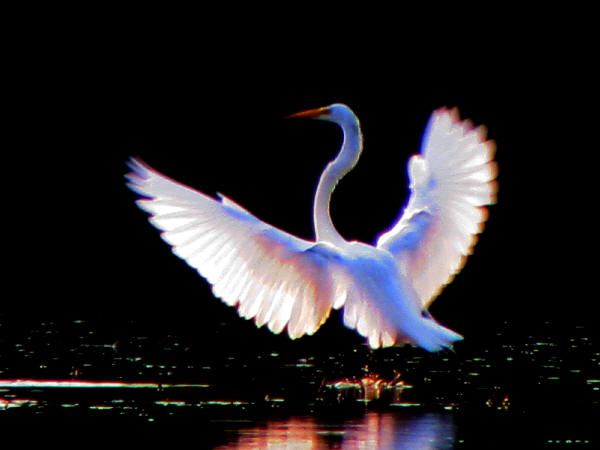 Great Egret photo courtesy Ted Schnell
---
Scott Cohrs on 7/20 reported via eBird: A Blue Grosbeak seen Sunday morning on the berms of the Kaneville quarry.
---
Sue Wagoner on 7/19 reported via e-mail: There was a pair of American Kestrels at Nelson Lake Prairie today, on the dead tree on the west gravel path, making about 10 Tree Swallows very unhappy. Also seen were female and immature Dickcissels (no males seen or heard).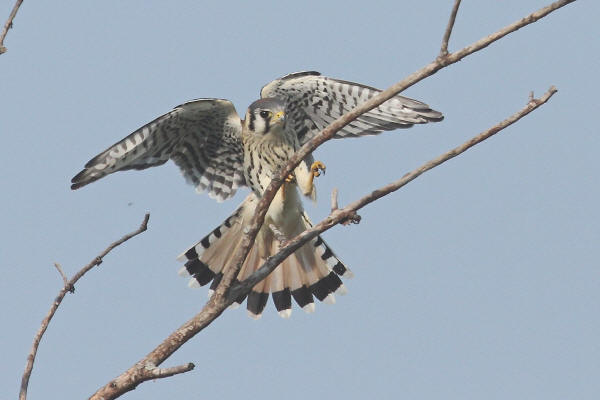 American Kestrel photo courtesy Sue Wagoner
Dickcissel photo courtesy Sue Wagoner
---
Brendon Lake on 7/19 reported via IBET: I made my way out to the Dugan Road fluddle yet again, this time hoping to get my lifer Short-Billed Dowitcher, as Marion Miller had told me three were there at the time. I arrived a little after 1:30, and saw an incredible number of Lesser Yellowlegs, and many Killdeer right off the bat. As Al had mentioned, no Avocet to be seen. There were a couple of Solitary Sandpipers, and several Least Sandpipers, and I finally came across what I was looking for as three Short-Billed Dowitchers were feeding near each other along the south and west end of the fluddle. Later on, a fourth was with them, either I had missed it before, or it had come in with one of the groups of Yellowlegs that were flying in from time to time.

This area is just awesome right now, American Avocet, Wilson's Phalarope, Stilt Sandpiper and Short-Billed Dowitcher have all been seen here in the last week! Sorry to state the obvious, but I'm just ecstatic to see shorebirds again!
---
Al Stokie on 7/19 reported via IBET: Hello Bird People,

Couldn't go for the Avocet the 1st day it was seen & then I decided it would be gone the next day so I went elsewhere but of course it was there. Couldn't go Friday as I had promised to give Henry G a tour of Illinois Beach Park & of course the Avocet was again present. So today Bob E & I did get there & of course the Avocet was a no show. We looked both from the road & from the sports complex lot from 6:45 to 7:30 at the shorebirds but found no Avocet. As we were leaving another birder (Roger) was looking from the road & also did not find the Avocet. After a visit to Afton F.P. in DeKalb Co. we returned & saw Pete M as he was leaving after looking for 40 min. Pete, Roger, Bob & I checked 2 other flooded field areas but only found more of the same birds at the Dugan Rd wet area. Here's my list from that location:

Dugan Rd. Wet Field Area

Mallard (11-AD & 8 young)
Blue Winged Teal (1-M)
Killdeer (39)
Spotted Sandpiper (4)
Greater Yellowlegs (2 or 3)
Lesser Yellowlegs (19)
Solitary Sandpiper (3)
Least Sandpiper (15-18)
SHORT BILLED DOWITCHER (1)
Mourning Dove (2)
Tree & Barn Swallows

In the parking area were Robins, Song Sparrow & Red Winged Blackbirds. In that lot & on Wheeler we heard, but did not see, both Eastern & Western Meadowlarks.

A day late & an Avocet short although I had seen one earlier this year at Hennepin Hopper.

Bird-Of-The-Day to the 1 Short Billed Dowitcher & Runner-Up to the Greater Yellowlegs with both species at the Dugan Rd. wet area.
---
There were 6 eBird reports of the American Avocet being seen on 7/18 from the Sugar Grove Sports Complex (off Wheeler Road east of the Dugan Road intersection).
---
Marion Miller on 7/18 reported via e-mail: American Avocet at the Dugan Rd fluddle on 7-16.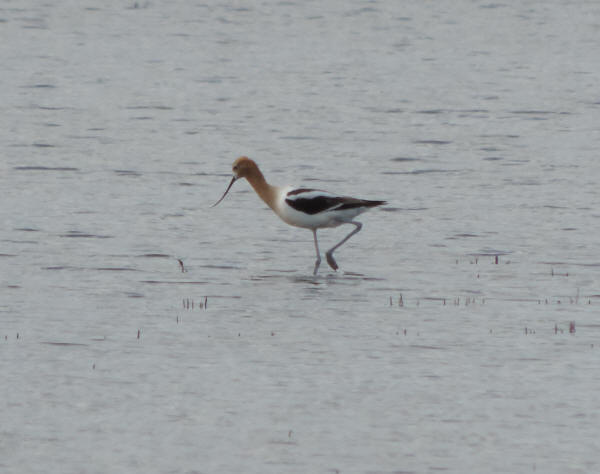 American Avocet photo courtesy Marion Miller
---
Brendon Lake on 7/17 reported via e-mail: A stopover at the Pingree Grove Water Treatment Plant Marsh produced three adult Black-Crowned Night Herons, all actively hunting at the same time at one point this afternoon. An eBird report mentioned that a Caspian Tern had been seen earlier in the day at Nelson Lake, and Caspian Tern was something I still needed for the year. At Nelson Lake, the Caspian Tern was immediately visible from the observation platform on the east side. There was also a pair of Common Yellowthroats that were gathering food and bringing it to a tree on the south side of the platform, probably for young. As I walked along the west side of Nelson Lake, a Grasshopper Sparrow popped up briefly, and many Sedge Wrens were to be seen on the south and southwest sides of the preserve. A Great Blue Heron flushed out of some cottonwoods on the south end, and six more flew over together. Last but not least, six Purple Martins were seen in the vicinity of the pavilion near the north parking lot, and Eastern Bluebird and Northern Flicker fledglings were seen.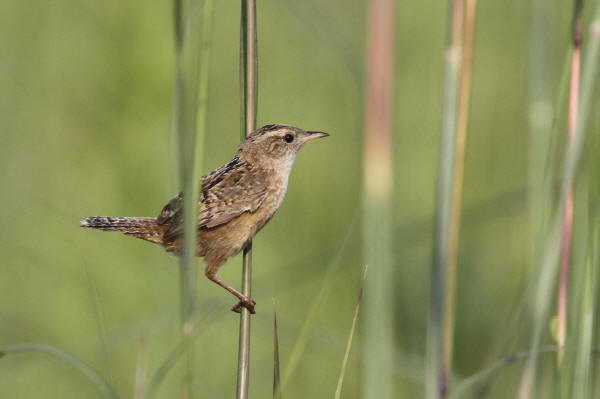 Sedge Wren photo courtesy Brendon Lake
---
Jackie Bowman on 7/16 reported via IBET: Avocet continues at the Dugan Rd fluddle today. Viewing from area near sports complex at Wheeler Road.
---
Marion Miller on 7/16 reported via IBET: Pete Moxon called me to say he & Paul Quintas stopped at the Dugan Rd. Slough (our new name for the fluddle there) & found an American Avocet along with some other common shorebirds: Greater Yellowlegs, Solitary Sandpiper, Spotted Sandpiper, Least Sandpiper, & Killdeer.
Shorebirds have been coming and going regularly in the last week-apparently from somewhere nearby.
The flooded farm field is along Dugan rd, N of Wheeler & S of Scott Rd. It is safely accessible from the end of the Sports Complex parking lot which has its entrance on Wheeler just East of Dugan.
---
Laura Werner on 7/16 reported via IBET: Just a few sightings that made me happy as I walked yesterday at the west side of Dick Young Forest Preserve in Kane County.
I saw a Horned Lark in juvenal plumage and a Bobolink in juvenal plumage, both of which gave me a few moments of puzzlement before I could ID them, quite a few Sedge Wrens, one of which came up above the grass to sing for me, and several singing Henslow's Sparrows, which are always a pleasant find, being the study subject of my Masters degree.
The rest were the usual suspects, but the beautiful weather and the beautiful prairie alone would have made the walk worthwhile.
---
Marion Miller on 7/15 reported via e-mail: Stilt Sandpipers at the fluddle on Dugan Rd, Sugar Grove on Monday afternoon.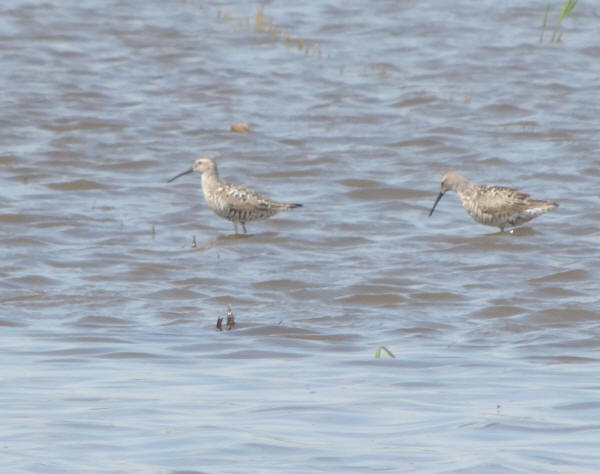 Stilt Sandpipers photo courtesy Marion Miller
---
Pete Moxon on 7/14 reported via text message: At a fluddle on Dugan road just north of Wheeler Road, both Greater and Lesser Yellowlegs, Least, Pectoral, Spotted, Solitary, and Stilt sandpipers.
In addition, Davida Kalina via eBird reported a Short-billed Dowitcher at the same location.
---
Andrew Aldrich on 7/13 reported via eBird: Two Least Bitterns, a Black-crowned Night-Heron, a Common Gallinule, 2 Sandhill Cranes, and 2 Yellow-headed Blackbirds among other species at the Pingree Grove water treatment plant marsh.
---
Bob Fisher on 7/12 reported via IBET: That after an unsuccessful attempt on Saturday morning, a contingent of DuPage Birding Club members saw two Swainson's Hawks in the afternoon at the traditional location in Burlington. While driving the roads outside of town a Cooper's Hawk and a flock of Bobolinks were also seen. They had close looks at Grasshopper Sparrows at Burlington Prairie Forest Preserve.
---
Matt Wistrand on 7/12 reported via IBET: There is currently a SHORT-BILLED DOWITCHER in the fluddle at the corner of Dauberman and Keslinger Roads in Kane County. [9:07 AM]
---
Sue Wagoner on 7/11 reported via e-mail: Nelson Lake prairie is becoming one of my favorite morning walks and photo shoots-- the Common Yellowthroats really cooperated July 10, plus all the other regulars- Meadowlarks, Bobolinks, Grasshopper Sparrows, Sedge Wrens. Also seen were some interesting insects: Mourning Cloak butterflies, Black Swallowtails, Painted Ladies, Twelve-Spotted Skimmer dragonflies, and this unfortunate unidentified grasshopper/katydid-type insect.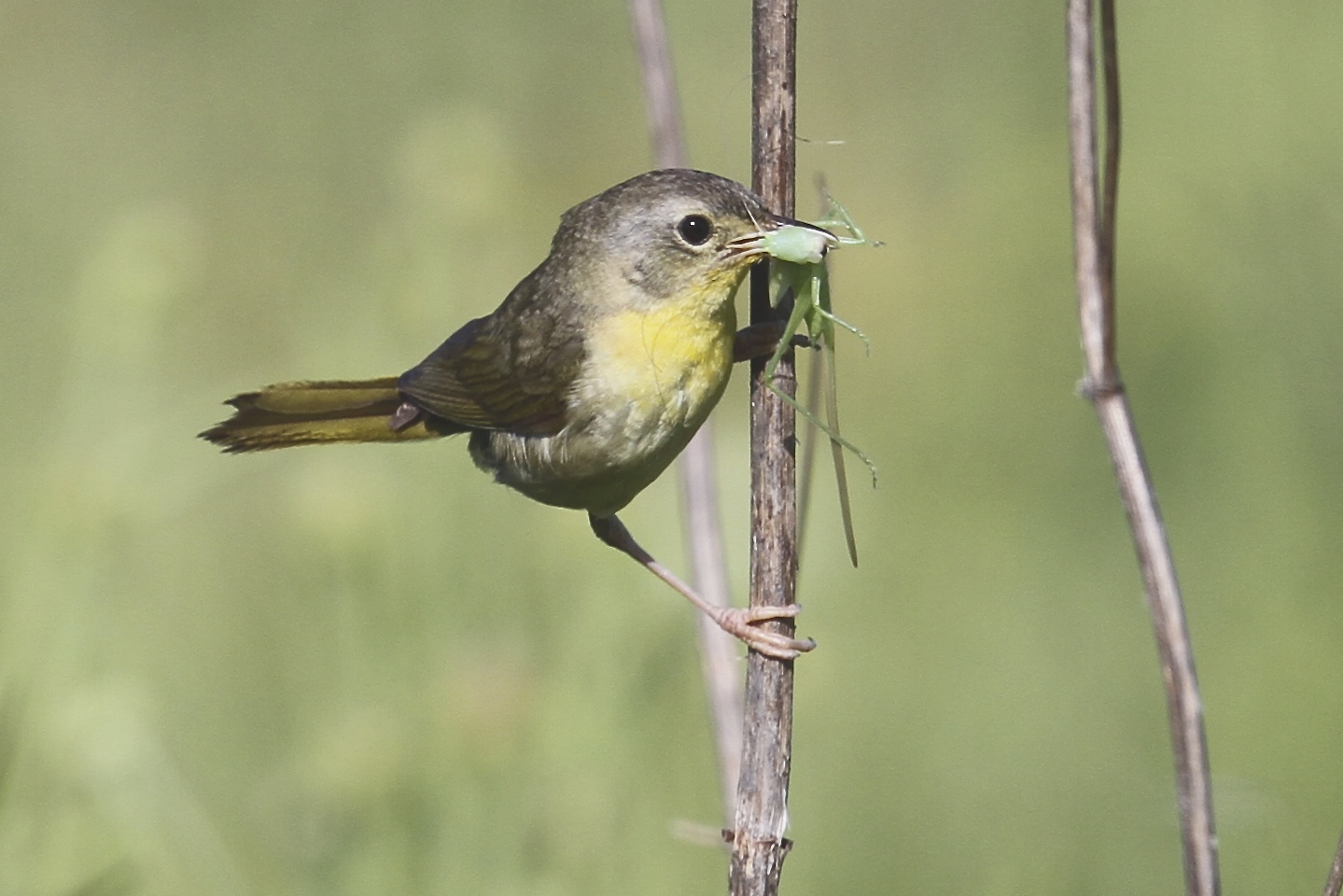 Common Yellowthroat photo courtesy Sue Wagoner
---
Chris Mussachio on 7/10 reported via e-mail: Some very nice surprises this week. I believe this is the newly fledged Red-Tailed Hawks from the nest in Kane County I've been watching for the last 3 years. This Immature Bald Eagle was soaring high over Woods Creek Watershed for about 10 minutes and slowly drifted away to the west.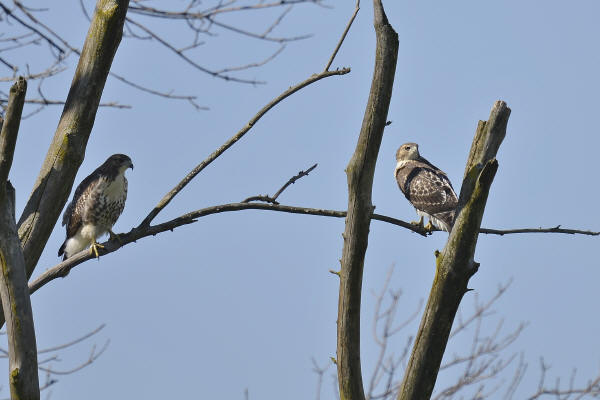 Red-tailed Hawks photo courtesy Chris Mussachio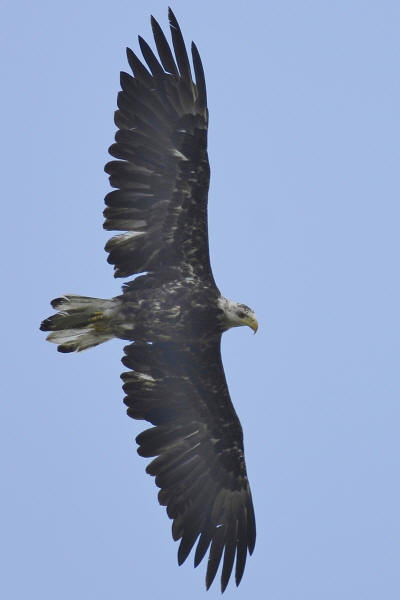 Bald Eagle photo courtesy Chris Mussachio
---
Sue Wagoner on 7/9 reported via e-mail: I saw a Clay Colored Sparrow at Nelson Lake prairie off of Main Street today- my first of the year (on the gravel trail to the west). Also seen were very visible Grasshopper Sparrows (odd to see the beak wide open and the throat and body vibrating but no sound whatsoever.... old ears!!), Bobolinks, many Common Yellowthroats, 3 Sedge Wrens (2 on the west gravel trail and one on the paved trail), and 2 Baltimore Orioles. Photos are not the greatest because I shot with my close-up lens meant for the butterflies I thought I would see! Monday I had my telephoto lens and a Painted Lady Butterfly landed on my shoe-- several times! Go figure!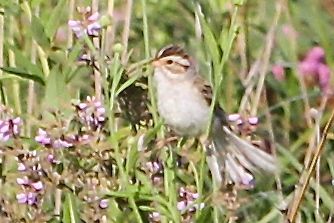 Clay-colored Sparrow photo courtesy Sue Wagoner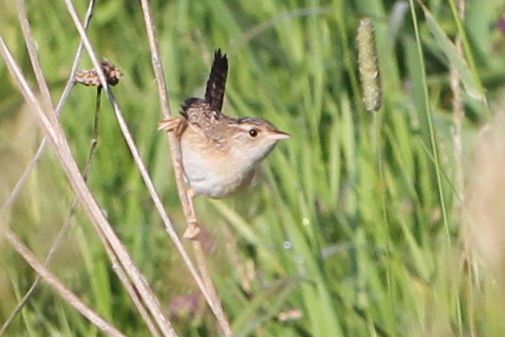 Sedge Wren photo courtesy Sue Wagoner
---
Bill Baar on 7/7 reported via e-mail: Saw a nesting pair of Sandhill Cranes and their two chicks just off the east side of Denker Road, and north of Bolcum road around 2PM on Sunday July 6th. They were very close to the road and seemed not bothered at all by traffic, and just enjoying the shade under the tree. One of the adults was sitting which I've never seen a Crane do before. Hope this turns out well. I imagine the next is in the wet lands to the west of Denker.
---
Regina McNulty on 7/4 reported via eBird: An American Bittern, in flight, at Pingree Grove Forest Preserve on Friday morning.
---
Davida Kalina on 7/4 reported via eBird: An American Bittern, flying at the Pingree Grove water treatment plant Friday evening.
---
Al Stokie on 7/4 reported via IBET: Hello Bird People, I hope everyone has a fine 4th of July on such a sunny day!

...Thanks to directions from Marion M we did find 2 singing WESTERN MEADOWLARKS along Wheeler Rd. just east of Dugan. These birds may or may not be the ones that used to hang out at Sauer Family but are not to be found there this year. We saw the Meadowlarks at about 7 a.m.

Next stop Chapman Rd where we spent from 7:40-10:10 a.m. but never did see a Swainson's Hawk. The early arrival was timed to get us there before it lifted off so that when it did fly we could see it before it got too high to follow. But the only "raptors" we found were 2 groups of 2 Turkey Vultures & toward the end 1 Red Tailed Hawk. The Swainson's should have been flying by 10 a.m. but we may just have missed it when it took off.

Just to prove that if you stay in one spot long enough even if it's a roadside pull-off with corn growing on both sides of the road you will still see birds. We had 28 species seen or heard while we were there with the undoubted highlight being a YELLOW BILLED CUCKOO flying across a cornfield on the way to some distant trees. Also saw Eastern Bluebirds, Brown Thrashers & 3 singing VESPER SPARROWS. There's something about Cuckoo's & cornfields that doesn't seem quite right but we saw it today...
---
Walter Lutz on 7/2 reported via e-mail: July 2 at Fitchie Creek Forest Preserve saw a male Common Yellowthroat feeding a Cowbird twice its size. Just hated seeing that.
---