---
Justin Wrinn on 7/29 reported via IBET: There is a fluddle on the east side of Sandwald Road near Huntley, about halfway between Big Timber Rd and the I-90 overpass that has been fairly productive this week. Although I haven't found anything unusual, it had 8 species of shorebirds today (Killdeer, Lesser Yellowlegs, Pectoral Sandpiper, Solitary Sandpiper, Spotted Sandpiper, Bairds Sandpiper, Semipalmated Sandpiper, and Least Sandpiper), plus Greater Yellowlegs yesterday. Unfortunately, it is drying up fast and will probably be gone by the weekend if we don't get some rain. But if anyone is in the area and wants to check it out, there is a gravel pull off on the west side of the road directly opposite the fluddle. Also seen was a juvenile Horned Lark.
---
Karen Lund on 7/28 reported via IBET: At 10 am Burlington (aka Brendan Lake) Park had a nice selection of shorebirds - nothing unusual. Both yellowlegs, spotted, solitary, least, pectoral, 1 Baird's & of course killdeer. Both fluddles still had water, but the birds cooperatively were feeding at the front edge of the fluddle closest to the storage sheds. The area in the back didn't seem to have any birds. BTW, Beith Rd. had only a smidgen of water this morning. One lesser yellowlegs and about a dozen killdeer were there.
---
Justin Wrinn on 7/28 reported via IBET: I planned to stop by the Burlington Park fluddles after work yesterday evening to see if the Stilt Sandpiper was still around (I missed it over the weekend because I was out of town). When I got there, I found out youth football started this week, and the parking lot plus the grassy area along the edge of the field, back to where we usually scope the fluddles, were jam packed with cars, plus kids were running all over. So I didn't even bother to stop. Be warned if you try to go in the evenings.
---
Kathy Benedetto on 7/27 reported via e-mail: My daughter and I were on a bike ride this morning down by Wing Park in Elgin. Heard and saw two bald eagles calling back and forth to each other. They were doing sort of a dance flying into each other. It was awesome! Then soared towards the river.
---
Brendon Lake on 7/25 reported via IBET: Hey all, the Stilt Sandpiper is still present as of 2:02pm. Still no sign of yesterday's Wilson's Phalarope. The Stilt Sandpiper was on the far shore of the furthest fluddle, perfectly content to stand still and only occasionally preen, which along with the terrible heat shimmer, made it very tough to re-locate. As an added bonus, five people (including myself) were treated to a wonderful aerial display from the local Swainson's Hawk pair, visible in the sky to the south of the fluddles. They are currently very active.
---
Scott Latimer on 7/25 reported via IBET: The [Beith Road] phalarope is still present Sat am 10:30. The fluddle is small and looks like it will disappear in a day or two at most. Directions are perfect. Thanks.
---
Brendon Lake on 7/24 reported via IBET: Hey all...Stilt Sandpiper and Wilson's Phalarope were...still present when I left at 6:25pm. Two fluddles are visible from the gravel parking lot that is accessible on the west side of Burlington Road, just south of the railroad tracks. From there, best viewing was from the elevated berm near the two utility sheds, I recommend carefully walking there to view. The Stilt Sandpiper spent its entire time at the far end of the nearest fluddle. The Wilson's Phalarope was discovered later in the far fluddle, in the company of five Lesser Yellowlegs. In total, 9 shorebird species were present.

Wilson's Phalarope - 1
Stilt Sandpiper - 1
Least Sandpiper - 7
Pectoral Sandpiper - 4
Semipalmated Sandpiper - 1
Solitary Sandpiper - about 15
Spotted Sandpiper - about 15
Killdeer - about 15
Lesser Yellowlegs - 7

Good birding!
---
Pete Moxon on 7/23 reported via eBird: In a fluddle at the intersection of Beith and Freeland roads, a Wilson's Phalarope. Also observed: 3 Spotted Sandpiper, 1 Solitary Sandpiper, 23 Lesser Yellowlegs, 3 Least Sandpiper, 33 Pectoral Sandpiper.
---
Mark Bowman on 7/22 reported via e-mail: I mentioned late last month that 2 pine siskins were still coming to my feeders. They probably nested here this year as the 2 two have been around all summer. Though I have seen them into June the last 3 or so years, I never saw them this late before. Since "Big Bob" Andrini didn't believe me, I have been forced to present this pic from today: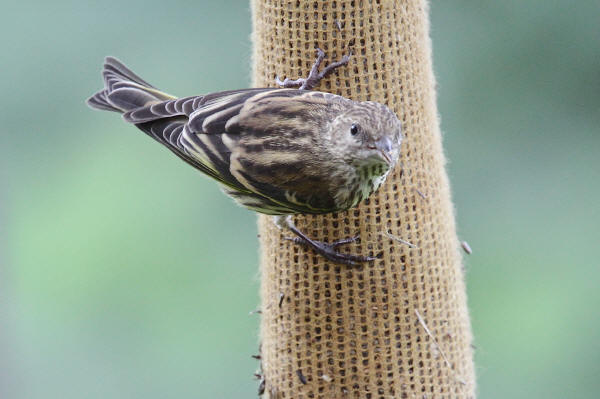 Pine Siskin "proof" photo courtesy Mark Bowman
---
Dianne Trautt on 7/16 reported via e-mail: I was out riding on the V. L. Gilman bike trail yesterday afternoon July 15th. When I got about 3/4 of a mile from Waubonsee College I passed a field of what my husband says looks to be soybeans and was surprised to see two sandhill cranes, presumably a pair feeding, on the foliage. If there were youngsters I could not see any from where I was standing. They were quite a ways off from the bike path and the foliage was pretty tall.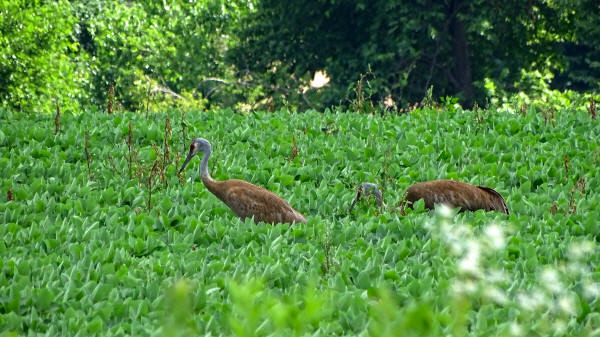 Sandhill Cranes photo courtesy Dianne Trautt
---
Ken Schneider on 7/15 reported via e-mail: This morning I was photographing a Red-winged Blackbird attacking a Red-tailed Hawk and noticed the hawk had something in its claws and there were small branches and leaves trailing out behind its prey. At first I thought it might have captured the nest of some creature, but the computer image clearly shows the body of a Cedar Waxwing, probably a gray immature bird, along with the foliage. Batavia, Illinois JULY 15, 2015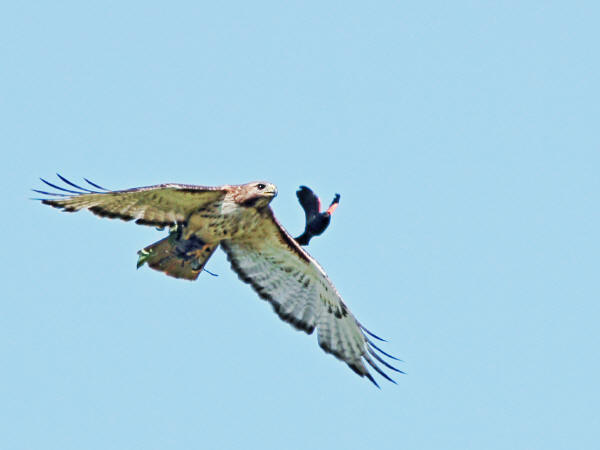 Red-tailed Hawk, Red-winged Blackbird, and former Cedar Waxwing.
Photo courtesy Ken Schneider
---
Ken Schneider on 7/14 reported via e-mail: This morning (JULY 14) at the north end of Nelson Lake I finally found my sought-after Grasshopper Sparrow. Saw at least 3 male Bobolinks and 5 Cedar Waxwings among the 17 species logged in the NW quadrant of the north prairie. Once again failed to see or hear any Dickcissels, Sedge Wrens or Henslow's Sparrows. Did see 2 Savannah Sparrows on JULY 12 but none this morning.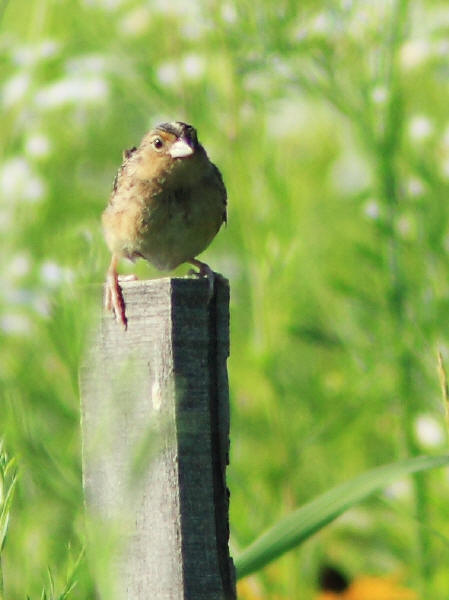 Grasshopper Sparrow photo courtesy Ken Schneider
Savannah Sparrow photo courtesy Ken Schneider
---
Tim Balassie on 7/14 reported via IBET: Just an FYI, stopped by the flooded cornfield on Seavey Rd. today at 3pm (between Bliss and Deerpath). Had of note:

Lesser Yellowlegs
Pectoral Sandpiper
Killdeer
Sandhill Crane
Caspian Tern

Along with the usual suspects ...
---
John Showalter on 7/14 reported via e-mail: Found this Ruby-throated Hummingbird nest in my backyard along the Fox River north of St. Charles.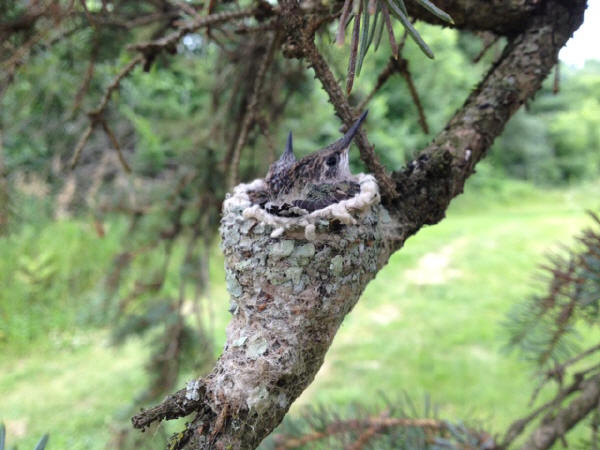 Ruby-throated Hummingbird photos courtesy John Showalter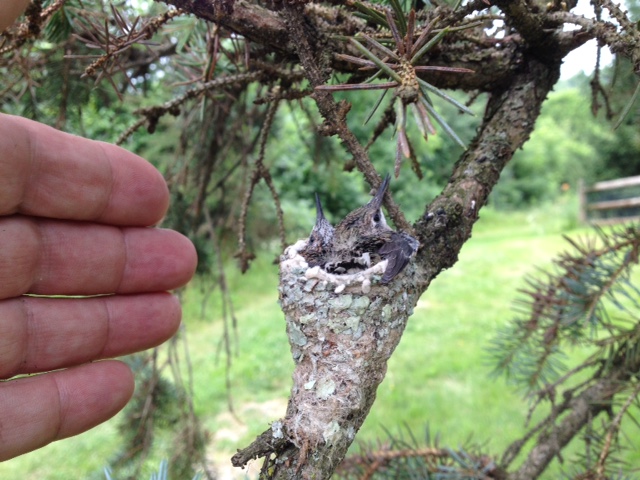 ---
Rich Miller on 7/12 reported via e-mail: We went to Pingree's water treatment plant Sunday evening and spotted 1 adult Least Bittern and 2 juveniles. Wester blvd. There was also a juvenile Black crowned night heron.
---
Ted Wolff on 7/12 reported via IBET: I was at the Seavey Road fluddle in Kane County between 9:30 and 10:15 am. Shorebirds included killdeer, spotted sandpiper, two least sandpiper, and one lesser yellowlegs. No dowitchers or other shorebird exotica were seen.

Other birds included two Sandhill cranes, eight Caspian terns, a juvenile red-tailed hawk on the nearby cell tower, plus lots of the usual suspects.
---
Ken Schneider on 7/10 reported via e-mail: On July 8 I photographed this Dickcissel in the prairie on the north side of Nelson Lake. It popped up unexpectedly along the western side of the loop trail. They seem to have been less numerous in early June than I remember in previous years.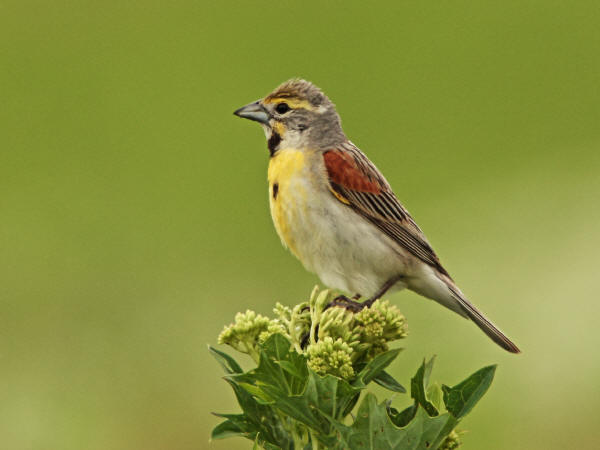 Dickcissel photo courtesy Ken Schneider
---
Dianne Trautt on 7/6 reported via e-mail: I spotted this rookery of Great Blue Herons along Route 25 just at the Kane/Kendall County line today. I was out on the Fox River Bike Trail when I saw them.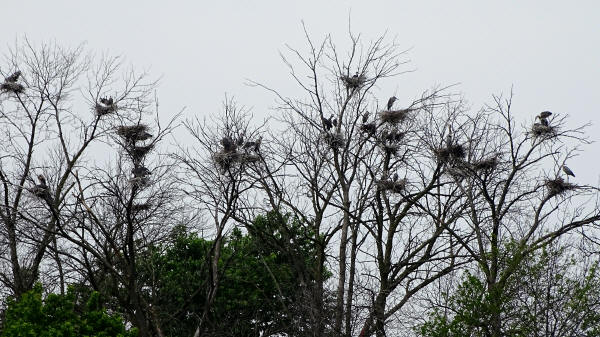 Great Blue Herons photo courtesy Dianne Trautt
---
Brendon Lake on 7/5 reported via IBET: Hey everybody! Great to get out for the first time in a little while. I've been busy lately, so I really treasured the time I had today. The highlight of the day was an early stop. A fluddle had formed on Seavey Road, which is a road at the southern end of Nelson Lake. Here, I had been seeing reports of Caspian Terns lately, so I checked it out today. Highlights of the 28(!) species seen here were Short-Billed Dowitcher, Least Sandpiper, Spotted Sandpiper, Greater Yellowlegs, Lesser Yellowlegs, Caspian Tern (2), American Kestrel, and two Sandhill Crane families, each with one colt. Big Rock Forest Preserve a little later on was also nice, best birds being a family of Orchard Orioles, Baltimore Orioles, Double-Crested Cormorant, Eurasian Collared-Dove, Rose-Breasted Grosbeaks, and a Belted Kingfisher.

My eBird checklist for Seavey Road has the map showing the location of the fluddle.
---
Michael Dorus on 7/4 reported via e-mail: In my backyard, west of Coombs road near Big Timber.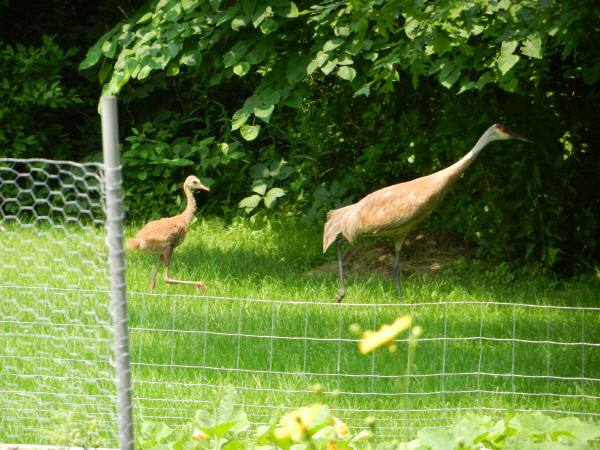 Sandhill Cranes photo courtesy Michael Dorus
---
Bob Andrini on 7/4 reported via phone: A Least Bittern was seen on the Nelson Lake walk this morning. It flew into the cattails between the east observation platform and the water.
---
Ken Schnieder on 7/3 reported via e-mail: Mary Lou and I visited the north end of Nelson Lake this morning (JULY 3), searching for Dickcissels, Sedge Wrens and Henslow's Sparrows, but we only heard one Dickcissel singing and got a distant view. There were about a dozen Bobolinks gathered near the west trail just south of the hill, 4 males and at least 4 females. They were carrying food to two or three fledglings.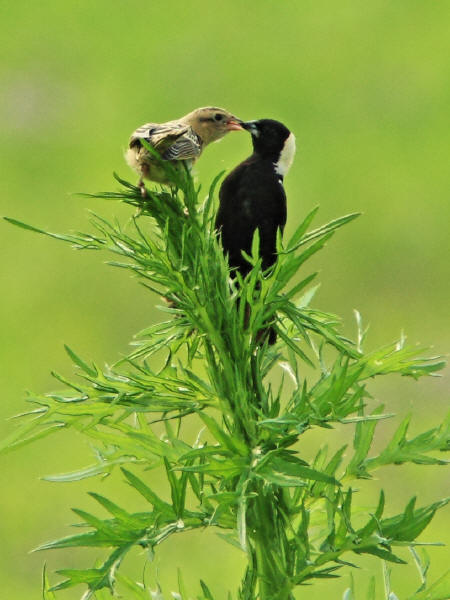 Male Bobolink feeding juvenile photo courtesy Ken Schneider
---
Marion Miller on 7/3 reported via eBird: Finding a Blue Grosbeak adjacent to the Dunteman Turf Farms in Kaneville. "Male. Large bill and rufous wing-bars clearly seen with binoculars. Possibly also female in same bush just inches from male, but flew away before able to identify 100%. Have been in this area during the summer for at least the last 2 years when Scott Cohrs first found them."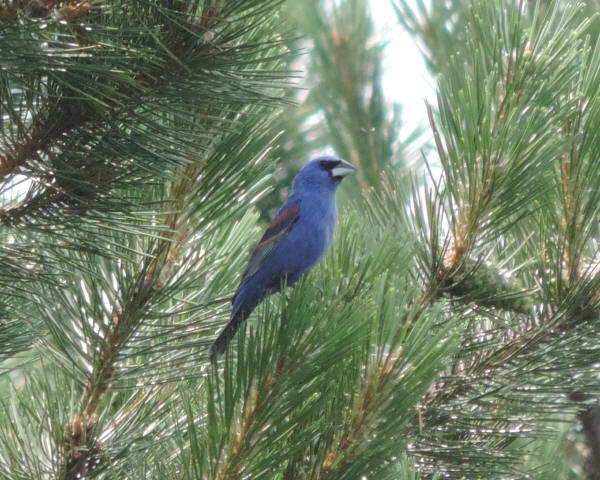 Blue Grosbeak photo courtesy Marion Miller
---
Joe Lill on 7/2 reported via IBET: Jeff Sundberg and I started with our mostly-annual Swainson's Hawk trip to Kane County today. Jeff picked one out of the sky right away when we arrived at the bend in Chapman Rd. (southeast of Burlington) It was soaring northeast of where we were, pretty much over Burlington Rd. We drove over there, too, but couldn't refind it...
---
Kurt Frieders on 7/1 reported via e-mail: We were just fortunate enough to see our first ever yard (Aurora township) Pileated Woodpecker this afternoon. It flew into several of my trees, and even stopped at my suet feeder. I did manage to grab the camera after that, and had it in the view finder a few times. However, being a Pileated, it was always one step ahead of me or in the middle of the tree. I'm definitely going to stake out my suet feeders for a little while tomorrow morning. Our regular Ruby-Throated Hummingbird returned ahead of schedule this year. She showed up at our Bee Balm on June 29th. We are now up to five Chimney Swifts circling our house all day long. I have not seen our young Wood Ducks lately, but am still seeing the adults. Our Downy Woodpeckers recently fledged, and our Red-Bellied Woodpecker was seen today. The other usual suspects continue.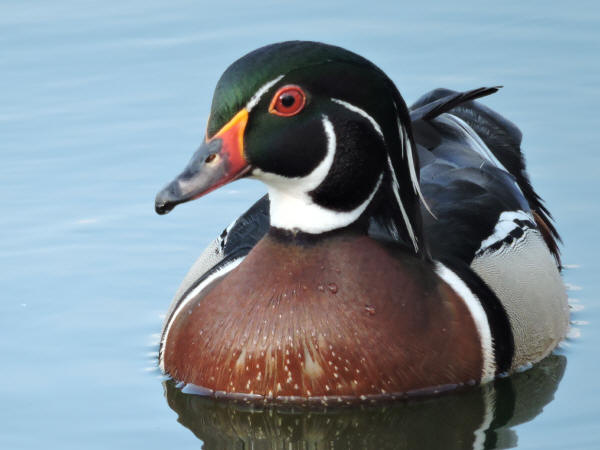 Wood Duck photo courtesy Kurt Frieders
---