---
Chris Madsen on 7/31 reported: Many thanks to Julie Long who texted a late morning sighting of 2 phalaropes on the flooded soccer fields at Kaneland High School. Carla and I arrived mid-afternoon. At first the birds were quite a distance away, making ID difficult, but we agreed they were Wilson's Phalaropes. Then they disappeared from sight. We kept scoping the far fluddle where we had seen them, but couldn't relocate the birds. That's because we belatedly discovered they had quietly flown to the fluddle nearest us, plopping in no more than fifty feet away.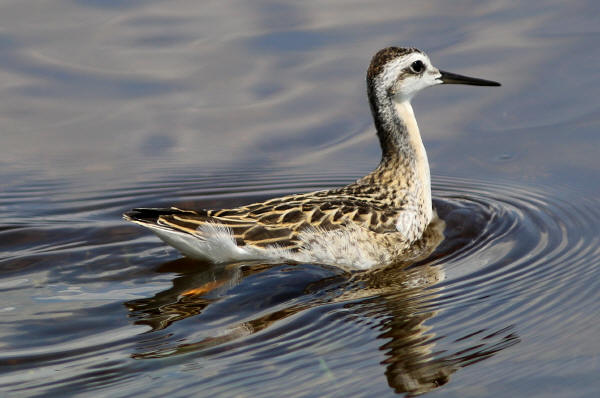 Juvenile Wilson's Phalarope photo courtesy Chris Madsen
---
John Heneghan on 7/31 reported via IBET: I met up with Jerry Goldner this afternoon at the RT 47 Sugar Grove fuddle to see the Stilts. While we were there, both adults were gone, one looked to have flown to a feature to the NW along the tree line. We saw an adult Bald Eagle flying SW to NE. It suddenly veared towards the fuddle. Suddenly both adults were chasing the bald eagle as it circled over the pond. They kept after it till it flew away. I wonder if the eagle had taken a juvenile that was seen early on. One of the adults chased a yellow legs off also. Both juveniles were seen, one stretching its wings. It won't be long before they are trying to fly.
---
Walter Lutz on 7/30 reported via e-mail: Still lots of Shorebirds at Burnidge F.P. At least 150 this morning but it's hard to see them up close. You'll need a scope from the asphalt path at the east end of the pond.
---
John Heneghan on 7/28 reported via e-mail: Saw this Eurasian Collared Dove in Kaneville 7/28. Sod fields were covered with Killdeer.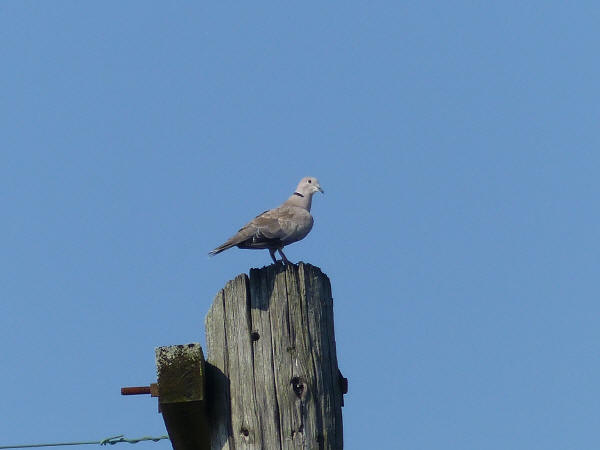 Eurasian Collared-Dove photo courtesy John Heneghan
---
Dave Kolosowski on 7/26 reported via e-mail: From the morning of 7/13 thru the afternoon of 7/14, we were blessed with a male bobwhite and his distinctive continued calls throughout this time period in and around our yard and trees [in Elgin]. As quick as he appeared that Saturday morning he vanished the following Sunday late morning. And we also spotted a young meadowlark playing king of the feeder this morning off of our back deck.
---
Al Stokie on 7/26 reported via IBET: Hello Bird People,

Since my former co-worker Al W had never seen a B.N. Stilt & the Sugar Grove family seemed to be sticking it out we decided to give it a try today mostly thanks to a report from John H yesterday saying they were still present then. Other birders were already at the Fluddle when we drove up & I could see at least one Stilt was in the water. The other birders were members of the Tuesday Morning Birders & I recognized Chuck Westcott as 1 of them. They said 2 BLACK NECKED STILTS were there & 1 was an adult & 1 a juvenile & that's what we saw as well. Later while looking at the sod farm areas I learned from another birder that he had seen 1 adult & 2 juveniles after we had left...
---
As of 7/23, numerous reports still have the Black-necked Stilts at the Route 47 fluddle in Sugar Grove.
---
John Heneghan on 7/19 reported via e-mail: Black Necked Stilts from Rt 47 fuddle in Sugar Grove. Adult and adults and juveniles.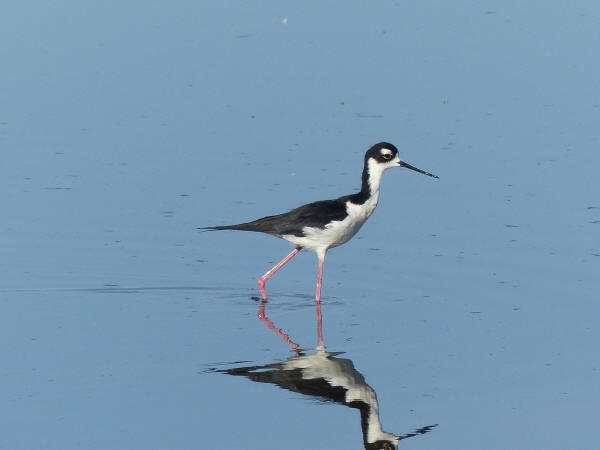 Black-necked Stilt parent above and family below. Photo courtesy John Heneghan.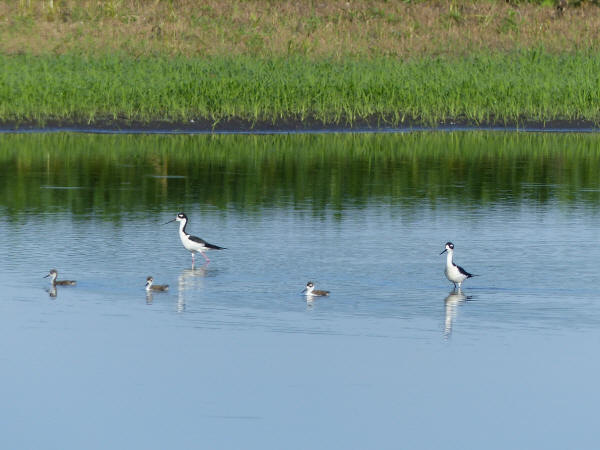 ---
Jason Newton and Matt Schmidt on 7/19 reported via IBET: The 2 Black-necked Stilts were still present at 9:40 AM. Other shorebirds seen were 1 Spotted Sandpiper and 5 Killdeer. Thanks Jude!
---
Jude Vickery on 7/19 reported via IBET: Hi everyone, This morning on my way to work at 6:54, I saw at least two Black-necked Stilts about a mile south of Sugar Grove on the west side of 47, in a large fluddle right next to the road. There were some other shorebirds present, but hard to identify at 55mph.
---
Bill Ahlgren on 7/15 reported via e-mail: A very active Henslow's Sparrow at Dick Young/Nelson Lake F.P. found by Linda and I on our morning walk.
Many Common Yellowthroat, Eastern Meadowlark and a few Bobolinks also.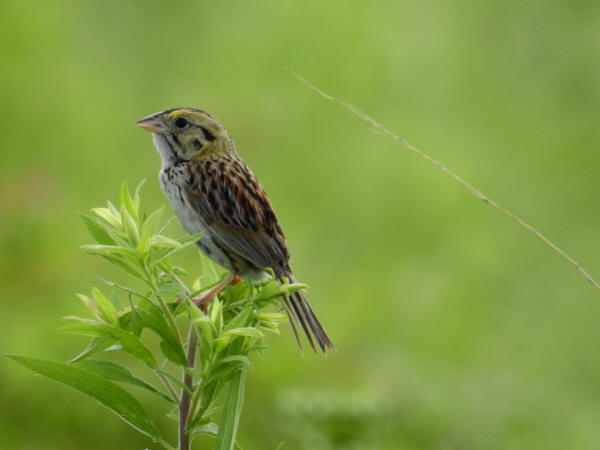 Henslow's Sparrow photo courtesy Bill Ahlgren
---
Theresa LeCompte on 7/15 reported via e-mail: This Cooper's Hawk caused quite a commotion in our Aurora neighborhood this morning. I was able to snap a picture while it was perched in the neighbor's apple tree. The Blue Jays sounded their raucous alarm continuously for 35 minutes before the hawk grew tired of the noisy torment and flew off.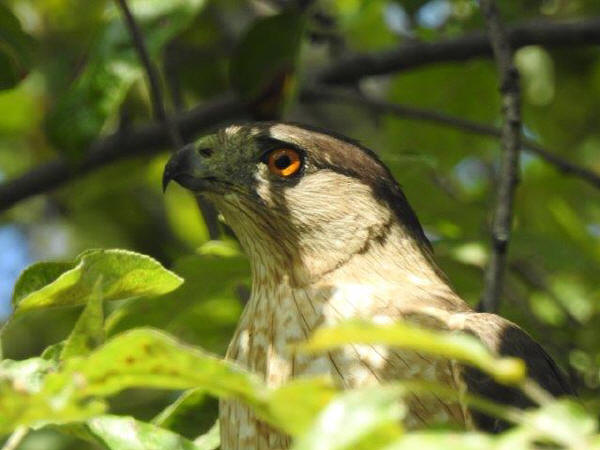 Cooper's Hawk photo courtesy Theresa LeCompte
---
Lisa Williams on 7/12 reported via e-mail: This was taken today (7/12) at the pond located in Golfview Park. The same pond used to get used as a trash dumping ground and would turn red and dry out during the course of the summers when I was growing up. Now itís hosting a wood duck family. Quite an improvement!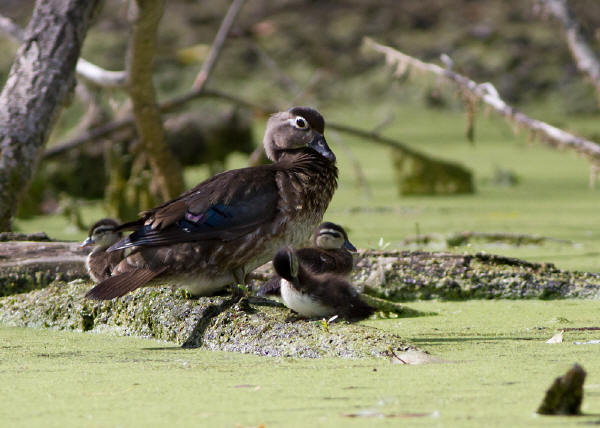 Wood Duck family photo courtesy Lisa Williams
---
Joni Hollinger on 7/11 reported via e-mail: The best part about putting oranges out for Orioles is that the Red-bellied Woodpeckers love them just as much when the Orioles are gone.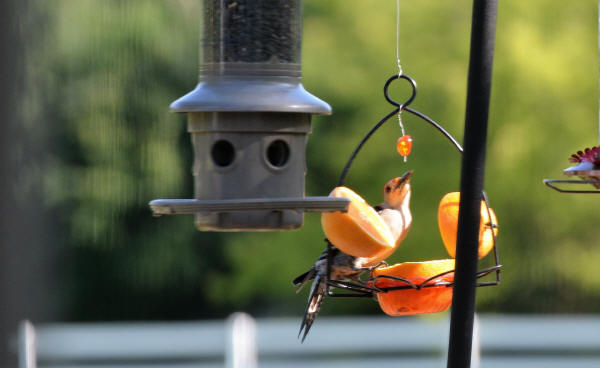 Red-bellied Woodpecker photo courtesy Joni Holinger
---
Ken Schneider on 7/5 reported via e-mail: I know this is the normal range for mink, but this was the first I have photographed. I am quite certain I saw one at Glenview Park at the river's edge a couple of years ago but it was a fleeting glance as it raced out among some Canada Geese with small goslings and caused a commotion. I could not tell whether it had just run through them or maybe captured a gosling, but it was gone within one or two seconds.
This one appeared on June 30 at the river access trail at the south end of the open prairie at Lippold Park. I was watching two Spotted Sandpipers and the mink ran into view at the water's edge. By the time I got the camera up I obtained only one poor shot before it dove into the water and swam to an island and disappeared among the driftwood. It was carrying a prey item which looks like possibly a large crustacean but is rather large for a crayfish. It seems to have pincers on its extremities. Also, the mink's tail appeared to be naked, but it may just have been waterlogged.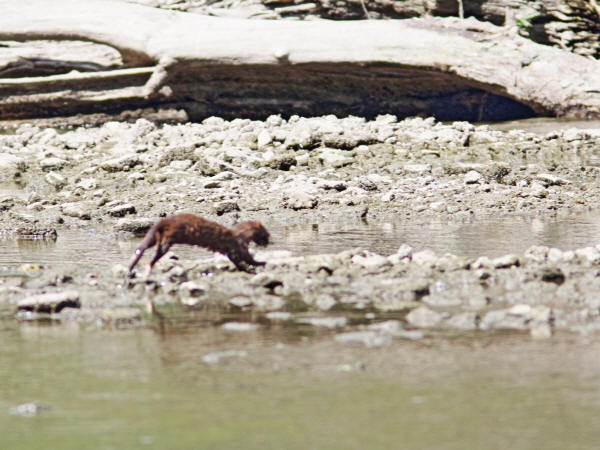 Mink at Lippold Park photos courtesy Ken Schneider
---
Mike Tartaglia on 7/4 reported via e-mail: Yesterday afternoon (7/3) along the Batavia Riverwalk near the dam, I spotted a Cedar Waxwing and a Blue-Gray Gnatcatcher at about 3:30 pm.
---
Walt Lutz on 7/4 reported via e-mail: This Red-tail Hawk has been hanging around our house on the west side of Elgin the last 4 days.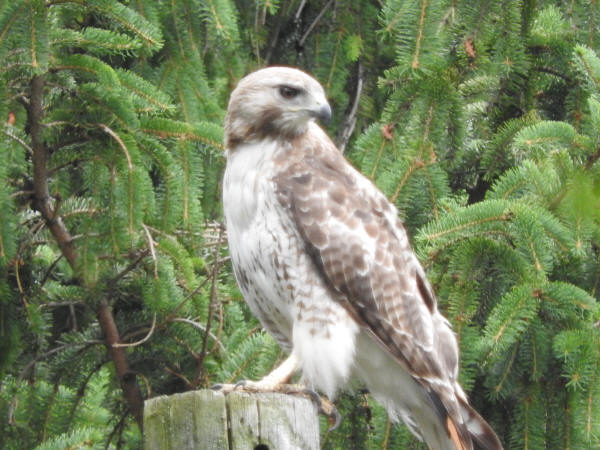 Red-tailed Hawk photo courtesy Walt Lutz
---
Mary Ochsenschlager on 7/3 reported via e-mail: A male red start has been hanging around the Gillman Trail just north west of Kedeka Road. I saw him first several weeks ago and hear him most mornings early (6 am).
---
Bob Andrini on 7/2 reported via eBird: The Eastern Whip-poor-will(s) continue at Jon Duerr Forest Preserve. Heard shortly after 9 PM.
---
Linda Stutte on 7/2 reported via e-mail: Saw a pair of mature bald eagles along the Fox River north of Carpentersville today.
---
Steve Huggins on 7/2 reported via IBET: I had a pretty good morning in Kane [County} this morning. Starting with Swainson's Hawk at the regular spot and 2 Western Meadowlark at Wild Prairie Point, Hampshire. Both year ticks for me :)...
---