Scott Cohrs on 8/27 reported via e-mail: I know these reports are getting tiresome; it seems Buff-breasted Sandpipers are everywhere right now. But I had 10 (!) this morning at the Coon Creek Sod farm on Allen Rd., just west of Hampshire Forest Preserve. This just seemed like a high total, at least in Kane County. I know there have been upwards of 6 at Kaneville (which I did not check today), so there are quite a few in the county right now. This seems to be a better year than most for this species, at least compared to my past records.
Chris Madsen on 8/27 reported via IBET: Continuing the Kaneville theme of late, we spotted two COMMON SNIPE this morning at about 10:30 at the dwindling fluddle at Kaneland High School (intersection of Keslinger and Dauberman roads in Kane County).
Matthew Fletcher on 8/27 reported via IBET: At Kaneville Sod Farms yesterday morning, there were six BUFF-BREASTED SANDPIPERS, two BAIRD'S SANDPIPERS, one American Golden Plover, one Semipalmated Plover, one Pectoral Sandpiper and the inevitable Killdeer spread all around.
Darrell Shambaugh on 8/27 reported via IBET: About 1:30 Saturday afternoon four BUFF-BREASTED SANDPIPERS were south of Main Street at Dunteman's sod farm in Kaneville (Kane County).
Julie Long on 8/26 reported via e-mail: I had a yellow billed cuckoo this am, Sat, at the Ferson Creek Park, on the north side of the creek.
Nancy Bent and Roger Reason on 8/25 reported via IBET: Six Buff-breasted Sandpipers were present today at the Kaneville sod farms. All were seen on the north side of Main Street. A Western Meadowlark was observed on the berm bordering the gravel pit along the north side of Main Street and just east of the sod farms.
The (R)Andrini (R)Amblers© on 8/23 produced the following: At the Jon Duerr Forest Preserve ten Ramblers with four scopes found the notables to be Least, Pectoral, Semipalmated, and Solitary sandpipers, Lesser Yellowlegs, Osprey, American Redstart, Baltimore Oriole, Red-eyed Vireo, Red-headed Woodpecker, and the ever-present Belted Kingfisher. Across the river at Tekwitha Woods, White-breasted Nuthatch, Cooper's Hawk, and Yellow-billed Cuckoo (heard only).
Pete Moxon on 8/19 reported via IBET: On Sat. 08/19, 3 of us began what turned into an 11 hr. casual birding day. In retrospect we ended up with a modest 87 spec., among making 7 stops. Highlights: BUFF-BRSTD S.P. & HARRIER at Kaneland Sod Farms, BLACK TERNS, SANDHILLS, & close to 200 Shorebirds at Denny Rd. Marsh.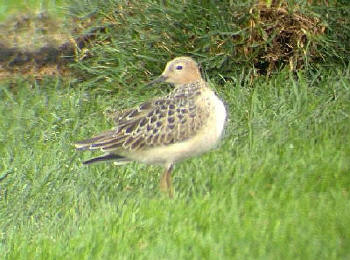 Buff-breasted Sandpiper photo courtesy of Bob Andrini

We...went to the Kaneville Sod Farms for one of our target spec. and were rewarded with 5 BUFF-BREASTED S.P., & a HARRIER. Three BUFF-BREASTED were on the S. side of Main, & 2 had been on the N. side of Main, but were not visible fr. the gravel farm rd. After moving to the other side (S. side pull-off) where we met Vern LaVia, as he was watching 3 BUFF-BREASTEDs. Then the other two were spotted on the N side from that angle & a short time later, joined the others on the S. side (from a distance it appeared that the 3 may be in juv.plumage & the other 2 in adult plumage but poss. molting). Sometimes these guys disappeared behind one of the many rises, so one has to be patient & persistent (we ran in to someone else that missed them, as they were likely hidden from view).
At Kaneland school fuddle we had a STILT S.P., a few LESSER YELLOWLEGS, and a couple PECTS, before something startled them & they flushed, landing somewhere in the cornfield (possibly, there's a hidden flooded area in there?).
The flooded construction area a few miles to the E. on Kesslinger rd. was uneventful.
We then proceeded to the retention fuddle/pond behind the car dealer-ships on Orchard rd. There were only a couple dozen shorebird there, including 1 SHORT-BILLED DOWICHER in juv. plumage, 6 GREATER YELLOWLEGS, and sev. LESSER Y-Ls, SOLITARYs, PECTORALS, LEAST, SPOTTEDs, & KILLDEER.
We couldn't find any good viewing of the other possible ponds in the vicinity.
Note: a couple weeks ago a pair of SANDHILL CRANES was foraging around in the flatter area towards rt. 88.
We proceeded to Denny rd. Marsh (by-passing NELSON LAKE). [Editor: Denny Road is just south of I-88 on Bliss Road.] Denny rd Marsh is mostly dry on the one end (N. end I think?), so we proceeded to the 2nd gazebo, the farther one from Denny rd., at the other end. You can view somewhat from the grassy area past that gazebo, but we also went down the hill to the right to a spot just outside the barbed wire fence. This provided viewing of a dry/wet mud flat that had close to 200 mixed shorebirds. There is a large group of trees in the way, so one cannot see that whole end at one time. Highlights there:
5 BLACK TERNS (at least 2,possibly 3 appeared to be in juv plumage, the other 2 appeared to be in non-breeding plumage).
2 SANDHILL CRANES were foraging on the far side of the Marsh, which I believe is the S/W corner?

1 BLACK-CROWNED NIGHT HERON was also on the far side,
2 GREEN HERON, as well
13 GREATER YELLOWLEGS (at least), in the deeper areas
1 STILT S.P. (juv).
1 BAIRDS,
2 SEMI-PALM PLOVER
Other Shorebirds included: LESSER YELLOWLEGS, PECTORAL, SOLITARY, LEAST S.P., SEMI-PALM S.P., SPOTTED, & KILLDEER in good #'s. Also 2 COMMON NIGHTHAWKS were seen in the area, a HARRY W.P was calling down towarks the Marsh, and a Least F.C. sounded off a couple of times. Early in the day would be better to provide better lighting conditions. Fortunately we had a fair amount of cloud cover to cut down the sun.

Glenn Giacinto on 8/19 reported via IBET: Today at Black Hawk FP [Edtor: aka Jon Duerr FP] were a few warblers and a few shorebirds. The warblers were Tennessee, Magnolia, and Black Throated Green. The shorebirds were Solitary, Least, Pectoral, Lesser Yellowlegs, and a Kildeer. Also along with the warblers were Cedar Waxwings, Scarlet Tanagers, and Baltimore Orioles.

Scott Cohrs on 8/18 reported via IBET: I know several people have followed up on the Buff-breasted Sandpipers at the Main St. sod farms during the last week. The last few days I have been told there were 3 present. I had a chance this afternoon to run out to Kaneville, and the 3 are still present in the field on the north side of the road. They have started to pull up some of the sod, so I don't know how long the field will be suitable. I did not locate the Am. Golden Plover that was reported on Wednesday.

Of equal (or more) interest to me was the Eurasian Collared-Dove that was sitting atop one of the tall structures at the Kaneville Seed Company. This is right on the edge of the town of Kaneville, on Merrill south of Main St. I have driven by this site numerous times over the years, always expecting to see a E.C. Dove. Until today, it had always been pigeons. The bird eventually flew southeast, but I was able to find it again fairly easily, perched on a barn on Harter Rd. This was only my second county sighting, but I wouldn't be surprised if there was a small population of these birds in the area. There have been several sightings throughout the summer from this general vicinity.

Paul Mayer on 8/18 reported via e-mail: Yesterday (August 17) turned out to be a better day on the golf course than I would have expected.

Got two sensational birdies. The first occurred on the second hole at Settlers Hill in Batavia when a very large buteo winged by and landed on a pole about a 7 iron (~150 yds) away. As it winged by the large band on the tail became obvious and as it approached the pole and flared its wings for landing (facing us) the two dark patches at the carpal joints on the wings were obvious. A rough-legged in August in Batavia!

On the tee box at the 12th hole we were waiting for the foursome in front to tee off. In the sky to the east two birds approached which at first I thought were just pigeons. But their behavior was strange. One kept chasing and harassing the other; like two kids playing tag. As they came closer it became clear they were raptors and when they were overhead they were obviously larger falcons. At first I thought kestrel but they were too large. They also were dark on the backs as well as breast and stomach (compared to much lighter kestrels). Because of the size (ruling out merlin) they had to be peregrines! They flew off to the west but we got some pretty good looks.

Bob Andrini on 8/16 reported via e-mail: On today's ramble to the sod farms on Main Street (past Rt. 47 and just east of downtown Kaneville) on the north side of the road - just as Scott C. had related, we saw three Buff-breasted Sandpipers and an Am. Golden Plover.

Scott Cohrs on 8/12 reported via IBET: There was a single Buff-breasted Sandpiper present at the Kaneville Sod Farms this morning. The farm is located on Main Street, about 2 miles west of Rte. 47. The bird was on the north side of the road. I was able to view the bird well from the gravel road that borders the east side of the field. I am not sure if this is a private road or not, so I always park near the beginning of the road off Main St. and scan from that point. A single Western Meadowlark was heard from this spot as well. Traditionally, this has been a good spot for Buff-breasted Sandpiper. Though I believe I missed it last year, this is the 4th year in the last 5 that I have been able to locate at least one at this site. Mid August always seems to be best, though I have had them in September.

Jon Duerr on 7/31 reported via e-mail: I went to the Orchard Rd site again and found the 2 Caspian Terns again. Today there was a few Pectoral and Semipalmated Sandpipers along with the 25+ Egrets. This site is a playground-park at the corner of Orchard and Illinois Ave. behind a fire station. (Ed.: Aurora) Carson had the same 50+ Gt Egrets and 30+ Gt Blue Herons. There were many Yellowlegs and Pectorals and Killdeer but I could not see others. Plus the 2 Sandhills.

Mike Madsen on 7/23 reported via IBET spotting a STILT SANDPIPER near some soccer fields along Peck Road, north of Route 38 in St. Charles.