Nancy Bent and Roger Reason on 6/29 reported via IBET: Birds seen at Nelson Lake Marsh on 29 June included: Sedge Wrens - trail between parking lot and east overlook; Yellow-billed Cuckoo - near east overlook; Henslow's Sparrows, Grasshopper Sparrows, Bobolinks - trail through west side grassland.
Chris Cudworth on 6/23 reported via IBET: Yesterday outside Chipotle in east St. Charles I was surprised, frankly, to hear a nighthawk. I looked up in to the sun and watched the bird, which proceeded to do a buzz dive over the building. Perhaps they have used the "old" roofing method and this bird has a mate and might be nesting?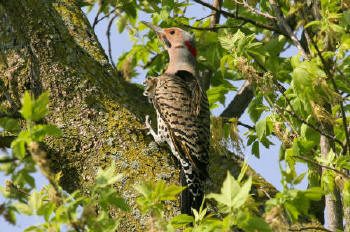 Northern Flicker photo courtesy of Mark Bowman
Jon Duerr on 6/15 reported via e-mail: Five of us met at Teckakwitha and found 45 bird species. Jack Pomatto got us on a very vocal Hooded Warbler just north of the Nature Center. Red-headed Wood on the bridge island and many Balt. Orioles.
Julie Long on 6/12 reported via e-mail: Ginny Widrick and I had a singing veery at Leroy Oakes FP today, Mon. It was on the far south end path, which is south of the biking pavilion on Dean St. and east of the prairie "platform"
Roger Hotham on 6/09 reported via e-mail: Margaret Mechtenberg saw a Broadwing Hawk at the J.J. Duerr F.P. today.
Pete Moxon on 6/04 reported via IBET: On Sat. 06-03-06, Eric Walters & I covered several areas around Kane county, so he could see firsthand that not all the good birds have left Kane & Dupage counties for Lake county. The two most interesting & most fulfilling sightings were a pair of BARRED OWLS, & a family of VIRGINIA RAILS with chicks.
Sandhill Crane photo courtesy of Mark Bowman
At Big Rock we encountered a pair of BARRED OWLS that had silently snuck in behind us as we passed through. Their cover was soon to be blown by a ruckus of Robins that gave them away. As we were returning via the same route, we curiously approached the ruckus along the trail. One of the BARREDS gave away his presence, moving off to another perch. Shortly thereafter another made its presence known as well.
At first they were content to scold us from a nearby perch. Then as we began to depart; one returned, then the other, to a perch immediately above us putting on quite a verbal barrage. Scolding us intently, in no uncertain terms. This brought out quite a variety of species scolding them in return for a short time, which of they ignored completely. Then after several minutes they returned to their farther perch. The intense hollow glare of those big black eyes was rather interesting. An almost haunting gaze they have.
At Nelson Lake Marsh (Dick Young F.P.): VIRGINIA RAIL pr. with chicks. From down alongside the marsh, we scanned the various edges, pockets & openings for signs of an adult Virginia Rail that had briefly sounded off. After a bit of scanning, our patience was rewarded with a surprise treat of a pair of tiny black fluffy chicks that stumbled out into plain view in a small opening in the cattails. As we carefully studied & admired them; they were soon joined by an adult Virginia Rail (after several minutes). A short bit later another adult flew across an open area of water to apparently hunt for food. A while later he returned attempting to fly across the open again with a worm of sorts about 6" long or so. He crashlanded just short of his destination, possibly losing at least part of his prize. He then returned to his family none the worse for the wear & after a bit they disappeared back into the cattails. I believe these were the tiniest/youngest juvenile Virginias that I've ever had so far. One couldn't ask for better views, a highly rewarding experience. Sightings like this by far make up for all the times one goes out without seeing & hearing them at all, or just hearing them call only.
HOODED WARBLER (male-singing) was among the many woodland & grassland species seen & heard during our several site trip. The HOODED WARBLER was at TEKKAWITHA NATURE PRESERVE, & was singing for quite some time in the vicinity of an outdoor meeting place with natural log benches set in front of a campfire area near the nature center.
At Ferson Creek Fen we had good views of a male HUMMINGBIRD, a site where I had heard that they had been previously been determined to nest.
Also at Big Rock, was a singing SWAMP SPARROW near the bridge, as well as at least one at Nelson Lake. An ALDER F.C. was also present near the marsh N of the platform a bit in the vicinity of the RAILS.
A pair of WEASELS were popping in & out of the grass edges in the vicinity of the parking area at Nelson Lake Marsh, and we viewed a snapping turtle laying eggs along the trail to the marsh. A passerby said that she had seen 2 or three other spots where eggs had also been laid but the nests possibly compromised.
Steve Smith on 6/01 reported via IBET: Monday morning (5/29) there were 3 BAIRDS SANDPIPERS at the Kaneville Fluddle by the corner of Keslinger Road and Dauberman. This afternoon there were 3 WHITE RUMPED SANDPIPERS and 2 BAIRDS SANDPIPERS in the fluddle. There were 2 SPOTTED SANDPIPERS both days. Also this afternoon at Peck Farms there were 10 SEMIPALMATED SANDPIPERS and 2 SPOTTED SANDPIPERS. Peck Farms is at the south end of Peck Road west of Geneva.