Eric Walters on 6/28 reported via IBET: Over the last month, I've mentioned to a number of folks that the 2 pairs of Wilson's Phalarope's must be attempting to breed in reported south-central Kane County location (Sauer - Prairie Kame Forest Preserve). Since I don't live close to this location to have tried to confirm them weeks ago, I encouraged others to do so. Since I hadn't heard of anybody confirming breeding to date, I made plans to go out today with Eric Secker to try and document it. As it turns out, Pete Moxin heard we were going out and made a trip yesterday ahead of us and found a nest with 3 young and a second breeding confirmation, of which we were able to also confirm fledgling success today.

From my recollection of the data, over the last 40 years Wilson's Phalaropes have only nested once in Illinois during that timespan (1981 at Cook County's Lake Calumet). Thus, this is a very significant breeding record for the state.
Aaron Nolan on 6/25 reported via IBET: This morning I heard two SUMMER TANAGERS calling on Max McGraw Wildlife Foundation in East Dundee. I got a good look at one which was a first year male. The other I couldn't get a look at. I'm not sure how far north they have been being recorded so I thought I should post this.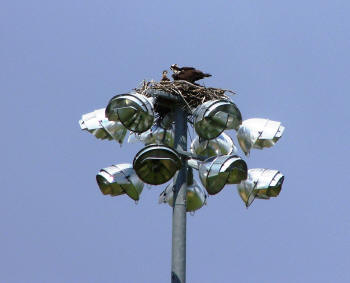 Osprey photo courtesy Cathy Vaden
Cathy Vaden on 6/25 reported via e-mail: We viewed the osprey nest at the Bartlett Park District on Route 25 by the concession stand, through binoculars and cameras on Saturday, June 21st. We saw an adult osprey in the nest with three growing, healthy and active looking older chicks in the nest. The adult also made several trips to a nearby tree, and brought back lunch! We were there long enough to see another adult (presumed to be the male?) stop in two or three times in the 3 hours we were there.
Beau Schaefer on 6/24 reported via IBET: On Monday I ventured out to Kane Co. and went to Leroy Oakes FP where I was also able to find the CLAY-COLORED SPARROW singing jubilantly directly across from the north parking lot. I did not find the blue grosbeak or the northern bobwhite, however. I then went out to Sauer Family Prairie. I wasn't really sure how to navigate the preserve, so I'm sure I missed a lot, but I did hear 2 WESTERN MEADOWLARKS singing their bubbly song.
Nolan Lameka on 6/21 reported via IBET: Went to the Sauer F.P. in Kane Co. and found essentially the same birds as seen on June 9th, plenty of Dickcissels, Spotted Sandpipers, Killdeers, and four Wilson's Phalaropes.
Heidi Hohman on 6/20 reported via e-mail: Happy summer solstice! Heidi Hohman, Gloria Dimoplon, and Margaret Mechtenberg viewed the osprey nest near Tri County Park through Margaretís scope Friday, June 20 at 12:15pm. We saw an adult osprey on the edge of the nest with three growing, healthy and active looking chicks in the nest.
Chris Bowman on 6/18 reported via e-mail: Yesterday (6/17 Tuesday), I saw an unusual summer bird: pair of Short Eared Owls. At about 11 AM on a bright sunny day, I headed west down the trail of the "Great Western Trail" coming off the NW corner of the parking lot across the street (Dean St) from the entrance to Leroy Oaks preserve. About a hundred yards down, the trail splits West and South. I went south; a few yards ahead went over a wooden bridge, when a Yellow Warbler caught my eye --- having long pants/bug spray on, I follow him west across a short field to the tree line, when I spotted a large wetland area in between the trees -- hoping to see perhaps an unusual wader, I investigated and scarred up two predatory type fliers from the ground in the middle of the sunlit wetland. Carefully checked them for about 20 minutes and listened to their intermitant sound -- no question they are a pair (male and the buffier female) of Short Eared Owls. My Sibleys guide doesn't show them hear at this season, but my Peterson's guide shows occasionally now.
Karen Land on 6/17 reported via IBET: I have been getting a Ruby Throat Hummingbird coming to a fuchsia hanging basket (in my yard in Batavia) daily since last Thursday (6/12). The 1st time I noticed it, it also investigated the wildflowers and part way up my picture window. The last 3 nights, it comes around 7:45 - 8:15 pm and visits for at least 5 minutes.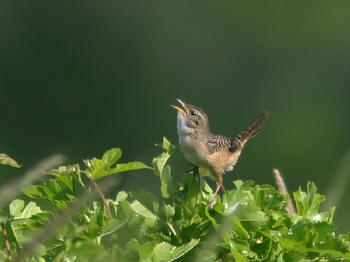 Sedge Wren photo courtesy Ken Schneider
Ken Schneider on 6/16 reported via e-mail: We were able to spend a little while at Nelson Lake this morning, and were saddened to find that the field to the south of the walk from the east entrance to the viewing platform has been mowed. That was where I photographed the Sedge Wren a few days ago. Now a wren is singing in the field to the north side-possibly the same bird? I did get a better photo this time, thanks to the bird's choice of perch and my remembering to turn on the telephoto lens image stabilizer!
Chris Madsen on 6/15 reported via IBET: LeRoy Oakes Forest Preserve has been the place to be birding in the western boonies in the last week. Last Sunday a Clay-colored Sparrow was reported, followed by a pair of Blue Grosbeaks on Tuesday. Today it was a female Northern Bobwhite.

The bobwhite was seen this afternoon at about 3 PM along the bike path at the eastern trail head of the Great Western Trail bike path. The bird was originally spotted about 500 feet west of the entrance to the southern portion of the forest preserve (on the south side of Dean Street). It flushed and flew to a tree maybe 150 feet to the southwest where it gave us good views. Ten minutes later it took flight and landed 500 feet further west in the open field just west of the bike path.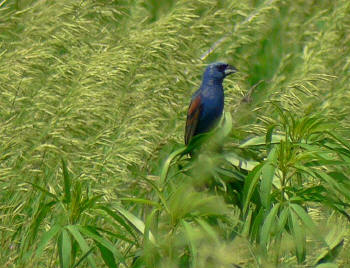 Blue Grosbeak photo courtesy Chris Madsen
Chris Madsen on 6/12 reported: It seems one sighting begets another. While I was waiting for the Blue Grosbeaks to make an appearance (which they did), a pair of Orchard Orioles flew by the parking lot at LeRoy Oakes FP.
Bob Andrini on 6/12 reported by phone: As of 8:30 this morning, the pair of Blue Grosbeaks are still in the area of the first parking lot inside the entrance of the northern section of LeRoy Oakes Forest Preserve.
Bill Meier on 6/11 reported via IBET: A stroll through the west prairie area of Dick Young/Nelson Lake preserve yielded a very cooperative Dickcissel. 59 seconds of video here.
Tim Balassie on 6/11 reported via e-mail: Saw two White Pelicans this morning in the lagoon formed by Boy Scout Island and the Fox River in St. Charles. Breeding ?????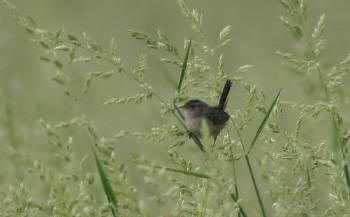 Sedge Wren photo courtesy Ken Schneider
Ken Schneider on 6/11 reported via e-mail: This Sedge Wren, photographed on June 10, was not very cooperative. I heard its distinctive song as we were walking along the grass track through the restored prairie at the east entrance of Dick Young/Nelson Lake Marsh Preserve. It was about 40-50 yards out. Luckily, it chose to stay put for several minutes. Also got a fleeting photo of a fly-by Yellow-billed Cuckoo. Additional photos can be found in my blog.
Ginny Widrick on 6/10 reported via e-mail: At 8:30 a.m. on 6/10/08 while observing the Clay-Colored Sparrow and Henslow Sparrow near the east side of the entry area of LeRoy Oaks F.P. a pair of Blue Grosbeaks flew right next to me and landed in a short honeysuckle bush 25 feet in front of me. This was a thrill for me and they knew it by letting me listen and watch them for at least 5 minutes. They flew into the pines near the small parking lot. All three of these birds were the first for me and each sound was so distinct that identifying them was easy.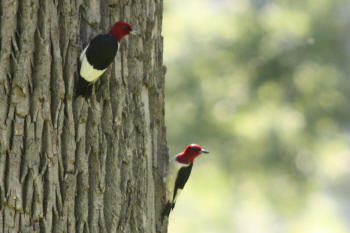 Red-headed Woodpecker photo courtesy Melinda Ketelsen
Melinda Ketelsen (formerly Johnson) on 6/10 reported via e-mail: This weekend we have seen two Redheaded Woodpeckers, as well a "Baltimore" Oriole at Riverwoods Christian Center (St. Charles). On the bike trail at Tekewitha Woods we spotted several Cedar Waxwings, Barn Swallows (so docile that they let us walk up and take their picture inches away!), and a lovely Cat Bird! My husband was able to get several beautiful pictures of our sightings!
John Heneghan on 6/09 reported via IBET: We went to Sauer Forest Preserve this evening hoping to catch a glimpse of the White Faced Ibis which we did not. We did see and/or hear savannah, grasshopper and henslow sparrows along with dickcissels and a western meadowlark. We did see quite a few blue winged teal. There was a pair of sandhill cranes which have been frequenting the field on the North side of Main St. west of Nelson Lake Rd.
Joe Lill on 6/09 reported via IBET: A number of searchers (five) had no better luck finding the ibis throughout the rest of the morning at the Sauer Family prairie. A neat place, though, as Caitlin notched her lifer Western Meadowlark. We also had Dickcissels, Grasshopper & Savannah Sparrows, at least three Wilson's Phalaropes, Purple Martin, Tree and Bank Swallows. Jeff Sundberg had Bobolinks on the south side of the prairie.

Cait, Jeff and I then headed over to Les Arends F.P. in Batavia, where there were a pair a Prothonotory Warblers right where Chris and Eric said they would be. You could hear the song from the parking lot. As Eric said, park near the first shelter, walk down the asphalt path and continue straight ahead on the dirt path to the river. The warblers were in plain sight across the section of the river directly in front of us. Another lifer for Cait.
Scott Cohrs on 6/09 reported via IBET: I have not seen/heard of any further updates today, but I thought I would mention that I could not relocate the White-faced Ibis this morning at Sauer Family Prairie. I searched from about 5:45 -6:30 but could not find it. However, it could still be there. It was very gloomy and raining this morning, and the bird could have been out of view in the grasses. I hope that others have success in finding it.
Please post if it reappears.
Heidi Hohman on 6/09 reported via e-mail: She and Gloria Dimoplon were the early birds who got to see the pied bill grebe with three chicks swimming on the pond at Burnidge Forest Preserve Friday morning, June 6 at 7:45am.
Bob Fisher on 6/08 reported via IBET: Karen and I ran into Al Stokie and Andy Sigler At Big Rock FP and they told us about finding/seeing the earlier Sunday morning (at Sauer FP). We went there and the ibis was still present, though not always visible. He apparently moves from the grass to the open areas in the largest fluddle. Our view was shortly before noon, and then the rains came.
But there's no reason the ibis would have left. This is the Kane County FP located on the southwest side of the intersection of Harter and Lasher Rds.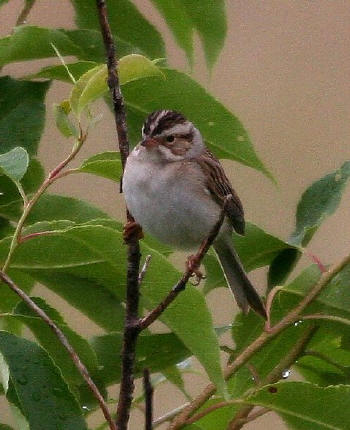 Clay-colored Sparrow photo courtesy Bob Andrini
Chris Madsen on 6/08 reported: Because yesterday morning's KCA Nelson Lake walk didn't produce a sighting of a Dickcissel, Carla and I returned to the scene that afternoon. We started at the preserve's west-side parking lot just off Main Street west of Batavia and had, perhaps, dozens of Dickcissels, the first was singing by the shelter. We continued on the crushed gravel path to the west and Dickcissels were commonplace. Interestingly, when we looped around and walked north along the unmowed path that parallels the lake and abuts the woods, we heard and saw none. While out in the open prairie, despite a fierce wind, we did hear a few Henslow's and Grasshopper Sparrows.
The highlight of the walk, however, came when we had almost reached the parking lot. We first heard, and then patiently tracked down, a Yellow-breasted Chat, a life bird for Carla. This beauty was located on the mowed grass trail that starts east from the parking lot and bends around to the south. At a "T" intersection another path branches to the left. The bird was singing no more than 200 feet down this path, a total of about 800 feet from the parked car.
Then this morning, like Chris Cudworth who reported earlier, we were bird monitoring. We had eight Henslow's Sparrows at LeRoy Oakes Forest Preserve on Dean Street west of St. Charles in the open fields on either side of the drive into the main part (north side) of the preserve. At 6:17 we heard the "buzz, buzz, buzz" of a Clay-colored Sparrow. The bird was located in the open field to the east of the small parking lot that is 600 feet north of Dean Street.
Barb Rask on 6/08 reported via e-mail: Early this morning on June 8th I witnessed a large group of wood ducks. I saw a female with her 18 ducklings in tow and no sight of dad. My sighting was just south of Tekakwithka Woods on Riverside Drive not far from the Hideaway restaurant.
Christopher Cudworth on 6/08 reported via IBET: This morning during my census for BCN, I was pleased to find a singing Prothonotory Warbler. Even better news for those who might like to find the bird. It's a "get out and look" location.

Les Arends Forest Preserve is 1 mile south of Main Street in Batavia. The main entrance is the east side of Route 31. Park by the shelter and you're 75% there.

Take the asphalt path to the river's edge where there is a bike trail. There is a clearing overlooking the limestone glade habitat of the Fox River. The Prothonotory was singing and moving about the upper canopy at 6:15 a.m. this morning.

This was a male bird. I was moving through my sites so I did not stay for too long. But this bird seems like a good bet to be found again at Les Arends.

There were also Great Crested Flycatchers, Blue Gray Gnatcatchers, Northern Oriole and a healthy dose of other Illinois summer woodland birds. No tanagers or RBG heard or seen. That was a bit disappointing.
Ann Haverstock on 6/07 reported via eBird: At Campton Forest Preserve, a Black-billed Cuckoo and a Bell's Vireo.
Ken Schneider on 6/07 reported via e-mail: Here are photos of an Eastern Kingbird and Willow Flycatcher seen on this morning's walk at Nelson Lake.
Eastern Kingbird (left) and Willow Flycatcher (right) photos courtesy Ken Schneider. Additional photos at Ken's flickr account.
Chris Madsen on 6/07 reported: A Caspian Tern was the "bird of the day" at the regularly-scheduled Nelson Lake walk today. Eighteen birders saw and/or heard 58 species this morning.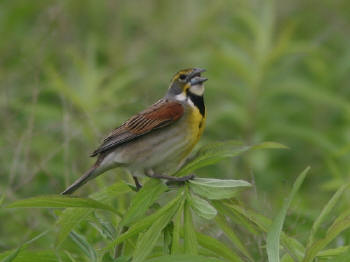 Dickcissel (above) and Henslow's Sparrow (below) photos courtesy of Ken Schneider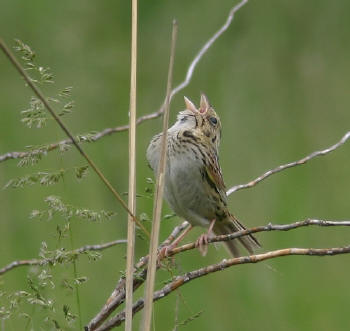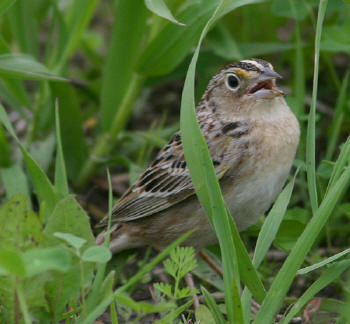 Grasshopper Sparrow photo courtesy of Ken Schneider
Ken and Mary Lou Schneider on 6/4 reported via e-mail: We found both the Dickcissels and two Henslow's Sparrows this morning at Dick Young/Nelson Lake FP. As yesterday, we entered via the north (Main Street) entrance. The Dickcissels were near the rest room area. As Christopher noted, the Henslows were both singing at the big loop where the paved trail reaches closest to the lake and begins to curve back to the northwest. The Henslow's habitat has tall grass and scattered shrubs that are about 3-4 feet high. We did not hear them anywhere else. Although they seemed to be singing very close to the path, they were very hard to see-- we never saw one of them, but the other showed up after we decided to turn back and almost had given up.
Ken and Mary Lou Schneider on 6/3 reported via e-mail: We are back here in Illinois from Florida, and this morning (June 3rd) had a chance to visit our favorite patch, Nelson Lake, Batavia. We were seeking the Henslow's Sparrow, Dicksissels and Bobolinks that Chris reported there the day before yesterday, but saw "none of the above." About 100 yards south of the rest rooms along the asphalt trail, a Grasshopper Sparrow gave us good views. Rain was threatening and our visit was cut short. More Grasshopper Sparrow photos are in our Blog (http://blog.rosyfinch.com).
Christopher Cudworth on 6/2 reported via IBET: Sunday morning I took my wife for a walk on the newly constructed grassland trails on the middle/west portion of (Dick Young/Nelson Lake Marsh) Forest Preserve. We were not really on a "bird hike" per se, but visitors would be impressed with how easy to see the birds listed below really are in this habitat.

To reach the preserve entrance for the grassland trails, take Main ST west from Randall/Batavia. The entrance is 2 miles west from Randall Road. The entrance is approximately 800 yards past Nelson Lake Road. The entrance is at the top of the hill with a farmhouse and barn building on the property. There is a parking lot. A good access to NLM/DYFP in early hours.

The expanding trail system now bisects mixed habitats of restored prairie and low scrub.

Birds seen on Sunday. These are from the grassland trails only (3.0 mile walk on west loop)
DICKCISSEL (25+ singing)
SAVANNAH SPARROW
HENSLOW'S SPARROW (at turn of paved trail overlooking marsh, singing)
VESPER SPARROW (led us, hopping ahead for nearly a quarter mile)
GRASSHOPPER SPARROW (numerous)
SWAMP SPARROW
SONG SPARROW
SEDGE WREN (in several spots)
BOBOLINK (not numerous yet...but there were females)
EASTERN MEADOWLARK
WESTERN MEADOWLARK
TREE SWALLOW
BARN SWALLOW
COOT (in wetland at north end of trail)
SANDHILL CRANE
GOLDFINCH
YELLOWTHROAT
YELLOW WARBLER
EASTERN KINGBIRD
MALLARD
BLUE-WINGED TEAL (in wetland at north end of trail)
MOURNING DOVE
ROCK DOVE
Bob Fisher on 6/1 reported via IBET: The fluddles and surrounding grasslands at Sauer continue to hold a good variety. Shorebirds I saw included Semipalm Plovers, Spotted Sandpipers (including one on a nest that I nearly stepped on), 12 or so Semipalm Sandpipers (including 1 which I believe was actually a Western, though heat haze and distance made the ID uncertain), 6 White-rumped Sandpipers, 1 Baird's, an undetermined number of Dunlin and 5-6 Wilson's Phalaropes.

But the 'shorebird' of the day was nowhere near the fluddles. Vince and Pete Moxon were leaving as I arrived and told me they had seen/heard 1 or more Upland Sandpipers that had first been reported by Jeff Smith on Saturday. I saw none and heard 1 until an ambulance with sirens blaring passed by heading south over on Rte 47. This distant but loud siren stimulated/alarmed 5 Upland Sandpipers and caused them to fly up out of the short grass, all giving their distinctive alarm call, and flying around for half a minute before dropping back into the grass. 2 of the 5 were flying together, the other 3 were singles. This incident was eerily similar to an experience (my wife) Karen and I had several years ago, when Uppies were still present at Fermilab. An ambulance went by on nearby Rte 59, sirens wailing. This stimulated the local coyotes to howl and yip, and that in turn caused a pair of Uppies to pop out of the grass within a few feet of our car.

Vesper, Grasshopper and Henslow's Sparrows were all singing, as were both Eastern and Western Meadowlarks. A lone Black Tern lounged on one of the mud spits (but I doubt there's going to be enough emergent vegetation in the fluddles for them to nest?). Dickcissels were calling all along Lasher Rd.