Ken Schneider on 6/30 reported via e-mail: Mary Lou and I walked in the north entrance at Nelson Lake and looped around the western trail, hoping to see more Bobolinks. Only one made an appearance, a flyover just south of the hill where Henslow's Sparrows were present just a few days before. As happened to Christopher, we did not hear any Henslow's, and blamed the stiff breeze for keeping them down. A Sedge Wren surprised us by popping out along the trail south of the "Henslows hill." I described the morning walk in today's Blog, which has additional photos of the Henslow's Sparrows and other birds seen there this past week. Follow this link.
Joe Lill on 6/30 reported via IBET: Mark Agnor needed [a Swainson's Hawk] for his state list so we went out to Burlington where we found one in the same location as last year. From Peplow & Chapman (south of Burlington, Kane County) go east on Chapman. After the road bends to the right pull over in the little gravel pullout. If you're lucky one will be flying around. We weren't that fortunate, but we scanned the trees to the north of the road and found one Swainson's perched, overlooking the field. We found it with binocs but a scope was necessary for a good look, as the bird was @1/4 mile away.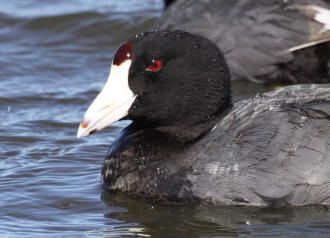 American Coot photo courtesy Mark Bowman
Mark Bowman on 6/29 reported via e-mail: At Prairie Green yesterday, I followed the YH blackbird around, the coots had babies all over the place and the grasshopper sparrows and dickcissels were very active. I waded into the water a little and the coot parent came within 5 ft and scolded me.
Christopher Cudworth on 6/29 reported via IBET: While out for a gentle walk at Fabyan Forest Preserve (Geneva) in celebration of our 24th wedding anniversary, my wife Linda and I heard a CAROLINA WREN singing near the northernmost house on the property. They have redirected the trails in the preserve to create a more parklike, rather than parking-lot like environment. Nice job, county.
Also heard or seen on our walk:

Eastern Bluebirds (west side, hunting insects under the oaks)
Robin
Blue Gray Gnatcatcher
Eastern Kingbird
Crow
Red winged blackbird
Barn Swallow
Indigo Bunting
Chipping sparrow
Christopher Cudworth on 6/28 reported via IBET: Unless Jon Duerr found them this morning, I had no luck checking back on the Henslow's sparrows found last week on the gravel mound rise along the west trail at Dick Young/Nelson Lake marsh. The breeze was simply so strong it was hard to hear much of anything beyond the prodigious number of DICKCISSEL.
That said, there were a fair number of GRASSHOPPER, SAVANNAH and one VESPER SPARROW seen and heard during my traipse through the preserve this morning.
I can't stress enough the proliferation of summer grassland species at Nelson Lake Marsh.
Park at the lot on Main street and walk any of the trails at any time of the day. You will not be disappointed.
NLM/DYFP is located 1.5 miles west of Randall Road in Batavia, IL

Sauer Blitz collage courtesy Ann Haverstock
Ann Haverstock on 6/27 reported via e-mail: Kane County's first single site breeding bird blitz went off without a hitch. Although we had the potential for extreme heat, the skies were slightly overcast and spared us from the brutal heat of mid-week. The prairie [at Sauer Family Prairie Kame Forest Preserve] was hopping and we had some wonderful finds. The best, in my eyes, were the nine Western Meadowlarks. It seems truly bizarre to hear a pile of Western Meadowlarks (9) in Illinois country. Aside from the enormous amount of Red-winged blackbirds (180), the Dickcissels (69) held their own. To our delight Grasshopper Sparrows (24) came in with the high count for the sparrow species. This warms the hearts of prairie lovers because grasshopper sparrows have had steep losses in the last ten years. If you would like a list of the species seen, email me.
Thanks to all the hearty birders that helped, three of which came from far away counties.
Robin Moseley on 6/27 reported via e-mail: Saturday Morning from about 7:30-8:30 am at Burnidge Forest Park there were numerous Yellow Warblers, Yellowthroats, and Goldfinches. Note the video clips of the Yellowthroat getting all puffed up looking in my camera. Also saw Indigo Bunting, song sparrows, Willow Flycatcher, and 3 Great Blue Herons. The Bobolinks must have moved to another part of the meadow this morning.
Female Common Yellowthroat (L) and Yellow Warbler photos courtesy Robin Moseley
Tree Swallow feeding photo courtesy Ken Schneider
Ken Schneider on 6/22 reported via e-mail: Mary Lou and I saw another adult Bald Eagle at Nelson Lake this morning. It flew very low (about 20 feet) above our heads as we approached the small overlook platform on the west side of the lake. It may have been roosting in a nearby tree. Too fast for a photo! We finally saw two male and one female Bobolinks, near the southern end of the asphalt track that leads from the north entrance. One Grasshopper Sparrow we saw was particularly colorful. Near the north shelter there was a tree that had 8 fledgling Tree Swallows that appeared to be from at least three separate broods. Some had distinct brown chest bands resembling Rough-wings, but they were definitely Tree Swallows. I have posted several photos of them here.

Also saw my first black Gray Squirrel just across Main Street from the north driveway entrance.

(My eBird sightings report is below)

Location: Nelson Lake Marsh Nature Preserve/Dick Young FP (Kane Co.)
Observation date: 6/22/09
Notes: pheasant, red-bellied woodpecker, crane, pewee and Henslow's Sparrow were heard only, not seen
Number of species: 40

Canada Goose 4
Mallard 6
Ring-necked Pheasant 1
Double-crested Cormorant 1
Great Blue Heron 2
Great Egret 1
Bald Eagle 1
American Coot 2
Sandhill Crane 1
Killdeer 2
Ring-billed Gull 1
Mourning Dove 6
Chimney Swift 1
Red-bellied Woodpecker 1
Northern Flicker (Yellow-shafted) 2
Eastern Wood-Pewee 1
Alder/Willow Flycatcher (Traill's) 1
Eastern Kingbird 2
Tree Swallow 13
Barn Swallow 2
House Wren 1
Marsh Wren 1
American Robin 20
Gray Catbird 1
European Starling 4
Common Yellowthroat 12
Field Sparrow 3
Savannah Sparrow 1
Grasshopper Sparrow 3
Henslow's Sparrow 2
Song Sparrow 16
Northern Cardinal 2
Indigo Bunting 4
Dickcissel 12
Bobolink 3
Eastern Meadowlark (Eastern) 6
Common Grackle 5
Brown-headed Cowbird 25
Baltimore Oriole 1
American Goldfinch 20

Sue Wagoner on 6/21 reported via e-mail: The Wren Formerly Known as The Mouth has wings! And knows how to use them. He can take short flights and not too high, but hey this is only day 1.

Ken Schneider on 6/21 reported via e-mail: Thanks to Sue, I took a detour while on an errand out north and got my first-ever photos of Bobolinks, at Burnidge Park early this afternoon. Saw 4 males on the left (north/west?) side of the entry road, almost as far out as the parking area. My photos are not near as good as Sue's. The birds were about 100 feet away and I had to crop them heavily. "I shall return!"

House Wren photo courtesy Sue Wagoner
Robin Moseley on 6/21 reported via e-mail: Sunday Morning at Binnie Forest Preserve I was shooting video of a pair of Red-Bellied Woodpeckers feeding their little ones. Their nest was in a dying tree along the front marsh. Yesterday morning, 6/20/09, I was videoing Song Sparrows, Goldfinches, and Bobolinks at Burnidge Forest Preserve. The Bobolinks are hard to get images of as they do not perch for very long.

Song Sparrow and Red-bellied Woodpecker photos courtesy Robin Moseley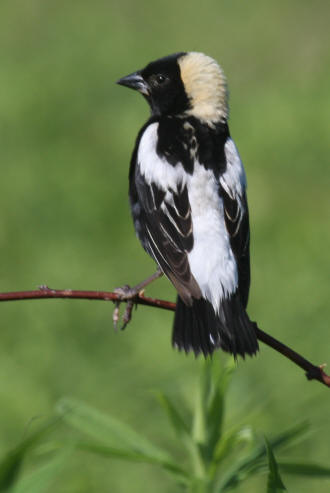 Bobolink photo courtesy Sue Wagoner
Sue Wagoner on 6/20 reported via e-mail: Saturday morning at Burnidge Woods produced the Bobolinks that Ken Schneider was looking for at Nelson Lake!
One pair was obviously defending a nesting site, watching us as they both hawked insects.
Ken Schnieder on 6/19 reported via e-mail: Yesterday morning (Thursday), as soon as the weather cleared, we looked for Bobolink and Henslow's Sparrow at the north end of Nelson Lake FP. No Bobolinks, but we found two singing Henslow's Sparrows that posed nicely near the path, near the spot that Christopher mentioned. Marsh Wren was singing at the pothole, but invisible again. Lots of Dicksissels and several Savannah Sparrows, several Field Sparrows. More photos here.

Savannah Sparrow photo courtesy Ken Schneider

Dickcissel (L) and Henslow's Sparrow (R) photos courtesy Ken Schneider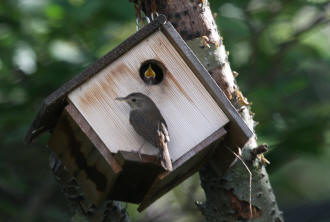 House Wrens photo courtesy Sue Wagoner
Sue Wagoner on 6/17 reported via e-mail: My modest sighting is in my backyard where House Wrens are keeping the place hopping. The babies are almost as loud as the proud papa (who sings while mom feeds them all day long).
Christopher Cudworth on 6/17 reported via IBET: You can find *HENSLOW'S SPARROW* at Dick Young Forest preserve by following the crushed gravel path west from the parking lot located off Main street one half mile west of Nelson Lake Road. Follow the path up the rise in topography (about 1/2 mile walk). The birds are singing on the west side of that hill near the sign/marker about the prairie.

I also heard the following species during my 6 mile run through the west side prairie this morning. The prairie habitat is really lively right now with many flowering plants coming into bloom including purple coneflowers.

GRASSHOPPER SPARROW
BOBOLINK
SEDGE WREN
WILLOW FLYCATCHER
EASTERN MEADOWLARK
SONG SPARROW
YELLOWTHROAT
GOLDFINCH
INDIGO BUNTING
MARSH WREN
SAVANNAH SPARROW

I will make a note that I think it is a mistake for the county not to continue mowing the path that rims the west side of Nelson Lake. The path from the west edge of the woods that traditionally angles down to the Audubon bridge is being left to grow in? Is there a habitat management issue with that segment? I'd like to hear from someone in Kane County. Perhaps that area is being protected from human traffic? Or is there simply so much mowing it's been forgotten?
Scott Cohrs on 6/16 reported via e-mail: I found several nice birds while doing my breeding census at Helm Woods. I did a brief walk Friday and a more extensive walk yesterday morning.

Best birds were probably 2 territorial Chestnut-sided Warblers on the main path about 200 yards south of the parking lot. Though pretty common in migration, I can't recall any recent summer/breeding records for Chestnut-sided in Kane. Anyone know?? I know they breed in several northern counties, though in small numbers.

Other good birds yesterday included Acadian Flycatcher, Yellow-throated Vireo, Wood Thrush, Ovenbird, and a pair of Red-headed Woodpeckers. I had Ruby-throated Hummingbird in a couple spots, as well as Willow Flycatcher and Savannah Sparrow.

On Friday there was a White-eyed Vireo in the parking lot, and a Yellow-breasted Chat was in the western scrub area.

This is a vastly under-birded preserve, and I wish I would remember to make a run up there some time in May. It's in extreme NE Kane County, so I usually bird the spot only during my census in June. I would think you could put together a real nice list during migration as it offers a variety of habitats. Only word of caution is that the trails, especially in the grassy areas, are a mess. They need to be mowed, and are quite wet with the recent rains. Be prepared to bushwhack.

Ken Schneider on 6/15 reported via e-mail: This morning we walked the east and part of the south paths and sighted a second Bald Eagle at Nelson Lake—this one was a second year bird, as evidenced by residual dark long flight and tail feathers being replaced by shorter feathers that show some white. One Osprey was seen catching a fish. Also saw at least two pairs of Brown Thrashers. Unlike a couple of days ago, the Sedge Wrens were to be seen as well as heard—several singing along the east entrance path and in the grasslands to the south and along the lake. Never walked around far enough to see the Bobolinks, two of which another birder just saw in the fields at the west end of the lake.

Brown Thrasher photo courtesy Ken Schneider

Common Yellowthroat (L) and immature Bald Eagle photos courtesy Ken Schneider
Christopher Cudworth on 6/15 reported via IBET: I posted a small photo (http://naturesymbol.blogspot.com/) of the pied billed grebe family seen at Dick Young/Nelson Lake Marsh forest preserve this morning. The parent with six chicks can be found on the pothole pond near the north entrance. Also a pic of a dickcissel and meadowlark next to each other. Always wanted to see those two yellow throat/black bib birds together.
Also seen or heard on a half hour walk and photo session this morning:

YELLOWTHROAT
SANDHILL CRANE
SONG SPARROW
DICKCISSEL
GRASSHOPPER SPARROW
WESTERN MEADOWLARK
GOLDFINCH
RED WINGED BLACKBIRD
MARSH WREN
SEDGE WREN
BARN SWALLOW
TREE SWALLOW
MOURNING DOVE
FIELD SPARROW
CHIPPING SPARROW
MALLARD
COOT
BOBOLINK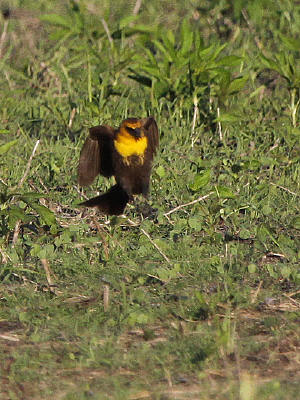 Yellow-headed Blackbird photo courtesy Chuck Peterson
Ann Haverstock on 6/9 reported via e-mail: The Yellow-headed blackbird is still present, but since there are no other males to pressure him, he is rather quiet. If you are patient, he will pop up. I was on the West of the cattail pond facing East.

Ken Schnieder on 6/9 reported via e-mail: Mary Lou and I walked the southeast paths at Nelson Lake for a couple of hours before 10 AM. It was overcast and cool, but pleasant, with little wind. Many Swamp Sparrows were singing, but we did not see a single one! Heard both Sedge and Marsh Wrens singing, also unseen. Also not visualized was a Warbling Vireo and one or more calling Sandhill Cranes. A Brown Thrasher was singing vigorously high in a tree just to the north of the observation platform. Parts of its song had a mockingbird-like quality, for it repeated some phrases four or five times instead of keeping to its usual score of doublets. A Yellow Warbler provided good views, as did two Willow Flycatchers. The treat was a mature Bald Eagle soaring from over the lake to the southeast. See photos on my FLICKR page here.

Yellow Warbler (L) and Baltimore Oriole (R) photos courtesy Ken Schneider
Nancy Bent and Roger Reason on 6/7 reported via IBET: A pair of Sandhill Cranes has sucessfully hatched a chick at Salamander Springs (a Dundee Township Open Space site near Carpentersville in Kane County).
John Heneghan on 6/7 reported via IBET: Went to Prairie Green Wetlands today. It is funny how often I have looked at it from the train and thought I need to check that area out especially as it is 5 minutes from the house.
We were quickly rewarded with an immature orchard oriole that followed us along. Also seen there was a common yellowthroat. We heard a pheasant cackling in the field along the tracks. Grasshopper and Savanah sparrows were heard and seen as well as Dickcissels. A sedge wren was seen in the grass. Songs sparrows were seen/heard along the tree line. We made our way out to the wetland where the Yellowheaded Blackbird was seen. Horned larks were also seen in the newly planted field. We walked the fenceline to the end and came back so as not to cross the field. We saw/heard coots causing a ruckus, going through the breeding gesturing. It was funny to watch them.
There was a pair of blue winged teal on the water and spotted sandpipers and kildeer along the shore. We looked at the 2nd wet area to the west where we could see 7 great blue herons, 2 egrets (no cattle egrets) and 2 sandhill cranes.
We also had a tree swallow that was buzzing around us chasing bugs and landed a few times for some nice pictures.
It looks like there is a spring in the corner of the wetland area that should keep the wetland in water.
On the way out I heard and saw a western meadowlark.
I must say I was particularly excited about the yellow headed blackbird!! Hopefully they will set up housekeeping.
John Baker on 6/7 reported via e-mail: I was at Sauer Family FP this morning looking for Phalaropes (no luck) when I saw a Brant. While I had it in my scope, it flew off to the south. I have no way of knowing if it was a "wild" bird or an "escapee," but I'm putting it on my list for the moment, anyway.
Michael Tartaglia on 6/7 reported via e-mail: About 5 pm [yesterday] looking south east from the auto mall, I spotted a bald eagle flying north from the wetlands area (near I-88 and Orchard Rd).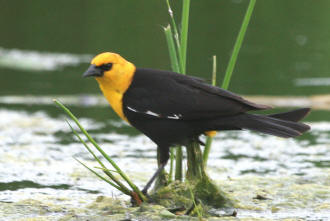 Yellow-headed Blackbird photo courtesy Paul Mayer
Paul Mayer on 6/6 reported via e-mail: The Yellow-headed Blackbirds continue at Prairie Green Wetland. Both the male and female are foraging between the cattails and the shore. Yesterday I noted where we should and should not walk. Today I'll comment on parking. Until the Preserve is officially opened with a parking lot, the best place to park is across Peck Road on one of three side streets. You should not park at the yellow gate that goes into the wetland. That is an access road to a lift pump station that supplies water to the City of Geneva. Even on weekends, if maintenance vehicles needed to get in there for emergency repair work, parked cars could block them and might be towed.
Darrell Shambaugh on 6/6 reported via IBET: Friday evening I biked the Gillman Bike Trail from Wabaunsee Community College to Terry Avenue in Aurora. The best bird of the fifty species I saw, or in this case heard, was an ACADIAN FLYCATCHER in the woods east of Bliss Road. There was also a singing SCARLET TANAGER and EASTERN WOOD PEEWEE in the same location. Other highlights included a singing AMERICAN REDSTART where the bike trail runs next to the Prestbruy Golf Course. Last summer an American Redstart was in the same location in July, the only time I rode the Gillman trail in the summer.

The other really impressive place was the Wabaunsee grasslands. DICKCISSELS, COMMON YELLOWTHROATS, YELLOW WARBLERS, EASTERN KINGBIRDS, WILLOW FLYCATCHER, EASTERN BLUEBIRDS, GRAY CATBIRDS, a SEDGE WREN, INDIGO BUNTINGS, and FIELD SPARROWS were all there, singing away.

Elsewhere, a WOOD THRUSH was singing in Bliss Woods. The Randall Road access point in Aurora is flooded, and an EASTERN PHOEBE was in one of the trees in the water. Between Galena Blvd. and the next street to the east two BLUE-WINGED TEAL flew over. I heard GREAT CRESTED FLYCATCHERS, CEDAR WAXWINGS, BLUE GRAY GNATCATCHERS, BALTIMORE ORIOLES, CHIPPING SPARROWS, and a few more species I'm forgetting.
On the June 6th Nelson Lake Walk: Three Brown Pelicans were observed flying north over the lake.

Field Sparrow photo courtesy Ken Schneider
Ken Schneider on 6/5 reported via e-mail: Mary Lou and I were out early this morning at the north entrance of Nelson Lake. Heard two Marsh Wrens at the wetland area. Dicksissels, Savannah and Grasshopper Sparrows were numerous. Got photos of a friendly Field Sparrow. More photos posted at this link.
Beautiful morning!
Paul Mayer on 6/5 reported via e-mail: Prairie Green Wetlands has produced some great birding this spring (85 species to date) and has been visited by birders not only from Kane County but from the greater Chicagoland area as well. Up until two days ago access was easy. But things have changed which we all need to be aware and respectful of. The agricultural parts of the property to the east and surrounding the wetlands have now been PLOWED and PLANTED. Please do not walk across any of these planted areas. If you park on Heartland Ave. you can access the mudflat area by walking down the treeline across from Heartland. If you park farther north off Peck Road, walk the aggregate path to one of the intersecting treelines and then follow that treeline west, past the planted area, to the water. We all want to be good neighbors and I'm sure the farmer will be appreciative of our concern.