Darrell Shambaugh on 6/30 reported via IBET: I spent some time on the west side of Nelson Lake this afternoon between 1:30 and 3:00. The most interesting bird was a CASPIAN TERN hunting on the lake. I had a SEDGE WREN south of the Audubon Bridge, but not much else.
There are lots of DICKCISSELS all over Nelson Lake. I also heard and saw SAVANNAH, GRASSHOPPER, SONG, and CHIPPING SPARROWS. I saw one BARN SWALLOW and a gazillion TREE SWALLOWS. They were everywhere. I didn't see or hear any Henslow's Sparrows.
---
Christopher Cudworth on 6/28 reported via IBET: I'll second this list, as I was out there [Nelson Lake] Sunday. First on a run, then on a photo / birding hike.

As Yeanette documents, there are some really great birds on the west side. Even without binoculars during my run, I was able to study a male bobolink on a fencepost from 15 feet away. Females were cavorting about too.

Just a note for those of you seeking Henslow's this summer. From the west side entrance off Main Street, take the crushed gravel trail west and turn south over the moraine. Follow the trail all the way south until you find the second mowed path going west. The grass is knee high there and I counted 10 singing Henslow's at 7:00 a.m. Sunday morning.

This spot also produced bobolink, grasshopper sparrow and sedge wren. Really pleasant grassland birding, and a good hike to boot.
---
Yeanette Johnson on 6/28 reported via IBET: It was a great evening for a walk on the West side of Nelson Lake. Sue and I were able to see/hear the following:

GRASSHOPPER SPARROW
HENSLOW'S SPARROW
SEDGE WREN
SONG SPARROW
VESPER SPARROW
EASTERN MEADOWLARK
DICKCISSEL
BOBOLINK
PURPLE MARTIN
EASTERN TOWHEE
BARN SWALLOW
TREE SWALLOW
COMMON YELLOWTHROAT
EASTERN KINGBIRD
GREAT BLUE HERON
GREAT EGRET
RED-WINGED BLACKBIRD
GREAT HORNED OWL
---
Marion Miller on 6/27 reported via e-mail: Went to our favorite neighborhood pond on Trent and Wolcott in Batavia around 6:30am today and found 6 Great Egrets, 1 Great Blue Heron, and 1 Black-crowned Night-Heron. Yesterday evening, a Green Heron was also spotted there.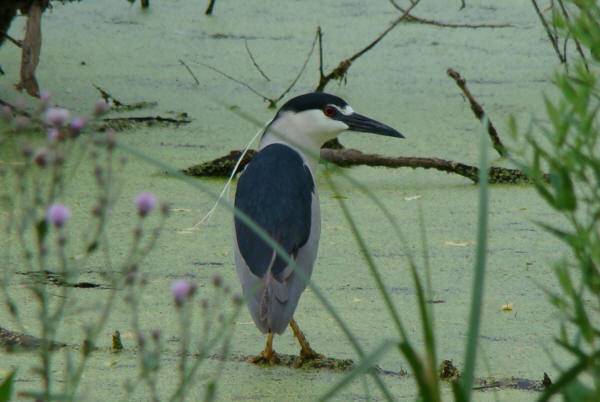 Black-crowned Night-Heron photo courtesy Marion Miller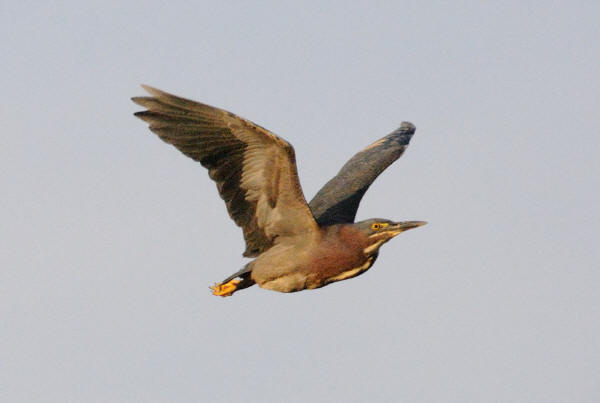 Green Heron photo courtesy Rich Miller
---
Chris Madsen on 6/26 reported: A recap of the weekend:
On Saturday afternoon Carla and I visited Fitchie Creek Forest Preserve for the express purpose of snagging a Lark Sparrow for our year's checklist. We didn't get 100 yards from the car when we spotted the target bird along the crushed limestone path to the southwest of the Russell Road entrance parking lot. In the fields further south along Nesler Road we heard, then saw, Bobolinks which to that point had been a nemesis bird for me for the year. At the end of our circuit of the preserve, back at the parking lot, we had Grasshopper Sparrows.
On Sunday morning we conducted our bird monitoring at LeRoy Oakes Forest Preserve where we had three Clay-Colored Sparrows in the field to the east of the drive into the north side of the preserve before you reach Sholes School. The clay-coloreds have been present all month.
After our monitoring we drove north to Otter Creek Bend Wetland Park where we heard and saw the Bell's Vireo (see Steve Smith's report below). Bill Koch was the first to report the bird on June 3rd.
Then this afternoon we took a stroll through Prairie Green Wetland in Geneva. In the pond farthest south on the property we observed 17 Great Egrets. And in the main pond just north of that (where the Yellow-headed Blackbirds were seen last year) we came upon a Black-crowned Night-Heron.
---
Steve Smith on 6/26 reported via IBET: I heard and saw a Bells Vireo at Otter Creek Wetlands this afternoon. The bird was at the entrance to the trail from the parking lot. Otter Creek Wetlands is south of Silver Glen and just west of Randall Road.
---
Margaret Myers on 6/26 reported via e-mail: Photos taken at Tanner Marsh 6/25/11 -- Great Blue Heron & Great Egret by Steve Myer Sr.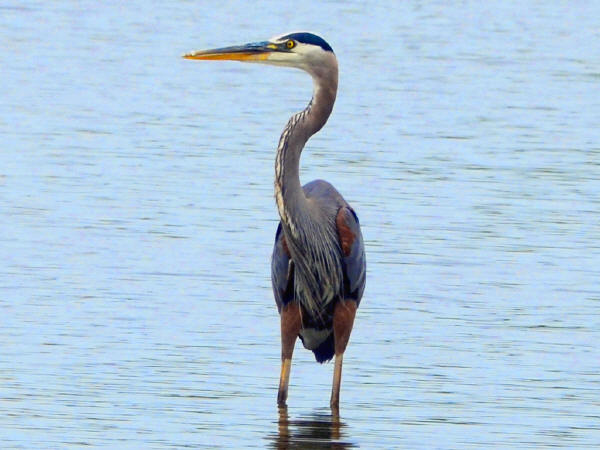 Great Blue Heron photo courtesy Steve Myers, Sr.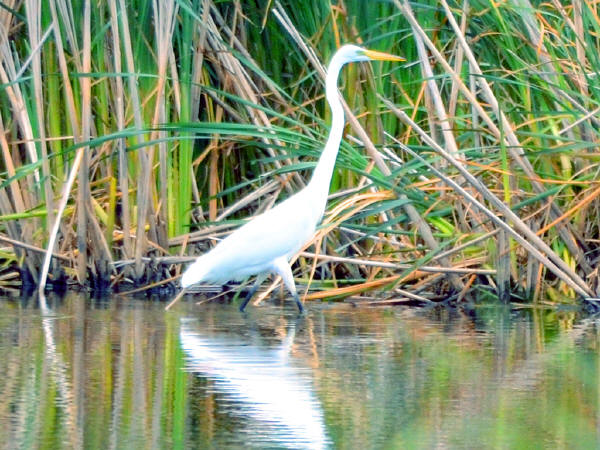 Great Egret photo courtesy Steve Myers, Sr.
---
Karen Land on 6/26 reported via IBET: Saturday we made our usual shopping trip to Woodman's in North Aurora. We had been seeing Sandhills along Randall at Mooseheart/Orchard but today we saw 6 cranes in the field behind Woodman's and south of Oak Street foraging along the planted field there. Today a friend just reported seeing the same in the same location. The chicks are now pretty near adult size. This new location is less than a mile from where we had previously been seeing them.
---
Ron Dickenson on 6/25 reported via e-mail: This is going to be hard to believe but here goes. Tonight around 730pm I was up stairs in our house and my wife called to me and said there was a big bird sitting on our chain link fence in the back yard. At first she thought that I was playing some kind of joke on her but then the bird started to move around. So I came running down stairs to take a look and sure enough it was a adult Bald Eagle sitting on our fence so I ran to get my camera but by the time I got back it was gone. We live just east of the Fox River in Batavia up the hill from the boys baseball field. I'm one of the fellows that joined Mooseheart last year so we could take pictures of the Eagles and the nest out there. I have not been out to Mooseheart for a few weeks to check on the Eagles so maybe they are coming here to check on me. Last year my friend and I spent around four months out there on sunny days taking pictures and this year it was around three months until the nest came down. As much time as we spent out there I think they were getting to know us. Sometimes they would come and sit in a tree right by us and let us walk around and take pictures of them. Here is one those close up pictures of one them sitting right by us. So I say the Eagles are still here and will be nesting out there somewhere next year!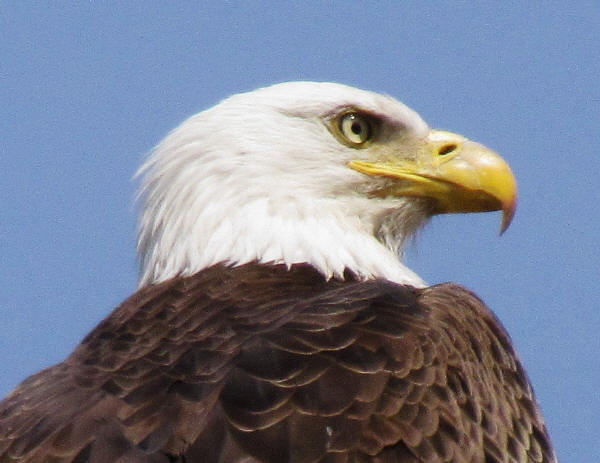 Bald Eagle photo courtesy Ron Dickenson
---
Rich Miller on 6/20 reported via e-mail: There were 15 of use who turned out for this evenings ramble at the Batavia river walk. We did spot several of our target bird - the Nighthawk. Other highlights were cliff, barn, tree, and rough winged swallows; Purple martins; chimney swifts; Canada Geese; Mallards, and Great Blue Heron. And the good news... the bugs weren't bad.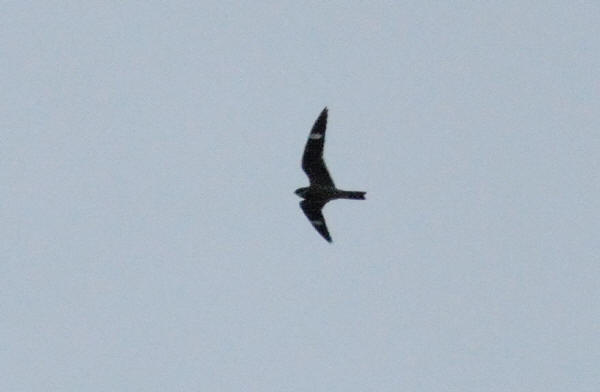 Common Nighthawk photo courtesy Rich Miller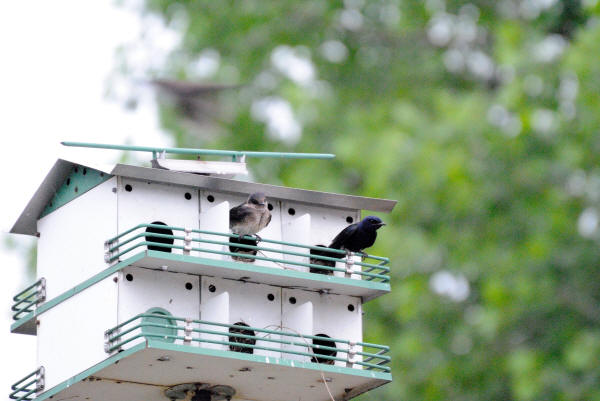 Purple Martins photo courtesy Rich Miller
---
Sue Wagoner on 6/19 reported via e-mail: On our quest for the Wood Thrush at Bliss Woods Saturday, June 18, Yeanette Johnson, Lisa Granbur and I heard at least two but never saw either one. Instead we were treated to a good view of a singing Summer Tanager male. Later we also saw the female! What beauties.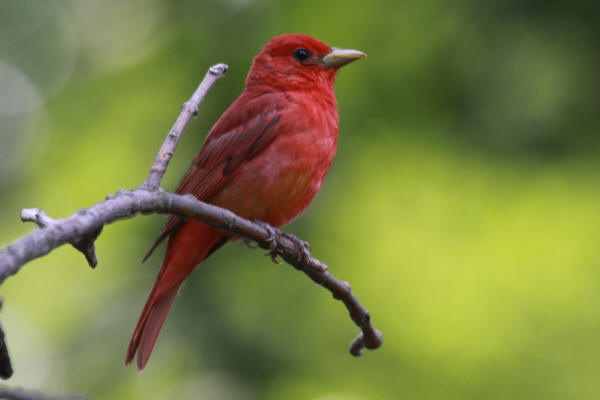 Summer Tanager photo courtesy Sue Wagoner
---
Patrick Webb on 6/18 reported via eBird: Both a Snowy Egret and 2 Brewer's Blackbirds at the North Aurora auto mall ponds at the intersection of Orchard Road and I-88.
---
Darrell Shambaugh on 6/18 reported via IBET: Friday afternoon I heard a NORTHERN PARULA at the Red Oak Nature Center in North Aurora while bicycling the Fox River Trail. The Parula was by one of the bridges just as the bike trail goes into the Red Oak Nature Center.

There is a blue bird house along the trail few hundred yards south of Fabyan Parkway on the west side of the Fox River that is inhabited by a family of TREE SWALLOWS. This might be the only blue bird house on this stretch of the trail!

Other birds seen, or mostly heard, while riding the Fox River Trail included WARBLING VIREOS, RED-EYED VIREO, BALTIMORE ORIOLE, ROSE-BREASTED GROSBEAK, INDIGO BUNTING, GREY CATBIRD, YELLOW WARBLER, RING-BILLED GULLS, a HERRING GULL, and DOUBLE-CRESTED CORMORANT.
---
Bob Meierhans on 6/16 reported via e-mail: Compare today's attached photo with the one posted 5/30 to see just how much our backyard sandhill crane chicks have grown in two weeks!

"Sandy" now even brings his entire family to the office window, but they don't stay as long as Sandy used to. Instead, they keeping moving and feeding, hence the rapid growth of the chicks, I'm sure.

Sandhill Crane chicks photographed on 6/16 (above) and 5/30 (below).
Photos courtesy Bob Meierhans.
---
Laura Greenwald on 6/15 reported via e-mail: Just a side-note. On my way back down Randall Road last night, I saw BOTH Bald Eagles!!
---
Laura Greenwald on 6/14 reported via e-mail: Tuesday 06/14/2011 at 7:45 P one Eagle was spotted at the same spot as they previously have been. This has been the first time that I have seen one in weeks.
---
Ken Schneider on 6/14 reported via e-mail: I heard a Vesper Sparrow singing in the field in front of our North Aurora condo this morning, then saw it on a post, but it flew off. Went out again this afternoon and used the car as a blind, hoping to photograph a Horned Lark that had been perched on a rock pile. Instead, the Vesper Sparrow obliged me by coming to the rocks, and later I captured a photo of the Horned Lark on the same post where the sparrow had been sitting!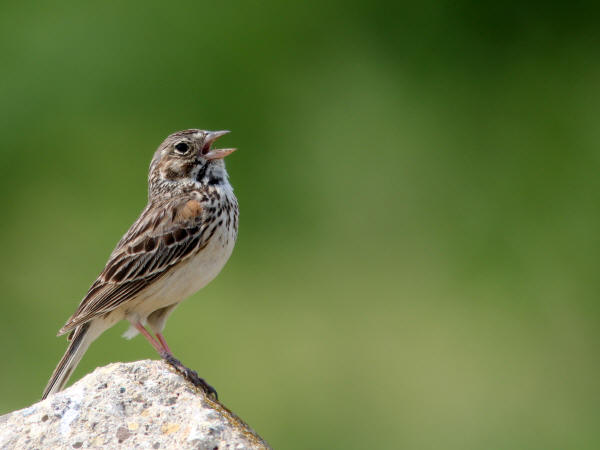 Vesper Sparrow photo courtesy Ken Schneider
Horned Lark photo courtesy Ken Schneider
---
Bob Andrini on 6/11 reported via e-mail: KCA's trip to Burlington Prairie was worth the constant companionship of the mosquitoes. Our group had good views of many prairie species. The western part of the forest preserve had many Dickcissels, Bobolinks and Vesper Sparrows. The trip might be more enjoyable in the early spring or fall (with no mosquitoes).

Dickcissel photo courtesy Bob Andrini
---
Bryan Hix on 6/11 reported via e-mail: Each year for the past 4, I have driven through the Highland Woods subdivision in West Elgin and have always been surprised to see the amount of birds in the empty lots. It's a great place to see open-country species like Grasshopper, Song, and Savannah Sparrows as well as Dickcissels, Spotted Sandpipers, Killdeer, American Kestrel, Indigo Bunting, and many more. Now is prime time to see the Sparrow species singing in the early morning. They really love the posts that mark the lot lines. I have also found these same species in other "empty lots" west of Randall, so I am assuming one could find them in the same types of settings throughout the Fox Valley. If not, this place always has them. I used to never bother looking at Sparrow species, but I have to say I have really developed a liking to especially the Grasshopper Sparrows. They are a secretive bird until they start singing around their territories and then you can really start to see they have quite a personality for a little brown bird.
If you haven't seen these birds before, both have yellow loral spots, but the Savannah's really is more of a stripe. The biggest thing is that the Grasshopper almost appears to have a flat top of its head and the breast area is not streaked. The Savannah has distinct streaking on its breast. I have included photos for comparison.

Savannah (L) and Grasshopper (R) sparrows photos courtesy Bryan Hix
---
Ken Schneider on 6/10 reported via e-mail: Mary Lou and I visited the prairie at the north end of Nelson Lake in mid-morning, after the rain stopped, our first opportunity to go birding since arriving from Florida. Saw only 20 species, but had lots of goldfinches, Song Sparrows and yellowthroats. I think I heard a distant Sedge Wren along the north perimeter, but heard no Dicksissels or Henslow's Sparrows. Got a photo of a singing Grasshopper Sparrow, one of two we spotted, but I could not hear anything coming out of its open mouth!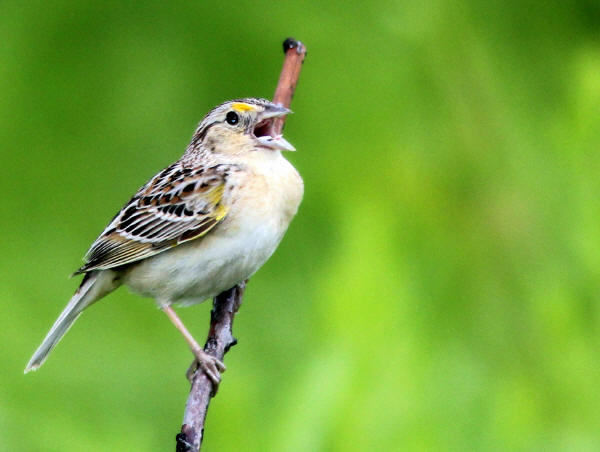 Grasshopper Sparrow photo courtesy Ken Schneider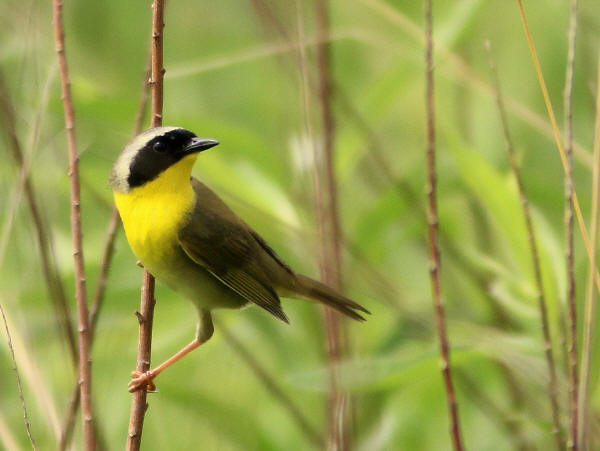 Common Yellowthroat photo courtesy Ken Schneider
---
Tim Balassie on 6/6 reported via e-mail: FYI I encountered a Yellow-breasted Chat last week at Johnson's Mound Forest Preserve (Hughes Rd.). The bird was located in the prairie section on the NE side of the Preserve, in the shrub thicket located to the N when you first enter.
---
Ann Haverstock on 6/5 reported via e-mail: You county tickers can find a singing Clay-colored Sparrow at Campton Forest Preserve. Park in the lower horse trailer lot and the bird is just North of the parking area.
---
Marion Miller on 6/4 reported via e-mail: The monthly Nelson Lake walk was "hot and steamy" yet yielded many "cool moments:" the loud trumpeting croaking that gave us all ample warning to turn and anticipate viewing the near flyby of the vocal Sandhill Cranes, the non-secretive Sedge Wren singing in plain site on the high grasses, a male Common Yellowthroat providing a photographers dream with many clear poses on the tall large flower buds and, of course, the 3 Great Horned Owls that gave us, both flying and long perching views. Some of the participants had not seen an owl in awhile and it was a great experience to share with them. We totaled over 60 species under the "eagle eye" of the leader, Terry Murray.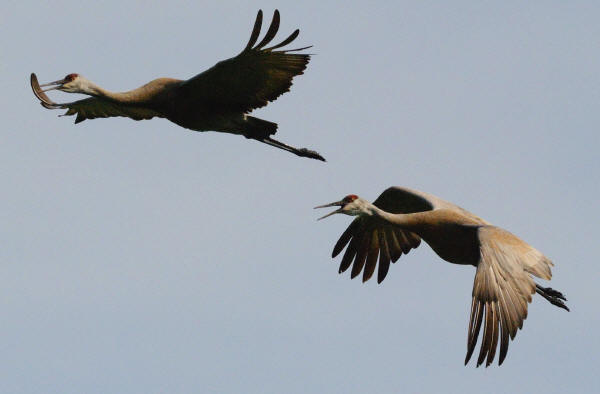 Sandhill Cranes photo courtesy Marion Miller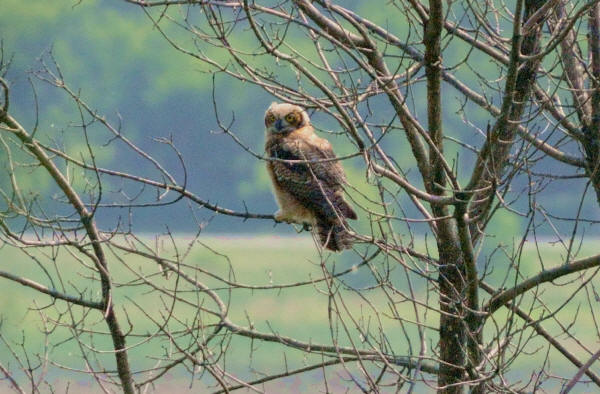 Great Horned Owl photo courtesy Marion Miller
---
Bill Koch on 6/3 reported via e-mail: I visited Otter Creek Bend Wetland today during the warm lunch hour. Kind of quiet today but some good birds were present. On the main trail I heard several and viewed one Virginia Rail. One walked out on the path right in front of me. Had just enough time to take a couple of pics.
On my way out I heard a Bell's Vireo in the parking lot. The bird was very vocal and started scolding me as I got closer to the shrubs on the North end of the Parking lot. It flew from shrub to shrub until I backed away. Once I backed off it began singing its regular song again. Hopefully it is nesting in the area.
Other notable birds were Marsh Wrens, Swamp Sparrows, Cedar Waxwings and Soras.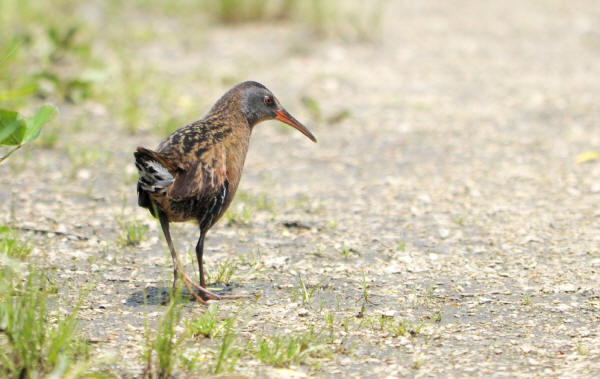 Virginia Rail photo courtesy Bill Koch
---
Ron Dickenson on 6/2 reported via e-mail: ...I just got a call from Mooseheart and they said the Flint Creek Wildlife Rehabilitation people were out tonight to check and see if the adult eagles were feeding the Eaglets but found that they were not being fed so they took the Eaglets out of the nest. They will take them back to Barrington until they are ready to be released. [Editor's note: We'll check on whether Flint Creek anticipates the eaglets can be released.] Here is a picture of them from this morning.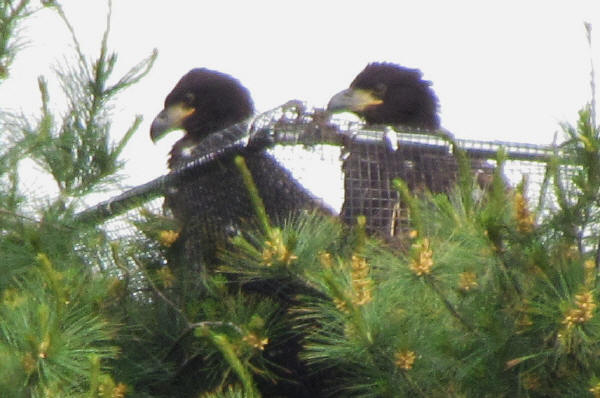 Mooseheart's eaglets on Thursday morning. Photo courtesy Ron Dickenson.
---