---
Ken Schneider on 6/29 reported via e-mail: We visited Hickory Knolls Park in St Charles, Kane County, Illinois for the third time in search of the chat. On June 18 we arrived around 7:30 AM and heard it a few times but failed to see it over about 1 1/2 hours of observation. On June 22 we got there by 6:15 AM and it was very noisy for about a half hour, but again we did not get sight of it. This morning we arrived at 7:20 and it called a few times, but finally showed itself-- barely, and from quite a distance. I even pulled off two shots, one showing the front half and the other its rear. There were a couple of Purple Martin families and the bluebirds were still nesting along with Tree Swallows. A pair of bluebirds was nesting in a box with a downward-facing entrance very near a box occupied by Tree Swallows.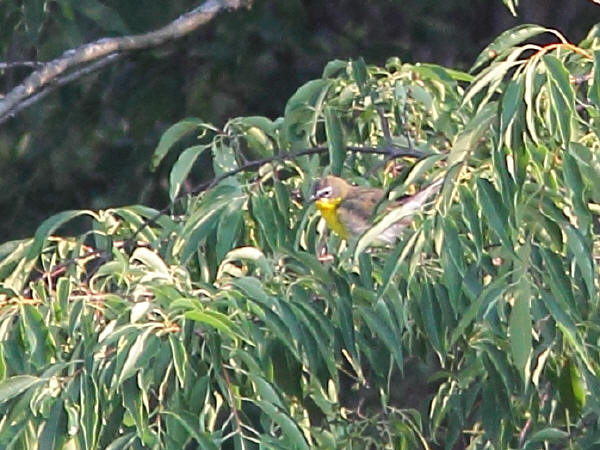 Yellow-breasted Chat photo courtesy Ken Schneider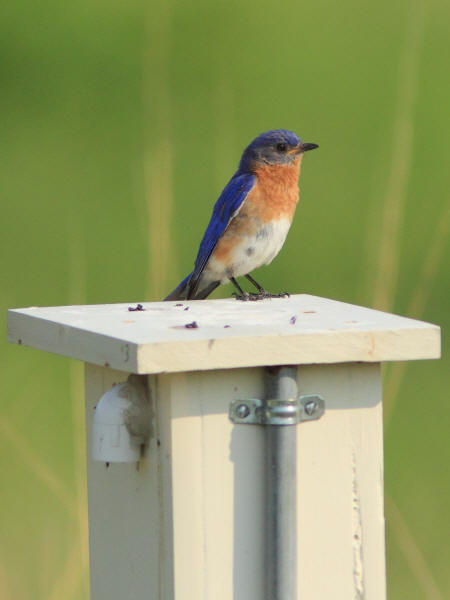 Eastern Bluebird photo courtesy Ken Schneider
---
Chris Mussachio on 6/28 reported via e-mail: Went to Buffalo Park today to try to find the red headed woodpeckers again, and sure got lucky. Saw 2 pairs of adults flying from tree to tree for over an hour and finally 1 juvenile just before I left. I never saw the baby go in or out of a nest, but where I spotted it there was a hole that looked very fresh.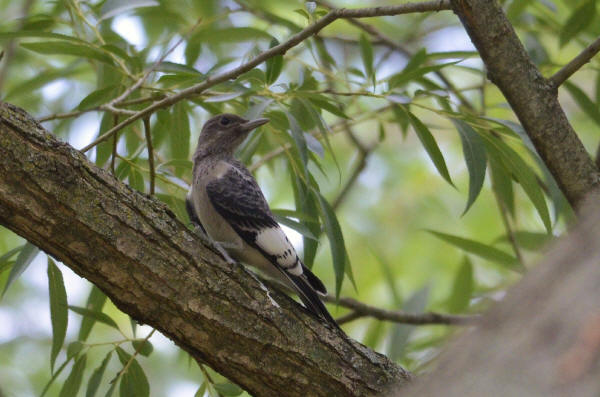 Juvenile Red-headed Woodpecker photo courtesy Chris Mussachio
---
Steve Bailey on 6/28 reported via IBET: ...I've been keeping pretty busy with my summer census work, but below are a few other recent highlights. On the 26th, after a bird census down in DeKalb County, I stopped at Chapman Rd. near Burlington (Kane Co.) to take another stab at Swainson's Hawk. Just after I arrived, Joan Bruchman arrived as well with her Tuesday morning birding group. They brought luck with them, as a call I had been hearing nearby turned out to be the male(?) SWAINSON'S HAWK calling to the female (?) to come out and pick up a morning delivery of rodent for breakfast for the kids! The two hawks flew back and forth near to one another for a couple minutes before the female (?) flew back into the woods and went down, apparently to the nest...

Good birding!
---
Jackie Bowman on 6/27 reported via e-mail: Early this morning, Chris and I headed out to Dick Young Forest Preserve. While we saw/heard no henslow's (our target bird), we did happen upon a large (100+) colony of BANK SWALLOWS. They were hanging around the shelter roof, surrounding trees, and pathway at the North side, mostly immature/juveniles but we did see a few adults as well. We also noticed that while we saw many between 7:00 & 8:00am, by our return to the area at 9:30am there were none to be seen.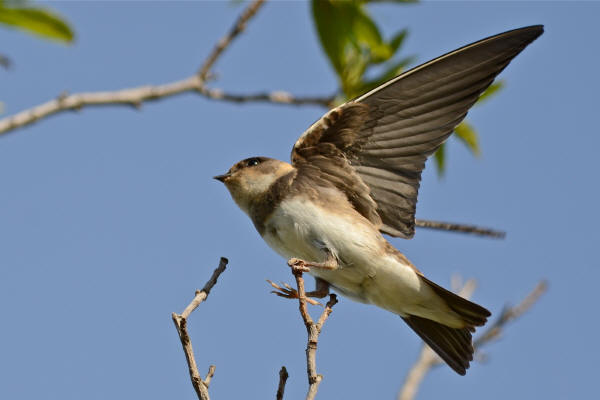 Bank Swallow photo courtesy Jackie Bowman
---
Kurt Frieders on 6/27 reported via IBET: Last night after dinner we spotted a single Common Nighthawk flying over the corner of 3rd and Fulton Streets in Geneva. It circled many times, and was actively hunting and calling. On a side note the female Cedar Waxwing in our yard (Aurora township) has been dutifully sitting on her nest in our Magnolia tree for almost two weeks now. We also have had a Northern Flicker in the yard the past two mornings.
---
Chris Mussachio on 6/25 reported via e-mail: Just this lonely Great Egret on the hunt at Buffalo Park in Algonquin.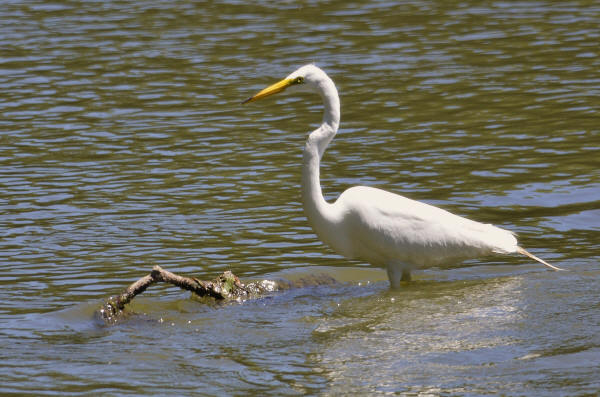 Great Egret photo courtesy Chris Mussachio
---
Eric Secker on 6/24 reported via IBET: We...have quite a few Common Nighthawks out here along the Fox River including four birds that fly over Judson most nights at almost exactly 8:40pm. We have had them in a couple other locations up here as well although I can't completely determine where the Judson birds are coming from.

I haven't heard our usual pair at Spring Hill Mall this year. Last year we had a pair up by the mall and another pair presumably nesting in an industrial area near I-90. A wonderful sight (and sound) on a summer evening!
---
John Cebula on 6/24 reported via IBET: The DuPage Birding CLub had quite a good morning on the west side of Nelson Lake Marsh/Dick Young Forest Preserve. Scott Cohr led the trip, and thirteen people participated. The Osprey was quite a surprise.

Once the participants learned/relearned the song of the Henslow's Sparrow, a number were located. Dickcissels were present in good numbers, as were Eastern Meadowlarks. Only a few Grasshopper Sparrows and Bobolinks were found.

This list is my personal list; other participants may have a somewhat different list.

Nelson Lake Marsh Nature Preserve/Dick Young FP (Kane Co.), Kane, US-IL
Jun 23, 2012 7:15 AM - 10:45 AM
Protocol: Traveling
4.0 mile(s)
Comments: Hazy and warm.
47 species

Wood Duck X
Mallard X
Great Blue Heron X
Great Egret X
Green Heron X
Turkey Vulture X
Osprey 1 Saw large raptor flying in southeast direction over preserve. Light color and bent wing identified it as an osprey. Seen with Fillmore Dryden.
American Kestrel X
Killdeer X
Ring-billed Gull X
Mourning Dove X
Red-bellied Woodpecker X
Downy Woodpecker X
Northern Flicker X
Eastern Wood-Pewee X
Willow Flycatcher X
Red-eyed Vireo X
Northern Rough-winged Swallow X
Tree Swallow X
Barn Swallow X
Black-capped Chickadee X
House Wren X
Sedge Wren X
Marsh Wren X
American Robin X
Gray Catbird X
Brown Thrasher X
European Starling X
Cedar Waxwing X
Common Yellowthroat X
Yellow Warbler X
Field Sparrow X
Grasshopper Sparrow X
Henslow's Sparrow X
Song Sparrow X
Swamp Sparrow X
Northern Cardinal X
Indigo Bunting X
Dickcissel X
Bobolink X
Red-winged Blackbird X
Eastern Meadowlark X
Common Grackle X
Brown-headed Cowbird X
Baltimore Oriole X
House Finch X
American Goldfinch X
---
Darrell Shambaugh on 6/21 reported via IBET: After work today I took advantage of the cool weather and bicycled around the west side of Nelson Lake (west of Batavia) and on the Virgil Gillman Trail near Bliss Woods (Bliss Road north of Sugar Grove). The highlights at Nelson Lake included 16 COMMON YELLOWTHROATS, 15 DICKCISSEL, 9 SEDGE WRENS, 8 HENSLOW'S SPARROWS, at least 9 BOBOLINKS, a FIELD SPARROW, a GRASSHOPPER SPARROW, a SWAMP SPARROW, and pairs of YELLOW WARBLERS and EASTERN PHOEBES. There are a lot of TREE SWALLOWS, including many freshly fledged young. I counted 22 sitting in the trees near the west side observation deck. Other prairie birds included PIED-BILLED GREBE in the little pond by the Main Street parking lot, several NORTHERN FLICKERS, a dozen or so CEDAR WAXWINGS, a couple INDIGO BUNTINGS, and several GREY CATBIRDS. Nelson Lake is low and has some big mud flats around the edge. I didn't see any shorebirds besides KILLDEER, but it looks promising.

I rode east from Bliss Woods on the Virgil Gilman Bike Trail. A few years ago there were Acadian Flycatchers in the woods east of Bliss Road. I've checked this area a couple times this year but found no Acadian Flycatchers. Since it was so cool and cloudy today I thought they might be singing, if they are there. Well, none were singing. I'll have to check again. The most interesting birds in this area are the AMERICAN REDSTARTS along the Virgil Gilman Trail by Prestbury golf course. Redstarts have summered in this area for at least 5 years that I know of. This year is no different. I counted 3 singing today, and I think there are more. There are YELLOW WARBLERS and COMMON YELLOWTHROATS here too, producing a nice 3 warbler day in mid June.
---
Ken Schneider on 6/21 reported via e-mail: Yesterday morning we heard and saw Henslow's Sparrows in three separate territories as we walked the westbound path at the north end of Nelson Lake/Dick Young FP The first bird was about 100 yards east of the old fence line, and the third was just as the path starts up the hill.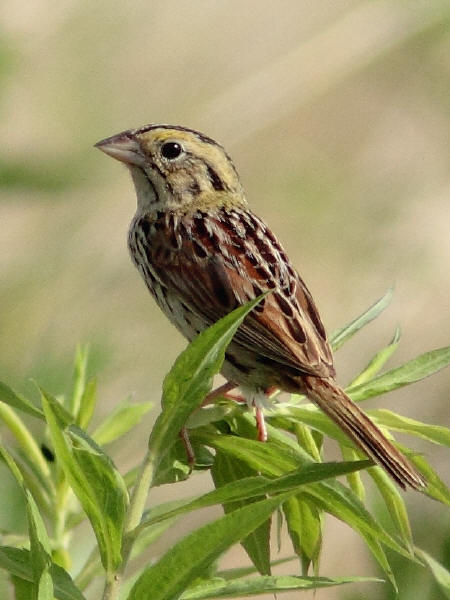 Henslow's Sparrow photo courtesy Ken Schneider
---
Wes Serafin on 6/19 reported via IBET: On Sunday Cindy Alberico and myself tried to get a couple new year birds....We...drove to the town of Burlington, Il. Take the road south out of Burlington called Peplow about one mile to Chapman Rd. Union Cemetery is on the right side and provides high ground good for viewing the skies and soaring hawks. If no results, I was told make a left (east) on Chapman and follow the road as it changes to SE. At this point view eastward to the tree line on the east. The [Swainson's] hawk was seen flying/soaring above this tree line. Thanks to Bob Fischer and Karen Lund for details.
---
Kurt Frieders on 6/19 reported via e-mail: Just this weekend we saw a pair of Cedar Waxwings in our yard (Aurora township) for the first time ever. After observing them, we noticed that they have a nest in our Magnolia tree. They have been sticking very close to the nest and are spotted each time we are in the yard. We also have had some good luck with grassland birds at Nelson Lake. Many Bobolinks, Dickcissels, Eastern Meadowlarks, and Common Yellowthroats allowed us close enough for good pictures.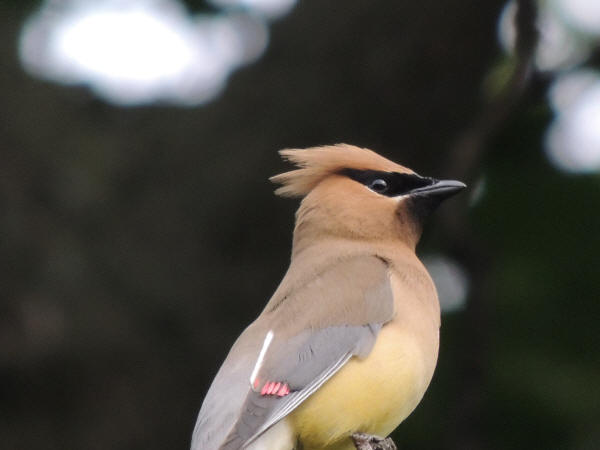 Cedar Waxwing photo courtesy Kurt Frieders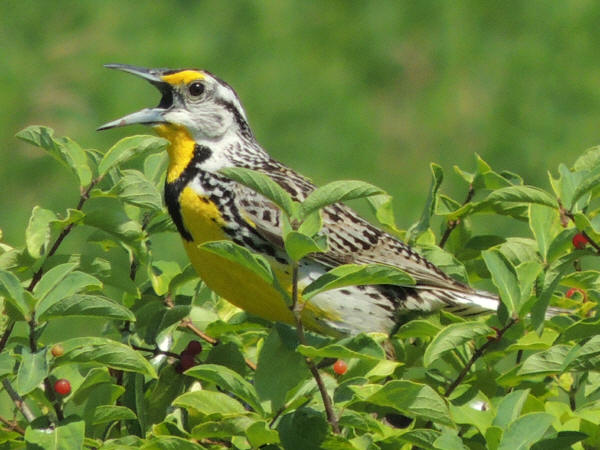 Eastern Meadowlark photo courtesy Kurt Frieders
---
Chris Mussachio on 6/19 reported via e-mail: Went to Cville today to see the eagle that has been there, but he/she was a "no show". But I did stop at the Red-headed woodpecker nest and got a pic of a baby popping his/her head out.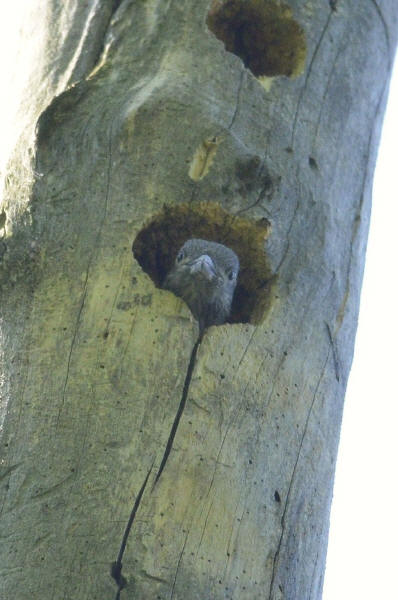 Immature Red-headed Woodpecker photo courtesy Chris Mussachio
---
Christopher Cudworth on 6/19 reported via IBET: Campton Hills Forest Preserve, St. Charles, 6:16 a.m. to 8:30 a.m. (two miles west of St. Charles on Campton Hills Road)

Yellow breasted chat
Indigo bunting
Orchard oriole
Baltimore oriole
Eastern wood pewee
Phoebe
Eastern bluebird
Red eyed vireo
Downy woodpecker
Red-bellied woodpecker
Purple martin
Tree swallow
Rose breasted grosbeak
Blue jay
Field sparrow
House wren
Carolina wren
Cardinal
Song sparrow
Scarlet tanager
Wood thrush
Robin
Cowbird
Red-winged blackbird
Canada goose
Eastern kingbird
Red-tailed hawk
(also, woodland hawk, imm. only a glimpse) likely a red-tailed hawk imm.
---
Margaret Myers on 6/18 reported via e-mail: American Goldfinches getting some relief from the heat in our backyard pond in North Aurora.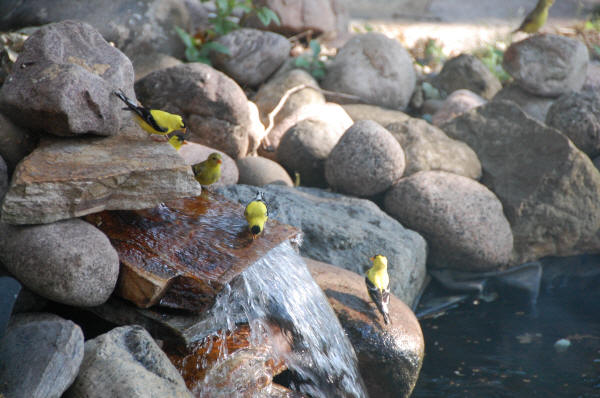 American Goldfinches photo courtesy Margaret Myers
---
Christopher Cudworth on 6/18 reported via IBET: This morning a Carolina wren showed up in our yard in Batavia. This species has been heard singing in the neighborhood well into fall and early in spring, and even all winter one mild year. But never has it moved through our fairly dense row of spruce, pines and ornamental trees singing.

It seemed to be wandering more than protecting or inspecting a potential territory. But it used a fairly broad part of its repertoire of songs, calls and chatter.

A great species of wren to have around.
---
Paul Mayer on 6/15 reported via e-mail: The yellow-breasted chat is still present at Hickory Knolls Natural Area with a companion. Mary and I observed both the morning of June15th. Based on our experience with these birds it appears early morning is best. If you're interested in finding these beautiful birds here are directions: Start on the trail along the boys home fence. Proceed up the wetland past the sign and go another 30-50 yards. You will be able to look north across the wetland and see a large dead tree (grey in color) that stands about 10-15 feet tall. Moving your line of sight to the left you will see a larger dark bush (about 10 feet tall with a branch that rises up from the ground and then goes horizontal. The birds were seen perched and preening on that horizontal branch.
---
Chris Mussachio on 6/14 reported via e-mail: At the Carpentersville dam, a Great Blue Heron that finds this fish tail hard to swallow.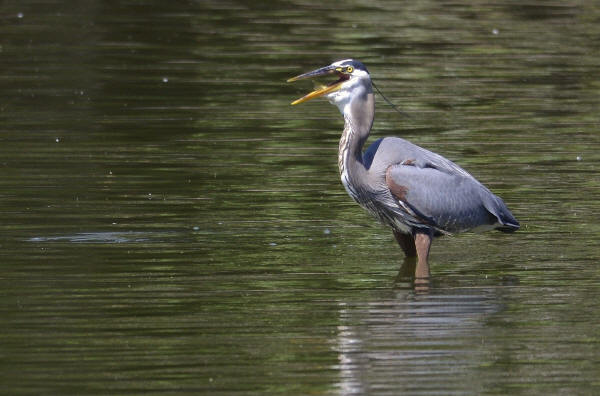 Great Blue Heron photo courtesy Chris Mussachio
---
Demetri Lafkas on 6/14 reported via eBird: Briefly seeing a Little Blue Heron at about 1 PM at Grunwald Farms Forest Preserve.
---
Jim Narovec on 6/14 reported via e-mail: On 6/14/2012 about 8am, spotted a Adult Bald Eagle from the Fox River Trail in the middle of the Fox River sitting on a protruding branch of a partially submerged tree, north of the Carpentersville Dam and west of the chemical plant. Have not seen one in this area since February, wonder if its one of the pair that seems to be nesting in this area.
---
John Janunas on 6/12 reported via e-mail: This guy popped up for a photo op while I was on a stroll around Dick Young Forest Preserve.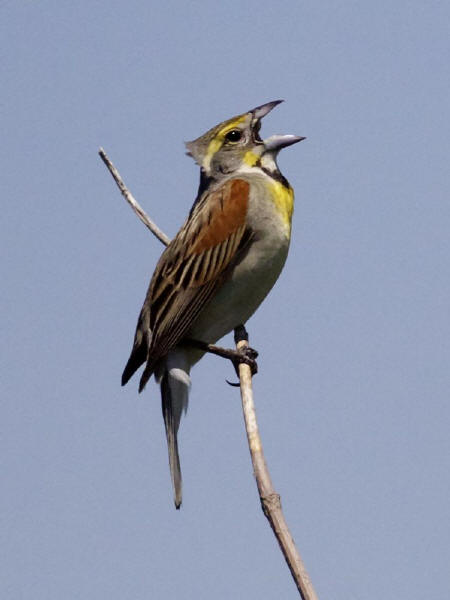 Dickcissel photo courtesy John Janunas
---
Chris Mussachio on 6/12 reported via e-mail: Went to Dixie Briggs Fromm Nature Area in Dundee Township today and saw three or 4 green herons. And, here is an update pic of our Red -tailed hawk and baby from yesterday in Dundee.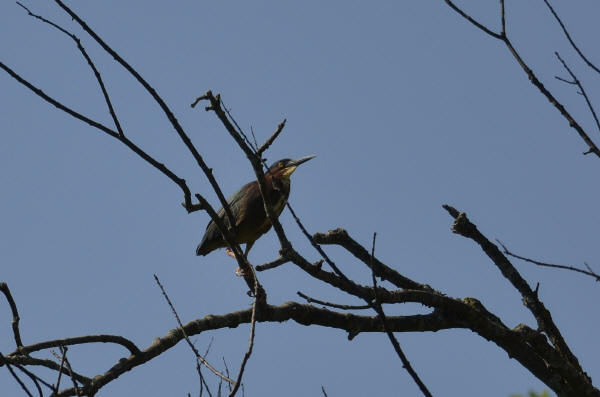 Green Heron photo courtesy Chris Mussachio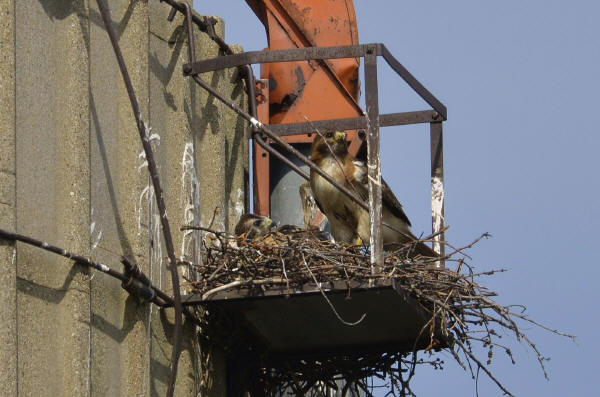 Red-tailed Hawk and chick photo courtesy Chris Mussachio
---
Steve Myers on 6/11 reported via e-mail: Spotted these young Great Blue Herons at the wetlands north of I-88 in North Aurora on Friday.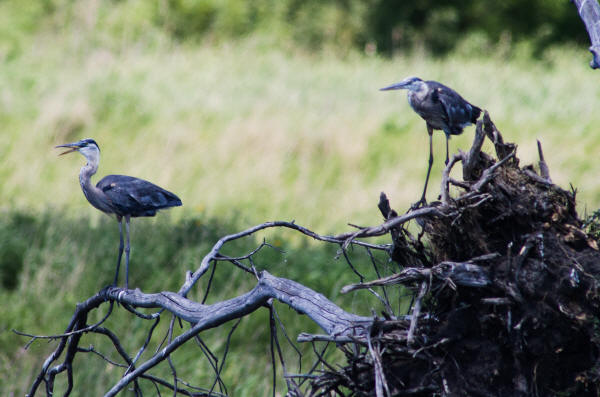 Great Blue Herons photo courtesy Steve Myers
---
Chris Mussachio on 610 reported via e-mail: Saw a pair of Red Headed Woodpeckers at Buffalo Park, but could not find where they had a nest.
---
Deb Russo on 6/9 reported via e-mail: Saw my first indigo bunting in Delnor Woods Park at 7:45 pm. Must have been a male since I think they're the completely blue coloring.
---
John Janunas on 6/9 reported via e-mail: Nesting outside my front door.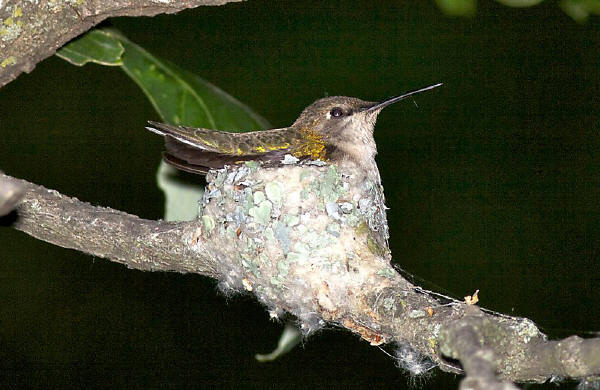 Ruby-throated Hummingbird photo courtesy John Janunas
---
Ann Haverstock on 6/8 reported via e-mail: From Campton Forest Preserve on 6/7, a sight not often seen - a nesting female Dickcissel.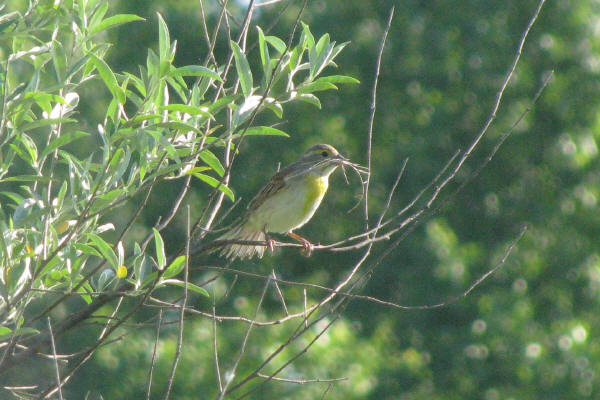 Female Dickcissel photo courtesy Ann Haverstock
---
Al Stokie on 6/6 reported via IBET: Hello Bird People,

Today I started at Johnson's Mounds for 2 reasons. First I wanted to see if the White Eyed Vireo reported last week by Christopher C. was still around but it was either gone or just not singing when I was there. Secondly I hadn't been there for a long time so it was time for a return visit. Being there reminded me that about 10 years ago I was trying to add Henlow's Sparrow to my Kane Co life list & I decided that this place looked like it should have one. It looked right habitat-wise & the birds that were there were the ones you'd see with Henslow's at other locations. But I tried a couple of times for 3 or 4 years in a row & never found a Henslow's. Then I got my Kane Co Henslow's elsewhere & never did get back to Johnson's Mounds. So today on my way back from not finding the Vireo what do I hear in the field but one Henslow's Sparrow. It took me a while but I finally got to see it well as it wasn't very far away. So it looks like I was right after all but 10 years is a long time to wait for it to happen. Not much else here except the regulars which I will list below:

Eastern Pewee, Great Crested Flycatcher, Eastern Phoebe, Blue Jay, Chickadee, W.B Nuthatch, Wood Thrush, Robins, House Wren, Red Eyed Vireo, Cardinal & Indigo Bunting.

Open Areas (fields & shrubs)

Willow Flycatcher (2 seen & 2 heard)
Tree Swallow (2 flying)
Eastern Bluebird (1-M)
Catbird (2)
Brown Thrasher (1)
Starlings (few)
Yellow Warbler (3)
Common Yellowthroat (2 seen & more heard)
Field Sparrow (3-4)
HENLOW'S SPARROW (1 singing)
Song Sparrow (3 singing)
DICKCISSEL (10-12 males & females)
BOBOLINKS (4-M & 2-F)
Red Wings
Eastern Meadowlarks (4-5)
Goldfinch (6-8)

I may have heard a Chat but it was far away & only called once so I may NOT have heard a Chat?

My next stop was Leroy Oaks where I have seen White Eyed Vireo over by the parking area for the Great Western Bike Trail but as before I did not find one today. The only species I saw here that was new for the day was one Cedar Waxwing.

After lunch my last stop was at Burnidge F.P., another spot I have not visited in several years & as I started walking the trails I was in for quite a surprise! They had redone the trail system since I was last there. There was one area where I usually found Chats, Blue Winged Warblers & Orchard Orioles but the trails no longer go to that area so I not only could not find any of those birds but I couldn't even figure out where the proper area was. Looks like this place will have to be figured out all over again when I have time to just spend half a day exploring.

Burnidge Marsh Area

Great Blue Heron (2), Great Egret (7), Canada Geese, Wood Duck (1), Mallards, Killdeer (1), Spotted Sandpiper (1), Barn Swallows & Red Wings.

Burnidge Open Areas

Willow Flycatchers (4), Eastern Kingbird (1), Blue Jay (1), House Wren (heard 2), Eastern Bluebird (1-2), Robins, Catbird (2), Brown Thrasher (1), Cedar Waxwing (2), Yellow Warbler (2), Common Yellowthroat (4), Red Eyed Vireo (heard 1), Dickcissel (6-7), Eastern Towhee (1-M), Field (5) & Song (7) Sparrows, Bobolinks (6), Red Wings, Eastern Meadowlark (3), Grackles, Cowbirds & Goldfinch.

Bird-Of-The-Day will be the Henslow's Sparrow who made me wait 10 years before I could finally say "I told you so".
---
Chris Mussachio on 6/6 reported via e-mail: Birds of note seen today near the Carpentersville dam: nesting Red-headed Woodpeckers, Eastern Kingbird, Great Blue Heron.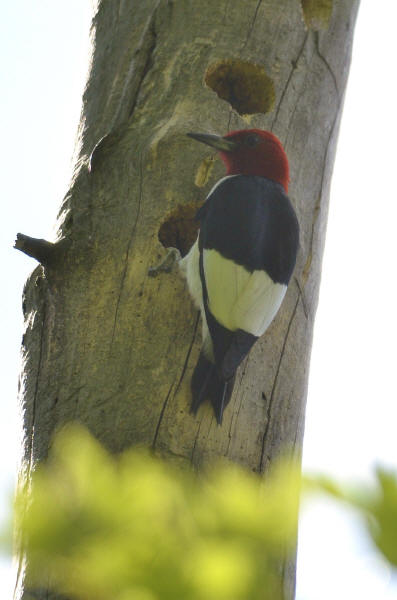 Red-headed Woodpecker photo courtesy Chris Mussachio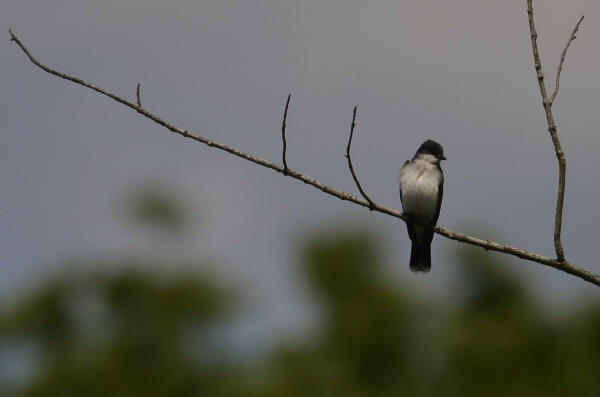 Eastern Kingbird photo courtesy Chris Mussachio
---
Bill Baar on 6/5 reported via e-mail: Two Sandhill Cranes flew at tree top level Sunday, May 27th, and about 5:30 AM in front of my house at 6N825 Splitrail Lane. They were headed south and were very noisy cranes. I think they're nesting in that marshy area west of Denker and north of Bolcum.
---
Eric Secker on 6/5 reported via e-mail: While eating dinner at the Sonic on Randall Rd. in Algonquin on Sunday we saw a HORNED LARK fly into the vacant lot to the south and spend a long time working through the lot.
---
Julie Long on 6/4 reported via e-mail: While searching for red headed woodpeckers today at Persimmon Woods preserve in ST Charles, I heard and saw an Acadian flycatcher. It was on the east side of the park, near the homes. I did not find any red headed woodpeckers there, or in Delnor Woods in St Charles.
---
Chris Mussachio on 6/4 reported via e-mail: I checked in today with the Red-tailed hawk nest in Dundee and everything looks good.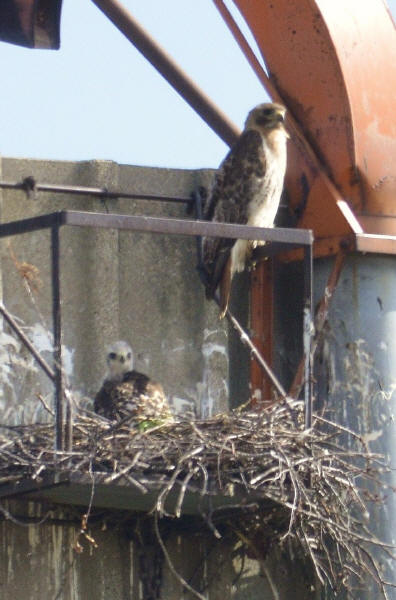 Red-tailed Hawk and chick photo courtesy Chris Mussachio
---
Karen Land on 6/3 reported via IBET: Passing through the intersection of Randall Road and Orchard Road today and spotted 2 adult Sandhills and 2 offspring feeding in the planted field at the Northwest corner.
---
Laura Werner on 6/2 reported via IBET: On Friday I did some casual birding as I walked my dog at Aurora West. Notables included GC FLYCATCHER and a possible breeding pair of SCARLET TANAGERS in the woodlot (visual on 1 male, another bird calling nearby), a BELL'S VIREO singing near the airplane field, a YELLOW WARBLER feeding fledglings.
---
Chris Mussachio on 6/1 reported via e-mail: Spotted in Carpentersville today: Barn and Tree Swallows, Red-headed Woodpeckers, Double-crested Cormorant, and Great Blue Heron.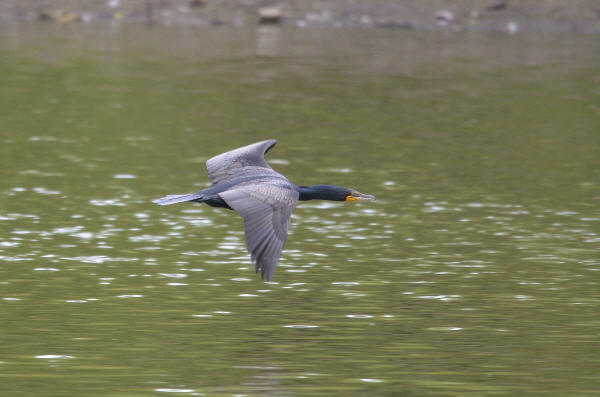 Double-crested Cormorant photo courtesy Chris Mussachio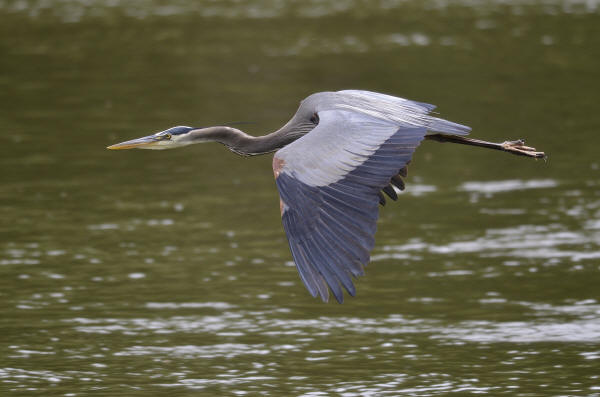 Great Blue Heron photo courtesy Chris Mussachio
---