---
Kurt Frieders on 6/30 reported via e-mail: Even though we are getting into the heart of summer, we have continued to see a lot of good birds in our yard (in Aurora township). Our adult male Baltimore Oriole continues to eat jelly from his feeders. Yesterday brought the 2nd ever White-Breasted Nuthatch to our yard. For some reason they do not like the habitat in our yard, but this adult male stayed around most of the day. We continue to have 4 Chimney Swifts, and are up to 6 Cedar Waxwings. Most of our nesting Barn Swallows have now fledged, but a few are still in the nest. We get an aerial display of Barn Swallows each night. We also are continually visited by the usual suspects such as Cardinals, Blue Jays, Downy Woodpeckers (with fledglings), Goldfinches, and House Finches.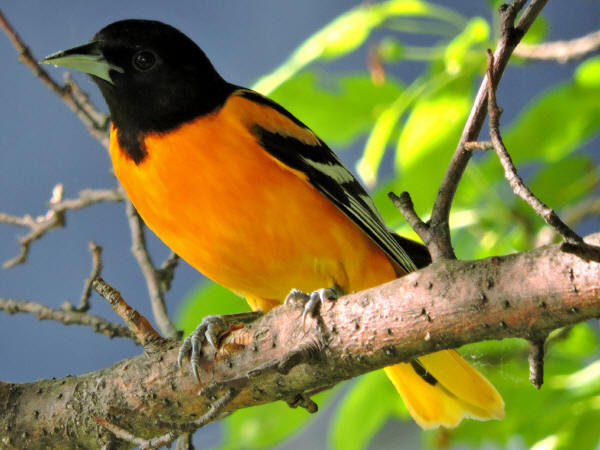 Baltimore Oriole photo courtesy Kurt Frieders
---
Bob Meierhans on 6/29 reported via e-mail: Note the rapid growth in the chicks from the last set of photos I sent to you! While I can capture photos of all four cranes grouped at times, they now mostly travel in pairs...in what seems to be mother and daughter and father and son...judging purely by mannerisms. For example, Sandy, what we have called the male for the last six years, frequents our patio, often pecking at my floor-to-ceiling windows. Junior follows him closely while the female and other chick stay farther out on the patio or even in the yard.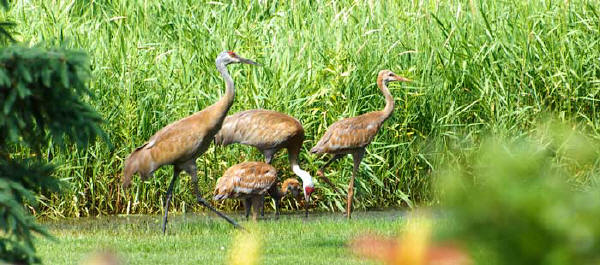 Sandhill Crane family photo courtesy Bob Meierhans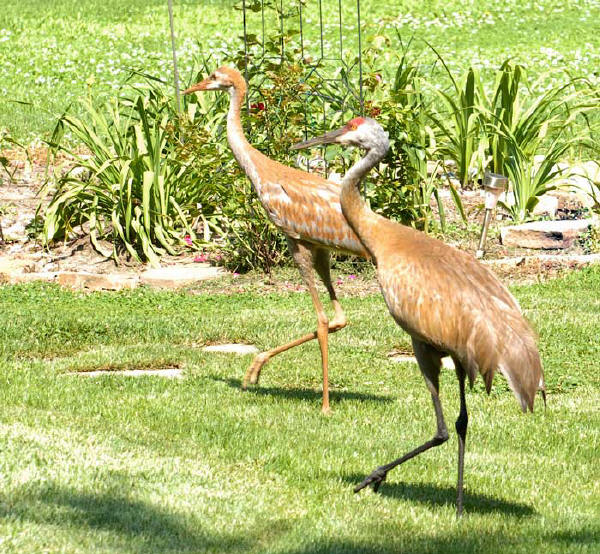 Father and son (?) photo courtesy Bob Meierhans
---
Chris Mussachio on 6/23 reported via e-mail: Found my 2nd pair of Red-Headed Woodpeckers nesting this season and my first ever Orchard Oriole at Buffalo Park over the weekend.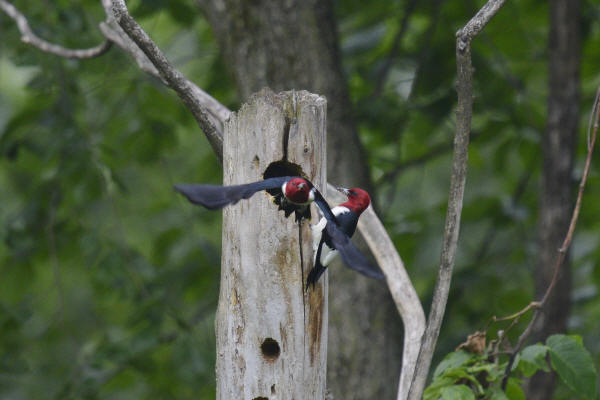 Red-headed Woodpeckers photo courtesy Chris Mussachio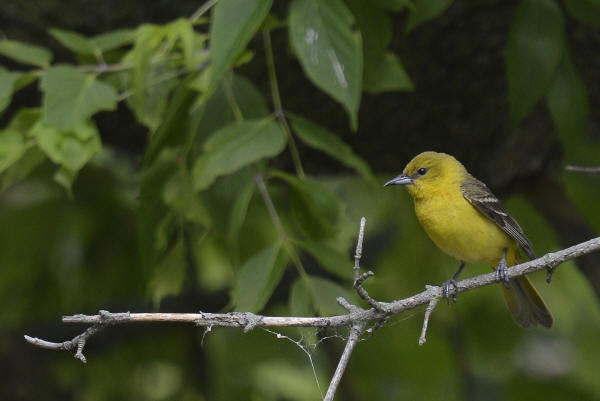 Orchard Oriole photo courtesy Chris Mussachio
---
John Janunas on 6/22 reported via e-mail: It looks like maybe one more day before these guys fly the coop (nest). They have been practicing with their wings but haven't left their Batavia nest yet.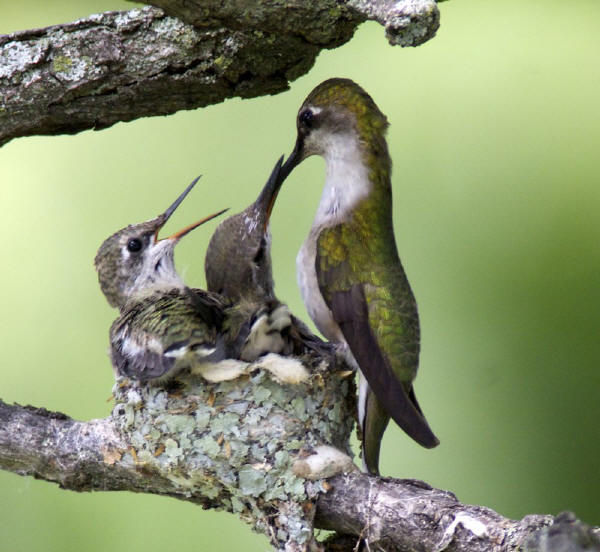 Ruby-throated Hummingbird family photo courtesy John Janunas
---
Eric and Sally Secker on 6/21 reported via IBET: We found a Prothonotary Warbler at Lippold Park this afternoon. It was singing down by the river north of the new picnic shelter area along a path down to the river. It could be one of the same birds from Les Arends which is directly across the river.
We also had an adult Red-shouldered Hawk fly over Rt. 25 just south of the Red Gate Rd. bridge and a second immature Red-shouldered at Norris Woods.
---
Bob Meierhans on 6/20 reported via e-mail: The Sandhill cranes still come to our back patio in Elburn/Sugar Grove, but mostly prefer the garden areas. The "chicks" do everything their parents do now, including flying! The views in the potatoes were taken this afternoon from about 60 yards away.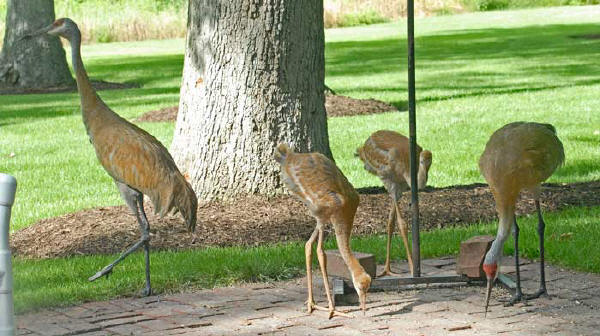 Sandhill Cranes family photo courtesy Bob Meierhans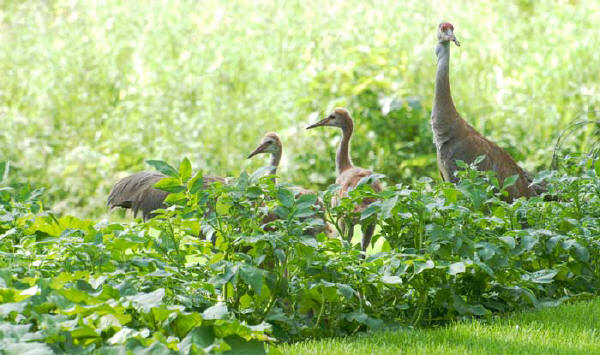 Sandhill Cranes digging potatoes photo courtesy Bob Meierhans
---
Rich Miller on 6/20 reported via e-mail: Marion and I were doing our weekly Kestrel Box monitoring today. Last week we had several eggs in two separate boxes at Mooseheart. Today we have little hatchlings. Fun to watch. The Eastern Bluebirds are along Mooseheart Road. The Tree Swallows are in the middle box.

---
Jude Vickery and Pete Moxon on 6/20 reported via eBird: Seeing an American Bittern, a Black-crowned Night-Heron, and several Yellow-headed Blackbirds at the Pingree Grove water treatment plant marsh.
---
Eric Secker on 6/20 reported via IBET: I dreamt I was hearing a Northern Parula and woke up to one singing outside our bedroom window at Judson University around dawn this morning. It's fun to ID birds in your sleep and also to get birds without even getting out of bed.
---
Sue Wagoner on 6/9 reported via e-mail: At the risk of being redundant - I had to get a better photo of one of my favorite birds, the Bell's Vireo at Aurora West Forest Preserve. Of the two pairs previously reported, the male at the second power line tower is the more visible and today he popped out in the sun!!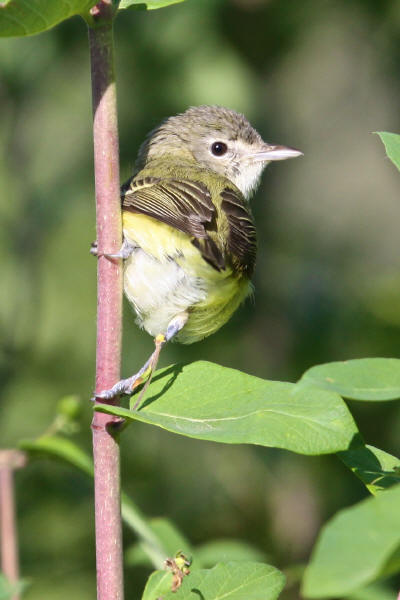 Bell's Vireo photo courtesy Sue Wagoner

AND, Love is a juicy green worm!!! (backyard, through window).
Northern Cardinals sharing photos courtesy Sue Wagoner
---
Chris Madsen on 6/8 reported: Carla and I visited Prairie Green this afternoon. The main basin held somewhere around a three-quarter acre pond hosting a group of Mallards, a half dozen Killdeer, and a couple of Spotted Sandpipers. The fields were full of Red-winged Blackbirds, Dickcissels, and a number of Henslow's Sparrows.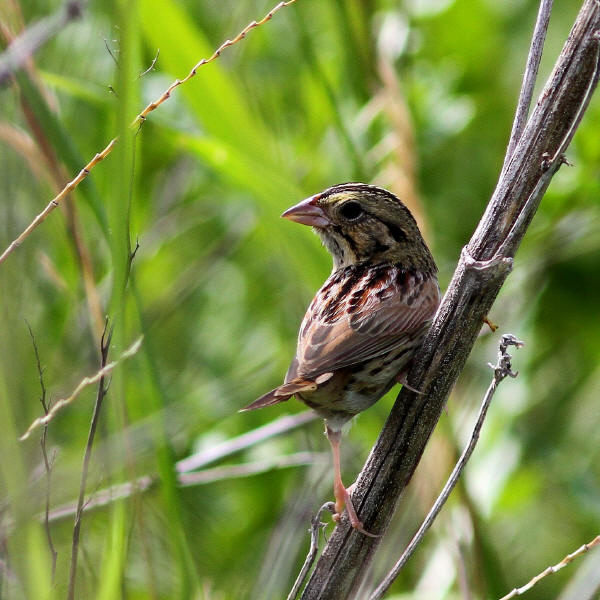 Henslow's Sparrow photo courtesy Chris Madsen
---
Bob Andrini on 6/3 reported via e-mail: On the ramble today (Tues), at Johnson's Mound, almost the first bird we saw was a Yellow-billed Cuckoo openly perched in the sunlight (we also saw a second in the same area). In the northern field we were treated to many Dickcissel, Bobolinks and Common Yellowthroats.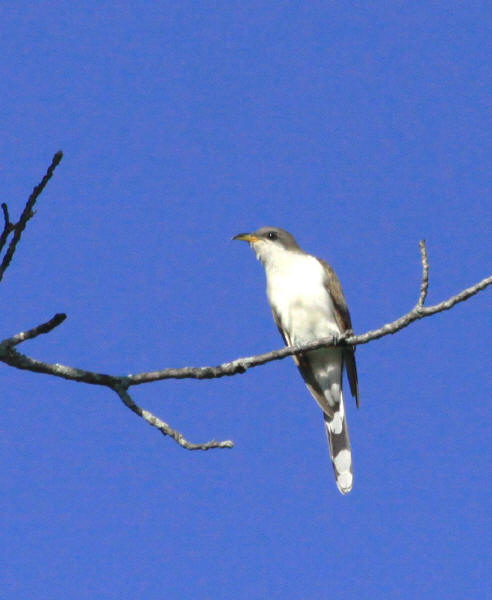 Yellow-billed Cuckoo photo courtesy Bob Andrini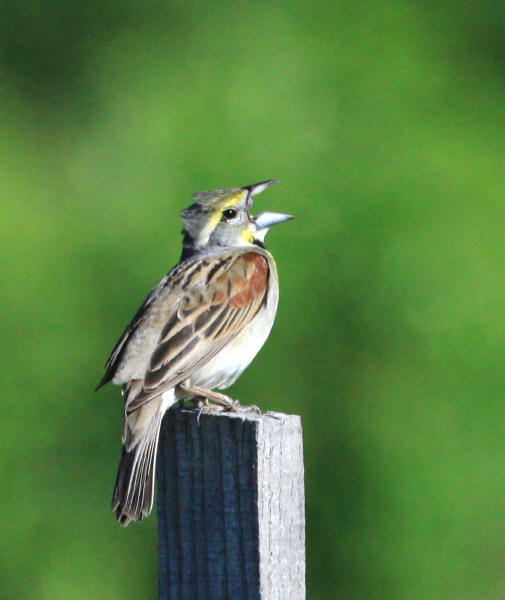 Dickcissel photo courtesy Bob Andrini
---
Chris Mussachio on 6/3 reported via e-mail: Almost missed spotting this Juvenile Cooper's Hawk ( I.D. thanks to Brendon Lake ) at Burnidge Forest Preserve. And, for the 3rd year now, this Red-Tailed Hawk will be raising 2 little ones instead of her usual 1 in Kane County.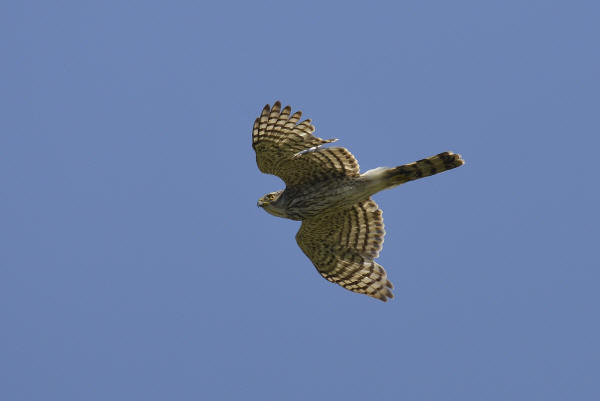 Cooper's Hawk photo courtesy Chris Mussachio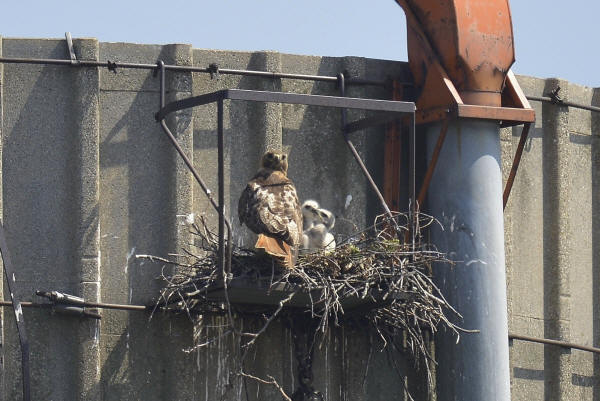 Red-tailed Hawks photo courtesy Chris Mussachio
---
Scott Cohrs on 6/2 reported via eBird: A White-rumped Sandpiper at James O. Breen Community Park in St. Charles. Jude Vickery had Semipalmated and Spotted sandpipers in the same area according to his eBird report.
---
Sue Wagoner on 6/2 reported via e-mail: John Duerr's walk at the Nelson Lake prairie Saturday, May 31 produced quite a few grassland birds, among which were these Grasshopper sparrows (at least 4-6 were seen/heard). I thought the difference in the facial markings for these two individuals was interesting.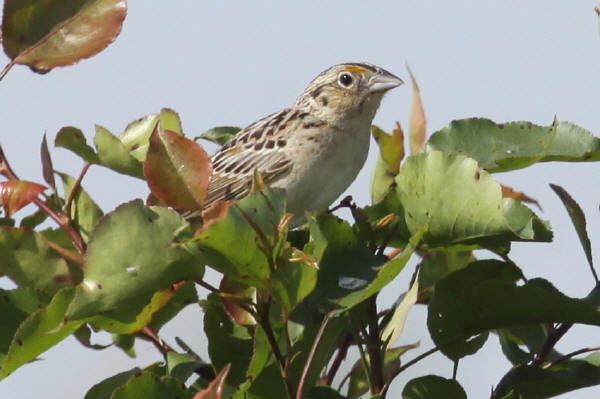 Grasshopper Sparrow photos courtesy Sue Wagoner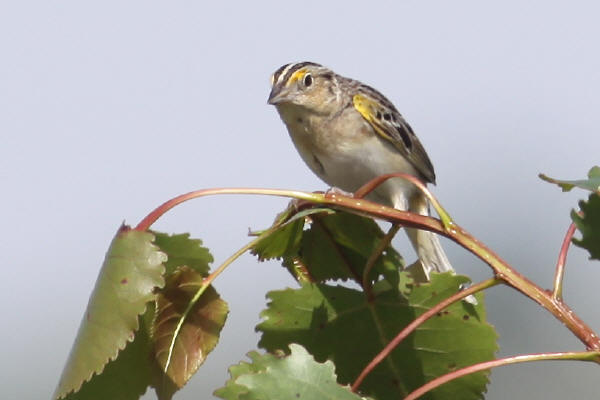 ---
Ted Schnell on 6/2 reported via e-mail: The great blue heron rookery is simply amazing out at Rutland Forest Preserve, off Big Timber Road about two miles west of Route 72.
I've attached a photo I took May 22, 2014 at Rutland. You can view more of my photos on my blog.
I've counted as many as five nests but believe there are more, largely because of all the squawking I hear from the young birds. I shoot from the trail with a long lens and have been very blessed to spend an hour or so each time I visit, which is once or twice a week.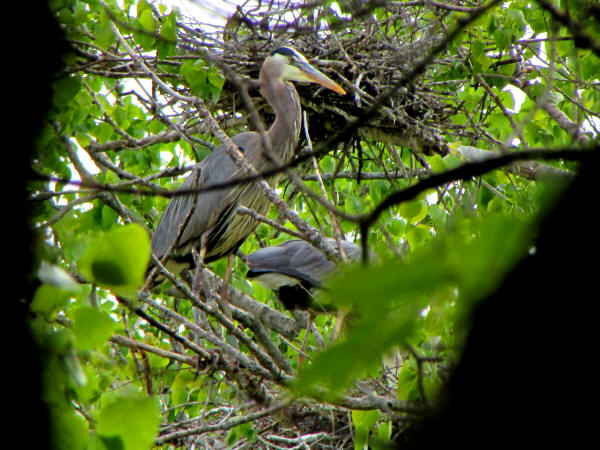 Great Blue herons photo courtesy Ted Schnell
---
Margaret Myers on 6/1 reported via e-mail: A family of Red Tail Hawks has made a home in North Aurora.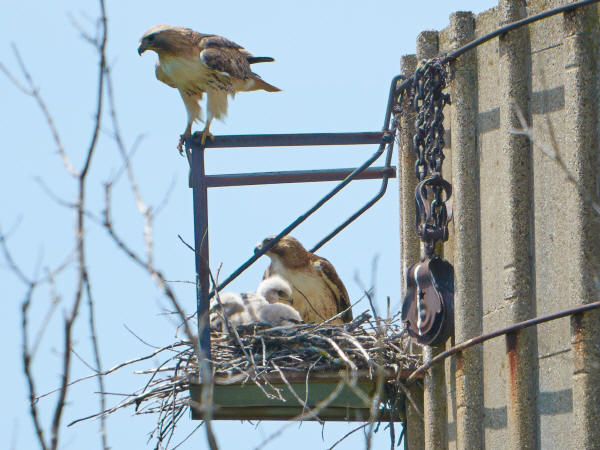 Red-tailed Hawks photo courtesy Steve Myers
---