---
Sue Wagoner on 6/30 reported via e-mail: This is the time of year I start looking for interesting "bugs" and here are two of what I have seen. The Thin-Legged Wolf Spider was seen at Jon Duerr Forest Preserve on the tracks. It froze while we inspected it but quickly departed once we started moving away. Some Wolf Spiders carry their egg sac in front, and some in back. And yes, the egg sac is really that color!! Another bit of color was seen on this Metallic Woodborer Beetle that I rescued from my rain tub. I have a lot of dead wood I leave in my yard for just this reason!!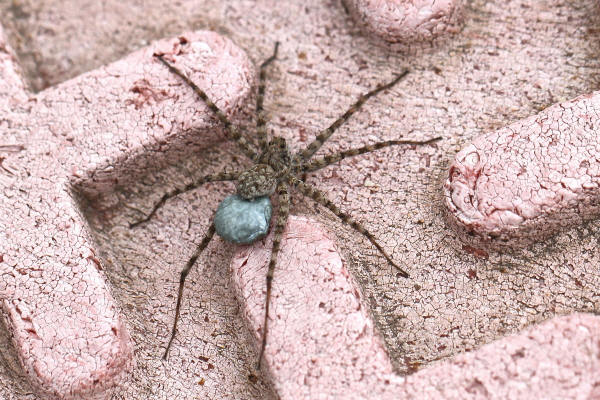 Thin-legged Wolf Spider photo courtesy Sue Wagoner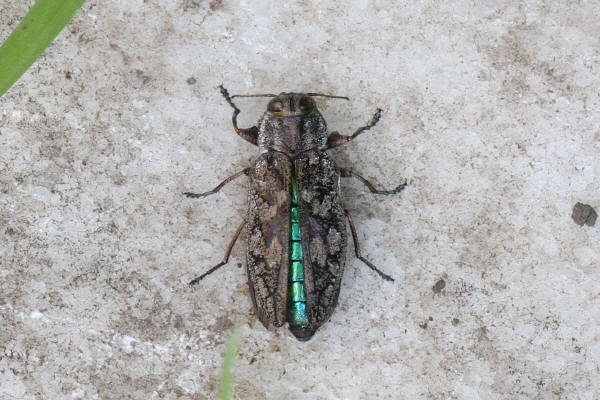 Metallic Wood-boring Beetle
---
Diane Hansen on 6/30 reported via e-mail: Sunday I walked the river heading north from Otto in Carpentersville. Once I knew it was time to head back I reluctantly turned around hoping, as always, for just one more bird! In the same are that the eagle was sighted I spotted this Yellow Warbler preening in a tree. A nice bird for a short outing on a beautiful day.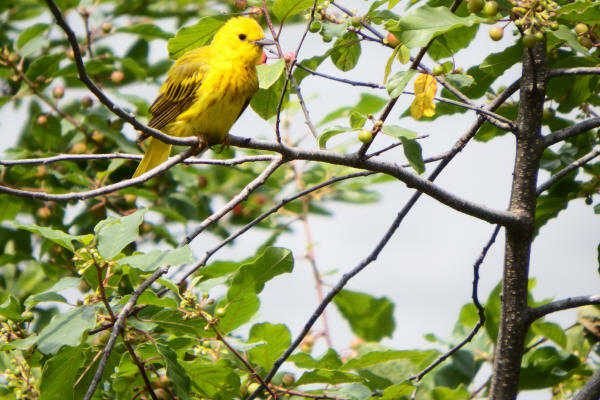 Yellow Warbler photo courtesy Diane Hansen
---
Tim Balassie on 6/30 reported via text: At noon, there were 7 Caspian Terns on a fluddle on Seavey Road west of Deerpath.
---
Jill Hruska on 6/28 reported via e-mail: I saw two Sandhill Cranes in the farm field in back of our Elburn house, just east of the Metra train station access road and north of Keslinger Road. Saw them walking south in the field from our home's deck. I jumped in the car to get a look at the birds and took the first couple of pictures from Keslinger, looking north. The birds got spooked and flew across to the south side of Keslinger, just north of the enclave of duplexes.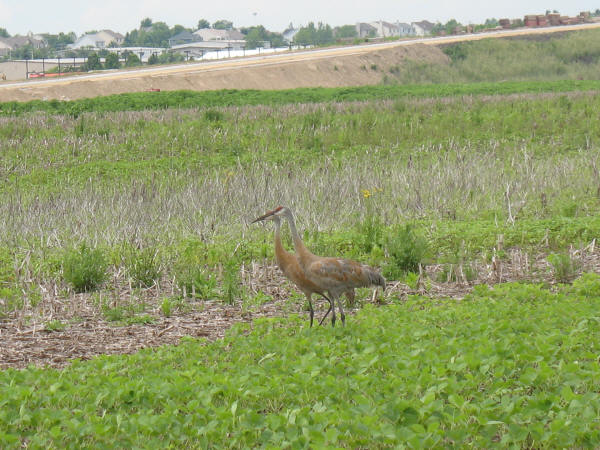 Sandhill Cranes photo courtesy Jill Hruska
---
Al Stokie on 6/28 reported via IBET: ...I had already seen the Burlington Swainson's Hawk with Andy S a little while ago but Bob still needed it for his year list. Arrived at the Chapman Road pull offs by 7:45 a.m. to find that road loaded with bikes driven by many, many folks from a bike club located on Plato Rd. This made the drive there difficult but Bob got us safely through the heavy bike traffic & we parked at 1 of the pull offs. Sat there a while as Turkey Vultures & Barn Swallows flew by in good numbers. At exactly 8:30 a.m. one SWAINSON'S HAWK flew out of the taller trees & sat in a smaller tree near the road for a few minutes. Then it flew away from Chapman Rd & disappeared from view. Good thing we were there when we were...
---
Ken Schneider on 6/28 reported via e-mail: Yesterday (June 27) I heard and then saw a Wood Thrush at Les Arends FP near the river along the bottom lands path that leads east from the bike path. It landed fairly close by but only momentarily. I am quite certain that I heard a second one singing not far away. Heard another singing at Hickory Knolls this morning.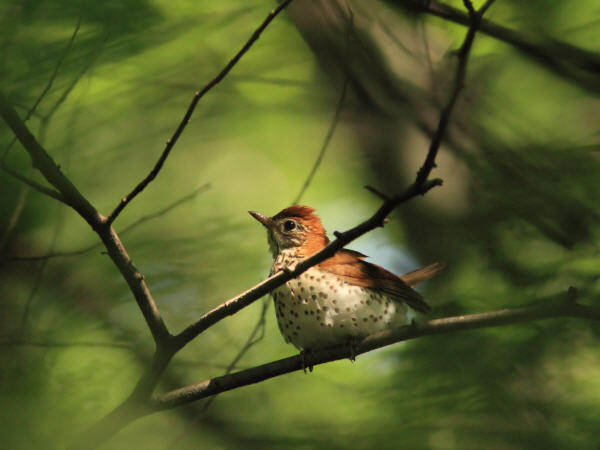 Wood Thrush photo courtesy Ken Schneider
---
Walter Lutz on 6/28 reported via e-mail: RW blackbird @ Muirhead Springs Forest Preserve - parents very close by keeping an eye on me.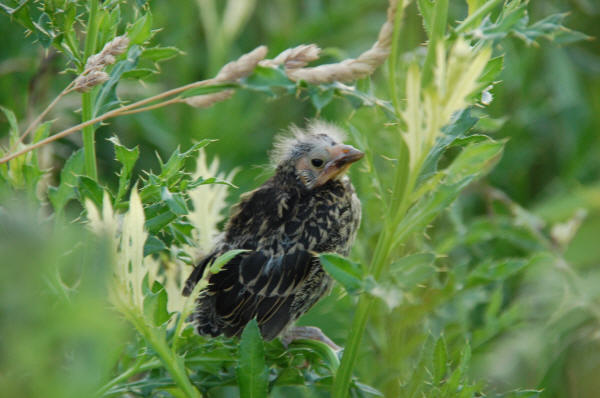 Red-winged Blackbird photo courtesy Walter Lutz
---
Jackie Bowman on 6/28 reported via e-mail: On Satuarday, June 27th we spent a few hours roaming the prairie of Burnidge Forest Preserve. We were fortunate to find our target bird within minutes of arriving! Three Henslow's Sparrow entertained us with the song and flight!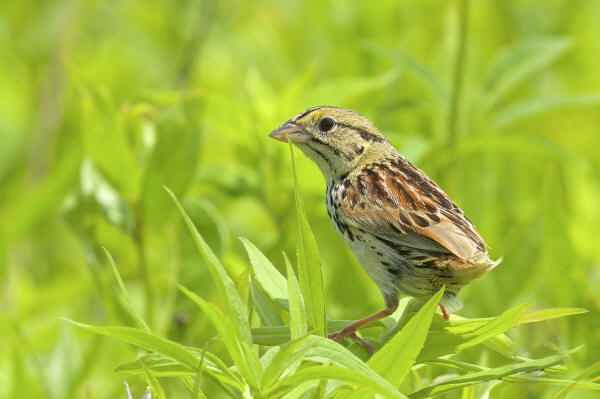 Henslow's Sparrow photo courtesy Jackie Bowman
---
Dianne Trautt on 6/27 reported via e-mail: I was out riding along the Fox River bike path about .7 of a mile north of Otto & Sons in Carpentersville around 11:30 this morning and once again spotted a white pelican. This time just the one. However in the river about 50 yards away was a bald eagle that was sitting on a downed tree in the middle of the river. I was told that this eagle is there most days in case anyone wants to see him.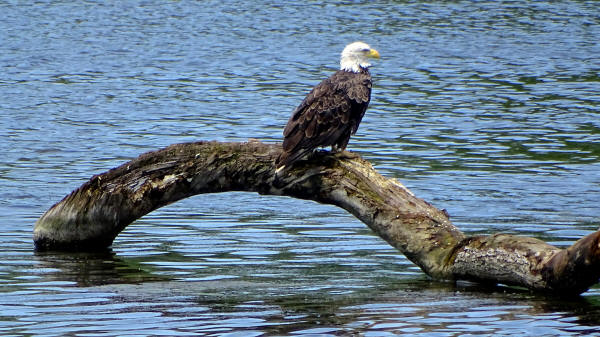 Bald Eagle photo courtesy Dianne Trautt
---
Kamri Veal on 6/26 reported via e-mail: Turkey vulture eating a dead raccoon on Larkin Ave in Elgin Il.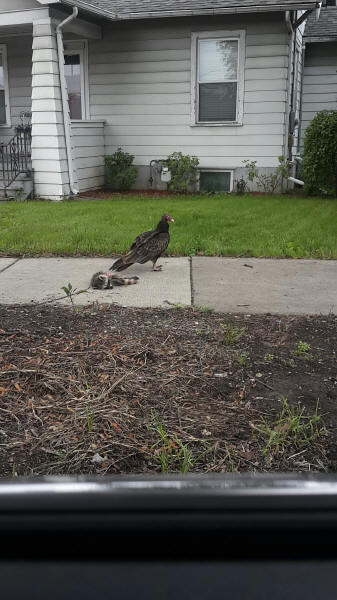 Turkey Vulture photo courtesy Kamri Veal
---
Dianne Trautt on 6/26 reported via e-mail: Today June 26th I saw 6 white Pelicans in the fox river just about a mile north of Otto and Sons in Carpentersville. I was riding my bike along the bike path when I spotted them.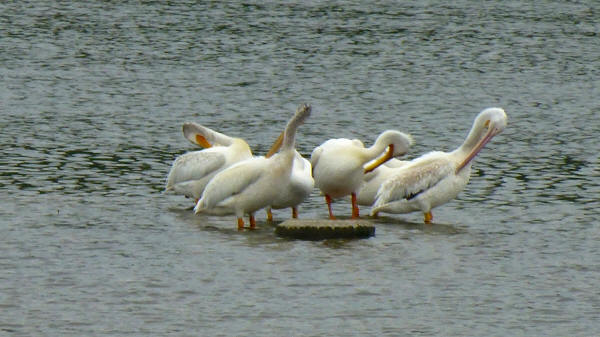 American White Pelicans photo courtesy Dianne Trautt
---
Jackie Bowman on 6/24 reported via e-mail: A pair of Tree Swallows have set up house in my son's newspaper box underneath his mail box in Geneva. Needless to say getting the mail these days has been somewhat difficult with the mom and dad keeping watch over their nest with four newborns inside.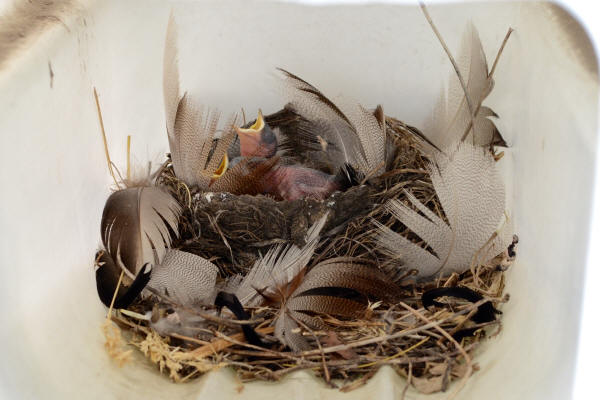 Tree Swallow nest photo courtesy Jackie Bowman
---
Walter Lutz on 6/21 reported via e-mail: Took the long loop walk at Muirhead Forest Preserve this morning and at the western edge saw very unusual bird. Had no idea what it was - studied it as long as I could and hightailed to the car to check my field guidebook. Western Kingbird - nice looking bird.
---
Diane Hansen on 6/19 reported via e-mail: Yesterday I was at my favorite post-Jazzercise birding spot above the S. Elgin dam and saw a Black Crowned Night Heron in a tree. Today on the way home I spotted a baby Mourning Dove in the middle of the street. When I got out to make sure it was all right it flapped it's way over toward the grass so I left it there to avoid scaring it any further.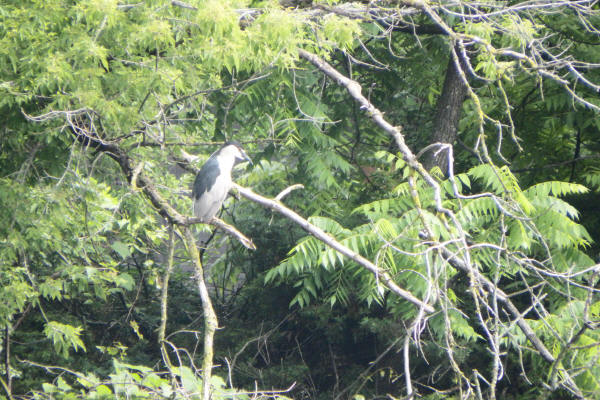 Black-crowned Night-Heron photo courtesy Diane Hansen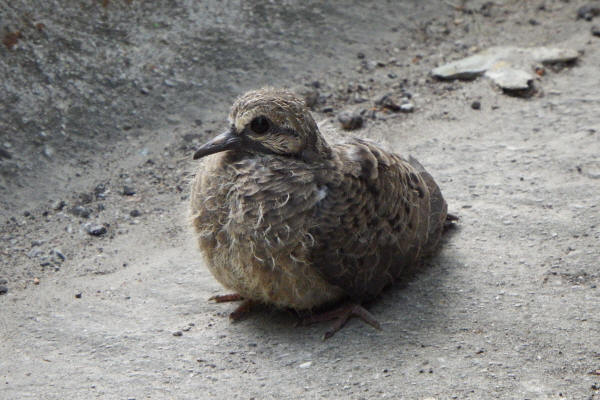 Mourning Dove photo courtesy Diane Hansen
---
Bill Ahlgren on 6/18 reported via e-mail: Had a Wild Turkey eating from our bird feeders in Batavia Wednesday morning. Thanks to our neighbors Frank and Jo for telling me she was around.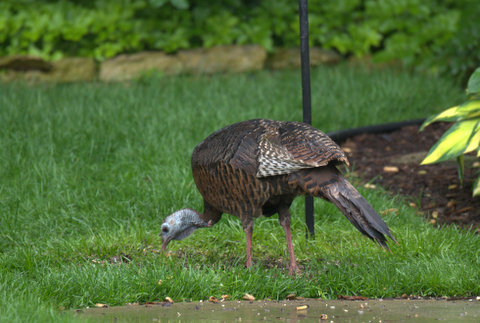 Wild Turkey photo courtesy Bill Ahlgren
---
Ron Herrmann on 6/15 reported via e-mail: 2 Sandhill cranes spotted in the retention pond area on the North side of Bowes Rd. (across from the wetlands) West of McLean Blvd. and East of Randall Rd. at 6:30 pm on 6/10/15.
---
Kurt Frieders on 6/12 reported via e-mail: We haven't had much time to bird, but still have seen some good birds lately on our property (Aurora township). Just this morning I watched our two fledgling Red-Tailed Hawks dry out after a rain shower. Their parents have nested on our property the last five years. This week we had a migrating Ruby-Throated Hummingbird show up at our fuchsia flowers for one day. We have not seen him since as our yearly birds show up around the 4th of July. Our male Baltimore Oriole has probably left in the past few days as we haven't seen him. Our pair of Mallards continually visit our feeders. We also are seeing Cedar Waxwings, Cardinals, and Goldfinches in our yard daily (along with other usual suspects). Our property has been also holding Great Egrets, Great-Blue Herons, and Wood Ducks.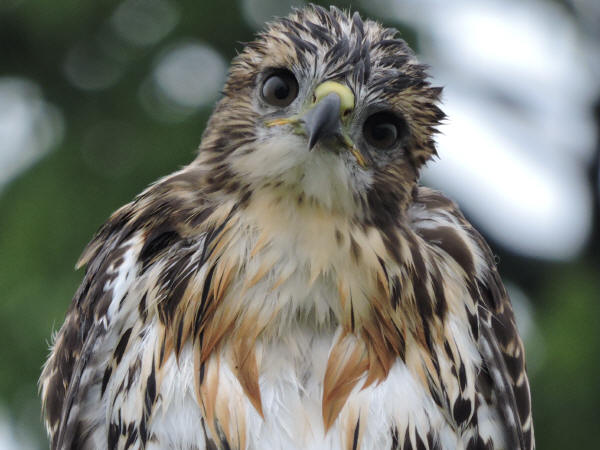 Red-tailed Hawk photo courtesy Kurt Frieders
---
Peggy Blair on 6/10 reported via eBird: Seeing a Yellow-breasted Chat at Burnidge Forest Preserve on Wednesday morning.
---
Justin Wrinn on 6/10 reported via IBET: My Ruby-crowned Kinglet has continued at Burnidge. I've heard it singing every morning since June 2 and gotten a visual twice (I don't want to disturb it by trying to get a good look at it every day). It will be interesting to see how long it sticks around. No sign of a female, but I'll keep my eyes out.
I also had a singing Ovenbird near the SE corner of the west entrance lake. And there's been a singing American Redstart on the east side of the north (Big Timber Rd) entrance for the past few days. I've had one in that location off and on since middle of last month I believe, but the song type now is different from the one I was hearing earlier, so it may be a different individual. With these plus the Hooded Warbler I found last weekend and the Yellow-breasted Chat that someone else reported today, all the uncommon breeding warblers are popping up at Burnidge this week. Now if I could just find a Cerulean...
Anyway, I've been averaging about 60 species every morning at Burnidge at so far this month. Nothing super rare recently except the out of season kinglet, but I've believe it is one of the best places to bird in Kane County this time of year as far as number of species.
---
Peggy Blair on 6/9 reported via eBird: Finding a Northern Mockingbird at Jon Duerr Forest Preserve on Tuesday morning.
---
Sue Wagoner on 6/9 reported via e-mail: During Bob's ramble today at Aurora West Forest Preserve we heard two male Bell's Vireos singing. Half the group later saw the male singing plus the female.
Later in the walk we found this Field Sparrow bringing a variety of food to its young--- it's good to have a varied diet!!
The photos of the Bell's Vireo and the Yellow Warbler are from a previous walk, June 5... Yellow Warblers are fairly abundant there.

Bell's Vireo photo courtesy Sue Wagoner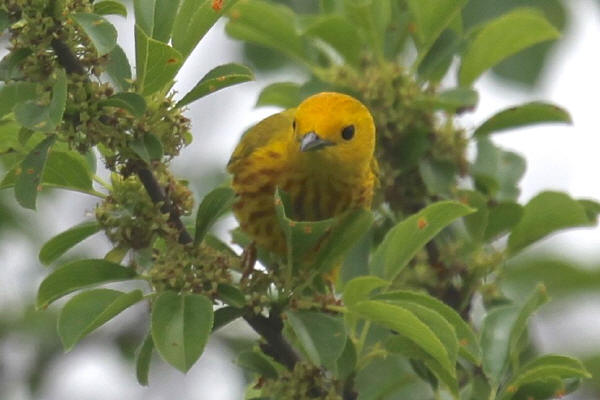 Yellow Warbler photo courtesy Sue Wagoner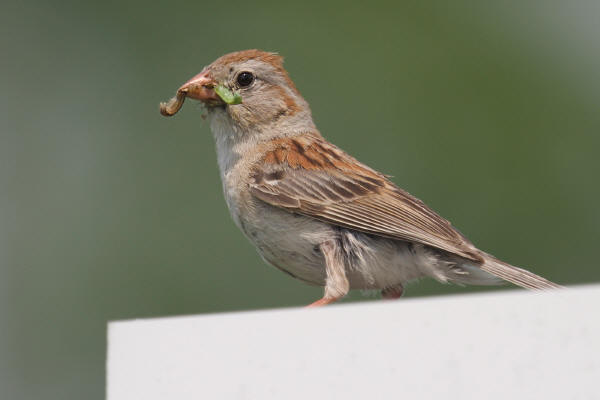 Field Sparrow photo courtesy Sue Wagoner
---
Mark Bowman on 6/8 reported via e-mail: I have been getting a lot of activity at my feeders this year. A catbird regularly visits and surprisingly a hairy woodpecker has been visiting regularly. I usually see them only in the winter on occasion. I also still have 1 or 2 pine siskins at the thistle feeder. This is the latest I have ever seen them into the summer months. Perhaps they are nesting here. I also have 3 blue-gray gnatcatchers buzzing around all the time with 6-7 cedar waxwings.
---
Marion Miller on 6/7 reported via e-mail: Rich and I enjoyed watching the Cliff Swallows sprucing up their mud nests under the Wilson street bridge in Batavia on Saturday afternoon. They would fly towards the island and grab mud along the shoreline and also to a patch of dried out grass and grab some to include in the nests. We counted about 20 nests and a few more were being built.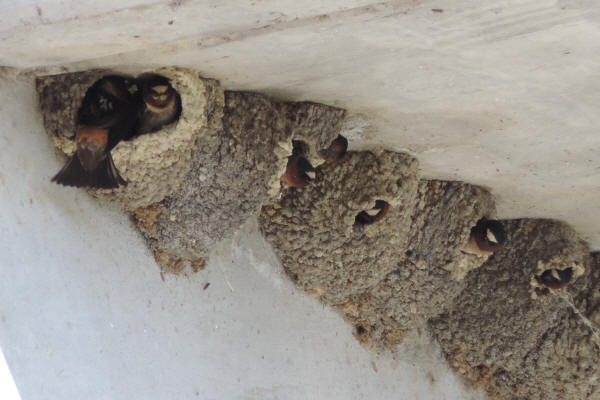 Cliff Swallow colony photo courtesy Marion Miller
---
Justin Wrinn on 6/6 reported via IBET: The Ruby-crowned Kinglet at Burnidge has continued - I have refound it every morning since June 2, singing away. Today it was very cooperative and allowed me to get some good looks. The other highlight at Burnidge this morning was a beautiful singing male Hooded Warbler. My eBird report has details on the location.

Then I was finally able to pick up a Swainson's Hawk on Chapman Road on the 4th try.
---
Jackie Bowman on 6/5 reported via e-mail: This afternoon we had great looks at a very active Sedge Wren in the fields east of the Audubon Bridge at Dick Young/Nelson Lake FP in Batavia. We observed a total of 35 species between the western edge of the woods, lake and center path of the prairie, including Clay-colored Sparrow, Grasshopper Sparrow and two Chimney Swift.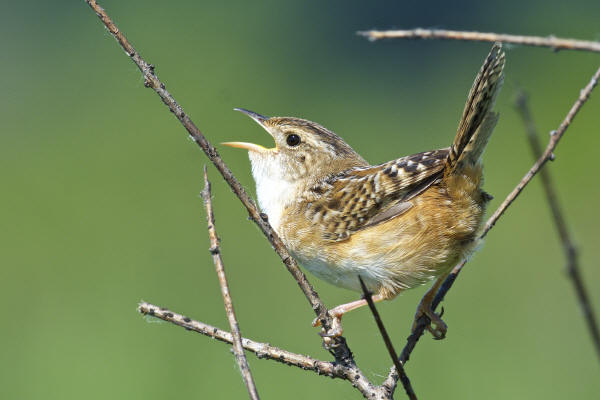 Sedge Wren photo courtesy Jackie Bowman
---
Julie Long on 6/3 reported via IBET: There was a singing Northern-Parula warbler this morning on my bird monitor rounds at Ferson Creek Fen. It was on the north side of Ferson Creek in Ferson Creek Park. My point count there is the large rock in the creek, just east of the rt 31 bridge. They seem to like the sycamores that line the creek in that area. I don't get them every year but have had one off and on the last ten years or so in that location.
---
Justin Wrinn on 6/3 reported via IBET: I've had a very late singing male Ruby-crowned Kinglet at Burnidge the past couple of mornings along the swamp south of the road on the back side of the west entrance lake (near the end of the road). I didn't ID yesterday because I wasn't expecting a kinglet and couldn't place the song. But I got a visual today - it was definitely a kinglet (small thin-billed green-gray bird with white eye ring and white wing bar), and I could clearly see the red crown. Recording of the song is in this YouTube video (bird not visible).
---
Sue Wagoner on 6/2 reported via e-mail: I visited Nelson Lake/Dick Young prairie today and was treated to a good view of a Clay-Colored Sparrow along with the usual: Bobolink males and females, Grasshopper Sparrows, Eastern Meadowlarks, lots of Common Yellowthroat males, Song Sparrows, Brown-Headed Cowbirds, Northern Flickers, and a Dickcissel. (The Clay-Colored Sparrow was seen on the western-most gravel path.)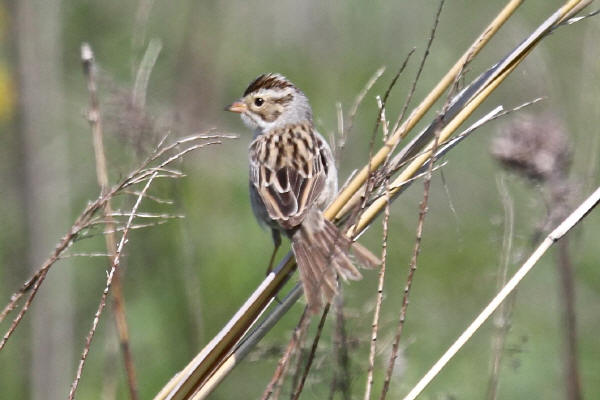 Clay-colored Sparrow photo courtesy Sue Wagoner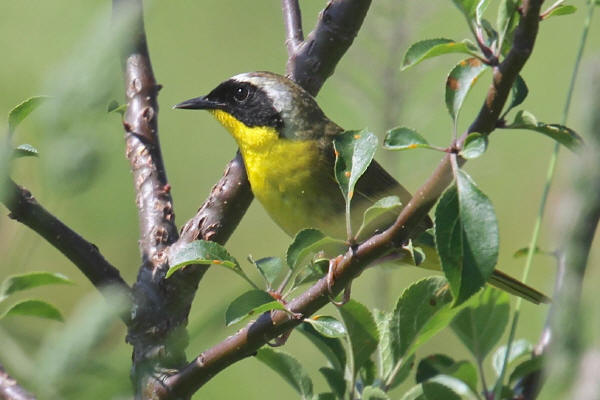 Common Yellowthroat photo courtesy Sue Wagoner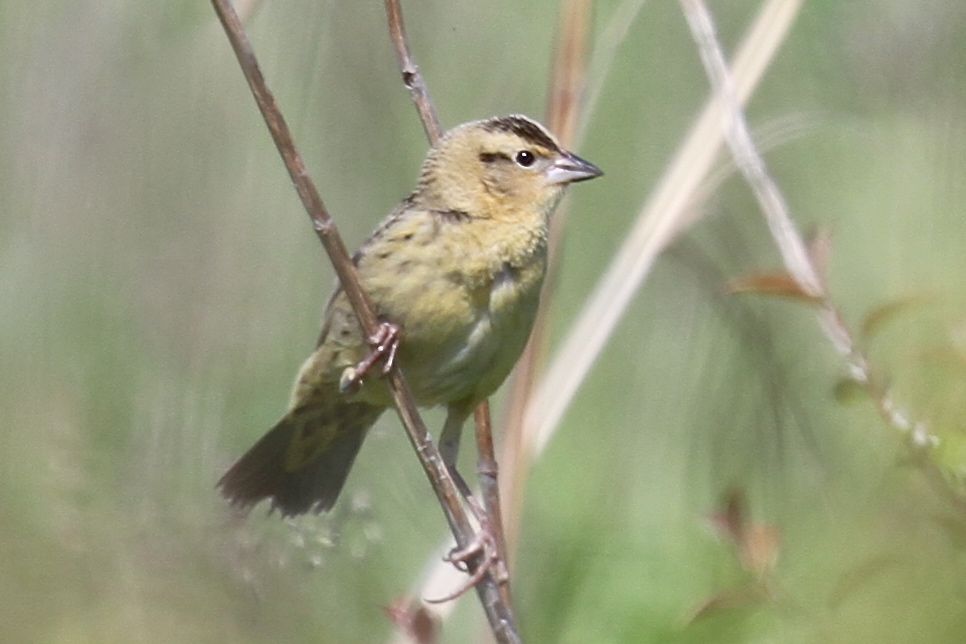 Female Bobolink photo courtesy Sue Wagoner
---
Chris Madsen on 6/1 reported: After bird monitoring at LeRoy Oakes FP on Sunday morning, Carla and I drove up to the Stonegate subdivision in Hampshire, hoping for Western Meadowlarks. The birds had been reported at that location by Brendon Lake. We were treated to both Eastern and Western Meadowlarks, both singing, to provide comparison. As an added bonus, this first-of-year Dickcissel was also contributing to the chorus. On the way home, we stopped at the Pingree Grove water treatment plant where we saw, not heard, Yellow-headed Blackbirds. We were happy enough with ourselves that we stopped for celebratory donuts at Country Donuts in Elgin.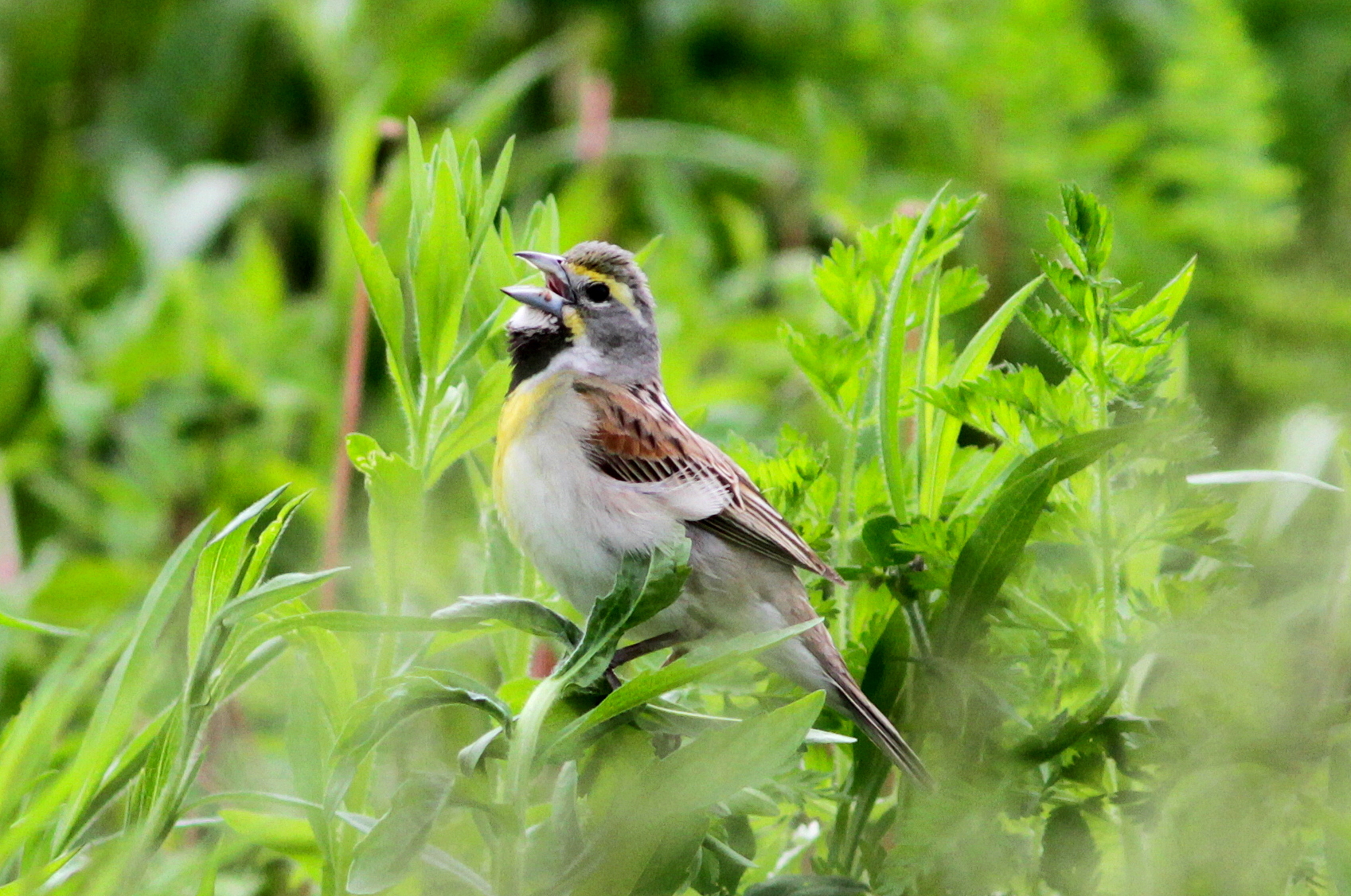 Dickcissel photo courtesy Chris Madsen
---
Jan Walsh on 6/1 reported via e-mail: I finally got a photo of this pair of Pine Siskins feeding their unbeknownst adopted baby. The cowbird fledge is twice as big as they are. Also, a shot of the cowbird with parent in the background.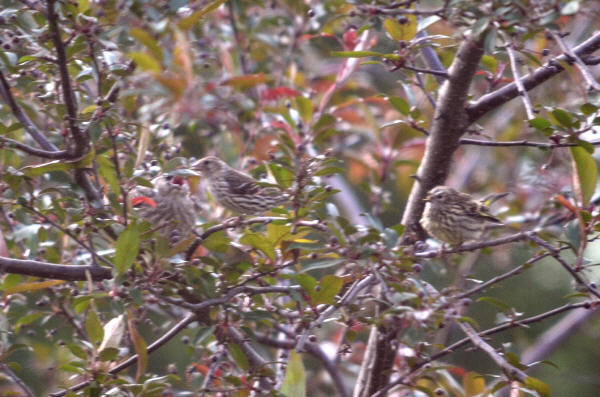 Pine Siskins with fledged Brown-headed Cowbird photos courtesy Jan Walsh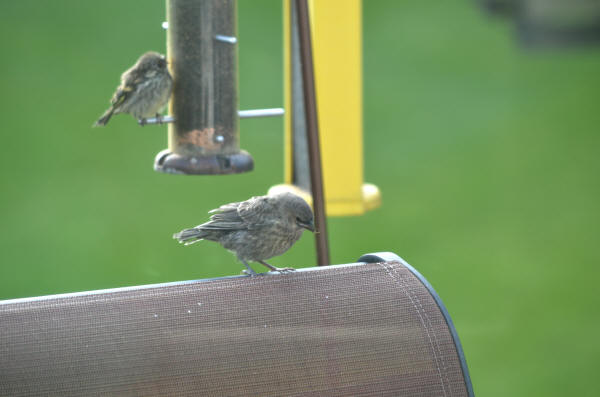 ---