---
Ken Schneider on 6/30 reported via e-mail: At the north end of Nelson Lake yesterday (JUN 29) Mary Lou and I found a very active Sedge Wren just as we entered the trail from the parking lot, just to the left of the first interpretive sign along the path. It was agitated and we wondered whether the mowing had disturbed or destroyed its nest. We again saw two Willow Flycatchers which acted as if they had a nest in the grove of small trees near the NW intersection of the North-South and east-west trails. Also saw Dickcissels and Bobolinks just south of the sign on the mound where the trail turns to the south. We assume that the mowing substitutes for wildfire and is intended to improve the habitat but do not know why it is carried out while prairie birds are actively nesting. Can any wildlife biologist provide the rationale?
Here's a reply from Bill Graser, wildlife biologist with the KCFPD:
Thank you for reaching out to the District regarding the mowing you observed at Dick Young Forest Preserve. I'd be happy to give you more insight about the reason behind the mowing, and the timing as it relates to grassland bird nesting.

The mowing you observed was conducted by our Natural Resources staff to manage white sweet clover. We take an integrated approach to weed management here, and we try to work with the life cycle of the plant before using broad scope herbicides. In this case, sweet clover is a biennial, meaning that it dies after it flowers in its second year of life. If we time our mowing properly, just as it starts to flower, we can prevent that patch from going to seed and ensure that the plant doesn't have enough time or energy stores to flower/seed again.

The spot mowing leaves and irregular pattern as we are trying to only mow the sweet clover infested area and not the whole field. The more intact prairie we can leave ensures more prairie plants will seed into the weedy area which should increase our resiliency to follow-on invasion. Grassland birds are also a concern and we try to leave as much cover as feasible while still attacking the weed populations.

Admittedly, the mowed area looks a little rough until the later season grasses and flower can grow back through the area.

Unfortunately, the timing of the mowing generally occurs during the nesting season for many grassland bird species. While habitat with nests are likely to be impacted in the mowed areas, staff does their best to mow areas that are dense stands of sweet clover. We are confident our approach helps create a high quality habitat for grassland birds in the long run.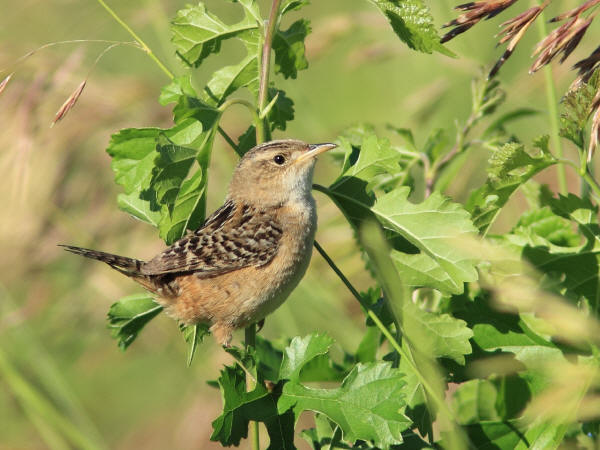 Sedge Wren photo courtesy Ken Schneider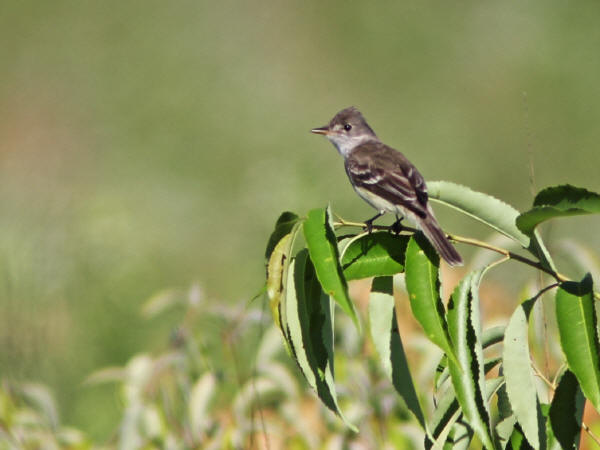 Willow Flycatcher photo courtesy Ken Schneider
---
Sue Wagoner on 6/29 reported via e-mail: Although unable to see the Yellow-Breasted Chat at Aurora West F.P. I did watch this Downy Woodpecker pecking at the leaf galls on top of a tree. Also saw this Brown Thrasher adult accompanying its fledgling on the path.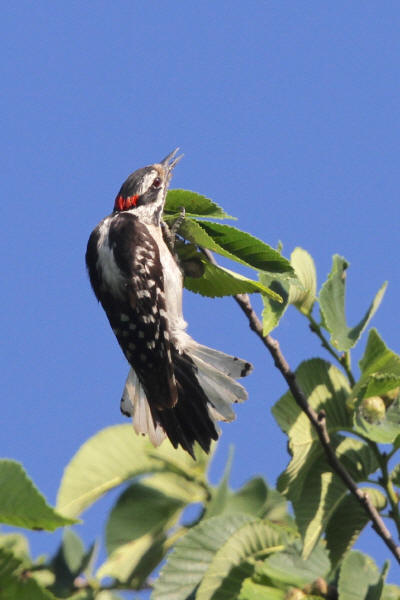 Downy Woodpecker photo courtesy Sue Wagoner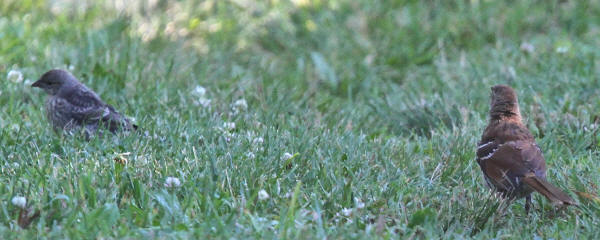 Brown Thrashers photo courtesy Sue Wagoner
---
Geraradine Baugh on 6/27 reported via e-mail: This juvenile Cooper's Hawk landed on my deck in Hampshire Township.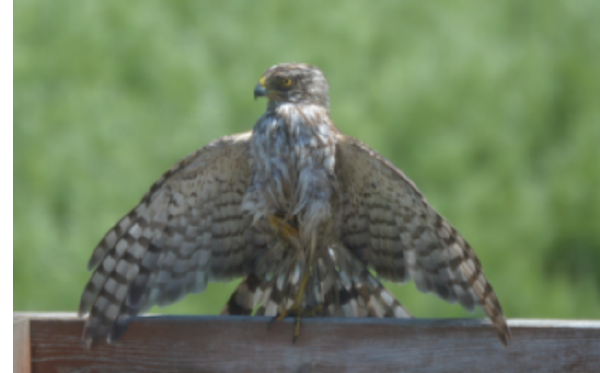 Cooper's Hawk photo courtesy Gerardine Baugh
---
Sue Wagoner on 6/22 reported via e-mail: There is a Yellow-Breasted Chat at Aurora West Forest Preserve. I heard it last night and this morning but have not yet seen it. It is in some really thick shrubs and seems quite shy. I will continue to try though. From the Indian Trail parking area turn right at the mowed path and locate the last electric tower (on the right) BEFORE the prairie area. Go a little bit beyond the tower and the Chat is on the right (east side of path). Listen for it!
There is also a Bell's Vireo in the same general area but on the left side of the path. Again I heard it and just got a brief glimpse of it.
---
Walter Lutz on 6/18 reported via e-mail: Although Muirhead F.P. is not that wooded you can usually find a Great Horned Owl if you look hard enough.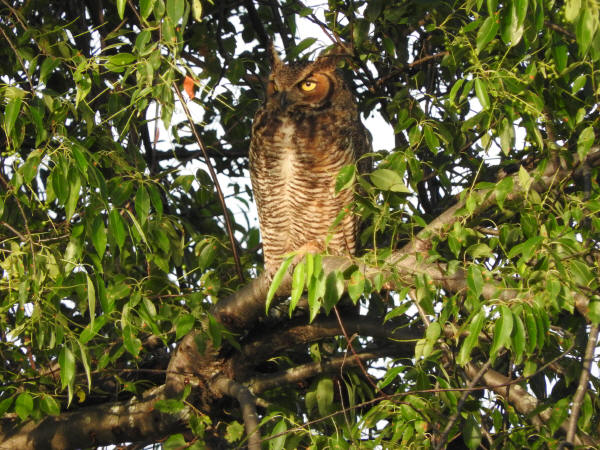 Great Horned Owl photo courtesy Walter Lutz
---
Carol Ludemann on 6/18 reported via e-mail: I was lucky to see a Scarlet Tanager right outside our kitchen window this morning, June 18, in The Windings neighborhood west of St Charles.
Also have Eastern Bluebirds nesting in a box in our side yard and an Eastern Phoebe nesting on a vertical brick wall on our front porch. Fun!
---
Chris Madsen on 6/17 reported: For the last week or so, I've been entertained by watching a recently fledged Downy Woodpecker at the feeders in my backyard. Early in the week, the bird would fly over to the vicinity of the feeders and wait to be fed by dad (and, interestingly, it has only been dad). After a day or so, both would land on the woodpecker feeder, where junior would get fed. Three or four days into the process, the young bird appeared at the feeder alone and tentatively picked at the seeds. Yesterday evening my little friend spread its wings - in a dietary sense.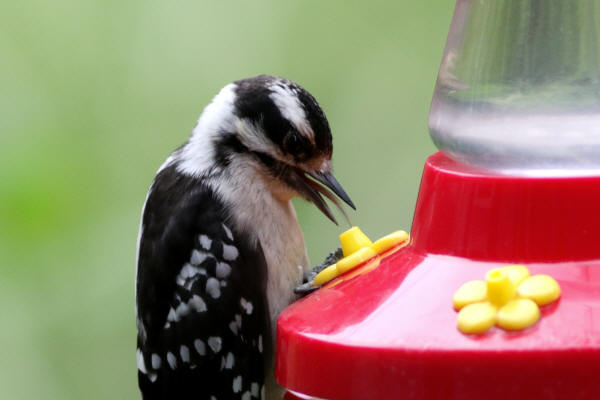 Downy Woodpecker photo courtesy Chris Madsen
---
Chris and Jackie Bowman on 6/14 reported via e-mail: We took a drive out to Jon J Duerr FP tonight in hopes of hearing the reported Eastern Whip-poor-will. Arriving at approx 8:20pm, we parked in the railroad track area and at 8:42pm we could hear the EWPW calling in the distance from a northwestern direction. As we drove out of the park the sounds of the EWPW were much clearer near the ranger's house. A new Kane County Lifer for Jackie!!
---
Sue Wagoner on 6/14 reported via e-mail: If you're a Red-Tailed Hawk it's bad enough to have Red-Winged Blackbirds mobbing you but to have an attacking Eastern Kingbird land on your head? Ow! Seen in the Kane County portion of the Fermilab prairie after KCA's walk Monday morning.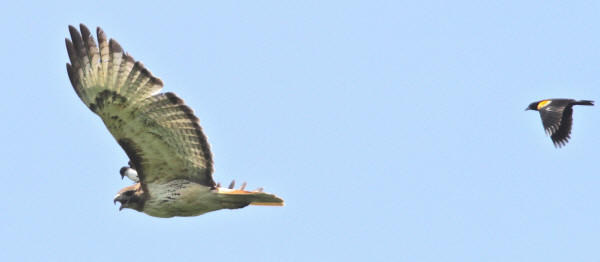 Red-tailed Hawk and "friends" photo courtesy Sue Wagoner
---
Diane Hansen on 6/14 reported via e-mail: We stepped outside yesterday afternoon to admire our front deck under construction. A small bird which I assumed was a female house sparrow landed on one of the several wires that come from the street to the houses. I have learned to take pictures of everything and sort it out later. To my surprise this one turned out to be a Chipping Sparrow which flew down to my driveway.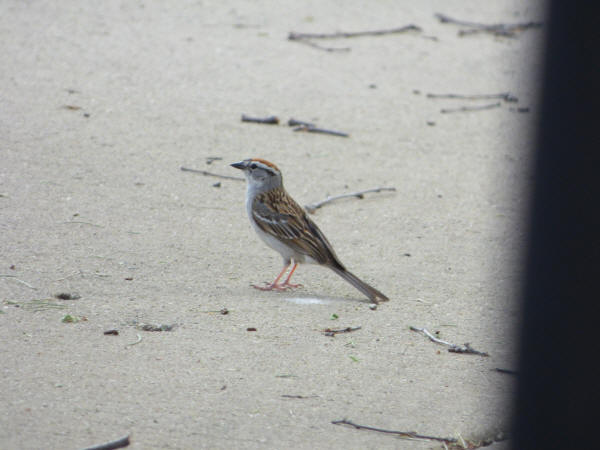 Chipping Sparrow photo courtesy Diane Hansen
---
Bob Andrini on 6/13 reported via e-mail: We found the Blue Grosbeak on Sunday at the Fermi Lab - Kane County. As you can see from the picture, its a first year male (not solid blue as an adult should be). When we had the ramble on Monday, we did not relocate the bird.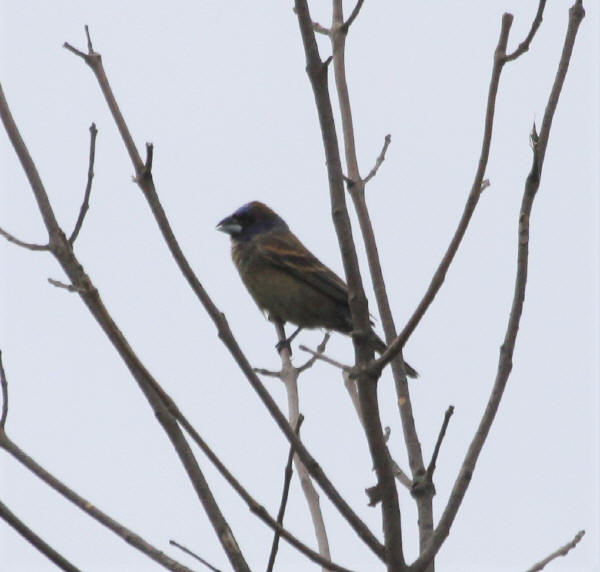 Blue Grosbeak photo courtesy Bob Andrini
---
Chris and Jackie Bowman on 6/12 reported via e-mail: We took a walk around Prairie Green Wetlands today. It was nice to see the water levels returning to their former glory, although the terrain was a bit rugged as we basically had to forge our own trails. Lots and lots of new Cottonwoods around the periphery of the water too. At the South end of the pond we were treated to the sight and sounds of the Marsh Wren. Dickcissel, Red-winged Blackbirds, Mallards, & Blue-winged Teal were also present.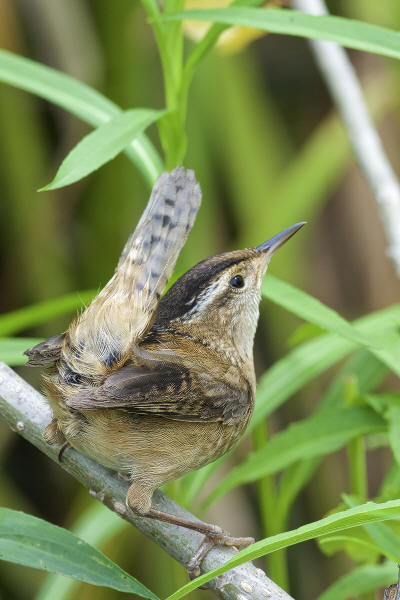 Marsh Wren photo courtesy Jackie Bowman
---
Glenn Perricone and Vance Perricone on 6/11 reported via eBird: Hearing an Eastern Whip-poor-will late in the evening along the Fox River north of St. Charles.
---
Glenn Perricone on 6/9 reported via eBird: Seeing both a Blue Grosbeak and a Chestnut-sided Warbler in the Kane County portion of Fermilab.
---
Sue Wagoner on 6/8 reported via e-mail: I always have trouble shooting Eastern Meadowlarks but today one was cooperative and fairly close at Nelson Lake Prairie. Also, this is my first-of-year sighting of a Grasshopper Sparrow and it was not a typical one, as he was all fluffed up and there was no typical "flat head". I had to examine the photo closely to identify it but the orangish lore was the deciding factor. I am pretty much "deaf" to their songs-- all I see is a wide-open beak when they are singing-- so I have to rely on my binos and camera!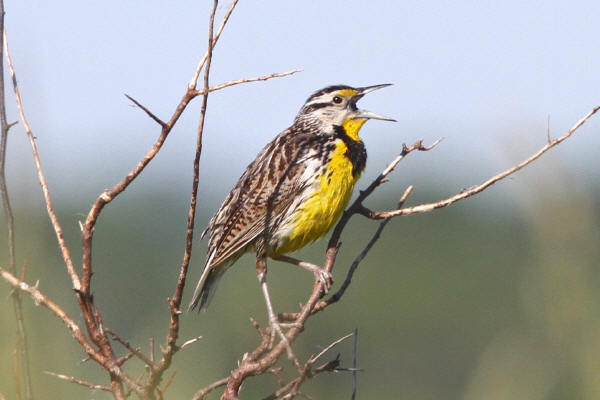 Eastern Meadowlark photo courtesy Sue Wagoner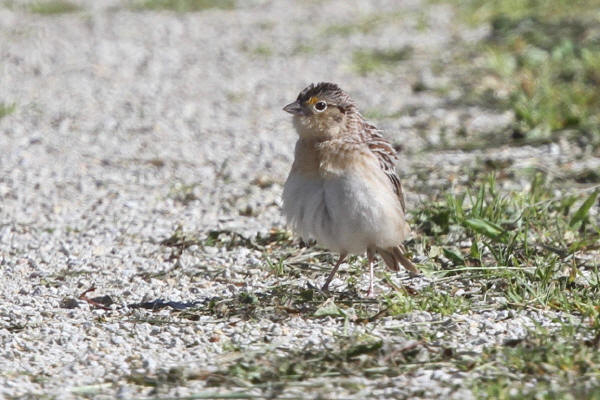 Grasshopper Sparrow photo courtesy Sue Wagoner
---
Sue Wagoner on 6/4 reported via e-mail: Heard my first Sedge Wrens at Nelson Lake prairie tonight-- at least 3 or 4 of them, and managed to "shoot" one.
Also seen and heard were the usual: Bobolinks, Common Yellowthroats, Eastern Meadowlarks, Song Sparrows.
And let's not forget our handsome, overlooked American Robins which seem to be plentiful this year.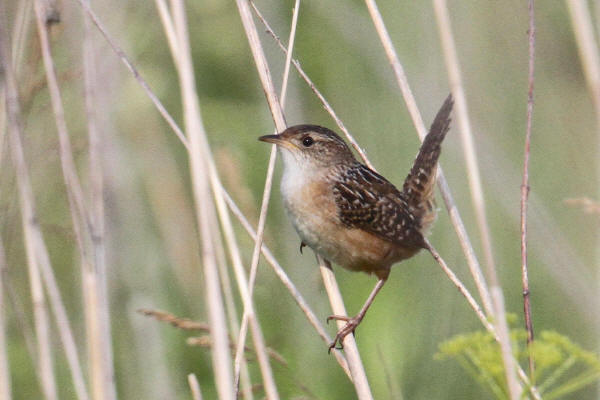 Sedge Wren photo courtesy Sue Wagoner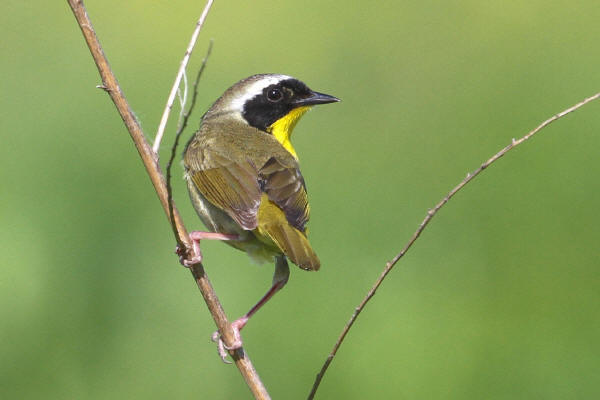 Common Yellowthroat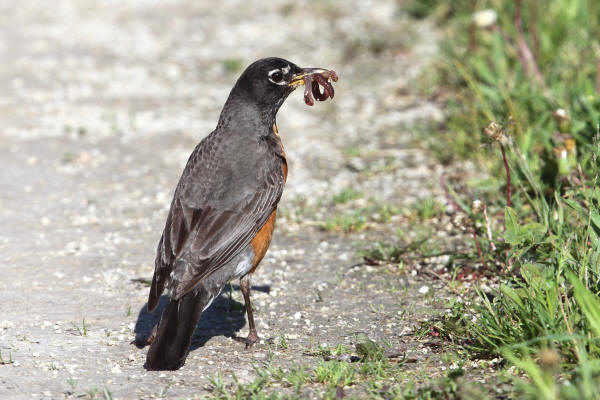 American Robin
---
Bill Ahlgren on 6/3 reported via e-mail: Nice to see a favorite of mine, a Clay-colored Sparrow, return to Nelson Lake/Dick Young F.P. to the exact area as last year.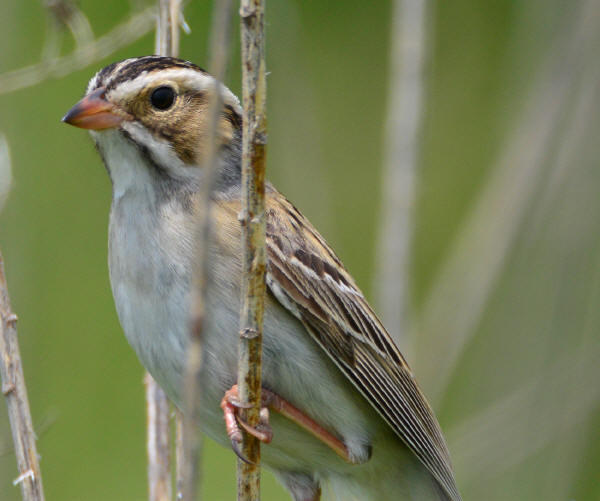 Clay-colored Sparrow photo courtesy Bill Ahlgren
---
John Heneghan on 6/2 reported via e-mail: Red tailed Hawk, adult and juvenile on the nest on Rt 56 just off 88.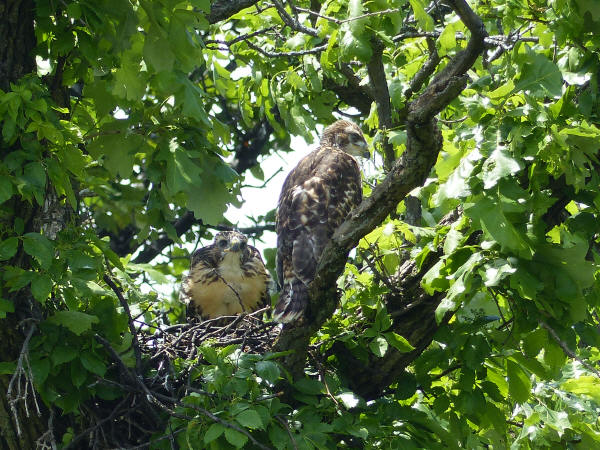 Red-tailed Hawks photo courtesy John Heneghan
---
Brigid Trimble on 6/1 reported via IBET: There is a small group of about 6-8 bobolinks at Fitchie Creek FP in Kane county. They appear to be hanging out in the newly planted oak trees off the crushed limestone path south of the parking lot off of Nesler road. The area is full of numerous prairie birds like meadowlarks and flycatchers.
---