Sue Wagoner on 3/31 reported via e-mail: Around 35 - 40 pelicans on Friday afternoon.
John Heneghan on 3/31 reported via IBET: Stopped briefly at Nelson Lake this AM. Pelicans were still there.
Richard Wilson on 3/29 reported via e-mail: 100 sandhills plus in the wetland behind my property (ed: near Huntley Mall) this afternoon ,looks like an overnight group. watched them land at 3:40 and dance and call to more approaching flocks. Most I have ever seen here. Rutland township Kane County. Most likely will be gone in the a.m. Hope they stay?
John Heneghan on 3/29 reported via IBET: I stopped by Nelson Lake this evening on the way home from work. I counted about 45 pelicans.
Jon & Joy Duerr on 3/28 reported via e-mail: At Nelson Lake Wednesday 6:00 PM 3/28/07. 11 Am Pelicans 1 Common Loon (breeding Plumage) 2 Eared Grebes (I breeding plum) 8-10 Red-breasted Mergansers 20+ Ruddy Ducks 2 L. Scaup 1 Redhead 3-5 Ring-neck Ducks and a cold east wind.
John Heneghan on 3/28 reported via IBET: 12 white pelicans at Nelson Lake this morning 3/28/07.
Karen Lund on 3/27 reported via IBET: Had a chance to do 10 minutes of birding this morning at Hampshire F.P. on Allen Rd. Birds of note: 2 tree swallows flying over the parking lot and a field sparrow singing, well, out in the field. Many song and fox sparrows were competing with robins & golden crowned kinglets for the bird version of American Idol. Also many eastern meadowlarks & killdeer in the area.
Maureen Zwier on 3/25 reported via IBET: I was at Nelson Lake on Saturday morning, during the heavy fog. I heard two owls in the silo around 7:30am. I am not experienced enough to know which breed of owl, I am guessing they were not Great Horned because the "whoos" were shorter and a different pitch than the GHO's I have heard. If anyone knows which type of owl they are please let me know.
Chris Madsen on 3/25 reported via IBET: Seven American White Pelicans splashed down at Nelson Lake west of Batavia at 3:01 this afternoon for their yearly Spring visit.
Susan Lutes on 3/25 reported via IBET: Wonderful 70 degree day. Did a loop around Nelson Lake from 9:30am to noon. Many ducks on the lake such as: Buffleheads, Blue-Winged Teals, Pied-billed Grebes, American Coots, Canadian Geese, Blue Herons. Along the woods: Eastern Kingbird, Creeper, Nut Hatches, Fox Sparrows, Juncos, Cardinals, Robins, plenty of woodpeckers. Along the Field: Eastern Phoebe, American Kestrel pair, Sandhill Cranes. Small frog pond had plenty of frogs, snake gliding across the water, and many turtles, especially some small ones.
Karen Land on 3/21 reported via IBET: ...Yesterday at 12:30 I was parked outside the Diagnostic Imaging center for Delnor Hospital near Fargo Blvd. and Randall Road when several waves of sandhill cranes amounting to about 100 flew over fairly low and in a V. I thought they might be heading to the Peck Farms area but I saw that someone reported them over Campton Hills which would be on a direct flight northwest from where I was.
Roger Hotham on 3/20 reported via IBET: Margaret Mechtenberg observed a whooping crane at 1:26 today over South Elgin. It was with a small group of sandhills, which were part of a large wave of many groups totaling over one thousand birds.
John Heneghan on 3/20 reported via IBET: About 200 Sandhill Cranes flew over Campton Hills Park (in St. Charles) today heading North. Saw a woodcock at Campton Hills park.

John Heneghan on 3/18 reported via IBET: A friend was at Nelson Lake and saw 2 pairs of sandhill cranes in different locations. Checked there today for white pelicans, did not see any.
Jane McMillan on 3/16 reported via e-mail: Tree Swallows along the Fox River near SEBA Park in South Elgin.
Richard Wilson on 3/16 reported via e-mail: on 3/14 at the new forest preserve property (old Boy Scout camp) on Freeman Road approximately across from Freeman Kame Forest Preserve at "12 pm Bald Eagle !!!!!!!! Flying up out of the large white pine trees on top of the preserve. Checked out this am 3-16 and did not locate at 7:00 am to 8:30."
Matt (no last name) on 3/16 reported via IBET: Last weekend I stumbled upon the Fox River Shores Forest Preserve in northern Kane County just below the McHenry-Kane line. Parking at the boat launch and heading down the Fox River Trail has proven to be a goldmine. Here's what I've seen so far over the week, just in the evenings after 5:30pm.
Fox River Shores Forest Preserve, Kane County, 3/12 - 3/15 2007: Canada Goose, Mute Swan, Mallard, Green-winged Teal, Redhead, Ring-necked Duck, Greater Scaup, Lesser Scaup, Bufflehead, Common Goldeneye, Hooded Merganser, Common Merganser, Pied-billed Grebe, Double-crested Cormorant, Great Blue Heron, Turkey Vulture, Sharp-shinned Hawk, American Coot, American Woodcock, Ring-billed Gull, Belted Kingfisher, Red-bellied Woodpecker, Downy Woodpecker, Hairy Woodpecker, Tree Swallow, Black-capped Chickadee, Carolina Wren, American Robin, Song Sparrow, Northern Cardinal, Red-winged Blackbird.
Liza Gray on 3/15 reported via IBET: Two groups of SANDHILL CRANES, approx. 200 total, flew over Batavia and Geneva, between 1:00 and 2:00 pm today. Also, I had a PINE WARBLER in my backyard on Monday, 12 March.
Pam Otto on 3/14 reported via e-mail: Last night I was at Lippold Park and heard the unmistakable "peent" of a male woodcock coming from, of all places, the teasel patch near the pond. I first heard him around 7:05, and listened until about 7:15, when he took off and flew, I think, north. At least that's the direction his wings sounded like they were headed. I assumed he was headed for the open field on the north end of the park, but when I got up there, all I found were two coyotes…perhaps hunting woodcock? Happy spring!
Sue Wagoner on 3/13 reported via e-mail: Nelson Lake, Sunday March 11: 5 Sandhill Cranes at Nelson Lake and 51 migrating overhead, headed northwest. Canada Geese, Great Blue Heron by open water at the bridge; Downy woodpeckers, 2 Hairy woodpeckers, Red-winged blackbirds, song sparrows, Chickadees, red-bellied woodpecker.
Christopher Cudworth on 3/13 reported via IBET: The Cooper's Hawks that have bred in our yard or the two contiguous yards the past four years are back. One divebombed my wife last evening in Batavia.
Also: A turkey vulture was soaring over the parking lot in front of PetSmart in Geneva this noon.
Nora Yoshimura on 3/13 reported via IBET: While doing some lunchtime birding, I spotted only one Coot on (Walton's Island in Elgin). Not a huge sighting, but the first time I have seen one in this location.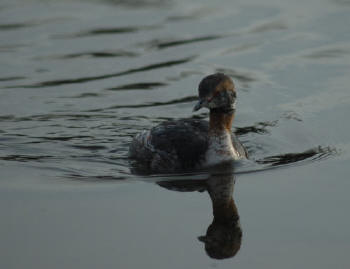 Horned Grebe photo courtesy of D DeMet
D DeMet on 3/13 reported via e-mail: a Horned Grebe on the Fox River south of the Illinois Street bridge in Saint Charles.
John Heneghan on 3/13 reported via IBET: The pair of GHO (Great Horned Owls) that have raised broods before, have hatched 2 owls in Geneva. The nest is located on the corner of James and 3rd st. in Geneva on the side of the old Courthouse. This is 1 block south of RT 38 and 2 blocks west of Rt 31.
Matt (last name unknown) on 3/12 reported via IBET: I was traveling up the Fox River in northern Kane County today starting in downtown Dundee, then moving to the Carpenter Dam in Carpentersville, and ending up at the Fox River Shores Forest Preserve boat launch area. The waterfowl were mostly hanging out on the opposite side of the river, so I will return with a scope to see if I missed any species.
Dundee: Canada Goose; Mallard; Ring-billed Gull; Bufflehead; Common Goldeneye; Common Merganser.
Carpenter Dam: All of the above, and add Lesser Scaup; Chickadee.
Fox River Shores: All of the above and add American Coot; Cardinal; Red-winged Blackbird; Song Sparrow; Robin; Turkey Vulture; Belted Kingfisher; Hooded Merganser (around 30 or so); Lesser Scaup (at least a hundred by my estimate); Red-bellied Woodpecker; Downy Woodpecker; Hairy Woodpecker.
Scott Cohrs on 3/12 reported via IBET: ...today I had 3 Tree Swallows over the Fox River at the boat launch just north of Route 64 in St. Charles. This was while driving my 9 week-old son around town trying to get him to sleep. I tried to convey to him the fact that it was a pretty good early sighting, but he was unimpressed. This is my earliest Tree Swallow, at least for northern Illinois.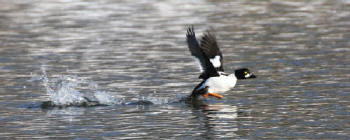 Common Goldeneye photo courtesy of Dennis Walz
Chris Cudworth on 3/12 reported via IBET: On my run this past Saturday morning (8:00 a.m.) I heard the clear notes of a Carolina Wren singing at the intersection of Jefferson and Illinois Streets in Batavia.
Jean Kaitis on 3/10 reported via e-mail: Adult sandhill crane seen in the middle of Bob White's farm field adjacent and just west of our house in Batavia sounding the unison call- appears to be taking a rest, as he was the only one who decided to land, also had six flying overhead. Numerous red wing blackbirds, several robins, and one downy woodpecker in our yard. Spring is here!
Gloria Dimoplon on 3/10 reported via e-mail: I stopped by the courthouse (ed: Kane County in Geneva) this morning. Saw an adult (Great Horned) owl and one chick in the nest.
Jon Duerr on 3/10 reported via IBET: Dick Young (Nelson Lake) F P- The lake is mostly frozen but the S W corner has open water. Two Tree Swallows were flying around the water this afternoon. Also, 7 or 8 Sandhill Cranes seem to be taking up residence.
Karen Land on 3/10 reported via IBET: Not flocks but several individual Sandhill Cranes were spotted flying low in the area of Nelson Lake Marsh west of Batavia. They were quite low over some new housing going up just to the east of the Marsh, perhaps looking for an old nesting area?
Matt Singer on 3/10 reported via IBET: Yesterday I was greeted at work by a Red-breasted Nuthatch on the feeders. After lunch I counted about 160 Sandhill Cranes flying overhead. These were seen at the Max McGraw Wildlife Foundation in Dundee...
Karen Lund on 3/9 reported via IBET: Stopped by Carpenter's Dam in Carpentersville during lunch today. There were 3 cormorants perched in the treeline north of the dam. There were also good numbers of both common mergansers and ring-necked ducks, along with 6 wood ducks and 1 american black duck. Grackles, red-winged blackbirds and cowbirds arrived at my yard feeders during the past week. Dare we hope that spring has sprung?
Alan Stankevitz on 3/9 reported via IBET: On numerous trips on I-90 in Huntley, IL I have spotted a partially white Red-Tailed Hawk. It is usually seen on the north side of I-90 just west of the Route 47 interchange. There's an empty office building there and it is usually perched in the trees or power poles along I-90. Yesterday, I was able to get a few half-way decent photographs of the bird. Here are a few images: pic1; It's wings are especially intriguing: pic2.
John Heneghan on 3/8 reported via IBET: A few times this week, I have observed a harrier hunting the grasslands adjacent to Nelson Lake in Kane County. The area is west of Nelson Lake and South of Main St. The grasslands are a recent puchase by the Kane County Forest Preserve. I have watched daily for Short Eared Owls, but was happy to see the harriers. Lots of RW blackbirds too!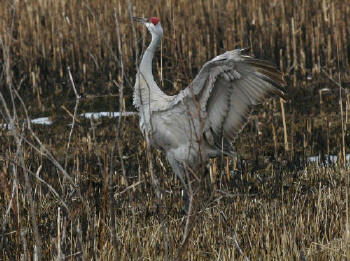 Sandhill Crane photo courtesy of John Janunas
Jack Pomatto on 3/8 reported via e-mail: A flock of 32 Sandhill Cranes flew over the west side of Elgin today,Thursday, 3/8/07 at 1:25 P.M. I was just East of McLean at the time. They circled for five minutes and headed North.
Matt Singer on 3/8 reported via IBET: A small flock of 3 and another of 11 sandhill cranes flew over the Max McGraw Wildlife Foundation in Dundee, Kane County about 12:15 today. They circled around and headed out in a northwesterly direction.
Jerry Hope on 3/7 reported via phone: On an afternoon birding drive southwest of Peck Farm, he and his wife spotted an albino hawk the size of a small red-tail or large female cooper's. Later, east of Elburn on Pouley Road they saw 14 deer, a Northern Shrike in a small orchard, Snow Buntings, and mixed flocks of sparrows and finches and a few Red-Tailed Hawks.
Christopher Cudworth on 3/7 reported via IBET: A small flock of Sandhill Cranes was heard over Batavia this noon hour. No ability to determine direction and they were "into the sun" and could not be seen.
Valerie Blaine on 3/6 reported via e-mail: This may be old news to local birders, but ...I've seen numerous rough-legs this past week; saw my first Turkey Vulture of the year near Aurora West; heard my first Redwings in the field at Tekakwitha yesterday. Spring can't be too far off!
Scott Cohrs on 3/5 reported via e-mail: As I was taking the kids to the doctor today, I had a Turkey Vulture fly over at the corner of Route 38 and 47 in Elburn. Not exactly a 'sexy' bird, but with two 8 week olds at home I'll take anything I can get…. Also seems to be a few days early, but probably not as early as I think. I'd have to look at my past year's arrival times.
On 3/3 via e-mail: Kathy and Bob Andrini reported the "first Brown-headed Cowbird at our feeders" in southeast St . Charles, while north of St. Charles, Linda Cox tells of 26 Red-winged Blackbirds at her feeder on Friday.
Karen Lund on 3/2 reported via IBET: This morning there was a mixed flock (approx. 150) of common grackles, cowbirds & red-winged blackbirds on Allen Rd. in Hampshire just east of the Coon Creek Sod Farms. Majority of the birds were grackles.
Christopher Cudworth on 3/2 reported via IBET: On my run last night heard a large flock of red-winged blackbirds staging for the night in the marsh at Western Avenue in Batavia... known now as Braeburn Marsh.
Jean Kaitis on 3/1 reported via e-mail: Had a Crane fly over our house (ed: near Delnor Woods in St. Charles) last week-not sure what type-but knew their sound. Today hubby saw two Robins in the yard-Spring is surely on it's way!
Judith Graber on 3/1 reported via e-mail: Just got back from a VERY wet walk around Nelson Lake. In addition to seeing 2 SH cranes (west end of lake), the red-wing black birds are back (saw 2-300) and setting up territories. On the other end of the lake there were RN pheasants making a racket; saw a hen.