Jon Duerr on 3/30 reported via e-mail: Seeing 1 Common Loon, 2 Horned Grebes, and at least 10 Eastern Phoebes at Oakhurst Forest Preserve in Aurora. At Nelson Lake west of Batavia, more than 100 American White Pelicans and 2 Common Loons that flew off the lake at 10:45. At Boy Scout Island in St. Charles, 2 Horned Grebes. And finally, above the South Elgin dam, 4 Common Loons and 1 Horned Grebe.
Ann Haverstock on 3/29 reported via e-mail: Last night, the only owlet fell from the nest and ended up in one of the Courthouse window wells. ...Kane Country Animal Control... place(d) the owlet on the roof. They will monitor it for a few days and make sure that the owlet is fed by the adult birds. This has been successful in other years. If for some reason this does not work out, they will remove the owlet and take it to a Barrington Rehab facility.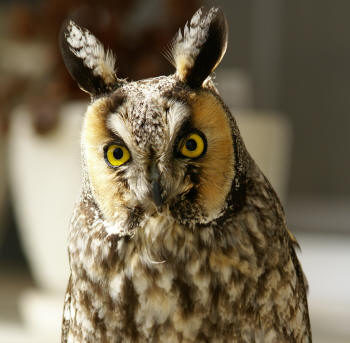 Long-eared Owl photo courtesy Bryan Hix
Bryan Hix on 3/29 reported via e-mail: I got this great picture (of a Long-eared Owl) as well as about 30 more on 3/28/08 when my neighbor (in Gilberts) called me a little frazzled and said for me to look out my window on her front porch. I couldn't really see anything and she said, "there's an owl sitting on my chair". This was 1:30pm, so I first thought she might be mistaken. I immediately ran over with camera in hand and the owl watched me cautiously as he (or she) let me take my photos. Then, it quietly flew off behind the house and roosted on the balcony of one of the townhouses. It remained there for several hours until evening when it flew off. My best bird encounter ever!
Claire Dassy on 3/28 reported via IBET: I haven't seen a report on this so thought I'd mention that there is a bald eagle pair in the Algonquin/Carpentersville area. The viewing location is from the bike path along the Fox River in Carpentersville, a few hundred yards south of the Fox River Shores boat landing. The entrance to the landing is still closed to traffic, but it's not a bad hike thru down to the bike path. The pair have been sunning themselves between about 11am and 3pm in the same location all this week. I posted a snapshot at:
http://www.flickr.com/photos/quietnature/?saved=1
John Heneghan on 3/29 reported via IBET: We stopped by the GHO nest in Geneva this evening. One owlet could be seen in the nest (what is left of it). The mom was in the tall fir tree. It is unfortunate the tree was struck by lightning. I hope the owls continue to nest there in the future.
John Heneghan on 3/29 reported via IBET: At my feeders today (in LaFox), had a redpoll, the first of the year. I was surprised to see one as others reported them all winter!!! The goldfinches are changing quickly.
Chris Madsen on 3/28 reported: The Common Loons (at least 2 of them) first reported by Jon Duerr were still above the South Elgin dam this morning. Also at that location along the west bank were 6 Ruddy Ducks.
Moving down the river, another group of 6 Ruddy Ducks were swimming with a group of 20 American Coots and a solitary Horned Grebe in the cove at Boy Scout Island in St. Charles.
Continuing to Batavia, at least 80 American White Pelicans were refueling at Nelson Lake. Most were not visible from the viewing platform - they were hanging out at the north end of the lake, possibly seeking shelter from a nasty north wind.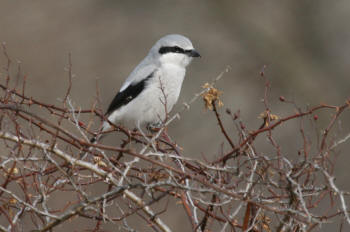 Northern Shrike photo courtesy Sue Wagoner
Sue Wagoner on 3/26 reported by e-mail: Spotting a Northern Shrike at Burnidge/Paul Wolff Forest Preserve. Sue writes, "This handsome fellow (gal?) was wonderfully tolerant and almost seemed to pose for me... From the parking lot at Paul Wolff off of Big Timber Rd., go west on the blacktop... not far, to a (probably temporary) wetland on the right, with a field just beyond it... start looking to the right on top of the shrubs (the kind with THORNS)......he was there 3/25 and 3/26, sometimes leaving when there was traffic, but always coming back.
Jon Duerr on 3/26 reported via IBET: 3 C(ommon) Loons and a Horned Grebe are above the dam in So.Elgin/Fox River. There is a riverside park at the dam one block east of Rt 31 at the Bridge crossing in So. Elgin. Walk onto the levee and view north, The Loons were 75 yds. above the dam at 9:30 AM Wednesday.
Chris Madsen on 3/26 reported: As of nine this morning there were 27 American White Pelicans on Nelson Lake. They were mostly swimming and feeding this morning, very little flight activity. Flushed a Wilson's Snipe from the area in front of the east viewing platform.
Melinda Johnson on 3/24 reported via e-mail: I spotted one Common Loon on Saturday, March 22, in the early evening hours (just before dark) on the Fox River at Riverwoods Christian Center (just south of Tekewitha Forest Preserve). It was moving northbound on the river, and I was able to see it clearly with my binoculars - as well as able to get a few pictures. This Loon was alone, and I did not hear him calling (wish I would have!).
Randy Shonkwiler on 3/23 reported via e-Bird: At Nelson Lake/Dick Young Forest Preserve:
Wood Duck
Gadwall
American Black Duck
Northern Shoveler
Northern Pintail
Canvasback
Redhead
Ring-necked Duck
Lesser Scaup
Bufflehead
Red-breasted Merganser
Pied-billed Grebe
Sandhill Crane
And at Glenwood Park Forest Preserve:
Horned Grebe
Double-crested Cormorant
Jon Duerr on 3/23 reported via phone: A total of 13 American White Pelicans and 100 Lesser Scaup at Nelson Lake.
Chris Madsen on 3/23 reported via IBET: A sure sign of spring in Kane County, 3 American White Pelicans arrived this afternoon at Nelson Lake/Dick Young Forest Preserve. Perhaps this is the "scout team." At one point in April of last year Nelson Lake was host to a reported 124 pelicans. Dick Young Forest Preserve is located on Nelson Lake Road about ¾ mile south of Main Street, and about 1½ miles west of Randall Road in Batavia.
Chris Madsen on 3/23 reported: A brief stop this morning at Tanner Road Marsh proved to be pleasantly productive. Two Sandhill Cranes were foraging among many Canada Geese. Also in that group was a lone Snow Goose. On an island on the east side of the marsh were three Greater White-fronted Geese. Swimming in the open waters were Common Mergansers, one Red-breasted Merganser, American Coot, Lesser Scaup, and one Pied-billed Grebe. Along the shore were a Great Blue Heron and many Killdeer.
Tanner Road Marsh is located south of Nelson Lake. Drive south of the Nelson Lake entrance on Nelson Lake Road which becomes Deerpath Road. After 1.75 miles turn west on Tanner Road. After traveling one-half mile, you'll find the marsh on the north side of the road.
Chris Madsen on 3/20 reported: Just before noon today, I spotted a 2nd year juvenile Bald Eagle fishing from the edge of the ice shelf in the Boy Scout Island cove along Route 31 in St. Charles. I parked in the Salerno's parking lot just south of the trestle and tried to stealthily approach, hoping for a picture. Even though there was some leafless scrubby cover, as soon as I slowly passed the trestle abutment the eagle, at least 40 - 50 yards away, flushed and flew upstream.
The (R)Andrini (R)Amblers© on 3/18: saw and/or heard 10 - 15 American Woodcock at Ferson Creek Fen in the fields north of the parking lot. The birds started "peenting" about 5 minutes after sunset. Flight displays began shortly thereafter.
Bill Koch on 3/17 reported via IBET: Driving on Rt. 31 today in St. Charles I saw a Juvenille Bald Eagle at Boy Scout Island. Stopped and viewed him from the bike path going over the river. A crow and a gull harassed it a few times. At Pottawatomie park were a few Common Mergansers and right by the fenced in Miniature golf area were 4 Ruddy Ducks. Further down past the dam were many Buffle Heads and Common Goldeneye.
Christopher Cudworth on 3/17 reported via IBET: This morning I have Brown Creeper, juncos, nuthatch, chickadee and pine siskins all feeding in our yard (in Batavia). They all seem pretty urgent. Wonder what they know about weather that we don't.
Marcia Nye on 3/16 reported via eBird: Green-winged Teal, scaup, Fox Sparrow, and Eastern Meadowlark at Nelson Lake.
Jack Pomatto on 3/16 reported via e-mail: At 5:15 P.M. another flock of 40 Sandhill Cranes flew over the east side of St. Charles.
Jack Pomatto on 3/16 reported via e-mail: Sandhill Cranes were moving today, 3/16/08, on the east side of St. Charles. Four groups in close proximity of 65 birds were rising up thermals and sailing off to the north at 1:45 P.M.
Chris Madsen on 3/16 reported: Just before 2 PM fifty Sandhill Cranes in three separate groups (38, 7, 5) flew over my house in St. Charles headed due north. A-honkin' the whole time.
Melinda Johnson on 3/16 reported via e-mail: I spotted one American Coot on the Fox River at Riverwoods Christian Center (just south of Tekewitha Forest Preserve) this morning, March 16th at 8:30am. Also seen on 3/13 - Common Mergansers (male and female) and Hooded Mergansers (male and female). Of course, there are roughly 24 Canadian geese who hang out around here at any given time.
Bob Andrini on 3/15 reported via e-mail: Late last night I had a male Great Horned Owl calling in the tree in our backyard - from a yard behind us, the female returned his call. We haven't had one in our backyard in many years.
Sue Wagoner on 3/15 reported via e-mail: A friend and I heard and watched a woodcock displaying Friday 3-14 p.m. Starting at twilight, we stayed about 45 minutes, and he did his aerial display about 10 times. While we could hear the wings and the chirping, we saw him only 3 times, coming down - once about 10-12 feet from us. In the fading light I caught him on the ground with my binocs, as a dark figue that moved- no details!!

For those who have a map of Burnidge, he was in the G-9 segment, south west corner of Burnidge. We also heard him last year in the same spot. A little to the east and north in segment G-8b there is a big rock (nice for sitting) just off the trail, where another has been heard (and seen in past years).
Sue Wagoner on 3/15 reported via e-mail: Rhonda and I circled Nelson Lake today and saw 6 Sandhills calling and flying over and around the lake- we are sure there are more, though. Also seen: many tree sparrows and song sparrows; one fox sparrow, one shrike (still), 2 white breasted nuthatches, downy woodpecker, red-bellied woodpecker, and a couple of crows; a couple of horned larks in the western grass. Lots of red-winged blackbirds.

Above my house yesterday I saw a hawk (too far to eyeball the identification but light-colored underneath), being dive-bombed by 2 gulls.
Bill (No Last Name) on 3/15 reported via IBET: Went back to the same pond later in the day and along with the birds mentioned before I saw 5 NORTHERN SHOVELERS, 2 LESSER SCAUP & 1 Male HOODED MERGANSER. INCREDIBLE for a subdivision pond. Must be spring fed because most of it was clear of ice.

Eric Secker on 3/15 reported via IBET: We birded up and down the Fox River in Kane Co. today. Around Red Oak Nature Center (on RT. 25 north of RT. 56), there were a few COMMON MERGANSERS and some BUFFLEHEAD.

Along Route 25 between RT. 38 and RT. 64 there were lots of BUFFLEHEADS and a few COMMON GOLDENEYE.

Up by Tekakwitha Woods F.P. there was a nice mix of ducks along the roads west of the preserve (go past the entrance and turn right on Park Pl., or just follow the signs to the Hideaway restaurant) Along that loop there were lots of BUFFLEHEADS, a couple pairs of COMMON MERGANSERS, 6-8 COMMON GOLDENEYE, and a pair of HOODED MERGANSERS.

Bill (No Last Name) on 3/15 reported via IBET: I was driving around today with my 4 year old son and decided to check out a pond in a new housing subdivision near my house in Elgin. Only had my car binos but I saw a some "first of year" birds for me. Had to go back to the house to get my better binos. At the pond I got great views of:
9 Male & Female RING NECKED DUCKS
8 Male & Female REDHEADS
2 Male & Female CANVASBACKS
5 AMERICAN COOTS
Along with some usual Mallards and Canadas

Yesterday at Binnie FP I was just getting on the trail when some SANDHILL CRANES started calling. They were pretty loud and actually startled me. 2 Cranes decided to overnight in the little marsh area on the left on your way in to the preserve. Got some great views of these 2 looking for food with the binos. Cardinals were everywhere and many times it was hard to hear over them and the RED WINGED BLACK BIRDS. Looks like a healthy population of EASTERN BLUEBIRDS will be at the Wetland near the back. Saw numerous pairs. Other than the usual suspects the other birds of note were several singing SONG SPARROWS and I heard a flyover REDPOLL.
Christopher Cudworth on 3/12 reported via IBET: At 4:45 a group of 85 sandhills passed directly over Batavia. I'll likely be out at Nelson tomorrow morning to see the spring progress.
John Heneghan on 3/12 reported via IBET: I just got a phone call from a friend who was at Nelson Lake in Kane County. He spotted about 20 sandhill cranes in the grass north and west of the steel bridge, and many more flying over. There is an opening in the middle of the lake, and water along the shore.
Hopefully the pelicans will make an appearance soon. Also a few of the nests used in the past by Red Tailed Hawks have birds sitting in them.
Karen Land on 3/12 reported via IBET: Heard but not seen, I could hear (Sandhill Cranes) call for around 15 minutes at 12:30 pm but could not see them, it's hard to see around the big trees in my (Batavia) backyard.
Christopher Cudworth on 3/11 reported via IBET: A wheezy sounding group of four pine siskins inspected my weakened supply of thistle seed this afternoon. Sorry guys, I forgot to change it. They left unfed.
Christine Kelly on 3/9 reported via IBET: My husband and I took an early morning ride from Lombard (DuPage) into Geneva (Kane) to possibly see the mom GREAT HORNED OWL on the nest by the Courthouse. We not only saw her on the nest (I am so excited - this is my first siting of a GHO!) we heard her mate hoooting (Hoo-Hoo-Hoooo-Hoooo-Hoo) from the top of the courthouse and then saw him as it got lighter out. He flew from the top of the courthouse to the large evergreen on the NE corner of the courthouse property probably to roost as we didn't see or hear him again. There was moderate whitewash under the nest this time.
The nest is on the corner of James and Third Streets in downtown Geneva. Mom's head is more easily seen if you stand north of the courthouse on James Street looking up at the nest. If you see something that looks like a football with cattle horns, that is mom's head...
...Good day to all - I have another species for my life list. Hurray!
Christopher Cudworth on 3/9 reported via IBET: There is movement of diving ducks up the Fox River. Between Batavia and St. Charles I found the following during a bike ride along the trail: 4 Lesser Scaup (Fabyan Park on west side of River, south of bridge) 8 Common Merganser (4 On open water between Fabyan and Geneva, 4 more on open water in St. Charles) 6 Common Goldeneye (4 in Fabyan, 4 more in St. Charles)
Doug Stotz on 3/8 reported via IBET: ...I saw a NORTHERN SHRIKE along US Rte 30 just west of Big Rock Creek, and 11 ROSS'S GEESE in with a few hundred Canada Geese and 3 CACKLING GEESE just east of Big Rock. There was also a WOOD DUCK by Big Rock.
Darrell Shambaugh on 3/8 reported via IBET: I haven't gotten in much birding this week, but I still saw a few interesting sights on my way to work. These sightings are all in Kane County.
Monday a SNOW BUNTING flew across Dauberman Road about 1:00 PM.
Thursday afternoon 8 SNOW GEESE were flying above the gravel pit east of Kaneville. I also checked the Geneva court house GREAT HORNED OWL nest Thursday, and I think a baby Owl's head was showing over the side.
Friday in the Fox River between Aurora and Oswego were COMMON GOLDENEYE, COMMON MERGANSERS, MALLARDS, CANADA GEESE, RING-BILLED GULLS, HERRING GULLS, and several GREAT BLUE HERONS. Near Ashland Avenue a SHARP-SHINNED HAWK flew over while I was sitting at the light.
John Heneghan on 3/7 reported via IBET: ,,,on Bunker road in Kane County, I saw a small group of blue (morph snow) goose feeding in a field just south of Hughes road.
Christopher Cudworth on 3/7 reported via IBET: No surprise here, so I forgot to mention that there were two Sandhill cranes present at Nelson Lake Marsh yesterday. We better get some warm weather or the pelicans will be skating on April 6 when they arrive.
As it is, there were some hilarious skid marks in the skiff of snow on top of the ice at Nelson Lake. Geese wiped out landing and there were coyote tracks in which one of the animal's feet kept sliding out in a pattern. Must have been missing a NIKE.
Christopher Cudworth on 3/6 reported via IBET: Not much stirring in late afternoon (at Nelson Lake) but a group of 8 Fox Sparrows on the west side of the main lake north of the observation deck.
I crossed the lake on the ice. Always like to do that once before winter's out. Probably stupid but hey, it makes life interesting.
John Heneghan on 3/6 reported via IBET: I looked at my feeders (in La Fox) this morning and was pleased and surpirsed to see 4 red winged blackbirds enjoying the seed!!
Karen Land on 3/4 reported via IBET: I'm sitting here at my desk and mindlessly looking out in to the park behind my house (in Batavia) and noticed 4 Robins out in the park where the snow has melted. There hasn't been much activity at my feeders over the last week but today I have 4 Chickadees, a pair of cardinals and have been hearing mourning doves cooing from over in the bushes to the east.
Chris Madsen on 3/3 reported: While sipping a cup of coffee yesterday morning at Nelson Lake's west parking lot off Main Street, we saw 6 - 10 Snow Geese fly overhead in formation with Canada Geese.
Ted Trimble on 3/2 reported via IBET: More (Sandhill) cranes a'flyin. Sunday at about 4:45 pm about 10 or so flying north, parallel and east of route 25 in Elgin.