Yeanette Johnson on 3/30 reported via IBET: I made a couple of lunchtime stops in Kane Co. today. First stop was Nelson Lake Marsh. Unfortunately I came up Grebe-less! Here is my list:

MUTE SWAN
AMERICAN WHITE PELICAN
AMERICAN WIGEON
NORTHERN PINTAIL
GREEN-WINGED TEAL
CANVASBACK
LESSER SCAUP
RUDDY DUCK
COMMON MERGANSER
MALLARD
AMERICAN COOT
CANADA GEESE
GREAT BLUE HERON
EASTERN BLUEBIRD
AMERICAN ROBIN

Les Arends FP:

GREAT EGRET
NORTHERN FLICKER
BROWN CREEPER
DOWNY WOODPECKER
HAIRY WOODPECKER
RED-BELLIED WOODPECKER
WOOD DUCK
COMMON GOLDENEYE
COMMON MERGANSER
MALLARD
CANADA GEESE
GOLDEN-CROWNED KINGLET
EASTERN PHOEBE
BLACK-CAPPED CHICKADEE
DARK-EYED JUNCO
AMERICAN ROBIN
SHARP-SHINNED HAWK
TURKEY VULTURE

Jon Duerr on 3/30 reported via e-mail: Prestbury Carson Slough; 35 American Pelicans Monday morning. There were 9 this past Saturday.

Jon Duerr on 3/30 reported via e-mail: Orchard Gateway flooded fields, west of Aurora: 20+ Pectoral Sandpiper, 1 Lesser Yellowlegs, 3-5 Common Snipe, many Killdeer.
Nelson Lake: 5 Red-breasted Mergansers.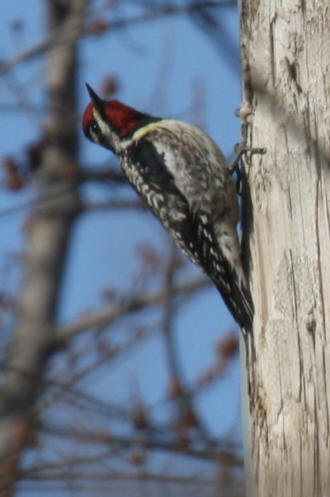 Yellow-bellied Sapsucker photo
courtesy Sue Wagoner.
Sue Wagoner on 3/29 reported via e-mail: I had a Yellow-Bellied Sapsucker work his way through my yard today. I also had 3 female Cowbirds at my feeders (parasite infestation? I hope not). Two pairs of House Finches bonding (males feeding females) One Robin helped himself at my suet feeder- have others seen this?
Christopher Cudworth on 3/29 reported via IBET: There was an eared grebe feeding in the northeast bay of the main lake at Dick Young/Nelson Lake marsh this morning at 7:30 a.m. (On Nelson Lake Road 1 mile south of Main Street --2 miles west of Batavia) The white pelicans were still present. About 125 birds.

Also seen:
EARED GREBE
Wood duck
Ruddy Duck
Bufflehead
Lesser Scaup
Ring-necked duck
Coot
Sandhill crane
Golden-crowned kinglet
Robin
Fox Sparrow
White Crowned Sparrow

It was pretttty cold out there.
Sue Wagoner on 3/28 reported via e-mail: Our walk with Jon Duerr in Bliss Woods included a group of Golden Crowned Kinglets, a group of male and female Purple Finches, and a Rusty Blackbird, as well as "the usual". Also one Loon seen at Oakhurst Forest Preserve.
Golden-crowned Kinglet and Purple Finch photos courtesy Sue Wagoner.
Gloria Dimoplon on 3/28 reported via e-mail: Selected Sightings: at J.J. Duerr F.P, Friday morning, March 27: Osprey, Fox Sparrow, Golden Crowned Kinglets, White Throated Sparrow, Common Goldeneye and Eastern Bluebird. Earlier in the week at Burnidge F.P., Wednesday, March 25: Fox Sparrows, Golden Crown Kinglets, Meadowlark, Winter Wren and Pheasant.
Darrell Shambaugh on 3/27 reported via IBET: This evening about 5:00 PM there were a bunch of TREE SWALLOWS flying around the ponds along Farnsworth Avenue in front of the Aurora Outlet Mall. Also in the Aurora area was a DOUBLE-CRESTED CORMORANT in the Fox River at the Kane - Kendall County line in Montgomery.
Mark Bowman on 3/26 reported via e-mail: Mark Bowman on 3-26 was at Nelson Lake and took a few pics of the pelicans. The green winged teals were in the same place as yesterday along with a few blue winged teals and shovelers. there were a few GC kinglets along with the eastern phoebe and swamp, fox and american tree sparrows along the SE path. The ducks in the main lake were basically the same as yesterday. No loon seen
American White Pelican photos courtesy Mark Bowman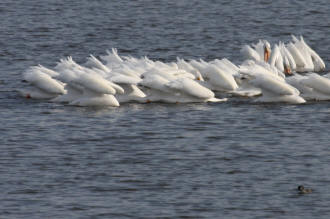 This American White Pelican group feed photo courtesy Sue Wagoner.
Sue Wagoner on 3/26 reported via e-mail: My recent walk around Nelson Lake produced this photo- no, this is NOT a floating feather bed- rather a American White Pelican eat-fest. Note the size difference with the female Bufflehead in the lower right corner.
Bill Reddinger on 3/26 reported via e-mail: Selected sightings from Bliss Woods F.P. on Tuesday, March 26th at 1:00 P.M.:
-Purple Finch: several females and one singing male near the trail head/parking lot by the huge oak trees.
-Barred Owl: near the paved bicycle trail.
-Winter Wren: calling and hopping around one of the many downed logs near the paved bicycle trail.
Jon Duerr on 3/26 reported via e-mail: Oakhurst For. Pres: One C. Loon was on Patterson Lake in Oakhurst F P at 10:30 AM Thursday. Good viewing from parking lot. Also, 8-10 Pied-bill Grebes.
Mark Bowman on 3/25 reported via IBET: At nelson lake it was cool with occasional winds and it was cloudy after 9 AM. Pelicans are still abundant. Blue and green winged teals were in a small pond south of the main lake. Fox and swamp sparrows were fairly active. On the main lake beside the pelicans there were common mergansers, ruddy ducks [all sleeping, they seem to be a very lazy duck], a few shovelers and gulls with lots of coots and ring necked ducks. No loon there today and no rusty black birds noted. Turkey vultures, sandhill cranes and red tailed hawk were in the sky. Also saw a few eastern phoebes and kinglets [which one I am not sure].
Jeanette Repp on 3/25 reported via IBET: A possible Sharp-shinned Hawk in flight west of St. Charles.
John Heneghan on 3/24 reported via IBET: The pelicans at Nelson Lake were still there this afternoon. I drove by on the way home from work though I did not stop to get a count.
Christopher Cudworth on 3/22 reported via IBET: I joined many others checking out white pelicans at Nelson Lake/Dick Young Forest Preserve in Batavia...Birds seen beyond pelicans:
Fox Sparrow
Swamp Sparrow
Song Sparrow
Dark Eyed Junco
White Breasted Nuthatch
Red Bellied Woodpecker
Rusty Blackbird (one singing by culvert on south trail)
Ruddy Duck (17 on main lake)
Common Merganser
Lesser Scaup
Shoveler
Herring Gull
Great Blue Heron
Cardinal
RWBB
Coot
Sandhill Crane (heard, not seen)
Bufflehead
Ring Necked Duck
Mallard
Canada Goose
One possible horned grebe sitting with the ruddies but its head was tucked in sleeping and difficult to confirm at 1/2 mile.

When I got home, I was greeted by the call of the resident pair of Cooper's Hawks checking out our white pine where they have nested 5 out of 8 years in our Batavia, IL. neighborhood. The male flew past and the female when in pursuit. She is 20% bigger than he, at least.

Also had flocks of juncos, 2 white breasted nuthatches, red breasted nuthatch, cardinal, mourning dove and house finch at our feeders.
Yeanette Johnson on 3/22 reported via IBET: Walked around the quarry lake this morning out at Big Rock Forest Preserve. I thought that I had stepped into a EASTERN PHOEBE Convention for sure! The FEE-BE was heard at every turn. A dog tracking event
seemed to keep most of the other birds in hiding. Big Rock Forest Preserve is located on Jericho Rd. Between Dugan and Granart Rds. in Kane County.
Roger Reason and Nancy Bent on 3/22 reported via IBET: A pair of Pine Siskens was observed Sunday at Salamander Springs, a Dundee Township Open Space site near Carpentersville in Kane County. The male was singing from various vantage points around two blue spruce trees and the female was seen carrying nesting material into one of the spruces.
Michael Sedwick on 3/22 reported via IBET: Diane and I were out at Nelson lake at 8am... few cars then, by the time we left that lot was way overflowing. Work my way out close to the waters edge. About 8:45 did a quick count of those Pelicans I could see. By my count at that time there were 285 in my line of sight. Now I know there were some on the back side of the island, as well as off in a cove to my left, and still off on the far right. So I'm estimating this count to be over 300. The most I have seen there in the many years we've been out there to photograph this migration.

Did not see any Sandhill Cranes however.
John Heneghan on 3/22 reported via IBET: Went to Nelson Lake this AM to see the pelicans. They were still there in numbers over 200. They was a group that could be seen easily from the East viewing platform. Heard but did not see sandhills.
Jon Duerr on 3/21 reported via e-mail: ...a Horned Grebe in winter plumage was intermixed with the 15 Ruddy Ducks at Nelson Lake in AM. 6 Rusty Blackbirds were by the culverts on the south trail.
John Heneghan on 3/21 reported via IBET: I was at Blackberry Maples this evening and had the pleasure of sharing the trails with peenting woodcock. Blackberry Maples is on Main St 1/4 mile west of Green east of Rt 47 in Elburn in Kane Cty.
Eric Secker on 3/21 reported via IBET: We stopped at Nelson Lake (Dick Young FP) this afternoon and were surprised at the numbers of AMERICAN WHITE PELICANS. I counted about 275 birds when we got there including 76 around the marsh and a tight group of about 200 working through the water for fish. Another group of about 43 flew in while we were there for a total of around 325 birds. Quite a sight.
Yeanette Johnson on 3/20 reported via IBET: I was out today between 1-4pm. My first stop was; NELSON LAKE MARSH:

AMERICAN WHITE PELICAN
DOUBLE-CRESTED CORMORANT
GREEN-WINGED TEAL
LESSER SCAUP
CANVASBACK
COMMON MERGANSER
CANADA GEESE
MALLARD
AMERICAN COOT
Christian Prohaska on 3/20 reported via IBET: I went to Nelson Lake to see the pelicans and found they were easiest to see from the viewing platform. I tried getting closer to the water but the weeds were too high to see over. North of the burned area and the platform, where the trail goes around the lake, there is a narrow path down to the lake. It is very squishy. You might see pelicans there if they swim around to feed or fly. To the south, along the trail, there is a spot where the trail goes over a culvert by a stream. I found some GOLDEN-CROWNED KINGLETS in the trees there. There were also some SANDHILL CRANES on the southern side.
Chris Madsen on 3/20 reported: More than 130 American White Pelicans this morning at Nelson Lake. A fair number of American Coots, a raft of about 15 Ruddy Ducks, some Lesser Scaup, two each Common Merganser and Wood Duck, and a handful of Bufflehead. Canada Geese and Mallards were present in modest numbers. Notables off the water were 5 Ring-necked Pheasants (looking for cover after yesterday's burn), 2 Red-tailed Hawks, 4 Sandhill Cranes, and a lone Great Horned Owl.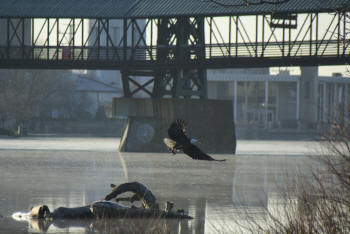 Bald Eagle photo courtesy Barb Simpson
Barb Simpson on 3/20 reported via e-mail: This bald eagle has been sighted on the mornings of Wednesday, March 18 (with a second eagle) and Friday, March 20, 2009 in St. Charles at Boy Scout Island on Rt 31, just north of North Ave. This picture was taken Friday morning as the eagle took flight with it's catch and headed toward Pottawatomie golf course.
Jean and Bob Spitzer on 3/19 reported via IBET: Thursday morning at Nelson Lake we saw & photographed:

Numerous white Pelicans
Sandhill Cranes (heard only)
American Widgeon
Ring-necked Ducks
Ruddy Ducks
American Coots
GB Heron
C. Geese
Lesser Scaup
Eastern Meadowlark
Brown headed cowbird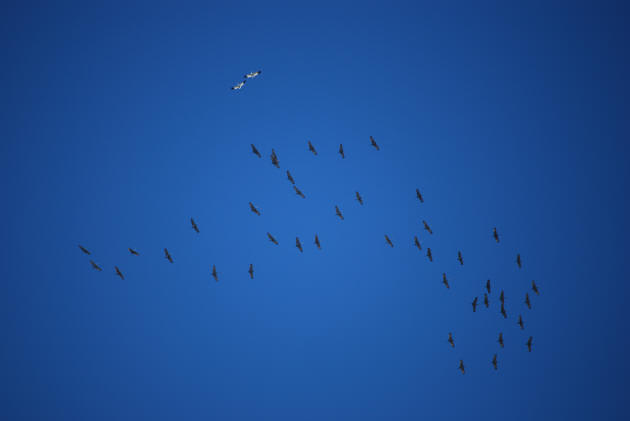 Hal Withey shot this photo of 2 Whooping Cranes migrating with a flock of Sandhills over St. Charles on March 15th.
Bill Koch on 3/18 reported via e-mail: Stopped by Burnidge today at lunch and did a quick walk around. Found a first of year Eastern Phoebe on the paved path in the back. Three pairs of Wood Ducks were high in the trees looking for nesting cavities where the path turns away from the lake. I think the Batavia Sandhills reported on IBET went right over Burnidge. Saw 3 waves of about 20 to 30 go over. Only other interesting item was I heard several Fox Sparrows but only viewed one.
Karen Land on 3/18 reported via IBET: At 1:58 I had another 2 waves [of Sandhill Cranes] fly over, smaller, about 50 birds each. Both groups have been pretty low. They were heading northwest towards the west side of Geneva.
Tom Mohr on 3/18 reported via IBET: And I just saw four groups [of Sandhill Cranes], maybe 150-200 total, over Geneva. Heading northwest.
Karen Land on 3/18 reported via IBET: I just had 2 waves each of about 75 Sandhill cranes fly directly over head [in Batavia]. The first wave turned around and circled about for 3 turns [and] then proceeded to fly off north west after the other wave. I hear them often but this was the first that I have actually seen this season. This was at 1:30.
Pete Moxon on 3/17 reported via phone: At least 82 American White Pelicans were counted at Nelson Lake this evening. Additionally, Pete had 4 Tree Swallows, 1 Sora, and 1 Virginia Rail. Significant among the ducks normally seen were 11 Wood Ducks. In the blackbird family, he reported "a bunch" of Rusty Blackbirds and a couple of Brewer's Blackbirds.
Chris Madsen on 3/17 reported: Tonight's warmth coaxed me to visit Ferson Creek Fen in St. Charles (east of Route 31, north of town) for a Woodcock Watch. Sure enough, at 7:23 the first "peents" were heard. The first American Woodcock aerial display was viewed only a minute later. A wild guess as to the number of woodcocks: 10 - 12. The closest were about 150 feet north of the parking lot. A subsequent quick stop at LeRoy Oakes FP produced no woodcocks in the fields south of Dean Street, but another visit is in order.
Darrell Shambaugh on 3/17 reported via IBET: In Geneva (Kane County) three TURKEY VULTURES were flying at the intersection of Route 31 and Fabyan Parkway.
Sandhill Cranes photo courtesy Ron Dickenson
Ron Dickenson on 3/16 reported via e-mail: When I left [Nelson Lake] at noon there were 27 pelicans on the lake and saw a pair of sand hill cranes.
Nathas (no last name) on 3/16 reported via IBET: Sunday I went to look out for the sandhill cranes at Nelson Lake, Kane county and was glad to see around 20+ American White Pelicans. I hope by next weekend we can see more of them.

Also I saw 6 Sandhill cranes at the lake.
Bob Andrini on 3/15 reported via e-mail: went out [to Nelson Lake] at about 4 and counted 17 White Pelicans. Spring can now start.
American White Pelican and Bald Eagle photos courtesy Ron Dickenson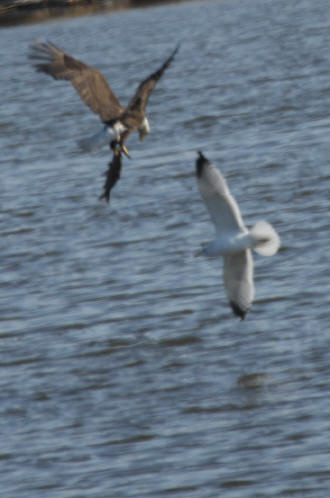 Bald Eagle with lunch photo courtesy Sue Wagoner
Sue Wagoner on 3/15 reported via e-mail: This afternoon at Nelson Lake, I saw this Bald Eagle catching a fish and being hassled unsuccessfully by Gulls. Also saw & heard were 5 Sandhill Cranes and about 15 or more White Pelicans.
Jason Sturner on 3/15 reported via IBET: [At Nelson Lake Marsh/Dick Young Forest Preserve:]
6 American White Pelicans
GREAT BLUE HERON
20+ CANADA GEESE
10+ MALLARDS
Unidentified DUCKS (too far away)
5+ COMMON MERGANSERS
TURKEY VULTURE
RED-TAILED HAWK
10+ AMERICAN COOTS
SANDHILL CRANE
KILLDEER
3 Unidentified GULLS
2 MOURNING DOVES
2 RED-BELLIED WOODPECKERS
2 DOWNY WOODPECKERS
2 BLUE JAYS
4 BLACK-CAPPED CHICKADEES
15+ AMERICAN ROBINS
AMERICAN TREE SPARROW
2 FOX SPARROWS
5+ SONG SPARROWS
DARK-EYED JUNCO
5+ COMMON GRACKLES
20+ RED-WINGED BLACKBIRDS
5+ NORTHERN CARDINALS
AMERICAN GOLDFINCH
Christopher Cudworth on 3/15 reported via IBET: This morning there were four white pelicans on the north end of the main lake at Nelson/Dick Young Forest Preserve in Batavia. Also seen and heard:

RUSTY BLACKBIRD
FOX SPARROW
SONG SPARROW
TREE SPARROW
B-C CHICKADEE
RED-BELLIED WOODPECKER
NORTHERN CARDINAL
RW BB
HERRING GULL
SANDHILL CRANE
RING NECKED DUCK
LESSER SCAUP
GADWALL
CANADA GEESE
MALLARD

gotta go... late for church
Yeanette Johnson on 3/14 reported via IBET: We birded from 10:30am-2:30pm. (DuPage & Kane Co) Here is what we found [at Nelson Lake Marsh]:

NORTHERN PINTAIL
AMERICAN WIGEON
GREEN-WINGED TEAL
COMMON MERGANSER
MALLARD
CANADA GEESE
LESSER SCAUP
BALD EAGLE (FISHING THE MARSH)
Claire Dassy on 3/13 reported via IBET: My little Fox River "front yard" across from Buffalo Park in Algonquin is still filled with many Goldeneyes, Common Mergansers and a couple of Bufflehead. Haven't seen the Redhead lately but today saw the first of Wood Ducks (2 male, 1 female) for the season.
On the bike path in the same vicinity I saw a pair of Cooper's hawks that seemed to be scoping a place to build a nest....one was flying around with sticks in its talons.
Yeanette Johnson on 3/13 reported via IBET: Walked the dogs at BLISS WOODS FP IN KANE CO. from 10-11am. Here is what I found;

Purple Finch
Blue Jay
Red-bellied Woodpecker
Downy Woodpecker
Black-capped Chickadee
Dark-eyed Junco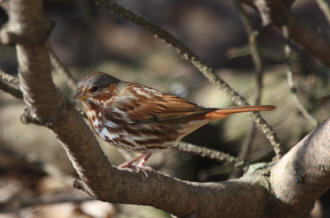 Fox Sparrow in daylight photo
courtesy Sue Wagoner
Sue Wagoner on 3/13 reported via e-mail: "My" Fox Sparrow returned today and granted me more photos- here's a better one to show off his gorgeous patterns. He nearly dug up my yard with his 2-legged scratching.
Darrell Shambaugh on 3/12 reported via IBET: This afternoon as I was driving south on Orchard Road on Aurora's west side I met an adult BALD EAGLE flying north just south of Galena Avenue.
Sue Wagoner on 3/12 reported via e-mail: Here they come? I saw my first-of-the-year Fox Sparrow scratching vigorously in my back yard. Here's a dark photo (best I could do with the "crepuscular" light)
Darrell Shambaugh on 3/11 reported via IBET: I haven't gone birding much this week, but during migration you can see some neat birds just by paying attention.

Monday afternoon while standing out in the parking lot at my place of employment in St. Charles during an evacuation drill about 15 SANDHILL CRANES flew over.

Tuesday I took some country roads home from work to check the flooded fields. There were very few ducks, and not very many CANADA GEESE either. On Seavey Road east of Bliss Road (Kane County) a blue SNOW GOOSE was in a field with about 20 Canada Geese.

This morning about 8:00 AM, I stopped at Fabyan Forest Preserve. As usual, I saw no White-winged Crossbills, but about 8 PINE SISKINS were in the trees by the Japanese Garden.

This afternoon about 2:30, while meeting a vendor at the front door of our plant, (St. Charles, Kane County) an adult BALD EAGLE was flying over, the 53rd species I've seen there.
Rowland Bateman on 3/11 reported via e-mail: Rowland Bateman on 11 March spotted two Turkey Vultures north of Main St Rd from Lorang Rd . When I entered it in my bird journal found it interesting that the vultures returned on the same day in 2008. Also saw a pair of male Ring Neck Pheasants on the gravel pit berm.
Walter Lutz on 3/11 reported via e-mail: Mid-day at Nelson Lake: a Northern Shrike, 2 mature Bald Eagles, a handful of Sandhill Cranes, one Bluebird, one Eastern Meadowlark, & one Great Blue Heron among the usual (and either a immature Bald Eagle or a Rough-legged Hawk as I had a quick, poor look).
Mark Bowman on 3/10 reported via e-mail: At nelson lake it was not real crowded with ring necked ducks and a couple gadwalls, there were also a pair of noisy sandhill cranes but I could not see them.
Yeanette Johnson on 3/9 reported via IBET: I birded [Nelson Lake] marsh from 2:00-4:00pm. Here is what I found:

Green-winged Teal
Ruddy
Bufflehead
Lesser Scaup
Ring-necked
Common Merganser
Hooded Merganser
Canada Geese
American Coot
Sandhill Crane
Great Blue Heron
Ring-necked Pheasant
Dark-eyed Junco
American Tree Sparrow
Northern Cardinal
Black-capped Chickadee
Blue Jay
Red-tailed Hawk
Red-winged Blackbird
Red-bellied Woodpecker
Joe Lill on 3/9 reported via IBET: ,,,I stopped at Hampshire F.P., where there was a flock of White-winged Crossbills at the west edge of the evergreen plot. At least four males, which I shared with a couple of hikers. Isn't it strange to be searching for White-wingeds with the intent of seeing how late they'll stay? Or, in my case, I figured that I was passing by there so I might as well try to add them to my Kane list. I'm not used to this yet...White-wingeds on command.
Also, in the fluddle on the west side of Rt. 47 between Reinking Rd. and Rt. 20 there were at least nine Greater White-fronted Geese mixed in with the Canadas. Still haven't been able to turn a Canada into a Cackling yet this year.
Gloria Dimoplon on 3/9 reported via e-mail: Margaret Mechtenberg and I observed a pair of Red-shouldered Hawks at SEBA park this morning at around 10 am. The birds circled overhead for a bit then headed north along the Fox River. Margaret identified the bird which was a lifer for me.
Barb Rask on 3/9 reported via e-mail: Just a little note; as I drove down Riverside drive yesterday I noted 4 or 5 Double-crested Cormorants swimming and diving in the Fox River just south of Tekakwitha Woods FP. Approximately a mile down from there was a pair of Hooded Mergansers perched on a log in the center of the river. This morning along the same stretch of road one Bald Eagle flew overhead.
Randy Shonkwiler on 3/8 reported via IBET: Here are the highlights of birding yesterday [at Nelson Lake] for John Duran and myself:
Gadwall---2
A. Wigeon---2
N. Shoveler---3
Redhead---2
Ring-necked Duck---4
L. Scaup---1 (+6 scaup species; prob. Lessers)
C. Goldeneye---1
C. Merganser---29
Hooded Merganser---2
Ruddy Duck---3
Sandhill Crane---1
(G. White-fronted Geese---0)
Urs Geiser on 3/7 reported via IBET: This afternoon I went [looking for the California Gull] to the spot that Jon describes . The gulls were feeding in the fields behind the main fluddle, and many were too far to identify. I'm still California-less in Illinois. There were GREEN-WINGED TEAL, GADWALL, and COOT on one of the fluddles.
Darrell Shambaugh on 3/7 reported via IBET: For the second time in three days I found myself on Lorang Road on the way home from work. Today at the corner of Lorang and Seavey Roads I found a NORTHERN SHRIKE. After a few seconds the shrike flew off into the nursery to the west. South of the Seavey Lorang intersection about 600 blackbirds were in the fields and the ditches along the road. They were about half RED-WINGED BLACKBIRDS and half COMMON GRACKLES. I found one RUSTY BLACKBIRD in the group. There may have been a few more rusties, but it was raining, and I had some ribs to eat when I got home, so I didn't dilly-dally too long.

In the fields along Seavey Road, Lasher Road and Route 30 I saw only Canada Geese.
Jon Duerr on 3/7 reported via IBET: An adult breeding plumage California Gull is with a flock of Ring-billed Gulls on the west side of Aurora. The flock is in a corn field west of an industrial park so you can drive to approx 100 yd from bird. Drive to the end of Orchard Gateway and park along side a softball field, scan west into the corn stubble to the fuddle. At 9:00 AM Saturday there were approx 70 gulls sitting around the fuddle and the California Gull and a few Herring Gulls were with them.

Directions: from intersectuion of I88 and Orchard north to Orchard Gateway, a stoplight. west on Gateway until it comes to the 3d stop sign and the road makes a 90 degree left turn, the softball field is on right. Look steraight ahead into the corn field. (41.48'N 88.23'W)
Jim Frazier on 3/7 reported via IBET: Not big news, but I thought I'd let y'all know about a Bald Eagle at Fabyan Forest Preserve. I actually saw him fly over the bridge and gliding in to land north of the bridge.
Chris Madsen on 3/6 reported: I was at Nelson at about the same time as Yeanette (see earlier post). Although I whiffed on four of her sightings (wigeon, green-winged teal, turkey vulture, and red-headed woodpecker), I did have CANVASBACK, NORTHERN SHRIKE (between the bridge and the west platform on a scrub tree near the lake), EASTERN MEADOWLARK (calling from the prairie across the grass path from the shrike), GREAT HORNED OWL.
Some notes on the sightings: The White-fronted Geese were in a flock of about 50 that flew low over the lake and then hung a left at the south end. I didn't see where they ended up.
It was hard to tell whether there was one pair or two of the Sandhill Cranes. They were calling frequently from the north and south ends of the lake.
There were many gulls. Ring-billed and Herring. Possibly others. I don't claim to be an expert on many things and gulls are close to the top of that list. HOWEVER, there was a solitary gray or dirty-white bird sitting in the middle of the south end of the lake that appeared to be a small gull with a bright white head. It looked as though someone had taken a small brush of black paint and outlined the back of the bird's profile. A possible BONAPARTE'S? Maybe someone with a scope can take a look tomorrow.
Bob Andrini on 3/6 reported via e-mail: Kath saw 6 Common Grackles land on our feeders today - spring is on its way
Mark Bowman on 3/6 reported via e-mail: At Sauer Farm...saw lots of canadian geese and mallards. There was a pair of pintails, 7-8 ring necked ducks, 3-5 northern shovelers and 1 female northern harrier
Yeanette Johnson on 3/6 reported via IBET: Birded Nelson Lake Marsh today between 3 & 5 PM. Here is what I saw:

Geese:
Canada
Greater White-fronted

Ducks:
Northern Pintail
American Wigeon
Northern Shoveler
Blue-winged Teal
Lesser Scaup
Ring-necked
Common Goldeneye
Common Merganser
Hooded Merganser
Bufflehead
Green-winged Teal

Others:
Sandhill Crane
Red-winged Blackbird
Cardinal
Black Capped Chickadee
Red-headed Woodpecker
American Coot
Turkey Vulture

Darrell Shambaugh on 3/5 reported via IBET: This evening I was leaving work, feeling bad because it was almost dark and I hadn't gotten a chance to go birding. A few minutes later, as I sat in Geneva on Route 38 at the stop light at East Side Drive, in the red sunset ahead several big birds with dihedral wings were soaring above the horizon, the first TURKEY VULTURES I've seen this year!

I decided to check Sauer Family Prairie Kame for Short-eared Owls. There isn't much you can look for as it gets dark beside Short-eared Owls. On the road that goes south from Main Street past the Almon Underwood Forest Preserve, a GREAT HORNED OWL was sitting on a telephone pole.

At Sauer I pulled into the first pull off on Lasher Road and watched waterfowl coming in to the ponds and scanned the grasslands for Short-eared Owl. There were no owls present, but several KILLDEER started calling in the distance, my second first of the year bird of the day.

March 5 is my third-earliest spring arrival date for Turkey Vulture in 21 years of keeping records. My average first spring date for Killdeer is March 10. However, the range of first dates over 24 years for Killdeer ranges from February 15 to May 4.
Bill Koch on 3/5 reported via e-mail: I visited Burnidge FP today at lunch. I finally found a Great Horned Owl there sitting in a large pine tree. The high winds kept most of the birds away today as I didn't see much else besides Horned Larks and American Tree Sparrows.
There is a large puddle in a cornfield off of Highland between Coombs and Randall. There were hundreds of ducks in it but I couldn't get a good view due to the position of the sun and the traffic on Highland. A small pond in the Elgin neighborhood I live in had 6 male Lesser Scaup and a (first of year for me) Pied Billed Grebe swimming in an area not iced over.
Ended my lunch by watching a Red Tailed Hawk eat his lunch. Looked to be some kind of rodent.
Christopher Cudworth on 3/3 reported via IBET: This morning I came out to my car [in Batavia] to witness a group of White Winged Crossbills feeding on the ground. My wife and I use white pine cones as mulch around our two trees in front of the house and the birds were working through these cones very methodically. There were 9 birds on the ground and others up in the trees. They shuck cones off the trees quite frequently, but I had not seen them come to the ground. You could hear their beaks flipping through the husks for seeds, and they were calling when they moved about. I was only 15 feet from the nearest group. Regretted I had to depart for work and did not have my digiscoping outfit in the back of my car.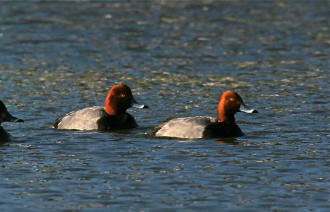 Redhead photo courtesy Mark Bowman
Mark Bowman on 3/2 reported via e-mail: These redheads were seen in the small pond by Delnore hospital. Once that ice starts to melt, watch those small ponds for those ducks. Went to Elburn FP and saw Siskens but did not see redpolls or crossbills
Michael Hogg on 3/2 reported via IBET: [Yesterday I found] 11 White-fronted Geese just west of Aurora in a wet spot behind a hotel on the west side of Orchard Road directly south of I-88 along with a feeding frenzy of Mallards, a few Canada's and one Black Duck.
Mark Bowman on 3/1 reported via e-mail: ...was on the fox by SEBA [park in South Elgin] today and it was cold. Saw the redhead and a number of goldeneyes but no white fronted geese. This Herring gull landed on a bird house in the fox river and was sunning.
My wife told me a few days ago that she was by the kitchen window and right outside our window off the patio the squirrels were in the feeders when this "giant hawk" swooped down out of nowhere and grabbed one of the squirrels and flew off. I assumed it was a redtail as they fly over once in a while but I have never seen one come down before into the yard.
My son spotted this coopers hawk in our back yard [in St. Charles], he is a fairly regular visitor and you know why.
Herring Gull and Cooper's Hawk photos courtesy Mark Bowman.