Katherine Flynn on 3/31 reported via e-mail: You may already know this but today when we went to Nelson Lake to see the American White pelicans there were none to be found. There was a constant stream of people obviously coming to see them. At the overlook a very kind man told us that the recent prairie burn (I think 2 days ago) smoked them out. Sounds like bad timing on the burn. He said he heard of a sighting of them in the Sugar Grove sub-division and gave us directions (we are new to the area).

We drove over there and on Denny Road as it loops around the far end of the largest and most natural end of the lakes and becomes Norris Road - there they were! (Map) I think there were well over 60 there in groups on the marsh edges, on the muskrat lodges and such. And they were so close and easy to see.

It looked like they were quite settled there for the duration.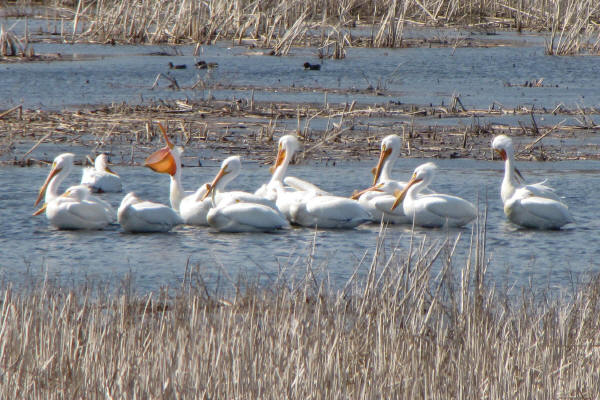 American White Pelicans at Carson Slough photo courtesy Ron Dickenson
---
Mark Bowman on 3/31 reported via e-mail: This is what everybody wants to look for on the RAMBLE tomorrow at Campton. My brother and I outwitted the wiley woody today at PECK FARM.
American Woodcock photos courtesy Mark Bowman
---
Ron Dickenson on 3/31 reported via e-mail: Batavia's Great Horned Owlets are looking less like fluff balls and more like owls.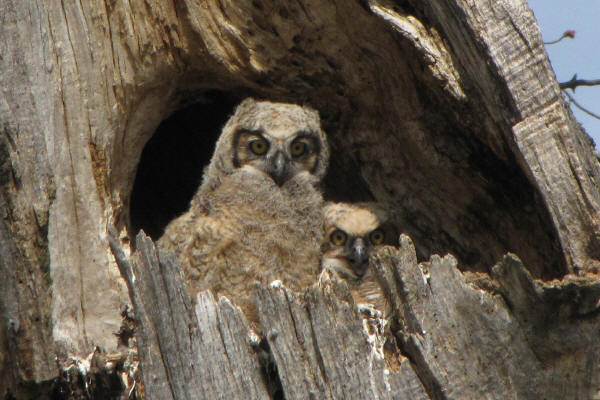 Great Horned Owlets photo courtesy Ron Dickenson
---
Darrell Shambaugh on 3/30 reported via IBET: After work today I went past Nelson Lake in Kane County. There weren't any pelicans on the lake so I drove on by. While heading west on Seavey Road a flock of about 60 large birds flew over, heading south. I think they were Sandhill Cranes, based on their size, shape, and flight pattern. However, by the time I found a safe place to pull over they had turned into 15 large, chunky, white birds, AMERICAN WHITE PELICANS. They headed west in their typical pelican swirling pattern. I never found the Sandhill Crane flock again.

My next stop was the Denny Road Marsh, also in Kane County, now known as Carson Slough, and there were about 50 AMERICAN WHITE PELICANS on the pond. The first American White Pelicans I saw in northern Illinois were at Denny Road Marsh on April 28, 1995, and these were the second pelicans I've seen there. Back in 1995 pelicans were really rare away from the Mississippi River, and those at Denny Road Marsh were a really big deal. American White Pelican migration has been moving east for a long time, and they were just starting to hit middle Illinois. As a side note, Ron Flemal told me about the pelicans while we were watching a Scissor-tailed Flycatcher in DeKalb County near Waterman. I was working nights then, and saw both species while on my way to work. April 28, 1995 was one of the best days of birding I've ever had while on my way to work.

Today, in addition to the pelicans, Carson Slough had a lot of ducks. GREEN-WINGED TEAL was the high count duck. Other species included NORTHERN SHOVELER, AMERICAN COOT, and MALLARD.

I biked about 6 miles on the Virgil Gilman Bike Trail, from Hannaford Woods to the Prestbury golf course. Highlight was a pair of Cooper's Hawks mating and then the female eating a bird (probably a robin) while the male sat in a nearby tree. The funny thing were the several people who walked beneath the hawks and didn't notice them. The hawks didn't pay much attention to the people either. There was also an EASTERN PHOEBE singing at the bridge where the bike trail branches of to Waubonsee Community College.
---
Chris Madsen on 3/30 reported: About 50 pelicans were at Nelson Lake this morning during the WTTW filming session (see the homepage), but by 12:30 only five birds remained.
---
Darrell Shambaugh on 3/29 reported via IBET: I checked Oakhurst Forest Preserve in Aurora Monday afternoon. My target bird, HORNED GREBE, was there. Other birds included RING-NECKED DUCK, NORTHERN SHOVELER, MALLARD, BUFFLEHEAD, CANADA GOOSE, and AMERICAN COOT.
---
Yeanette Johnson on 3/29 reported via IBET: It was very birdy at Bliss Woods FP this late morning into early afternoon. The birds were busy about the bussiness of singing throughout the preserve. I even witnessed a bit of nest building while watching a pair of BLACK-CAPPED CHICKADEE'S. It was the first time this season that I spotted a NORTHERN FLICKER. An EASTERN PHOEBE was also a FOY for me today. Other Bliss Woods regulars included;

TUFTED TITMOUSE
EASTERN BLUEBIRD
DOWNY WOODPECKER
RED-BELLIED WOODPECKER
WHITE-BREASTED NUTHATCH
DARK-EYED JUNCO
COOPER'S HAWK
BLUE JAY
NORTHERN CARDINAL
AMERICAN ROBIN
AMERICAN GOLDFINCH
---
Scott Cohrs on 3/29 reported via IBET: On Saturday, I made a quick trip to Nelson Lake to check on the pelican status for the Sunday IOS outing. Most of the birds from Saturday have been reported, but a DC Cormorant on the lake was my first for the year. Two fly-over Turkey Vultures were also new arrivals for me.

Hoping for a Common Loon somewhere, I decided to run down quickly and check Jericho Lake (just west of Orchard Rd on Jericho Rd). Sure enough, one Common Loon was resting on the far east side. I was not even aware of this lake until last year when I accidentally stumbled upon it after a failed attempt for the BN Stilt. During that visit, a Common Loon was circling the parking lot and I wondered if that was just dumb luck or whether they used this lake. I guess I'll have to add it to the spring loon circuit.

On yesterday's IOS field trip, the pelicans continued in good numbers (~100). Duck variety was good, with a pair of Red-breasted Mergansers topping the list. A Mute Swan flew in from the north and stayed for a while. Almost missed it amongst the pelicans. Unfortunately, after everyone had departed, I took a last scan of the lake. I had somehow missed a small flotilla of grebes in the middle of the lake. There were at least 4, 3 of which were Horned Grebes in varying states of plumage. One was a very dusky Eared Grebe that still appeared to be in full basic plumage, or very close to it. These grebes were actively feeding the entire time, so it became confusing trying to keep them straight. One would dive, then another would pop up in the same spot.

During the drive over in the morning, I saw a Great Egret near Braeburn Marsh (what's left of it) on Fabyan Ave.
---
Yeanette Johnson on 3/29 reported via IBET: Aurora West FP Kane Co:

BLUE-WINGED TEAL
GREEN-WINGED TEAL
AMERICAN WIGEON
MALLARD
AMERICAN COOT
CANADA GOOSE

Carson Slough Kane Co:
AMERICAN WHITE PELICAN (Also present at Nelson Lake Marsh)
GREEN WINGED TEAL
BUFFLEHEAD
LESSER SCAUP
AMERICAN COOT
MALLARD
CANADA GOOSE
---
Karen Lund on 3/29 reported via IBET: Met up with Nancy Kowalski [on 3/27] at Nelson Lake where we were treated to 100+ pelicans (and almost as many people due to an article in the local newspaper), many tree swallows, wigeons, ring-neckeds, lesser scaup, ruddies and coots.
---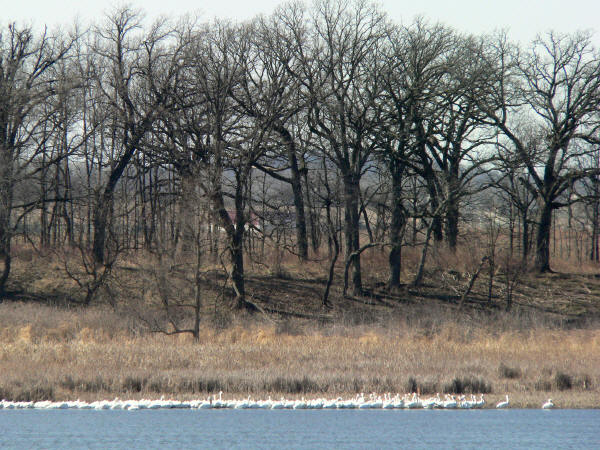 Some of the 100+/- American White Pelicans tucked in along the western shore of Nelson Lake on a windy Sunday afternoon. Photo courtesy Chris Madsen.
---
Jeff Smith on 3/28 reported via IBET: On Saturday Pete Moxon and I birded parts of DuPage, Kane, Will, Grundy, and La Salle counties. We found most of our 19 duck species at Pella Ponds and Nelson Lake along with 2 grebes, Sandhill Crane, and A.W. Pelican. At Sauer Family we picked up Wilson's Snipe and both Eastern and Western Meadowlarks.
---
John Heneghan on 3/28 reported via IBET: I was out walking around this AM at Big Rock Forest Preserve in Kane County. In particular, I walked through a prairie area blackened by Prescribed Fire on the East side of the Forest Preserve. the first thing I noticed was the large numbers of robins rumaging through the area looking for bugs and worms. I also noticed many red winged black birds in the fields rummaging about. On the edges of the field, I saw a few eastern bluebirds. I heard song sparrows in the brush along the edges of the fields singing. I was somewhat surprised to see a white breasted nuthatch fly up from the edge of the burned area. Juncos were investigating the field edges.
I went down into the bottoms along the creek and a woodcock flew away as I walked through. I also saw a pair of wood ducks inspecting a potential nest site in a dead tree. I am glad the Forest Preserve District put fire through the praire area to prevent and curtail invasive plants and insure the continued propagation of the prairie plants. I think the birds appreciated the fire also, as it seemed to make foraging easier for them.
---
Chris Madsen on 3/27 reported: At 5 PM there were about 100 American White Pelicans on the water at Nelson Lake.
---
Steve Beckle on 3/27 reported via IBET: I saw three white pelicans last evening (Friday Mar 26) at Nelson Lake. They flew in from who knows where, about 6 pm, stayed toward the southeast sector of the lake, then flew away after about a half hour.
---
Tim Balassie on 3/25 reported via IBET: Stopped by a couple of Preserves in the last few days. Not too much going on, altho I did pick-up a Marsh Wren at Pingree Grove yesterday. In addition, heard my first Spring Eastern Phoebe today.

Location: Trout Park Nature Preserve (Kane Co.)
Observation date: 3/18/10
Number of species: 15
Canada Goose
Canada Goose (Lesser)
Mallard
Red-tailed Hawk
Killdeer
Ring-billed Gull
Red-bellied Woodpecker
Downy Woodpecker
American Crow
Black-capped Chickadee
White-breasted Nuthatch
American Robin
Northern Cardinal
Red-winged Blackbird
American Goldfinch

Location: Pingree Grove FP, Kane Co
Observation date: 3/24/10
Number of species: 29
Canada Goose
Wood Duck
Gadwall
American Wigeon
Mallard
Northern Shoveler
Great Blue Heron
Turkey Vulture
Cooper's Hawk
Red-tailed Hawk
American Coot
Killdeer
American Woodcock
Herring Gull
Red-bellied Woodpecker
Downy Woodpecker
Northern Flicker
American Crow
Black-capped Chickadee
White-breasted Nuthatch
Marsh Wren
American Robin
European Starling
Song Sparrow
Northern Cardinal
Red-winged Blackbird
Eastern Meadowlark
Brown-headed Cowbird
American Goldfinch
---
Bob Andrini on 3/25 reported via phone: About 50 American White Pelicans at Nelson Lake and 70 at Carson Slough. All hunkered down in the early morning. Another notable sighting: 2 Horned Grebes at Nelson.
---
Mark Bowman on 3/24 reported via e-mail: I saw this group of sandhills flying over near kirk road today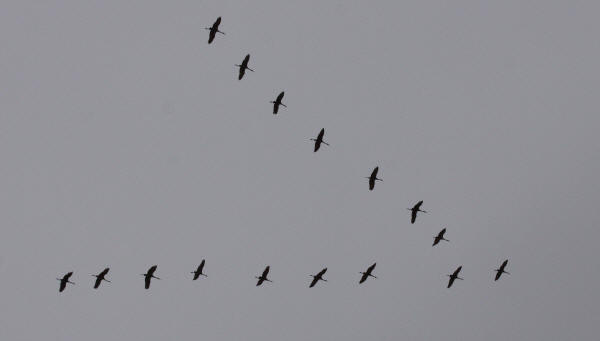 Migrating Sandhill Cranes photo courtesy mark Bowman
---
Ron Dickenson on 3/23 reported via e-mail: About 50 - 60 American White Pelicans landed at Nelson Lake today, stayed a short time, and then continued on north.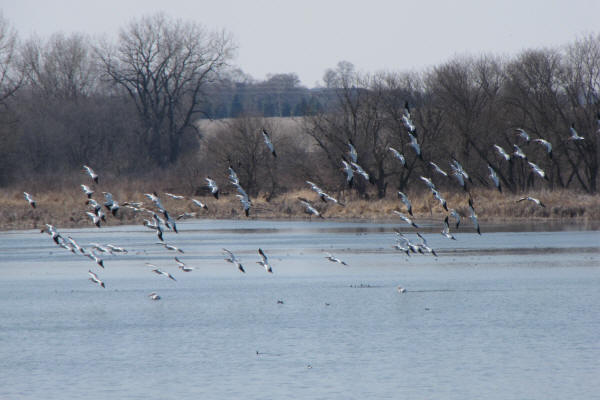 American White Pelicans at Nelson Lake photo courtesy Ron Dickenson
---
Bob Andrini on 3/23 reported via phone: At least 18 American White Pelicans on Nelson Lake at 10:30 this morning.
---
Bryan Hix on 3/22 reported via e-mail: Went out to Nelson Lake around 7am this morning. Lots of waterfowl activity on the water. There were:

10 White Pelicans hunkered down, heads tucked in out of the wind.
50+ mallards in one group come in to land
2 Black ducks
12-16 Ringnecks
5 Bluebills [Ruddy Ducks]
2 Redheads
2 Wood Ducks
8 Green-wing teal
2 Blue-wing teal
9 Wigeons
5 Coots
3 sandhill cranes
6 Ring-billed gulls
1 Herring Gull -adult breeding plumage
1 Ring-necked pheasant (almost stepped on it!)
1 Cooper's Hawk
Hundred of RW Blackbirds
2 Song Sparrows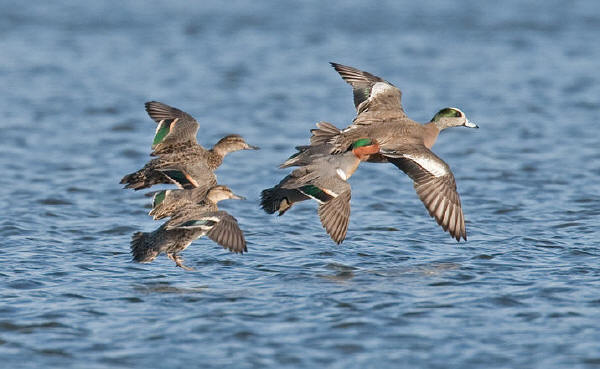 American Wigeon leading three Green-winged Teal photo courtesy Bryan Hix
---
Christopher Cudworth on 3/21 reported via IBET: During my run on Snowy Saturday on the bike path between Batavia and Fabyan Forest Preserve I spotted a HERMIT THRUSH feeding along the riverbank where the snow hadn't reached. The bird was on the west side of the river about where the bike path crosses a small wooden bridge.

Also on the west side, a small flock of EASTERN BLUEBIRDS has been seen several times over the last few days at the oak grove by the edge prairie just south of the Fabyan Bridge. Both male and female EBB.

Today during my bike ride south through Les Arends Forest Preserve, I stopped to listen to a CAROLINA WREN singing on the west side of the trail behind one of the residences. It was on private property and I could not pursue to see even though I had my smaller binoculars with me.

A few common mergansers were seen up and down the river. Not too many other species of ducks. The water's moving pretty fast.
---
Jeffrey Sanders on 3/21 reported via IBET: early sunday afternoon, rena and sonny cohen and i had 52 +/- white pelicans flying south toward nelson lake. they circled twice and then they flew back north.
in addition to the many waterfowl on the lake, there was an adult bald eagle and 200 sandhills flying north.
---
Bryan Hix on 3/21 reported via e-mail: Drove around west of Elgin this afternoon and saw a large raft of blue bills [Ruddy Ducks], redheads, buffleheads, ringnecks, goldeneyes, and one pied-billed grebe in the Highlands Woods sub in the various ponds. Saw a dozen+ wood ducks in Burnidge FP.
---
Yeanette Johnson on 3/21 reported via IBET: Lisa and I were at it again today. We started our day birding at Nelson Lake Marsh. Here is our list:

HORNED GREBE (2)
AMERICAN BLACK DUCK
MALLARD
GADWALL
GREEN-WINGED TEAL
AMERICAN WIGEON
CANVASBACK
REDHEAD
RING-NECKED DUCK
LESSER SCAUP
COMMON GOLDENEYE
BUFFLEHEAD
HOODED MERGANSER
RED-BREASTED MERGANSER
COMMON MERGANSER
RUDDY DUCK
CANADA GOOSE
AMERICAN COOT
GREAT BLUE HERON
COOPER'S HAWK
But no AMERICAN WHITE PELICANS

We then took a look at Tanner Road Marsh. Three HORNED GREBE put on a nice show for us diving right next to my Jeep. One of the three was in beautiful
breeding plumage!
---
John Heneghan on 3/21 reported via IBET: This morning, about 35 Sandhill Canes flew over at tree top level heading North. There is wetlands area east of here (Big Rock) off Rt 56 and Galena Blvd where I assume they spent the night.
We went to Nelson Lake around noon. No pelicans. A flock of Sandhills flew over while there. There is a hawk sitting on a nest on the west side of Rt 56 off I-88. By the time I saw it, it was not posssible to get over for a look.
Went to Big Rock Forest Preserve on Jericho Rd. a few flocks of Sandhill Cranes flew over, one flock was headed East, the other North. Lesser Scaup, Ringed Necked ducks and one male Bufflehead were sitting on the water at the quarry.
---
Ari Rice reported on 3/20 via IBET: Nelson Lake [had in addition to the normal] 20 Coots, 4 HORNED GREBES, 2 SANDHILL CRANES, and 55 WHITE PELICANS (I counted!).

[Next], we went to Sauer Family Prairie to hopefully see some longspurs. We didn't spend much time looking for them due to time contstraints (and ended up not seeing any), but instead we saw 8 RUSTY BLACKBIRDS as well as singing EASTERN and WESTERN MEADOWLARKS. The Western was actually a lifer for me, so that made up for everything- including the weather. Great looks at singing Rusties too.

Happy birding, and hope this weather clears up!
---
Pete Moxon on 3/20 reported via phone: Along with the other waterfowl that has been reported recently at Nelson Lake, Pete saw 4 Horned Grebes. He reported about 80 pelicans on the water. At Sauer Forest Preserve 4 Western Meadowlarks and about two dozen Rusty Blackbirds across Lasher Road. And one Northern Harrier somewhere between those two locations.
---
Bill Koch on 3/20 reported via e-mail: The weather has brought in some interesting birds on the pond in my West Elgin neighborhood. There has been a male and female Bufflehead on the pond for the past 4 days. Today my son and I watched a group of 8 Redheads land by some other birds. Those other birds being 4 Ring-Necked Ducks, 1 Horned Grebe and 2 Common Goldeneye. None extremely rare but it is nice to be able to see the birds closer than usual as the main pond isn't very large.

Have had Scaup and Pied-Billed Grebe on the lake by now for the last 2 years. Still waiting.
---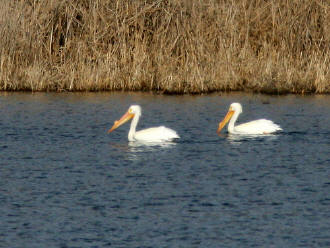 American White Pelicans on Nelson Lake.
Photo courtesy Ken Schneider.
Ken Schneider on 3/19 reported via e-mail: Mary Lou and I arrived at Nelson Lake just as the KCAS group departed. We walked along the northeastern corner of the lake, and heard a Field Sparrow. (We also heard and saw one yesterday at Jones Meadow Park in Batavia). We also heard but did not see an Eastern Meadowlark (in the grass just north of the silo) and an Eastern Phoebe (across Nelson Lake Road). The flock of 8 American White Pelicans dispersed along the northeast part of the lake for a while, then gathered together across from the viewing platform. An adult Bald Eagle flew over. Later, I had an adult Bald Eagle fly over Hawk's Bluff Park in Batavia. This only about a mile and a half east of Nelson Lake, so it may have been the same bird.
---
Yeanette Johnson on 3/19 reported via IBET: Enjoyed a wonderful day of birding
with Lisa Granbur.

Started at Nelson Lake Marsh:
CANVASBACK
REDHEAD
NORTHERN PINTAIL
AMERICAN WIGEON
NORTHERN SHOVELER
GREEN-WINGED TEAL
GADWALL
MALLARD
RING-NECKED DUCK
LESSER SCAUP
COMMON GOLDENEYE
BUFFLEHEAD
COMMON MERGANSER
HOODED MERGANSER
RUDDY DUCK
AMERICAN WHITE PELICAN
CANADA GOOSE
EASTERN MEADOWLARK
NORTHERN HARRIER
SANDHILL CRANE (6)
GREAT BLUE HERON (Fly over just South of Nelson)
COOPER'S HAWK

Quarry Park [in Batavia]:
CAROLINA WREN
BROWN CREEPER
DOWNY WOODPECKER
RED-BELLIED WOODPECKER
BLACK-CAPPED CHICKADEE
WOOD DUCK
MALLARD
CANADA GOOSE
NORTHERN CARDINAL
SONG SPARROW
WHITE THROATED SPARROW
WHITE-BREASTED NUTHATCH
DARK-EYED JUNCO
AMERICAN ROBIN
AMERICAN CROW

Aurora West FP:
AMERICAN WOODCOCK
GREEN-WINGED TEAL
MALLARD
CANADA GOOSE
RING-NECKED PHEASANT
SONG SPARROW
---
Ron Dickenson on 3/19: Shared this photo of the Bald Eagle nest that John Heneghan first reported: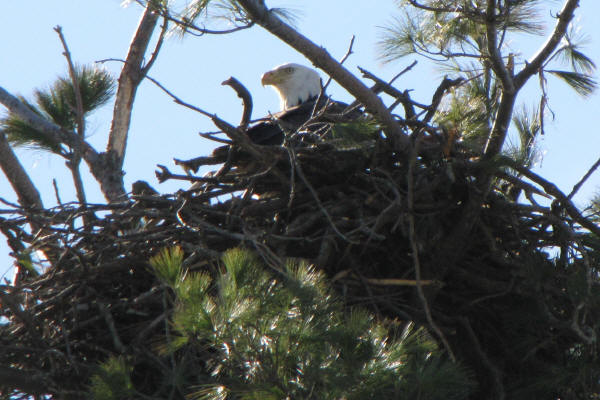 Bald Eagle on nest photo courtesy Ron Dickenson
And these photos of the Batavia Great Horned Owls:
Great Horned Owl parent and owlet photos courtesy Ron Dickenson
---
KCA member Linda Cox on 3/19 reported via phone: At 3PM an additional 31 American White Pelicans were circling to land at Nelson Lake.
---
Darrell Shambaugh on 3/18 reported via IBET: This afternoon as I was driving down Nelson Lake Road I could see something large and white on the lake. It looked like a pelican! I parked and walked out to the overlook platform to confirm that AMERICAN WHITE PELICANS were on the lake. I counted 7. There was a nice virety of ducks there too. GADWALL, AMERICAN WIDGEON, NORTHERN SHOVELER, NORTHERN PINTAIL, GREEN-WINGED TEAL, CANVASBACK (probably close to 50), REDHEAD, LESSER SCAUP, HOODED MERGANSER, and COMMON MERGANSER were scattered around the lake, There may have been others, but the view was into the sun, making it hard to see.
---
Suzanne Hackbarth on 3/18 reported via IBET: This morning at about 11:30am there were 8 White American Pelicans on the West side of Nelson Lake which is located in Kane County. They are arriving!!!
---
Yeanette Johnson on 3/17 reported via IBET: A nice mix of waterfowl was seen at [Nelson Lake] today. Here is my list:

CANVASBACK
REDHEAD
AMERICAN WIGEON
GREEN-WINGED TEAL
AMERICAN BLACK DUCK
GADWALL
RING-NECKED DUCK
LESSER SCAUP
BUFFLEHEAD
COMMON GOLDENEYE
COMMON MERGANSER
RUDDY DUCK
MALLARD
CANADA GOOSE
AMERICAN COOT
---
Sue Wagoner on 3/17 reported via e-mail: I was "stalking" a Red Tail Hawks' nest at a nearby forest preserve... what I assumed was the male was flying away as I got there, and as I approached the nest, the (supposed) female flew from off the nest to a not-so-nearby tree. She looked very light-colored from far away and the only shots I got were from far away. The male soon joined her but as good parents, they would not fly back to the nest until I was quite a distance away (neither would they pose for a photo-shoot). Looking at the poor photos I did get, I am wondering if she is possibly a partial albino? Peterson Field Guide for Hawks says that they are not that uncommon. Any opinions, birders?
Pale female Red-tailed Hawk photos courtesy Sue Wagoner
---
Darrell Shambaugh on 3/17 reported via IBET: There was an EASTERN PHOEBE at Big Rock Forest Preserve in Kane County this afternoon. I heard a SANDHILL CRANE or two calling several times but I never saw them.
---
Christopher Cudworth on 3/17 reported via IBET: Yesterday at noon on the Fox River repeated bands of sandhill cranes were migrating, following the course of the river north. They were all very high in the air on a day marked with bright sunshine and cirrus clouds. Over a 20 minute period I counted 5 bands of these birds moving north.

In our neighborhood, the Kek kek kek of Cooper's hawks has returned. Have yet to see which yard they will set up shop.
---
Chris Madsen on 3/17 reported: Giving further proof to the maxim that great minds think alike, I ran into Bill Koch and his daughter Ashley (sp?) last night at Ferson Creek Fen in St. Charles. Our target was American Woodcocks and our mission was a success. Guesstimating that 8 to 10 woodcocks began "peenting" at about 7:20. One wooing woodcock fluttered nearly over our heads as he began his aerial courtship. Others were heard aloft but not seen. Ferson Creek Fen is a suggested viewing location because the park remains open until 9 PM. Forest preserves in the county close at sunset, which makes watching woodcocks at dusk difficult. Ferson Creek Fen is located on Route 31, about 1.4 miles north of Main Street. After our encounter, Bill forwarded this video (produced by Eagle Optics) with tips on viewing woodcocks:
---
Ken Schneider on 3/16 reported via e-mail: This morning I have been watching a Horned Lark as it gathers nesting material (especially grass from along our sidewalk) and keeps returning to a clump of grass in disturbed land about 50 yards in front of our condo in North Aurora. Another sign of Spring!

Presumably this is the female. It is quite brightly colored. I have not seen two birds at once so far, but will keep watching and not disturb the probable nest site.
In a follow-up e-mail Ken wrote: I pulled the car up the road and parked at curb opposite nearest the nest. The female had just flown into the nest site, and the male was singing, probably while on the ground, but he flew up on a post only about 15 feet from the car and sang a couple of times. Light was bad, from behind. I was surprised at how "fat" he appeared.
Horned Lark photos courtesy Ken Schneider
---
Ken Schneider on 3/14 reported via e-mail: This afternoon, while checking out last year's Cooper's Hawk nest at Hawk's Bluff Park in Batavia, I encountered a pair of Song Sparrows, the first I have heard singing there since arriving from Florida last week. This one, in beautiful plumage, was very cooperative. Did see two Cooper's Hawks near the nest tree, but they did not provide me with a photo-op.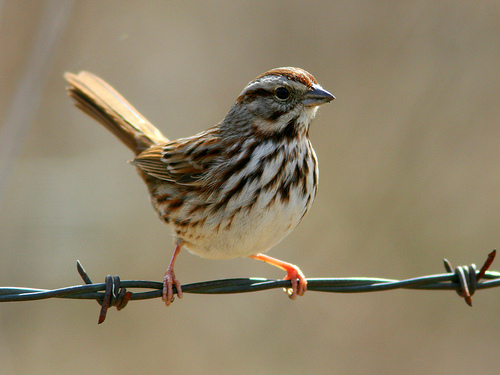 Song Sparrow photo courtesy Ken Schneider
---
Bob Andrini on 3/13 reported via e-mail: This morning on the Batavia Quarry Park bird walk we saw our (for all of us) first Eastern Phoebe of the year.
---
Ed and Trudy Vedral on 3/13 reported via e-mail: Yesterday (3/12) we saw and heard 2 Sandhill Cranes go through our yard past our kitchen window [in Campton Hills]. They flew to the lake in Arbor Creek. Attached is a picture of them. If you enlarge the picture, you will see what we believe is a Green-Winged Teal on the bottom left (in the water). It is a duck with a brown head and is smaller than a Mallard.
The Spotted Towhee is still in our yard as of today (3/13).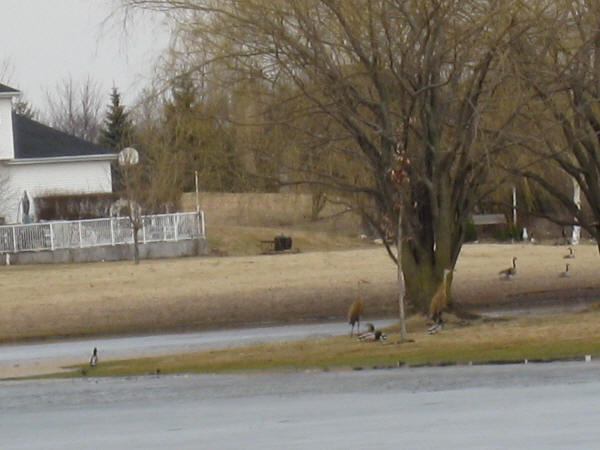 Ed and Trudy Vedral have neighborhood visitors: Sandhill Cranes,
Canada Geese, Mallards, and a possible Green-winged Teal.
---
Tim Balassie on 3/13 reported via IBET: Stopped by two forest preserves yesterday.

Lone Grove:
American Crow
American Robin
American Tree Sparrow
Blue Jay
Brown Creeper
Chickadee
Common Grackle
Dark-eyed Junco
Downy Woodpecker
Eastern Bluebird
Killdeer
Northern Cardinal
Red-bellied Woodpecker
Red-tailed Hawk
Red-winged Blackbird
Rusty Blackbird
Song Sparrow
White-breasted Nuthatch

Then to Sauer Prairie:
American Black Duck
American Crow
American Robin
American Wigeon
Cackling Goose
Canada Goose
Greater White-fronted Goose
Eastern Meadowlark
Killdeer
Mallard Duck
Northern Pintail
Redhead
Red-winged Blackbird

Take a scope if you can; these birds don't like people...
---
Ken Schneider on 3/12 reported via e-mail: Got a late start and Mary Lou and I spent an hour and a half at Lippold Park. About a dozen Goldeneyes were gathered just north of the north end of the park. Saw some courtship posturing (heads pointing up). They were very skittish and flew off when they saw me. Also three Common Mergansers floated by on the current. We also tried unsuccessfully to find the Great Horned Owl at Mooseheart, but did find an active Red-tailed Hawk nest. It is a large platform in an oak at the edge of the ball field, readily visible from the road, NE of the westernmost Mooseheart Road entrance before the cultivated fields.

Location: Lippold Park
Observation date: 3/12/10
Number of species: 26

Canada Goose 50
Wood Duck 1
Mallard 25
Bufflehead 4
Common Goldeneye 12
Common Merganser 3
Cooper's Hawk 1
Red-tailed Hawk 1
Mourning Dove 2
Belted Kingfisher 1
Red-bellied Woodpecker 2
Downy Woodpecker 1
Northern Flicker 1
Blue Jay 8
American Crow 6
Black-capped Chickadee 6
White-breasted Nuthatch 1
Carolina Wren 1
American Robin 30
European Starling 30
Dark-eyed Junco (Slate-colored) 20
Northern Cardinal 4
Red-winged Blackbird 20
Common Grackle 8
Brown-headed Cowbird 2
House Finch 1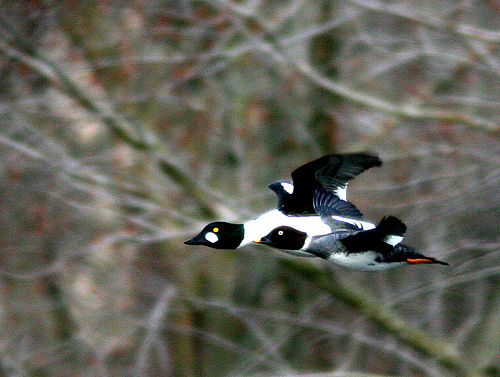 Common Goldeneye pair in flight photo courtesy Ken Schneider
---
As of 3/12, Batavia's Great Horned Owls have at least two offspring as evidenced by this photo courtesy of Ron Dickenson: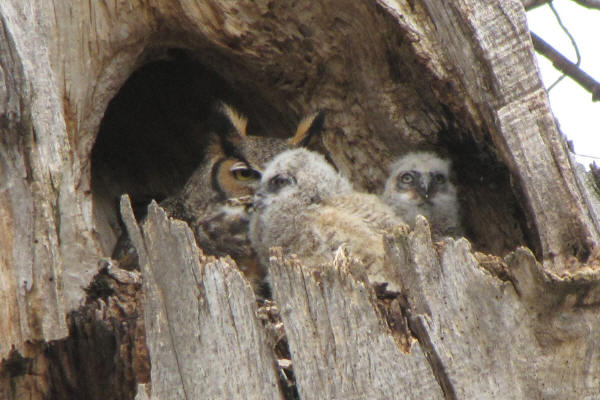 ---
John Heneghan on 3/11 reported via e-mail: There are a pair of eagles working a nest on Mooseheart property in a large fir on the South side of the creek on the East side of Randall. There was a male and female on the nest, the female was on the edge of the nest feeding on something, the male was on the branch above her. I had been watching the nest throughout winter, I am surprised to see the nest so far from the river and close to the traffic on Randall.
---
Yeanette Johnson on 3/11 reported via IBET: On the way home from work today I stopped at a few places to see what was about. In the fields North East of the TLN building in North Aurora (Orchard Gateway & Vision Ct Roads), I first heard and then saw two EASTERN MEADOWLARKS. The blackbirds were not as numerous as yesterday & I was unable to pull any Rusties out of the groups I did see. However a SONG SPARROW made an appearance & sang his little heart out for me. AMERICAN ROBINS, CANADA GEESE, and KILLDEER were still present in numbers.

There was yet another EASTERN MEADOWLARK singing in the field opposite Aurora West Forest Preserve on Hankes Rd (Kane Co).
---
Christopher Cudworth on 3/11 reported via IBET: While running the Fox River trail between downtown Batavia and Fabyan (west side) I chanced upon a flock of 6 singing eastern bluebirds. also in their company were three active brown creepers feeding on the rain soaked trunks of trees.
---
Yeanette Johnson on 3/10 reported via IBET: After taking the dogs for their morning walk at the woods I headed out to see what I could find in a couple of spots In North Aurora.
While checking the fields and tree lines near the TLN building at Orchard Gateway & Vision Ct. I was happy to find a couple of very large mixed flocks of blackbirds. After some searching I was pleasantly surprised to find some RUSTY BLACKBIRDS mixed in. One female even decided to take a fast bath while I watched!
My little excursion down Orchard Gateway also produced many ROBINS, CANADA GEESE, some KILLDEER, one AMERICAN KESTREL, as well as one RED-TAILED HAWK.

Bring On Spring !!!
---
Eric Secker on 3/10 reported via IBET: Took a walk with my girlfriend at Fox River Shores this afternoon. We saw a nice mix of ducks and other birds along the river. Park at the lot by the OTTO building on the river in Carpentersville and walk north along the bike path until you get to a large opening where you can view the river.

Waterfowl seen included HOODED MERGANSERS, COMMON MERGANSERS, COMMON GOLDENEYE, BUFFLEHEADS, 1 AM. BLACK DUCK, 1 male WOOD DUCK, and MALLARDS.

Other birds included a number of D.C. CORMORANTS, BELTED KINGFISHERS, WHITE-THROATED SPARROWS, BROWN CREEPER, and other common birds.

Also, an adult or near adult BALD EAGLE was flying over at Jon J. Duerr F.P.
---
Angela A. on 3/10 reported via e-mail: Today at about 4pm I saw a number of lesser scaup on the Fox River Trail in North Aurora, near Oak Street. Also, there was an American Coot.

On Monday, at the Red Oak Nature Center, we also saw several Buffleheads and a group of Hooded Mergansers, all from the overlook at Red Oak.
---
Ron Dickenson on 3/10 reported via e-mail: His Batavia pair of Great Horned Owls are now raising a youngster.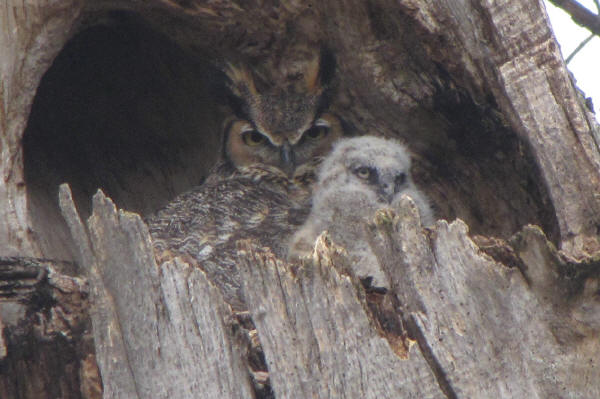 Great Horned Owl parent and owlet photo courtesy Ron Dickenson
---
Michael Sedwick on 3/9 reported via IBET: Around 12:30 this afternoon approximately 80-100 Sandhill Cranes in two groups flew over South Elgin heading North-Northwest.
---
Jackie Bowman on 3/9 reported via e-mail: Birded Les Arens Preserve and Fabyan Park today. Bird of the day was a beautiful Caroline Wren at Fabyan Park, in the woods just North of the Japanese Garden.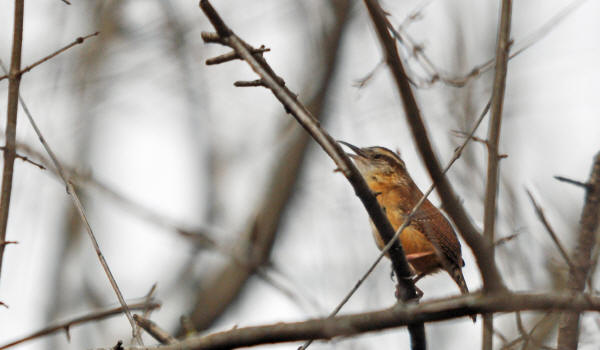 Carolina Wren photo courtesy Jackie Bowman
---
Karen Land on 3/9 reported via IBET: I had a small group of 20 sandhills fly over [my home in Batavia] at 11:10 am today.
---
Walter Lutz on 3/8 reported via e-mail: Sunday 10:00 a.m. +/- over west Elgin - 30 Sandhill cranes heading N/NW
---
Sue Wagoner on 3/6 reported via e-mail: As people have been reporting, the Sandhill Cranes are coming, and they're not coming quietly! What a welcome sight (and sound)! This lonely fellow was at Nelson Lake Saturday 3-6 and we became personal buddies for about 10 minutes before he perhaps realized I was the wrong species and flew away.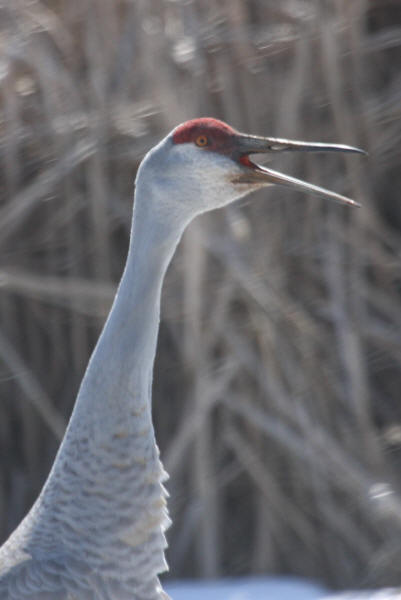 Sandhill Crane photo courtesy Sue Wagoner

The Great Horned Owl was still in Burton Woods at Nelson Lake for the Audubon walk (note the"thick" legs!)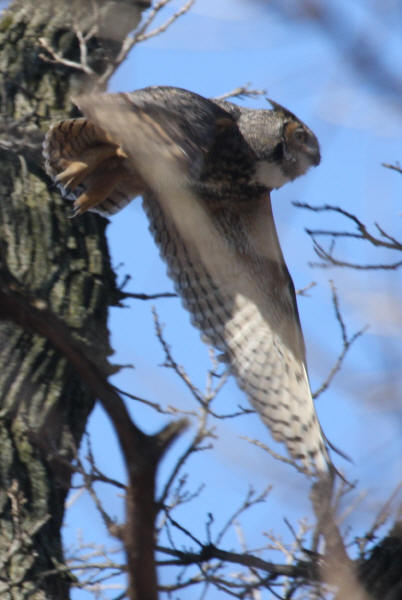 Great Horned Owl photo courtesy Sue Wagoner
---
Ginny Widrick on 3/6 reported via e-mail: Sat a.m. 3/6/10, when I took my neighbor's young grandson birding, we came across our first Robin and a Northern Waterthrush at Ferson Creek Park, where the creek meets the Fox River. Many easy to see regulars to show a new birder.
---
Jack Pomatto on 3/6 reported via e-mail: A welcome sign of spring passed over the west side of Elgin today, 3/6/10 , at 1:15 P.M. A flock of 30 Sandhill Cranes flew over as I was eating my lunch "outdoors".
---
Debbie Satorius on 3/6 reported via e-mail: I saw 17 Sandhill Cranes over LaFox at 11:15 March 6 th. Exciting!
---
Yeanette Johnson on 3/5 reported via IBET: Was out and about birding with Lisa today. We walked from Les Arends FP North to Quarry Park & back. Here is our list:

CAROLINA WREN (2)
WINTER WREN (4)
BROWN CREEPER (25+)
SONG SPARROW
BELTED KINGFISHER
COMMON MERGANSER
COMMON GOLDENEYE
BALD EAGLE
WHITE-BREASTED NUTHATCH
DOWNY WOODPECKER
HAIRY WOODPECKER
RED-BELLIED WOODPECKR
DARK-EYED JUNCO
HOUSE FINCH
NORTHERN CARDINAL
BLUE JAY
AMERICAN CROW
BLACK-CAPPED CHICKADEE
MALLARD
CANADA GOOSE
RED-TAILED HAWK

Across the street at Moosehart we spotted a beautiful GREAT HORNED OWL on her nest!

Earlier in the morning as I walked my pups at Bliss Woods I had the following additions:

| | |
| --- | --- |
| TUFTED TITMOUSE | RED-WINGED BLACKBIRD |

Then to my surprise a KILLDEER flew over my yard as I filled my feeders this evening!

Great Day Of Birding Indeed !!!
---
Christopher Cudworth on 3/5 reported via IBET: I cycled through the prairie at Dick Young Forest Preserve/Nelson Lake Marsh at 4:45 to day and sandhills were calling from the northwest corner of the marsh.

Also had many migrating flocks of red winged blackbirds in multiple locations today
---
Bob Williams on 3/5 reported via IBET: A flock of about 100 Sandhill Cranes were over Huntley at 1:20 on 3/5/10. These were the first I have seen this year. We also saw our first Red-winged Blackbirds on March 1.
---
Ron Dickenson on 3/2 reported via e-mail: Ron Dickenson caught this Great Horned Owl on its nest today in Batavia.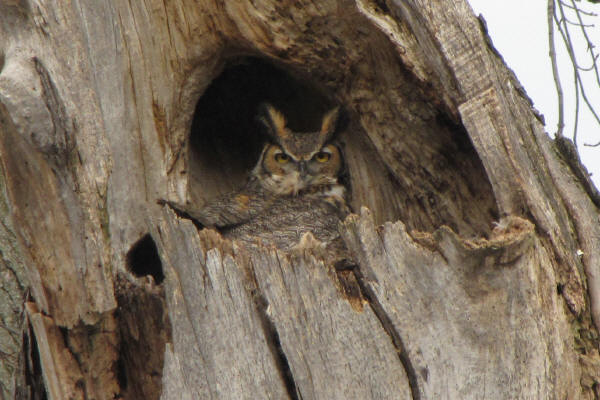 ---
Penny Gebhardt on 3/2 reported via e-mail: There was a pair of swans swimming in the Fox yesterday morning. They were about 1/2 block north of Riverside Park in St. Charles. Late morning yesterday the swans swam (say that 3 times fast!) north and have not been seen since. Perhaps we'll see again this morning?
---
Kim Girard on 3/1 reported via e-mail: Early afternoon on the 28th, along the creek at Leroy Oakes:

A small flock of cedar waxwings. Heard and got a quick glimpse of a kingfisher - unable to tell if male or female...
---