---
Kurt Frieders on 3/31 reported via IBET: Today my wife and I spent about 45 minutes bird watching at the Oakhurst FP in Aurora, IL. In that time we spotted a lot of the usual birds we see there like buffleheads, mallards, Canada geese, American crow, red-bellied woodpeckers, downy woodpeckers, robins, juncos, house wrens, and chickadees. This was only the second time I've seen a hairy woodpecker there. We got a really good look at the first purple finch I have ever seen. It stood on a bridge, and was in no hurry to leave. As we were on our way out we spotted these two hawks that looked different than any I have seen before. They were soon joined by a third one. We then watched them as they left the forest and flew over the water. It turns out they were broad-winged hawks. It turned out to be quite a productive walk in a very short amount of time.
---
Laura Werner on 3/31 reported via IBET: A brisk walk through the frost this morning at Aurora West FP revealed one EASTERN TOWHEE singing from the brush, 1 WOODCOCK happily flushed by my dog (Aurora West has an off-leash dog area), and a possible Dickcissel calling from the middle of the prairie. I say possible because it only sang twice, and the first time it was rather hard to discern due to a rather overly exuberant Song Sparrow. However, I'm very familiar with their song, and I'm pretty confident that's what it was.

The rest of the morning's birds were the usual suspects.
---
Ron Dickenson on 3/30 reported via e-mail: These visitors were in a tree in my front yard this morning.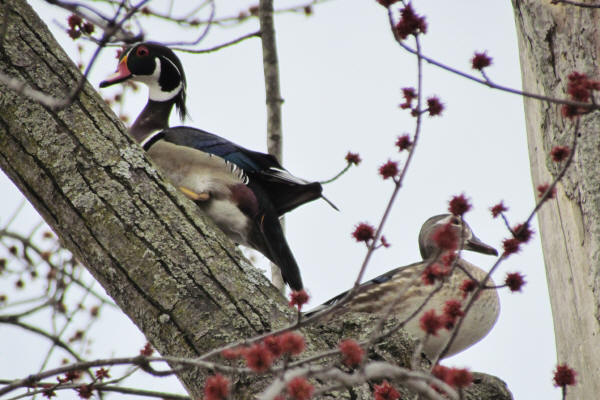 Wood Duck pair photo courtesy Ron Dickenson
---
Ed Vedral on 3/28 reported via e-mail: This morning, and then this evening we had a lone Tree Swallow in our yard eying our bluebird houses. He perched on the martin house perch and surveyed the yard. Then he flew high in the sky over the yard and buzzed one of the bluebird houses.
---
John Cebula on 3/27 reported via IBET: My first visit here in 25+ years. Getting close to the water is a lot easier!!! The pelicans were gone, but the Bald Eagle and the Harrier were very welcomed.

Location: Nelson Lake Marsh Nature Preserve/Dick Young FP (Kane Co.)
Observation date: 3/27/11
Number of species: 19

Canada Goose 2
American Wigeon 10
Mallard 2
Lesser Scaup 4
Bufflehead 1
Great Blue Heron 1
Turkey Vulture 1
Bald Eagle 1
Northern Harrier 1
Red-tailed Hawk 2
American Coot 50
Ring-billed Gull 5
American Crow 1
Eastern Bluebird 5
American Robin 12
Song Sparrow 6
Northern Cardinal 2
Red-winged Blackbird 12
Eastern Meadowlark 1
---
Tim Rainey on 3/26 reported via e-mail: We just had a Ruby Crowned Kinglet at our feeders this morning on Crane Lane-St. Charles Township. We are adjacent to the northern border of Leroy Oakes Forest Preserve.
---
Margaret Myers on 3/26 reported via e-mail: Mooseheart's Bald Eagles are nesting again this year as evidenced by this photo taken today by Steve Myers.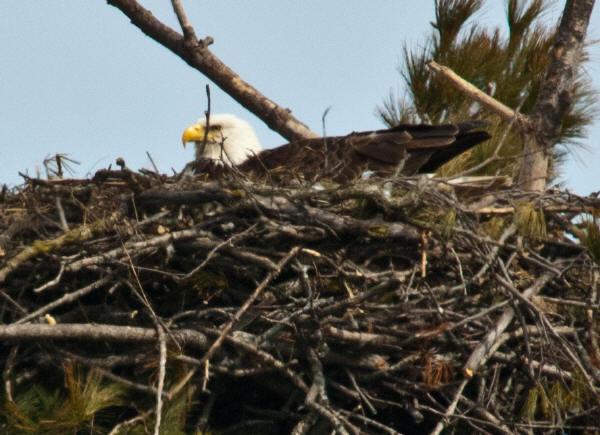 Bald Eagle photo courtesy Steve Myers
---
Darrell Shambaugh on 3/24 reported via IBET: I have checked Big Rock Forest Preserve's Seigler Lake for a long time, hoping for a loon and diving ducks. Today I was rewarded with a COMMON LOON, my first of the spring. Besides the loon 7 GADWALL, 3 RING-NECKED DUCKS, and 6 RING-BILLED GULLS were on the lake. On the north shore of Siegler Lake 6 GREAT BLUE HERONS were standing on the rock ledge, apparently catching some clouds. As I was watching the lake a BARRED OWL called off to the north. And, an AMERICAN KESTREL was along the park road.
---
Marion Miller on 3/24 reported via e-mail: Rich and I always enjoy watching what flies into the small pond near our neighborhood, on the corner of Trent and Wolcott [in Batavia]. This evening there were a pair of Wood Ducks, a pair of American Black Ducks and a pair of Hooded Mergansers. The Hooded Mergansers have been there for the last three days.

Hooded Merganser photo courtesy Marion Miller
---
Bob Andrini on 3/24 reported via e-mail: I went looking for Pelicans this morning and failed to find them on any of our water areas (from Nelson's Lake to Rt. 30), but I did find 5 Sandhill Cranes at the Mirador subdivision (south of Nelson's Lake on Deer Path).

Sandhill Cranes photo courtesy Bob Andrini
---
Christopher Cudworth on 3/23 reported via IBET: Among hundreds of other Red-winged blackbirds there has been a split flock of 100 or so RUSTY BLACKBIRDS at the north end of Dick Young Forest Preserve west of Batavia. They have been gathering at twilight both at the northeast end where the shallow ponds sit and along the west woods ridge where the trail cuts through the woods from the prairie.

The lake has been rather quiet with rafts of scaup sitting out in the middle, some bufflehead and a few common merganser. No white pelicans in the afternoon the last few days.
---
Marion Miller on 3/21 reported via e-mail: Rich and I spotted 50+ American White Pelicans around 7:15pm Monday at Carson Slough. We had been at Nelson Lake and found none. While there a fellow Nelson Lake observer, Dennis(?) gave us the tip that he had seen a "scoop" of Pelicans earlier at the Slough. Also observed Northern Shovelers, Buffleheads, Gadwalls, American Wigeons, Green-winged Teals, Mallards and American Coots while at Carson Slough.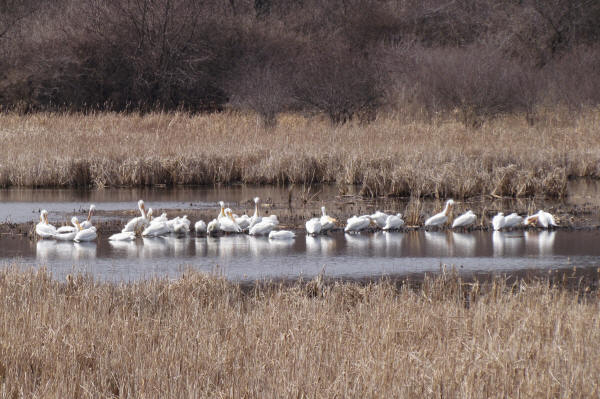 American White Pelicans photo courtesy Ron Dickenson
---
Rena Cohen on 3/20 reported via IBET: Pete Moxon just called (7 pm Sunday) to report two adult and one sub-adult WHOOPING CRANE in western Kane County. They are in the fields to the northwest of the intersection of Howard Road and Route 38 (on private property). He asked me to post the band colors:

1st adult - red (left) and red-green (right)
2nd adult - red-green (left) and green (right)
juvenile - red-green (left)
---
Kurt Frieders on 3/20 reported via e-mail: On Saturday morning we visited a subdivision pond in Montgomery that was holding a large variety of waterfowl for a little pond. We saw ring neck ducks, ruddy ducks, hooded mergansers, common mergansers, canvasbacks, red heads, lesser scaup, buffleheads, American wigeon, gadwall, mallards, and Canada geese. We than went to Nelson Lake to see the white pelicans. There were about forty in the middle when we were there. Also present were many canvasbacks, buffleheads, green wing teal, gadwall, mallards, and Canada geese. A mature bald eagle was visable on many different occasions. All of the waterfowl in the area made me check on a pond on my property (Aurora township) today. On it I found the first ring neck ducks I have ever seen on my property (4 drakes, 1 hen). It was also the second time I have ever spotted hooded mergansers on my property (2 drakes, 1 hen). Spotted were the usual pair of killdeer. There also are a pair of great horned owls on my property that change locations daily.
---
Eric Secker on 3/19 reported via IBET: Sally and I took a long trek through a large portion of Big Rock Forest Preserve this afternoon and up Welch Creek all the way north / east to the golf course, which it looks like may actually be outside of the forest preserve boundary? It still had trails, bird houses, burned areas etc and wasn't marked as private.

Best bird was a PILEATED WOODPECKER which was calling from deep in the woods north-west of the suspension bridge.

Along Welch Creek, we had TUFTED TITMICE in three different locations. There were also FOX SPARROWS in a few locations including one large group that contained 15-20 FOX SPARROWS, many JUNCOS, and other more common species. Along the creek and in a few of the vernal ponds, we had a number of RUSTY BLACKBIRDS including one group of about 20 birds high up in the trees, one group of six very close in one of the ponds, and scattered single birds. The EASTERN BLUEBIRDS, BLACK-CAPPED CHICKADEES, EASTERN MEADOWLARK, NORTHERN CARDINALS and other birds were all singing away - making for a very peaceful spring day that also felt more like 60 degree weather in the sheltered woods.
---
Chris Madsen on 3/19 reported: When I arrived at Nelson Lake/Dick Young FP this afternoon at 2 PM, the parking lot was overflowing. Unfortunately, there were only about 6 - 8 American White Pelicans widely scattered over the lake. By the time I left at 3 PM the pelicans had all departed. Checked Carson slough/Denny Road marsh and found none there.
---
Bryan Hix on 3/19 reported via e-mail: I was out at Nelson lake at 7am this morning. The lake was very calm and foggy. There were about 25-30 White Pelicans resting in the north end. I saw a dozen Canvasbacks, 7 Buffleheads, a pair of Sandhills flew over, a mature and immature Bald Eagle flew over the lake and stirred things up. There were Wigeon, Gadwall, Green-winged Teal, Ringnecks, Lesser Scaup, Ring-billed Gulls, Canada geese, and one lone Redhead. The Pelicans have motivated folks to get out and see them. I would remind everyone to use your birding manners and be courteous when jockeying for position to see the Pelicans and other birds as I saw folks clammering through the cattails without regard for other people who may have been setup for hours or were viewing something besides the Pelicans that may not be obvious as you approach them. Happy Birding...
---
Jackie Bowman on 3/19 reported via e-mail: After following this guy around for the last year and a half, I finally got an updated photo worthy of sharing. The Western Rufous Morph Red Tail Hawk likes to hang around Portillo's and the Braueburn Marsh across Randall Road. Today I captured his mug shot from Portillo's parking lot, after a tip from my brother-in-law, Mark.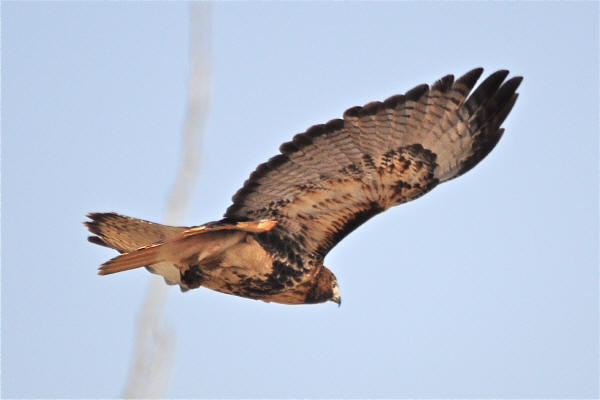 Red-tailed Hawk, western rufous morph photo courtesy Jackie Bowman
---
"Ally" on 3/18 reported via IBET: I stopped by Nelson Lake in Batavia after work this evening and was blessed with many great sightings. Most notably: 2 bald eagles, 1 Pheasant, 1 Meadowlark, 2 Sandhill Cranes, 3 Great Blue Herons, 2 Red-Tailed Hawks, 4 Killdeer, ~50 American White Pelicans, and my favorite FIRST - 1 Great Horned Owl.
---
Tim Balassie on 3/18 reported via e-mail: Hadn't seen this species mentioned yet - had my FOY Eastern Phoebe in STC on the 15th.
---
Kurt Frieders on 3/17 reported via e-mail: Forty white pelicans flew over Route 30 and Montgomery Rd. at 11:00 am today. They were heading north. They would have to go west some to get to Nelson Lake.
---
Chris Madsen on 3/17 reported: Under clear and almost-full-moon-lit skies, Bill Koch, his daughter Ashley (sp?), and I met at Ferson Creek Fen in St. Charles last night to watch for American Woodcocks. "Peenting" calls began at 7:15 and the aerial courtship displays followed shortly thereafter. This spot has proved to be a reliable and active woodcock viewing location for me over the last five years.
---
Bryan Hix on 3/16 reported via e-mail: I was up at Fox River Shores FP in Carpentersville this morning. There were a lot of waterfowl on the water. Species I saw were: Two pair of Canvasbacks, at least 50 Ringnecks, a dozen + buffleheads, Hooded and Common Mergansers, about 50 Coots, a Redtailed Hawk, two pairs of Sandhill Cranes, lots and lots of Canada geese, 8 Bluebills (Lesser Scaup), and several Redheads. The waterfowl are on the move for sure. Should be a good week with the southern winds and nicer temps melting the rest of the ice.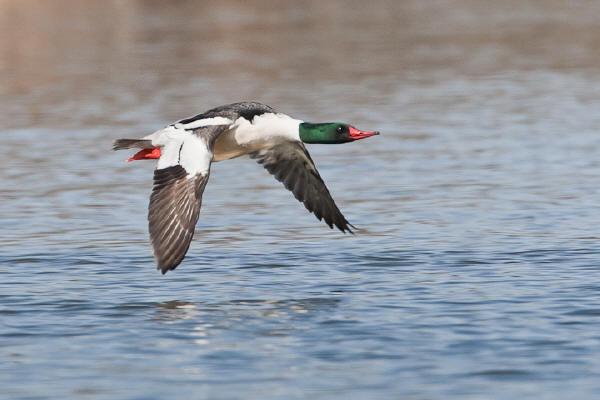 Common Merganser photo courtesy Bryan Hix
---
Christopher Cudworth on 3/16 reported via IBET: A lone American Bittern flew south over our house in Batavia this evening. Quite a bird to add to the yard list.
---
Dawn Bassett on 3/16 reported via IBET: There were 50+ American White Pelicans at Nelson Lake in Batavia at about 5 p.m. this evening. Many were flying and it was awesome!
---
Kurt Frieders on 3/16 reported via e-mail: Today I went to Johnson's Mound to try to find the barred owl that I saw on Sunday. After about a half hour of no luck, he finally gave up his position with a series of hoots. I was able to locate him and see him with the binoculars, but he flew away before I could get close enough for a picture. He is a magnificent raptor. While looking for the owl I did manage to kick up a single American woodcock. That was the first one I have seen this year. The woods were alive today with downy woodpeckers, red-bellied woodpeckers, and white breasted nuthatches. I did manage to see a single bluebird. While letting my dog out at home (Aurora township), I managed to hear an owl hoot. I went and retrieved my binoculars and managed to see a great horned owl in one of my trees by my creek. It is quite common for me to hear owls, but this was the first time since 2002 that I have been able to see one on my property. It then took to the air in all of its splendor.
---
Bill Koch on 3/16 reported via e-mail: This morning while scanning local ponds for migrating ducks I found a single American White Pelican among a few Bufflehead, Hooded Mergansers and Canada Geese.
The bird looks fine and flew from the marsh to the pond and seemed very aware I was watching him.
The marsh and pond are located just North of Pingree Grove Forest Preserve. To get there take Rt 20 West. At the 90 degree turn in Pingree Grove go straight on Reinking Rd. Go around the Roundabout and continue on Reinking road. Go left on Wester Blvd and the marsh and pond are on the left. There is no parking on Wester Blvd so I parked on Shelter Island Lane.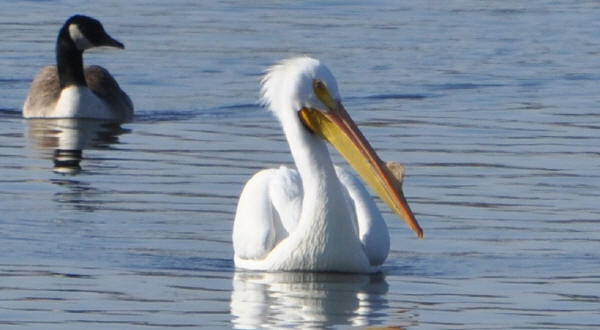 American White Pelican photo courtesy Bill Koch
---
Jon Duerr on 3/14 reported via e-mail: After Chris alerted us to the Sandhills over the neighborhood, we went into the yard to watch the spectacle of mass flights of Cranes. While watching a Sharp-shinned Hawk passed over and a few minutes later a Peregrine Falcon roared past!
---
Migrating Sandhill Cranes photo courtesy Ron Dickenson
Chris Madsen on 3/14 reported: I got a call at 12:25 this afternoon from Pete Moxon alerting me that large numbers of Sandhill Cranes were migrating through the area. Of the more than 5,000 cranes that he saw in DuPage and Will counties, one was a Whooper.
So I took a chair out on the deck and sat in the chill scanning the skies. Out of the first 100 cranes I saw fly by was a group of 12 - 15. One of them was a Whooping Crane, unmistakable with the bright white body and wings with black wing tips. By my reckoning, the bird was over the Main Street bridge in St. Charles at 12:35. Unlike many of the vees of cranes, this one was low, maybe 1,000 up.
After that bird thousands more flew by, but not another black-and-white. Interestingly, the southeast-to-northwest flight path the cranes were taking was initially to the east of my house. As time went on they gradually moved to a track to the west of the house until the last groups that I could see were mere specks in the sky.
---
Marion Miller on 3/13 reported via e-mail: Rich and I did some birding Sunday afternoon at Nelson Lake and the Fox River in Batavia. Notable sitings were 3 American Woodcocks that Rich flushed out while walking through the woods on the west side of the lake near the pines, off the lake loop. And then 2 Mute Swans on the river, north of the Gazebo on the Riverwalk.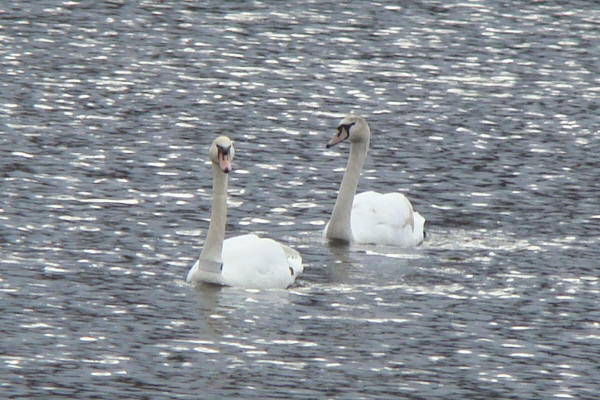 Mute Swan photo courtesy Marion Miller
---
Kurt Frieders on 3/13 reported via e-mail: Today was the best birding day I have had. I was able to put a new bird on my property list (Aurora township) as a sharp-shinned hawk landed on the telephone wire and scared off the birds at my feeder. Luckily I had my binoculars with me to identify him. About ten minutes later I spotted a bird flying into a pine tree. It was easy to identify it as a common redpoll. I had a common redpoll at my feeder two days in row about three weeks ago. I'm guessing that this was probably the same one still hanging around my house. At lunchtime we took off for Johnson's Mound to try to find the barred owl. After 45 minutes we heard one and started walking towards the sound. Then we saw him fly into a tree. Once we were closer, it flew into another tree. We were unable to locate it in the tree. There defintely was a second one, as we heard one in the distance as we were looking for the close one. We really weren't looking for other birds but did manage to spot some white breasted nuthatches, downy woodpeckers, black capped chickadees, and some bluebirds.
---
Mark Bowman on 3/13 reported via e-mail: Today [3-13], while in my driveway [on the northeast side of St. Charles], I heard a TUFTED TITMOUSE in a nearby tree. I did not have time to look for him.
---
Tim Balassie on 3/11 reported via e-mail: While enjoying our first sunny day in a while ran into two Barred Owls catching some sun at Johnson's Mound. Here's one of them.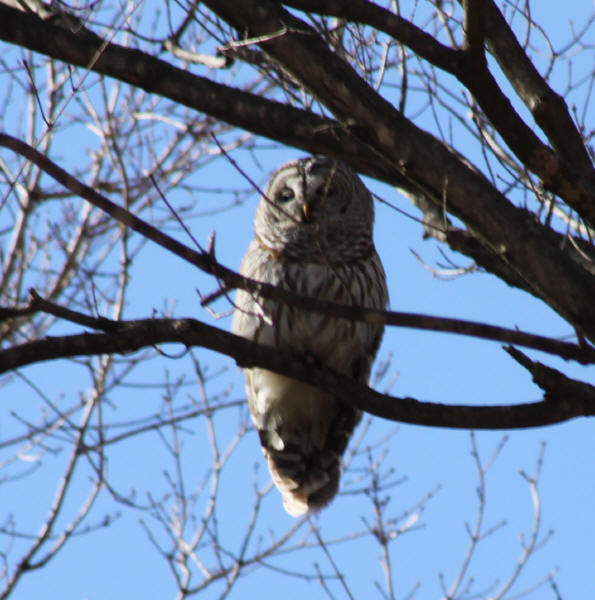 Barred Owl photo courtesy Tim Balassie
---
Bryan Hix on 3/11/ reported via e-mail: At the Fox River from Carpentersville to W. Dundee, Burnidge FP, LeRoy Oaks, and various wetland areas around Batavia: birds seen were Kildeer, Sandhill Cranes, Northern Shoveler, Green-winged Teal, Common and Hooded Merganser, Great Egret, Turkey Vulture, Great Horned Owl, Robin, Grackel, Red-Winged Black Bird, American Tree Sparrow, Eastern Meadowlark (1st sighting in 2011), Common Goldeneye, Buffleheads, Double Crested Cormorant, Northern Harriers (male and female), Bluebird, Greater White-Fronted Goose (flying), American Kestrel, Lesser Scaup. I am seeing a lot more variety in Waterfowl move in throughout this week and the Kildeer hopefully will signal a movement of other shorebirds in the next couple of weeks if the weather improves.
---
Laura Werner on 3/10 reported via IBET: I detected a Pileated Woodpecker this afternoon at Big Rock Forest Preserve in Kane County. I'm not sure how noteworthy it is, but I surely can't recall finding too many of these guys around here (in fact, the ONLY other time I can remember detecting one was at the same FP this past fall--perhaps they merely pass through via the riparian zone).
---
John Janunas on 3/9 reported via e-mail: Saw two Meadowlarks on the west side of Nelson lake in the Prairie.
---
Denise Koehnke on 3/8 reported via e-mail: Heard and then saw 3 separate groups of Sandhill cranes flying high over South Elgin, west of McLean. Each group had about 15-20 cranes.
---
Christopher Cudworth on 3/8 reported via IBET: My wife just called and reported literally thousands of cranes passing over Batavia around 1:30.

She told me she likes when they are heading north rather than south.
---
Cheryl Lutz on 3/6 reported via e-mail: Sunday a.m.
South Elgin: 25 sandhill cranes heading easterly.
Elgin (between the library & Rt. 90): dc comorants, pied-billed grebes, killdear and coots among the usual.
No eagles seen.
---
John Janunas on 3/4 reported via e-mail: [Saw these Sandhill Cranes at] Main Street and Deerpath Road Thursday. Also saw a group of about 20 overhead. Many more last week.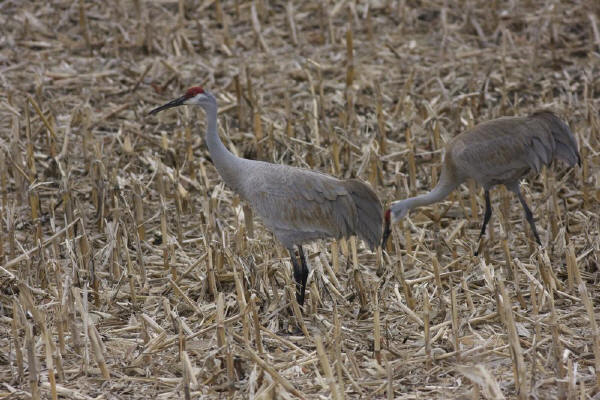 Sandhill Cranes photo courtesy John Janunas
---
Jean Spitzer on 3/2 reported via IBET: Later this morning while looking for the Red Headed Ducks at Pottawatomie Park, which we didn't find, we spotted a Bufflehead across the fast flowing Fox River as well as Common Goldeneyes. Since we couldn't find the Red Head, we ventured south to Red Oak Nature Center on Hwy.25 and saw a pair of Hooded Mergansers across the river from the platform of the Nature Center, hanging out in the water near some fallen logs below the bushes. We could only see them in the scope as they were hidden while resting. We saw lots of Golden Eyes which are up and down the Fox River. If we had gone to see Pam Otto at her office at Pottawatomie, we might have seen several Red Headed Ducks as her article posted the find recently. She was kind enough to call me after our return home to suggest we come see her so she could show us where they were last seen recently. Such a nice person!
---
Laura Werner on 3/2 reported via IBET: Took a nostalgic walk along the river in Batavia on Monday 2/28 between downtown and the Fabyan forest preserve and saw:

~12 Common Mergansers
2 Bufflehead
4 Goldeneyes including 2 adult males and 1 young male
2 Ring-necked Ducks
~6 Mallards
oh, and scores of Canada Geese

from the path:
1 Brown Creeper
1 YB Sapsucker (among the other usual suspects)
Good close looks at the mergansers & Bufflehead from the "lookout" on the peninsula near the Depot in downtown Batavia.
---
Jack Pomatto on 3/2 reported via e-mail: The south winds of the first day of meteorological Spring ( 3/1/11) brought two flocks of Sandhill Cranes over the east side of St. Charles at 3:45 P.M. The total count was 65 birds. Always a nice harbinger of things to come.
---
Yeanette Johnson on 3/1 reported via IBET: While driving home this evening I spotted 2 SANDHILL CRANES on the Northeastern edge of Nelson Lake Marsh.
---
Bryan Hix on 3/1 reported via e-mail: I spent some time on the Fox River in West Dundee today. There are many Goldeneyes performing their breeding displays. Additional species seen today were Great Egret (1), a pair of Double Crested Cormorants, Common Mergansers, Mallards, 3 Bald Eagles (1 Adult, 2 Juv), a song sparrow, several Red-Winged Black Birds, Northern Cardinal (singing), and a White-Fronted Goose located above the Carpentersville Dam. Several of these were a first sighting so far this year, like the Cormorants and Egret. Hopefully in the next couple of weeks the temperatures will rise and more migrants will start appearing.
---