---
Sue Wagoner on 3/30 reported via e-mail: There is a Cooper's Hawk nest in the tree in my neighbors yard. Because I have a large tree in my front yard, it is a good stopping place for the pair. Today the male flew into the tree with a bird (appears to have been a sparrow) and called for his mate. She soon appeared and the lunch was passed. His ulterior motive was soon apparent... suffice it to say I will be looking for chicks in due time.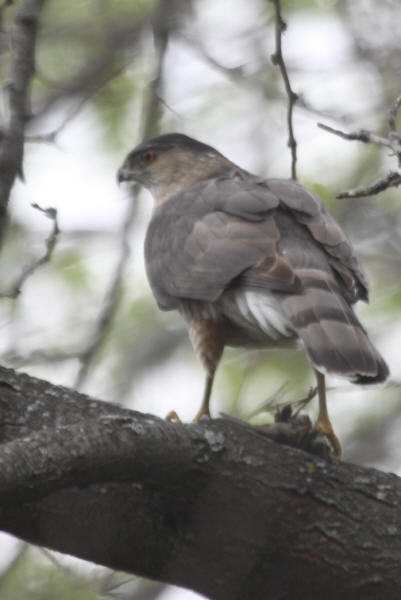 Cooper's Hawk photo courtesy Sue Wagoner
---
Ron Dickenson on 3/28 reported via e-mail: Mooseheart's Bald Eagles are finally sitting on their nest.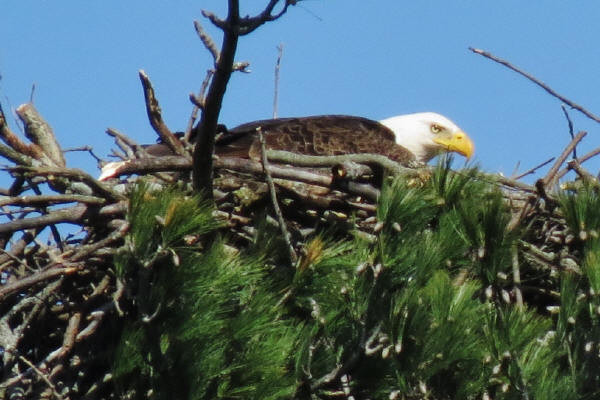 Bald Eagle photo courtesy Ron Dickenson
---
Jon Duerr on 3/28 reported via e-mail: Our FOY Winter Wren was working the bike trail edge at Fabyan-east, north of the parking area at 8:45 Wed. AM
---
Marion Miller on 3/27 reported via e-mail: Photographically shot this phoebe at Lone Grove FP today.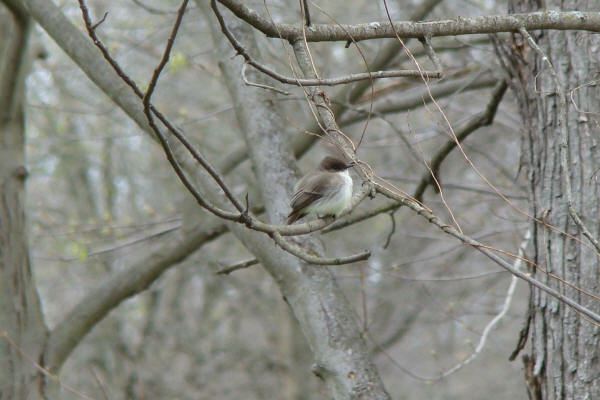 Eastern Phoebe photo courtesy Marion Miller
---
Kurt Frieders on 3/26 reported via e-mail: Sunday saw the first Golden-Crowned Kinglet that I have ever seen in my yard (in Aurora Township). I believe there were two, but only one would give me some really good looks at it. The birds were in the top of a blue spruce tree. Also a single Northern Flicker was calling and displaying in the morning. There was a single Flicker that hung around for about two weeks last year. Comparing my notes, he is about two weeks early if it is the same one.
---
Marion Miller on 3/24 reported via IBET: Rich and I birded many areas today with some target birds in mind. Here are the highlights:

Nelson Lake, Batavia 6:15a
Quick observation deck check-No Pelicans
Cool to hear 2 Great Horned Owls across the lake
Poor lighting to check out any ducks

Braeburn Marsh, Batavia 6:40a
Sandhill Cranes 2
---
Brendon Lake on 3/24 reported via e-mail: The Northern Flickers were courting as we entered Johnson's Mound, and while there we spotted a Barred Owl sitting in a tall tree not far from the first curve of the drive-through roadway in the preserve. We returned to Johnson's Mound later and found it in the same spot again.

Barred Owl photo courtesy Brendon Lake
---
Angela A. on 3/24 reported via e-mail: On 3/24 on the west side of the Fox River (between Les Arends and the dam), I spotted 1 pied billed grebe, 2 cormorants, 2 egrets, and 1 muskrat. Within the past week I had also seen 2 wood ducks on this stretch of the trail, but I did not see them today.
---
Tim Balassie on 3/24 reported via IBET: Just a few FOY sightings that may be of interest. At Lone Grove FP (Perry Rd) I had my 2012 Eastern Towhee, Brown Thrasher and Rusty Blackbird.

At Sauer Prairie (Lasher Rd) had my 2012 Pectoral and Least Sandpipers.
---
Bill Koch on 3/22 reported via e-mail: Tim Balassie and I visited Lone Grove FP today. The walk started off slow but soon picked up as I got several FOY birds. First of Year birds included: Yellow Rumped Warbler, Golden-Crowned Kinglet, Brown Thrasher, Eastern Towhee, Group of about 15 Rusty Blackbirds, and heard a Carolina Wren. All birds were viewed from the path going around the preserve. 2 Eastern Phoebe were calling loudly near the preserve entrance. 28 Total Species

From there we went out to Sauer Family Prairie Kame. Things were very slow there but a few surprises. A Northern Harrier was cruising the fields as we walked in. Also on the walk in we flushed a single Wilson's Snipe. The usual Eastern Meadowlarks were around but heard no Westerns. The ponds in the back were pretty empty of any type of ducks. The surprise of the outing was finding 5 early Pectoral Sandpipers and 1 early Least Sandpiper in the very back pond on some mud flats. A few of the usual birds were there but otherwise pretty slow.
American Toads were already singing everywhere along with the many Chorus Frogs.
---
Christopher Cudworth on 3/21 reported via IBET: While doing a pre-dawn ride I took a loop through Johnson's Mound/Elburn. Stopped at the base of the main road/ hill to listen for birds and see what was singing.

The predominant voices were, to my surprise, not robins singing, but Eastern Bluebirds. This was at 6:40 a.m. Barely dawn.

I tried to separate the different birds which was tough, but the fair estimate was at least 10 different birds singing throughout the hillside and bottomland forest. Their voices seemed to be coming in part from lower canopy perches but also from high up in the trees. A very few robins were also singing but I have not heard that many bluebirds singing simultaneously.
---
Joy Duerr on 3/21 reported via phone: Six pelicans on Nelson Lake at 9 AM.
---
Marion Miller on 3/19 reported via e-mail: Rich and I went to Prairie Green and Mirador this evening. The highlights at Prairie Green were: FOY Savannah Sparrow, Pied-billed Grebe, and Great Blue Heron. Both male and female Red-winged Blackbirds were in good numbers. At Mirador the numbers were low, the highlights were: Northern Shovelers 17, Ring-billed Ducks 2, Pied-billed Grebe 2, Green-winged Teal 2, and 8 Tree Swallows. This was the first time I saw a breeding adult Pied-billed Grebe. The black chin and throat was very prominent.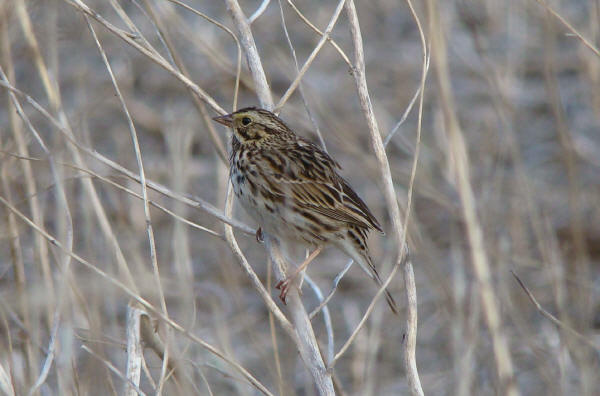 Savannah Sparrow photo courtesy Marion Miller
---
Ron Dickenson on 3/19 reported via e-mail: What's for supper? It looks like turtle but I could be wrong.

Mooseheart Eagles photo courtesy Ron Dickenson
---
Chris Madsen on 3/19 reported: Nelson Lake had NO PELICANS at 8:30 AM and 6:30 PM today.
---
Vern LaVia on 3/18 reported via IBET: Went out for an hour to Oakhurst Park (on Fifth Ave. in Aurora, a mile west of Farnsworth Ave.) Mavis Bates wanted to see Wood Ducks...and we got them, along with the following other spring arrivals:

Wood Ducks (9)
Fox Sparrows (20+)
Horned Grebe (1)
Pied-billed Grebe (1)
E. Meadowlarks (4)
Killdeer (1)
N. Shoveler (15)

And Beavers have felled a dozen pretty good sized trees along the banks of
the stream where the water flows out of the lake on the East side of the
lake (near the metal bridge). All those trees were standing ten days ago.
---
Chris Weishaar on 3/18 reported via IBET: At Dick Young/Nelson Lake today:

Canada Goose
Mallard
Blue-winged Teal
Northern Shoveler
Green-winged Teal
Redhead
Lesser Scaup
Ruddy Duck
Red-tailed Hawk
Turkey Vulture
American Coot
Killdeer
Red-bellied Woodpecker
Downy Woodpecker
Hairy Woodpecker
Blue Jay
Black-capped Chikadee
White-breasted Nuthatch
Robin
Golden-crowned Kinglet
Fox Sparrow
Song Sparrow
Junco
Cardinal
Red-winged Blackbird
Eastern Meadowlark
Brown-headed Cowbird

Also stopped briefly at the Japanese Gardens after my day at Nelson Lake.
Canada Goose
Great Blue Heron
Mallard
Mourning Dove
Robin
Starling
Song Sparrow
Eastern Phoebe
Cardinal
Red-winged Blackbird
Eastern Meadowlark
Grackle
House Sparrow
---
Sandy Olsen on 3/18 reported via e-mail: Thanks to Laura Eastlick's recent post, my husband and I were able to see the baby owls and Mama nesting in North Aurora. I have attached a pic with one brave baby standing tall, one not so sure and Mama keeping a close eye from behind!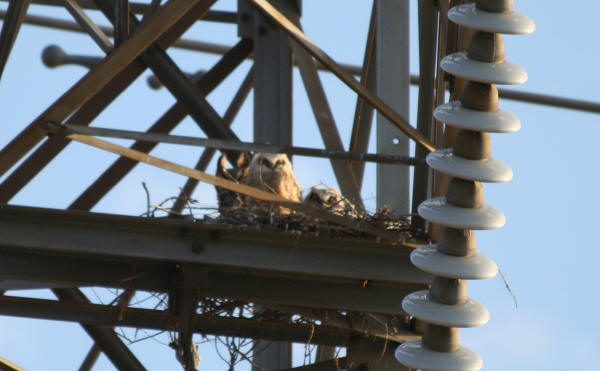 Great Horned Owls photo courtesy Sandy Olsen
---
Chris Madsen on 3/18 reported: At 8:45 this morning, no pelicans. Dick Young Forest Preserve has been hopping with pelican fans, but the stars of the show are disappointing.
---
Chris Madsen on 3/17 reported: NO pelicans at Nelson Lake today until at least 3 PM.
---
Chris Weishaar on 3/15 reported via IBET: Was out for just a couple of hours this evening at Dick Young/Nelson Lake west of Batavia. There were two pelicans when I arrived, by the time I left I counted six. Also spotted:

Canada Geese
Mallard
Northern Shoveler
Great Blue Heron
Northern Harrier
American Coot
Killdeer
Downy Woodpecker
Blue Jay
Tree Swallow
Black-capped Chickadee
Robin
Fox sparrow
Song Sparrow
Dark-eyed Junco
Cardinal
Red-winged Blackbird
Common Grackle
Eastern Meadowlark
---
Darrell Shambaugh on 3/15 reported via IBET: Grunwald Farms Forest Preserve had about 320 LESSER SCAUP and 60 RING-NECKED DUCKS today.
---
Rhonda Nelson on 3/15 reported via phone: Two male Eastern Towhees near the northwest corner of the Nelson Lake walking loop.
---
Rich Miller on 3/15 reported via IBET: Fourteen pelicans at Nelson Lake at 6:30 AM. Eight Sandhill Cranes also present.
---
Margaret Myers on 3/14 reported via e-mail: There were 11 American White Pelicans this afternoon 3/14 at Nelson Lake. Glad they are back. Looks like they are practicing synchronized swimming.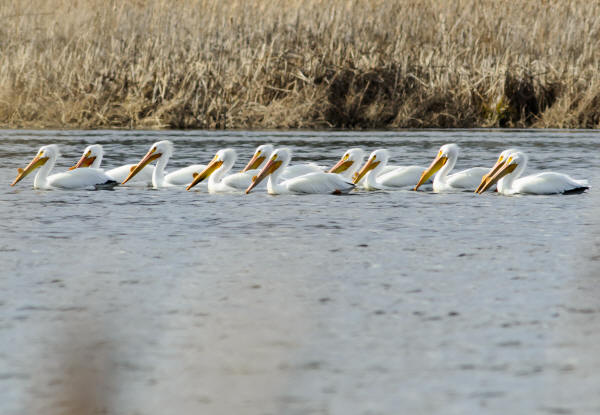 Swimming American White Pelicans photo courtesy Steve Myers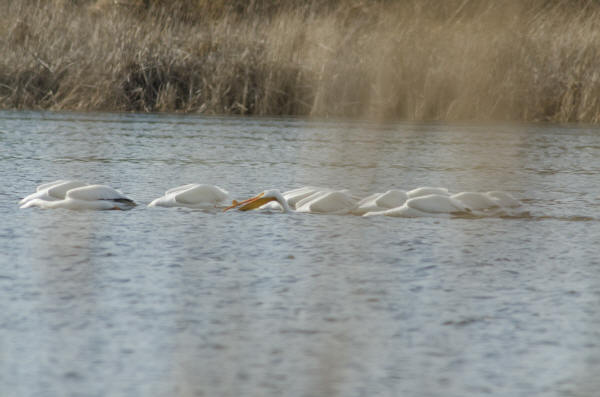 Feeding American White Pelicans photo courtesy Steve Myers
---
Rich Miller on 3/14 reported via IBET: No pelicans on Nelson Lake as of 6:30 AM.
---
Ron Dickenson on 3/13 reported via e-mail: The Mooseheart Bald Eagle pair are working on their nest.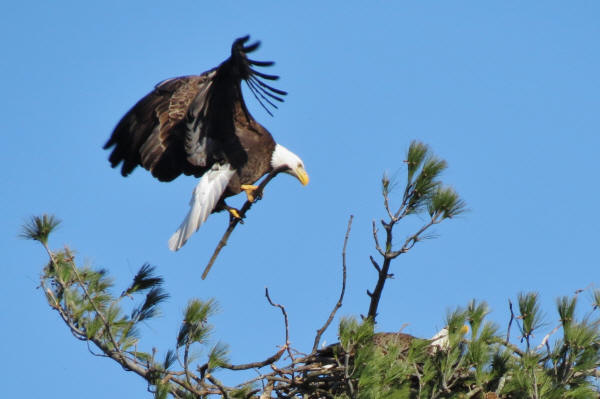 Mooseheart Bald Eagles photo courtesy Ron Dickenson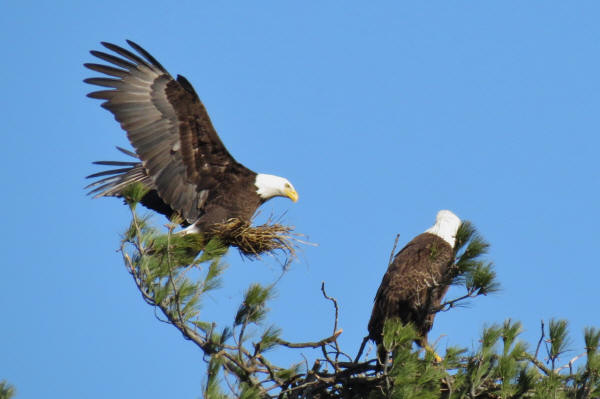 Mooseheart Bald Eagles photo courtesy Ron Dickenson
---
Kathleen O'Deen on 3/13 reported via e-mail: Spotted way up high over the fox river about 2:30pm near the library in Elgin Sandhill Cranes several groups totalling about 100 or so. Heading North. Great to hear them again!
---
Diane Hansen on 3/13 reported via e-mail: Observed this Brown Creeper at Nelson Lake on Sunday afternoon.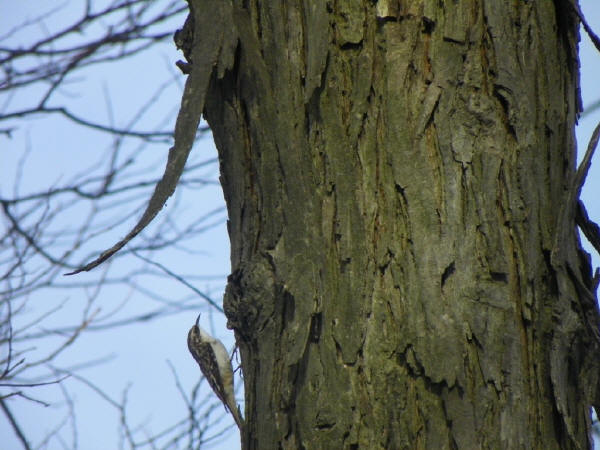 Brown Creeper photo courtesy Diane Hansen
---
Bob Andrini on 3/13 reported via phone: Twenty-nine pelicans on Nelson Lake this morning.
---
Karen Land on 3/13 reported via IBET: Went to my doctors office at 7 am this morning for lab work and on the way out we saw 2 sandhill cranes walking along in the small creek that runs between Sam's Club and Wal-Mart in Batavia. This is the stream that feeds into Braeburn Marsh. Sandills have nested in the tall grass that surrounds the Marsh in the past.
---
Darrell Shambaugh on 3/12 reported via IBET: I stopped at Nelson Lake (Kane County, west of Batavia) about noon today to see Jon Duerr's pelicans. Only one AMERICAN WHITE PELICAN was there. There were lots of other good birds. First of the year birds in addition to the pelican were HORNED GREBE and TREE SWALLOW. Waterfowl included

RUDDY DUCK
GREEN-WINGED TEAL
GADWALL
AMERICAN WIDGEON
NORTHERN SHOVELER
RING-NECKED DUCK
LESSER SCAUP
COMMON MERGANSER

A pair of ROCK PIGEONS are building a nest in the silo. SONG SPARROWS are singing, and RED-WINGED BLACKBIRDS abound.
---
Jon Duerr on 3/12 reported via phone: Eighteen American White Pelicans are on Nelson Lake with a good assortment of other waterfowl.
---
Laura Eastlick on 3/11 reported via e-mail: My husband and I live at Courtyards Village West on Randall Road in North Aurora. For the past 5 five years, a Red Tail Hawk has nested in the south electrical tower by the pool on the grounds of the complex. On Sunday, March 11, 2012, at approximately 6:00 p.m. we went for a walk to check out the hawk nest to see if there was any activity going on. Much to our surprise, we saw two, HUGE, light brown (with black around the eyes), fluffy baby owls looking at us. The adult peered around from behind the two babies and I was so excited to see these three! I have never seen an owl around here before (I've lived here for 10 years; I've heard them but have not seen them). We went home and I grabbed my bird book to see what kind of owl it was. The tufts on the adults head should have given it away but I wanted to make sure if was a Great Horned Owl or not.

The babies were HUGE! They were all fluffy and the larger one kept spreading it's wings out like its getting ready to fledge. The other one just sat there and kept watching my husband and me. The adult was also very interested in what we were doing. We stayed for about 10 minutes and then went home. We never did see another adult, just the one in the nest.

I feel bad for the hawk, a pair has nested there successfully for the past five years. I was surprised at how big the babies were…is it normal for them to be this big at this time of the year? I know we had a mild winter but it seemed odd to have babies so soon.

I am glad they are nesting here but wonder where the hawk ended up. We also have a sharp shinned hawk that hangs around Oberweis Dairy a lot too.

I wanted to let you know in case you wanted to come out and see them. They are doing some electrical work on the north towers, I hope they don't bother the owls too much.
---
Karen Land on 3/10 reported via IBET: We pass the Mooseheart eagle nest regularly on our to Woodman's and my partner passes it daily back and forth to work. We have been seeing at least one adult in the nest and today saw one in the nest and one out on a nearby branch. The nest was really blowing around in the 30 mph wind gusts! This is not the man made nest but one the eagles built earlier this year.
---
Walter Lutz on 3/9 reported via e-mail: 3 groups totaling roughly 150 Sandhill Cranes heading north over west Elgin around 4 p.m.

Then a group of about 80 heading north/northwest at 5:45 p.m. Not much gliding going on with this bunch; they were working hard.
---
Marion Miller on 3/9 reported via e-mail: On my way home from work today, spotted 8 perched Turkey Vultures off Rt 31, just south of Silver Glen.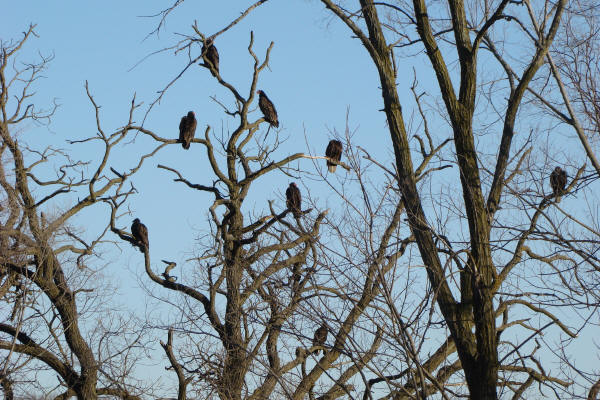 Turkey Vultures photo courtesy Marion Miller
---
Shelle Young on 3/9 reported via e-mail: I saw a large male bald eagle this morning around 9:10am flying parallel with Randall Road between Batavia and North Aurora, close to Mooseheart Road. Regrettably, traffic did not allow me slow or stop to take a photo. And I seemed to be the only person who noticed this amazing creature.
---
Kurt Frieders on 3/9 reported via IBET: This morning while driving down Ogden Avenue I noticed what looked to be a Western Red-Tailed Hawk over Ron Westphal Cheverolet (Oswego). I had to let my dog out anyways, and the bird looked to be heading the direction of my property (Aurora township) so I went home to see if it would show up. So while we played frisbee I kept an eye to the sky, and sure enough the bird showed up and gracefully glided right through the property. I was able to get really long looks at it with my binoculars, as it really was in no hurry. I'm doubtful it will stick around long though as we have a couple of nesting Red-Taileds on the property. However, I sure hope to see it again.
---
Marion Miller on 3/8 reported via e-mail: As soon as Rich and I got out of our car at 6:05pm in the parking lot of Ferson Creek Fen we heard the "peent" of an American Woodcock. In the 20 minutes that we walked the parking lot turnaround we heard at least 5 Woodcocks, saw 3 great horizontal flybys and at least 8 aerial displays over the open fields with audible twittering. Thanks to Yeanette for her earlier post about these fun birds! On our way to Ferson Fen we spotted 5 Lesser Scaup, 1 Horned Grebe, and 8 Mallards on the Fox River near the tower in Pottawatomie Park.
---
Darrell Shambaugh on 3/8 reported via IBET: This afternoon at Grunwald Farms, LESSER SCAUP was the most common duck. 130 were on the pond, along with 50 RING-NECKED DUCKS, a COMMON GOLDENEYE, 4 CANADA GEESE, and 2 AMERICAN COOTS. Grunwald Farms is on North Lorang Road, south of Main Street a little bit east of I-88.
---
Darrell Shambaugh on 3/7 reported via IBET: Today I stopped at Grunwald Farms on my way home from work. I've stopped there three times this week, and had different birds each time. Today the ducks were fewer than Monday and Tuesday, but I had a new species, BUFFLEHEAD. Others on the pond today were LESSER SCAUP and AMERICAN COOTS. Several hundred blackbirds were in a field at the entrance. Species included COMMON GRACKLE, RED-WINGED and BROWN-HEADED COWBIRD. EUROPEAN STARLINGS were with them, and a KILLDEER flew over...

...I didn't post it yesterday, but Grunwald Farms had a couple of NORTHERN SHOVELERS and about 50 LESSER SCAUP. This week I've seen Ring-necked Duck, Lesser Scaup, Northern Shoveler, Bufflehead, Mallard, Canada Goose, and American Coot there.
---
Ron Dickenson on 3/6 reported via e-mail: Mooseheart eagles today in their new nest.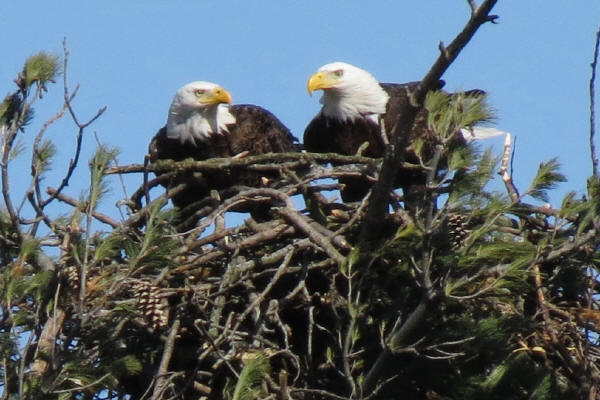 Mooseheart Bald Eagles photo courtesy Ron Dickenson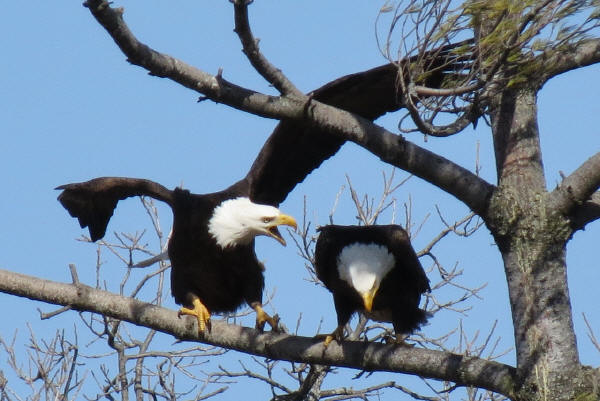 Mooseheart Bald Eagles photo courtesy Ron Dickenson
---
Darrell Shambaugh on 3/5 reported via IBET: I found some migrants this afternoon on my way home from work. First stop was Grunwald Farms Forest Preserve in Kane County. I had never been here until about two weeks ago, and again last week. It is east of the I-88 overpass on Main Street a couple miles east of Kaneville. Two CANVASBACKS, 40 LESSER SCAUP, and 17 RING-NECKED DUCKS were in the pond...
---
Marion Miller on 3/5 reported via e-mail: While doing my Project FeederWatch survey, I saw the first ever (that I've observed) Common Redpoll in my Batavia backyard. I was so excited! Even had my camera near and got a few photos through the window!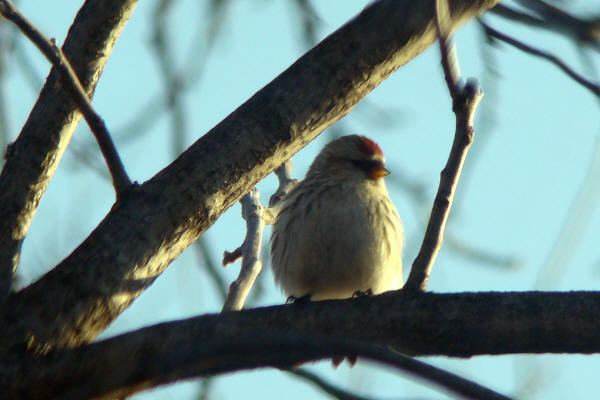 Common Redpoll photo courtesy Marion Miller
---
Marion Miller on 3/4 reported via e-mail: Rich and I checked out Mirador and Carson Slough between 4:15pm and 5:30pm today. Highlights at Mirador were 7 Hooded Mergansers, 10 Northern Shovelers, 5 Coots and 2 Song Sparrows. Carson Slough highlights: 8 Green-winged Teal, 3 Ring-necked Ducks, 4 Common Mergansers, 6 Hooded Mergansers and 1 Northern Shoveler.
---
Mary Sullivan on 3/4 reported via e-mail: I took this pic on the Riverwalk in Batavia in mid February.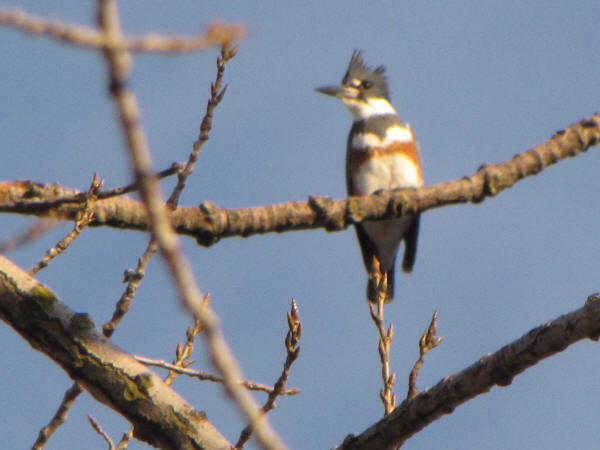 Belted Kingfisher photo courtesy Mary Sullivan
---
Chris Weishaar on 3/4 reported via IBET: There are approx 12 greater white-fronted geese out on Nelson Lake in Batavia as I post [at noon].

Other sightings thus far:

Northern Junco
Song sparrow (my FOS)
Sandhill cranes x3
White-breasted nuthatch
Mallards
Canada geese
Red-tailed hawk
Blue jay
Cardinal
Common merganser
---
Marion Miller on 3/3 reported via e-mail: Terry Murray led 10 birders on the monthly walk at Nelson Lake on Saturday. Waterfowl highlights were Ruddy Ducks, Common Mergansers, Wood Ducks and 150 Northern Pintails. Northern Shrike, Bald Eagle, and a Northern Harrier were among the total species count of 24 seen during the "brisk" walk. A Daily Herald reporter joined the group, so be looking for her article and some smiling pictures of a birder or two!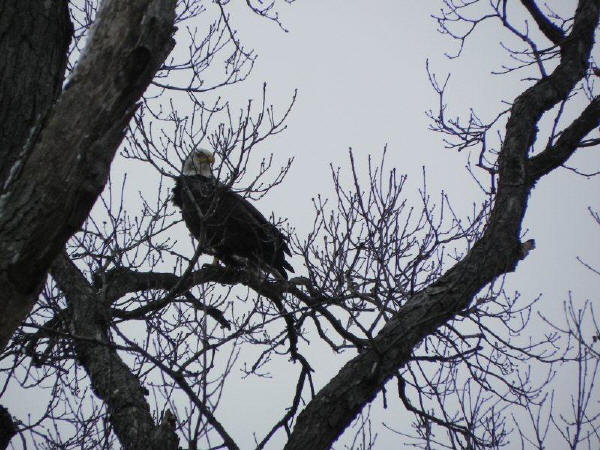 Bald Eagle photo courtesy Theresa LeCompte
---
Michael Tartaglia on 3/3 reported via e-mail: A Northern Harrier was coursing low over the grass just south of Orchard Gateway Blvd, between Randall Rd and JC Penny's, at 10:15 this morning. Got a nice look at it's white undersides, grey head, dark wing tips, white rump. Pretty bird...
---
Jon Duerr on 3/1 reported via eBird: Sighting 17 Tundra Swans at Sauer Prairie Kame Forest Preserve. In addition he reported 18 White-fronted Geese, 5 Wood Ducks, 2 Gadwalls, 2 Northern Shovelers, and 8 Northern Pintails.
---