---
Marion Miller on 3/30 reported via IBET: Three Common Loons were along the east side of river above the South Elgin dam at 5:30p. Two were near the first residential house and the third was further north up the river. Also seen Horned Grebe starting to show some breeding plumage and 3 Pied billed Grebes. Just a smattering of ducks present: Ruddy, Bufflehead, Lesser Scaup, Common Mergansers, Hooded Mergansers and Goldeneyes. Tree Swallows were active, too.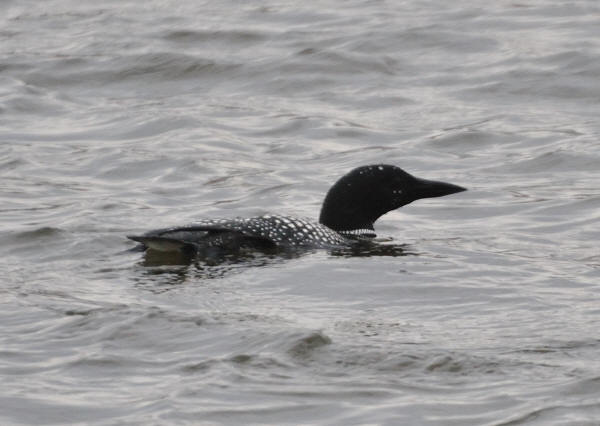 Common Loon photo courtesy Rich Miller
---
Jackie Bowman on 3/30 reported via e-mail: The Great Horned Owlets at Fabyan Park have made their first appearance today. It appears that there are two owlets, and it was so cool to see one of them perk straight up and check out his new world! I have more photos and a short video posted on my Flickr page too.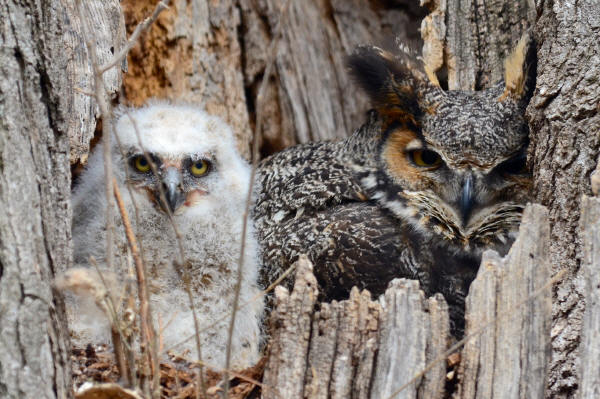 Great Horned Owl and owlet photo courtesy Jackie Bowman
---
Eric Secker on 3/29 reported via IBET: This evening at Judson in Elgin we had a nice breeding plumage COMMON LOON diving along the Fox River in the evening sun. We watched him come fairly close to shore where he caught and finally managed to swallow a large fish. An adult BALD EAGLE also flew by and banked right over our heads with the evening sun lighting him up beautifully. Other birds included a couple HOODED MERGANSERS, a PIED-BILLED GREBE, two WOOD DUCKS, and some COOTS.

...The highlight of a walk through Fox River Shores was watching a group of GREEN-WINGED TEAL in the backwaters that were calling loudly - which involved also jumping considerably up from the water. Near the large open area where you can view the river, we had a few HOODED MERGANSERS, about 15-20 COMMON MERGANSERS, DOUBLE-CRESTED CORMORANTS, and two distant sleeping birds that were either Scaup or Ring-necked Ducks.
---
Andie Groff on 3/29 reported via IBET: Today I took my daughter out on her first bird watching expedition and hiking. She is 6 years old and has enjoyed plenty of raptor watching with me, but today we were looking for land birds and waterfowl.

...We took off for Nelson Lake in Batavia (Kane County) with the hopes of spotting some of the 33 tundra swans that Jerry reported yesterday - but they were gone. A few people on the viewing deck who had been there for a while said they hadn't seen any either. We all had a nice conversation (that I didn't start!) about eagles and the various locks and dams along the Mississippi that held high counts over the past few months. I just love meeting other eagle lovers!

After about an hour of seeing nothing but Canada geese way off in the distance, we took a walk around half of Nelson Lake and I heard a wonderful sound above us...I looked up and saw several Sandhill Cranes flying over! Unfortunately, there was a large section of brush in front of us, and the sun directly behind me, so I didn't get any good photos (I have a few but they are pretty far away, yet identifiable).

We left and headed over to Red Oak Nature Center with the hopes of catching a glimpse of several small birds that have been reported including Bohemian Waxwings that we saw there in early November. We met up with my MIL, and didn't see or hear one single bird in a tree or on the ground during our entire 1-1/2 hour long hike! Just more Canada geese, 8 American Coots, and one female Green Winged-Teal that I was a little concerned about because she was on a log right next to the path and she didn't move when we walked by. We walked away from her down the path and I turned around to take some pictures of her, and she buried her head into her wing. I took a few photos, and my MIL will go back tomorrow to see if she's still there. She wouldn't be nesting on this spot, too wet and too small and very open. After reviewing my photos tonight; she looks healthy, so I wonder if she was a barnyard pond pet at some point. She didn't even flinch when we walked by her, I was no more than 3 feet away from her and I didn't even notice her until my MIL said something...
---
Marion Miller on 3/29 reported via eBird: 2 Common Redpolls visiting her feeders today in Batavia.
---
Sandy Olsen on 3/29 reported via e-mail: ...I spotted another Great Horned owl in Mill Creek. On walk at dusk tonight, we spotted one sitting in a tree behind the house across the street...Neighbor said he had been back and forth all day between his yard and somewhere across the pond behind his house.
---
Becky DeSilva on 3/28 reported via e-mail: Hello! There were big, white birds on Nelson Lake today! A flock of 33 Tundra Swans were there this morning. They took off and circled over the lake many times, for over a half hour, without settling back down. I reluctantly had to leave for kid carpool duty. I saw this flock with photographer Jerry Goldner, who was kind enough to let me tag along and ask questions while he photographed.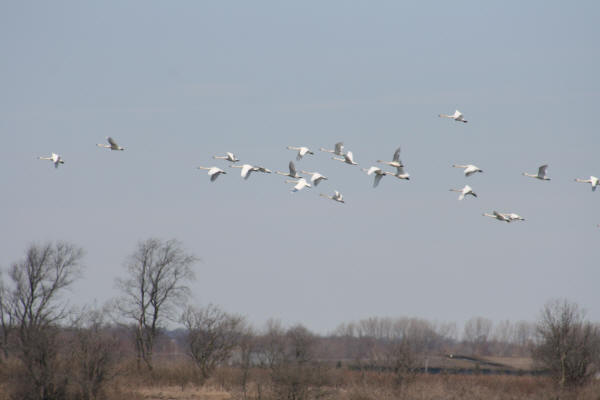 Tundra Swans photo courtesy Becky DeSilva
---
Chris Mussachio on 3/26 reported via e-mail: While shooting today at Fox River Shores Forest Preserve, these models flew down the river flyway.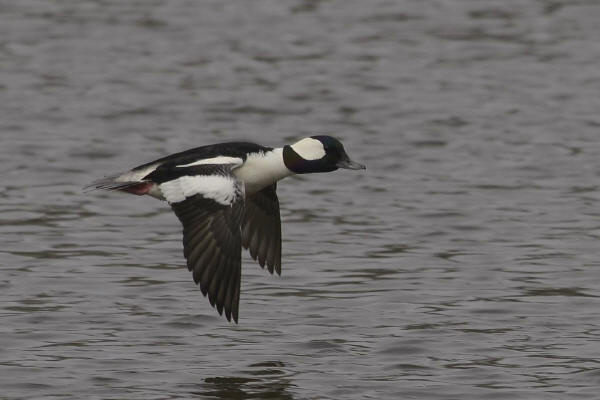 Male Bufflehead photo courtesy Chris Mussachio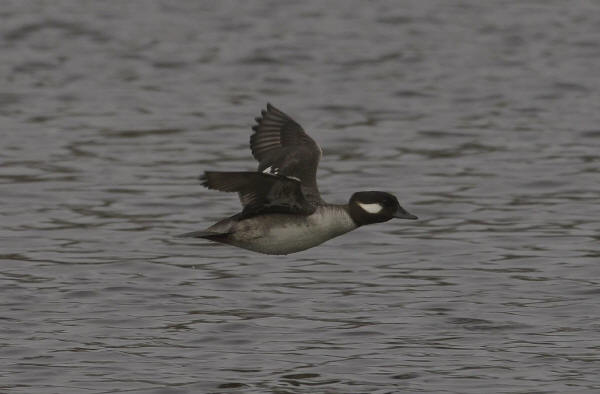 Female Bufflehead photo courtesy Chris Mussachio
---
Marion Miller on 3/26 reported via e-mail: Have been checking some Sugar Grove, N. Aurora and Batavia subdivision ponds/wetland areas over the last few days and most are all open. Carson Slough only had a small area open (that was Sunday), I think because it is just so shallow. What little open water was there did have CANADA GEESE and MALLARDS on it. Ingham Park subdivision pond had a pair of AMERICAN WIGEONS. Today I checked the Mirador Subdivision (off Deerpath, N. Aurora) The water right near Bennett Drive looks good and had 32 REDHEADS, 3 RING-NECKED DUCKS, 2 HOODED MERGANSER, 2 AMERICAN COOTS, 1 female RUDDY DUCK and 6 NORTHERN SHOVELERS, not to mention many MALLARDS. The water area on the other side of the walking path is low but didn't stop 8 WOOD DUCKS and 6 GREEN-WINGED TEAL from swimming and dabbling around. The pond behind Woodman's on Orchard had 10 HOODED MERGANSERS. Tanner wetlands were quiet with only 3 COMMON MERGANSERS. Other highlights, 2 SANDHILL CRANES at Braeburn Marsh and a female NORTHERN HARRIER was seen at Braeburn Marsh, Tanner wetlands and Mirador ponds.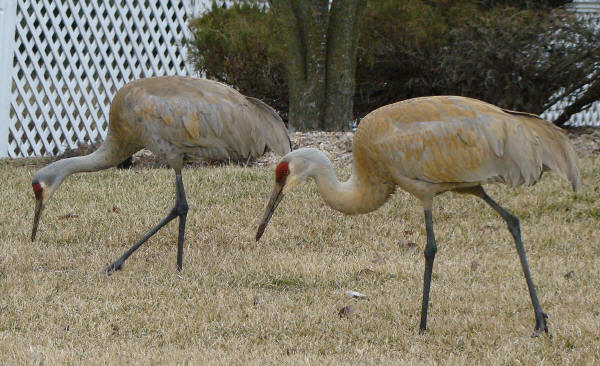 Sandhill Cranes photo courtesy Marion Miller
---
Diane Hansen on 3/24 reported via e-mail: My Sunday morning ritual is to drive out to Huntley for Jazzercise and then bird watch my way back to Elgin along Freeman and Binnie Roads. Today I caught a glimpse of 2 Sandhill Cranes and had my closest encounter with a Turkey Vulture circling some road kill. As they say, a face only a mother could love.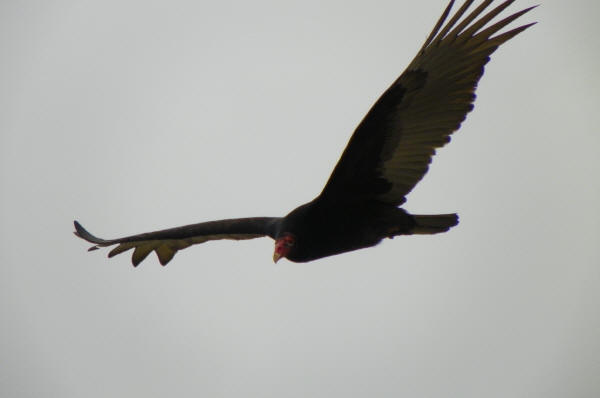 Turkey Vulture photo courtesy Diane Hansen
---
Vance Perricone on 3/23 reported via eBird: While out running in the afternoon, saw a White-winged Scoter near the Prairie Street bridge in St. Charles.
---
Chris Mussachio on 3/23 reported via e-mail: Spotted these Greater Scaup today at Fox River Shores Forest Preserve.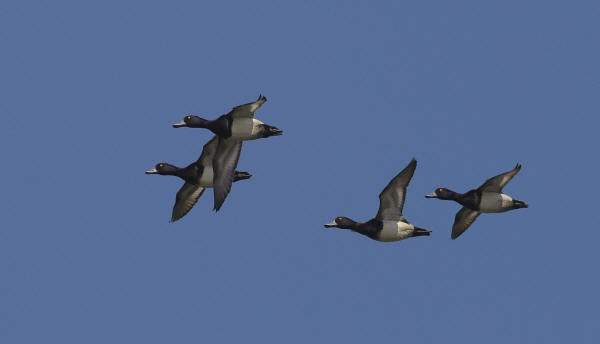 Greater(?) Scaup photo courtesy Chris Mussachio
---
Robin Moseley on 3/23 reported via e-mail: Discovered a large group of Cormorants at the boat landing across from Trout Park in Elgin late in the afternoon. We counted about 150. There was also a small group of Coots.


Double-crested Cormorants photo courtesy Robin Moseley
---
Brendon Lake on 3/22 reported via IBET: Hey all, was just at the South Elgin Dam today from about 1:30-2:00 this afternoon and the White-Winged Scoter is still present. I found it actively diving right where the water falls from the top of the dam. It ended up falling over the dam and was trapped in the rapids for 2-3 minutes. I watched to see if it sustained injuries, but it flew back to the top of the dam and swam further away, probably to avoid another incident like that. What a strange sight that was!
---
Bob Andrini on 3/22 reported via e-mail: Signs of spring: While doing my bird count at Norris Woods, I saw 2 Song Sparrows involved in chasing activity (it must be spring) and also a FOY Eastern Phoebe.
---
Diane Hansen on 3/21 reported via e-mail: Today I walked the Fox River from the South Elgin dam to Stearns Road. Aside from the usual suspects I saw my first female Hooded Merganser, 1 Bald Eagle and a pair of Pied-billed Grebes.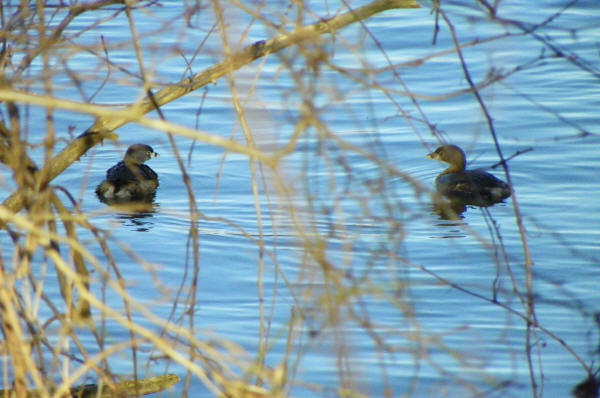 Pied-billed Grebes photo courtesy Diane Hansen
---
Mark Bowman on 3/21 reported via e-mail: While at Peck Farm today, my brother Chris was searching for woodcocks when a large bird flushed from the reeds. We knew it was a raptor of some sort but was not sure what kind. Given the location, we thought a short eared owl, but to our surprise it was a LONG EARED OWL. He was certainly out of his element with essentially no pines around.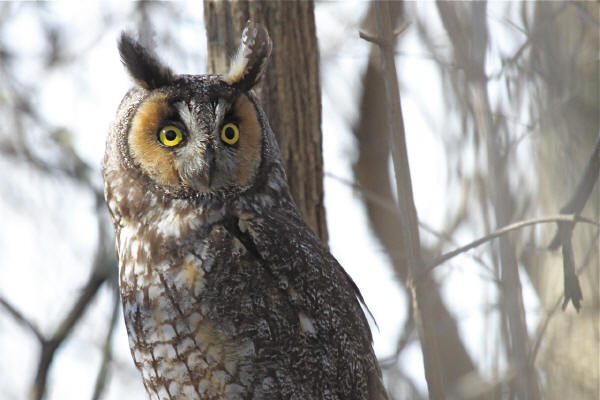 Long-eared Owl photo courtesy Mark Bowman
---
Al Stokie on 3/21 reported via IBET: Hello Bird People,

I wanted to follow up on Brendon's report about a W.W.Scoter at the South Elgin dam as that species would be a new Kane Co bird for me but when I got there at about 8:30 a.m. the part of the river were the Scoter had been seen was filled with ice & no Scoter could be found by me or another local birder who was also looking for it. Most of the other water birds seen yesterday were still around but no Scoter. But there were other ducks very far to the north & too far to I.D. even with my scope so the Scoter could still be there but too far to deal with. After about 1 hour both of us left to try other locations. I went to the Jon Duerr/Blackhawk F.P. & found fewer ducks & again no Scoter plus a small number of landbirds of the most common kind. Running out of time I returned to the South Elgin Dam for one more try. I saw that most of the ice had gone over the dam leaving lots of open water plus one obvious WHITE WINGED SCOTER. Where it was before I can't say but it was easy to see now that the ice was gone.
Usually "when at 1st I don't succeed" I go somewhere else but today I'm glad I decided to "try, try again" even though that usually does not work. Thanks again to Brendon for the original report.
Here are my day lists for my short visits at the 2 locations I was at.

South Elgin Dam (8:30-9:15 a.m. & 10:30 a.m.)

P.B.Grebe (1)
Horned Grebe (1)
(Both Grebes hanging out together)
D.C.Cormorant (4)
Great Blue Heron (2)
Canada Geese (c.100)
Cackling Geese (1 on ice & 1 flying)
Mallard (12-15)
Redhead (1-M)
Canvasback (12-15)
Lesser Scaup (8-10)
WHITE WINGED SCOTER (1)(1st for Kane Co)
Bufflehead (4-5)
Goldeneye (c.20)
Hooded Merg (1-PR)
Large female Merg (2 too far to I.D. but probably Common)
Ruddy Duck (7-8)
BALD EAGLE (1-AD & 1-IM)
R.B.Gull (c.125)
Herring Gull (8)
Robins (few)

Jon Duerr/Blackhawk F.P. (9:30-10:15 a.m.)

D.C.Cormorant (2)
Canada Geese (35-40)
Mallard (8-10)
Goldeneye (4-5)
Hooded Merg (c.15)
Common Merg (8-M & 1-F)
Killdeer (heard)
R.B.Gull (few)
Mourning Dove (2)
Red Bellied Woodpecker (2-3)
Downy Woodpecker (1)
Crow (heard)
Chickadee (heard)
W.B.Nuthatch (2)
Robins (few)
Cardinal (2)
Tree Sparrow (2)
Junco (4)
Red Wings (2)

Including roadside birds Red Tailed Hawk, Pigeon, Starling & House Sparrow I had 35 species for the day of which 10 species were ducks. Bird-Of-The-Day will be the WHITE WINGED SCOTER which made me work to get it. That bird is Kane Co species #248 & somehow I hope to get 2 more to finally get to 250 which is my final target for that county. Runners-Up will be the adult Bald Eagle & the group of Canvasbacks, one of my favorite species of ducks. I do hope the other birder who was with when we failed to find the Scoter in the early a.m. was also able to return & see the bird later as I did.
---
Sandra Olsen on 3/21 reported via e-mail: Spotted a large nest on top of one of the abandoned silos across from Woodman's in North Aurora. Checked it out and found two red-tailed hawks (at least that is what I think they are) hovering around. Came back and got a couple of pics of one of them on top of the silo watching the next.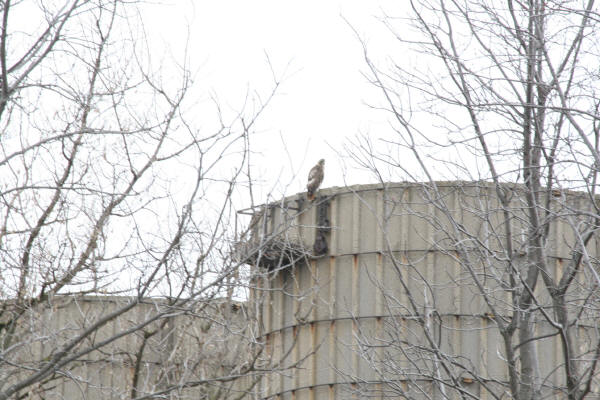 Red-tailed Hawk photo courtesy Sandy Olsen
---
Brendon Lake on 3/20 reported via IBET: Hey all, thought I would share a few notable sightings. Waterfowl are taking Kane County over right now, South Elgin Dam had a group of 18 Canvasbacks, some Ruddy Ducks, a Lesser Scaup, a few Double-Crested Cormorants, and most notably 2 Horned Grebes and a White-Winged Scoter. The Scoter was visible from the top of the dam along the east shore, near a house with a reddish-brown deck and a log pile in the back yard. Also, on my way home, I found two Tundra Swans actively feeding in a flooded cornfield on Burlington Road near Rohrsen Road.
---
Eric Secker on 3/20 reported via IBET: I had 13 GREATER WHITE-FRONTED GEESE fly over the Fox River at Judson University in Elgin yesterday evening (headed west).

Lots of ducks were still present including LESSER SCAUP, 2 COMMON GOLDENEYE, BUFFLEHEAD, HOODED MERGANSERS, a couple COMMON MERGANSERS, and AM. COOTS.
---
Diane Hansen on 3/20 reported via e-mail: I had to break out the snowmobile suit but it was worth it. I walked along the river from Chicago Street to just north of the Elgin Library. I caught a quick glimpse of about a dozen American Pelicans flying over the west side of Elgin. On the river I saw American Coot, Double-crested Cormorant, Bufflehead, Lesser Scaup, Ruddy Duck and Common Merganser. Late in the afternoon I made a quick trip to the South Elgin dam. There I saw my first Canvasback along with Great Blue Heron, Mallard, Common Golden-eye, Ring-necked Duck, Ruddy Duck, Lesser Scaup, Turkey Vulture and American Coot.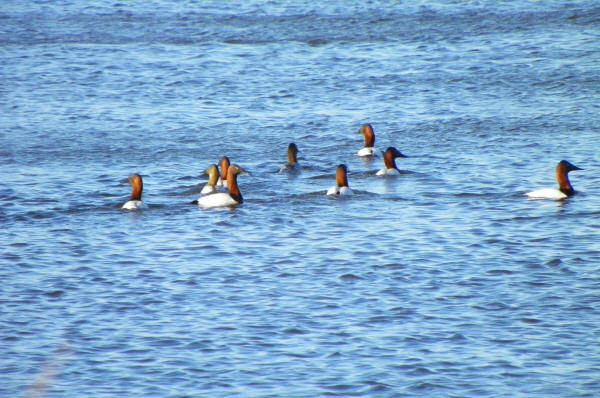 Canvasbacks photo courtesy Diane Hansen
---
Chris Mussachio on 3/19 reported via e-mail: Wind was brutal Tuesday at Fox River Shores in Carpentersville and the only picture I took was of a Common Merganser heading south. There was a dozen Double-Crested Cormorants sunning on a branch in the water, 1 adult Bald Eagle in a tree, and hundreds of geese trying to fly in the wind.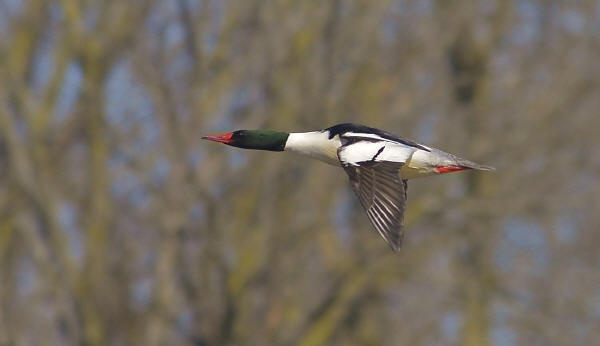 Common Merganser photo courtesy Chris Mussachio
---
Richard Wilson on 3/19 reported via e-mail: Woodcocks at freeman kames on Sunday afternoon in flight, 2 in one place and three in back near the big wetland. And more cranes then I could count.
---
Marion Miller on 3/18 reported via e-mail: Lots of subdivision ponds are freezing up again so most of my waterfowl sightings were on the river. The waters above the Batavia dam were busy with Northern Shovelers, Canvasbacks, Lesser Scaup, Common Mergansers, Common Goldeneyes, American Coots, Bufflehead and the highlight for me a beautiful male Red-breasted Merganser just north of the island.
---
Brendon Lake on 3/16 reported via IBET: Hey all, today was a pretty good day to be out in Kane County, Carpentersville Dam had an adult Bald Eagle and 5 Bufflehead (3 male, 2 female). The South Elgin Dam was abuzz with a flurry of activity, 81 American Robins, a Cedar Waxwing, many Lesser Scaup, a female Greater Scaup, 5 Ruddy Ducks (2 male, 3 female), 5 Bald Eagles, 15-20 Tree Swallows, a female Ring-Necked Duck and 3 Canvasback (1 male, 2 female)...Also notable in Kane County, when I finally arrived back home it was getting to be dark, and while in the back yard I...watched and heard the courtship rituals of a few American Woodcocks at the pond across from my house.
---
Marion Miller on 3/16 reported via e-mail: Rich and I saw 22 American White Pelicans overhead this evening at 4:50pm while birding in a neighboring county (Fermi Lab/Dupage). They definitely flew into Kane County!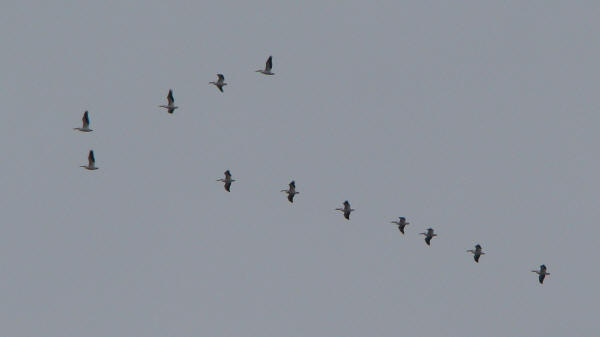 American White Pelicans (crossing the county line) photo courtesy Marion Miller
---
Alan Magerkurth on 3/16 reported via eBird: Seeing an Oregon-race Dark-eyed Junco at his residence in Batavia.
---
David Phillips on 3/16 reported via IBET: 12PM - 2PM. A Bufflehead was just north of Route 64 along with a pair of Common Goldeneye. This was near the Hotel Baker at first, but then the Bufflehead came to the (east) side I was on & within 25 feet of me.

Further north near the railway bridge/bike trail bridge were 7-8 pairs of Scaup - some of them were Greater Scaup. Also, a pair of Red Breasted Merganser stood out with their crazy hairdo.
---
Chris Weishaar on 3/16 reported via IBET: Spent an hour at the Japanese gardens/Fabyan preserve on the west side of the Fox River today. Highlights were a pair of brown creepers [and] the great horned owl. Full list, albeit a short one:

Brown creeper
Great horned owl
Cardinal
Black capped chickadee
Redwinged blackbird
Canada goose
Mallard duck
American Robin
Common crow
White breasted nuthatch
Flicker
---
John Heneghan on 3/16 reported via IBET: On the way home from work today, had a flock of 75 sandhills fly over I-88 near Eola relatively close to the ground (Kane Cty) and a harrier flying over the Forest Perserve off 88.
Do Not Bird while driving!!! (I have to remind myself this!!!)
---
Lili Gray on 3/16 reported via e-mail: In the wetlands off Farnsworth (near the mall) I saw 2 sandhill cranes about 1:45pm on Friday the 15th! Today above the dam in Batavia I saw several of each: bufflehead, canvasback, northern shoveler, greater scaup, and American coot. I also saw a lone bald eagle soaring as well as (exciting!) a mating pair with locked talons.
---
Marion Miller on 3/16 reported via e-mail: Rich and I checked out the Tanner Rd wetlands (cross streets Meade and Tanner in North Aurora) this morning. Highlights were 2 Horned Grebes, 21 Hooded Mergansers, 2 Buffleheads, Cooper's Hawk and a Northern Harrier.
---
Walter Lutz on 3/16 reported via e-mail: Jelke Bird Sanctuary is earning its name - about 40 Sandhill Cranes spent the night here.
---
Chuck Peterson on 3/15 reported via e-mail: I now feel like spring is here. These flew over [St. Charles] just a half hour ago. Love the sound and the flight patterns.


Sandhill Cranes photo courtesy Chuck Peterson
---
Marion Miller on 3/15 reported via e-mail: Checked out the wetlands area off Tanner Road this morning. It is mostly open water and had a large number of Canada Geese as well as 12 Hooded Mergansers, 2 Bufflehead, 9 Wood Ducks, 3 Ring-necked Ducks, Mallards, Killdeer and Coots. My "uneducated" prediction: next week American Pelicans!
---
Eric Secker on 3/14 reported via IBET: Another nice evening down by the Fox River at Judson University today. The highlight for me was a group of three CANVASBACKS that were very close to shore including a male and two females. Beautiful in the evening sun and possibly my closest looks ever at Canvasbacks. I also don't get them very often on the Fox River. I had them last in 2006 at Fabyan. There was also a male HOODED MERGANSER (hood up) close to shore and two males on Tyler Creek that we flushed as we walked by. A group of 55 LESSER SCAUP flew in right in front of us as well while we were there and two GREATER SCAUP (a male and female) off by themselves. Both a nice adult BALD EAGLE and an immature flew over while we were there and groups of SANDHILL CRANES (flocks of about 100 ea.) were also flying over.

Ducks in all included:
MALLARDS
CANVASBACK - 3
GREATER SCAUP - 2
LESSER SCAUP - 55
BUFFLEHEAD - 11
COMMON GOLDENEYE - 3
HOODED MERGANSER - 8
COMMON MERGANSER - 4

There were also a lot of DOUBLE-CRESTED CORMORANTS perched on some logs in the water by Voyageurs Landing F.P. (we saw them from I-90).

If people would like to view the ducks we had from a publicly accessible spot, Trout Park is up the road on the east side of the river off of Duncan Ave (east of Rt. 25) and there is a parking lot for the bike path near the Water Treatment plant on the east side of the river near Slade Ave. The bike path runs along the river directly across from Judson.
---
Karen Land on 3/14 reported via IBET: Forgot to report a small flock of 30 to 40 [Sandhill Cranes] flying northerly over the Aurora University Campus about 11:30 am yesterday, March 13.
---
Rhonda Nelson on 3/14 reported via phone: This morning in Batavia above the dam, 10 Canvasbacks along with Scaup, Ruddy Ducks, Common Mergansers, Hooded Mergansers, Buffleheads, Common Goldeneye, and Ring-necked Ducks.
---
Diane Hansen on 3/13 reported via e-mail: Today I made 2 trips to the South Elgin dam and Chipstone Park. All these birds were new to me so it was exciting to look them all up. If I researched them correctly I was able to see Lesser Scaup, Bufflehead, Ringneck Duck, Common Merganser and Ruddy Duck.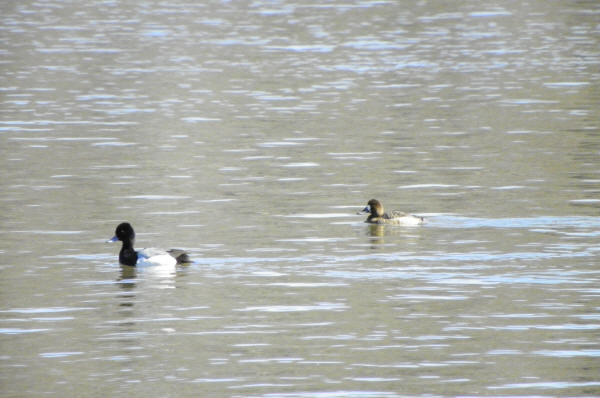 Lesser Scaup photo courtesy Diane Hansen
---
Eric Secker on 3/13 reported via IBET: A beautiful sunny evening along the Fox River here at Judson. Down by the river we had a group of about 20 BUFFLEHEADS in one of the backwater areas. Further down the river there were also over 20 HOODED MERGANSERS. There were also 4 RING-NECKED DUCKS, 3 SCAUP, 2 COMMON MEGANSERS, and a couple COMMON GOLDENEYE. An adult BALD EAGLE flew by us as well as a distant accipter, a RED-TAILED HAWK, and a returning DOUBLE-CRESTED CORMORANT.

Red-winged Blackbirds and Common Grackles have been flying over in large numbers and many birds are really singing.

We also had a group of 13 more CORMORANTS fly right over while we were eating our Wendy's in the car along the river in West Dundee. Also another Bufflehead, two Common Mergs, and a pair of Goldeneye about 20 feet in front of our car.

Spring feels nice as does being able to see birds after work again!
---
Marion Miller on 3/13 reported via e-mail: Rich and I checked out some subdivision ponds for waterfowl yesterday. Mirador, Settlet's Hill, and Ingham Park ponds were still basically frozen. Lots of flooded fields noted but the only notable sightings were 3 Killdeer off Seavey Road. We were both surprised to hear and see our FOY Eastern Meadowlark perched on the top of a tree in the Ingham Park subdivision.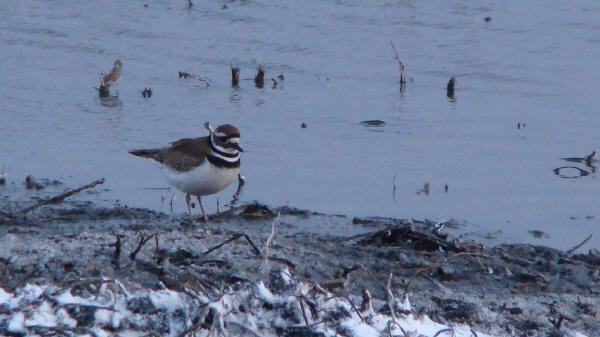 Killdeer photo courtesy Marion Miller
---
John Duerr on 3/12 reported via e-mail: Tuesday 9:20 AM A Horned Grebe and a Pied-bill Grebe are a long the west shore above the So. Elgin dam.
---
Marion Miller on 3/11 reported via e-mail: Rich and I went to Fersen Fen, in St. Charles, this evening at 6:45pm and by 7:03pm we heard our first twittering American Woodcock. Over the next 15 minutes we heard peenting, more twittering, had 4 close horizontal flybys and viewed 2 aerial displays. For sure there were 4 Woodcocks present but most likely more. Always a fun evening birding adventure.
---
Barb Rask on 3/11 reported via e-mail: Walked the Fox River bike path at (Black Hawk\ Jon Duerr F.P.) this afternoon and caught a early FOY Hermit Thrush.
---
Chris Madsen on 3/11 reported: While out car-birding in the rain yesterday afternoon, Carla and I were surprised to see 8 - 10 Tree Swallows darting about, feeding over the river at Fabyan Forest Preserve.
---
Alan Robertson on 3/10 reported via IBET: There is...a Red Shouldered Hawk lurking around just west of Route 31 in Wheeler Park (on the boarder Geneva and Saint Charles) last seen of Friday afternoon.
---
Jackie Bowman on 3/9 reported via e-mail: Today Chris was finally able to check off a goal at the top of his "bucket list." This afternoon while trekking about Kane County he came upon a Long Eared Owl. What a husband he is to make a mental note of where is was, drive all the way back home to pick up me, my camera and our granddaughter. What a day of firsts.....Chris' first self-spotted LEO, our first Kane County LEO and little Ali's lifer - LEO.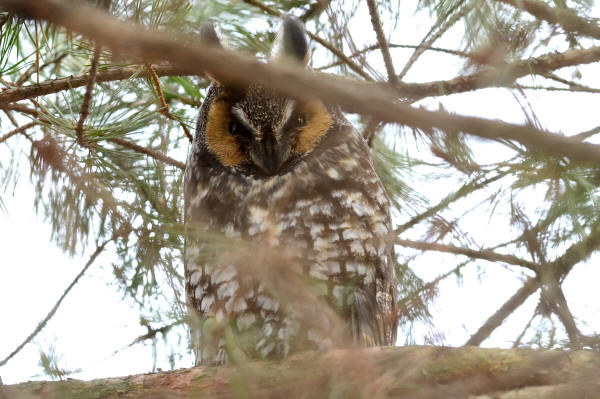 Long-eared Owl photo courtesy Jackie Bowman
---
Diane Hansen on 3/9 reported via e-mail: Today we drove by the tracks on Randall in S. Elgin and we saw this turkey.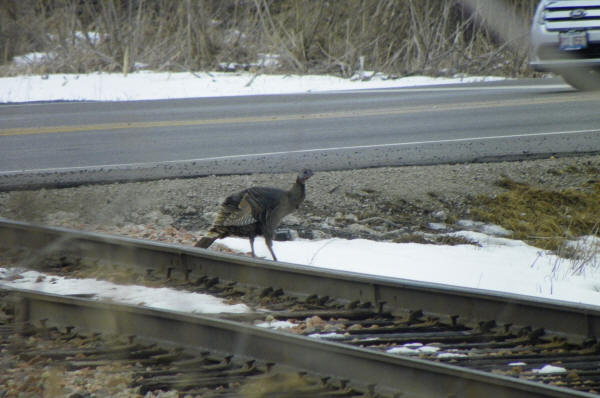 Wild Turkey photo courtesy Diane Hansen
---
Kurt Frieders on 3/8 reported via e-mail: Just this morning I spotted our two resident Red-Tailed Hawks mating on our property (in Aurora township). For several weeks now we have seen them together working on their nest. They successfully fledged two eyases last year, and we are hoping they have the same success this year. We also have had a flock of up to 12 Horned Larks on the property for the last week. Our yard has had the usual Cardinals, Juncos, Tree Sparrows, Doves, Goldfinches, Red-Winged Blackbirds, and just this morning our first Brown-Headed Cowbird of 2013.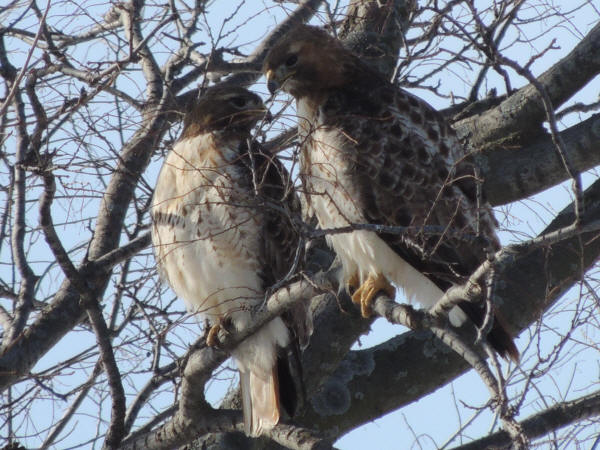 Red-tailed Hawks photo courtesy Kurt Frieders
---
Chris Mussachio on 3/7 reported via e-mail: Spotted this Great Horned Owl in Geneva taking in some sun and keeping the nest warm.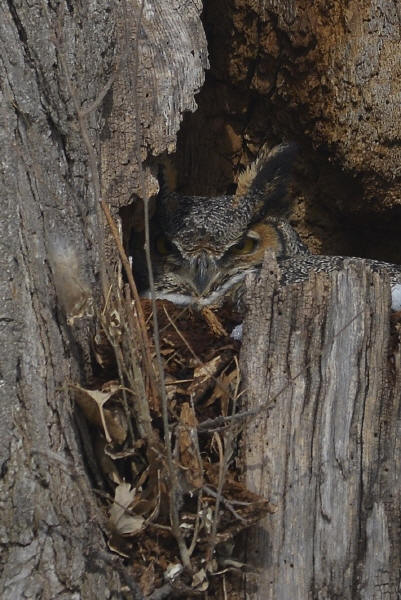 Great Horned Owl photo courtesy Chris Mussachio
---
Janet Davie on 3/6 reported via e-mail: On Monday 3/4 I saw my first Sandhill Cranes migrating for this year, two huge flocks probably 50 to 60 birds. I saw them near Route 31 and Crane road by the river in St. Charles. Ten minutes later, I saw two eagles soaring over the river, one mature and one young, same area I saw the cranes. It was a very good day.
---
Eric Secker on 3/5 reported via IBET: There has been an immature RED-SHOULDERED HAWK hanging around the Fox River in Carpentersville / Dundee the past few weeks. We first saw it in the woods on Rt. 25 near I-90 a few weeks ago. Chris Mussachio also got a nice photo of it in Carpentersville on Feb. 23. This past Sunday we parked in one of the lots along the Fox River in East Dundee and watched the hawk for quite some time as he flew back and forth all along the river trying to hunt for food along the banks. It's interesting to watch the very different behavior of this bird compared to the Red-tailed Hawks in the area. We also had an immature BALD EAGLE flying by and a BELTED KINGFISHER on one of the islands in the middle of the river.
---
Walter Lutz on 3/4 reported via e-mail: Monday @ noon 30+ Sandhill Cranes going north over west Elgin
---
John Heneghan on 3/4 reported via IBET: Tricia called at lunch to let me know she had seen 2 flocks of Sandhills fly over, the first 24 birds, the second 10 birds from the river in Batavia. We also had a flicker at out feeders at home, the first flicker I believe we have had at the feeders.
---
Rhonda Nelson on 3/4 reported via phone: Hooded Mergansers at Batavia's Riverwalk, north of the dam.
---
Richard Wilson on 3/3 reported via phone: That he had sighted a Rough-legged Hawk at Freeman Kame FP on March 1st.
---
Walter Lutz on 3/3 reported via e-mail: This morning at:

Voyager Forest Preserve in Elgin - pair of Wood Ducks on the river, handful of Bald Eagles & Great Blue Herons

Jelke Bird Sanctuary in Sleepy Hollow/Dundee - one beautiful Eastern Bluebird
---
Chris Mussachio on 3/2 reported via e-mail: They're back. Spotted 3 Great Blue Herons flying through Buffalo Park today.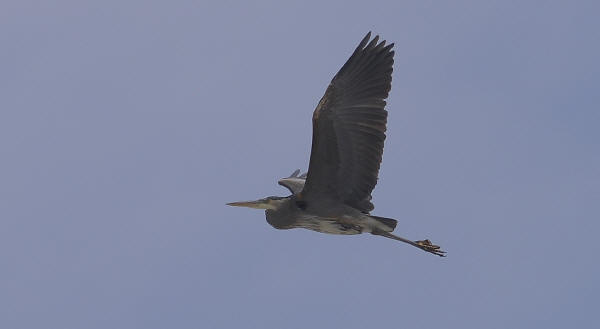 Great Blue Heron photo courtesy Chris Mussachio
---