---
Marion Miller on 3/31 reported via e-mail: I was inspired by Brendon's Western Meadowlark find, so after work today went to check some areas around Sugar Grove. During my first pull off on Wheeler Rd to listen for Meadowlark singing, I was surprised to find 4 Wilson's Snipes. They were in a small fluddle only a few feet from my car. No Western Meadowlarks heard or seen today in the Sugar Grove area, but did have many Eastern Meadowlarks and a FOY Savannah Sparrow at Sauer Family Prairie Kame FP.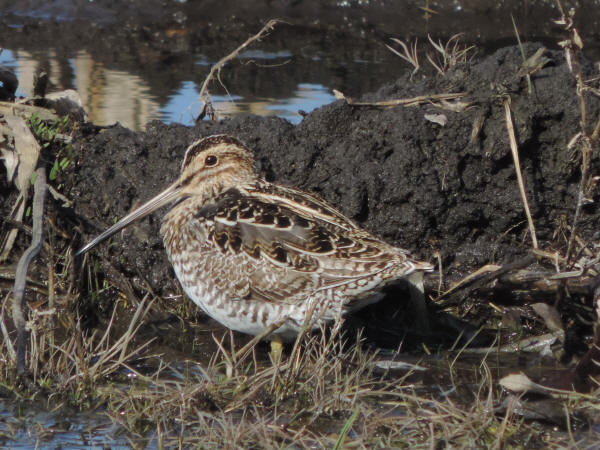 Wilson's Snipe photo courtesy Marion Miller
---
Brendon Lake on 3/30 reported via e-mail: Western Meadowlarks have returned to northwestern Kane County! After finding a singing Eastern Meadowlark at Hampshire Forest Preserve, I decided to go try a spot where I discovered a Western Meadowlark on the SBC last year. As soon as I stepped out of the car, I heard both Eastern and Western Meadowlarks! There were two Westerns along with three Easterns. They allowed for extended scope views showing the yellow mustache well, and sang while in the sight of the scope! The Easterns chased one of the Westerns once when it perched atop a tree. Photos and video were taken while observing. The Western Meadowlarks were in an abandoned subdivision development, called Stonegate. It is on the north side of Allen Road, west of Harmony Road in Hampshire. They were active along W Meadowdale Circle within the development (ironically). It is easy enough to park and view the birds from the curbside. As this may be breeding territory, it would be best not to leave the road while observing.
---
Chris Madsen on 3/29 reported: Wes Sadler's KCA walk at Oakhurst Saturday morning produced a pair of Horned Grebes on Patterson Lake. Also seen were a Gadwall, Wood Ducks, Northern Shovelers, Ring-necked Ducks, Lesser Scaup, Bufflehead, and Common Goldeneye.
---
Brendon Lake on 3/28 reported via e-mail: A few notable sightings today. First, a single Greater Yellowlegs was found at a retention pond in Hampshire. The retention pond is on the north side of Jake Lane, west of its intersection with Romke Road. This is north of Route 72 in a subdivision development. There were also three pairs of Hooded Mergansers and a female Ring-Necked Duck here. Rich and Marion Miller were at the South Elgin Dam when I arrived there, and I was happy to see that they had spotted a Common Loon. That was my number one target for the day! Lastly, Fox Sparrow numbers are increasing, there were three at Gunnar Anderson Forest Preserve in Geneva this afternoon, along with my first-of-year Eastern Phoebe, which was hawking for insects high up in the trees along the creek, near the "shrine".
---
Sid Padgaonkar on 3/28 reported via e-mail: Common Loon hanging out on Fox River just north of South Elgin Dam. best viewed from N Water Street behind the South Elgin Police Station. First reported by Marion Miller on IBET this afternoon. I was able to get a picture of it swimming just 20 feet away.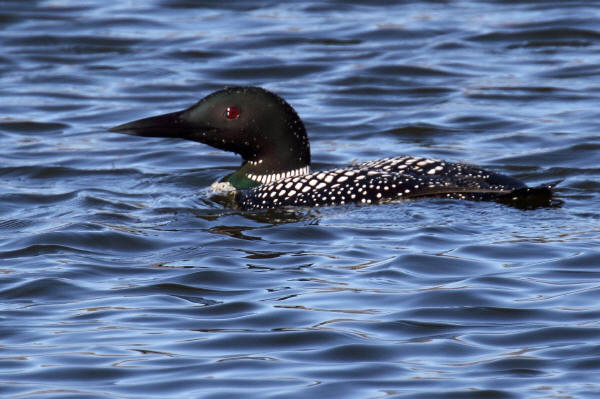 Common Loon photo courtesy Sid Padgaonkar
---
Marion Miller on 3/28 reported via IBET: Common Loon above South Elgin dam. First seen about 500 yards north of the dam. It was diving frequently and swam within 50 yards of the dam.
---
Lisa Williams on 3/27 reported via e-mail: I had the good fortune to find an American Woodcock while hiking the wooded trail on the west side of Nelson Lake this afternoon. The bird was nice enough to pose in a sunny spot for a minute or two, then disappeared into a tangle of brush.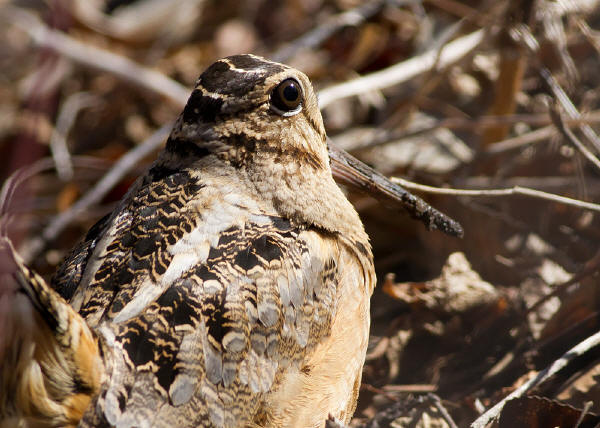 American Woodcock photo courtesy Lisa Williams
---
Marion Miller on 3/26 reported via IBET: Theresa LeCompte, Rich and I found 15 species of ducks in Kane County this morning.

Nelson Lake/Dick Young Forest Preserve
Wood Duck 8
Gadwall 10
American Wigeon 1
Mallard
Blue-winged Teal 1 -seen only by Rich
Northern Shoveler 4
Northern Pintail 1
Green-winged Teal 4
Ring-necked Duck 34
Lesser Scaup 14
Bufflehead 4
Common Merganser 2
Ruddy Duck 4
Hundreds of American Coots and a Pied-billed Grebe.

Additional Species at:
Settlers Ridge Ponds
Hooded Merganser 2
Blue-winged Teal 6 - seen by all

Carson Slough
Canvasback 8
Carson Slough also had American Wigeon, Wood Duck, Lesser Scaup, Ring-necked Duck, Green-winged Teal, Mallards and Bufflehead.

When I got home I saw my first "Oregon" Dark-eyed Junco in my backyard. What striking colors.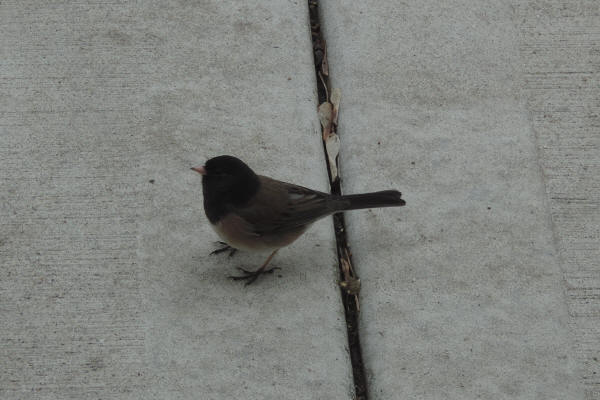 Oregon Dark-eyed Junco photo courtesy Marion Miller
---
Christopher Cudworth on 3/22 reported via IBET: This morning at 8:45 over the west side of Batavia there was a solid group of 20+ cackling geese headed directly north at a pretty good height. Calling together they made quite a racket. Pretty obviously not a local flock which tends to be mixed, but a solid core of migrants headed north with the wind. And into the snows I 'spect...
---
Chris Madsen on 3/21 reported: Carla and I had a rather quiet day of birding on Saturday. Birds of note included Ring-necked Ducks, White-fronted Geese, and Wood Ducks at Mirador subdivision's ponds. Tanner Road marsh had Northern Shovelers and Canvasbacks. Gunnar Anderson Forest Preserve provided Buffleheads.
But since neither of us have had a White-crowned Sparrow this year, we were happy to see this one at the Batavia Riverwalk.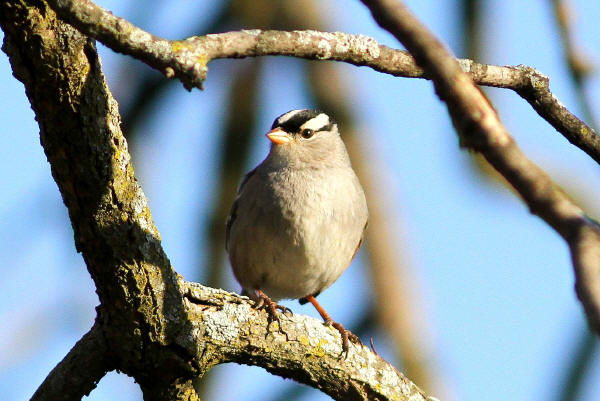 White-crowned Sparrow photo courtesy Chris Madsen
---
Day Waterman on 3/21 reported via e-mail: I can confirm there are indeed two eagles at the nest near the corner of Rt. 25 and W. Bartlett Rd. One is sitting and one guarding.
---
Brendon Lake on 3/20 reported via e-mail: Some notable sightings from Friday's Kane County birding. At the Pingree Grove Water Treatment Plant (SW corner of Reinking Road and Wester Boulevard) seven Northern Pintails, five American Wigeon, two Gadwall and an American Coot were present. At Veteran's Memorial Park in Elgin, behind the Gail Borden Library, a continuing Horned Grebe and two continuing Mute Swans could be seen. The Horned Grebe was sleeping with a small group of Ring-Necked Ducks. At Gunnar Anderson Forest Preserve in Geneva, 14 American White Pelicans flew over not long after I got out of the car. Two Carolina Wrens and one Winter Wren were present and actively foraging along the creek. The Carolina Wrens were very vocal, and I believe they like to travel around the yard that is across the creek from the preserve as well. At Fabyan Forest Preserve, a male Red-Breasted Merganser was diving by itself. At the Batavia Dam, both Greater (1 male) and Lesser (6 males, 2 females) Scaup were present in the depot pond area.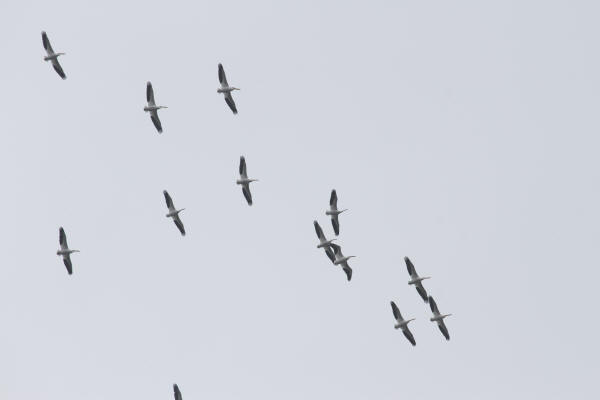 American White Pelicans flyover photo courtesy Brendon Lake
---
Marion Miller on 3/20 reported via e-mail: Rich and I checked out the Batavia Depot Pond on Friday morning. There is a small area of thin ice that is attracting a good number of gulls, unfortunately at this point only Herring and Ring-billed. There were also 2 Horned Grebe. Out of the 12 Scaup that were present we were able to identify one Greater Scaup and he was cooperative enough to pose with the Lesser Scaup for a comparison photo! Thanks to Brendon for this sighting.

Greater/Lesser Scaup comparison photo courtesy Marion Miller
---
Brendon Lake on 3/18 reported via e-mail: A great day to be out and about around Kane County! Starting the afternoon off today, a single male Rusty Blackbird was found along Waughon Road in Burlington, foraging with five Common Grackles in a corn field. The Pingree Grove Water Treatment Plant marsh is open now, and present there today were 21 Greater White-Fronted Geese, four Gadwall, one American Wigeon drake and two Eastern Meadowlarks. The Carpentersville Dam continues to be the best spot for waterfowl in the county currently, still large numbers of Lesser Scaup, Ring-Necked Ducks, Redhead and Common Goldeneye present, along with two Canvasbacks, one adult male and one immature male. A few Common Mergansers were also present along with one continuing male Red-Breasted Merganser. A scope is recommended to view these birds here. Two Turkey Vultures flew by very high today, along with around 800 Sandhill Cranes by my estimation. At Veteran's Memorial Park in Elgin behind the Gail Borden Library, two Mute Swans continue, and two Horned Grebes changing into alternate plumage were also hanging around. And finally, a Fox Sparrow was the highlight at Gunnar Anderson Forest Preserve late this afternoon. Spring is here, and new birds are arriving every day!

Rusty Blackbird photo courtesy Brendon Lake
---
Lucy DeLap on 3/18 reported via IBET: Today I was outside my home in East Dundee where I have the good fortune to live 1/2 block east of the Fox River. From about 2-3 pm, multiple small and very large flocks of cranes flew over. Flocks varied from 10-12 to 125-150 birds.

Most were extremely high, almost specs in the sky.
---
Marion Miller on 3/17 reported via e-mail: Had an enjoyable late afternoon, birding fluddles at: Mighell Rd in Sugar Grove, behind Herget School off Deerpath, and the marshy pond at Parkside Rd in Settler's Ridge subdivision (Sugar Grove). Northern Pintails were at all three areas. In addition Redheads, Ring-necked Ducks, Green-winged Teal, Gadwall, and American Wigeon were seen. White-fronted Geese (20) and the Sandhill Crane couple continue on Seavey Rd between Bliss Rd and the Black Sheep Golf Club. An extra bonus was FOY Turkey Vultures and Eastern Meadowlark off Seavey Rd.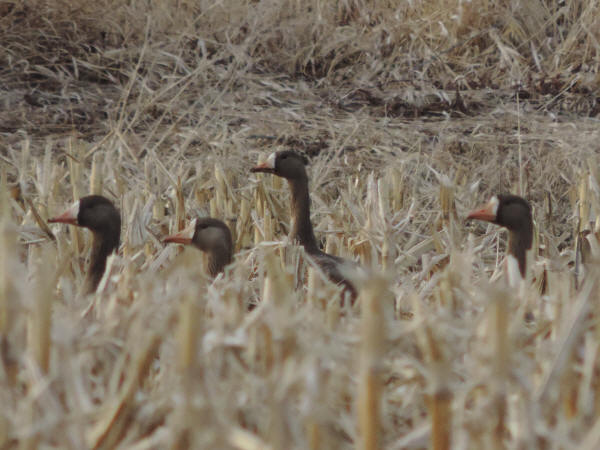 White-fronted Geese photo courtesy Marion Miller
---
Tom Kelly on 3/16 reported via e-mail: I spotted a red wing black bird and a starling at the bird feeder this morning.
---
Brendon Lake on 3/15 reported via e-mail: Went all around the county with the hopes of finding waterfowl. Started at the Carpentersville Dam, hoping to find Red-Breasted Merganser and Ring-Necked Duck. Ducks were everywhere above the dam, eventually including all three merganser species when three male Red-Breasted Mergansers flew within view from further up-river. Redhead, Lesser Scaup, Ring-Necked Duck and Common Goldeneye were all here as well. Two Mute Swans and five more Ring-Necked Ducks could be seen on the Fox River behind the Gail Borden Library in Elgin. There were four Bufflehead on the river at Gunnar Anderson Forest Preserve, but that was all on the river. A fluddle on Wheeler Road west of Route 47 had two American Black Ducks. Another fluddle on Scott Road east of Dugan Road in Sugar Grove had a drake Northern Pintail. Getting closer to home, a fluddle on Middleton Road just west of Peplow Road (Burlington) had only one duck, a Canvasback drake, which took off to the northeast after a few minutes of observation. Another large fluddle which has really become more of a pond on Waughon Road in Burlington, had a male Green-Winged Teal.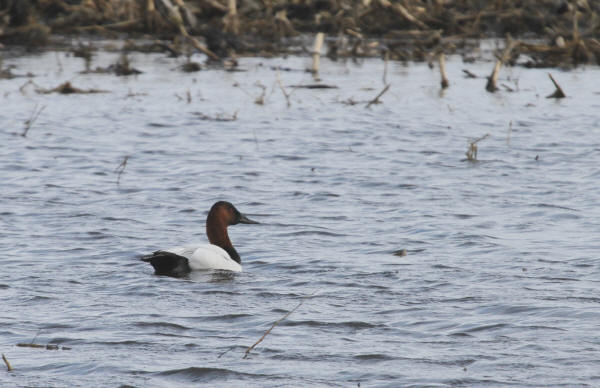 Canvasback photo courtesy Brendon Lake
---
Walter Lutz on 3/15 reported via e-mail: Sunday morning @ Gunnar-Anderson F.P.: Struck out on the Carolina Wren (2 other birders were also looking) but there is a beautiful mink in the wood pile by the creek at the rivers edge.
---
Brendon Lake and Marion Miller on 3/14 both reported via eBird: American Woodcocks at Ferson Creek Fen in St. Charles. Marion recorded first "peent" at 7:14 PM.
---
Ryan Jones on 3/14 reported via eBird: 17 Greater White-fronted Geese in a fluddle on Scott Road near Sauer Forest Preserve.
---
Bob Meierhans on 3/14 reported via e-mail: Cranes are back! No photos yet, but what I think is the male Sand Hill crane (Sandy) that we've come to know and love is back for his 7th year in our marsh and field and lawn south of Elburn. We first saw him this year 3/13/15, a week or two later than in previous years. Of course, most of the snow in our field just cleared in the last few days.

It's not been uncommon in years past for us to first see one bird, then a mate. I'm guessing that when we see only one bird, the hen is on the nest.

I'll keep you posted and look for opportunities to get close-up photos (I've added a 70-300mm digital lens to my shooting arsenal, giving me the 35mm equivalent of 450mm).
---
Eric Secker on 3/14 reported via IBET: Fox River area birds - Best birds today were Red-breasted Mergansers...at Fox River Shores in Carpentersville south from the main lot...Also Killdeer a few places. On the river near Tekakwitha Woods there were three Lesser Scaup.

Other than that mostly Common Goldeneye and Common Mergansers.

Two Turkey Vultures were also flying around along Crane Rd.
---
Walter Lutz on 3/13 reported via e-mail: At Brunner Family Forest Preserve (W. Dundee) Friday afternoon saw a Northern Shrike and during the 3 hours 45 minutes I was birding had more than 480 Sandhill Cranes migrating overhead - they kept coming all day.
---
John Heneghan on 3/13 reported via IBET: Had 20 cranes at treetop level fly behind the house in Big Rock in Kane cty. I wonder if they overnighted at Aurora West FP?
---
Diane Hansen on 3/12 reported via e-mail: Heard one group of Sandhill Cranes then heard and saw a second group flying northwest over Elgin late this afternoon.
---
Jackie Bowman on 3/12 reported via e-mail: This afternoon Chris and I relocated the two Carolina Wrens at Gunnar Anderson. They were both just singing away for us. What a great sign of Spring! Thank you to Brendan Lake for his report...

Carolina Wren photo courtesy Jackie Bowman
---
Kathy Benedetto on 3/12 reported via e-mail: At about 1:30pm today, I saw and heard about 40 sandhills flying over Elgin!
Spring is here!
---
Lucy DeLap on 3/12 reported via IBET: [Sandhill Cranes]...so loud I could hear them from inside my house!

And by the time I got outside... I could not locate them though I could still hear them.
---
Eric Secker on 3/9 reported via IBET: This evening along the Fox in Dundee highlights included two Mute Swans, two Great Blue Herons standing on the ice and stealing fish from the gulls, and the usual ducks - Goldeneye, Common Mergansers, Am. Black Ducks. We didn't have time to look closely for the Barrow's but the Goldeneye numbers were up so he could show up again.
---
Brendon Lake on 3/9 reported via IBET: Hey everybody, a few notables for Kane County people!

Kane County was hopping this morning! A Red-Breasted Nuthatch and two Red-Winged Blackbirds at Hampshire Forest Preserve, TWO CAROLINA WRENS at Gunnar Anderson Forest Preserve in Geneva, and a heard only flyover Killdeer!

Spring is well on its way!
---
Ed Vedral on 3/9 reported via e-mail: We saw our first Redwing of the year on the ground feeder. We are in Campton Hills.
There were (2) flocks of large birds flying North, which seemed to be brown and white. They were flying in almost a straight line. By the time I saw them I could only see them through the binoculars.
The male Pheasant is still coming to the ground feeder, as he has been all winter. The females are not to be seen.
---
Gregg Schuring on 3/8 reported via e-mail: I was walking today 3/8/15 with a friend along Fox River in Dundee. As we made our way across Main Street bridge from East Dundee over to West Dundee we went onto Riverwalk heading north along the Fox River. We noticed two [Mute] swans on the ice. We were on First Street right along the river by the Village Squire. The beautiful swans walked right up to us. Here is a picture I was able to take about 4 ft away. Pretty amazing birds. It's a good sign that spring is in the air in Dundee. Afterwards they were swimming on the east side of river where the water is flowing.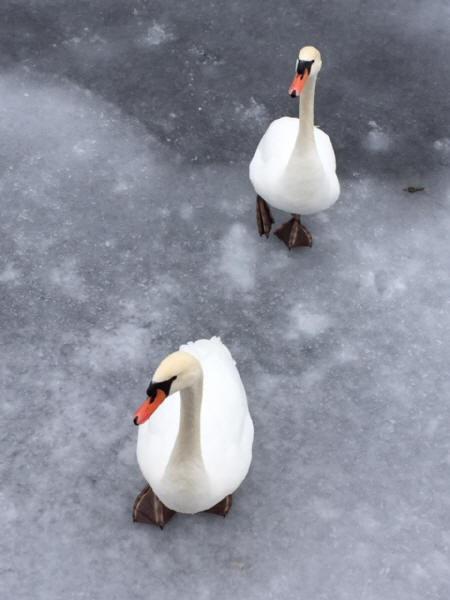 Mute Swans photo courtesy Gregg Schuring
---
Theresa LeCompte on 3/8 reported via e-mail: Ring-necked Pheasants continue east of Deerpath Rd. [near Herget Middle School in Aurora] as previously reported by Marion Miller. Sue Schneider and I saw five this morning.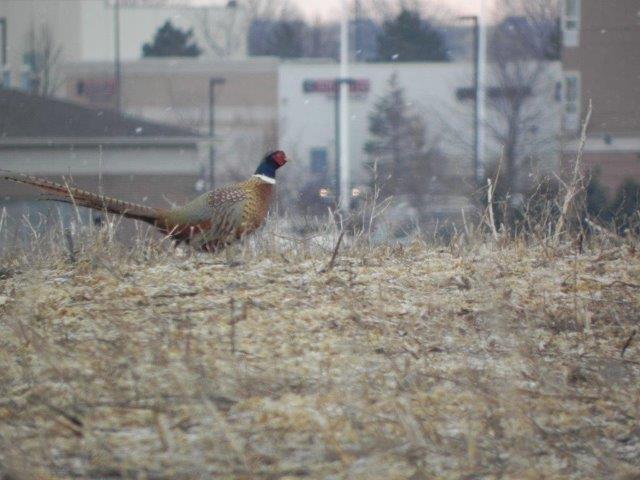 Ring-necked Pheasant photo courtesy Theresa LeCompte
---
Kamri Veal on 3/8 reported via e-mail: Around 1 am on 3/8/15 I was driving in Elgin on Devonshire ct and saw a fox running and I turned my car lights on it and it just stared back at us.
---
Brendon Lake on 3/7 reported via IBET: Hey everybody! I see Al Stokie and Sid P. already beat me to it, but I ran all around Kane County today, and thought I would share some of my best findings from the day.

Started at Hampshire Forest Preserve, in hopes of grabbing a visual on continuing Pine Siskins and a Red-Breasted Nuthatch. One of the first birds I saw was a surprise Hermit Thrush, which popped up very close for nice views. Pine Siskins were still there in good numbers, but the Red-Breasted Nuthatch once again eluded my eyes. It was heard a couple of times. Next was West Dundee, with brief hopes of seeing the Barrow's Goldeneye and Redheads that had been there for a few days. No luck with the Barrow's or Redheads, but there are still good numbers of Common Goldeneye in the area. American Black Ducks and a likely American Black DuckxMallard hybrid were behind Otto Engineering. The Carpentersville Dam was raptor central, as three Red-Tailed Hawks, an adult Cooper's Hawk, and a Bald Eagle were all seen within a minute of each other.
Headed down along the Fox to Fabyan Forest Preserve, where I missed Al's Eastern Bluebirds, but instead found a male Greater Scaup. After grabbing lunch, I headed down Orchard Road and found six continuing Wild Turkeys just north of the intersection of Orchard and US-30 (NW corner). Headed west from there, finding two Eurasian Collared-Doves right at the intersection of Scott and Dugan Roads, and an opossum wandering the Aurora Airport grounds. A late afternoon trip to Sauer Prairie Kame yielded no Northern Harriers, which surprised me as they had been abundant at this location. But instead, an interesting little bird flew in and landed atop a telephone pole near the drive into Sauer, it was a Merlin! It stayed a few minutes, allowed for a few photos, and flew off.
---
Sid Padgaonkar on 3/7 reported via IBET: I went out birding with a few folks from Kane County Audubon and found 3 Long-eared Owls (Ebird lifer for me), Northern Harrier, Red-tailed Hawks etc. Also saw a Great Horned Owl separate from the group.
---
Al Stokie on 3/7 reported via IBET: Hello Bird People,

Today Bob Erickson & I went to Kane County to try for 2 target birds that Bob needed.
Got 1 & missed the other. This was the 3rd day in a row where I haven't seen anything special & I have decided 3 bad days is enough & I clearly hope for something better on Sunday. We shall see.

Some of the places we looked for birds at today were Aurora West, Fabyan Woods & Jon Duerr Forest Preserves & South Elgin Dam. The only Geese seen were Canada's, the only ducks were Mallards, Black Ducks (2), Common Goldeneye & Common Merganser & only the Mallards & Goldeneye were seen in large numbers. Bob did see 1 male Hooded Merganser fly by which I missed. Not much variety in landbirds but Aurora West did have 3 Woodpeckers which were Downy, Red Bellied & Flicker. One of our few highlights were 2 EASTERN BLUEBIRDS at Fabyan Woods & another one at Jon Duerr F.P. where we also had our only Robins of the day. The only other highlight for the day was a FOX SPARROW in a roadside tree near Aurora West F.P. Like I said it was a slow day indeed.

Bird-Of-The-Day goes to the Fox Sparrow which was a new year bird for me. Runner-Up to the Eastern Bluebirds. Here's hoping for more interesting birds tomorrow.
---
Diane Hansen on 3/6 reported via e-mail: Thursday morning around 7:30 I was passing by Elgin's Walton Islands on 31 and saw a pair of bald eagles in one of the trees.
---
Marion Miller on 3/5 reported via e-mail: Rich and I did some Kane County country road birding this "cold" morning. Some highlights were 3 Ring-necked Pheasants east of Deerpath Rd in the field just across from the Herget Middle School. We have seen Pheasants here twice in the last week, each time giving great views only a few feet from the road. Also a beautiful flying male Northern Harrier and 2 Kestrels perched on top of a silo on Swan road, one Snow Bunting in a small group of Horned Larks feeding along the side of Lasher Rd between Dauberman and Florence and a Belted Kingfisher hunting on the open waters of Blackberry Creek that crosses the Finley Rd bridge. Although it was nice to see a Snow Bunting, we are more than ready to say good bye to winter birds and see some spring arrivals.
---
John Heneghan on 3/5 reported via e-mail: 3 turkeys were seen today in the corn field on the NW corner of Galena and Rt 56. Same spot I saw them in a few weeks ago.
---
Debbie Wisser 0n 3/2 reported via e-mail: I went for a walk in Kane county, hoping to see a lifer Long-eared Owl. I ended up seeing four! I wasn't able to get all four in one photo, so here are three of them. Photo is cropped to bring them in closer.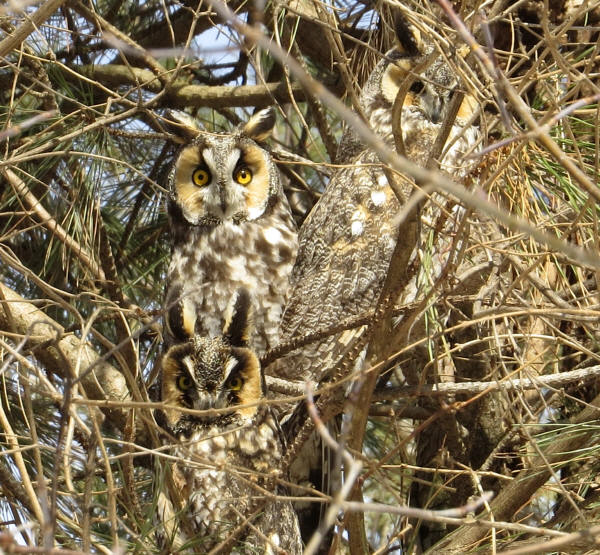 Long-eared Owls photo courtesy Debbie Wisser
---
Jeff Quick on 3/2 reported via e-mail: Here's a pic of a Great Horned Owl we spotted on 3/1/15 at North Aurora Island Park...my fiancé Jen snapped these after I spotted him...enjoy, what a beautiful stoic creature!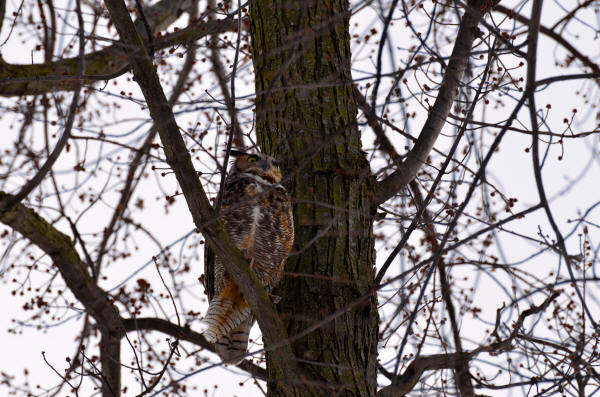 Great Horned Owl photo courtesy Jen Reyna
---